Last Updated on February 15, 2022
Our editors independently research the best products online to produce this list. We may receive commission on purchases made from the links below but this will never affect our product choices.
---
Top 10 Best Bathroom Scales
Bathroom scales can be something you either look forward to or dread stepping on. Either way, one of the best bathroom scales for the UK is a much-needed piece of equipment in any bathroom. If you are on a diet, following a new exercise routine, trying to shed some weight, or trying to gain muscle, a bathroom scale is a quick and easy way to gauge your progress.
There are many great bathroom scales available these days, and selecting one can be a bit daunting as many can do so much more than you might expect. First, of course, a scale is there to tell you your weight, and that's what all of them do. But as well as that, they can provide functionality that gives you your BMI, your fat percentage, even your metabolic age! However, features differ significantly in terms of weight limits, sizes, materials, and smart options. So if you are in the market for an inexpensive weight scale, you can get that with ease. Or if you need something a bit more detailed with smartphone integration and apps, there are several great options available for that too. We have searched through the internet to bring you some of the top and most highly-rated bathroom scales to buy.
How We Compared Bathroom Scales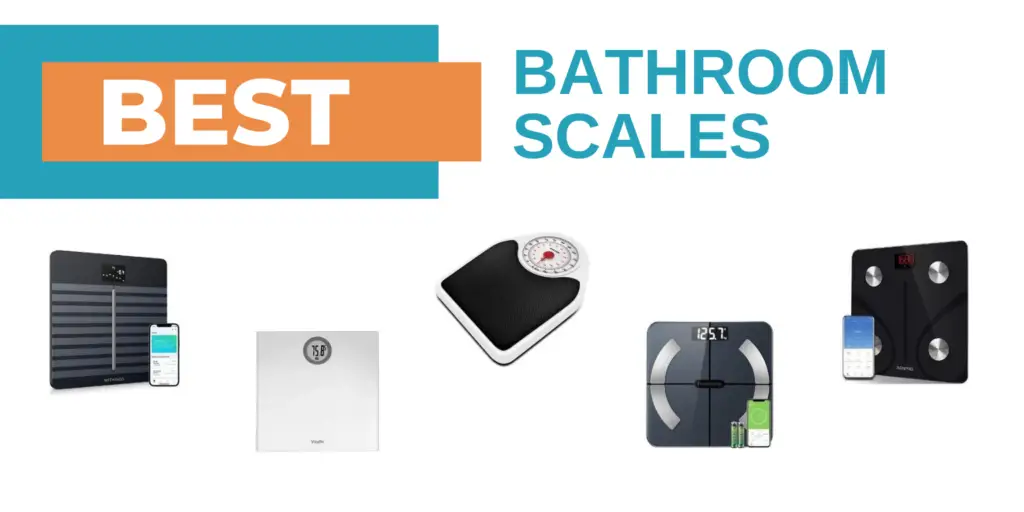 To find the right bathroom scales we considered multiple factors including:
Design
Additional Features
Accuracy
Our team independently examined and compared hundreds of products to help satisfy different needs. We spent our time researching bathroom scales and consulting customer reviews to ultimately bring you what, in our opinion, are the best options on the market right now.
To find out more about our editorial process, take a look here.
Bathroom Scale Reviews
First, we will start with what we think is the best bathroom scales in the UK; the RENPHO Bluetooth scales are sleek in design and smart in function. The product is unique in that it comes with its own smart fitness app, designed to help you reach your desired body weight faster. If you are in the market to buy some of the best smart scales, this device won't disappoint.
The RENPHO app works with Samsung Health, Apple Health, Fitbit, Google Fit and even offers an app for the Apple watch! This clever product comes with 13 metrics, so you can learn about your body composition and so much more than just body weight. You can view and track your body fat percentage, BMI and muscle mass. You don't need to have your phone near you when weighing yourself; the data will sync up next time it is connected and be stored on your smartphone.
These are highly accurate bathroom scales and come with auto-calibration and four high precision sensors. The measurements go up/down in increments of 0.2lb/0.05kg and have a capacity of 396lbs/180kg. The whole family can use these digital bathroom scales to keep track of their weight loss, and you can share your progress with friends.
These digital scales do not have an option for stones and pounds if that is how you usually measure your weight loss.
Pros:
Own smartphone app
Connects to fitness apps and smartwatch
13 different measurements
The whole family can use
Sleek design
Cons:
May lack supporting information on weight loss
Durability may be an issue
It doesn't display in stones and pounds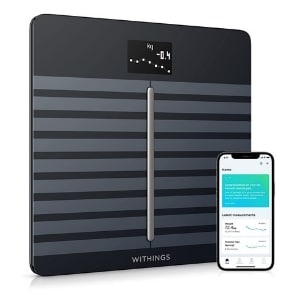 The Withings Body Cardio Scales stand out for being the first smart scale with a cardio check-up feature. They measure your heart rate as well as giving a view as to your cardiovascular health by providing your vascular age. They also deliver data on other body composition measures such as body fat, muscle mass and body water percentage.
This smart device can measure up to eight people's weight and doesn't require you to pair your phone to it each time as it will recognise who is who. All data is automatically synced to the Health Mate app using Bluetooth or WiFi. It also has patented positioning aid technology which guides you into the perfect position for each weigh-in. The display weight is accurate up to 0.1kg /0.2lb. The scales are highly compatible and can synch to many health apps, including Apple Health, Fitbit and Google Fit, as well as Apple Watch and Alexa.
There are other smart features that the Withings Body Cardio scales offer, such as the pregnancy tracker specifically for monitoring healthy weight gain during pregnancy and then the baby mode, which provides an easy way for parents to track their baby's weight. And if you need to see the weather forecast while planning your steps for the day, well, then these are the best digital bathroom scales for you!
Pros:
Compatible with health apps
Cardio check-up feature
Automatically recognises up to eight users
Pregnancy tracker and baby mode
Rechargeable battery
Automatic synch using Bluetooth or WiFi
Cons:
Customer service for the product may be lacking
Measurements may not be entirely accurate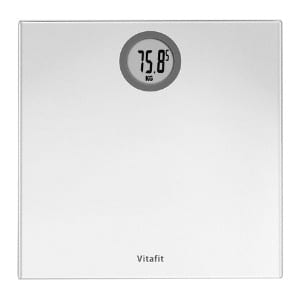 The Vitafit Digital Bathroom Scales are great looking and perfect to help you lose weight if you're looking for great value. They are made from safety tempered glass and have four high precision sensors for accurate readings. The build quality is excellent, and the screen is big and easily readable. They have a maximum weight measurement of 28st and provide an accurate reading in kg, lb and st, in increments of 0.05kg /0.1lb.
The step-on technology and auto-off function mean that you receive an instant reading without having to wait for a number of seconds like some other smart scales.
This is a great product to measure weight, and the price reflects that, but it does not have the functionality to measure BMI and body fat or body water composition. So, decide whether these measurements are important to you in your weight loss journey and search for the right scales for you.
Pros:
The screen is big and easily readable
Maximum weight 28st
Weight readings in kg, lb, or st
Safety tempered glass
Immediate reading on stepping off
Cons:
May not offer other readings
Variable weight readings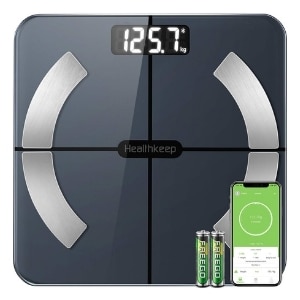 The Healthkeep Digital Scales are a smart bathroom appliance that uses Bioelectrical Impedance Analysis (BIA) technology to deliver 13 measurements of body composition, including body mass index, metabolic age, body fat percentage, muscle and bone mass, and body age.
The scales have a Fitdays app that synchs to Apple Health, Samsung Health and Google Fit apps, allowing you to track measurements. You don't need to have your smartphone with you at weigh-ins; the data will simply upload to the app when it is next connected. It is also possible to share your progress with friends and family on Twitter, Facebook and Instagram, so you can get everyone involved! You can create an unlimited number of accounts on the app, so perfect for a large family group.
The Healthkeep scales also include a baby mode that allows you to measure yourself first and then with the baby, and the scales will present you with the baby's weight without you having to do any of the maths yourself!
There are four precision sensors inside the unit that allow it to display the measurements almost instantaneously. All you need to do is step on the scales, and it automatically turns on and starts displaying on the large LCD display. The weight limit is 180kg/28st, which is standard in most models. The scales are sleek and modern and very slim for easy storage.
Pros:
13 data body measurements
Bright white LCD display
Compatible with multiple health apps
Unlimited number of users
Baby mode
Cons:
May have issues syncing between scales and app
The floor must be very flat to give accurate results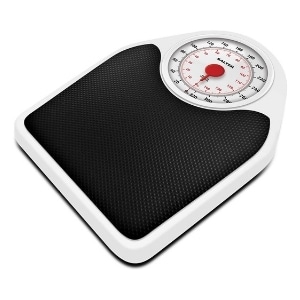 The Salter scales are the best mechanical scales on the market if you love the sturdy, retro look to them. They'll be a stylish addition to any traditionally styled bathroom.
The scales have a large anti-slip surface area to stand on, so perfect for just coming out of the shower, and there is a large dial that displays accurate measurements in stones and pounds around the outer rim and kilograms on the inner rim.
These scales operate without batteries, so there is no need to worry about replacing them or recalibrating them afterwards.
The bathroom scales Salter produce come with such high build quality that Salter provide a 15-year manufacturer's guarantee!
Pros:
15-years manufacturer's guarantee
Retro aesthetic
Sturdy and dependable
Anti-slip surface
No batteries required
Cons:
The plastic window over the dial can be squashed if trodden on
No smart features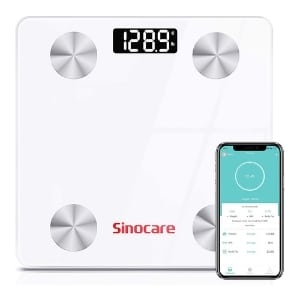 The Sinocare Intelligent Body Fat Smart Bathroom Scales is pale and sleek and will fit unobtrusively in any bathroom. It has four pressure sensors and has a large LED screen that displays your body weight. In addition, the scales work with Bluetooth connectivity, allowing you to connect your smartphone with them.
There are 12 health indicators that show weight, BMI, body water percentage, bone mass and muscle mass; everything is calculated here. The product focuses on the loss of excess fat in the body, which at the same time increases the basal metabolic rate, helping to lose weight.
You can add multiple users on the scale as well, making it a perfect scale for your family to use and track their body composition. The scales have a maximum weight of 180kg or 28st.
Be aware of the fact that these scales only record full lbs and not half lbs, which may be important if you are on a weight loss regime. Additionally, the scale display only shows the weight measurement; you need to view them on the app for all other measurements.
Pros:
Simple to use the app
12 health indicators
It has a smart app which synchs with other health apps
Large LED screen
Sleek appearance
Cons:
Only records full lbs
Scale display only gives weight measurement
Weight is only displayed in kg on the scales
The Etekcity High Precision Digital Bathroom Scales are sturdy and stylish. They are made with tempered ultra-slim glass and are designed to provide accurate measurements using four high-precision sensors so that you can have complete confidence in your body composition measurements.
They provide accurate readings in three units, kg, lbs and st, and include step-on technology to give you an instant reading. They also have auto-off and calibration as standard. The maximum weight for use is 180kg or 28st. These are worth reviewing if you are in the market for the best scales for body fat, giving you accurate results every time.
They are easy to use with a backlit LCD display; the Etekcity scales can offer you all the precise insights you need for weight gain or loss.
Pros:
Three measuring units to choose from
High-accuracy technology with four precision sensors
Safety provided via tempered glass
Backlit LCD display
Readings in kg, lbs or st
Cons:
Control to change measuring units can be awkward to access
May have more accurate readings on hard surfaces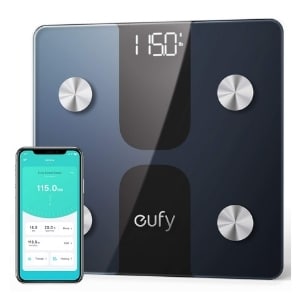 The Eufy Smart Scale C1 goes well beyond just measuring your weight; it includes 12 measurements such as BMI, BMR, bone and muscle percentage, and body fat percentage. From lean body mass to visceral fat and body fat mass to bone mass, the Eufy Smart Scale C1 measures everything.
The build quality is great; the screen is big and easily readable. The scales have rounded corners and an anti-slip top plate to ensure stability when stepping on and off them. It is also easy to use when switching between pounds and kilograms.
The Eufy Smart Scale C1 is compatible with 3rd party apps like Apple Health, Google Fit, and Fitbit. The G shaped sensors inside the scales make them more accurate than other scales as well. You can also have 16 users on one account so the whole family can get in on the fitness action.
Pros:
12 measurements
The screen is big and easily readable
The G shaped sensors are accurate
Compatible with health apps
The app is easy to use
Cons:
It doesn't display weight in stones
Concern about the accuracy of some measurements such as body fat
The first thing you'll notice about the Withings Body Smart Scale is its minimalistic design. The scale is a slim, sleek unit with a screen, and sometimes that's what a bathroom needs.
The scales use patented positioning aid technology to guide you into the correct stance for an accurate reading and are fast when measuring your weight, too; as soon as you step on it, the display will have a number for you.
The Withings Body Smart Scales deliver body composition measurements across muscle and bone mass, body weight, body water percentage, BMI, body fat and can provide those measurements in kg, lb and st.
The scales are also able to keep track of every stage of life with their pregnancy tracker and baby mode. The pregnancy tracker specifically monitors healthy weight gain during pregnancy, and then the baby mode provides an easy way for parents to track their baby's weight.
Up to eight users can use the scales with their own statistics. Data syncs automatically to the Health Mate app via Bluetooth or WiFi, and the Withings Body Smart Scale is compatible with over 100 health apps, including Apple Health, Fitbit, and Google Fit apps.
Pros:
Mode for pre-pregnancy and post-pregnancy
A clean, minimalistic design
Works with Apple Watches
Compatible with most 3rd party apps
Get an accurate reading in kg, lb and st
Cons:
Bluetooth connection to the app can be hit and miss
Lack of customer support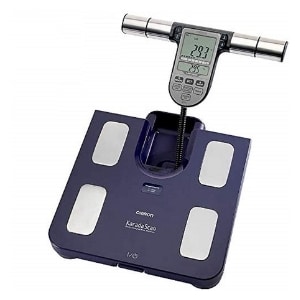 The OMRON BF511 Body Composition Monitor is what you get when you want to measure everything with high accuracy as the scales have been clinically validated. The scales are capable of measuring body fat percentage and BMI along with your weight. It also measures resting metabolism, skeletal muscle percentage and visceral fat classification.
There are eight total sensors inside the OMRON BF511 Body Composition Monitor. This product includes handles, setting it apart from other scales, and the retractable handles contain sensors, as well as being placed more traditionally under the feet. This allows the machine to do entire body measurements.
It can be used by the whole family as well with up to four users plus guests.
The weight limit is a bit lower on these scales compared to some others in this review, coming in at 150kg, which might not be enough for some users. Also, be aware that these scales do not display your body weight in stones, only pounds and kilograms.
Pros:
A unique and efficient design
Measures a lot of metrics
Uses eight sensors for accurate readings
It can be used for the whole family
Clinically validated
Cons:
Maximum weight limit of 150kg/23st 8lb
It doesn't display weight in stones
Which Bathroom Scales Should You Choose?
Whether it is for weight loss or monitoring a specific health issue requiring you to have body analyser scales, whatever your fitness plan is, you'll want to track your progress. Choosing from a multitude of mechanical and digital bathroom scales in today's cluttered marketplace can be easier said than done.
There are so many different options available, from solutions that simply measure and display weight to devices that can tell you everything you need to know about your body.
Body Composition or Simply Just Weight?
Ask yourself what information do you need from the product you are looking to buy. Is there a specific goal you have in mind? For example, is it weight loss, or are you looking to develop muscle mass and reduce your body fat percentage? The more information you need from your digital bathroom scales, the smarter they need to be.
Consider whether you want something with a smartphone application that you can use to track your fitness results too!
Some of the extra things your bathroom scales might be able to measure today include:
Water percentage
BMI
Body fat percentage
Muscle mass
Skeletal mass
Metabolic age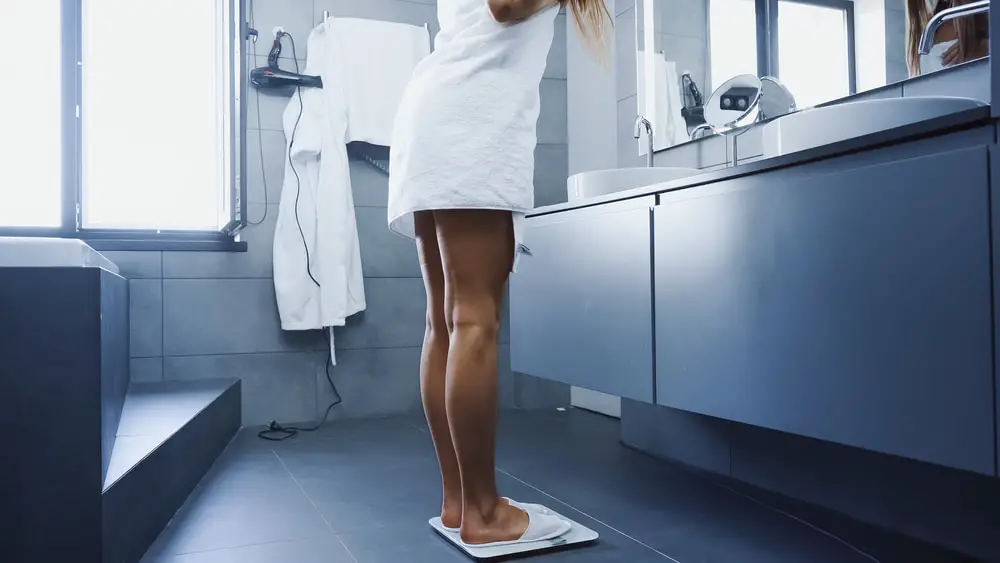 Key Considerations
To assist you in purchasing the right scales for you, we have added some things to consider before you buy:
Design
Do you love all things retro and are looking for the best looking mechanical bathroom scales to hit that brief? Or do you prefer something sleek and slimline? Consider the aesthetics and design of your bathroom and look for a scale that will compliment this – there are many to choose from.
Additional Features
There are so many features now offered by manufacturers to give their products a competitive edge. There is something for everyone, from pregnancy trackers and baby modes to being the most accurate bathroom scales on the market.
Many scales now come with their own app and integrate into many of the leading health apps on the market. Is being able to integrate your weight and body composition into your preferred health app an essential requirement for your purchase?
Ease of use and features such as back-lit displays and auto-calibration may also be important factors for you to consider. Do you like to weigh yourself post-shower, then you may need a non-slip surface?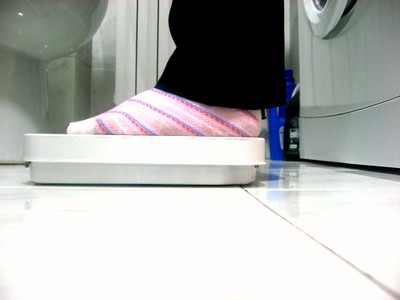 Accuracy
Make sure to check out the reviews left by other customers to get an insight and a good confidence level in the precision of your preferred model. It's essential to ensure that you're getting a set of scales you can trust to give you great results, especially if you are looking for body analyser scales.
Conclusion
We hope that the bathroom scales reviews are helpful to you in clarifying your requirements for purchasing the best bathroom scale in the UK.
Our aim is that having reviewed the considerations above, you'll have been able to find a product that ticks all the right boxes for you. However, if you're still struggling to choose the best bathroom scales for your needs, you can try our Editor's Choice – the Renpho Bluetooth Scales. It comes with its own smart fitness app, which integrates to Apple Health, Fitbit and Google Fit apps. It even has support for an Apple Watch. It's easy to use for the whole family and has 13 different measurements, including BMI and body fat percentage.
Additional Resources
Nicole has a passion for everything about the home – especially decor. She loves to add new touches and style to every part of the house. Join her as she documents her ideas at Home & Style.