Last Updated on February 28, 2022
Our editors independently research the best products online to produce this list. We may receive commission on purchases made from the links below but this will never affect our product choices.
---
Top 9 Best Cantilever Parasols
Parasols are an excellent addition to your garden, lawn, or patio. Parasols are large sun umbrellas that add elegance to your outdoor look and provide fantastic shade during sunny days. Spending time outdoors is intrinsic to human nature and good for your health too. Everyone needs fresh air and Vitamin D to stay healthy.
But with the Great British climate, it's all too easy to go inside when it is too hot and sunny or when the weather is not at its best. However, with a cantilever parasol, it is possible to enjoy yourself irrespective of the weather; you can sit comfortably under the shade of the canopy in the height of summer or through light rain spells and enjoy it as a stylish backdrop; to your seating area in the evening!
Additional features such as integrated LED lighting take your parasol from being a functional item to bringing a design element to your garden!
So, to make sure you find the one that suits you, we have made a list of the best cantilever parasol in the UK. Read on!
How We Compared Cantilever Parasols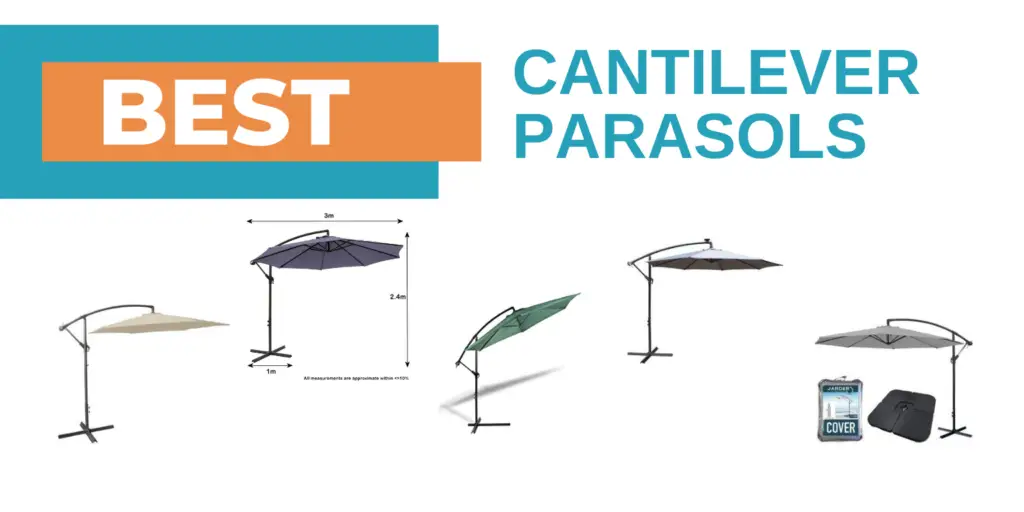 To find the right cantilever parasols we considered multiple factors, including:
Materials of the frame and canopy
Adjustable
Ease of opening and closing
Additional features
Our team independently examined and compared hundreds of products to help satisfy different needs. We spent our time researching cantilever parasols and consulting customer reviews to ultimately bring you what, in our opinion, are the best options on the market right now.
To find out more about our editorial process, take a look here.
Cantilever Parasol Reviews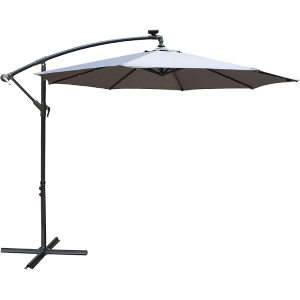 This 3m cantilever parasol by AIRWAVE combines style with functionality as it is modern and stylish in design and will fit comfortably over any dining or seating area in your garden. In addition, it can provide shade in the daytime and a gorgeous lit-up backdrop for your evening entertainment. 
The LED lights are solar-powered, so they are entirely free to run and environmentally friendly. The metal frame of the parasol is coated with a rust-free powder to prevent damage from the elements, and the parasol is water repellent and durable to prevent any rain from hitting you and the material from becoming waterlogged.
A crank mechanism makes the opening and closing a simple task, and the base has a cross design for maximum stability, and weights can be added to it if required.
However, this type of parasol may require additional weight for better stability. Furthermore, its hinges may not provide full support, so you have to think about addressing this issue.
Pros:
Rust free coating on the metal frame
Solar LED Lighting
Easy to open and close
Stylish design
The base can take weights
Cons:
It may move in the wind
Hinges may not be strong enough to support the canopy
It may require weights to provide stability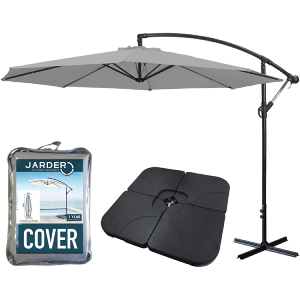 With this parasol by Jarder, you are getting a whole set for your money, making it well worth the spend. The parasol also comes with a cover and base and is easy to assemble.
The cantilever means that you can tilt the parasol in any direction to provide shade where you need it. The parasol material is made from thick polyester, 180 g/m², which is weather-resistant and long-lasting.
The base can be filled with water or sand, providing stability to the parasol, and the cover will protect it from all elements, be it UV rays or frost and rain, and leaves, bird droppings and any other kind of debris that might land on the material.
It is important to note that this parasol may be less stable when it is windy. Also, it may take a lot of space, so you have to consider where you will put this in your home.
Pros:
Cover included
Thick material
Easy to manoeuvre crank handle
No tools required to assemble
The base can be weighted for additional stability
Cons:
It may spin on its axis in windy conditions
It may require weights in the base to hold it steady
The base may take up a lot of extra space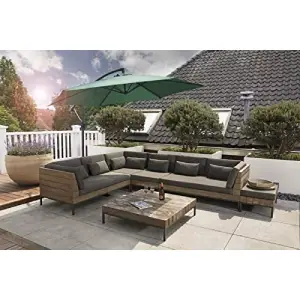 Although the 909 Outdoor 3m Cantilever Parasol may require a weighted base for optimum stability, only a few cantilever parasols can do the job better. With its crank handle, you can easily open and close the parasol without a hitch. 
Like many other cantilever parasols on this list, the parasol is made easy to clean and tear-resistant polyester cover. Interestingly, the 3m wide polyester cover is significant enough to induce full coverage against torrid weather. Besides, you can tilt the parasol up to any angle so you can have maximum protection against wind, rain and harmful sun rays. 
While providing a complete shade cover, the parasol is crafted from a black steel frame and has six ribs for maximum support. Plus, the dark green colour will complement your outdoor space. So, get the 909 OUTDOOR Cantilever Parasol and enjoy the beauty of a sunny day in the comfort of your garden.
On the other hand, the 909 Outdoor 3M is known to wobble when it is windy. So, you may have to put more weight at the base to keep it in place.
Pros:
Crank handle
All-weather polyester umbrella
Strong steel frame
Tilt option
Three colours available
Cons:
Instructions may not be clear
It may not be stable in winds
The base may not be secure enough without an additional weighted base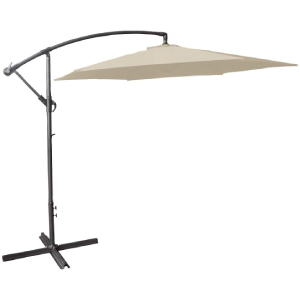 This simple yet elegant parasol by GardenKraft provides just short of 3m of shade without being imposing, perfect for covering an outdoor table when you eat al fresco.
The GardenKraft 14810 is easy to assemble and inexpensive to buy, at the lower end of our best cantilever parasol UK reviews.
Furthermore, it has a crank handle for easy opening and closing of the parasol and a cross base for stability. 
One thing to note is that this parasol does not come with a base that you can fill with water or sand to provide greater weight and steadiness.
However, several buyers of this parasol complained about missing bolts when installing them in their homes. Also, like most parasols listed here, it wobbles when it is too windy.
Pros:
Simple and clean design
Wide canopy coverage
Easy to assemble
Crank handle 
Good value
Cons:
It may move in the wind
Reviews mention bolts could often be omitted
May need weights for the base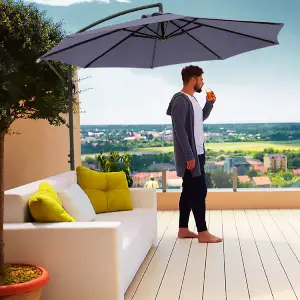 Divine Style Royal Purple Garden Cantilever Parasol is an excellent choice if you're looking for an adjustable parasol that will look great in your garden. It comes with a waterproof cover that is coated with anti-UV materials to ensure you are safe from harmful sun rays while keeping you safe from the rain, too. What's more, the UV-coating prevents the cover from fading and thus improves its longevity. 
Plus, this parasol has a 360° swivel function so that you can count on all-around protection against sun or rain. Additionally, the parasol is very stable because of its full-length cross base, so you don't need to worry about it toppling over. The parasol is also made with a wind flap to enhance optimum stability during extremely windy conditions. 
Finally, this parasol comes in a range of wonderful colours to suit any garden decor; from a jazzy purple to an elegant teal, there's something for everyone.
On the other hand, this parasol does come with some disadvantages. The bolts may not be securely attached, and the cord may snap easily.
Pros:
Sturdy and durable metal frame
Sun-proof and waterproof cover
Rotatable
Adjustable tilt angle
Modern colour and design
Cons:
The bolt to hold the parasol at an angle may not tighten sufficiently to keep it in place
The cord may snap easily
It may need to be weighted before you extend the canopy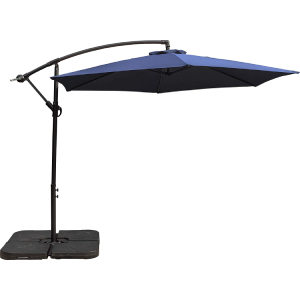 The navy-blue cover of the Schallen 3m Leanover Cantilever Parasol is enough to sway your attention away from any cantilever parasol available on the market today. This parasol also comes in other colours that will complement the beauty of your garden if navy isn't the colour for you. 
Meanwhile, the 160g polyester cover gives the parasol the strength to provide optimum protection against torrid weather. But what's cool about this parasol is the crank mechanism that makes it very easy to open and close. 
Like other options on the market, this parasol is equipped with an air vent that eliminates wind build-up so you can rest assured it won't fly away whilst providing shade and comfort to the whole family. 
Interestingly, the pole and ribs of the parasol are made of steel with a black coating to prevent rusting and thus enabling long-term use. However, although the parasol is complete with a crossed base, we still recommend supporting the base with a weight to provide optimum stability.
However, you may find the instruction manual of this parasol to be quite confusing. Also, it may wobble during windy conditions.
Pros:
Equipped with air vent
Anti-rust pole and rib
Straightforward to use crank system
Stylish colour and design
Cross style base for stability
Cons:
It may require a weighted base which is not included
It may move in the wind
The instructions may not be sufficiently detailed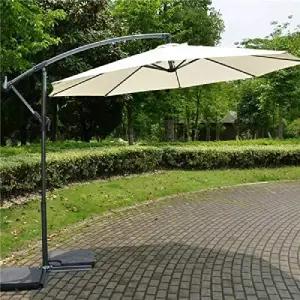 The Greenbay 3m Banana Cantilever Parasol is yet another best parasol available on the market today. This product features a 3m wide polyester canopy mounted on eight ribs to maintain stability while keeping you from sunburn and windburn. The polyester canopy is made with an air vent that prevents heat build-up and allows wind to escape. The polyester canopy is also a brilliant crème colour to complement the beauty of your garden. 
Meanwhile, it is worth noting that the parasol is made with a lift slider for outward extension and so you can easily adjust its inclination angle to suit your comfort. Thanks to the crank mechanism, you can effortlessly open and close the parasol for neat storage when the wind is getting out of control. 
Furthermore, like many cantilever parasols on the market, you may need to support the parasol with a weighted base to enhance optimum stability whilst in use.
Pros:
Polyester cover with air vents
Adjustable inclination angles
Reliable crank handle
Adjustable inclination angle
It comes in six colour choices
Cons:
A breeze may cause the parasol to move
Mechanism to hold the parasol at an angle may be flimsy
The string used to extend the parasol may snap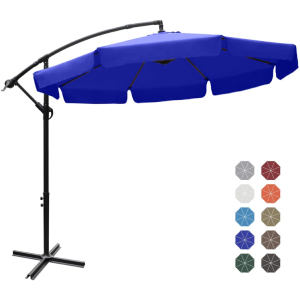 This striking blue cantilever parasol will be a welcome addition to any garden or patio! It provides 270 cm of shade and easily covers an outdoor dining table or provides a good shade area to sit beneath.
A crank handle makes it easy to open and close, and the sturdy steel frame is coated with rust-free powder to prevent rust and chipping and the paint from peeling away.
The parasol material is treated, providing UV and wet weather protection and is also light-resistant so that you will not have the sun shining down through the canopy. It is also made of heavy-weight polyester, at 200 g/m².
Meanwhile, the ABCCanopy Cantilever Parasol may not have a tilt function, which many users would rather have. Also, it may not include a weighted base, which is important as this parasol may sometimes become unstable.
Pros:
360° rotation
UV-proof and weather resistant
Durable polyester canopy
Extensive coverage
Alloy steel frame
Cons:
The canopy may move around even when secured in place
There may not be a tilt function
It may not include a weighted base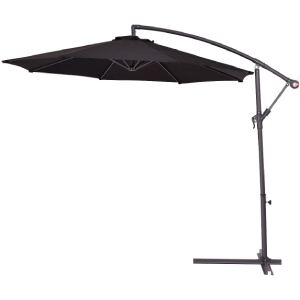 This is an eight ribbed parasol for stability in the canopy. That is why it is included in our list of the best cantilever parasol in the UK. 
The black material is a smart and modern finish to compliment your garden. The parasol is made from 180 g/m² polyester so that it is durable, wet weather and UV resistant. 
The parasol can be opened easily using a crank handle and can be tilted and secured in place with a safety pin in the position you need it in to provide a cool shady area.
The steel frame is powder-coated to protect against rusting and chipping so that the parasol is long-lasting and a good investment. The base is a cross shape for stability but be aware that it doesn't come with additional weights, and it is recommended to use them.
However, it is important to note that the open canopy mechanism may not be as effective and durable. Also, you may need to add more weight to the base to keep it stable.
Pros:
Sturdy and durable
Sun and waterproof cover
Coated steel
Eight ribs for stability in the canopy
Thick canopy material
Cons:
It may move in a breeze
The mechanism to hold the canopy open may not be robust
It may require a weighted base to be purchased additionally
Buyer's Guide
Struggling with the wind, sun and rain is a daily occurrence for anyone living in Britain. While weighing up the decorative value of a cantilever parasol, there are other more practical considerations to consider when finding the best cantilever parasol in the UK.
Materials of the Frame and Canopy
Look for a high gram per meter squared ratio of canopy material, such as polyester, as these will provide great weather resistance and shade. The canopy should also be treated so that it is UV and water-resistant. A good quality sun umbrella should protect you from the sun's harmful UVA and UVB rays. This is to avoid severe skin and health concerns.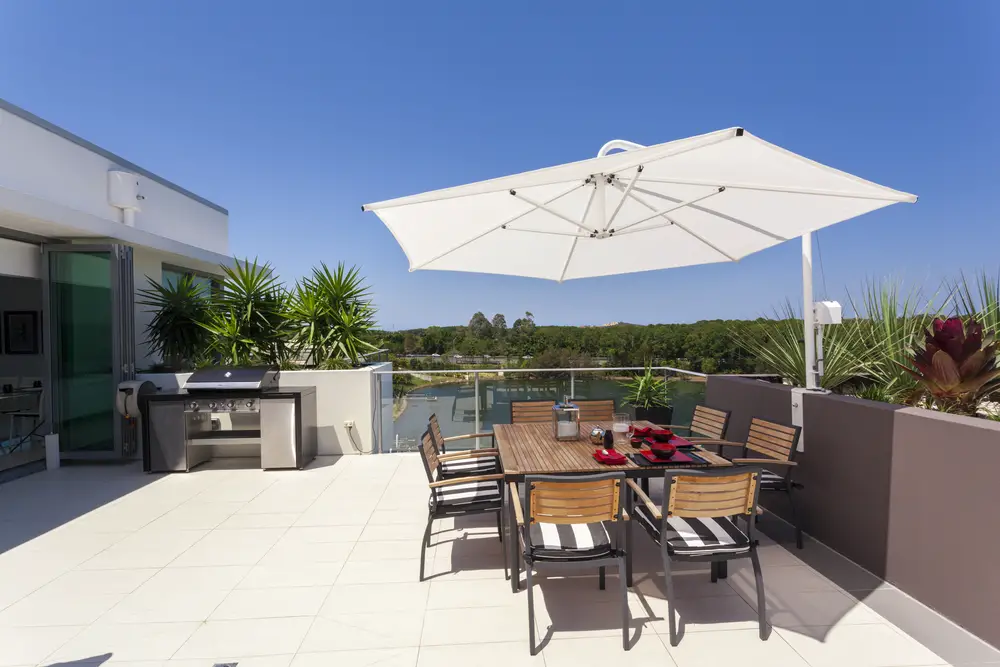 The frame should also be built from robust material such as steel and have a protective coating that can prevent it from rusting and even the paint peeling or chipping away if knocked against.
Adjustable and Easy to Open and Close
This could be one of the essential elements of a parasol, as you always need to adjust the direction according to the rain, wind or sun to make sure you remain fully protected.
A parasol with a crank lever to easily open and close it is also a must. It should be easy to do so that you can enjoy your outdoor space and not fight with the parasol!
Additional Features
Integrated LED lights are a great feature to look out for as it elevates the appearance and aesthetics of your parasol to another level.
A base included in your purchase, where you can add sand or water for additional stability, is also important, as you may have to buy weights or a base separately and increase the amount of money you spend.
A cover is also a great inclusion as it will ensure the longevity of your parasol, protecting it from the rain and cold weather and leaves and bird droppings when it is not in use.
Conclusion
If you are still unsure which parasol to go for, we recommend the AIRWAVE Apollo 3m Cantilever Banana Parasol as the best cantilever parasol in the UK. With its 3m diameter, you and your guests will be protected from the elements, whilst its LED lighting provides a sophisticated backdrop to your seating area in the evening! It is well constructed from materials that will last outdoors, and it is a stylish addition to any garden.
You won't incur any additional costs as the LED lights are solar-powered, and the metal frame of the parasol is coated with a rust-free powder to prevent it from damage from chipping or rusting over time. Additionally, the parasol is water-resistant and made from durable fabric so that you can still use it in light rain showers.
There is also a crank mechanism to make opening and closing a simple task, and the base has a cross design for maximum stability and is filled with either sand or water if extra weight is required.
Enjoy your outdoor space even more with this great cantilever parasol!
Additional Resources
Tania is a full-time writer and home product enthusiast. She loves helping readers not only get the most out of their home but to also pick the right products for their needs.