Last Updated on February 28, 2022
Our editors independently research the best products online to produce this list. We may receive commission on purchases made from the links below but this will never affect our product choices.
---
Top 10 Best Cheap Mattresses
Have you come to the conclusion that it is time for an upgrade of mattress because you are constantly tossing and turning throughout the night, wake up tired and achy or are currently sleeping in a groove? Choosing a mattress is an important and daunting task, as its such an individual decision and preference. We spend around a third of our lives sleeping, and that time needs to be of the best quality we can make it!
There are so many health benefits to getting a peaceful sleep, but it is also sometimes difficult to make a decision on the right mattress for you as there are some very well-known and expensive brands out there. They may lead you to believe you have to spend a lot of money to achieve the ultimate restful night. But don't worry, as we have listed out the top ten best cheap mattress in the UK to help you make that decision without parting with a significant amount of cash!
How We Compared Cheap Mattresses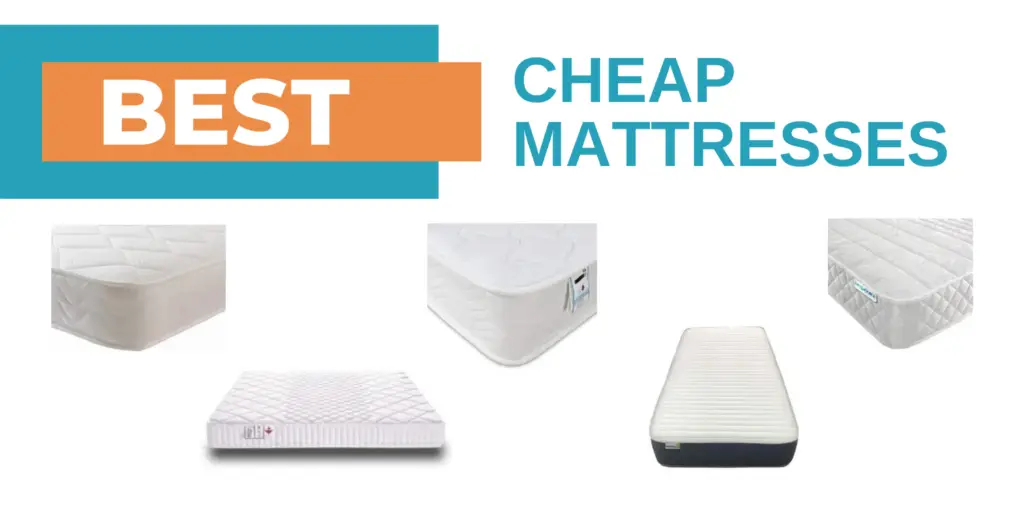 To find the right cheap mattresses we considered multiple factors, including:
Our team independently examined and compared hundreds of products to help satisfy different needs. We spent our time researching cheap mattresses and consulting customer reviews to ultimately bring you what, in our opinion, are the best options on the market right now.
To find out more about our editorial process, take a look here.
Cheap Mattress Reviews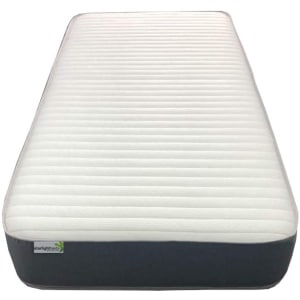 The Starlight Beds Double Memory Fibre Foam Mattress has a luxurious outer fabric in a modern grey. It is wonderfully comfortable thanks to its 13.5 gauge open coil spring unit and the top layer of pressure-relieving high-density memory foam. It is in the mid-range for cost in our top ten mattress reviews, making it an even greater no-brainer of a purchase!
With all these features, this memory foam mattress will surely offer you comfort and support!
At 21cm deep, this 4 ft 6 mattress is built to offer you the best night's sleep. The base foam, manufactured with superior quality memory fibre, gives you great support and structure that offers a medium feel. This targets the key areas of the body that require proper support, including hips, back, and shoulders while you sleep.
Made in Britain, the memory foam layers used in the mattress actively mould to the body's contours in response to pressure and heat and in turn, your body weight is evenly distributed when you lay down. The memory foam reduces stress on joints and muscles and alleviates pains and aches, rewarding you with optimal support. The top layer is made from a breathable, soft and luxurious stretch knitted fabric. This lets any heat from the mattress disperse and offers a cool sleep surface.
Finally, for that added reassurance, it has a 1-year manufacturer's guarantee!
Pros:
Breathable fabric
Hypoallergenic and dust mite resistant
Medium firmness
The UK made
Pressure and stress relieving
Cons:
It may lack edge support
It may have a strong smell when first unboxed
It may be too springy for some people's liking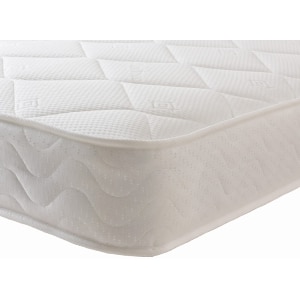 This Starlight Beds Luxury Single Memory Foam and Spring Mattress win our accolade for the best memory foam mattress!
It is constructed from open coil springs with a layer of top-quality memory foam to give you improved sleep quality. The mattress is 16cm deep and a standard single size of 3 ft.
The single mattress is suitable for children's beds, cabins and bunks as well as for adults. It comes vacuum-packed and in a box for easy unpacking. You simply need to leave it for a couple of hours to unroll and expand after removing the packaging.
This mattress is hypoallergenic and will not contain dust mite allergens. The memory foam layer is great for circulation and supports your body's pressure points. Chiropractors recommend memory foam mattresses as a way of achieving supported sleeping positions.
However, it is a medium soft mattress, so it may not be suitable if you require firmer support.
Pros:
A wonderful memory foam layer
Medium soft firmness
The UK made
Hypoallergenic and dust mite resistant 
Vacuum packed and boxed
Cons:
It may have a strong smell when first unboxed
It may be too springy for some people's liking
It may not have the strong support some people need
Supportive pocket springs, responsive memory foam, and a soft Tencel quilted fabric; this DOSLEEPS mattress has it all! This is why it is also one of our top picks for the best cheap mattress in the UK!
The stainless steel springs are housed into individual fabric pockets, nine zones in total, which allows each spring to work independently, and the pockets prevent any noise of springs colliding with each other. This fantastic mattress will also not transfer motion, so if your partner tends to toss and turn, you will not be disturbed by them!
This is a great option for side, back, and front sleepers. Thanks to the nine-zone support system, the springs are more frequent and firmer in different parts of the mattress, providing more support for your hips, lower back, shoulders, and neck. More than 700 pocket springs offer medium-firm support and reduce pressure.
Plus, a 2cm memory foam heat-sensitive layer on top moulds to the contours of your body for comfort and support. It uses warmth from your body to adapt to your sleeping position and allows for minimal impact on pressure points. Unlike other cheap mattresses, it has a Tencel fabric cover that offers great airflow for temperature regulation and is 100% hypoallergenic.
What's more, the mattress comes with a 90-day money-back guarantee!
Pros:
Nine zones 700 pocket springs
Firmer mattress
2cm memory foam
Tencel fabric
Vacuum packed and boxed
Cons:
May sink at the edges
Memory foam may be too thin
You might be able to feel the springs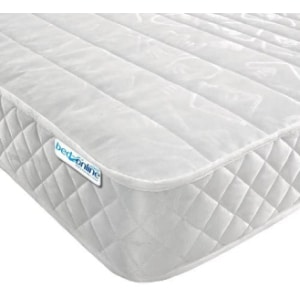 This Bedzonline mattress has open coil springs and is a pocket sprung for comfort. It is topped with a layer of memory foam for optimum relaxation and support.
The pocket sprung mattress is micro-quilted and is covered in a damask fabric for a luxurious and stylish look and feel. However, it is not an expensive mattress to purchase, and you get a deep comfortable mattress for your money.
The mattress comes vacuum-packed and is easy to move into the room you are going to install it in, and you have to remove it from the packaging and leave it to expand to its true shape. You can sleep on it within a number of hours, but it is best to leave this mattress for up to 72 hours for it to retain its true depth and comfort.
Pros:
Damask fabric for a luxury feel
Micro quilted for comfort
Open Coil Spring
Medium firmness
Vacuum packed and easy to manoeuvre 
Cons:
May be able to feel the springs through the mattress
It may take up to 72 hours to fully expand
May need a mattress topper
The Good Nite hybrid mattress is comprised of 16cm springs, a 1.5cm sponge layer, topped by a 5cm memory foam layer, making it a wonderful single mattress for spare rooms, children, the elderly and adults.
The hybrid model gives the benefit of springs so that it is supportive and has good air permeability, but then the foam provides comfort and contouring of the body. The fabric used is made from natural fibres, which will dispel moisture and keep you cool and dry whilst asleep. It also has anti-allergen and anti-odour properties.
The stainless steel springs give this sprung mattress medium to firm support but also a soft and comfortable top layer provided by the foam. The memory foam layer also aids blood circulation and supports your body, no matter your favourite sleeping position!
Pros:
Breathable fabric
Medium-firm mattress
Hybrid spring and foam mattress
Anti-allergen and anti-odour fabric
Vacuum packed and easy to manoeuvre 
Cons:
May be able to feel the springs
May smell when removed from its packaging
May sag at the edges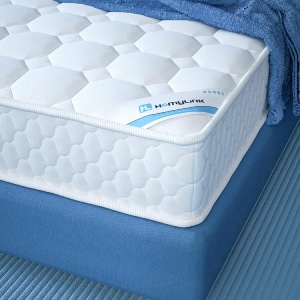 If you are looking for a high-quality mattress at an affordable price, the HomyLink pocket sprung a double mattress is a good option! 
It is a medium-tension mattress, a good all-rounder and best for those looking for a bit of extra support and comfort. Inside, the mattress features a double tempered pocket sprung layer built to last a long time and give it an extended life. 
The pocket springs work by absorbing motion and shock, meaning you won't be disturbed by your partner tossing or turning during sleep. The mattress also features waved-shaped massage foam and high-density foam layers on top of pocket springs to offer soft and comfortable padded support. Along with that, the unique cover made of 3D breathable fibres allows airflow and dispels moisture, keeping you cool and dry.
Additionally, this nine zones orthopaedic mattress offers the right amount of support to your body. It is at the upper end of our review, but you are getting many features for that still very reasonable cost. 
The hybrid mattress is packaged up in a box, meaning it is easy to transport. You can take it home from a shop or have it delivered and are not reliant on having two people available to move it into the room you want it to be in.
Pros:
Breathable
Hypoallergenic
High-steel carbon springs
Nine zone comfort
Boxed up for easy transport
Cons:
May be able to feel the springs
Memory foam may not be thick enough
May need to let it sit for a few hours before use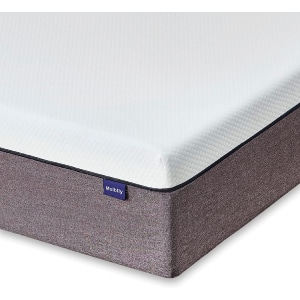 This is a great memory foam mattress, set apart from others in this review by the fact that it contains double layers of foam, one of which is a 3cm gel layer over the top of a 17cm base layer of foam. The two foam layers are encompassed in a hypoallergenic and gentle covering, which can be removed and washed.
The combination of foam giving great air circulation and high-quality materials means an extremely breathable and comfortable mattress. The foam should not sink or remain depressed but has body moulding properties and which provide pressure relief and reduce any movement and noise made by your partner in bed.
The foam mattresses are bagged and packaged in a box so that it is straightforward to install in the desired room. You then simply remove it from the box and allow the mattress to unfold fully. Please note that this mattress does come with advice to leave for 48 hours before putting bed linen on it.
Molblly offers a 10-year warranty as they are confident in its performance!
Pros:
Breathable
Gel foam technology
Double foam layered
Removable and washable cover
10-year warranty
Cons:
May sink with use
It may not be as thick as advertising images appear
It may be too hard for some people
This is a great example of hybrid mattresses containing both springs and memory foam! 
The orthopaedic coil springs provide firm support, whilst the memory foam border and top are hypoallergenic and moulds to the contours of your body. Memory foam promotes good blood flow and relieves pressure points by distributing and absorbing your body weight.
The mattress has a great depth of 22cm and is designed with a vertically stitched border, giving it great edge support, which many other mattresses lack. You can often find that your mattress will sag as you sit on the edge, but not if you purchase the Jumpi Cool Blue Memory Foam and Spring mattress!
The mattress comes delivered to you rolled, so it is easy to move around your house and into the desired room.
Pros:
Deep mattress
Hybrid with both springs and memory foam
Good edge support
Easy to transport
Hypoallergenic
Cons:
The memory foam layer may not be very thick
It may be bouncy rather than absorbing
May dip after longer-term use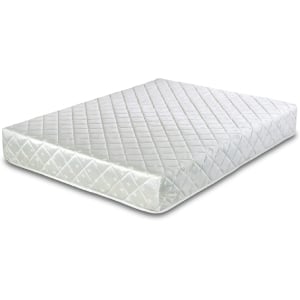 If you search for a hybrid mattress that comes with a reasonable price tag, then the Visco therapy deluxe mattress is a good place to start. This 21cm thick mattress offers premium comfort and support with medium firmness.
The 190 x 135cm mattress is suitable for every bed type and features a Bonnell coil springs layer to offer bouncy comfort, which high-density foam alone doesn't achieve. The spring system also provides more firm support to your body, more so than pocket sprung mattresses can achieve.
Additionally, the mattress has a 2cm layer of reflex foam on top of the coil springs that offers comfort, stability, and support. This foam is different from memory foam because it is higher in density and will not mould to your body, instead evenly distributing weight across the mattress when you sleep. Finally, a 2cm layer of memory foam is also added for additional support.
This best double mattress provides a heat-sensitive soft, and pliable layer that moulds directly to your body shape and allows you to find the most comfortable sleep position for a great night's sleep. Made in the UK and tested to British standards, this mattress assures high comfort, pressure relief, and back support.
The polyester-cotton fabric cover allows great airflow and breathability that regulates your body temperature.
Pros:
Tape edging
Two layers of foam and springs
Hypoallergenic
Coil springs
Breathable cover
Cons:
May be able to feel the springs
May sag after use
Heavy and lots of plastic when rolled up
This Comfy king-size mattress by The Sleep Factory is made with allergenic natural fillings and is dust mite resistant to ensure that it is the best mattress for those with allergies. If you are in the market for a new mattress and need one that you can be confident won't trigger an allergic reaction, look no further. 
It is manufactured with springs and memory foam to bring you the ultimate in comfort. The top layer is a quilted cover with cool wave technology so that you can have a cool and restful sleep. The mattress has medium-firmness and offers good support. The memory foam gently moulds to the contours of your body, relieving pressure and stress whilst the springs provide additional support.
The mattress is 15cm deep, which isn't the deepest across our review but should offer sufficient support to you. Some reviews mention that it wasn't delivered rolled up and in a box, so it may be worth checking how it will be delivered.
Unfortunately, you may find that you can hear the springs as you move around, which isn't ideal if you're a light sleeper.
Pros:
Hypoallergenic
Memory foam and springs
Inexpensive
Cool quilted top cover
Medium support
Cons:
May be able to feel and hear the springs 
Memory foam may not be thick enough
It may not be long lasting
What to Look for When Buying a Cheap Mattress
Before you purchase the best cheap mattress in the UK, it is worth asking yourself a few questions: What position do you sleep in, and how firm do you like your mattress to support you? Do you have any illnesses or allergies that might point you towards a certain type of mattress, such as orthopaedic or one that is hypoallergenic? Are you a hot sleeper and need a mattress that has cool technology and is breathable or has air vents?
There are many types of mattresses now available, so we have listed out some further considerations to help you decide:
Firmness
Each mattress will come with a firmness rating, going from very soft to very firm. The firmness and level of support provided will also depend on the construction of the mattress. A sprung mattress may give you more support than memory foam mattresses. There are even differences between a standard spring mattress and pocket sprung ones, with the former being more supportive.
Size
If you are reviewing budget mattresses to fit into an existing bed frame, then you need to be confident that you are buying the right size for the frame and make sure the mattress fits. You can choose from many, some with just subtle differences in size, such as a small double and double mattress, but they typically range from single to super king.
Materials
Suppose you suffer from allergies or want to ensure that your memory foam mattress or sprung mattress materials are organic. In that case, you need to look out for the best mattresses for hypoallergenic fabric and fillings.
Additionally, the mattress's topper material is important. It can influence how soft the mattress feels, how breathable the material is, and whether it can dispel moisture.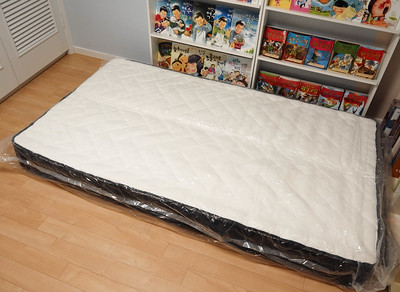 Suppose you suffer from sleeping with a partner who moves around a lot throughout the night, keeping you awake. In that case, you will know how important it is to have a mattress material that will absorb motion and sound from movement, meaning that you can sleep more peacefully yourself.
A memory foam mattress can give you that quiet distribution of weight and movement and may work for you better than a pocket sprung mattress. You don't have to spend a significant amount of money. You can get a cheap memory foam mattress that will suit you well.
Conclusion
Hopefully, this review has helped provide the information and advice you need to find the best cheap mattress in the UK for your needs. There are many options out there, from the best hybrid mattress to the best pocket sprung mattress, and we hope that you now feel a bit more confident in your knowledge and understanding of what these things mean.
Our aim is that you'll have been able to find the mattress that meets your needs out of all the mattresses we have reviewed. However, if you're still struggling to choose the right one for you, you can try our Editor's Choice – the Starlight Beds Double Memory Fibre Foam Mattress. 
This sprung mattress is wonderfully deep and includes a thick layer of memory foam to give you medium-firm support. The memory foam mattress ensures that pressure points have adequate support and aids circulation, and it is also made from fully hypoallergenic and dust mite resistant materials. 
Additionally, the top layer is made from a breathable and soft fabric, letting heat and moisture disperse.
Enjoy your best budget mattress, and here's to peaceful nights!
Additional Resources
Tania is a full-time writer and home product enthusiast. She loves helping readers not only get the most out of their home but to also pick the right products for their needs.