Last Updated on February 28, 2022
Our editors independently research the best products online to produce this list. We may receive commission on purchases made from the links below but this will never affect our product choices.
---
Top 10 Best Clothes Steamers
A clothes steamer is a great addition to any household and goes beyond some of the obvious benefits you may immediately think of.
As well as being able to remove creases from our clothing, they also offer the ability to lessen the crease and freshen up curtains, upholstery, furniture and bedding. Because of the temperature of the steam they emit, they can also kill up to 99.9% of bacteria from a surface.
They are great for running over items that have been ironed already and simply need freshening up, or for school blazers that you won't wash all the time but need the occasional spruce. They can remove odour as well as creases!
Read through our reviews below on the best clothes steamer in the UK and our buyer's guide for advice and tips on what to look for, and we are sure that you will be able to find the perfect clothes steamer for you!
How We Compared Clothes Steamers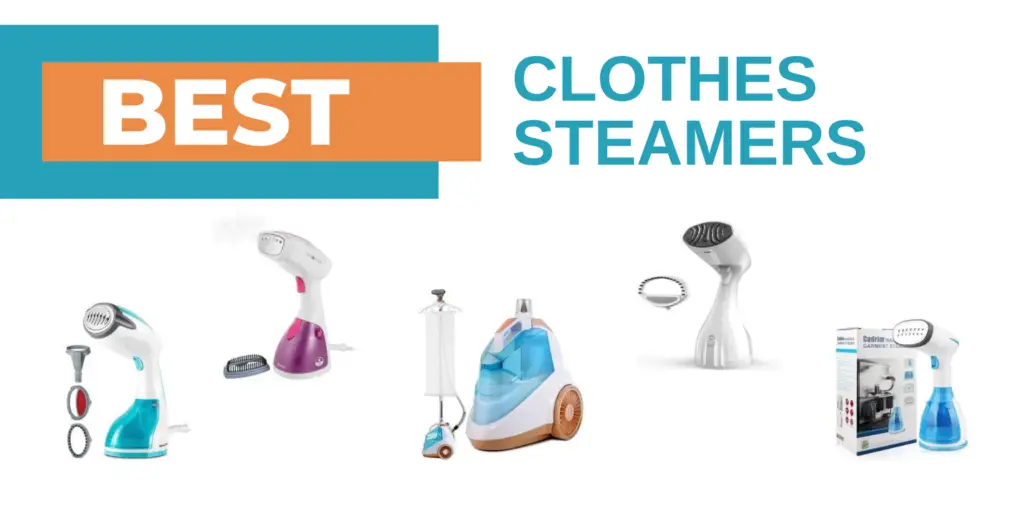 To find the right clothes steamers we considered multiple factors including:
Water Capacity
Home Use or Travel
Features
Steam Vs. Iron
Our team independently examined and compared hundreds of products to help satisfy different needs. We spent our time researching clothes steamers and consulting customer reviews to ultimately bring you what, in our opinion, are the best options on the market right now.
To find out more about our editorial process, take a look here.
Clothes Steamer Reviews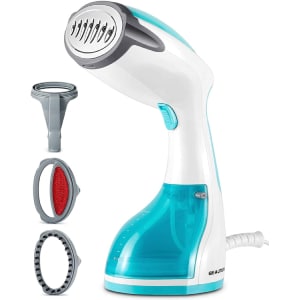 This handheld garment steamer by Beautural wins our Editor's Choice accolade for a whole host of reasons! 
This clothes steamer has a large water tank of 260 ml, meaning it can release continuous steam for up to 15 minutes at a time. It also heats to temperature in less than 30 seconds, so it really is ready to be used in no time at all.
Additionally, the clever anti-leak design makes it safe to use both horizontally and vertically, so you can steam clothes whilst on clothes hangers, as well as when they are laid out. Another stand-out attribute of this handheld steamer is that it has several safety features; it will automatically turn off when low on water, if overheating and after eight minutes of inactivity. 
The clothes steamer is lighter than a standard iron at 1.1 kg, making it very easy to pack, even while travelling. 
Usefully, the steamer has a 2.4 m power cord, giving you plenty of flexibility for movement without needing an extension lead. It also comes with a fabric brush, lint brush, water refill cup and a creaser clip. Finally, it is safe to use on a wide range of fabrics, including cotton, silk, wool, linen, and nylon. It is also safe for furniture and toys.
There are downsides to this steamer, however. You may need to be extra careful as it may automatically lock, and you may need to hold it so you can steam the edges of garments properly.
Pros:
Heats in less than 30 seconds
Steams continuously for 15 minutes
Anti-leak for horizontal and vertical steaming 
260 ml water capacity
Safety features
Cons:
It may be hard to steam to the edge of garments without holding them
May lock accidentally
May work better on light creasing than heavy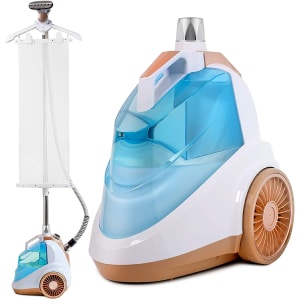 This is a 2200 W heavy-duty garment steamer that can steam at temperatures up to 98°! Unlike handheld clothes steamers, the Sabi Garment Steamer can support a 2-litre water tank capacity, allowing you to steam for a full 40 minutes at a time without having to refill with water!
With temperatures as high as 98°, this steamer is able to kill the majority of bacteria, germs and dust mites in clothes, so it will sterilise as well as leaving your clothes smelling fresh and hanging crease-free.
It is suitable for a large range of fabrics, working especially well on delicate ones such as silk and delicate synthetics. It also works well on furnishings such as curtains and upholstery. Additionally, it has four different settings that you can adjust depending on the item being steamed.
This may be at the upper end price-wise, but it is a powerful garment steamer that can make short work of any steaming you need, allowing you to say goodbye to those long hours standing at an ironing board!
You will have to consider, though, that it may be a bit hard for you to move it around the floor. Also, while it comes with a hanger, this may not be suitable for long garments, such as dresses and coats.
Pros:
2200 W power
40 minutes of continuous steam
2-litre water tank
The steam temperature of 98°
Four adjustable settings
Cons:
It may be hard to move the steamer around the floor
Instructions may not be very useful
Hanger included may not be tall enough for full-length garments such as dresses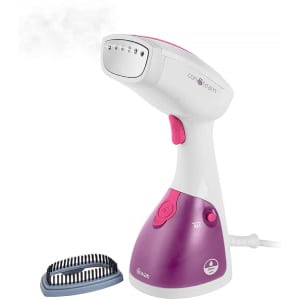 For not a lot of money, this Swan Handheld Garment Steamer gives you a lot of functionality! 
You can use this steamer in a dual position for both vertical and for flat steaming without leaking water onto your clothes or fabric. It has a 250 ml water tank, so no need for continuous refilling as you steam.
This is a great handheld garment steamer as it has a 1.9-meter swivel power cord to allow you to move around and easily reach all areas of your clothes. It has been designed to be small and light, with a comfortable handle position and grip, for ease of use.
This handheld steamer comes with a detachable fabric brush for doing upholstery, curtains and furniture. It also has a fast startup speed, 1100 W power, will kill bacteria, and steaming your clothes and keeping them smelling fresh. Finally, this product also has an automatic switch-off for overheating and low water.
On the other hand, you may have to make a few adjustments when using this steamer because, in some cases, it may be more effective when you position it horizontally. Also, you may have to be extra careful as there are no alerts for the temperatures.
Pros:
Ergonomic handheld design
1.9-meter power cord
Vertical and horizontal steaming
Automatic power off
Detachable fabric brush
Cons:
May work better in an upright position rather than horizontal
No alert to say when the handheld steamer is at a temperature
May not get a garment completely crease free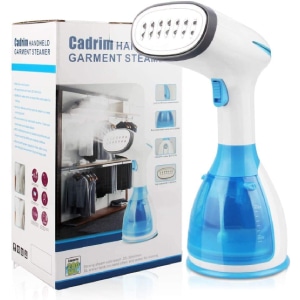 This best handheld clothes steamer is a powerful little number at 1500 W and will reach the correct temperature for use in just 20 seconds! It has two options for steam power and will steam continuously for 9 minutes on a full water tank.
It has a handy 2-meter power lead, so you have plenty of manoeuvrability, and it comes with a detachable lint brush for removing bobbles. Another useful feature that this handheld garment steamer has is a continuous steam lock switch, so you do not have to keep pressing a button while using it. It also has a safety feature that it will automatically turn off after 8 minutes of inactivity. 
It is lightweight at 1.1 kg, and this best handheld steamer is a great product not only for travelling but also within the home for people with joint or strength issues who find ironing difficult.
Although the details do mention that it can be used in a horizontal position, they then go on to say to do this with care and that it may not really be suitable for flat steaming.
Pros:
20-second warm-up time
Light to tell you when it is at the right temperature
Large water tank capacity
Continuous steam button
Auto-off for inactivity after 8 minutes
Cons:
It may not be suitable for flat steaming
May not be able to remove creases from heavier materials
May spit and splutter water
The Homeasy Portable Garment Steamer is powered by 1500 W and can reach an impressive temperature of 110° within 25 seconds, so there's no hanging around waiting for it. The water tank can hold 280 ml of water, and this will give you 15 minutes of continuous steaming before it needs to be refilled.
This best travel steamer has seven steam holes in the nozzle, which let out a wide stream of steam that penetrates clothing well. The nozzle is manufactured from ceramic rather than stainless steel, which holds the heat better, and the 110° steam will kill bacteria in your clothes or furnishings and remove creases and odours.
When you purchase, you also receive a travel bag, a brush attachment and a glove to fully protect your hand from steam. It is straightforward to use with a button to remove the water tank, and there is an indicator light that turns green when the steamer is ready to use.
The handheld garment steamer will automatically switch off if it gets too hot or if the water tank runs dry. It is also manufactured from ABS material, giving it great heat protection, so you needn't worry about burns when using the steamer.
However, there are some downsides to this steamer. It may not always remove creases from heavier garments, and there is a chance that the water tank seal may leak.
Pros:
Light and comes with a travel bag
Indicator light to show when ready to use
High steam temperature (110°)
12-month warranty
The ceramic material used in the nozzle for high heat
Cons:
Lead length may be a bit short
May not be able to remove creases from heavier materials
Water tank seal may leak 
This product by Quest wins our accolade in the category of best upright clothes steamers! 
The Quest 42320 Upright is powerful at 1800 W and can run for a really impressive 50 minutes before you refill the water tank that holds 1800 ml. It has a quick heat-up time of just 45 seconds and a 1.7 m long power lead. For safety, it has an auto-off function.
The benefit of an upright garment steamer is that it has a built-in hanging solution for any type of clothing, from trousers and skirts to shirts and blouses. So no need to find a door hook to hang your clothes from! The pole is adjustable, so you can make it the right height for the type of clothing you are steaming. It is also flexible enough to be used on curtains or furniture too.
Although powerful, this is an inexpensive clothes steamer and is small and compact too. It can be left in the corner of the room or even in a cupboard, and it will not use up much space at all.
On the other hand, the clips of the trouser and skirt may be fragile. Also, it may not be able to eliminate creases completely in heavier garments.
Pros:
Auto-off function
50 minutes of steaming
Telescopic pole for flexibility
Small and compact
1800 ml tank capacity
Cons:
Trouser and skirt clips may be too fragile
The water tank may be difficult to insert without spilling
May not be able to remove creases from heavier materials
The Wiredlux Handheld Clothes Steamer is so compact it is a dream to store anywhere, whether that is in your handheld luggage if you are a frequent flyer or at home in a drawer or cupboard. Its dimensions are 19 x 8 x 6.5 cm, and it weighs only 600 g!
But being small doesn't mean it lacks in oomph. This clothes steamer heats up in just 25 seconds, and it will produce continuous steam for 10 minutes at a time before it needs refilling. The steam will kill 99.9 % of bacteria as well as removing creases from your clothing, even the most delicate fabrics. 
A stand-out claim from this small handheld travel clothes steamer is that it is 100% leakproof. You can hold it at any angle to steam, vertically, horizontally, even upside down, and no water will come out of it! It is also very simple to use, you simply move the switch to steam, and it will start. It also has a power indicator.
The tank capacity is only 100 ml, but this comes hand-in-hand with its size, and it can run for 10 minutes, which puts it in amongst other handheld steamers. It also comes with a door hook, fabric brush, travel bag and hanging equipment! 
While this is a great contender for the best clothes steamer in the UK, it does come with some disadvantages. It may spit water at times, and its tank capacity may not be sufficient for daily use.
Pros:
Ultra-lightweight
Great product extras
One year free replacement warranty
100% leak-free in any position
Heats in 25 seconds
Cons:
May spit water
May not have sufficient tank capacity for daily use
May not be able to remove creases from heavier materials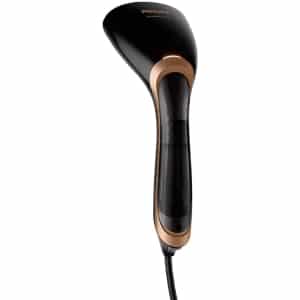 This handheld garment steamer by Philips uses heated plate technology to give you great results when steaming horizontally.
The Philips GC362/86 Handheld Clothes Steamer can press against fabric ensuring creases are removed. Any material that is safe for ironing can be steamed using this steamer, even the most delicate fabrics, and it is guaranteed not to burn.
The handheld clothes steamer heats in 45 seconds and has a removable tank capacity sufficient to steam one item of clothing before it needs refilling. It has a 2.5 m power cord which is plenty to move freely around a garment or to do bedding or a sofa.
This garment steamer comes with a glove to protect against steam when holding the hem or sleeve of an item, a fabric brush and a storage bag. It is compact, great for storing out of the way or for travel.
Meanwhile, there are a few disadvantages as its water bottle may suddenly detach while in use.
Pros:
Vertical and horizontal steaming
Smart technology for fabric safety
Ergonomic design
Will kill 99.9% of bacteria
2.5 m power lead
Cons:
Water capacity to steam one item of clothing may not be sufficient
A water bottle may become detached whilst in use
The glove may not be suitable for holding clothes with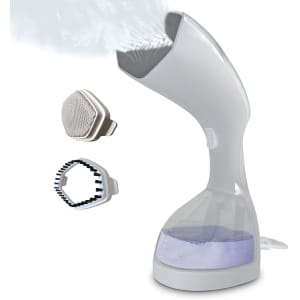 The SparkPod Handheld Clothes Steamer has a great water tank capacity of 260 ml of water, and the tank has a built-in limescale filter to increase the longevity of the product. It heats up in just 35 seconds. 
All of these awesome features in a lightweight handheld garment steamer, weighing in at only 1.28 kg!
The handheld steamer has many smart features, such as the automatic switch to idle mode if the item is inactive for 8 minutes and its anti-leak design, meaning that it can be used in any position for vertical and horizontal steaming. Additionally, a light indicator flashes green when the steamer is at the correct temperature and ready to use, and it will automatically switch off if it overheats.
Two accompanying brush heads are included when you purchase this handheld steamer, one with bristles for more robust fabrics such as cotton, polyester and wool, and a cloth brush for more delicate fabrics such as silk and linen. 
On the other hand, this steamer may be noisy for some users. Also, it may not be that effective in removing creases in heavier materials.
Pros:
Lightweight at just 1.28 kg
260 ml water tank
Anti-leak design
Auto-off for overheating and idle mode
Limescale filter
Cons:
May not remove creases in heavier materials
The cord could be longer
It may be noisy in use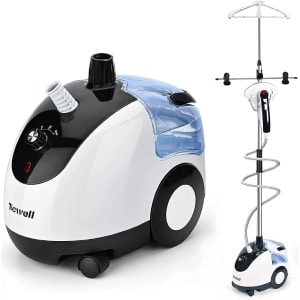 This Ticwell Essential Garment Steamer is truly a workhorse! It has over handheld clothes steamers an impressive water capacity of 2.4 litres, meaning it can provide 90 minutes of continuous steam!
Unlike other garment steamers that have only one steam setting, this clothes steamer has four, including a self-clean function, so you can adjust it to your fabric and level of creasing. It also has a steam head that can be rotated up to 90° depending on whether you are steaming in an upright position or horizontally. The water tank is removable and has a handle for easy filling.
The stainless steel pole includes a holder for the steam head, a hanger and a trouser hook. The steamer head is made with ceramic and has ten steam outlets, and there is a continuous steam lock switch, so you do not have to keep hold of the button. Impressively it heats in only 20 seconds!
However, if you check the instructions manual, it may be quite difficult to follow or understand. Also, its pole may not be long enough for full-length and long garments.
Pros:
2.4-litre capacity
90 minutes of continuous steam
Rotating steam head
20-second heating
Continuous steam lock switch
Cons:
It may need storage space on par with a hoover
Instructions may not be clear
Pole may not be long enough for full-length items
Buyer's Guide
There are many things that are worth considering before you purchase a clothes steamer, as they come in a variety of options, and you want to make sure that you make the right choice for your needs so that you can banish that ironing board; for good!
Water Capacity
Considering how often you think you will want to use your garment steamer and what clothing items will determine whether you will be steaming just the occasional item. For instance, perhaps you have a couple of delicate items that you don't like to iron; therefore, you don't need a significant water capacity, and a handheld steamer will work perfectly for your requirements.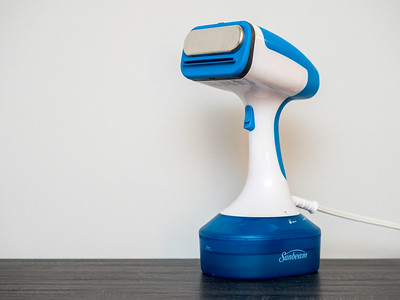 Suppose you are really looking to replace your iron wherever possible. In that case, a clothes steamer with a larger water tank will be beneficial as it will prevent you from having to refill with water multiple times through a steaming session.
The upright garment steamers have the largest water tanks as they are housed in the unit on the floor; some have the function to release steam continuously for up to 90 minutes! These are ideal if you have a lot of clothes to steam, especially in a commercial setting.
Home Use or Travel
If you are a frequent traveller who wants a quick and light option for your clothes, then a handheld travel steamer is a great choice. They are also perfect for travelling to a wedding and having dresses, veils, and jackets to make sure they are hanging beautifully. Steamers, unlike irons, are perfect for delicate fabrics.
It is probably self-explanatory, but if you are looking to travel with a steamer, you should consider our best handheld travel clothes steamer. It is lightweight and compact, and perfect for fitting in a case or luggage bag. There are several handheld clothes steamers in our review that may also do the job perfectly. Look for one that comes with a travel bag as a handy addition.
Suppose you are looking for something that does not need putting away and could be kept in a spare room or out of the way in a corner. In that case, an upright clothes steamer may be the way to go as it gives you longer steaming and may also come with hanging equipment, meaning you're not reliant on finding a door hook all the time.
Features
There are a number of things that are worth considering before you commit to making a purchase, and reading through garment steamer reviews will help you find the right product for you.
Pre-heat time – Some clothes steamers can heat up in only 20 seconds. Others may take closer to 1 minute. If you need an instantaneous solution to a creasing problem, then a quick heating product will be best for you.
Steam settings – some garment steamers may not have adjustable steam power, but others can give you three steam settings or more, meaning you can set it to steam at the right level for the clothing material and amount of creasing. Some garment steamers also have a self-cleaning function.
Accessories – the best clothes steamer to buy may come with a crease attachment or a lint brush, hanging equipment, a travel bag or water bottle adapter. These are all things designed to make your life easier and are good to look out for.
Anti-leak design – some of the best handheld garment steamers have an anti-leak design so that they can be used for both vertical and horizontal steaming. It is worth reading the small print, though, as some are advertised as anti-leak but then go on to say that they are not recommended for use in a horizontal position!
Safety features – many steamers have the useful functionality of automatically switching off if they overheat, run low on water, or have been inactive for a period of time, usually around eight minutes.
Steamer Vs. Iron
The one area that may not match up to iron is creating the perfect collar press or the crisp seams that you can achieve. Heavier creasing in cotton clothes, and perhaps linens, may struggle to be removed by all but the most industrial of clothes steamers.
Conclusion
We hope our list of contenders for the best clothes steamer in the UK has helped provide the information and advice you need to find the best handheld clothes steamer for your needs. There are many options out there, from a handheld clothes steamer that has great water capacity and a decent period of continuous steam to an upright one which may offer you lots of functionality and the ease of use of not having to carry the whole weight. We hope that you now feel a bit more confident in your knowledge and understanding of what these things mean.
Our aim is that you'll have been able to find the garment steamer best for your needs out of all the ones we have reviewed. However, if you're still struggling to choose the right one for you, you can try our Editor's Choice – the Beautural Handheld Clothes Steamer.
This best handheld clothes steamer has a heat-up time of fewer than 30 seconds and can produce steam for 15 minutes. Its 260 ml water tank will mean you have sufficient water to do several items before needing to refill, and it can be used for both horizontal and vertical steaming!
Its safety features include turning of automatically if low on water, overheating or after a period of inactivity. It also comes with some great accessories!
We hope this best garment steamer means you can banish that iron and ironing board for good!
Your perfectly optimised content goes here!
Additional Resources
Tania is a full-time writer and home product enthusiast. She loves helping readers not only get the most out of their home but to also pick the right products for their needs.