Last Updated on February 28, 2022
Our editors independently research the best products online to produce this list. We may receive commission on purchases made from the links below but this will never affect our product choices.
---
Top 9 Best Cylinder Vacuums
Choosing the best cylinder vacuum is not as easy as you think. The task is made harder due to the vast array of options that are out there on the market. Add in different price ranges, and you ultimately feel as if you will never get anywhere with making your decision.
However, help is at hand. We will tell you all about various cylinder vacuums that we believe are the best on the market. By the end, you will hopefully feel in a better position to go ahead and make that actual decision.
Choosing a vacuum is far more complex than most people realise. You have power settings, accessories, maintenance; the list of things to consider before handing over your cash is far more extensive than people understand.
So, let's get on with our reviews for the best cylinder vacuum in the UK market right now. There are many familiar names there, and perhaps one or two will be new to you.
How We Compared Cylinder Vacuums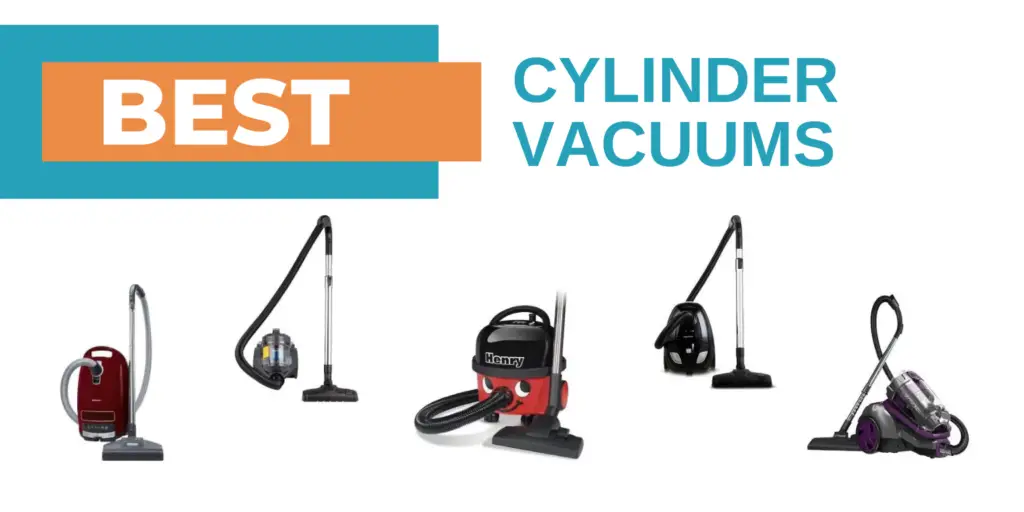 To find the right cylinder vacuums we considered multiple factors including:
The filtration system
The brush head
Bagless or bagged?
Suction power
Our team independently examined and compared hundreds of products to help satisfy different needs. We spent our time researching cylinder vacuums and consulting customer reviews to ultimately bring you what, in our opinion, are the best options on the market right now.
To find out more about our editorial process, take a look here.
Cylinder Vacuum Reviews
First up, we have the rather cute and cool Henry vacuum cleaner. The Henry HVR 160-11 is an absolute classic, and it also comes with several tools that allow you to get all kinds of floor surfaces nice and clean.
Also, you do get an upholstery brush included, along with a soft brush and a crevice tool. All of these tools simply add to the versatility of this vacuum cleaner, and it will quickly become an essential piece of kit.
But this vacuum cleaner has a lot more going for it than just an array of tools. It also has a 6L dust filter complete with a self-seal top to prevent that dust and dirt from falling back out. Power-wise, it comes with a pretty impressive 620W motor along with a 10m long power cord that is easy to retract.
Finally, if you are worried about noise, then don't stress with this model. For noise, it peaks at 72dB, which is lower than so many other options on the market.
However, this may not be the perfect cylinder vacuum for you if you prefer a bagless one. Also, it may feel cumbersome sometimes.
Pros:
You get an extensive array of tools along with the vacuum cleaner
It is not as noisy as others on the market
The motor is powerful, so it works exceptionally well
It has a large dust filter that traps a lot of dirt
It can be used on both carpets as well as hard floors
Cons:
It may not be the best choice for individuals who prefer bagless cylinder vacuum cleaners
It could feel a bit cumbersome at times
Miele is known for producing quality vacuum cleaners, and this particular model is just another one to add to their long list of successes.
This model comes with 900w of suction power, which will get down into the carpet and remove even more dirt and dust. It also comes with a turbo brush that works amazingly well at removing hair, so that is where the cat and dog thing comes into play.
But here is an important feature with this particular model, and it's why we see it as one of the best vacuum cleaners out there, and it's to do with odours.
This model helps to remove those smells that can seep into your carpet, and this is thanks to it having an active air filter. Also, Miele has sought to make this one of the easiest vacuum cleaners to use, thanks to it coming with simple foot controls, so no stooping is required.
Ultimately, this vacuum cleaner is impressive. It is perhaps the best vacuum cleaner out there for smells, and overall it just performs exceptionally well.
Meanwhile, this model may not be a good choice if you are looking for a bagless vacuum. 
Pros:
The power in this vacuum cleaner is impressive
It is capable of getting deep into the carpet
It helps remove smells thanks to its filter
The foot controls are easy to operate
It is easy to move around
Cons:
This may not appeal to those with a preference for bagless vacuum cleaners
It may not come with a HEPA filter which may be important for some people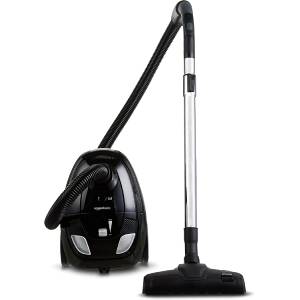 Amazon Basics may be the creator, but we still see it as one of the best vacuum cleaners on the market. This cylinder vacuum cleaner is still capable of picking up a whole lot of dirt and dust from your carpets, as the suction power is still impressive on this model.
First, it has a 700w motor, and you can then adjust the suction power wash to keep it clean, and the dust bin can hold up to 1.5L of dust at a time, and that's quite an impressive amount for what is a small vacuum cleaner.
The footswitch on the head is also easy to operate. That allows you to move between carpets and hard floors with ease.
Overall, this cylinder vacuum cleaner delivers more than you would expect for its size.
On the other hand, it is important always to clean it regularly as it may lose its suction power after extended use.
Pros:
It is compact
It is still powerful enough to draw up a lot of dirt
You can move easily between carpets and hard floors
It has a HEPA filter, so you trap more dust
It is relatively quiet at 79dB
Cons:
If you don't like bags, then this vacuum cleaner may not work as well for you
It could lose some of its suction power if you don't keep it clean
Staying with Amazon Basics for a second, and here we have a bagless cylinder vacuum cleaner that also promises to pretty much over-deliver on its promises.
This model also comes with a 700w motor and a 1.5L dust bag. It comes equipped with that HEPA filter, along with the ability to move between carpets and hard floors, just like the model mentioned above.
However, the difference is that this is one of the best bagless vacuum cleaners around. It is very light, so moving it around will be a breeze. It also comes with a 5m long cord, which should be good enough to get around an individual room.
You will also receive several brushes and tools to add to its repertoire, and they can be easily stored away until they are required. This vacuum cleaner also has the same noise level as the previous model, so it's relatively quiet at 78dB.
A disadvantage of this model, though, is that its power cord may be shorter for your liking. Also, it requires regular cleaning to avoid it losing some of its power.
Pros:
It is quiet at only 78dB
The HEPA filter makes a huge difference
You get ample accessories
The dust bag is large enough for most
It's easy to move between carpets and hard floors
Cons:
The power cord could have been a bit longer
It may start to lose some of its power if you don't keep it clean
This model by VYTRONIX makes a big deal because it targets those individuals with pets in their homes. It comes with an 800w motor, and it does also have a special pet tool that the company claims will make it easier to get all that hair out of everything.
This model is bagless, and it has a 6m long power cord, so that is pretty reasonable for that thing. The dust canister of this vacuum measures at 3L capacity. It is larger than many bagless vacuum cleaners currently on the market.
The filters can be washed, and that is something you need to do regularly. This includes a four-stage HEPA filter so that it will pick up pretty much everything around.
Overall, the power and quality of the filter make this one of the best bagless vacuum cleaners on the market.
However, this cylinder vacuum does come with some disadvantages. A common problem with this model is that you need to check the top of the cylinder often as it could get blocked sometimes.
Pros:
It has a special pet tool included
The power of the vacuum is impressive
The four-stage HEPA filter will catch almost everything
It has a long enough cord for most people
The dust canister is large at 3L
Cons:
It can be fiddly at times when trying to clean it up
You may have to check the top of the cylinder often as it could become blocked
Hoover is so well known in the UK that its name is used as slang for using the vacuum by some people. This is why it is no surprise that the Hoover Whirlwind SE71WR01 is considered the best cylinder vacuum in the UK.
This bagless cylinder vacuum cleaner is an impressive item to have in your home. It has a special turbo tool included, which is combined with a fantastic rotating bristle. This makes a difference with cleaning upholstery and getting that pet hair out of the carpet.
It comes with a 700w motor but be warned that it is louder than many options with a noise level of 85dB, and that is noisy. In saying that, it does work well, and you will be stunned at how much it captures in the 1.5L dust bin.
Finally, you need to take advantage of the 2 in 1 tool. It makes getting into all those corners so much easier.
Overall, this bagless vacuum outperforms its size and apparent power. Yes, it may not get right into the thick pile, but it will do a decent job and represents real value for money as well.
Meanwhile, this vacuum can be a bit loud, so you need to consider that. Also, the dust bin may be too small for you; however, this does not affect its optimal performance.
Pros:
It has a 700w motor
The rotating bristles work well at getting the dirt up
The 2 in 1 tool helps get into those corners
The turbo tool will make quick work of vacuuming
It is easy to move around
Cons:
It is quite a bit louder than most other cylinder vacuum cleaners
The dust bin is smaller than some people may like in their vacuum cleaner
As bagless vacuum cleaners go, this model by Duronic is one of our favourites on the market. It may only have a 500w motor, but you don't think this vacuum cleaner will be struggling, as that's not the case.
Instead, it provides you with many components that make for easier usage, and this is a versatile vacuum cleaner capable of dealing with many cleaning jobs. This cleaner comes with a 4.5L dust bin, and that's a good capacity, especially if you are picking up a lot of pet hair.
The dust bin is easy to clean, and the filters in the vacuum cleaner, which includes the customary HEPA filter system, can also be cleaned with relative ease. With its ability to grab as much dust as possible, you will be surprised at how quickly you reach that dust capacity.
This bagless model is lightweight, it has a 5m long cord, and you also get a different floor head for those hard floors. Throw in a crevice nozzle, brushes, and that powerful suction, and you will have a cylinder vac that is even perfect for allergy sufferers.
Overall, we love this bagless vacuum because of its ease of use. You don't need your vacuum to be complicated, so that this model will keep you on the straight and narrow.
On the other hand, many users have complained that the cord of this vacuum is too short. This means that this may not be the right vacuum for you if you plan to clean large areas. 
Pros:
This seems more powerful than higher wattage vacuums
The filters do appear to catch a lot of dust
It has strong suction, so be warned
The dust container is large enough for most people
It is all easy to clean
Cons:
You may need to work a bit harder if you have long pile carpets
The cord may be too short for some people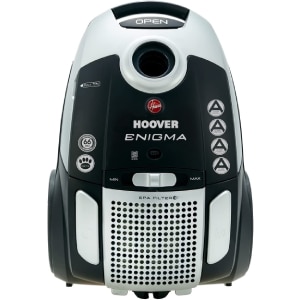 We have another model from Hoover, and this time we see this version as the best cylinder vacuum cleaner when it comes to it containing a bag. In saying that, the bag itself is 3.2L in size, so this isn't a small or basic vacuum cleaner.
This vacuum cleaner will work wonders when it comes to picking up pet hair. It has an adjustable power setting, which means you can have powerful suction or scale it back if required.
Another impressive feature of this vacuum cleaner is that you can cover 9m before you have to think about changing plug sockets. That does mean you can get a lot done before you have to unplug and start again.
Finally, it does come with various brushes and heads to cover both hard floors and carpets. However, the main feature is the way it can get that pet hair out while leaving your carpets feeling fresher at the same time.
Overall, this vacuum manages to outperform its size. With several accessories included, this vacuum packs a punch and will prove to be far more versatile than you would imagine.
It has a few downsides, however. This vacuum is made with too much plastic, and it may need cleaning more often, especially if you use it to clean pet hair.
Pros:
It comes with powerful suction
The long cable stops you from having to change plug sockets constantly
The vacuum cleaner comes with a large enough dust container
The variable power is a useful tool
It has a pet brush to help with that stubborn pet hair
Cons:
The nozzles may become clogged with pet hair, so clean them regularly
It may feel as if they have used cheaper plastic in the manufacturing process
Finally, we have the female version that kickstarted our reviews. The Hetty Het160 bagged cylinder vacuum cleaner.
Not only does this model have an impressive dust container, but it works well at picking up even fine dust from your carpets. This vacuum cleaner is highly efficient, and it's great at what it does.
The 620w motor will perform well and offer strong suction on any floor surface. The bag does come with a self-seal tab, which prevents the dust and dirt from escaping the cleaner.
But then there are the accessories. In this case, you have various brushes and a crevice nozzle, along with an upholstery brush that will get things such as curtains or your sofa looking pristine once more.
It also provides you with a couple of extension tubes, so you can get into those hard-to-reach places without stretching yourself too much.
Finally, it comes with an impressive 10m long cable, and for the noise level, you are looking at something that measures only 72dB, which is quite quiet for a vacuum cleaner.
Overall, the Hetty is not only cool to look at, but it is one of the best cylinder models out there on the market right now. Sure it doesn't have a variable power option, but the strong suction is second to none so that it will make quick work of those carpets and floors.
While its suction function is considerably strong, this vacuum may get stuck. If you want to enjoy this vacuum to its fullest potential, you may also need to buy a turbo brush.
Pros:
It has ample accessories and tools that you can easily store away
The power of this vacuum cleaner will surpass your expectations
The cord is long enough for most people
It is relatively quiet compared to most vacuum cleaners
It is very easy to clean
Cons:
The suction can be exceptionally strong, and the only downside is it could get stuck
You may need the turbo brush as an added accessory to get the most out of it.
Choosing the Right Cylinder Vacuum
The models listed above are all impressive and represent the best cylinder vacuums in the market right now. Moving forward, let's go through what you need to consider when deciding which one you should purchase.
The Filtration System
While HEPA filters are relatively common, you need to make sure that it's included in the filtration system that comes with the model. HEPA itself stands for High-Efficiency Particulate Air, and it means it's an excellent option for people who suffer from dust allergies. Also, pet owners would be advised to make sure their new vacuum has this to boost its cleaning power.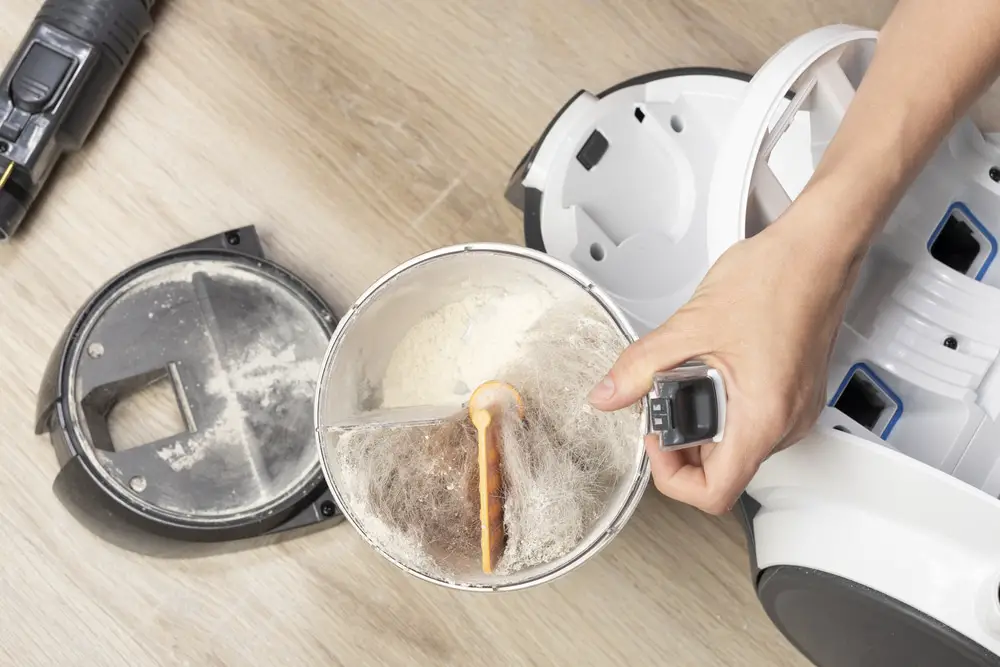 The Brush Head
You also want to pay attention to the brush head and the other additional heads that cylinders tend to offer you.
Pay close attention to how good it is at removing pet hair, if you own one, and understand how often you need to clean the brush head and clear it of blockages. Blocked nozzles are not unique to cylinder vacuum cleaners, but they tend to happen, so clear the brush head is essential.
Bagless Vacuum Cleaners, or Bagged?
You must decide if you want bagless vacuum cleaners or prefer one of the bagged cylinder vacuums. However, it's an easier decision than you may think.
Bagless vacuum cleaners will require a bit more maintenance. You need to clean bagless vacuum cleaners more thoroughly, especially if you vacuum up spills which can then dry on the edges of the cylinder.
Bagged vacuum cleaners don't require as much cleaning. However, bagless vacuum cleaners use slightly different technology when it comes to getting up the dirt, and you can also keep a close eye on how full something is when you can see what you have caught.
Ultimately, this comes down to personal preference, but it's worth thinking about which option is the most appealing to you.
Suction Power
Looking at the suction power aspect for a moment, you need to be aware of just how strong this will be, as it directly relates to how well the vacuum will work. Suction power is not always going to be linked to the power of the motor. A motor with a higher wattage does not mean that it is the best vacuum cleaner around just because of that fact.
The best vacuum cleaners can often be those that allow you to adjust the suction power.
This variable power can come either via a setting on the vacuum itself or by adjusting the airflow on the telescopic handle. Either option is going to work well, and there's no doubt that it will make a significant difference when it comes to how much dirt and dust the vacuum can pick up out of your carpet.
How Does it Deal with a Hard Floor?
If you have them in some rooms of your home, consider how your vacuum will be able to cope with a hard floor. It should come with suitable attachments, and that requires an entirely different approach.
Considering the number of homes with some form of hard floor, knowing your vacuum can deal with it makes sense.
How Does it Deal with Pets?
You may have noticed a number of the vacuum cleaners in our list are specifically designed for pet owners, as hair and dirt are major issues for them.
Pet hair can get into the pile of the carpet, and you need to know if the vacuum you own is capable of removing the hair along with dust and dirt.
Once again, the filtration system is important. It will tell you all about how effective the vacuum will be when it comes to things left behind by your pets. If you suffer from allergies, having a vacuum that specifically deals with this type of thing makes a lot of sense.
Upright Vacuum Cleaners vs Cylinder Cleaners
Aside from those key areas you need to look at when choosing the best bagless cylinder vacuum, or even a bagged version, you should also be aware of the difference with an upright vacuum cleaner.
The main difference is how cylinder vacuums can get into all sorts of corners compared to the upright version. They are more versatile and easier to move around. Also, don't think for a second that a bagless vacuum would have a reduced dust capacity compared to an upright. That is just not true, so if you are worried about how often you need to empty, then don't stress.
An upright cleaner doesn't even always have the advantage of stopping you from stooping over. A cylinder vacuum will often come with a telescopic pole to stop that, and the foot controls and switches are so easy to operate without you always needing to bend over.
Things to Know When Buying a Bagless Vacuum
We touched on a bagless vacuum earlier, but as you have so many options available, it makes sense to go back over it as they are undoubtedly extremely popular.
With a bagless vacuum, the filtration system becomes even more important. Everything is just collected in the bag; it also acts as a filter with the bagged version.
However, a bagless vacuum is different. It needs built-in filters to do so much of the job that a bag would have otherwise done.
Of course, instead of replacing a bag, you need to empty the chamber, and these chambers, or dust capacity, will change according to your bagless vacuum.
Be aware that this size can vary from as little as 1L up to 6L. It all depends on how often you are willing to empty the chamber.
What to Avoid With Your Cylinder Vacuum
So we went through different things you should think about when it comes to your cylinder vacuum, but what about things to avoid?
Loss of Suction
Be aware that some vacuums are guilty of a loss of suction, but it's not always due to a major fault or simply not being up to scratch.
Instead, you may find that the nozzle on your bagless vacuum tends to become blocked at some point. That would prevent the dust and dirt from getting into the heart of the vacuum itself.
So you should also be aware of how to remedy this problem, and whether or not it is a difficult thing to do.
The Noise
You must also be aware of the noise level. However, most vacuum cleaners will list the maximum noise level their model will reach, so please look out for that.
It may not sound much to hear that one vacuum is 72dB and another is 78dB. The reality is that this is a huge deal when it comes to volume, and perhaps something at 78dB would be too much for you to bear?
Fortunately, most manufacturers will list the noise level, and yet people often overlook this part. We recommend not doing that, as a too noisy vacuum can put people off even using it in the first place.
Other Key Points to Consider
When it comes to things to avoid, perhaps contemplate the following points to make life easier for yourself:
Is the cord long enough for what I need to do?
Is the filtration system adequate for my needs?
How easy is it to maintain and care for the vacuum?
What accessories do I get with this purchase?
Are the accessories something I would use?
If it's bagged, then where do I buy the bags?
If it's a bagless vacuum, then how do I clean it correctly?
Of course, that's not all of the different things you should think about. However, this list introduces you to the types of things that should be in your mind.
Conclusion
In our list, you will find that the best cylinder vacuum in the UK is under £100. So, the best cylinder Hoover needn't cost you a fortune. The only downside is the need to go through the options and make sure they fit your requirements.
Alternatively, you may want to look at our Editor's Choice, the Henry HVR 160-11, for a vacuum that covers all the bases, and it does so with a smile on its face.
In saying that, each vacuum we have included above does meet specific standards: this will mean your vacuum will perform well whether dealing with a hard floor, carpeted floors, or moving between the two.
All we recommend is for you to go through the key points listed at the start of our buying guide to make sure you can choose from the various cylinder vacs on offer right now. After that, you can start to look forward to a dust-free environment in your home.
Additional Resources
Tania is a full-time writer and home product enthusiast. She loves helping readers not only get the most out of their home but to also pick the right products for their needs.