Last Updated on February 15, 2022
Our editors independently research the best products online to produce this list. We may receive commission on purchases made from the links below but this will never affect our product choices.
---
Our Favourites
Singer Futura XL400 Sewing & Embroidery Machine (Editor's Choice)
Husqvarna Viking Designer Topaz 40 (Luxury Choice)
Bernette Sew&Go8 Embroidery Machine (Best Value)
Embroidery is considered an art that consists of making ornamental motifs in relief on garments, fabrics or leathers to decorate them. Embroidering on a piece of clothing simply sewing is always a pleasure. It is a very old tradition that continues to be passed on from generation to generation. But it requires a lot of patience, concentration and great know-how. That said, a small embroidery error would spoil all the work since it will be necessary to carefully unstitch by hand, which is long and even painful. This is the reason why many individuals prefer to be assisted by machines, which are programmed to do the same job, but much faster than humans. The time saved is enormous, and you can fulfil all your desires.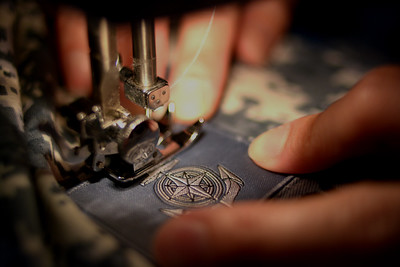 If you're passionate for creating these incredible designs or if your job requires you to perform lots of embroideries then you should look for an embroidery machine that brings built enough features to make your work simpler to elaborate. Used for recreational or professional purposes, the embroidery machine allows you to quickly create various patterns based on cross stitches and counted stitches. And unlike handmade embroidery, it requires little energy.
How We Compared Embroidery Machines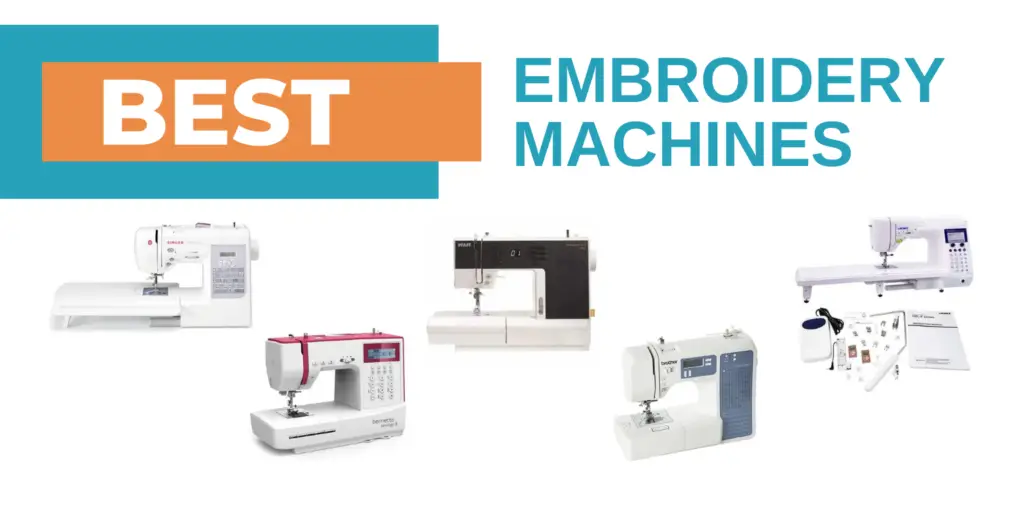 To find the right embroidery machines we considered multiple factors, including:
Material
Dimensions
Ease of use
Variable speed
Energy consumption
Our team independently examined and compared hundreds of products to help satisfy different needs. We spent our time researching embroidery machines and consulting customer reviews to ultimately bring you what, in our opinion, are the best options on the market right now.
To find out more about our editorial process, take a look here.
Best Embroidery Machine Reviews – Top 10 Picks
The Juki HZL-LB5100 Computerized Sewing Machine is a very versatile small machine. Its design is functional, For the stitch, the first 30 points directly displayed on the foot, the other 70 being hidden on the retractable plate inside of it. It is a model whose variety of features can satisfy both beginners and experienced users. It is equipped with an LCD screen which indicates which point you have chosen while providing you with certain advice such as the sole to be used or the recommended height or width adjustments (these being adjustable).
With a sewing speed of 700 stitches per minute, the Juki HZL-LB5100 Computerized Sewing Machine has the possibility of making three buttonholes automatically, the start/stop button which allows you to remove the pedal, automatic threading, or even the comfortable width of the free arm which allows you to slide in the pants leg or shirt sleeve.
Note also that the presser foot pressure, the lowering of the feed dogs, and the speed are all three adjustable, which makes it particularly flexible. It is also supplied with a very complete accessory kit, including a very practical rigid case for storage and/or transport. With so many sewing stitches at your disposal, the user guide provided in English on CD is rather welcome, even if its handling remains very intuitive. For more tool products, check out our guide on wood moisture measures.
Key Features:
Has a variety of stitch Patterns
Variable speed override
Easy to use
Like most modern sewing machines are computerized, they offer all the comforts, such as quick threading or automatic thread cutter, quick start spool, and countless sewing programs. For a computerized embroidery machine with a difference, use our second product which is a model from another leading manufacturer in the sewing industry. This is the Singer 7285Q Computerised Quilting & Sewing Machine, a product that allows you to create any stitch at the touch of a button. This device only asks you to adjust the ultimate width, length, and tension, which will be used to personalize the item to be sewn automatically. With its possible operations at only 110 volts, the Singer embroidery machine is well suited to you. The Singer 7285Q Computerised Quilting & Sewing Machine has 15 decorative stitches and 98 built-in stitches that speed up your sewing process, thus considerably reducing your overall production time.
The Singer 7285Q Computerised Quilting & Sewing Machine is the best-computerized sewing machine on the market. Among its innovative features are its integrated reverse system, its 6-segment feeding system, a programmable needle threader that moves up or down, a very high presser foot lifter, and an extension table that comes in handy. Easily invent a new fashion or embellish your existing clothes with this sewing machine and keep track of the compliments you will receive.
Key Features:
Sewing speed can be regulated
Compact and portable
Comes with a two-year warranty
The Brother FS100WT Embroidery/Sewing and Quilting Machine is electronic, and offers around a hundred different sewing stitches, an alphabet style and eight types of buttonholes, especially for people who have a certain level of knowledge of sewing machines. This machine does many embroidery stitches, on the heaviest and lightest fabrics. Its backlit LCD screen gives you information such as the length and width of the stitches. You can manually adjust the speed of execution and the dimensions of your stitches. 
The Brother FS100WT Embroidery/Sewing and Quilting Machine are efficient because it is also possible to use several needles simultaneously thanks to the twin needle function. It's on/off button makes you easy to use, as does the quick-release foot. You also have a pedal, but you can do without it to work. It all depends on your preference and your usual way of working. In addition to all this, this machine is offered to you with a three-year warranty and a breathtaking price.
Key Features:
100 built-in stitching patterns
Speed control button
Length and width adjustment
The Pfaff Passport 2.0 Computerised Sewing Machine is a quality tool. You will never regret your purchase with this one because it is very light and very easy to use. It is a two in one machine because it offers you sewing stitches and also very nice embroidery stitches. With it, you will be able to learn even more since it provides you with an integrated double drive, and around seventy stitches among which decorative, quilt, art needle and even fancy stitches. You can use this machine day or night, as bright LED lights are integrated to illuminate your work area. 
Several optional accessories are available when you purchase the Pfaff Passport 2.0 Computerised Sewing Machine, such as the magnificent crowbar, very useful during your work. It even comes with a rigid cover and six. The price/quality ratio is very satisfactory, and you will even be surprised at the price proposed given all its qualities. Deciding to buy it would, therefore, be a very good deal. If you need to steam your newly emborided fabric, check out our review on the best clothes steamer. Alternatively, you can use an iron and and ironing board to steam you're clothes.
Key Features:
Compact and portable
Adjustable speed option
Ideal for stitch and free-movement embroidery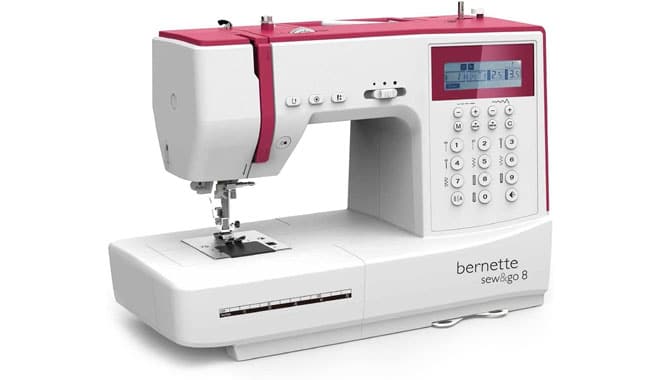 Improve your working conditions once again by purchasing the Bernette Sew&Go8 Embroidery Machine. This one does sewing and embroidery at the same time and offers up to one hundred and ninety-seven stitches for all categories. For very heavy fabrics such as jeans, you have a double presser foot lift, to be able to work easily. With this machine, you will be able to make all the embroideries you have already thought of, and why not create others. With the Start / Stop button, you can decide to work with or without the pedals. 
Bernette Sew&Go8 Embroidery Machine can also, without any difficulty, adjust the dimensions (length and width) of your stitches. It is a superb sewing and embroidery machine, which is also very quiet. It is robust, its price is very attractive. Don't waste time buying one, and you can also take advantage of flash promotions that give you the possibility to pay for this machine in four instalments. So make the best choice, and buy yours. This CE certified and RoHS compliant device will give maximum peace of mind if you opt to buy it.
Key Features:
197 sewing programs
Stitch length and width can be easily changed
Pedal-eliminating start/stop button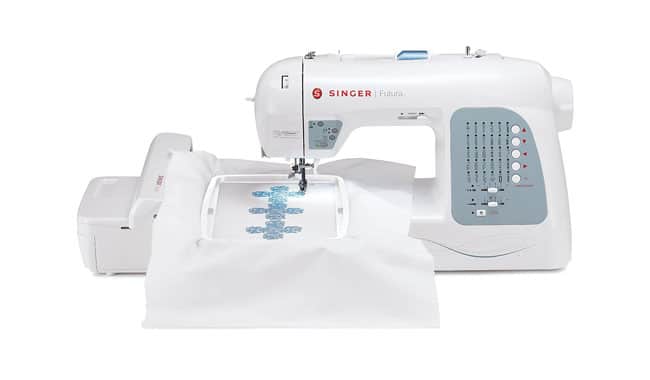 This product, called Singer Futura XL400 Sewing & Embroidery Machine, is a high-performance embroidery machine that has already proven itself on the market. The workspace is very large here, which allows you to carry out beautiful projects, and the number of stitches offered is largely sufficient: 6 Basque stitches, 17 decorative stitches, 5 stretching stitches, 2 automatic buttonholes.
With the Singer Futura XL400 Sewing & Embroidery Machine, you can program the needle in the up or down position, two embroidery frames are included, as well as 125 embroidery patterns. This embroidery machine can also be used at any time of the day due to its wide range of LED lights. It comes with a four-year warranty. For adding more materials to your embroided fabric, like sequins and buttons, grab yourself a heat gun.
Key Features:
6 different LED lights
Large number of stitches available
Has a wide range of embroidery designs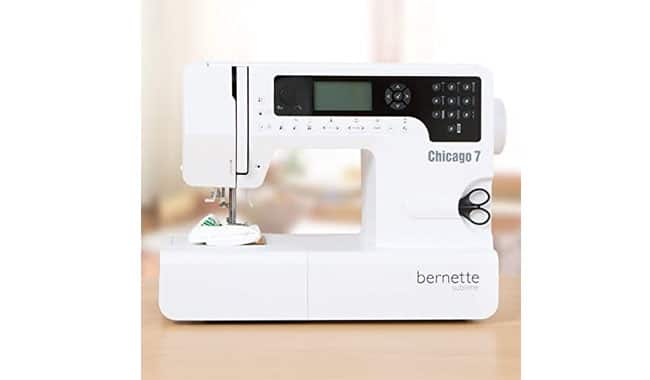 The Bernette Chicago 7 Sewing and Embroidery Machine allows you to sew and embroider multiple projects, regardless of the fabric used. The product comes with 100 embroidery designs which can be examined through an LCD, which allows you to have fun for a while before having to download new ones.
Also, the materials included in the manufacture of this Bernette Chicago 7 Sewing and Embroidery Machine are of high quality. Here, the needle threader is semi-automatic and the stitch width is 7 mm. It weighs 8.1kg. With a maximum embroidery area of 110mm x 170mm and a sewing speed of 800spm, sewing can never get faster and more efficient.
Key Features:
Incorporates 100 embroidery designs
Semi-automatic threader
Compact and portable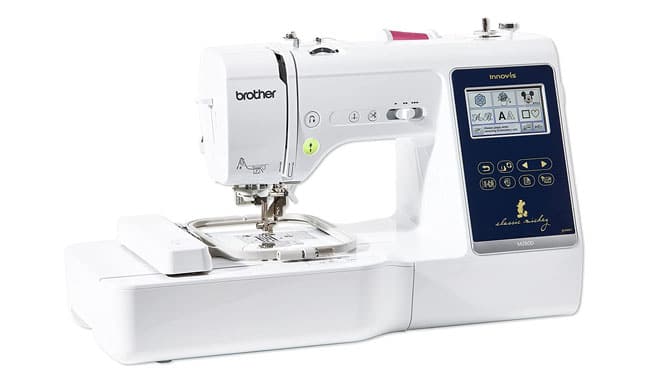 The Brother Innovis M280D Embroidery Machine is a true invitation to creativity. This sewing and embroidery machine offers 125 embroidery designs, including 45 designs of Disney characters. There are also 181 utility and decorative stitches, as well as a wide choice of integrated framing patterns. Its 850 stitches per minute system make it a fast and exact machine for sewing and embroidery. Also, it offers 290 seams and 5 letter fonts, automatic and manual thread cutters, manual, automatic, and knee presser foot lifters.
This Brother Innovis M280D Embroidery Machine also has a 9.4cm colour LCD touch screen, a dimension that guarantees optimum readability. Broadly, this sewing and embroidery machine has a large touch screen and an embroidery area of ​​260 x 160 mm, which makes it the perfect machine to comfortably work patchwork and quilting. The most complex sewing work will be done intuitively. Besides, this machine can integrate software allowing to better exploit the patterns and stitches.
Key Features:
A large number of embroidery patterns are available
Extremely powerful and durable
Easy to navigate colour LCD touch screen
The Janome Memory Craft 500E offers unbeatable value for money. This embroidery machine has an embroidery field of 200 x 280 mm. It also comes with two frames of 200 x 200 and 200 x 280 mm. Embedded in the Embroidery Editor software are a whole host of functionalities you can access. There are also two USB ports which reveal their usefulness in particular when updating the software.
This embroidery machine also promises ease of use. Its colour touch screen allows you to better manage the different features. Automatic tension is avoided as well as the risk of overheating. There is also an auto wire cutter, as well as five LED lights. This machine is the best because it is durable. With it, you have five years of mechanical warranty, and two years of electrical warranty. Also, it is not bulky and will certainly find a place of choice in your home or your workshop.
Key Features:
Embroidery designs can be uploaded to the machine
Auto start/stop after each colour design is embedded on fabric
Relatively easy to use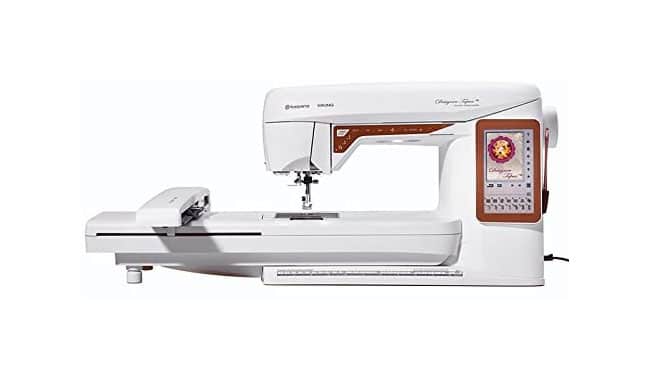 The Husqvarna Viking Designer Topaz 40 is one of the most accomplished of all. This sewing and embroidery machine is effectively equipped with an upper thread and bobbin sensor. This displays a popup message in the event of breakage of the upper thread, or when that of the bobbin comes to an end. This machine thus avoids the tedious task of monitoring the upper thread or bobbin.
This Husqvarna Viking Designer Topaz 40 is also at the forefront of new technology. It also has 100 embroidery styles, 208 in-built stitches, one lettering font, and an LED system. Indeed, it embeds software offering several features, including the organization of patterns. Also, the software can be updated. Be sure to check out our 8 best washing machines in this review.
Key Features:
Portable
Variety of Embroidery designs
Over 500 stitches
Sources:
Nicole has a passion for everything about the home – especially decor. She loves to add new touches and style to every part of the house. Join her as she documents her ideas at Home & Style.