Last Updated on February 28, 2022
Our editors independently research the best products online to produce this list. We may receive commission on purchases made from the links below but this will never affect our product choices.
---
Top 8 Best Food Dehydrators
Looking for the best food dehydrator in the UK is a great way to transform how you prepare your meals, store foods, and even make snacks. Food dehydrators are an excellent investment for those who want to find more ways to transform their daily diet. You can improve the shelf life of your foods and commit to exposing your healthy snacks to nothing but warm air (rather than dangerous chemicals).
Food dehydrators come in different shapes and sizes. Choosing the right one for your needs means thinking carefully about how you're going to dehydrate food and deciding which kinds of products you want to dehydrate. Today, we are going through our list of contenders for the best food dehydrator you can buy to upgrade your meal plans.
How We Compared Food Dehydrators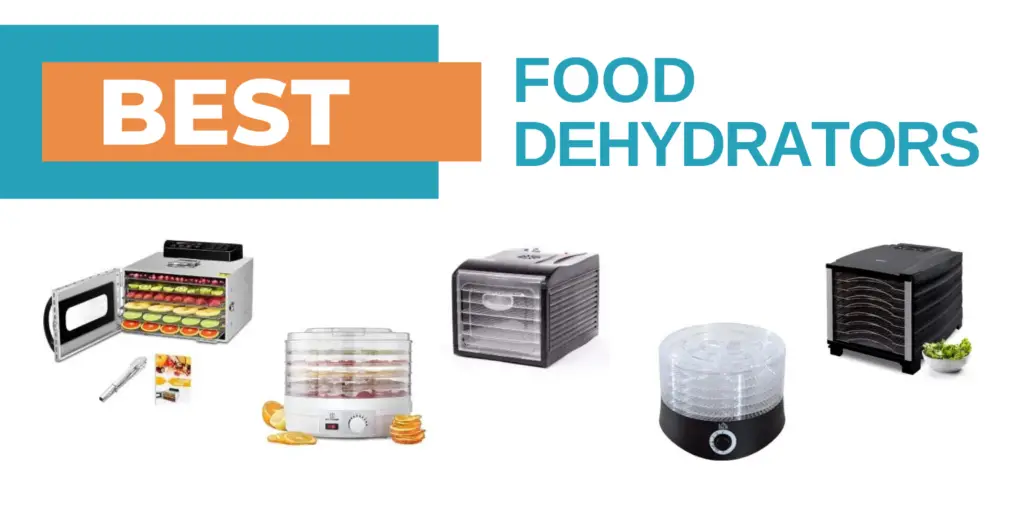 To find the right food dehydrators we considered multiple factors including:
Capacity
Temperature Management
Airflow
Noise
Functionality
Our team independently examined and compared hundreds of products to help satisfy different needs. We spent our time researching food dehydrators and consulting customer reviews to ultimately bring you what, in our opinion, are the best options on the market right now.
To find out more about our editorial process, take a look here.
Food Dehydrator Reviews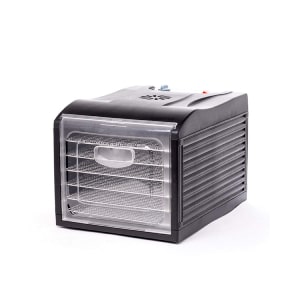 The best food dehydrators give you the tools you need to create healthy snacks without any dangerous or toxic materials, and that is what the SousVideTools can give you. 
This excellent BPA-free food dehydrator from SousVideTools will naturally preserve your favourite foods, so you can take nutrient-dense snacks with you wherever you go. The design is commercial-grade, so it's suitable for business use too.
The Sous Vide Tools dehydrator is an excellent food preservation tool, enabling evenly dried snacks inside and out. This dehydrator helps improve temperature control by forcing hot air horizontally across each tray for optimal drying while reducing the risk of bacteria growth.
Ideal for all kinds of meats and snacks, like beef jerky and banana chips, this six-tray food dehydrator will make short work of dehydrating fruits, veggies, and other nutrient-rich foods. There's plenty of drying space, and a transparent glass door makes it easy to check the progress of your drying food.
The sophisticated and simple food dehydrator from SousVideTools also features a temperature range from 35 to 65 degrees Celsius.
However, this dehydrator is made of too much plastic, which may be a concern for you. Also, its lowest heat setting may take it a while to dry food.
Pros:
Includes temperature control features
6-tray food dehydrator with plenty of space
Suitable for dried herbs, fresh fruit, and vegetables
See-through door for checking on your food
Convenient horizontal airflow
Cons:
May feature too much plastic for some people
The lowest heat might take a while to dry things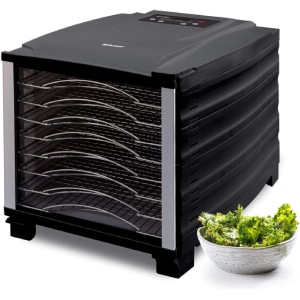 A good dehydrator doesn't need to look like a boring commercial machine. If you agree with this, then BioChef Arizona is a great choice for you.
This attractive BioChef Arizona dehydrator will transform your citrus fruits, apple slices, and meat strips – and it'll look good in the process. A great way to save money and turn your produce into fresh snacks, this food dehydrator has plenty of space for all the food you want to dry.
With a total of eight stainless steel trays for drying food, BioChef Arizona is quicker than most dehydrators at delivering evenly dried food fast. There's a digital display to set the adjustable temperature based on the food you want to dry. There's also a timer setting, so you can make sure the device switches off automatically when your meat, fruits or vegetables are done.
Durable and attractive, the BioChef will preserve the enzymes and nutrients in your food while removing unwanted mess and moisture. There's a drip tray included for easier cleaning, a set of non-stick sheets, and a set of fine mesh sheets so you can experiment with different dehydration options. A 3-year warranty offers excellent peace of mind.
On the other hand, you might find this dehydrator to be a bit noisy. Also, the buttons might be difficult to use.
Pros:
One of the most attractive dehydrators on the market
8 trays so you can dehydrate more fruit and vegetables at once
Temperature adjustment feature
Accessories like dry tray and mesh sheets included
3-year warranty for peace of mind
Cons:
Buttons might be quite stiff to use
Maybe a little noisier than some dehydrators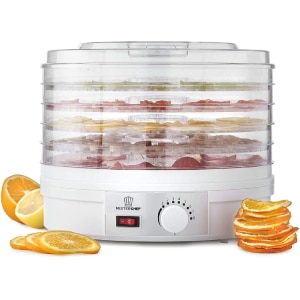 Even people who are brand-new to dehydrating can discover their benefits with a product like the MisterChef Food Dehydrator. 
This product comes with a set of 5 large trays, ideal for meat, vegetables and fruits. The food dryer machine also comes with a recipe book and guidance to help you get started.
The MisterChef dehydration machine for food is a simple but effective tool for drying vegetables, fruit, and meat in a range of different ways. There are low and high tray positions designed to help you expose your food to the right temperature for the correct amount of time. There's also a timer feature, so your dehydrator will automatically stop dehydrating when it's done.
With a 24-month warranty for peace of mind and a recipe book to show you what sort of things you can dehydrate, the MisterChef product is great for beginners. You'll be able to use this device as a convenient vegetable dehydrator for natural snacks or to make your fruit roll-ups and beef jerky. There's even a gift box included if you're thinking of gifting dehydrators to loved ones.
Meanwhile, you may find this kitchen equipment to be too small for your liking. Also, there might be little to no control over the temperature settings.
Pros:
Simple dehydration process for beginners
Color recipe book included
Timer for safer dehydrating
Small enough to fit in most kitchens
5 trays for all kinds of snacks
Cons:
Some users might find it too small
There might be no control over temperature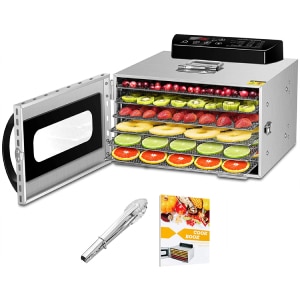 The best food dehydrator in the UK customers can buy will be a device capable of offering excellent dehydrating results with minimal effort. This high-performance food dehydrator from Kwayso features a stainless-steel construction for outstanding longevity. 
Furthermore, it has an air circulation mechanism for maintaining an even temperature all through the device.
This stainless steel produce and meat dehydrator comes with six removable tiers so that you can dehydrate different kinds of food simultaneously. You will also get a recipe book for inspiration if you're new to using food dehydrators. There's a small motor fan included in the device, too, so the temperature inside remains as consistent as possible.
Although other devices have a smaller footprint for compact kitchens, the Kwayso will give you a high-quality, even dehydration experience, even if you're a beginner with dehydrators. The stainless steel design helps protect the device from damage over time, and there's an intelligent panel for operation. You can set your drying time, and the machine will automatically turn off when your fruits and vegetables are done.
BPA-free and easy to use, the Kwayso dehydrator also comes with a temperature control option so that you can change the heat from 30 to 90 degrees Celsius.
However, since it is quite big, it may not be ideal for smaller kitchens. Also, the instruction manual may be a bit complicated to follow.
Pros:
Wide range of adjustable temperature mode
More space for a wide range of fruits and vegetables
Stainless steel construction
Digital display and timer setting
BPA-free construction
Cons:
Might take a lot of space in some smaller kitchens
May be difficult to understand the instructions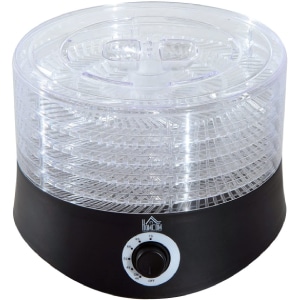 Finding an effective dehydrator capable of making apple chips and jerky in as little time as possible can be difficult. When you want to ensure that item comes at an affordable price and is small enough to fit in a compact kitchen, too, it's even harder to find the right dehydrator. 
Fortunately, the five tray dehydrator from HOMCOM could be the perfect option.
Great for beginners who always wanted to dehydrate their food, the HOMCOM 5 tray dehydrator can evenly dry various fruit and vegetables and meat products. As one of the best dehydrator options for smaller kitchens, the device doesn't take up a lot of room on your kitchen counter. The transparent trays also make it easier to see the progress in the dehydrator.
There are various temperature settings to choose from depending on whether you're dehydrating fruit, vegetables, and other foods. There's also the option to adjust the space between the trays in your dehydrator too. Versatile and simple, this could be a great starting point for anyone who hasn't used a dehydrator before.
However, you have to consider that it is mostly made from plastic, so it could be difficult to preserve in the long run. Also, it is small in size, so it may not be ideal for dehydrating food in bulk.
Pros:
Compact design good for small spaces
Temperature regulation and multiple temperature settings
Good for dehydrating foods uniformly with air circulation
Adjustable timer and plastic trays
Warranty included for peace of mind
Cons:
Plastic elements may be hard to preserve over time
Maybe too small for dehydrating foods in bulk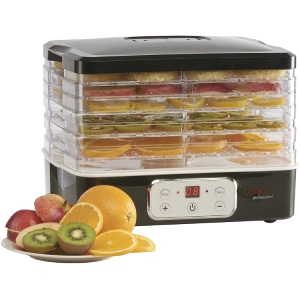 If you've been looking for the ultimate food dehydrator for a while and you spend a lot of time eating dehydrated foods, this Cooks Professional product could be perfect for you. One of the easiest and most attractive tools for dehydrating foods, the Cooks Professional device makes healthy snacks in no time without creating an eye-sore in your kitchen.
The heating element works alongside an air circulation fan which distributes warm air throughout your foods, dehydrating food evenly inside and out. There's also an adjustable digital thermostat with a temperature range between 35 and 75 degrees Celsius. This means you can get the best food results from different products, like meat or vegetables.
If you want to leave your food dehydrator to work without supervision, you can place it on a timer, working for up to 72 hours before switching off automatically. Several internal shelves also mean you can dry various healthy snacks at once without using different food dehydrators.
It's important to note that its lower temperatures may not dehydrate food quickly as you have expected.
Pros:
Great temperature regulation
Multi tray dehydrator with stainless steel components
Suitable for all kinds of food: meat, fruit and vegetables
Air circulation for evenly removing moisture
Adjustable timer and thermostat
Cons:
May is not able to adjust the five trays as much as you'd like
Heating at lower temperatures may cause the food dehydrator to work slowly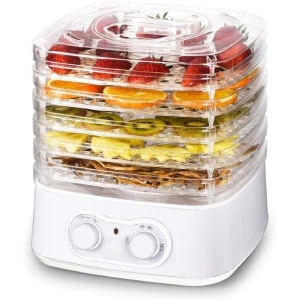 If the small, enclosed space has hampered your dream of having a food dehydrator today in your kitchen, the Allie UK food dehydrator could be the perfect solution. Suitable for dehydrating all kinds of food, this compact device uses an intelligent flow-drying functionality to maintain the optimum temperature range for the best food outcomes.
Like any good food dehydrator, the Allie UK product will work for everything from beef jerky to dehydrated fruits and vegetables, removing moisture and inhibiting bacteria growth. With a flow drying system to move warm air around the food dehydrator as it works, you can rest assured your dehydrated food will come out evenly dried.
There's a set of five trays in this food dehydrator, so you don't need to use different food dehydrators for various kinds of foods. There's also the option to adapt the temperature range based on the food you're going to be making. A timer function can also help prevent the dehydrator from working after your food is done.
One thing to consider with this food dehydrator is that it is made of plastic. This means that it may not be as durable as its steel counterparts.
Pros:
Takes up less space than other food dehydrators
Can be used as a meat, vegetable or fruit dehydrator
5 adjustable trays for dehydrating multiple products at once
See-through trays so you can keep track of progress
Easy to wash and store
Cons:
Plastic elements may break more easily than steel
The plastic trays may be too shallow for some foods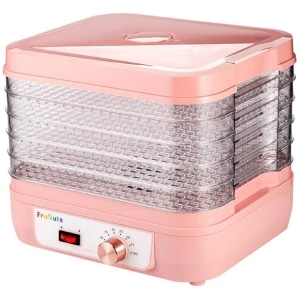 One of the more colourful food dehydrators we've seen, this fruit dryer from Binglinghua is sure to grab your attention if you're looking for a way to spruce up your kitchen. With a cycle mode enabling even dehydration all over your meal tray, the Snow island food dehydrator will give you excellent results no matter what you choose to dehydrate.
Well-suited to beginners, the Snow Island Food dehydrator is easy to use and versatile. You'll have no problem experimenting with different foods when using this device. The temperature regulation options, ranging from 35 to 75 degrees, meaning you can get the best food outcomes no matter what kind of snacks you want to make. There are even tips included with the device.
Though missing some of the advanced features of other food dehydrators, the Snow Island solution is a quick and simple way to explore the benefits of dehydrated foods. This could be one of the best food dehydrators if you're looking for a colourful and easy-to-use tool that's packed with personality.
However, this dehydrator is mostly made from plastic, which is a downside for many users. Also, the colour may not be as aesthetically pleasing as you want it to be.
Pros:
Great food dehydrator for beginners
Suitable for dehydrating all different kinds of foods
Adjustable temperature options
Attractive design compared to other dehydrators
Competes with top dehydrators for even drying
Cons:
Colour may not be appealing to everyone
May have too many plastic elements for some food dehydrator fans
Choosing the Best Food Dehydrator
With a little luck, our food dehydrator reviews have given you an excellent insight into some of the best food dehydrators in the UK market today. Of course, it'll be up to you to think about what kind of dehydrator is right for you, based on the products you want to dehydrators and the features that matter most to your purchase.
Below you can find some of the most important things to consider when looking at food dehydrators.
Capacity
The best food dehydrator will have extra trays and plenty of space for all the food you want to dry. Make sure you check the number of trays included with your dehydrator, as well as how much food the product can hold. This will be particularly important if you want to dehydrate large batches of food in bulk.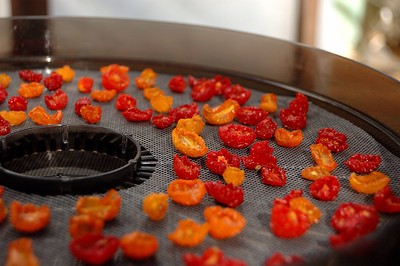 Temperature Management
Temperature control on a food dehydrator can improve your chances of getting the best food quality from your experimentation. Suppose you want to make certain kinds of dehydrated food, like meat or jerky. In that case, the best food dehydrators will need to be capable of cooking meat at a temperature of at least 130 to 140 degrees to protect against bacteria and other issues.
Airflow
Great food dehydrators use airflow to circulate the heat inside the dehydrated food for a more even drying experience. Even drying means your food dehydrator will give you a better texture from the snacks you create.
Noise
Although it's difficult to find a food dehydrator that doesn't make any noise at all, the best food dehydrators shouldn't be noisy when they're working in your kitchen. When sorting through your food dehydrator options, look for any reviews which mention noise and other annoying traits.
Functionality
A good food dehydrator will come with a range of features to make drying your food even easier. For instance, you might get a timer with an auto-shutoff function, so you can leave your food drying for as long as it needs, without having to remember when you need to turn the machine off. Most solutions also come with clear trays, so you can check on the progress of your food without having to turn the device off.
The Best Food Dehydrators
The best food dehydrator in the UK will depend on a range of things, including what kind of food you want to dehydrate, how much space you have, and what your budget looks like. Our favourite product from this list is the SousVideTools Commercial Grade dehydrator, which evenly dries all kinds of snacks inside and out with ease.
Temperature control and hot air circulation will give you amazing treats every time, and there are a full six trays available to fill with food.
Additional Resources
Nicole has a passion for everything about the home – especially decor. She loves to add new touches and style to every part of the house. Join her as she documents her ideas at Home & Style.