Last Updated on February 16, 2022
Our editors independently research the best products online to produce this list. We may receive commission on purchases made from the links below but this will never affect our product choices.
---
Top 8 Best Lawn Aerators
If you have never used a lawn aerator before, then you are not correctly caring for your lawn. That may sound harsh, but part of lawn maintenance must involve aerating it, as this allows not only air but nutrients and water to get down to the roots of that thick matted layer of roots.
However, this task does not have to take forever, thanks to lawn aerators. In fact, it can be substantially easier to do than most people are aware.
This is thanks to the invention of lawn aerators. These machines will not only make the task easier but will also improve the look of your lawn. We reckon you will be amazed at what these machines can do.
In a relatively short period of time, you can have a lawn that can absorb that water and nutrients that will lead to it becoming lush, green, and full. The days of having a lawn filled with moss, weeds, and bare patches can easily become a thing of the past, and it's all thanks to both aeration and using a scarifier on your lawn.
So, which version should you purchase? What is the best lawn aerator in the UK? Well, by the end of our lawn aerator reviews, you should have a better idea of which one is the most appealing for you.
How we Compared Lawn Aerators
To find the right lawn aerators we considered multiple factors, including:
Our team independently examined and compared hundreds of products to help satisfy different needs. We spent our time researching lawn aerators and consulting customer reviews to ultimately bring you what, in our opinion, are the best options on the market right now.
To find out more about our editorial process, take a look here.
Lawn Aerator Reviews
First, we have this model by Einhell, and this machine is both a lawn aerator and a lawn scarifier. Completed with a large bag to collect the moss and grass that it takes out while running as a scarifier, this lawn aerator comes complete with a ball bearing drum holding a total of 20 stainless steel blades.
What that means is this machine will puncture a number of holes in your lawn with each rotation. Increasing the number of holes means that air and nutrients will penetrate even the most compacted soil around, leading to a substantially better-looking lawn.
The fact that this machine also acts as a scarifier is an added bonus. Removing moss and dead grass makes aerating your lawn easier still, and this machine can do it all for you. Suitable for areas of up to 400 square metres, it means even larger lawns stand no chance with this machine, and that is why we see it as one of the best lawn aerators on the market today.
Pros:
It's both an aerator and scarifier at the same time
It has a catch bag
The 20 spikes give great coverage on your lawn
The scarifier comes with three different depths
It is easy to operate
Cons:
The scarifier works so well that the catch bag ends up being too small
It may feel too powerful to some
Here, we have a model developed by Hyundai, and in this instance, we have the first in the line of petrol aerators. Also, this model doubles up as a scarifier.
This lawn aerator also comes with a 210cc 4-stroke engine, so you have a heavy-duty lawn aerator on your hands. However, if you were worried about it burning through the petrol, don't. This lawn aerator does provide low fuel consumption thanks to the technology in the engine, so it makes life that bit easier.
For the lawn aerator part, the roll bar covers some 400mm at a time, so this machine can make light work of large lawns. Also, you can alter the height of the scarifier depending on how hard you want to hit the lawn, and the scope on this model far outstrips most lawn scarifiers on the market.
Finally, this model comes with a 45L catch bag, which is bigger than most. However, with the amount of moss and dead grass it will rip out, you will still need to empty this on a regular basis.
Pros:
The power means this is a heavy-duty aerator
You can easily change the height of the scarifier
It covers a large lawn quickly
The motor is fuel-efficient
The aerator has 19 steel blades
Cons:
The petrol engine may be slightly too powerful for some
Don't apply weight, or it will take up too much grass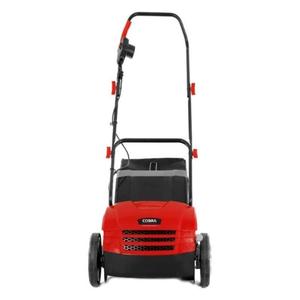 This lawn aerator is best described as being multi-functional. It won't just poke those holes in your lawn, but it also runs as a scarifier removing moss, thatch and dead grass. The end result is healthy grass that has the ability to grow without it being restricted.
Powered by your mains supply, it comes with a 1300W motor, and as electric aerators go, that is pretty powerful. However, it will be suitable for all sorts of lawns, from small gardens through medium lawns to larger lawns, and it will cope with whatever you throw at it with ease.
You also get to choose from four different operating heights, which means you can adjust how it works depending on soil compaction. Add in a 30L catch box, and this lawn aerator can get to work and remove that debris with ease.
This model has a 32cm wide strip for the aerator part, so it covers more area than a number of manual aerators and other electrical versions.
Oh, and it does also come with a two-year warranty, so there's nothing to worry about should something go wrong with the machine. However, that is highly unlikely, as this model is exceptionally reliable.
Pros:
It works as both a lawn aerator and a scarifier
Having four adjustment heights makes a difference
As long as you have an extension cable, this machine will keep ongoing
The aerator covers a large enough area to make short work of your lawn
It is highly reliable
Cons:
The catch bag could have been bigger
Assembling it can be time-consuming
Next up, we have another Einhell model, and we feel that this is one of the best lawn aerators around for a number of reasons.
First, if you want a highly efficient way to aerate your lawn, then this is the model for you. Of course, it also doubles as a scarifier, and it will rip out that thatch, which manual lawn aerators cannot do.
This model has a 1200W motor, so that's more than enough power to get around your lawn. However, that's not the only impressive thing about this machine.
The scarifier part comes with eight double blades on a ball-bearing mounted unit. The aerator part also comes with a total of 42 claws that will puncture holes into the ground when aerating your lawn.
What that means is this machine will easily remove lawn thatch and puncture holes into the ground substantially easier than you could ever achieve with garden forks.
But then there's the depth to which this machine can work when you want to aerate your lawn. It has three settings, and that means it can get down to those grassroots and get to work without disturbing the root system where it would destroy your grass.
Overall, this garden aerator is easy to operate, can work on larger gardens down to smaller gardens, and saves you a whole lot of manual work at the same time.
Pros:
It will aerate your lawn in next to no time
The lawn spikers on this model will work on any soil condition
The motor is powerful enough to rip out that lawn thatch with ease
It has several height settings
It works on lawns of all sizes
Cons:
The catch bin isn't big enough for how well this machine works
It can be tricky changing heads on the machine
This machine works as a lawn rake, scarifier, and aerator, all rolled into one, so it can really work your lawn and help get it back to a pristine condition. Complete with a 1300w motor, this is a heavy-duty machine, and that becomes apparent as soon as you fire it up and let it get to work.
This scarifier comes with a 38cm wide roller, so it covers your lawn with ease. It also incorporates some 14 blades, and that will be more than capable of taking out the old grass and leaving you with a healthy lawn.
The grass aerator comes with a total of 24 steel tines, and if you have never used tine aerators before, then this is the best one around.
This machine is also an electric aerator and is exceptionally easy to use. You simply plug it into the mains, and your garden aerator is good to go. Also, it can be used on any surface, and even lawn sand won't be able to get in its way.
However, the machine does come with a 55L catch box but be warned as this machine is not your normal rolling lawn aerator. Instead, it's going to remove so much thatch and moss that the 55L simply will not be large enough.
Finally, you can change the tines without needing any extra tools. This is important as not all hollow tine aerators can do this.
Pros:
The roller is wide, so it will cover even medium-sized lawns in next to no time.
It's the best of the tine aerators around
Its powerful motor is easy to operate
The quantity of moss it removes is exceptional
You can change the tines without tools
Cons:
The catch bin can't cope with the level of moss
The cable could be a bit longer
As simple spike aerators go, this model by COSTWAY is efficient, even though it requires some manual effort.
Roller spike aerators work extremely well on even compacted soil, and they will still be able to deliver the right lawn aeration to boost the overall health of the grass. Assembling this rolling aerator is easy, and it takes just minutes to do. After that, you will quickly see why people still love these roller spike aerators over other garden tools, as it's all about how they penetrate the ground and do so with ease.
This model uses high-grade steel for the actual rolling lawn aerator part, while it does come with durable plastic that will stand the test of time. Complete with a non-slip handle, you will be surprised at how easy it is to cover your entire lawn with roller aerators.
Also, don't be put off with the idea of it having a sturdy plastic base for encapsulating the wheels as everything is designed to last. Even the metal is designed to avoid rusting, so using it on damp soil will not result in you having to replace your rolling lawn aerator with a garden fork.
Overall, it may be a basic approach, but this rolling aerator works exceptionally well. It may not incorporate a scarifier into the machine, but if you want something more efficient than aerator sandals, then this is the right machine for you.
Pros:
As lawn aerators go, this one is so easy to operate
It is designed not to rust
It will outlast other garden tools you may have used
It is easy to maintain and keep clean
It penetrates the ground, aerating your lawn to perfection
Cons:
This model only does one function, even though it does it well
You need to put in the hard work yourself, but it's good exercise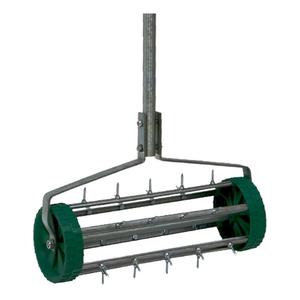 This model by Oypla is our pick for the best manual lawn aerator on the market. These lawn aerators are heavy-duty machines with sharp spikes that will penetrate your lawn and leave those soil cores with ease.
Oypla is well-known for creating super soil aerators with a sturdy metal frame, and this model is no exception. It feels exceptionally well made from the moment you assemble it, which is also easy to do, and the spikes are sturdy, so they will make quick work even of clay soils.
But this is important. The spikes are sharp and will go into the soil on your lawn with ease, but they won't rip the grass or cause any damage. Many professionals view this as the best approach to lawn aeration because it does not damage grass, unlike other garden tools.
Overall, this product may be basic, but it is well made, and the performance of this lawn aerator is exceptional.
Pros:
It is very easy to operate
You do not require a lot of physical strength to push this spike aerator
The spikes are metal and penetrate the ground with ease
It will not rip and damage the grass
The aerator is easy to clean once used
Cons:
It will not do anything other than aerate your lawn
It does involve physical labour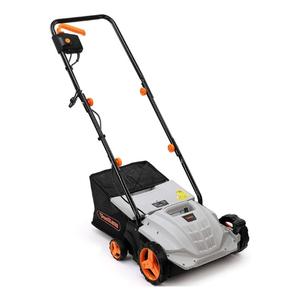 Finally, we have this 2-in-1 model by VonHaus, and if you have previously been using lawn aerator shoes to get those holes in your lawn, then it's time to throw them away.
Your lawn will not have looked better after running over your grass with this machine since it operates both as a lawn rake and an aerator. It comes equipped with a 1500W motor, and your mains electricity supply powers it, so nothing to worry about when it comes to the power aspect.
The frame of this machine is durable plastic, and it will work perfectly on small to medium lawns without being pushed to its limits. Changing between the aerator and scarifier is easy to do while it comes with four different cutting depths and a 32cm wide roller.
This machine does come with a perfectly reasonable 10m long cable and a collection bag. However, the collection bag is largely inadequate for the scarifier when the machine gets to work on ripping out the thatch and moss.
Pros:
As aerators go, this one is very easy to operate
Changing between the two modes is easy
It has a wide enough roller to then cover your lawn with ease
It has a relatively long power cable
The motor is extremely powerful
Cons:
The bag is really inadequate
It could do with more weight for the aerator to work better
How to Choose the Best Lawn Aerator For Your Needs
The different lawn aerators we have listed above are all excellent in their own right. However, it's advisable to become aware of how to find the best lawn aerator for your own individual needs.
To do this, we believe there are several key areas you should focus on to find the best lawn aerator in the UK.
Tip 1: How it is Powered
The first tip is connected to how the lawn aerator is powered. There are powered aerators for lawns and manual lawn aerators, as you have witnessed above.
If you are opting for the more heavy-duty lawn aerator, then you must choose between electric and petrol powered. However, keep in mind that petrol-powered will probably be noisier.
While the final decision is entirely up to you, one useful tip is to help you select how the aerator is powered.
For small gardens, a manual aerator, even one that comes with a simple foot bar, will be good enough. On a small lawn, you do not require an extensive pattern of holes in the ground to get the right outcome.
However, if you have a medium-sized lawn, then an electric aerator is the best choice. You should have enough cable to get around the lawn with ease, and the rollers on electric aerators tend to be wide enough to allow you to move quickly across the surface.
But remember, you can use an electric aerator even on a small lawn. It will just complete the task quicker than you expected.
Tip 2: What are its Functions?
Another key tip is to look at the functions. In our list, we have covered machines that are simply aerators, while others are also scarifiers. It all depends on what you want to do with your lawn.
An aerator will simply puncture holes in the ground to allow the air and nutrients to get to the roots. A scarifier will rip out moss, thatch, and dead grass from around the base of the healthy grass.
This alone is an important aspect of caring for your lawn. It means light and nutrients can get to the healthy roots more easily, and that will allow the grass to become thicker and healthier at the same time.
But keep in mind not every aerator has this function. If you already have an individual scarifier, then a manual aerator may be the best option.
Tip 3: How Easy is it to Operate?
The final tip is to determine how easy it is to operate the machine in question. If it's a roller spike aerator, then you have no problems, aside from having to push the machine on your own. However, it's not only the pushing of the machine that we are talking about here.
If you have a machine that can move between a scarifier and an aerator, how does it go between the two options? Can you change the rolls without requiring additional tools? How easy is it to get spare parts for the machine?
Knowing how to use all of the functions associated with the aerator is key. Not every machine works in the same manner, so understand this before you go to start treating your lawn.
Do You Need An Aerator?
If you are wondering as to whether you even need an aerator, then rest assured that this is an essential piece of kit for anyone serious about caring for their lawn.
If you see puddles appearing on your lawn, then you need to aerate it.
If you see bare patches when the rest of the grass is lush, then you need to aerate it.
Both examples show that the rain is not draining away, or the ground is too solid that rain cannot penetrate, leading to grass dying.
However, by the time you spot these tell-tale signs, it does mean damage has already been done to your lawn. It makes sense to stop this from happening by taking action in advance. That is why owning an aerator, along with a scarifier, is the sensible option.
What is a Hollow Tine Aerator?
But let's also clear up some potential confusion, and it's all connected to the concept of the hollow tine aerator. It's an easy concept, but most people are unsure as to what this involves.
What hollow tine refers to is the way in which the spikes take a core of earth out of the soil. These tiny plugs make it easier for air, water and nutrients to get into the soil and then permeate the roots.
An aerator will produce these hollow tines on a regular basis. How regular will depend on the number of spikes on the machine in question since that directly relates to the number of hollow tines that will be produced.
However, no matter how many are created, having them inserted into the lawn regularly will make a huge difference to your lawn. It will boost the drainage in an instant or even allow that water to get into the roots if it is parched and the ground is solid.
If you want to see a major difference when it comes to your lawn, then a hollow tine aerator is undoubtedly the way to go.
Do Lawn Aerator Shoes Work?
You may have also seen lawn aerator shoes advertised in various places, but let's get one thing straight. Lawn aerator shoes do work in principle, but aerator shoes are lacking in certain ways.
Yes, aerator shoes have your own weight bearing down on the spikes, and that will make a difference, but the spikes on aerator shoes will have a tendency to be too short compared to what is required for your lawn.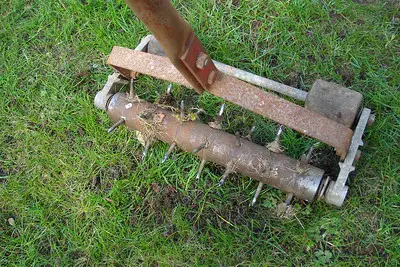 If you have even thought about buying these shoes, as you feel you cannot use a manual aerator, then do turn your attention to an electric aerator instead. It will do so much of the hard work for you, and it will deliver better results as well.
How to Get the Best Out of Your Lawn Aerator
You are advised to use your lawn aerator when the soil is moist, regardless of which machine you opt for. That will allow the spikes to go into the soil and then be removed with ease. It also reduces the resistance level for the spikes, which is important.
However, a scarifier will tend to work better when things are somewhere between dry and moist. It makes it easier to take out the dead grass when it is dry, but you still need those moist conditions for the aerator part to work.
We would also advise you to use the scarifier part before the aerator. That will mean the plugs will be easier to form, and the end result will be even better than you could have anticipated.
Overall Conclusion
Owning a lawn aerator is not something that is only for a professional gardener. Instead, if you are serious about really caring for your lawn, then using a lawn aerating tool becomes an essential piece of kit.
But to provide you with a complete care plan, we do recommend a tool such as the Einhell RG-SA1433. For us, this is the best lawn aerator UK companies can offer, but any of the machines listed here are good at what they do. However, in the case of the Einhell, it combines the two key elements of lawn spikes and a scarifier to air your lawn and remove debris simultaneously.
You free up the healthy roots that form your lawn by doing this. This helps the grass grow, whether you have soft soil, hard soil, clay soils, or anything else.
A lawn aerator is easy to use, and yet the positive outcome it can achieve even in small gardens could make buying a mechanical lawn aerator one of the best decisions you will have made.
Additional Resources