Last Updated on February 16, 2022
Our editors independently research the best products online to produce this list. We may receive commission on purchases made from the links below but this will never affect our product choices.
---
Top 10 Best Leaf Blowers
Leaf blowers force air out of a long tube or nozzle at high speeds so you can move around and clear leaves and other types of debris found in your garden, lawn, and walkways. While a rake can also accomplish many of the same tasks, leaf blowers make removing leaves much faster and easier. Additionally, many of the best leaf blowers today also feature suction and mulching functions, so you can also vacuum up and use the organic waste in different ways. Sounds great, right? We think owning a leaf blower is an essential tool for anyone with a lawn or garden, especially if you have deciduous trees in the area. Finding the best leaf blower in the UK can be a bit confusing if you don't know what to look for. Don't worry, though; we can help.
This post reviews the best leaf blowers available on the market at the moment. Continue reading, and you will definitely find one that suits your lawn and garden requirements. Whether you are looking for a corded, cordless, or petrol leaf blower, we have got you covered.
How we Compared Leaf Blowers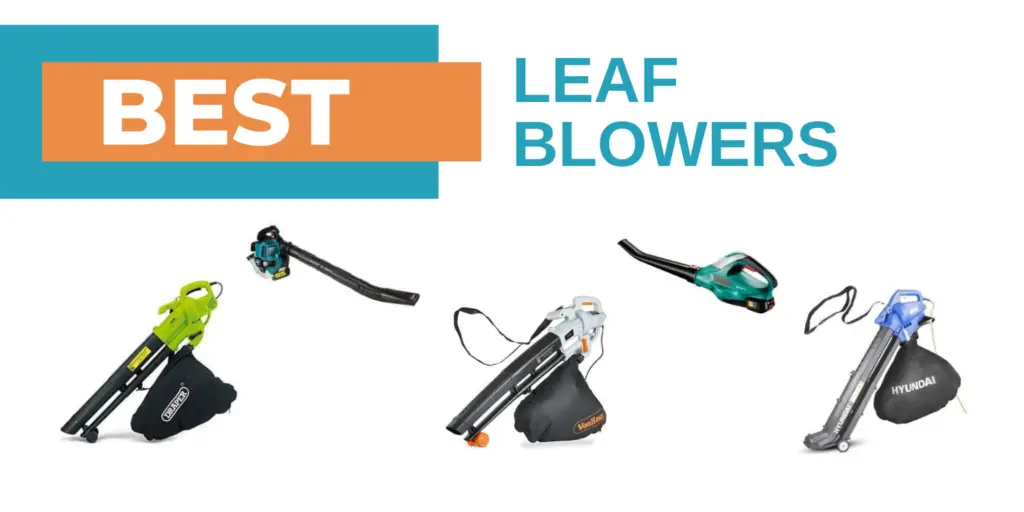 To find the right leaf blowers we considered multiple factors, including:
Electric vs cordless vs petrol leaf blowers
Adjustability
Weight
Versatility
Our team independently examined and compared hundreds of products to help satisfy different needs. We spent our time researching leaf blowers and consulting customer reviews to ultimately bring you what, in our opinion, are the best options on the market right now.
To find out more about our editorial process, take a look here.
Leaf Blower Reviews: Our Top 10 Picks
The 3-in-1 nomenclature of this excellent device is derived from its versatile use as a blower, mulcher and vacuum. It is one of the most powerful leaf blowers around. Equipped with a powerful motor with a power rating of 3000W, the Hyundai HYBV3000E 3-in-1 Electric Leaf Blower will effectively get rid of any leaf or debris in its path. 
The adjustable airspeed that ranges between 62 to 186mph is quite impressive. It makes the device versatile for a wide range of surfaces. Moreover, this device features a 9-position telescopic chute that suits virtually all heights. Therefore, you can use this gadget irrespective of your height. In addition, the device is very portable and convenient to use. It is lightweight and has a padded shoulder strap that provides maximum comfort while working.
The Hyundai HYBV3000E 3-in-1 Electric Leaf Blower comes with a generous 45-litre collection bag to collect the blown and mulched leaves. With a mulching ratio of about 10:1, you will work for a long time before the bag gets filled.
This leaf blower could be a bit trickier to unclog, isn't ideal for wet leaves, and may not have the best suction function, but overall, we still think it has earned a well-deserved place at the top of our best leaf blower list.
Pros:
Adjustable airflow rate
Telescopic chute has 9-position settings to fit all heights
Three-in-one function as a blower, shredder, and mulcher
Lightweight design with a padded shoulder strap
45-litre collection bag 
Cons:
It might be trickier to unclog 
Not ideal for wet leaves 
Leaf vacuum suction could be lacking 
The Makita BHX2501 24.5cc 4-Stroke Petrol Handheld Leaf Blower is an excellent leaf blower that will efficiently blow away the debris and leaves in your garden. A 4-stroke petrol engine powers this device. Hence, it is a petrol-powered leaf blower. 
The Makita BHX2501 24.5cc 4-Stroke Petrol Leaf Blower is quite functional. It does not consume a lot of fuel, hence helping to conserve running costs. In addition to this, the 4-stroke engine of the blower is specifically designed to reduce the emission of dangerous gases. It features a mechanical decompression system that makes it very easy to start. Hence, getting this petrol leaf blower to start is not a problem at all.
At less than 4.5kg, this great leaf blower serves as a convenient tool that you can use to get rid of the debris in your garden without much fuss. Moreover, the leaf blower is quite compact and can be easily stored without taking too much storage space. 
In general, the engines on petrol leaf blowers are known for making irritating noises. However, the Makita BHX2501 24.5cc 4-Stroke Petrol Leaf Blower is quite different. It is equipped with a large-capacity muffler, making less noise than an average petrol engine with the same specification. Furthermore, you can connect a vacuum attachment with this gadget to turn it into a powerful leaf vacuum cleaner. The collected leaves are mulched so that they can be used as compost.
Regretfully, this petrol leaf blower does not come with a shoulder strap, could be a bit fiddly to assemble, and we think the locking catch could be improved.  
Pros:
Less emission and fuel consumption
Compact design
Lightweight construction
Mulches blown leaves
Large capacity muffler
Cons:
Locking catch could be improved 
It doesn't come with a shoulder strap  
Trickier assembly
With the VonHaus 3-in-1 Garden Vacuum and Mulcher, you get a variety of garden tools in one multifunctional device. This is our pick for the best leaf blower in the UK when it comes to value and also provides you with good airflow speed to clear leaves quickly.
With the VonHaus 3-in-1 leaf blower, you get a powerful 3000-watt motor giving you serious power and blowing speed. The entire machine is easy to assemble, and it has a zippered 35-litre collection bag to contain debris picked while on vacuum mode. It also has a 10:1 shredding ratio which helps the bag fill slower and also turns your waste into easy to use mulch.
To help make this leaf blower easy to handle, it features a couple of key traits. It is lightweight, has a shoulder strap, and also has wheels on the end of the nozzle for easy manoeuvring underneath objects. In addition, it also features a 10-metre cable that gives you plenty of space to move about.
The air volume created by this leaf blower enables it to blow leaves like a champ, but the vacuum function could be lacking, and the nozzle has the potential to clog from time to time. The only other con we found is that the collection bag could prove to be less durable in the end, but it still makes a great value choice.
Pros:
Excellent value option 
Multifunctional shredder, mulcher, and leaf blower
Easy to manoeuvre front wheels 
Impressive airflow speed
Lightweight with a shoulder strap 
Cons:
The bag may be less durable 
It could potentially clog 
Less powerful vacuum function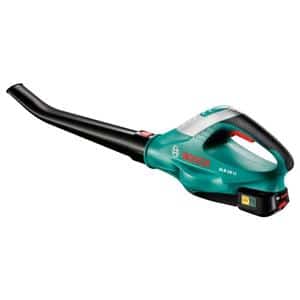 Our favourite choice for the best cordless leaf blower UK is the Bosch ALB Li Cordless. Not only does it give you unrestricted motion thanks to its cordless leaf blower design, but it also has an anti-vibration system that makes using and carrying it comfortable.
This cordless leaf blower has an impressive 210 km per hour blowing speed that is good for removing all kinds of debris and leaves. It is equipped with a lithium-ion battery, which comes included with your purchase, and can facilitate up to 17 minutes of continuous run time. This may not seem like a lot at first glance, but this is actually pretty decent compared to other cordless leaf blowers.
Bosch ALB 18 Li Cordless leaf blowers weigh just 1.8 kg, making them super lightweight and easy to hold for extended periods without becoming overly tired. They also feature a detachable blower tube to enable more compact, space-saving storage options. Although the entire device is fairly compact in the first place, so you may not even use this function.
This leaf blower may not be ideal for wet or damp leaves and debris, and the battery might not be the easiest to attach and detach as a result of its firmly locked in position. In addition, similarly to other cordless leaf blowers, you may need to recharge it mid-job if using it in larger gardens and lawns due to its battery life.
Pros:
Unrestricted cordless design 
Lightweight 1.8 kg design 
Detachable blower tube 
Lithium-ion battery included 
Low vibration emission 
Cons:
The battery isn't the easiest to attach 
It may need to be charged mid-job 
Not ideal on damp or wet leaves and debris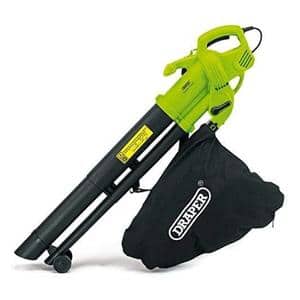 The Draper 3000W 3-in-1 Garden Vacuum will serve you satisfactorily without giving you any problem at all. This is our top pick if you are on the market for a lightweight leaf blower or small leaf blower.
This electric leaf blower can also be used as a shredder and a garden vacuum. It is equipped with an efficient motor with a power rating of 3000 watts. This motor enables the device to produce a high airflow speed that removes tough and sticky leaves from hard surfaces.
This leaf blower vacuum comes with a 35-litre collection bag that stores the leaves as they are being blown. The leaves are compressed and can be used as compost. Additionally, the lightweight design of the device ensures that you can work with the utmost comfort and convenience. Its 12-metre cable also allows you to have extensive coverage.
This could be the best leaf blower vacuum with a lightweight design on our list, but its smaller size could result in more frequent clogs, especially if you try to suck up larger garden debris. In addition, some people had hoped this electric leaf blower would have more power but again, considering its restricted size we think it does a decent job for a small garden.
Pros:
Lightweight and easy to use
Compact design for easy storage
Long power cord for extended coverage
Additional shredder and vacuum functions 
35 L collection bag 
Cons:
More frequent clogs are possible 
Not ideal for larger garden debris 
Could have a lower power output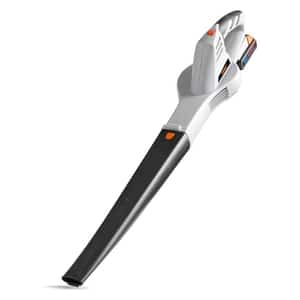 If you are looking for a leaf blower that will provide you with the utmost comfort and convenience while working, look no further than the VonHaus Cordless Leaf Blower. This excellent product is highly regarded and is replete with great features that make it extremely easy and super-fast to clear the leaves and debris in your garden. 
This leaf blower is a cordless device that is powered by a 20 volt Max Lithium-ion battery. The battery and charger are included, and it takes only one hour to charge fully. Once fully charged, it has a battery life of about 15 minutes, allowing you to cover a large area before running down.
As earlier said, this cordless leaf blower is very easy to use. Aside from the comfort offered by its lightweight and ergonomic construction, the VonHaus Cordless Leaf Blower tube can also be easily removed for storage. More so, this device emits low noise while working, making it an ideal tool in a residential environment. The two-year warranty that comes with these cordless models is also very enticing.
This is a fantastic cordless leaf blower option, but it does have a shorter battery life, so it is not the best option for larger gardens and lawns. Lastly, the blowing speed may not be up to some people's standards.
Pros:
Easy to use
Lightweight and ergonomic construction
Low noise output
Its compact design makes storage easy
Battery and charger included
Cons:
It has a shorter battery life
Not ideal for larger gardens  
Softer blow speed possible 
An impressive motor that has a power rating of 3000 watts ensures that the Handy THEV 3000 Electric Leaf Blower/Vacuum delivers top-notch blowing performance. However, the function of this versatile tool is not only limited to leaf blowing; it also serves as a great and effective vacuum cleaner. 
As for its blowing abilities, very few gadgets can match the effectiveness of the Handy THEV 3000 Electric Leaf Blower/Vacuum. It has a nozzle support wheel that comes in handy while working on hard surfaces and difficult terrains. More so, the device comes with a large collection bag with a capacity of 45 litres. It has a mulching ratio of 10:1 that enables you to work for a long period before the bag gets filled.
Furthermore, the variable speed settings of this superb device allow you to use it on a wide range of surfaces and different types of debris. The Handy THEV 3000 Electric Leaf Blower/Vacuum is also lightweight and convenient to use.
We think this is one of the best electric leaf blowers on the market today, but you should know that the collection bag could be a bit tricky to remove, and it does not shred the leaves when it vacuums them up. Our only other concern is that it has a narrower blower tube that could clog somewhat easier when you use the vacuum function.
Pros:
Nozzle support wheel 
It also functions as a vacuum
Adjustable airspeeds
Large 45 L collection bag
Lightweight and easy to use
Cons:
The narrow nozzle could clog easier 
Removing the collection bag may be tricky 
It does not have a shredding function 
The McCulloh GB 355 BP has a unique backpack leaf blower design that makes carrying the equipment around much easier. The backpack harness evenly distributes the weight of the device across your back and shoulders taking the strain off of your arms and allowing you to work for longer periods of time without depleting your energy.
This backpack leaf blower features 1500 watts of engine power and is able to produce a blow speed up to 355 km. It is a 46cc petrol blower with variable speed control and a convenient cruise control function, so no need to hold the trigger down while in use unless, of course, you prefer to. It also has an adjustable handle position for a more ergonomic fit.
This petrol leaf blower has a good-sized 2.2-litre fuel tank, and thanks to the backpack design, carrying around the added weight of the fuel will be much easier. The backpack also has padded straps that are fully adjustable, so you can customise it to your specific body size. Petrol leaf blowers often emit a strong vibration, but this petrol blower has an anti-vibration system to help minimise this feeling while you work.
Regretfully, this backpack leaf blower does not have a vacuum function and can be a bit noisy. McCulloh also claims they have included an easy-to-attach nozzle, but it could take some getting used to.
Pros:
Comfortable backpack harness design
Anti-vibration system 
Variable speed settings with cruise control
2.2 L fuel tank
Adjustable handle position 
Cons:
No vacuum function 
It may be a bit noisy for some people
It could be trickier to assemble 
One of the best leaf blowers on the market today is the WORX WG518E Air Turbine Corded Leaf Blower. It is quite useful and helps you to get your work done quickly and without any hassle thanks to its adjustable airspeed and blowing power. 
This tool has a variable speed control. This feature makes it highly versatile, as it allows you to adjust the speed of the device to suit the requirements of your leaf blowing task. Moreover, the device incorporates a turbine fan technology with a high capacity air volume so you can clear leaves and other garden debris with ease.
The lightweight and ergonomic design of the WORX WG518E Air Turbine Corded Leaf Blower is commendable for several reasons. It is so light that you can manoeuvre it with just one hand. Also, the device is equipped with a hyper-steam air nozzle that enables it to deliver efficiently in super-tough or tight areas. This added air velocity works where and when you need it most.
Regretfully, this corded leaf blower does not feature a vacuum mode, and the motor tends to get hot with extended use. If we are being picky, we also think it could benefit from having a shoulder strap incorporated into the design, but overall, it makes a great corded option that makes light work of your leaf blower tasks.
Pros:
Dynamic turbine fan airflow design
Variable speed control ensures versatility
Lightweight and easy to manoeuvre with one hand
Hyper steam air nozzle for tough areas
High capacity air volume 
Cons:
It could benefit from a shoulder strap
The motor may get hot with extended use
It does not feature a vacuum mode 
If you want a more versatile leaf blower with a basic design, the Greenworks Tools GD40BV Cordless 2-in-1 could make an excellent choice. It has both blowing and suction modes for added versatility and a cordless design that gives you the freedom to use it in any place you need.
This cordless leaf blower features a 280 km air speed that allows you to clear unwanted debris from your garden and driveway efficiently, all without having to be tethered to a mains power outlet. It has a brushless motor to help dampen the overall noise produced and a turbo switch for when you need to amp up the power.
It has an adjustable nozzle for ease of use regardless of your height. A 45-litre collection bag is attached to the body of the blower, and it has a 10:1 mulching ratio so you can repurpose your garden waste straight out of the bag. The rapid mulching speed also allows you to work for longer without having to empty the bag.
The 40-volt battery and charger needed for operation do not come included with this cordless leaf blower, but Greenworks batteries are compatible with their other devices, so this can be convenient if you want to stick to one brand for garden tools and equipment. Other cons include potentially having a shorter battery life that only lasts for approximately 10 minutes. The vacuum function may not have as much suction power as some people had hoped.
Pros:
Blowing and suction modes
45 L collection bag 
Turbo switch 
Adjustable nozzle  
Brushless motor 
Cons:
Battery and charger not included 
Shorter battery life is possible 
Vacuum function could be less powerful 
Leaf Blowers Explained: A Buyer's Guide
The best type of leaf blower for you depends on a number of factors, such as the size of your garden, how dense it is, and the condition of the surface of your garden. One of the best ways to determine if a leaf blower is capable of doing the job you need is to compare the following specific traits.
Electric vs Cordless vs Petrol Leaf Blowers
Generally, the higher the power rating of a leaf blower, the more powerful it is. So use this as a reference point. Leaf blowers typically work using one of three power sources. They are either powered by petrol, electricity, or a battery.
Petrol leaf blowers feature a refillable fuel tank that powers the machine. Petrol models are often heavier due to the added weight of the fuel itself. A petrol leaf blower can also be a bit noisier when compared to other types of leaf blowers. Many people still prefer to use a petrol leaf blower because they give you the freedom to move around without a power cable and often give you longer runtime than a battery-powered leaf blower. Of course, the fuel in a petrol leaf blower will still have a strong odour, and the motor will cause more vibration when powered on.
Electric leaf blowers are great if you do not want to bother yourself with buying fuel or recharging batteries. The main drawback to electric models is that they have to be plugged into mains power to use, restricting your range of motion and also restricting the size of the space you can bring it to. Electric leaf blowers are often the most lightweight option and are typically decently priced.
The best cordless leaf blowers eliminate the need for mains power while in use, but the battery does add some weight, making them somewhat heavier than corded leaf blower options. This means you can go anywhere you like with your leaf blower; your only restriction is the life of the battery. The best cordless leaf blowers can last anywhere from 10 to 25 minutes per charge and take about an hour to fully recharge. This may not seem like a lot of time, but considering how quickly leaf blowers clear an area, you may be surprised at how far this amount of time can get you.
Adjustability
Many of the best leaf blowers also come with adjustable components that make them more effective and user-friendly overall.
Since you will be holding the leaf blower while you work, many leaf blowers feature nozzles that are adjustable in length. This allows you to shorten or lengthen the blow tube based on your specific height and the height of the terrain you are attempting to clear.
Leaf blowers often have an adjustable airflow speed as well. This lets you turn up the sir speed when you encounter damp leaves or other stubborn debris that resists being blown around or sucked up if it has a vacuum mode. The speed trigger can also be adjustable to further customise the ergonomics of the device to your specific body shape and height.
Weight
Considering the fact that you will be carrying around your leaf blower for a decent amount of time, we think it is important for it to be lightweight. Otherwise, you may find using it uncomfortable, and it could lead to strained and sore muscles. We made sure to choose leaf blowers for our list that are relatively lightweight.
In addition to the actual weight of the device, some leaf blowers include features like wheels on the end of the nozzle, a built-in shoulder strap, or even a backpack style harness to further reduce effort and make them easier to hold and manoeuvre for extended periods of time.
Versatility
Most of the leaf blowers that are manufactured these days can also function as garden vacuums and mulchers.
Vacuuming up the leaves and debris you blow around with your device eliminates the need to physically bend over and pick it up. This reduces strain on your body and also makes for more of a mess-free gardening experience overall.
The addition of a mulching function can help you minimise actual waste by allowing you to use your clippings around your garden in more meaningful ways, like preventing the growth of weeds in your flower beds.
Benefits of Using a Leaf Blower On Your Garden and Lawn
A leaf blower works by blowing air out of a nozzle at high speeds. This tool is a must-have for any serious gardener. You should own one if you want to keep your garden free from dead leaves and twigs easier and quicker. A leaf blower helps ensure that your garden looks tidy and attractive with minimal effort on your part.
They are also great for anyone with restricted mobility or arthritis as they eliminate the need for heavy lifting and excessive bending over to clear debris.
The Best Leaf Blower for Your Lawn and Garden
By now, you should be all set to choose the best option on our best leaf blower for the UK list for your specific lawn and garden needs.
The Hyundai 3-in-1 Electric leaf blower is our number one Editor's Choice, and we think you'll love it too. It features an adjustable airflow rate, has a telescopic nozzle with 9-position settings to fit all heights, is lightweight with a padded shoulder strap for added comfort, has a large 45-litre collection bag, and can be used as a shredder, mulcher, or blower.
Just keep in mind that it may be trickier to unclog, it is not ideal for the most stubborn wet leaves, and its suction could be somewhat lacking in the performance department.  
Is our favourite the right choice for you? Or, would another option on our list be better suited to your lawn and garden needs? Maybe you would prefer a cordless or petrol leaf blower?
We would love to know what you think about our reviews. Let us know, and leave a comment below!
Additional Resources
Nicole has a passion for everything about the home – especially decor. She loves to add new touches and style to every part of the house. Join her as she documents her ideas at Home & Style.