Last Updated on February 16, 2022
Our editors independently research the best products online to produce this list. We may receive commission on purchases made from the links below but this will never affect our product choices.
---
Top 10 Best Loft Ladders
Many houses have loft spaces that are a large additional storage area but are underused because of the difficulty and hassle of getting a set of ladders and doing the precarious climb up to the loft hatch.
The best loft ladders offer a solution to this problem and ensure that you have safe and secure access to your attic or loft space. In addition, a loft ladder offers a perfect alternative to fixed stairs if you do not have the landing space for a permanent solution or do not want to spend the money installing one.
There are a lot of different loft ladder designs to select from, and they each come with their pros and cons, which we have provided details of below in our best loft ladder in the UK picks and buyer's guide below. So take a look through to find the ideal loft ladder for your home and rediscover those long lost belongings from your loft!
How we Compared Loft Ladders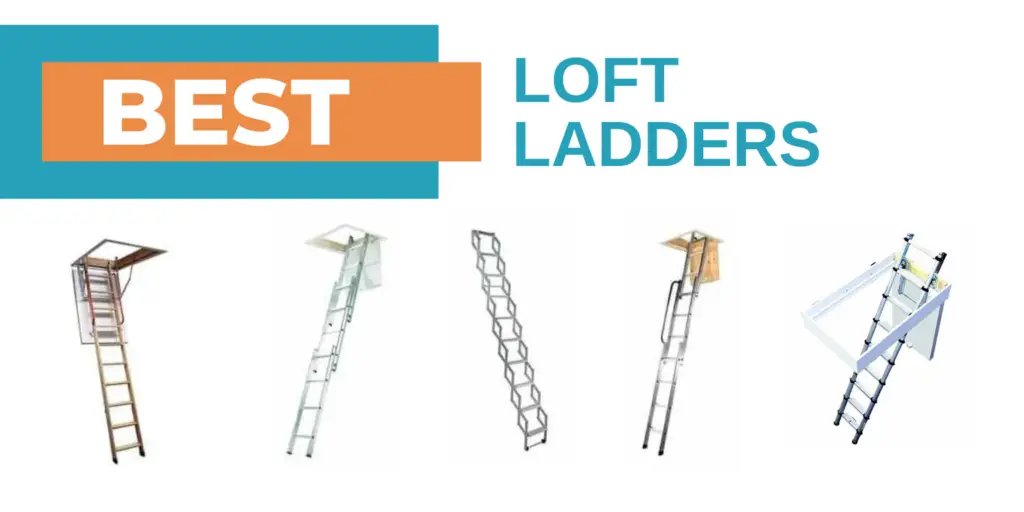 To find the right loft ladders we considered multiple factors, including:
Type
Material
Height and weight capacity
Safety features
Our team independently examined and compared hundreds of products to help satisfy different needs. We spent our time researching loft ladders and consulting customer reviews to ultimately bring you what, in our opinion, are the best options on the market right now.
To find out more about our editorial process, take a look here.
Loft Ladder Reviews – Top 10 Picks
This Alufix aluminium compact loft ladder is worthy of our editor's choice title for many reasons. First, it is the perfect ladder for small spaces as it only requires a landing space of 83 cm and a swing clearance of 47 cm to fit. Additionally, the steps are good at just under 8 cm wide and will ensure you feel secure as you climb up to your loft.
This best loft ladder in the UK is simple to fit and includes all the fittings you need to install it. If you need it, there is also a conversion kit to change your push up loft hatch to one that swings downwards instead.
The concertina loft ladder has ten steps and is suitable for a ceiling height of between 2.46 m and 2.73 m and can take a maximum weight of 100 kg. In addition, a hook accessory is supplied for pulling the hatch downwards and closing it, but one thing to remember is that you need to supply the brush handle or similar for the hook to be attached to, as the pole is not included.
Finally, this aluminium loft ladder comes with a 3-year warranty from Alufix!
Pros:
Perfect for compact spaces
Concertina design
Fittings included and easy to install
3-year warranty
Hook accessory included
Cons:
The hook accessory is plastic and may not be robust enough
The ladder may be stiff to pull downwards
A pole for opening and closing is not included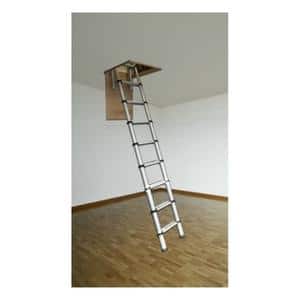 This telescopic ladder by Youngman is suitable for ceiling heights of up to 2.9 m, and you can adjust it to three different heights depending on the space available. In addition, it has anti-slip rubber feet to keep the ladder secure on the floor and to prevent any marking.
The extra-wide steps have a depth of 9.5 cm, so you feel comfortable and secure when climbing the ladder. Another feature we like about this ladder is its automatic lock and release function and is straightforward to install, cutting the ladder to size. It has a maximum load weight of 150 kg and is made from anodised aluminium.
Pros:
Adjustable to three different heights
Manufactured with anodised aluminium
Rubber feet for protection
150 kg maximum weight load
Suitable for ceiling heights up to 2.9 m
Cons:
The instructions included for installation may not be very clear
The ladder may feel heavy and stiff to use initially
The plastic hook included with a pole may break, and a metal one would be longer-lasting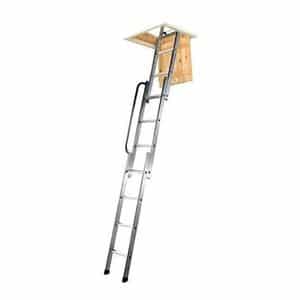 The best loft ladders with handrails offer additional support and security when climbing up and down the ladder. The attic ladder has three sliding sections and can extend to a maximum height of 3 m, and it requires an opening arc of 0.75 m.
When you purchase this ladder, it comes with an opening rod and a catch for easy opening of the hatch and the handrails. It is made from aluminium and is considerably lighter than some of the other ladders in this review at 6.62 kg. The maximum load weight of this sliding loft ladder is 100 kg.
The marketing material for this sliding ladder states that it is for occasional use, so it is important to review whether it will be robust enough for your needs.
Pros:
Lightweight
Can reach to 3 m floor to ceiling height
Handrail included
Inexpensive to purchase
Pole included
Cons:
It may not be suitable for installation with a raised floor in the loft
The paper instructions may need to be supplemented with YouTube instruction videos
The ladder may feel a bit lightweight or flimsy when in use
Wooden loft ladders offer solidity and a feeling of security when you climb up and down them, and the BPS Access Deluxe Wooden Loft Ladder is no exception. The loft ladder comes pre-assembled for easy installation, and the two red handrails are supplied to give you extra support as you climb in and out of your loft. Also, slip-resistant feet and an operating pole are included when you buy.
The wooden loft ladder can bear a total weight of 150 kg, giving you scope for the items you need to carry up and down, and the ladder itself weighs 29.7 kg which is heavier than many of the folding loft ladders in this review, but it is made from solid wood.
The ladder is manufactured in accordance with the EN 14975 safety certificate, and the steps have slip-resistant treads and are 8 cm deep, so you can use it with peace of mind.
Pros:
A deluxe wooden loft ladder
EN14975 certified product
Lifetime guarantee
Safety handrail supplied
Slip-resistant treads
Cons:
The ladder does not come stained, and you may want to do this to further protect the wood
It may require more than one person to install due to the weight of the ladder
It may not be possible to put your whole foot on the top step but have to stand sideways on as the door hatch blocks it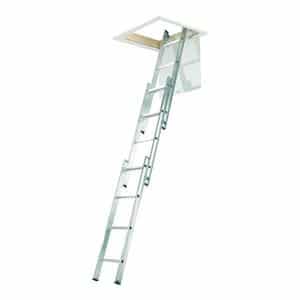 The Abru 37000 3 Section Compact Aluminium Loft Ladder is inexpensive to buy but delivers a lot of bang for your buck. There is a 5-year guarantee against any defects in the workmanship or materials, and the three-section loft ladder is certified to EN14975 safety standards.
The aluminium makes this a very lightweight loft ladder at only 5 kg, but it can hold an impressive total weight of 150 kg! Additionally, it will fit in a floor to a loft height range of 2.13 m to 3 m and needs a 0.71 m swing clearance.
The three-section loft ladder has D-shaped rungs with non-slip treads for additional safety when climbing up and down, and the ladder is suitable for DIY installation and comes with all of the fixtures and fittings that you need for the job.
Pros:
Maximum ceiling to floor height 3m
Compact design
Features non-slip D rungs
Lightweight at just 5 kg
It can hold a total weight of 150 kg
Cons:
The plastic hook may be flimsy and prone to breaking
It may be possible to slip the ladder off the tracks if you push it up too quickly
The steps may be narrow and not feel secure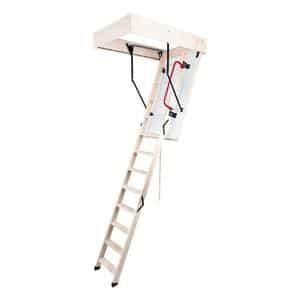 The main selling point for this folding loft ladder is that it comes inclusive of a 36 mm thick sealed hatch to help retain heat in your home. Furthermore, the loft ladder comes fully assembled when you buy it and comes with a 3-year manufacturer's guarantee. Additionally, it is suitable for a maximum height of 2.8 m and carries a total weight of 160 kg, making it one of the strongest products in our best loft ladder reviews list.
Non-slip feet are included on the base of this ladder to prevent it from moving and from damaging your floor. It also has a handrail for additional stability when you are climbing in and out of your loft. This can be installed on either the left or right-hand side, depending on your preference.
Due to the ladder itself weighing 20 kg, it is probably more suited to two people installing it.
Pros:
Quality wooden ladders
Can bear 160 kg weight
Safe and comfortable to use
Non-slip feet
Handrail
Cons:
The hook is plastic
The top five rungs are attached to the hatch door, so you can only put your foot sideways on those steps
Instructions may not be clear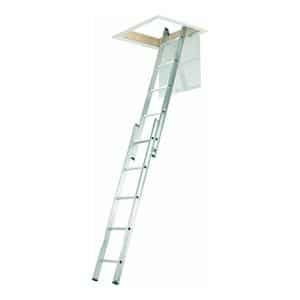 This is a two-section aluminium construction loft ladder that is lightweight at 5 kg and straightforward to install. It comes complete with all the fixings you require to do the DIY project yourself, and the universal stowing pole is also included in the purchase!
The loft ladder can bear 150 kg, which is in line with other best loft ladders in our review and comes with a 5-year guarantee for workmanship and materials. The rungs are D-shaped for a stable grip, but there is no handrail for additional support.
One thing to note is that this is only suitable for a maximum floor to ceiling height of 2.69 m; it will not work in taller ceilinged properties.
Pros:
Includes universal stowing pole
It comes complete with all fittings
Lightweight at only 5 kg
5-year guarantee
D-shaped rung steps
Cons:
Only suitable for heights up to 2.69 m
It may feel flimsy when climbing up
The instructions may not be easy to follow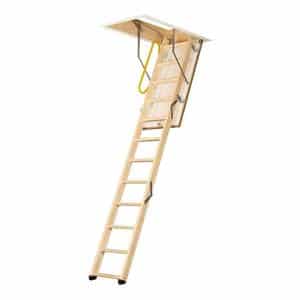 In our review, this is another wooden loft ladder that includes a 33 mm thick hatch to reduce heat loss and improve insulation in your loft. It works by having an airtight seal that prevents cold air draughts from escaping.
The loft ladder weighs 27 kg and can bear 150 kg in weight. The wooden ladder has slip-resistant treads and rubber feet to prevent movement and marking on your flooring. Additionally, an opening rod with hook and handrail is included when purchasing this ladder.
It is suitable for a floor height of 2.8 m and requires an opening of 1.2 m by 0.7 m to fit the hatch. The ladder folds away in three sections onto the hatch and is easy to install between joists.
Pros:
A sturdy and heavy-duty wooden ladder
2.82 m floor to ceiling height
Can hold weight up to 150 kg
Slip-resistant feet
Handrail for maximum safety
Cons:
The actual width of the hole required for the hatch is 0.55 m rather than the 0.7 stated in the product details
May require two people to install due to the product's weight
The instructions may not be the easiest to follow
This is a compact telescopic ladder made from aluminium alloy, which weighs only 12.5 kg and can bear 150 kg of weight. A real plus point with this ladder is you do not need vertical clearance in your loft area, and it will fit in small hatch spaces of just 52 cm by 60 cm.
The telescopic loft ladder has a 9 cm tread width, giving you plenty of support underfoot and making it feel secure to climb. Additionally, it comes pre-assembled apart from a few final springs and screws and has an automatic lock as a safety feature.
The installation may take two people, and it may also be worth investing a small amount of money in a spring hook to assist you with the springs when you come to that part.
Pros:
Perfect unit for minimal space
Includes a sturdy automatic locking system
Wide tread to prevent slipping
Pre-assembled apart from final fixing
Made from aluminium alloy which will not rust
Cons:
This is not suitable for ceilings higher than 2.55 m
At the upper end of the price range of our best loft ladders
The picture-based instructions may need supplementing with YouTube instructional videos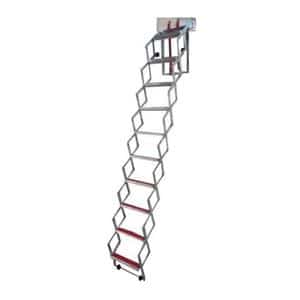 This concertina loft ladder is designed to solve even the most tricky loft installations as it is suitable for almost any loft space. This is because it only requires a minimum gap of 45 cm wide and 57 cm long in the loft hatch opening to be installed. In addition, the loft ladder can support a weight of up to 150 kg, which puts it right up there with other loft ladders in our review.
The loft ladder has 8 cm deep treads for extra stability, and these are coated with non-slip rubber, so you will always feel secure when standing on them. Additionally, it has a double sprung mechanism which makes it feel lightweight and supported when opening or closing, making it suitable for anyone to use.
When you purchase this loft ladder, you also receive a conversion kit to convert a push-up hatch to a swing down one if required and a hook that can be fitted to a pole to pull the loft hatch down. The pole is not included, so; please bear that in mind when buying.
Pros:
Space-saving design
Wide, extra deep treads
A perfect ladder for small loft hatch openings
Lifetime guarantee
150 kg weight capacity
Cons:
The pole to attach the hook to is not included
It may be difficult to follow the supplied instructions
It does not come with non-slip feet and may move around on wooden floors
Buyer's Guide
There are a number of different options to consider when looking through loft ladders, and the type of ladder best for you may be dictated by the amount of space you have available, or you may be lucky enough not to have any constraints and be able to choose based on style and functionality. Whatever the case for you, we have set out some considerations and further information below to help you find the best loft ladders for your needs.
Type
Loft ladders come in many different designs, and they perform different functions.
A telescopic loft ladder is perfect for tight spaces, as they are often compact enough to sit within the hatch recess. This makes it a space-saving loft ladder, and it will look modern and stylish too.
Sliding ladders will slide across themselves in sections and require loft spaces sufficiently roomy to house them.
The best loft ladders also come in folding and concertina forms; folding is the main style for wooden loft ladders, and concertina loft ladders come in aluminium.
With any type of loft ladder, you need to ensure sufficient horizontal and vertical clearance for it in your loft and landing.
Material
The two main materials used for loft ladders are wood and metal, typically aluminium. They each have positives and negatives, and it will depend on which works better for you.
The best wooden loft ladders look attractive and tend to be a solid feeling, which is reassuring when climbing them to your loft. They tend to be folding ladders in style because it is impossible to construct telescopic or concertina ladders from wood, but they take up more loft space than telescopic ladders, for instance.
Metal loft ladders can come in various types, sliding loft ladders, telescopic loft ladders and concertina designs. Because there is this variety, you may be more likely to find a loft ladder that fits if you have limited space.
Wood will tend to be heavier and therefore may require two people to install the loft ladder, but it may also feel more robust than a metal one.
Height and Weight Capacity
It is important to check the maximum loft floor height specified on a ladder as some are not suitable for higher ceilings and will come short of the floor. Other loft ladders have adjustable height settings so that you can set the perfect height for your loft space.
The weight capacity of a loft ladder is another critical factor to consider. The average maximum weight is 150 kg, but this does vary from 100 kg to 160 kg in our best loft ladder reviews. You need to take into account your weight plus the additional weight of items that you may be carrying up and down from your loft.
Safety features
The best loft ladder will come with safety features for you to feel more secure when using them. These can include an automatic locking system to keep the loft ladder in place, slip-resistant feet and treads, as well as handrails.
Conclusion
We hope that the information and advice provided in our loft ladder reviews and buyer's guide has helped you select the right loft ladder for you. However, if you are still undecided, why not select our editor's choice – the ALUFIX 10-Tread Concertina Loft Ladder.
This loft ladder is perfect for providing easy loft access when space is at a premium, as it only requires a landing space of 83 cm and a swing clearance of 47 cm to be installed. Compared to a sliding loft ladder, it concertinas up into just a very small space. Although it is compact in size, the steps are a comfortable width at just under 8 cm and will ensure you feel secure as you climb up to your loft.
The loft ladder has ten steps and is suitable for a high ceiling as it will reach heights of between 2.46 m and 2.73 m. Although not the largest weight capacity of all of our loft ladders, it can support a maximum weight of 100 kg.
As the best loft ladder in the UK, this is straightforward to install and comes supplied with the fittings you need to install it. If required, there is also a conversion kit to change your push up loft hatch to one that swings downwards instead.
Additional Resources
Nicole has a passion for everything about the home – especially decor. She loves to add new touches and style to every part of the house. Join her as she documents her ideas at Home & Style.