Last Updated on October 17, 2021
Our editors independently research the best products online to produce this list. We may receive commission on purchases made from the links below but this will never affect our product choices.
---
Our Favourites
Flymo Sabrecut XT Long Reach Hedge Trimmer (Editor's Choice)
Gtech HT20 Long Reach Hedge Trimmer (Luxury Choice)
Ryobi Pole Hedge Trimmer (Best Value)
Hedges are the first things you see when you look outside your window or if people come home. Neatly trimmed hedges add beauty and elegance to the garden boundaries. They create ideal backdrops and can increase the visual appeal of your manicured lawns and garden spaces.
Standard hedge trimmers do not have telescopic lengths to reach higher spaces over the hedge line. Standard hedge trimmers can only be used for short hedges. To contact the tops of the garden hedge, you would be required to stand on stepladders and stepping stools. This is not safe at all.
Do you need a Long Reach Hedge Trimmer?
Long reach hedge trimmers can help you trim hedges that are 2.5 m tall, with ease. These trimmers can also be used to cut the tops of hedges if they are not too deep or thick. Ideally, the head of a 1 m thick hedge can easily be reached with the help of a long reach hedge trimmer.
What to Look for in Long Reach Hedge Trimmers?
There are a few crucial points to remember before you invest in a long reach hedge trimmer.
Blade length – The blade length is essential when buying a long reach hedge trimmer. Blade lengths between 40 cm to 50 cm will allow you easy access to both sides as well as the mid portion of the hedge. If your hedge is taller than 1 m, you might miss a few spots in the middle.
Power Source – Power sources in long-range hedge trimmers are petrol, electric, and cordless. The power source also plays a very essential role in deciding the weight of the product and should be considered in depth before purchasing.
Best Long Reach Hedge Trimmer Reviews – Top 10 Picks
The Charles Bentley Telescopic Extension Hedge Trimmer is the most affordable and budget-friendly one on our list. However, it is far from weak. It features a 450 W motor with 1600 rpm. The blade is sharp, and the length is 46 cm. The pole can easily extend between 190 cm – 250 cm. the sharp teeth can also make 16000 cuts/minute.
Lightweight, this variant from Charles Bentley weighs 4.4 kilograms, and as an added advantage it has a 10 m cord. With an additional extension cable, you could quickly move about your garden and continue your trimming work. The body is ABS plastic, steel, and aluminum for sturdiness. The articulating head also gives a 140-degree range of motion. Check the PH and temperature of your soil with the best soil testing kit.
Key Features:
16000 cuts/minute
A 140-degree range of motion
Blade length of 46 cm
The long reach pole hedge trimmer from Ryobi is a budget-friendly buy. It helps you trim hedges that are at an unruly height and overgrown in hard to reach places. The extension pole is attached to an adjustable and durable cutting head. It also features a long cable for ease of movement around the garden and lawn. The balance of this model from Ryobi is also excellent since it is a low weight one.
You can work at varied angles since this variant from Ryobi is a versatile model with a pivoting head. The pivoting head helps you maneuver and navigate at the top of the hedge without straining your arms. The safety switches are close to arms distance making this a comfortable buy. For more great garden tools check out our guide on the best garden spades.
Key Features:
Easy to reach safety switches
Lightweight
4 m reach
The Vonhaus Long Reach Cordless Hedge Trimmer is 20v and extremely affordable. Battery operated, it is lightweight and easy to use around the garden. This extended reach pole hedge trimmer weighs approximately 6 kilograms and has a blade measuring 41 centimeters. The gap between the teeth of the blade measure about 15 mm and is meant for branches that are not very thick. If you attempt a thick branch, the teeth might get snagged.
The pole length can extend to 2.6 m, and the trimmer head can be adjusted to 6 different heights according to individual requirements. This blade head can reach 1300 rpm and also features a safety switch for emergencies. This product from Vonhaus also comes with a 2-year warranty. For lower, further away hedges a cordless hedge trimmer so you don't need to move extension leads around. Don't forget to check out our top picks for the best cordless hedge trimmers.
Key Features:
Extendable to 2.6 m
Lightweight at 6 kg
Extremely affordable
The Garden Gear Long Reach Hedge Trimmer has an extendable 2.5 m reach and can easily trim tall hedges with great ease. This model from Garden Gear features a rotating head. Lightweight at 5.6 kg, it also comes with a shoulder strap for non-tiresome work. This variant from Garden Gear comes with a host of safety features and is made for your ultimate comfort.
The safety features include a front handle locking knob mechanism to control the trimmer, a blade cover to protect the edge, a dead switch or safety button, a position lock lever, and a harness strap. It also comes with a 24-month guarantee from Garden Gear. For other garden items see our cordless strimmer guide.
Key Features:
Lightweight at 5.6 kg
Lots of safety features
Shoulder strap and harness
The Flymo Sabrecut is a fabulous yet affordable long reach hedge trimmer. The telescopic hedge trimmer features a 42 cm blade with a 16 mm tooth gap at the top. It has a 450 W motor to take care of thicker branches without expending a lot of power. The blade is designed to be twin action and has two sets of teeth. The advantage of this design improvement is to allow thicker branches to get cut while giving your hedge a beautiful finish.
This extended reach hedge trimmer can work non-stop for 50 minutes and also features an 18V battery. Since these batteries are interchangeable, you could also purchase another set to replace the drained out ones in case you wish to trim your hedge for longer. The pole length is 2.8 m. Combined with the light weight of this long-range hedge trimmer, this variant from Flymo is an excellent buy.
Key Features:
50 minutes of battery time
2.8 m pole length
42 cm blade
The Wolfcreek Tools Long Reach Hedge Trimmer was quite a surprise for us. It has a telescopic length of 1.85 m, but the cutting length is 466 mm. You can reach quite a height with this 500 mm blade length. This variant from Wolfcreek Tools is an electric one and so is incredibly lightweight at only 3.7 kilograms.
The articulating head is 150 degrees, and you can easily swivel it to either side depending on your preference. The blades on this electric pole trimmer are quite sharp and allow for extreme precision cutting. The cable length is 8 m, and you can easily reach all parts of the garden since it is lightweight and easy to carry. You can quickly lock the telescopic pole for better trimming. For other garden tools see our guide for edging shears.
Key Features:
Affordable
Lightweight at 3.7 kg
150-degree articulating head
The eSkde Long Reach Telescopic Hedge Trimmer and Pruner Set is an excellent 2 in 1 purchase for your gardening requirements. A combined mix between a trimmer and a chainsaw pruner, this model is unique for people wishing to reach higher and thicker branches on trees surrounding the property. The 450-watt hedge trimmer can extend to a length of 2.8 meters. This extension of the shaft gives you an excellent reach for all pruning and trimming purposes.
The eSkde Long Reach Hedge Trimmer has a 450-watt motor in the head and another 600-watt for the chainsaw blade. It also comes with a 100 ml oil capacity tank for perfectly automatic lubrication. It also has a pivoting head for easy top access and a 1-year warranty.
Key Features:
Trimmer attachment and chainsaw pruner
Automatic lubrication
1-year warranty
An extremely powerful long reach hedge trimmer, the Bosch AMW 10 HS has a 43 cm blade with 15 mm tooth gap. The incredibly powerful motor is 1000 W, and this variant is known as a heavy duty hedge trimmer. The incredible power in this machine allows it to be as powerful as some petrol ones available in the market, and for the price, it is available at, this one from Bosch is quite a steal.
The AMW 10 HS is a corded trimmer, but with an extension cable to go around your garden, there is no branch that it cannot reach. Like the eSkde featured on this list, the Bosch is also a 2-in-1 model with a pruner and adjustable heads. The adjustment angle is 180-degrees. If you're cleaning up your garden, consider a lawn scarifier to make your grass look thicker.
Key Features:
1000 W motor
Hedge trimmer and pruner
Heavyweight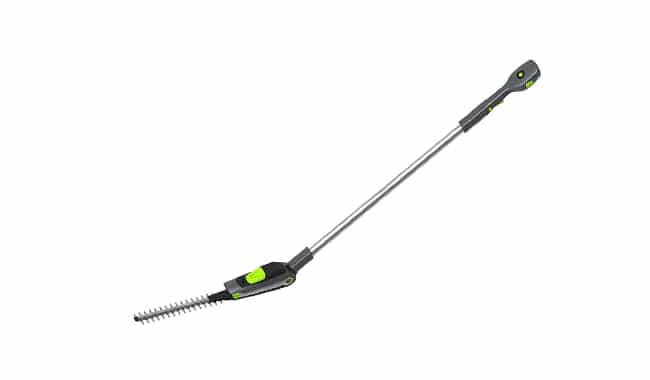 The long-range Gtech Hedge Trimmer works on lithium-ion batteries and is available to give a run time of approximately 45 minutes before it dies out. This time is actually more than enough to get the majority of the work done, and this model usually gives 15 mins additional time over other models in the same variant. The batteries on this trimmer can be interchanged with other gardening products and tools from Gtech and so can be part of a larger set.
The cutting head of this variant is adjustable up to 135 degrees and can quickly help you reach hard to access areas around your hedge. You can also cut the tops of the hedges without exercising too much strain. It is designed to be a lightweight model and weighs 2.2 kg. Well balanced, it is made to cause lesser accidents than other models. Although it provides ample reach, additional lengths can be purchased with this product. Consider a robotic lawnmower to mow whilst you trim!
Key Features:
Lithium-ion batteries
Run time of 45 minutes
135-degree angle for reaching the tops of the hedges
The power and run time on this model from Einhell are excellent since it lasts almost 60 minutes. This run time is excellent for the cost of the product. Slightly in the more substantial weight category, this high reach hedge trimmer weighs a little less than 5 kg and may at times feel a bit heavy in your arms. However, the trimmer is exceptionally well balanced and does not slip from your arms due to its ergonomic handle and grip.
This model features a continuously adjustable telescopic handle made of aluminium. This means that the high range hedge trimmer can easily be adjusted to any length that you wish without any stages of adjustments. This model offers more versatility in terms of efficient cutting and trimming than others.
Key Features:
60 minutes of running time
Adjustable telescopic handle
Fast charging