Last Updated on February 16, 2022
Our editors independently research the best products online to produce this list. We may receive commission on purchases made from the links below but this will never affect our product choices.
---
Top 10 Best Masonry Paints
When it comes to buying masonry paints, then you want to be absolutely certain that you have bought the best one on the market. Not only will it mean a better finish, but it should also lead to that exterior masonry paint lasting for longer than you ever thought possible.
However, with a number of masonry paints on the market, knowing which one to purchase is not always that easy.
What we are talking about here is not paint that is just designed to cover fine cracks on your masonry. Instead, we are referring specifically to a type of paint that can completely renovate the outside of your home, making it look stunning. Masonry paints are usually easy to apply, and with several brands available, getting one that is right for your needs will only require a bit of work.
So, to make the process of choosing the best masonry paint in the UK a whole lot easier, we set out below a list of masonry paints available on the market right now.
How we Compared Masonry Paints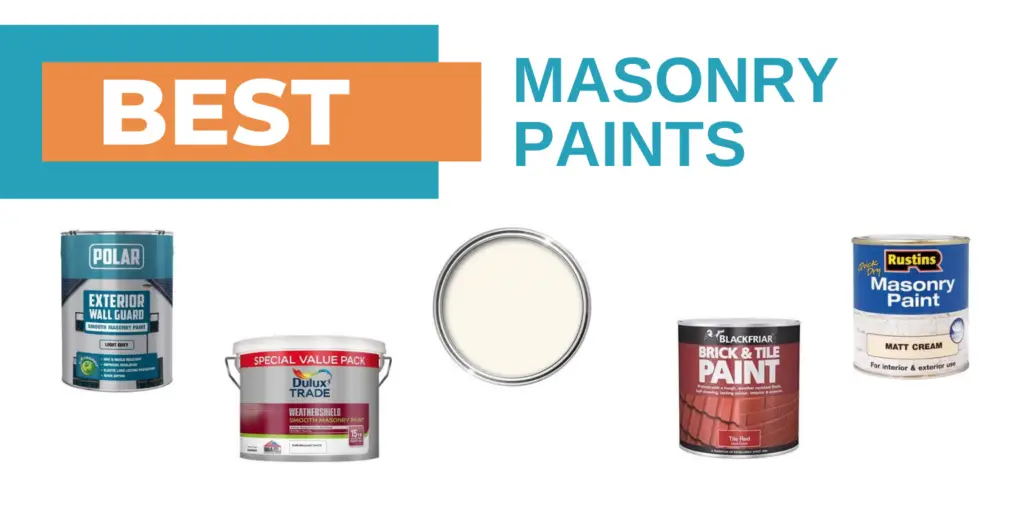 To find the right masonry paints we considered multiple factors, including:
Weather-resistant
Ease of applying
Coverage
Durability
Our team independently examined and compared hundreds of products to help satisfy different needs. We spent our time researching masonry paints and consulting customer reviews to ultimately bring you what, in our opinion, are the best options on the market right now.
To find out more about our editorial process, take a look here.
Masonry Paint Reviews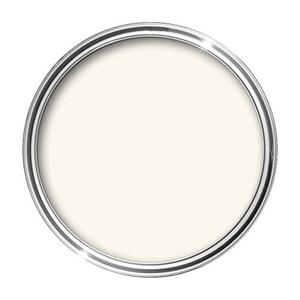 First, we have the HQC smooth masonry paint: this is our favourite for several reasons. Not only is it available in many colours, but if you are searching for masonry paint that leaves no texture behind, then this is the paint for you.
Suitable for all exterior walls, it will completely repel water, and when they talk about a smooth finish, we are talking ultra-smooth. Also, keeping this paint clean won't be an issue either. Unlike other masonry paints, this version by HQC can be scrubbed to remove dirt, and you won't remove the paint at the same time.
Long-lasting and with the ability to stay relatively bright for some time, this ultra-smooth masonry paint excels and won't let you down.
Pros:
It is highly resistant to weather conditions
It offers a range of nice colours
It is easy to apply
It won't leave marks behind
You can scrub it clean
Cons:
It could do with bigger tins
You must keep stirring the paint
Dulux is a well-known name in the UK, and their Trade Weathershield brand of masonry paint is also one we love. Available in a 7.5L tin, we love that this paint is mould resistant and offers excellent weather protection.
That should mean this masonry paint won't tarnish so easily, and those exterior surfaces will continue to look amazing for years to come. Also, your exterior wall will be shower resistant within 30 minutes of applying this paint, so you don't have to worry about it being washed off if the weather changes.
This paint is easy to apply and is based on acrylic resin. It can be used on any exterior surface, and you should get the same quality end result every single time.
Overall, this version delivers a brilliant white colour. Still, we see it as an option for the best exterior masonry paint because of that fungicide that makes it resistant to mould.
Pros:
It stops mould from growing
It is shower resistant in 30 minutes
It is easy to apply
It protects against all weather conditions
Exterior quality paint
Cons:
It may be too bright of a white for some people
Regular stirring is required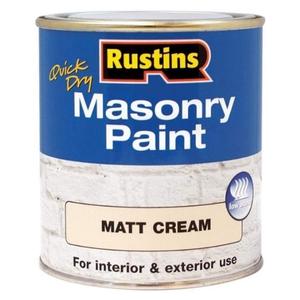 We love this paint because it is not only one of the best exterior paints on the market, but you can also use it indoors. Add in the fact that it is quick-drying, and you have a real winner.
This paint can be applied to a range of surfaces with ease. It's also water-based, so those fumes won't be so troublesome as other products. Of course, that also means it's easy to clean your brushes afterwards as well.
This paint may require more than one coat to give adequate coverage. However, it dries in 30 minutes, allowing you to paint a second coat, which means it's less of a hassle.
Overall, it performs well on different surfaces and is suitable for interior and exterior use, which we think is impressive.
Pros:
You can use it on so many surfaces
It is quick-drying
You can use it both indoors and outdoors
Brushes are easy to clean after application
It's water-based, so fewer fumes
Cons:
It often requires a second coat
You may need to prepare the surface really well before painting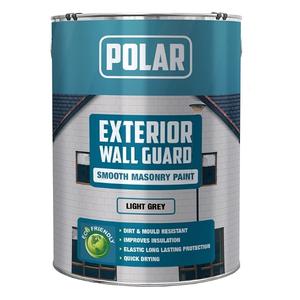 This smooth masonry paint excels when applied to exterior walls or other surfaces outdoors. Not only does it deliver a quality finish, but this exterior masonry paint will offer significant protection from the elements for some time.
It is water-based, so fumes aren't a problem. It also doesn't affect the quality of the finish you can achieve. This masonry paint will often only require a single coat, apart from some tough surfaces, and it can be applied with ease.
This paint has also been shown to improve insulation and be resistant to both mould and dirt. In short, you will have a quality finish that will last for years.
Pros:
Being water-based, it gives off lower levels of fumes
It improves insulation
It is resistant to water
It is resistant to both dirt and mould
It is easy to apply
Cons:
As with other masonry paint, it may need constant stirring
Colours may be slightly dull for some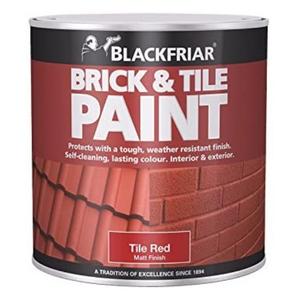 When painting bricks, you need a masonry paint that can perform above and beyond its normal duties, and that is where this paint by Blackfriar comes into its own. It can also be applied to bricks, roof tiles, and other external tiles.
What you get is tough exterior masonry paint that is weather-resistant and easy to clean. It can also be used on interior surfaces as well.
Available in both 250ml and 500ml sizes, this paint can be applied with a brush or a roller, and it offers good coverage with both options. The first coat will be touch dry within around 2 hours, but you do need to wait 16 hours for a second coat, so keep that in mind.
Pros:
The paint is very hard-wearing
It can be applied even to roof tiles
It is weather-resistant
It can be used indoors
It gives good coverage even on bricks
Cons:
There is a long wait between coats
It could be better in bigger sizes
Johnstone's have been producing paint for years, and their masonry paint is one of the best when it comes to being highly waterproof, even in the toughest of conditions.
This version offers a matt finish suitable for bricks, tiles, and other rough surfaces. Easy to apply, it manages to maintain its colour with absolute ease, and that colour will last for years before it starts to dull down.
When applied on walkable surfaces, it has a non-slip property, and that is a lovely additional feature. If you need to apply a second coat of this masonry paint, then you only have to wait around two hours before it is dry enough to do so.
Overall, this paint is easy to apply, maintains its colour, and will look brilliant for years.
Pros:
The colours last a long time
The paint is easy to apply
It is highly waterproof
You can apply a second coat after a couple of hours
It has non-slip properties in the paint
Cons:
The colour is slightly different to the image on the tin
A complete dry out can take longer than advertised
This paint talks about elasticity and durability, with it managing to maintain its appearance for quite some time. This exterior masonry paint does also have mould resistant properties included, and that makes a difference in its appearance as well.
The claims are that this masonry paint will last for ten years, and that's impressive. It does go on smoothly and very easy, and applying it to either concrete or brickwork won't be a problem.
This paint is available in eight different shades, but they are not too in your face when it comes to the colour. Applying it is done via either a roller or a brush, and it offers decent coverage even on unpainted surfaces.
Pros:
It is mould resistant
It is durable and should last around ten years
It is easy to apply with a brush or roller
It can be applied to both concrete and bricks
It comes in several shades
Cons:
It can take some time to dry between coats
The colour shades may be quite soft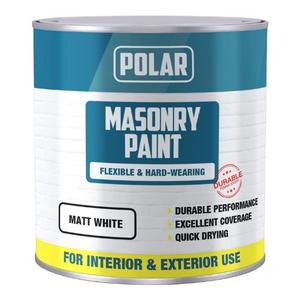 This masonry paint by Polar is perhaps the best choice if you want something that can be used both indoors and outdoors. The flexibility of this masonry paint is excellent, so the one tin can cover a number of surfaces, and it will do so with absolute ease.
It also provides excellent coverage from the first coat, offering some impressive durability. You are even looking at a 500ml tin being able to cover up to 7.5 square metres, and that is impressive.
It delivers a smooth finish with this masonry paint, and it is also easy to wipe it clean, which undoubtedly helps with both indoor and outdoor surfaces.
Pros:
It can be applied to a wide range of surfaces
It is highly durable
It offers excellent coverage
It is easy to apply
It can be wiped clean
Cons:
It could be better in bigger tins
You must prepare the surface, or the quality of the paint may diminish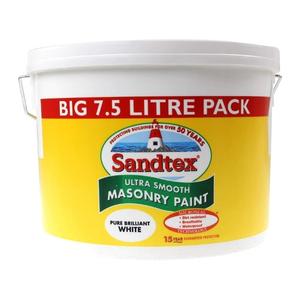 If you are looking for ultra-smooth masonry paint, then this version by Sandtex may very well be perfect. It offers amazing coverage at up to 16 square metres per litre, and that does mean you can cover a lot with just one tin.
Not only is the paint waterproof, but it is also highly resistant to dirt. It is breathable, so it does also work well when it comes to dampness, which is always good to know.
This paint is easy to apply, dries in four hours, and maintains its appearance for years, even in tough conditions.
Pros:
The ultra-smooth paint gives a great finish
It is highly resistant to dirt
It will just allow water to bounce off the paint
It dries in four hours
It offers brilliant coverage
Cons:
The surface needs preparing to get the right coverage
The paint may be quite thick for some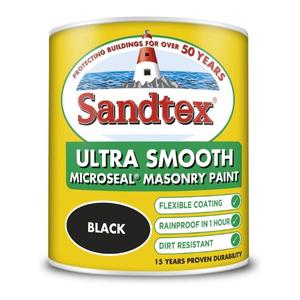 Finally, we have another version from Sandtex, and this time it's their Microseal masonry paint. This has been specifically designed to be used on rough walls, and it's one of our favourites for textured masonry paint.
The flexible coating in this version will get into all of those corners with ease. This masonry paint also offers great coverage, but it requires the surface to be well prepared to work to the best of its ability.
Overall, this textured masonry paint is capable of withstanding whatever the weather throws at it, and it should last for years before you even have to think about painting again.
Pros:
It works very well on rough surfaces
It gives excellent coverage
It will last for years
It can withstand the weather with ease
It dries reasonably quickly
Cons:
Colours choice is somewhat limited
It may require a lot of stirring
How to Choose the Right Masonry Paint
Masonry paint comes in different sizes of tins and has different qualities. Knowing which is the best outside wall paint for you, or even the best stone paint, will require you to know what exactly you need.
The ideal paint, at least with masonry paint, is something that will last for years. All waterproof masonry paint should continue to look amazing even after several years, and that is due to the way in which masonry paint is created.
But how do you choose the best masonry paint in the UK for your needs? The following simple steps should help you decide.
Tip 1: What are You Painting?
First, understand what you want to paint. Masonry paint comes in different forms, and it changes the surfaces where it will perform. For example, the best brick paint is not necessarily going to be the best for smoother surfaces.
Paint is designed in such a way that it can interact perfectly with the surface you are applying it to. Also, it will determine the amount of surface preparation you have to do, as some paints work better with bare surfaces, while you can apply other masonry paint on top of existing paint or primers.
Tip 2: Is it Resistant to Different Things?
Another tip is to be aware of whether or not the masonry paint is dirt-resistant and also how it deals with mould stains. The last thing you want is to apply a fresh coat repeatedly because the way the paint covers those marks is important.
If you know dirt is an issue, then get the ideal masonry paint products that will cover them with ease. A mould resistant formula will make a real difference even to previously painted surfaces.
Tip 3: How is it Applied?
Knowing how you will apply your paint is also useful. While most masonry paint can be applied with both a brush and a paint roller, it can often depend on the surfaces you are painting as to which option is best.
The way the paint covers the surface can be determined by whether you are talking about textured masonry or a smooth surface. Also, if something has been previously painted can make a difference as well to how it can be applied.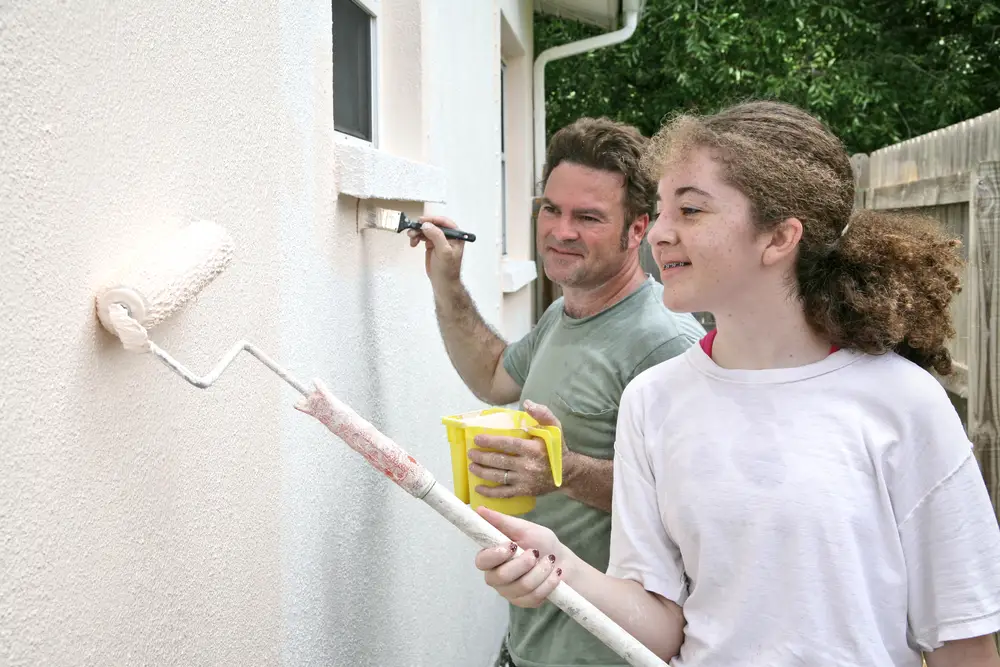 Tip 4: How Much Preparation?
Some masonry paint options can be basically applied to any surface with minimal fuss. However, even an excellent masonry paint will often require some surface preparation before you can get to work.
For example, painting garden walls, even a previously painted wall, may require you to remove any flakes of brickwork or previous paint to get the paint to stick to the surface effectively. This can be the difference between one coat or the need to add a second coat.
However, the masonry paint itself should guide you as to how to apply masonry paint to get the best results.
Tip 5: The Colours
When buying masonry paint, you will notice that even the top-rated masonry paints often have a limited range of colours. This restricted range of colours applies even to trade paint, but it's nothing to worry about.
Earthy tones are often the most popular, but some brands will often offer one colour that stands out from the crowd if you look hard enough.
Finding the best coloured masonry paint UK companies can offer does take a bit of work, especially if you want darker shades, but those options are out there. You may find only one colour in a range, but that single colour may be the perfect solution for you.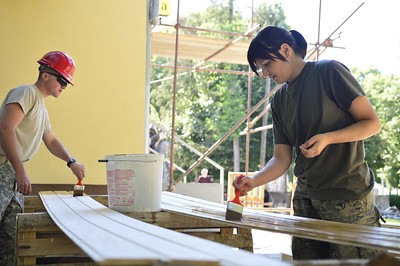 Also, it's not easy but try your best to find environmentally friendly paint.
Tip 6: Understanding the Finish
As you go through our different masonry paint reviews, you may have noticed us mentioning different finishes, so knowing what to expect with that is also important.
When you buy masonry paint, there's a good chance it will offer you a matt finish even on previously painted walls. That applies to both water and oil-based masonry paint. The best exterior masonry paint will always be matt. It just seems to make masonry paint waterproof compared to other finishes.
However, you can use some masonry paint indoors, so check to see just how matt the paint is since it does mean it offers a slightly more dull appearance compared to other paints that you may have initially considered using.
Overall Conclusion
For us, the best masonry paint in the UK market is the HQC Smooth: and that's not only because it's a good masonry paint but also because it can be applied to a variety of surfaces with ease. This paint may still require two coats; however, it's not only the best masonry paint for render surfaces but is even the best masonry paint for coastal areas due to its durability and ability to withstand all weather conditions. And that is the key. It would help if your paint could cope with whatever it needs to face.
However, doing your research before buying should mean you make the right decision saving you time and preventing you from wasting money in the process. We hope our reviews helped you with your choice! Let us know in the comments below.
Additional Resources