Last Updated on February 16, 2022
Our editors independently research the best products online to produce this list. We may receive commission on purchases made from the links below but this will never affect our product choices.
---
Our Favourites
Ecosafeter Contour (Editor's Choice)
MARNUR Contour Memory (Luxury Choice)
Homely Lee contour pillow (Best Value)
If you are trying to get a good night's sleep but wake up with headaches or neck pain, one of the possible solutions is to use an orthopedic pillow. On the other hand, some people have trouble falling and staying asleep most nights. There have been studies correlating insufficient sleep with improper sleep alignment or posture. Continuous storage of sleep can cause depression, obesity, heart diseases and more. An orthopedic or contour pillow will help you sleep better. If offers neutral head, neck, and spinal alignment that takes the pressure off your joints and muscles.
When looking for orthopedic pillows are easy to get confused with a wide range of options and prices available. To save your time, we have listed the best orthopedic pillows on the market for sleeping with neck pain, pinched nerve, herniated disc, and better body posture. Though for more great guides see our picks for body pillows, memory foam pillows and pillows for neck pain.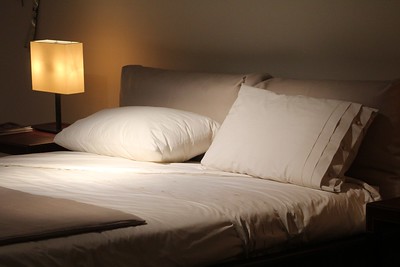 How We Compared Orthopedic Pillows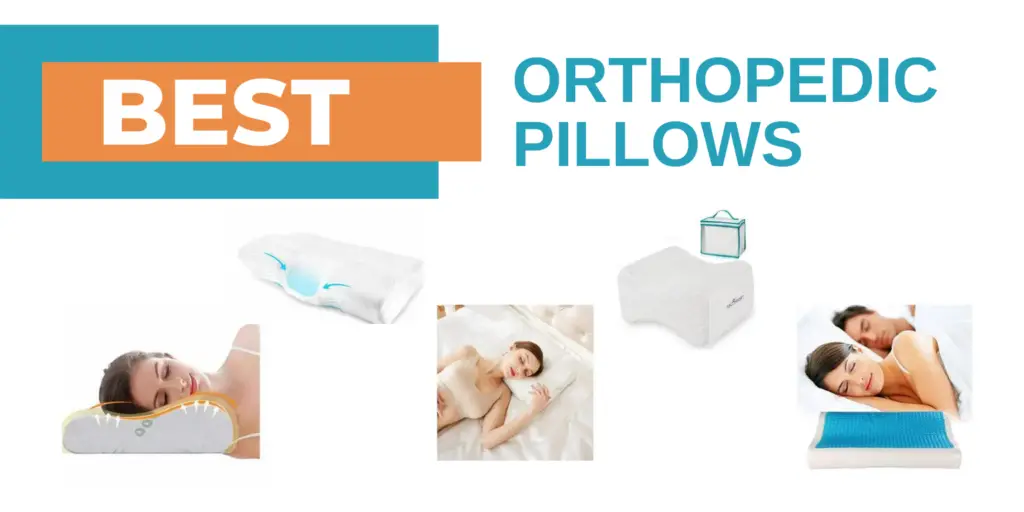 To find the right orthopedic pillows we considered multiple factors including:
Therapeutic and Orthopedic Support
Design and Contour
Easy to Clean
Cover
Our team independently examined and compared hundreds of products to help satisfy different needs. We spent our time researching orthopedic pillows and consulting customer reviews to ultimately bring you what, in our opinion, are the best options on the market right now.
To find out more about our editorial process, take a look here.
Best Orthopedic Pillow Reviews – Top 8 Picks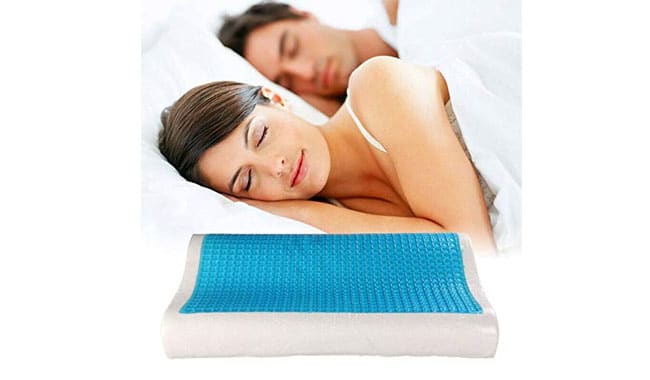 If you toss and turn during sleep or your pillow compress into a wedge that's propping the back of your head uncomfortably, or you flip the pillow multiple times at night as the pillow gets hot. A solution to all these problems is the Purdashain cooling orthopedic pillow. This viscoelastic memory foam contour pillow is ideal for both back and side sleepers. Plus, the innovative ergonomic pillow cradles the head while the contour gently supports the neck. It relieves pressure on the neck and shoulders promoting proper alignment so you can relax and rest. No problem you suffer from any kind of allergy, this pillow comes with a bamboo cover that 100% hypoallergenic, antimicrobial, and antibacterial which keeps mites at bay.
The 50 x 30 x 13cm contour pillow not only provides a better posture but offers a cooler way to sleep. Other pillows absorb more body heat from sleepers that cause them to feel warm, but this is not the case with the Purdashain cooling orthopedic pillow. Thanks to the cooling gel, it draws heat from your body and provides cooling relief as it promotes airflow.
Though it works best for back and stomach sleepers, it is super-beneficial for the people who sleep on their side. Sleeping on the side means that there is a significant amount of gap between the head side and bed. Indeed, the gap between shoulder and head is fulfilled by this firm pillow that keeps your head in line.
Key Features:
For all sleeping positions
High and low contours
Therapeutic support
Cooling gel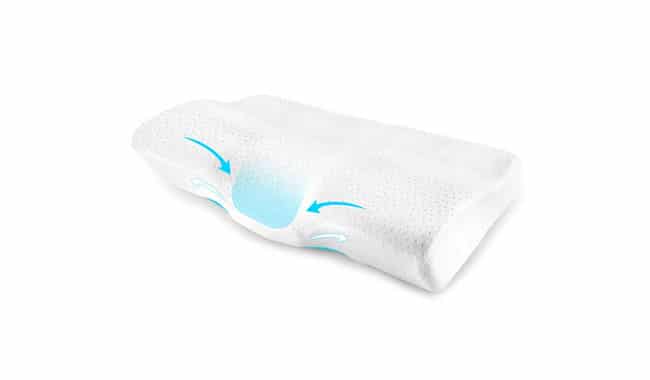 If you wake up sore in the morning with spine pressure and headache, you need this orthopedic pillow by Guiffly to improve your sleep quality. Protect your neck with this ergonomic pillow with built-in contours that keep your back and neck aligned. Since other pillows are too high and cause strain on your neck, this pillow uses memory foam technology. It helps back and side sleepers specifically maintain neutral spine alignment while they sleep. Not only does it improve your sleep comfort but also eliminate the headache and frozen shoulder with the acupoint massage. A hypoallergenic soft-touch removable cover made of cotton and polyester provides protection.
Adding up, the 50 by 30cm pillow has 2 different height level ends; 11 and 6cm that provide head and cervical support during side and back sleeping. The contoured design features a wedge extension that fits snugly under your neck to fill up the shoulder and head gap. Besides, there are convex side panels that cover neck-to-shoulder space. To maintain a back sleep position, it features a center contour to support the head, neck, and shoulders properly. For more great bed items see our guide on mattresses for heavy people.
Key Features:
Ergonomic design
Center contour
Wedge extension
For different sleeping posture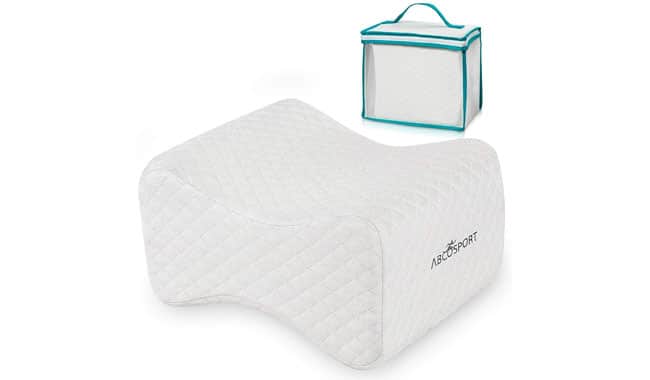 If your knees rub bone-to-bone, hips, and backache and you often wake up in pain, the Abco Tech knee pillow is for you. The ergonomically designed tapered leg and knee pillow naturally fit the contour of your legs, knees, and thighs to align the spine instantly. This not only helps alleviate pain but allows more comfortable sleep with the right posture. That is why the Abco Tech knee pillow is recommended by almost every therapist, specialist, and expert for knee pain and post-surgery. Moreover, it can also be used as a maternity pillow. 
When you sleep on your side, the leg falls forward which twists lower back and pelvis that put pressure on hips, spine, and sciatic but this orthopedic pillow cushions your knee and cradles your legs. This relieves stress and pressure on joints as well as restores lower-back alignment which leads to much more restful sleep.
Apart from this, the pillow always stays cool and dry with the breathable velboa outer cover. Made from high-quality soft memory foam, the pillow never goes flat or loses shape. Also, it comes with a free travel bag.
Key Features:
Premium-quality memory foam
Retains its shape
Easy to clean
Optimal knee and spine alignment
If a soft lumpy pillow is causing neck and shoulder pain, it's time you change it to an orthopedic contour pillow. This anatomically designed pillow funnels the natural contour of your head and neck while it supports and aligns the spine. Unlike ordinary pillows that lose support and shape after a few uses, this pillow is made from rebound premium foam retains the firmness. However, the memory layers molds to fit your head, neck and even ear for utmost softness and comfort.
Its ergonomically contoured design supports your body while you sleep to avoid shoulder tension, muscle stiffness, restless sleep, and back pain. You wake refreshed and relaxed, thanks to the therapeutic foam. Besides, the inner firm layer provides gentle orthopedic support for the spine and head. Also, the breathable and anti-allergenic bamboo outer covering creates a barrier for mites, dust, and dirt whereas it creates an airflow. Best of all, using this contour pillow results in less or no snoring. Not a problem if you sleep on your side or back, the pillow features 2 elevated heights; 7 and 10cm to provide support for all sleeping positions. 
To sum up, this contour pillow cradles your head in softness, aligns and supports your spine.
Key Features:
Gentle orthopedic support
Natural support
Anti-sore
Firm memory foam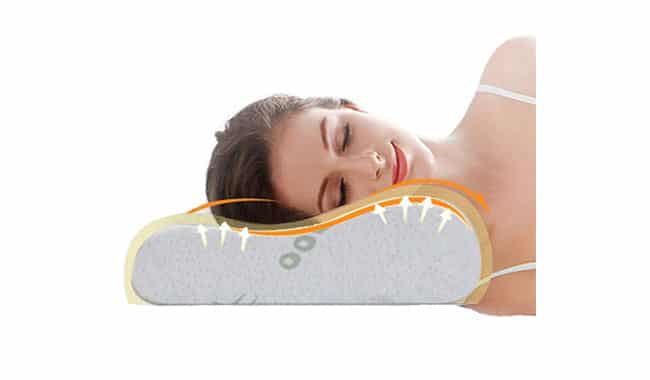 Orthopedic pillow plays a vital role in correctly aligning the spine, a high or low pillow can stress on your shoulders and neck plus inhibit breathing. Keeping this mind, the Ecosafeter orthopedic pillow is designed with the right contours to provide you maximum sleep comfort. Enjoy the therapeutic benefits and comfort from this tempered neck pillow. Its ergonomic shape is designed by therapists to promote proper support and alignment. Furthermore, this pillow cradles the neck to ease neck, shoulder, and back pain as it allows muscles to relax fully. Thus, it leads to deep uninterrupted sleep with maximum comfort.
The pillow comes with 2 different heights to fit every sleeping posture and shoulder size. Made out of premium-quality memory foam, this pillow will last longer. No more sweaty pillow, its unique bamboo cover is breathable to allow airflow for cooling effect. To avoid the build-up of dust, dandruff, and dirt, it comes with machine-washable outer and inner covers. If you like to sleep on your side, check out our guide on mattresses for side sleepers.
Key Features:
Bamboo outer covering
Rebound memory foam
Fits the vertebral curve
Contour design
If you struggle with neck and shoulder pain after sleep, then Luckybacks orthopedic pillow is what you need. This contour pillow helps you sleep comfortably and healthy as it aligns the spine perfectly. The pillow is manufactured from the highest-quality memory foam makes it comfortable and durable. Besides, this 45D high-density is free from flame retardants, heavy metals, and formaldehyde that is why it is certified by Certipur-US.
Unlike other pillows, it features 400gsm fiber breathable cover that increases the airflow inside the pillow to accelerate heat dissipation, thus it keeps you cool at night. Additionally, the pillow has a protective inner cover that protects the memory foam for longer use. For easy clean-up, the cover is removable and machine-washable. To fill the head and shoulder gap, the pillow comes with 2 curve-ends; 11 and 9cm.
On the whole, Luckybacks orthopedic pillow is designed to cradle the natural curvature of the neck and head. With this pillow, your muscles become relaxed while the spine stays in a level position. You will fall asleep faster with this orthopedic pillow.
Key Features:
Proper spine alignment
Even weight distribution
45D high-density memory foam
Breathable cover
1-year warranty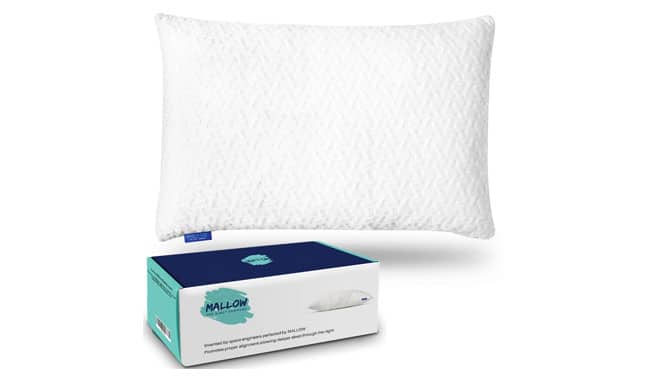 All those people who can't sleep at night and constantly experience sore neck, migraine, back pain, this orthopedic pillow by mallow are designed by doctors to align your spine. Made from a substance called visco-elastic foam with soft and highly energy absorbent nature; the pillow helps to lessen excessive stress at various pressure points. It not only improves the quality of sleep but overall well-being.
The easily height adjustable pillow reduces the amount of stress on the neck and head which allow the neck to rest and fully recover from neck joints stress during the day. In addition to this, the mallow shredded memory pillow is designed to keep your, head, spine, and neck aligned in a natural and well-supported posture no matter what position you sleep in. While most pillows feel hot after sleeping on for some time but the same doesn't apply to Mallow orthopedic pillow.
Credits to the open-cell structure that allow air to flow freely. This creates a cool and sweat-free pillow to sleep on. On top, it comes with a breathable natural cooling bamboo fabric cover with temperature control, quick-dry, and moisture-wicking ability. The best part about the orthopedic cushion is that it doesn't require any flipping or flopping like a regular pillow. Likewise, the 5-year warranty makes it an excellent investment for better sleep without pain or discomfort. For more bed products, see our guide on mattresses for back pain.
Key Features:
Centi-pur memory foam
Designed by doctors
Maximum ventilation with cooling fabric
Eco-friendly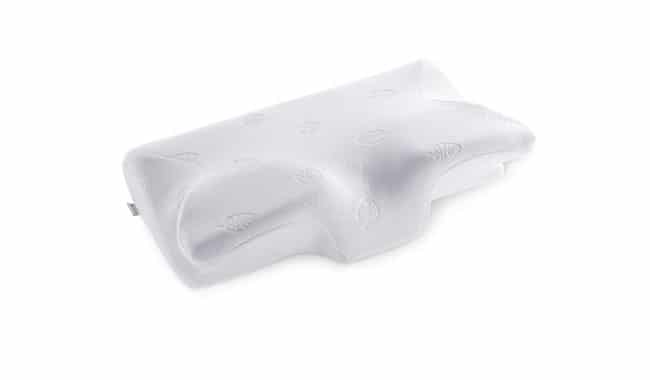 What' unique in this pillow is its 2 ends with different heights that make it a perfect pillow for all types of sleepers. A 135mm high-curve end is suitable for side sleepers as well as users who prefer a low-thickness pillow. Moreover, 85mm low-curve end relieves neck pain and works well for back sleepers.
In addition, the ergonomic design offers comfort as it properly supports neck, head, and shoulders in all sleeping postures. The pillow features a center cavity; a depressed area in the cradle for the head to fall into as it supports the cervical curve. Also, the side cradles are not only comfortable but create proper alignment as the raised side panels accommodate shoulder height when you sleep on your side. Besides, the beveled edge in the front allows the shoulder to nestle up comfortably against the pillow and relieves pressure. A wedge extension holds the thoracic spine's upper part providing support as it leads into the cervical curve.
Apart from alignment and support, the pillow is very comfortable and soft to touch.  Thanks to the breathable memory foam with a removable cotton pillowcase. The unique design and big size of  64.5 x 37 x 14cm not only provides sleep comfort but promote blood circulation to prevent fatigue or body soreness. The overall result is a sound sleep with less probability to wake up with a stiff neck and body.
Key Features:
High-density memory foam
Removable pillowcase
The higher and lower end
For all sleeping habits
Multiple support cervical spine
Sources:
Nicole has a passion for everything about the home – especially decor. She loves to add new touches and style to every part of the house. Join her as she documents her ideas at Home & Style.