Last Updated on February 17, 2022
Our editors independently research the best products online to produce this list. We may receive commission on purchases made from the links below but this will never affect our product choices.
---
Our Favourites
Russell Hobbs RH55LF142SS Stainless Steel (Editor's Choice)
Samsung RS50N3513SA (Luxury Choice)
Iceking RL114BK Larder Fridge (Best Value)
Any kind of loud noise could be unsettling, so is the case with the fridges. In previous models, the fridge used to make a lot of noise especially when the compressor turned on and off. However, in modern times, the newer models have compressors that operate on a different rate to match the requisite temperature. It is to make the fridge more proficient by consuming less amount of energy, and such models tend to be quieter.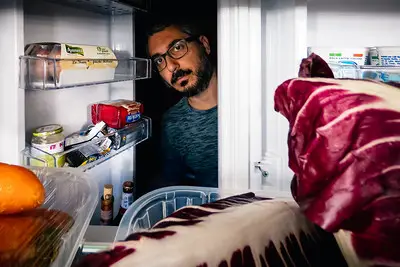 Apart from pulsating, a refrigerator can make certain other than usual running sounds, like cracking, marking, rasping and grating. The sounds are often produced by panels that are located inside the machine increasing and constricting because of the temperature variations.
There are countless options available in the market. Generally, the usual noise extent set down for a modern refrigerator is believed to range from 32 to 47 dB, a noise level lower than 45 dB is believed to be a quiet model. 
Our list compromises of some of the best quiet fridges available in the market and it will help you reach a decision more efficiently.
How we Compared Quiet Fridges
To find the right quiet fridges we considered multiple factors, including:
Size
Noise level
Energy consumption
Frost-free technology
Extra features
Our team independently examined and compared hundreds of products to help satisfy different needs. We spent our time researching quiet fridges and consulting customer reviews to ultimately bring you what, in our opinion, are the best options on the market right now.
To find out more about our editorial process, take a look here.
Best Quiet Fridge Reviews – Top 8 Picks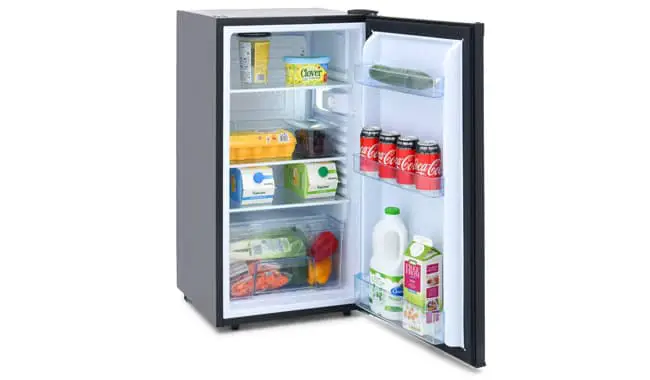 If you are looking to invest in a compact-sized refrigerator that would provide you with all the high-end features then you need to get none other than Iceking RL114BK Larder Fridge. The fridge is made with excellent quality and durable material with labour and parts warranty that can last for up to 2 years. It is 48 cm wide, which means it has enough space to store all the required items for a hostel room or other individual use. It, however, might not be the best choice for big family requirements.
Its size is ideal for people looking for private use like for students, small houses and holiday homes. It produces a noise level of just 41 dB, which is perfect when looking for a quiet fridge. It might be a small appliance but it doesn't mean it's short of features as the refrigerator is also eco-friendly with an energy rating of A+, making it perfect for keeping your nourishments fresh and the bills as low as it possibly can.
The Iceking RL114BK Larder Fridge consumes approximately 110 kWh each year, which means that it would cost you less. It has a storage capacity of 94 litres, prepared with beautiful and durable glass shelves and adjustable settings to provide you with complete control over the fridge. It is one of the best options available on the market when it comes to mini-fridges.
Key Features:
Mini/compact size
Noise level of 41 dB makes it whisper quiet
Eco-friendly
Adjustable settings for complete control
The Subcold Eco 75 is another premium choice that belongs to the category of mini-fridges. Packed with first-class features and exceptional design the fridges offer a complete package for its users.
The fridge delivers a Subcold temperature performance; it consists of an innovative compressor cooling expertise integrated with a certain range of Subcold temperatures varying from 2 to 10°C. There is a modifiable thermostat. Its chiller is suitable for all sorts of beverages like wine, milk, and soft drinks.
The material used in its construction is remarkable, the High-Density Foam instilment Frame along with the finest firm foamed door in black colour. One of the features that make it so likeable among the users is the low noise it produces along with the low energy consumption. The average energy consumption per year of the fridge is 110 kWh/ each year. The noise output of the Subcold Eco75 is just 42 dB making it whisper quiet and suitable for a room.
Some additional features that it offers are a security lock, two tough detachable wire shelves, adjustable feet and a reversible door. It comes with a complete 2 years warranty. The product is tested to meet the UK Standards with metal back and emanates entirely with ROHS and CE Certification along with compliance with the WEEE. Check out our guide on halogen ovens to warm your food, so if you need that as well, consider our recommendations.
Key Features:
Low noise level of 42 dB
Energy consumption of 110 kWh/ each year
Strong and durable security lock
Complete 2-year warranty
When it comes to investing in a fridge the Cookology freestanding undercounter is one of the finest options to consider. From features to durability, it is a great product available in the market. The fridge is only 55 cm wide, which makes it perfect to be used in a particular room. Apart from having an extremely reliable design, it also features an Eco-friendly technology. So you can expect your edibles to stay fresh at low bills.
The Cookology freestanding undercounter contains strong and durable shelves made from glass; there is a vegetable/salad drawer along with shelves adjacent to the door to store your everyday go-to like milk, eggs or drinks.
When we talk about its noise level, it's as low as 39 dB this means that the Cookology fridge is whisper quiet making it ideal for apartments, flats or even your room. The energy rating of the fridge is A+ and this is because it just consumes 117kwH each year, which will cost you only a few pounds on an average each year, which makes it cost-effective.
Another thing that the buyers love about this is its beautiful glass and satin finish, which makes the fridge look high-class regardless of where it is placed, it is sure to enhance the appearance of the area it is placed in. For more great home items, check out our guide on air purifiers.
Key Features:
Noise Level of 39 dB
A+ energy rating
Beautiful and elegant design
Made with a resilient material.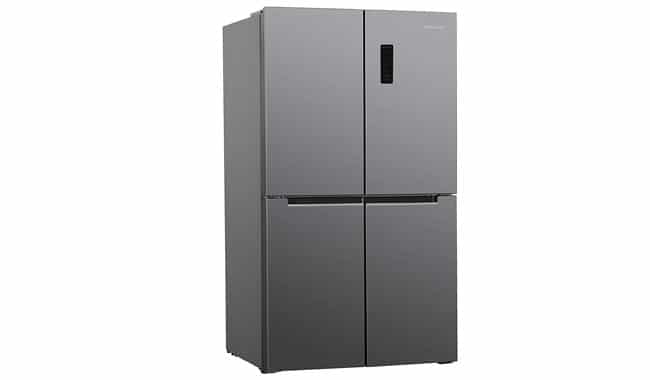 The Cookology QUAT500IX Multi Door is an excellent choice if you want to invest your money in a big fridge that offers high-end performance, eye-catching design and a whole bunch of features that would make your life easier.
The material used in the preparation of the fridge is metal; the entire body is made from tough, heavy-duty metal. It has a multi-door design for easier handling. The appliance consists of a fridge at the top and a freezer at the bottom. So you would invest in a fine quality freezer and refrigerator at once.
It has a sleek design; it also consists of a small electronic control screen at the door, which gives you complete control over its functionality. The electronic control screen has an LED display that shows the temperature of the fridge and freezer. It also shows you the mode of your appliance.
The Cookology QUAT500IX Multi Door has an energy rating of A+ which means that it will provide maximum efficiency while consuming the least amount of electricity. When it comes to the noise level you might expect it to make a lot of sounds because it is a large fridge; however, that is not the case as it produces a low noise level of just 43 decibels. It also features no frost technology and a 1-year warranty. If you aren't worried about the noise, consider a normal fridge.
Key Features:
A+ Energy rating
Noise level of 43 decibels
No Frost Technology
Electronic control LED
The Russell Hobbs Stainless Steel is for those who would like to have a strong and durable refrigerator in their kitchen with the innovative technology and splendid appearance. It is available in 3 different colours that are white, black and the stainless steel finish.
This fridge features a classic design certain to look flawless in your house. It consists of a grey handle that is located high up on the door that ensures safe handling particularly when you have kids around your house the fridge is perfect for daily use.
Also, it consists of a modifiable foot, which maintains the level of your fridge even if you don't have a smooth floor in your house. It entails a reversible door, which ensures that the fridge fits perfectly in every home.
The fridge has a remarkable storage capacity of 235 litres. Russell Hobbs' fridge has a custom design with five modifiable glass shelves providing you with the perfect refrigerating experience. It consists of a four-size bottle holder in the door that ensures your bottle remains safe and the edibles protected.
One of the most significant things about this fridge is that despite its massive storage technology it produces a low sound level of 40 dB, which makes the fridge extremely quiet.
Key Features:
Classic design
230-litre storage capacity
40 dB noise level
1 Year manufacturer warranty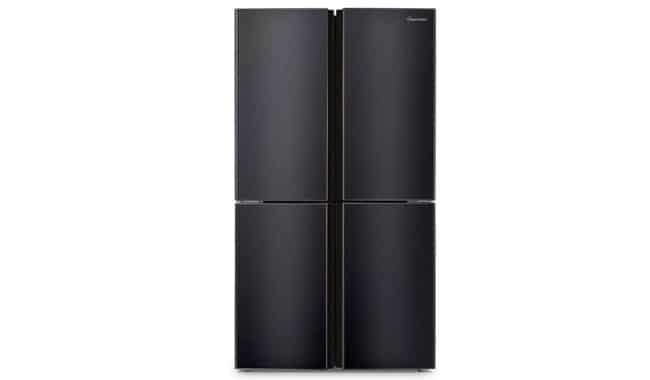 The Fridgemaster is one of the finest selections in the large fridge category. It is a perfect combination of performance and resilience. It provides a huge storage capacity of 21 shopping bags and the fridge is powerful enough to ensure that it remains fresh for a long time.
Additionally, it features innovative Multi Airflow technology. This technology confirms that there is a constant temperature in each compartment. This ensures that your items remain fresh regardless of where they are placed in the fridge. It provides humidity regulated drawers as well for fruits and vegetables that help prolong their life span.
The fridge produces a low noise level and this is because of the inverter compressor that is silent and eternal. The pioneering technology used in the preparation of the compressor ensures that the noise level remains as low as possible while providing maximum proficiency. 
The Energy Efficiency of the fridge is rated A+, so this fridge effectively keeps your items fresh while making sure that your bills remain as low as possible. Additionally, it features no frost technology. Moreover, if you're in the market for a hot water dispenser, check out our guide.
Key Features:
No Frost Technology
Humidity controlled compartments
Four-door design
Multi Airflow technology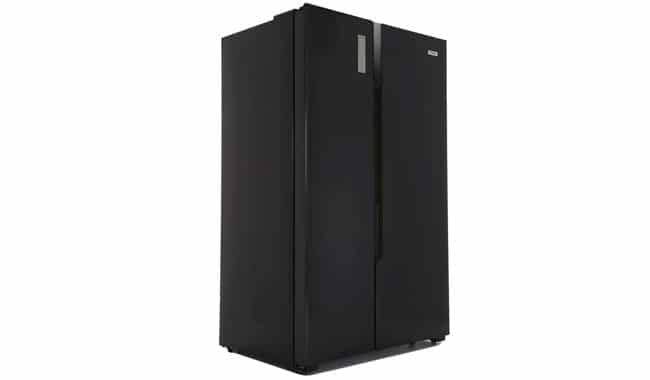 Fridgemaster MS91518FFB is the preferred option for bigger families. The refrigerator provides a proficient refrigeration experience from this exceptionally classy and efficient fridge.
The Fridge consists of a super cool and freeze technology that keeps your food fresh and nutrition-packed for a long time. It features a Multi Airflow technology, which makes sure that even airflow is provided in every compartment and part of the fridge helping your edibles reach their ideal temperature pretty quickly keeping them fresh and perfect for use.
This can also keep your food fresh for an incredible duration of 10 hours without power so if you suffer a power cut you won't have to worry about your food decomposing and losing their taste.
There are several shelves and compartments made to store different food items so all of them remain fresh and healthy. The twist ice maker helps you create ice rapidly and effortlessly. The frost-free technology means you won't have to manually defrost your fridge.
Key Features:
Super cool and freeze technology
Multi Airflow technology
Twist ice maker helps you produce ice rapidly
Automatic defrost
The Samsung RS50N3513SA is an expensive choice, however, if you have a large budget, this is the ideal product for you. The Refrigerator is in a class of its own providing an excellent combination of design, performance, and durability.
The Annual energy consumption of the fridge is 409 kWh, which makes it pretty good for a large refrigerator. There is a plumbed ice and a water dispenser offered by the fridge, which means that you would have cold water and ice available to you all the time. It features an automatic defrost technology so you won't have to manually go through the hassle of doing it.
The Samsung RS50N3513SA ensures that an even temperature is provided through each compartment so your food items remain fresh no matter where they are placed in it. The Digital inverter compressor is extremely quiet and efficient so it produces far less noise level and it also comes with a ten-year warranty making it one of the finest quiet fridges available in the market.
Its Power freeze technology immediately freezes the food to lock the nutrients preserving its nutritional value. Furthermore, there are some additional features like a door alarm, child lock, wine lock, and a vacation mode.
Key Features:
A+ Energy efficiency
Automatic defrosting
Digital inverter compressor
Plumbed ice and water dispenser
Sources:
Nicole has a passion for everything about the home – especially decor. She loves to add new touches and style to every part of the house. Join her as she documents her ideas at Home & Style.