Last Updated on February 17, 2022
Our editors independently research the best products online to produce this list. We may receive commission on purchases made from the links below but this will never affect our product choices.
---
Our Favourites
Eufy Robot Vacuum Cleaner RoboVac 30C (Editor's Choice)
Neato Robotics D750 Robotic Vacuum Cleaner (Luxury Choice)
Bagotte BG700 Robotic Vacuum Cleaner (Best Value)
Let's imagine a scenario. You are sitting on your couch, eating junk food and watching the season finale of your favorite show when your parent, sibling or your spouse orders you to clean the room. You try to argue with them but a chore is a chore! And you have to do it right this instant.
Now if only there was a way to keep your living space spotless without lifting your finger.
Well, there is and it is known as Robotic Vacuum Cleaner that has taken a huge burden off our hands and made our lives manifestly easy! These small devices clean, sweep and mop around any living space while operating silently. All you need to do is set up a schedule using a remote controller or a smartphone app and you are good to go! They can take it from here.
Are you interested in buying one? If the answer is yes, you have come to the right place! In this article, we have enlisted eight of the best robot vacuum that you could find in the market. For more great products see our guide on upright vacuums and vacuums for pet hair, though to know the selected few robot vacuums, read below!
How we Compared Robot Vacuums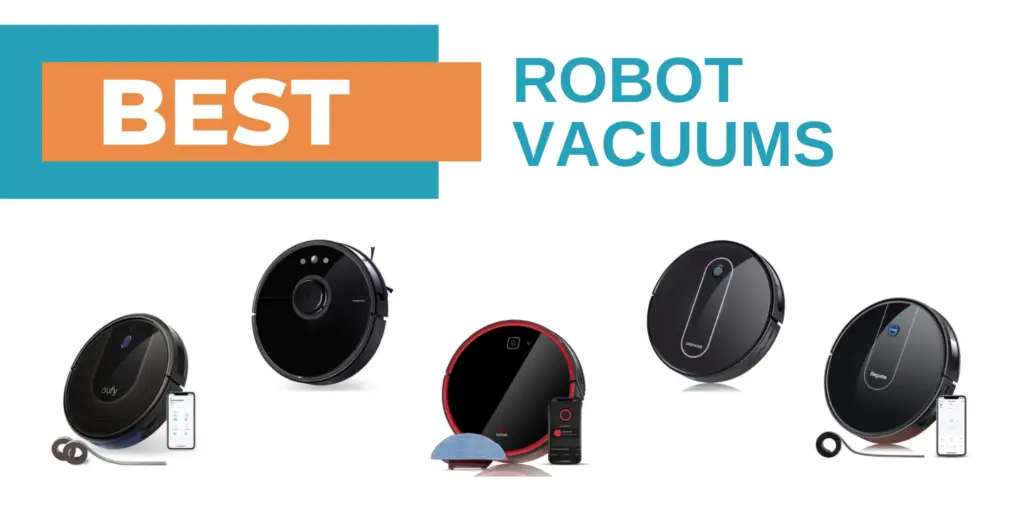 To find the right robot vacuums we considered multiple factors, including:
Suction power
Capacity
Connectivity
Features
Noise level
Our team independently examined and compared hundreds of products to help satisfy different needs. We spent our time researching robot vacuums and consulting customer reviews to ultimately bring you what, in our opinion, are the best options on the market right now.
To find out more about our editorial process, take a look here.
Best Robot Vacuum Reviews – Top 8 Picks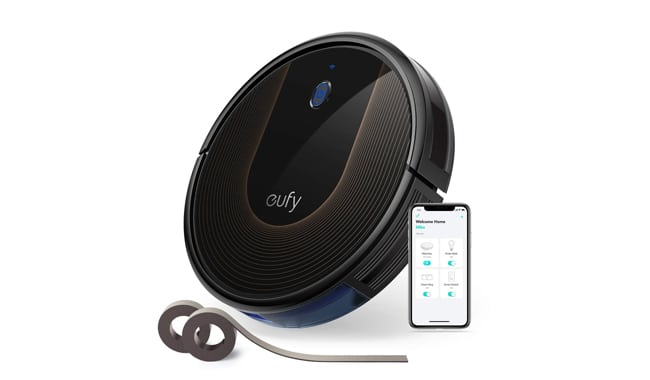 With a strong, powerful and efficient suction power of 1500 Pascal, Eufy Robot Vacuum ensues to clean your room spotlessly. In addition, the RoboVac automatically increases its suction power when it strolls over a place that needs extra cleaning within 1.5 seconds!
All the controls of the device are at the tip of your fingers. How? The Eufy Robot Vacuum Cleaner has a Smart App which lets you set cleaning boundaries, schedule, timer and much more by a mere tap of your finger.  Furthermore, you can also control the unit using its voice control-services! This means you can easily control it through Siri, Alexa or Google Assistant!
It is only 2.85 inches in width and thus, can pass through any space to give you optimal cleaning. Moreover, it operates quietly without disturbing you and can work constantly for 100 minutes or 1 hour and 50 minutes!
Key Features:
Control device through your smartphone.
Adorns Boost IQ Technology that helps to clean every bit and nook.
You can set vacuuming boundaries.
You can use your voice to start the device.
If you have a good Wi-Fi connection and a smartphone, this robotic vacuum will prove to be a knight in shining armor for you! You can use Google Assistant or Alexa to command the robot of different tasks. Likewise, the Smart App will help you chose between various custom features like scheduling, direct control, surveillance and accessory and monitor cleaning status!
With a robust suction power of 1600 Pascal, the device offers deep cleaning and effective mopping and sweeping of debris, dust and hair particles from carpets and floors! At only 2.7 inches of height, it can maneuver through any space without any problem!
Bagotte BG700 gives you 6 different cleaning modes so you can choose one that befits your needs! Furthermore, it adorns a smart navigation system that helps the tiny robot to actively clean each spot on the surface and avoid any obstacles.
It has a super 2600mAh high capacity battery that provides 100 minutes of continuous operation. The device automatically returns to its charging base when the battery is low.
Key Features:
Intelligent voice control using Alexa, Siri or Google Assistant.
Embraces 6 cleaning modes for efficiency.
It can recharge itself.
Smartly navigates itself around the space.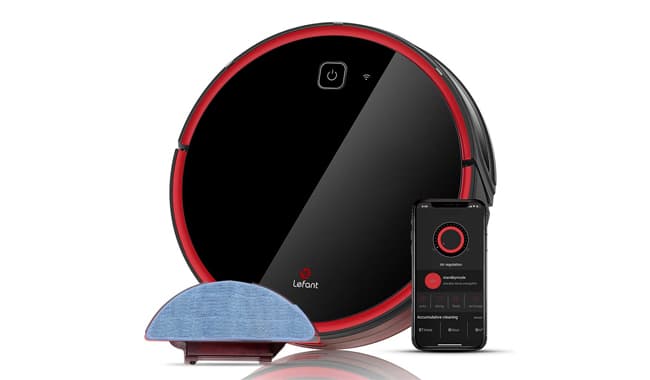 Lefant T700 Robotic Vacuum Cleaner has three different cleaning tricks to aptly catch every little particle of debris, hair, dust or fur that rests on a surface. These include Spot cleaning mode to clean thick dirty area, edge cleaning mode to get the gunk out of every nook and corner, and finally a back-and-forth auto-cleaning mode to improve the accuracy of the cleaner.
With a Smart App and Voice control, Lefant T700 makes cleaning a piece of cake. Equally as important, it homes various intelligent features like anti-drop and anti-collision sensors which ensure that your device is out of harm's way. The auto-recharging system makes things easier for you as the device self-charges.
The device can work continuously for 2 whole hours and possess a 2600mAh lithium Battery and 1800 Pascal suction power. It also has an incorporated dust box and an electronic water tank. For more home products check out our guide on electric showers and water softeners.
Key Features:
Embraces 1800 Pascal powerful and strong suction pump.
Operates quietly.
Auto-lifts itself onto different surfaces.
It gives you control of the device through Smart APP control.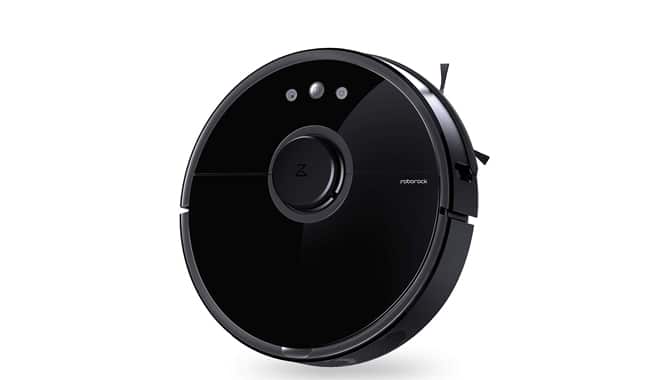 roborock S5 Robot Vacuum Cleaner offers you the best-in-class Technology with its intelligent sensors that function to keep your house tidy and squeaky clean in minimum time. These sensors further support route and map planning are anti-falling, self-charging and jam-resistant!
Its sweeping system is mechanized to maximize the wind utilization and draw as much dust and dirt from the floors or carpets as it can into the dustbin. The mopping system is designed to leave each part of your floor spotless with no water strain or steak. It also prevents hemming.
Embracing a 2000 Pascal suction power and an ultra-high battery capacity of 5200mAh, it can work consistently for 150 minutes without a pause. In addition, the unit includes a multi-mode system that lets you choose between different modes to efficiently tidy up your space. All the controls can be controlled through a smart app and voice control assistants.
Key Features:
It is jam-resistant.
Has synchronized mopping and sweeping mechanism.
Incorporated smart sensors for efficient cleaning.
It gives you control of each feature through a smart APP applicable to Alexa, Android, and Apple.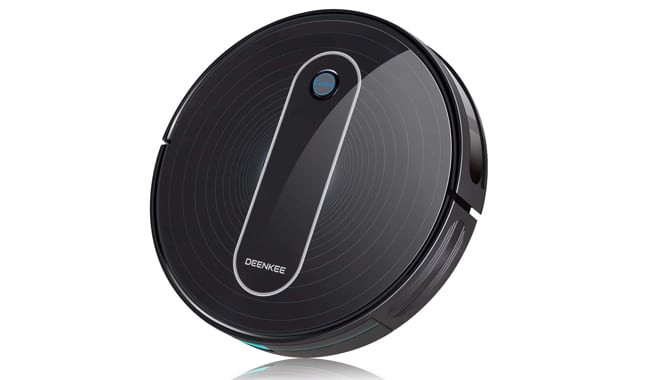 With its capability to work continuously for almost two hours, it was manufactured to clean, sweep and mop your house on our behalf. All you have to do is turn it on and that's it. Let it do its wonders.
Deenkee Robot Vacuum Cleaner has a suction power of 1500 Pascal, a 0.6 liter attached dustbin and 6 magnificent cleaning modes that work rigorously to make cleaning as easy and convenient as possible for you. It can sweep away pet's fur, fallen hair, crumbs from food, dust, and dirt within seconds, leaving behind a mirror-like shiny surface.
It has a super-thin prototype measuring only 2.8 inches which makes it convenient to steer under furniture and clean up each dirt speck from any type of surface.  Moreover, it has a built-in 3-point system that cleans in all together. Combined with its intelligent navigation system, Deenkee Robot Vacuum makes sure that no area is missed.
Key Features:
Focuses on the spot cleaning.
It has fall prevention.
Embraces a 3-points cleaning system.
Quiet function.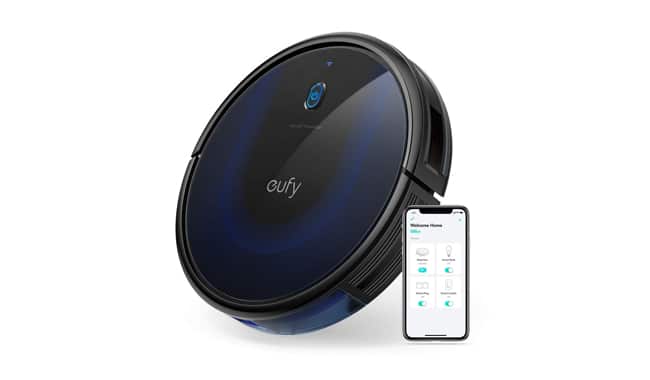 Maintaining a silent operation, eufy RoboVac has been re-engineered with a super-slim design, with a height of 2.85 inches which makes it small enough to sweep under chairs, beds, and tables without any problem!
Eufy further makes things easier for you by giving you the control of each and every function of the device through the EufyHome app and also through Google Assistant and Amazon Alexa Voice control-services.
It accompanies a 2000 Pascal suction power that will surely pick up every type of particle no matter how small it is. Combined with its BoostIQTM Technology, the device aids to keep each space of the cleaning area as clean as possible. The device increases its suction power within just a few seconds whenever a little bit extra suction is required to clean a concentrated dirty spot.
It works so quietly that you will not even notice it while it is functioning. Not only does it have silent operation, but it can also work for as long as 100 minutes without the need to charge itself! Thus, you can be sure that when it is at work, it will finish only when the task at hand is completed! Check out our guide on power showers for more great home products.
Key Features:
It has a super-strong suction power.
Has a super-thin prototype.
Embraces boost IQ Technology to ensure complete cleanliness.
It contains washable filters.
Picking up pet hair from the carpet or floor seems like a tiresome quest. But do not worry, Neato Robotics D750 picks up and disposes of every piece of pet hair no matter how thin or small it is! In addition to this, it picks up every type of particle including dust, dirt, crumbs and other small particles that are invisible to the naked eye.
Its unique D-shape impersonates the corners and edges of your living space and helps to accurately and promptly cleanse every part of the vicinity. By using their smartphone application, you can create 'no-go' territories which will keep the small robot cleaner away from fragile objects like decoration pieces or pet bowls.
You can also choose a cleaning pattern that you find appropriate for a particular space. The 'Eco' option of the unit gives you a long yet quiet and energy-saving cleaning mode whereas the 'Turbo' option makes the device work up to its full potential and maximizes its functions to give you a super-quick, squeaky clean result.
You do not have to lift a finger if you own Neato D750 Robotic Vacuum Cleaner. It can work uninterrupted up to 2 hours and when the battery runs low; it runs itself to the charging base and recharges itself! If this happens between a task, after recharging itself, it picks up from exactly where it stopped.
Key Features:
The D-shape helps to clean and sweep every corner.
You can create boundaries for the device.
Quiet, energy-saving operation.
Recharges itself.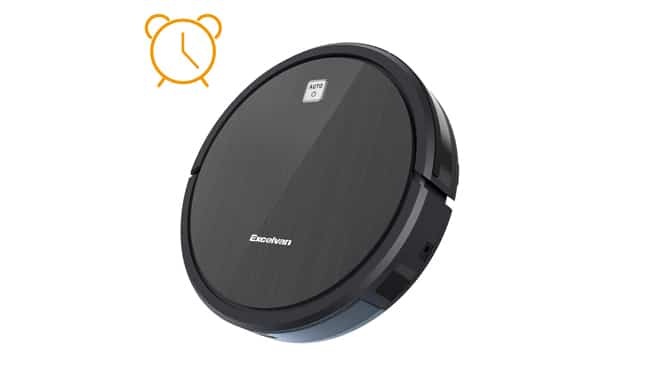 With an exceptional timer and gyro navigation system, Excelvan Drop-Sensing Robotic Vacuum Cleaner has made things as effortless as possible. The timer helps you set up a cleaning schedule so you can go to work and the robot will sweep and mop behind your back. The navigation system helps it to intelligently remember the cleaning pattern and path to make sure that no spot is left unclean.
It has a slim prototype with a height of only 3.1 inches and can pass even under the narrowest gap between a furniture piece and the floor. Moreover, it can also pass over any obstacle of the height of 0.6 inches to transition from one surface to another.
Possessing a 2600 mAh lithium-ion battery and 1600 Pascal Suction power, you can be certain that dust will not escape from this sophisticated and efficient robot cleaner.  It can work continuously for 120 minutes and with noise less than 60dB.
Moreover, it has many multiple cleaning modes and several sensors to make its function as efficient and error-free as possible. For more great vacuum products check out our guide on carpet cleaners.
Key Features:
Has a timer to set up a cleaning schedule.
It can climb up carpets and doorways.
Noise-free function.
It is anti-collision and anti-drop sensors.
Sources:
Nicole has a passion for everything about the home – especially decor. She loves to add new touches and style to every part of the house. Join her as she documents her ideas at Home & Style.