Last Updated on February 17, 2022
Our editors independently research the best products online to produce this list. We may receive commission on purchases made from the links below but this will never affect our product choices.
---
Top 8 Best SDS Drills
The best SDS drill UK customers can buy could be a valuable investment for any toolkit. A kind of unique hammer drill, the SDS is a powerful tool for making light work of complex construction and home DIY tasks. If used correctly, these products can save you significant time and energy.
An SDS rotary hammer drill is a must-have investment for many professionals working in the construction or industrial environment. However, these tools can also be extremely useful for people making a lot of progress with their home improvement plans.
We aim to introduce you to some of the best hammer drills on the market to help you decide which product is right for you. This list will cover a variety of hammer drilling options, from the standard corded SDS hammer drill to the cordless hammer drill.
How We Compared SDS Drills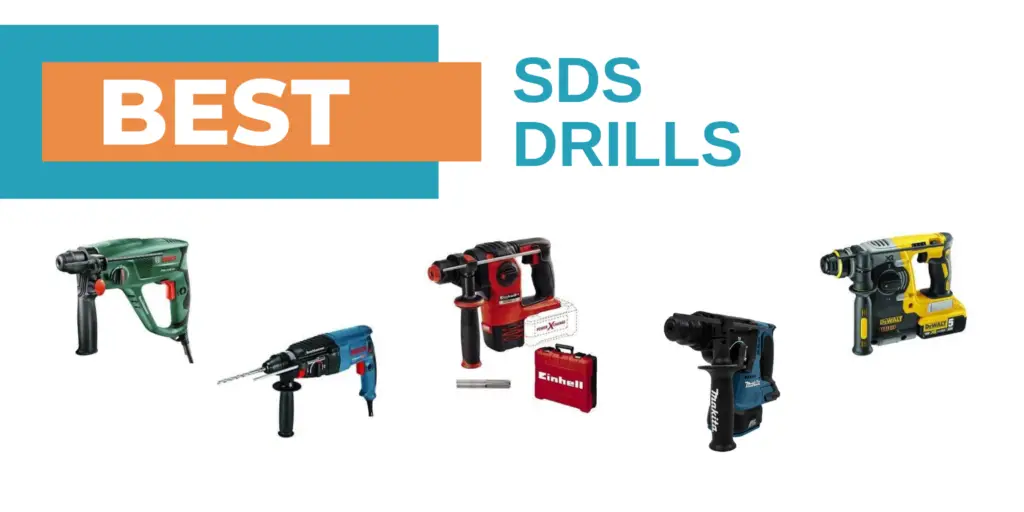 To find the right sds drills we considered multiple factors including:
Comfort
Impact Energy
Corded or Cordless
Variable Speed
Clutch
Max Capacity
Our team independently examined and compared hundreds of products to help satisfy different needs. We spent our time researching sds drills and consulting customer reviews to ultimately bring you what, in our opinion, are the best options on the market right now.
To find out more about our editorial process, take a look here.
SDS Drill Reviews
Choosing the ultimate SDS rotary hammer drill means finding something that's not just powerful but easy-to-use and versatile too. The Einhell cordless SDS hammer drill stands at the top of the list for many professionals and DIY enthusiasts for its sensational performance and ease of use. Perfect for drilling holes fast, this cordless SDS drill offers everything from impact drilling to chiselling, with 2.2 joules of incredible impact force.
This cordless drill power tool boasts a powerful brushless motor for reliable, efficient performance. The product comes with its own storage case to help protect against wear and tear, and everything in the device itself is intended to survive regular hammer mode use.
The pneumatic impact mechanism of this cordless drill makes drilling hard materials quick and simple, with precision speed electronics to enable quick adjustment for each material requirement. The LED light included with this heavy-duty drill also makes it easier to see the surface perfectly before you switch into hammer action, so you can make the most of your impact energy.
With a magnetic adapter for drill bits and a vibration-absorbing handle, everything about this drill system is sleek, reliable, and ergonomic. There's even the option to choose any rechargeable battery from the PXC series with this drill too. Though, the manufacturer recommends using 3.0 AH batteries or higher for the best results. Remember that the battery and charger aren't included with this purchase, so you need to seek power separately.
Pros:
Multiple functions in a single, practical tool
Exceptional high-performance brushless motor for more impact energy
Vibration-absorbing handle reduces discomfort when drilling
Variable speed control for different materials
LED light included for easier drilling in low light
Cons:
Battery and charger don't come included
It may not be ideal for large drilling diameter requirements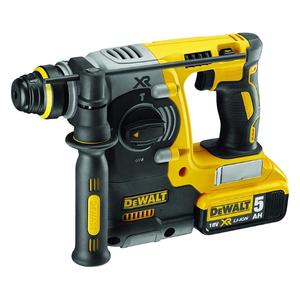 Designed for unbeatable durability and long-lasting performance, the rotary hammers from Dewalt combine amazing impact energy with ease of use. This state-of-the-art DCH237N cordless SDS drill comes with an 18-volt lithium battery and an electronic torque limiting clutch for consistently high durability. The low-maintenance brushless motor also provides excellent peace of mind, ensuring you can drill concrete without having to worry about motor damage.
One of the best SDS hammer drills for reliability, the Dewalt SDS hammer drill for concrete and other tough surfaces can deliver impact energy of 2.1 joules. This is an impressive power level for a cordless tool. You can expect an impressive 1200 rotations per minute, ideal for drilling anchors and working on various construction projects.
With speed control, you have the option to determine your SDS max performance at any time, and there's even an LED light for better precision and visibility when you're working in low-visibility areas. The best-in-class vibration reduction technology also helps to minimise the discomfort you might get from a regular drill, reducing user fatigue.
For exceptional runtime and reduced maintenance requirements, the Dewalt hammer drill is a delight to use. You might also find this device is somewhat heavy and difficult to use at higher power for extended periods of time. However, the same could probably be said for quite a large number of high-performance power drills, as they do cause a lot of vibration.
Pros:
Electronic clutch for torque consistency and improved durability
Rotation stop mode for light chiselling
impact stop mode for rotary with drilling only
Variable speed control
Bright white LED lighting
Cons:
It may not be ideal if you want a hammer only mode
Can be difficult to use for extended periods of time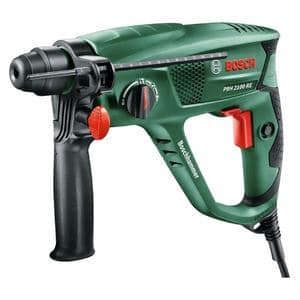 Choosing the best heavy-duty hammer drill for a range of requirements can be a complicated process. You need something capable of delivering the maximum drilling capacity you need, as well as comfort and consistency. This Bosch PBH 2100 is an excellent choice thanks to its powerful 550-watt motor, capable of easily drilling through wood, steel and concrete. The keyless chuck system also helps to speed up changing drill bits.
A corded SDS drill with plenty of power, the PBH 2100 is a high-performance power tool suitable for everything from bathroom remodelling to kitchen cabinet installation. The impact drill can hammer on both concrete and maintenance with each. What's more, there's less impact on your arms thanks to the pneumatic hammer mechanism. Users can effortlessly drill through concrete or attach the included chisel for quick and easy tile removal.
The Bosch GBH power drill has multiple modes for drilling, hammering, chiselling, or screwdriving. You can even use the Vario-lock technology to position your chisel in up to 36 positions. The switch included on the drill handle makes it easy to change your mode whenever necessary. There's also access to SDS plus bits with your keyless chuck, so changing components can be simple, fast, and tool-free.
With the power to quickly manage a wide range of different materials, the powerful rotary hammer drill from Bosch can tackle almost any challenge. However, you might find you need to purchase additional bits to make the most of your new investment. Fortunately, plenty of bits and accessories are likely to be available that fit this Bosch SDS drill.
Pros:
Excellent SDS Plus hammer drill for high-performance drilling
Higher power performance than some corded SDS drills
Easy to use with multiple modes available
Vario-lock technology to help position your bits
Suitable for a range of materials, including concrete
Cons:
May require the purchase of additional bits
Might struggle with certain materials
The Makita SDS drill system is an excellent choice for anyone in search of the ultimate SDS hammer drill. These powerful SDS drills come with a 3-mode operation, so you can choose between things like rotation and hammer or just hammer drilling or rotary drilling on their own. Suitable when you need to drill holes, remove tiles, and more, this rotary hammer drill will help you to accomplish a range of tasks, whether you're a professional or DIYer.
One of the top SDS hammer drills on the market, the Makita DH3Z42Z is a powerful system with a rubber joint to suppress the vibration both to your hands and the battery terminals. This means the rotary hammer can perform with durable consistency over time. There's an easy-to-grip handle for ergonomic comfort, even at maximum impact energy. You can also drill with a palm up or palm down grip and enjoy equal power levels.
The one-touch slide chuck enables access to SDS plus drill bits. You'll also get a full 1-year manufacturer's warranty with your combi drill, so you can make sure you're getting the most out of your new investment. If you're looking for a hammer drill best for convenience and comfort, this could be it.
As an added bonus, you'll have a variable speed trigger, constant speed control, and an extreme protection technology system engineered to provide greater water and dust resistance to keep your SDS hammer drills working for longer.
Pros:
Excellent easy access to SDS plus drill bits
Variable speed trigger helps to give you more precise control
Adjust impact energy with multiple modes
Equal power no matter how you choose to drill
Ergonomic handle for ease of use and reduced risk of injury.
Cons:
It may not be suitable for those who need chisel features
It may require extra investments in drill bits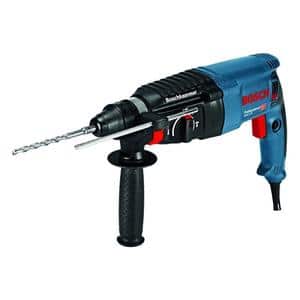 Sold with its handy carry case, this above standard hammer drill from Bosch is one of the most reliable on the market. Everything you need to make the most out of your drilling projects is included with this Bosch system, including a strong mechanical clutch and Bosch GBH quality materials throughout. The rotating brush plate also allows for equal power in both forward and reverse drilling positions.
Compared to regular hammer drills, this Bosch corded hammer drill ensures absolute peace of mind and consistency. A fast-drilling rate is enabled by around 800 watts of power in the motor, capable of producing 2.7 joules of impact energy. There's a chiselling option available to help you tackle certain tasks and a range of drilling diameter options to choose from.
Reliable and robust, the Bosch Professional aims to be the best SDS hammer drill for long-term use. Unlike cordless drills, the device continues to deliver exceptional rotary drill performance hour after hour. There's also a range of bonus features, like a depth stop, a machine cloth for helping with maintenance, and a carry case.
If you're looking for an SDS plus rotary hammer drill that does more than just drill holes, this is one of the best products you'll find. The Bosch hammer drills combine exceptional ease of use with reliability for long-term results whenever you need to work on construction projects. Just make sure you know when to take a break from drilling tasks, as the vibration can be hard to deal with.
Pros:
Powerful hammer drill with included chisel
Rotation stop included for specific hammer drilling
High-performance motor and exceptional impact energy
Reliable and robust due to quality components
Case included for protection from regular wear and tear.
Cons:
May require you to purchase extra drill bit options
May be uncomfortable to use after a long time of hammer drilling
The best SDS drill UK customers can buy will often be dependent on a number of factors. For instance, you might need an SDS hammer drill with support for a specific drill bit or an ergonomic design for rotary hammer performance. This Ryobi One+ SDS hammer drill aims to check a range of boxes at once, with amazing all-in-one performance. The quick and easy to use SDS drill comes with a range of modes to choose from, so you can tackle any task.
The quick and easy to use SDS drills from Ryobi come with a set of four modes to choose from, depending on your drill bit and the task you want to complete. However, you will only need SDS plus drill bits if you want the best SDS drill experience. The L-shaped design helps you to get as close as possible to your workspace, and there's a depth stop available too.
An ergonomically designed handle means you can ensure absolute comfort and control, even when using your drill overhead. There's also an LED light to ensure your work is easy to see in any situation. With up to 1.2 joules of impact energy, you can drill in a range of materials, including concrete. There's also the option to purchase an additional battery, so you can use your cordless drill for longer.
If you're looking for the best cordless hammer drill, capable of a range of drilling diameter options and hammering results, this could be the product for you. Do keep in mind that you might not have quite as much power as some corded options, though. Cordless power drills are often more limited in the amount of energy they can access.
Pros:
Excellent warranty and protection for peace of mind
Support for lots of drill bits with simple chuck
Four modes of drilling and hammering to choose from
Useful shape helps you to get closer to the project
Ergonomic design with LED lighting
Cons:
It may not have as much power as some alternatives
Can require additional pressure from the user
Simple and effective, this WORX 3-in-1 SDS hammer drill will ensure you can get all kinds of jobs done quickly. The SDS drill acts as a practical tool for everything from screwing and drilling to hammering on wood, concrete and steel. The cordless rotary hammer drill comes with exceptionally high torque and a reliable pneumatic hammer mechanism. All that, and you still get a more lightweight experience than you'd expect from most SDS drills.
The SDS hammer drill from WORX is a convenient all-in-one tool you can take with you to a range of jobs and projects. With the SDS plus hammer drill chuck, you'll have no problem changing the bits on your drills. What's more, you get the flexibility offered by cordless hammer drills to allow you to access any part of a worksite with ease.
The cordless SDS drills from Worx has a specially-chosen design to help you stay comfortable when you're working on highly hammer-intensive projects. After all, rotary hammers cause a lot of vibration and can cause injuries to your wrist and fingers if you're not careful. This device even has an LED light to help you see in darker areas.
With this phenomenal cordless drill, you'll get everything you need, from a keyless drill chuck to a range of four SDS bits. However, you will need to purchase the battery and charger for your drill separately. However, this can be the case for a lot of the top SDS power drills on the market. Make sure you know what exactly you're getting with your purchase.
Pros:
3-in-1 performance for excellent, practical performance
SDS plus hammer drill chuck for easy access to bits
Convenient high-torque performance
Ergonomic design to reduce fatigue and reduce muscle injury risk.
LED light to help with focus
Cons:
May find the case isn't as reliable as it could be
Can be a little heavy for some users
If you're looking for the best corded SDS hammer drills money can buy, this Evolution Power Tools device could be the ideal pick for you. Designed to compete against the most powerful SDS hammer drill, this corded SDS hammer drill from Evolution comes with four modes to choose from. You can either chisel, drill, use the system as a screwdriver, or access hammer-only mode. The compact and portable corded SDS hammer drill is great for life on the move too.
With a convenient SDS chuck to help you easily switch out the bits you need during a project, the SDS4-800 hammer drill is simple and convenient to use. You can expect a massive 1.6 joules of high-impact energy offered by a rotating brush plate. The tool can also offer exceptional variable speed with the high-torque650 watt motor.
Versatile and easy to use, this product comes with a warranty for peace of mind, and an adjustable auxiliary handle, which simplifies the process of getting your drill into position or a comfortable operation. There's also the option to choose from a range of drill diameter options with 3 SDS bits included with your purchase.
The included chisel bit and depth stop should even mean you have an easier time removing tiles and dealing with specific hammering and chiselling requirements without having to look for a new tool. Just make sure you have a power outlet nearby, as this is not a cordless device. You should also keep in mind that this device isn't always the most precise for jobs requiring high accuracy.
Pros:
Excellent corded performance with 1.6 joules of power
Good range of SDS bits included
Ergonomic and adjustable handle
Convenient range of four modes to choose from
Portable with included carry case
Cons:
May not be ideal if you don't have an outlet nearby
Can be less precise than some of the other tools on the market.
What is the Best SDS Drill to Buy?
With a little luck, our SDS drill reviews have given you a useful starting point when it comes to searching for the ultimate SDS hammer drill. However, it's worth noting that everyone will have their own preferences when choosing the right power tool. Some of the most important things you can consider helping you make your choice include those listed below.
Comfort
An SDS hammer drill can be uncomfortable to use at the best of times, thanks to a large amount of vibration and pressure in your hands. No matter what kind of SDS drill you choose, it's best to pick something with an ergonomic handle. A handle capable of turning at a 360-degree angle will also help you to move your drill into position more accurately while you work.
Impact energy
A good SDS hammer drill needs a decent amount of impact energy if it's going to break through tough materials like concrete. Most of the top SDS drill options on the market will be able to offer around 1.2 to 3 joules. The more energy, the more powerful your SDS hammer drill will be.
Corded or cordless
The choice of whether to pick a corded SDS hammer drill or the best cordless SDS drill will depend on you. A corded drill can give you more overload clutch options and power, but it can make it harder for you to get around and take your drill with you into difficult-to-reach positions.
Variable speed
All SDS hammer drills have their own unique features. Some come with an overload clutch system; others have a depth stop solution included. Variable speed control is one of the most common sought-after extra features you might need when buying an SDS drill. Variable speed is useful if you're looking to do some precise work.
Clutch
Most SDS drills have a clutch. The clutch is something used to slow down or stop the torque when it becomes jammed. It's important to have the right overload clutch in place to make sure you're protected from any unnecessary damage to your new investment. If the BPM suddenly stops when the RPM is going, this can break the machine or cause injury.
Max capacity
Take a look at the maximum drilling capacity and drilling diameter for the tool. This should help you to determine how much you'll be able to drill in specific materials with your new power tool.
Is an SDS Drill better than a Hammer drill?
An SDS drill is basically another kind of hammer drill. If you're looking for something that can provide more power than most rotary hammers, as well as additional features, you might want to consider a budget SDS drill.
SDS drills come with a special chuck featuring a hammer mechanism inside, and there are special drill bits, too, with indentations along the shaft to fit into the two ball bearings in the chuck. The use of the bearings means the bit can move back and forth easily. The hammer mechanism acts as a kind of piston, pushing the drill bits forward and backwards to achieve the hammer function. This method of accessing the hammer action can be more efficient with a standard hammer drill. In most cases, an SDS drill will ensure the power is more concentrated for more efficient drilling.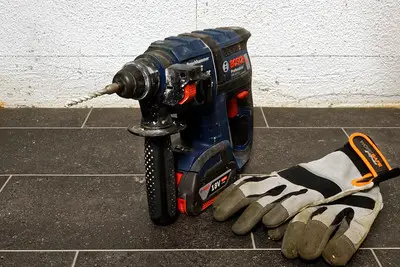 Although SDS rotary drills are similar to hammer drills in many ways, they can offer specific benefits that make them a must-have part of the standard toolkit.
What is the Most Powerful SDS Drill on the Market?
Rotary hammers and SDS hammer drill products come in a range of shapes and sizes, with different power options to choose from. Your SDS drill will likely give you an insight into its power in the form of an energy rating. For basic DIY home jobs, you'll probably only need around a 550-watt drill. However, if you have a lot of work to do on a material that's particularly hard, like concrete, you might want to consider upgrading your drill power.
A high-performance SDS power drill can exceed around 1500 watts. However, you're more likely to see this level of power if you opt for a corded drill, as it's difficult for cordless drills to offer the same level of consistent power.
Choosing the Best SDS Hammer Drill
The best SDS drill UK customers can buy will depend on a range of factors, including whether they want a corded or cordless drill, what kind of power levels they need, and whether there are any specific features that are a must-have.
Hopefully, the guide above has given you an insight into what some of the top hammer drills in the market can do. Our preferred SDS drill is the Einhell Power X-Change rotary hammer drill, with exceptional 2.2-joule impact energy.
The Einhell Power X-Charge uses a quality brushless motor to ensure efficient and reliable operation in every project. There are various extra features to explore, too, like an LED light so you can see the surface you're drilling with absolute precision.
Good luck finding the SDS hammer drill suitable for your requirements. What do you think about our options? Let us know in the comments below!
Additional Resources
Nicole has a passion for everything about the home – especially decor. She loves to add new touches and style to every part of the house. Join her as she documents her ideas at Home & Style.