Last Updated on February 17, 2022
Our editors independently research the best products online to produce this list. We may receive commission on purchases made from the links below but this will never affect our product choices.
---
Our Favourites
Beko SGA7126P Smart SteamXtra (Editor's Choice)
Philips GC9682 Perfect Care Elite Plus (Luxury Choice)
Philips GC9405 Perfect Care Aqua Pro (Best Value)
Ironing is not a fun thing to do, even when you are blasting some epic music. Enter the best steam generator irons for the UK and ironing is still not fun, but it is significantly easier and faster. Why spend hours slaving away with your puny and heavy iron when you can slave for a faction of the time and get incredible results and feel like on top of the world.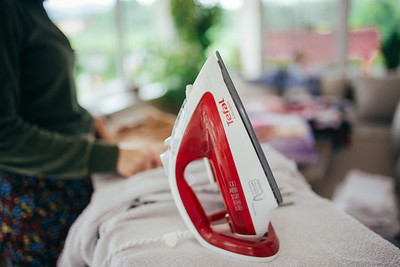 A steam generator iron may sound like an industrial iron for big giant bed sheets but it is definitely not that. Nor is it a cyberpunk version of a baton, even though that would've been amazing. It is however a great piece of equipment that can be used by anyone for ironing. They are a bit bigger than normal irons, but they are faster, more efficient and produce amazing results.
A usual steam iron has a water tank built right on it, it is normally around 300 ml in capacity. The heating element boils the water and produces steam. While this is great but it can only do so much with its low steam pressure and a tiny water reservoir. A steam generator iron works on the same principle but the water tank and the heating components are separated. A tube connects them to the iron thus keeping it light and easy to use. The water reservoir is generally around 2 liters of capacity and you can do a lot more ironing without a refill.
How we Compared Steam Generator Irons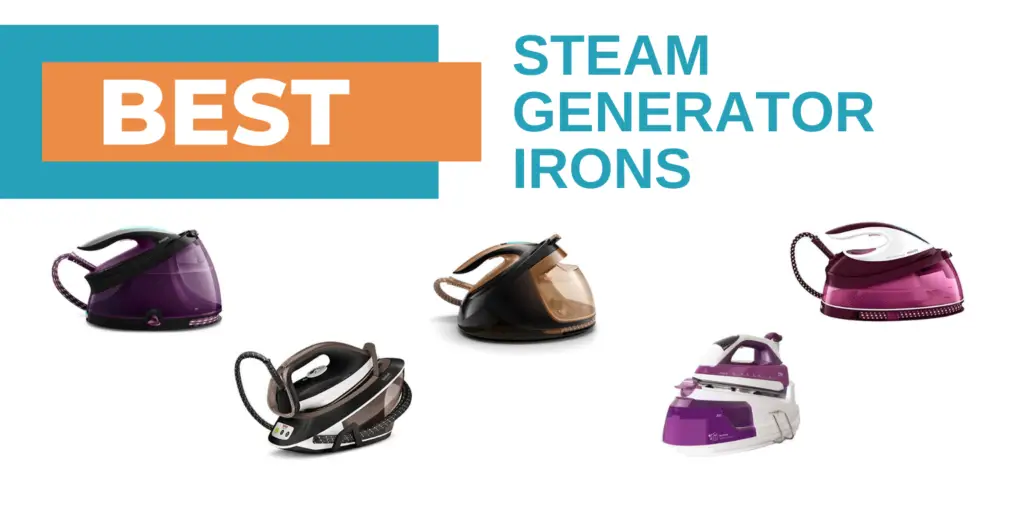 To find the right steam generator irons we considered multiple factors, including:
Steam output
Tank capacity
Energy consumption
Soleplate material
Our team independently examined and compared hundreds of products to help satisfy different needs. We spent our time researching steam generator irons and consulting customer reviews to ultimately bring you what, in our opinion, are the best options on the market right now.
To find out more about our editorial process, take a look here.
Best Steam Generator Iron Reviews – Top 10 Picks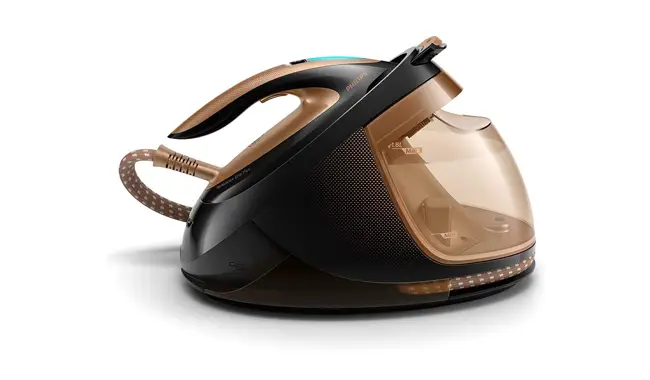 The Philips GC9682 Perfect Care Elite Plus is the steam generator iron you get when you have a lot of clothes to press and money is no objection. The stylish and beautiful machine is one of the best around when it comes to steam generators. The biggest thing you'll notice is how light the hand unit of the Philips GC9682 Perfect Care Elite Plus is, especially if you are coming from a regular iron or steam iron. It will skid around like a puck on ice, it is that light.
The Philips GC9682 Perfect Care Elite Plus isn't just all looks either, the machine produces 165 grams of steam per minute. If that is not enough, you can simply tap the boost function by double tapping the finger trigger to increase it to 600 grams per minute. The tank has an admirable 1.8 liters and can be filled with regular tap water thanks to its anti-calcium system. If you're looking for a cordless iron instead, see our guide.
Key Features:
DynamiQ smart sensor stops the steam automatically
You can iron any fabric without changing any settings
600 grams per minute steam in boost mode
The Philips GC9405 Perfect Care Aqua Pro comes with just one temperature setting so you don't even have to worry about changing settings. That doesn't mean it will leave you on your own when ironing different fabrics, it means it is smart enough to detect what kind of fabric you are ironing and adjust accordingly. The lightweight iron makes it easier to glide the handheld unit around, you can even make race car sounds when no one is looking.
The Philips GC9405 Perfect Care Aqua Pro comes with a large tank of 2.5 liters. The downside is that the tank is not removable so filling it can be tricky. However, it does have a de-calc function that makes it easy to fill with tap water if you happen to live in a hard water area. Overall, the Philips GC9405 Perfect Care Aqua Pro strikes a perfect balance between price and functionality. Its auto turn off feature, auto adjust features, powerful steam and de-calc function makes it an easy recommendation.
Key Features:
Turns off automatically when not in use
Large 2.5 liter tank that can last a while
The handheld unit is light and easy to move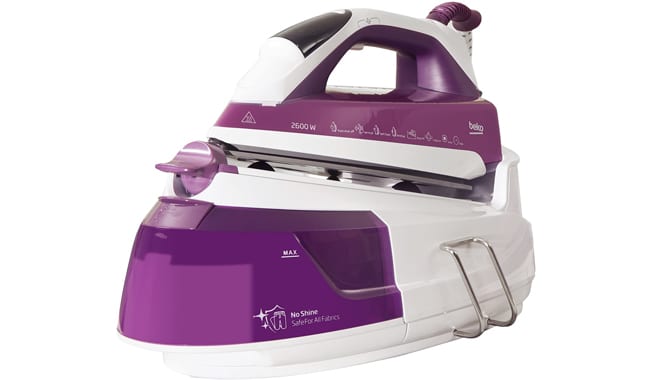 If you are not regularly ironing a ton of clothes, you may not need the most expensive steam generator irons for your needs. If it's just you or your partner in the house a smaller steam generator can do the job. This is why Beko SGA7126P Smart SteamXtra is on our list because not everyone has the need or the means to get an expensive steam generator iron.
The Beko SGA7126P Smart SteamXtra brings 6 Bars of pump pressure and can produce 110 grams per minute of steam. While this is not as powerful as other units on the list, it can certainly ease your workload by a lot. The steam penetrates deeply and allows for perfect results without much effort. There is even a Smart Eco Mode that automatically sets the optimal steam and temperature regardless of fabric. For keeping yourself cool in the summer see our picks for portable air conditioners.
Key Features:
Optimal steam and temperature
Comes with a digital control panel
Has 6 bar pump pressure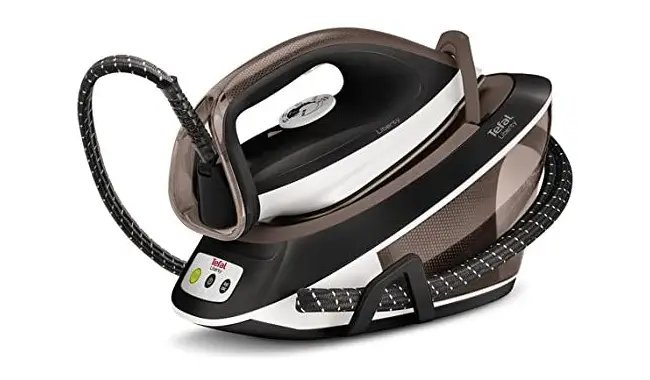 The Tefal SV7040 Liberty Iron is a sleek looking steam generator iron that brings in the heat, literally. The 6 bar pressure of the iron helps in getting rid of the creases faster and easier. We like how the Tefal SV7040 Liberty Iron gives you the options to manually adjust anything you want. You can adjust the direction, power and humidity of the steam flow.
The Tefal SV7040 Liberty Iron also comes with a vertical steam function that allows you to steam creases from garments that are hanging. This also comes in handy if you want to iron your curtains. There is an auto shut-off feature on the unit, it automatically turns the iron off if you are not using it or it gets knocked off. The iron usually takes around 2 minutes to heat up.
Key Features:
The variable steam function is great
The vertical steam feature is handy
Automatic turn off system
If you are looking for something a bit more affordable but still made by Philips, the Philips GC7808 PerfectCare Compact Stream might be for you. The steam generator iron is capable of producing 120 g per minute of continuous steam. This allows the iron to tackle hard to remove creases without many problems. The iron also uses Optimal Temp Technology to ensure you get the perfect temperature for the fabrics being ironed.
The tank has a capacity of 1.5 liters and is transparent so you can always keep an eye on the level. One full tank will give 1.5 hours of continuous usage, which is a lot of time to knock down at least 2 piles. The Philips GC7808 PerfectCare Compact Stream also comes with descaling and cleaning systems that prolong the life of the machine.
Key Features:
A sufficiently big 1.5 liter tank
The hand unit is light weight
The descaling and cleaning features are awesome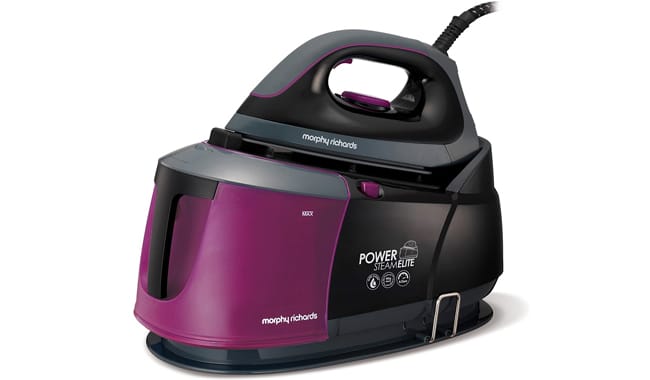 If you are in the market for a powerful steam generator iron that has a large tank capacity, then take a look at the Morphy Richards Steam Generator Iron. It is capable of making short work of any creases on any fabric really fast. The 190 grams of pressurized steam penetrates stubborn creases and makes them behave by eliminating them altogether. The easy-to-use controls are also great during operation.
The large 2.2 liter tank is not only easy to clean but is also fully detachable. You can take it out, go to the sink and fill it. You can even do the refilling while ironing, this is how amazing the Morphy Richards Steam Generator Iron is. The ceramaslide sole plate, the auto shut off feature and the safety locks make this steam generator iron easy to recommend. For more must have home products see our guides on handheld vacuums and upright vacuums.
Key Features:
A removable 2.2 liter tank
Easy to clean and maintain
Can refill during operation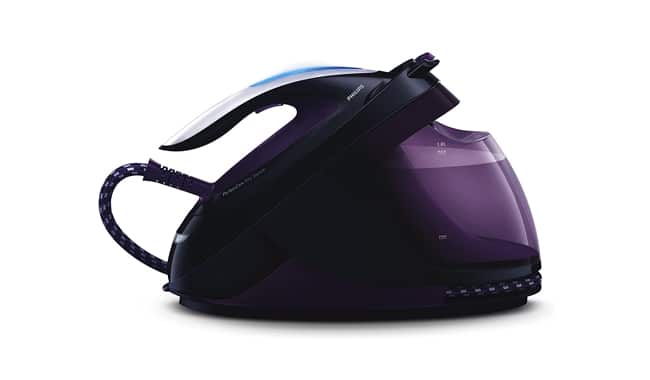 Philips really goes all in when naming their steam generator irons and the Philips GC9650 PerfectCare Elite Silence is no different. Its long name matches its long list of features and its power levels. The Philips GC9650 PerfectCare Elite Silence has 7.5 bar of pressure and an astounding 500 g per minute steam boost.
With its 1.8 liter tank it can last for a long ironing session with ease. The ironing unit is light and moves over fabrics without any problems. The Philips GC9650 PerfectCare Elite Silence also has only one temperature setting that can work on jeans or silk equality well without the worry of burns.
Key Features:
One temperature setting is enough
The iron only weighs 800g
500 g/m steam output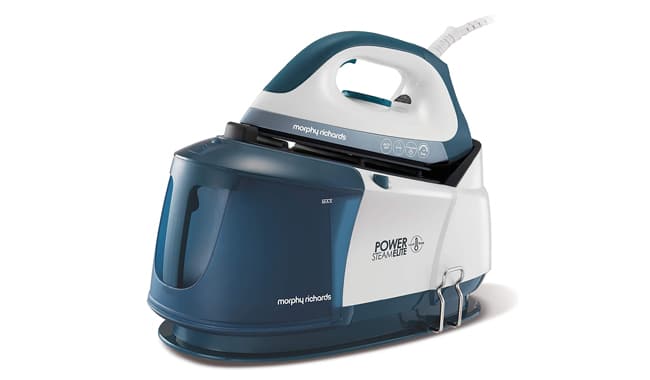 The Morphy Richards 332017 Steam Generator Iron means business and this is why it comes with a boost mood that outputs 330 grams of steam per minute. The normal output is 120 grams per minute but if you face a worthy crease foe, you can use extreme steam to defeat it.
There is also a large 2.2 liter capacity tank on the Morphy Richards 332017 Steam Generator Iron which makes your ironing sessions longer. The easy glide ceramic sole plate on the ironing unit also makes it easy to use it.
Key Features:
Boost mode makes creases vanish
The large 2.2 liter tank is great
The ironing unit is light
The Rowenta DG8962 Silence Steam is capable of removing creases fast and reliably thanks to its 6.5 bars of high pressure steam. The machine is powerful too, providing 420 grams of steam per minute that is more than enough for creases and thick fabrics.
The micro steam technology uses 400 micro-holes to output a steady stream of steam. The stainless steel sole plate is scratch proof and is outstanding when it comes to gliding over fabrics.
Key Features:
6.5 bar of high pressure steam
The sole plate is scratch proof
The micro-holes are efficient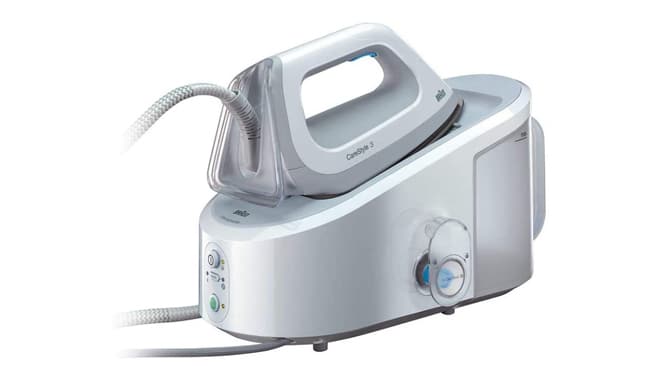 The Braun CareStyle 3 IS3042 has the iCare technology that sets the perfect temperature for any fabric you want to iron. The smart textile protection feature protects your fabrics from burns and ensures optimal performance.  The large capacity tank of 2 liters makes the Braun CareStyle 3 IS3042 last for a long time without needing any refills.
The Braun CareStyle 3 IS3042 comes with a high steam pressure of 5.5 bar and can have extra steam shots up to 330 grams per minute. There won't be any water leakage thanks to the digital anti-drip technology that comes with the Braun CareStyle 3 IS3042. Overall, it is a handy device that can work wonders on any fabric you use it on.
Key Features:
Great high pressure of 5.5 bars
2 liter capacity tank is amazing
The anti-drip technology is appreciated
Nicole has a passion for everything about the home – especially decor. She loves to add new touches and style to every part of the house. Join her as she documents her ideas at Home & Style.