Last Updated on February 17, 2022
Our editors independently research the best products online to produce this list. We may receive commission on purchases made from the links below but this will never affect our product choices.
---
Top 9 Best Table Saws
Do you have a DIY project in your home? Are you in the carpentry, masonry or welding business? Are you looking to expand your toolbox? A table saw is a must for all of these.
The cutting of materials such as wood, metals and plastic is an everyday requirement of several professions. Apart from professionals, there are home projects that require you to have access to a table saw so that you can cut your materials. For all of these people, the importance of getting a very good hobbyist table saw cannot be over-emphasised.
Table saws will make cutting easier and save you a lot of precious time that you can use for other activities. Also, if you have the tools yourself, this could save you money in the long run by hiring someone else to do the job!
If you have been unlucky in the past and have had a problem with a dysfunctional table saw, then you already know how frustrating it can be to have a table saw that lacks. Therefore, it is essential that you get the best table saw that will aid you rather than derail your work.
In this post, we review the nine best table saws available. You should check them out as one of them could be suitable for you!
How we Compared Table Saws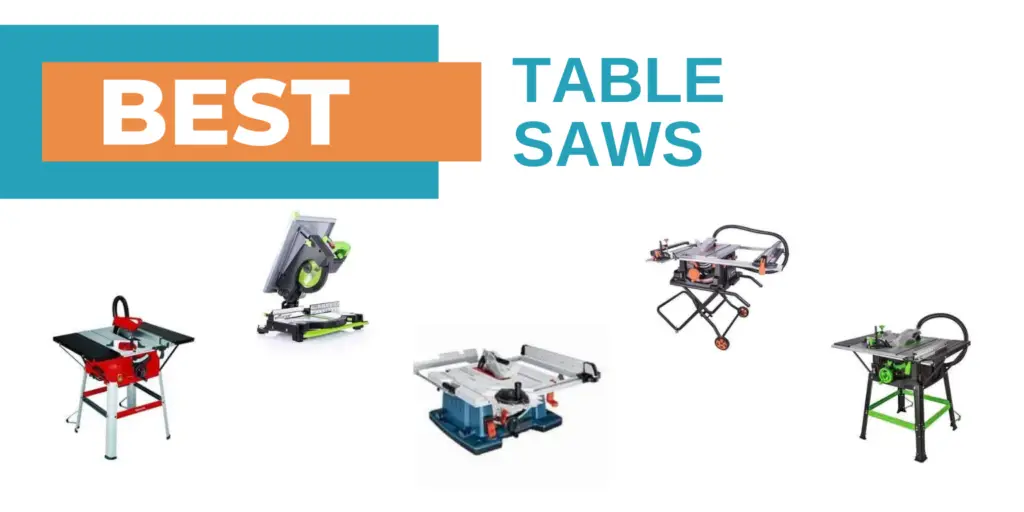 To find the right table saws we considered multiple factors, including:
Material of blade
Size of blade
Teeth
Rip capacity
Mitre gauge
Portability
Push stick
Blade guard
Overload protection system
Our team independently examined and compared hundreds of products to help satisfy different needs. We spent our time researching table saws and consulting customer reviews to ultimately bring you what, in our opinion, are the best options on the market right now.
To find out more about our editorial process, take a look here.
Table Saw Reviews – Top 9 Picks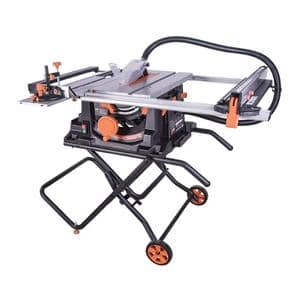 The Evolution RAGE5-S Multi-Purpose Table Saw is a great multi-purpose table saw that has made it to the top of our list for the best table saws. Making use of a 28-teeth tungsten blade which is carbide tipped, this powerful 1800W table saw enables you to efficiently cut plastic, steel, and aluminium as well as wood.
You can even make angled cuts as this saw has a bevel tilt and mitre tilt angles ranging from 0 to 45 degrees and -60 to 60 degrees. This wide range of tilt includes all the commonly used angles, which is very convenient for you. Therefore, the Evolution RAGES5-S Multi-Purpose Table Saw provides you with the opportunity to cut your material to any angle that you desire.
This table can accommodate materials of large sizes. The right side of the table is fully extendable to create an additional rip cut capacity of 655mm. Yet still, this fantastic device comes with a 1.8m collection hose that efficiently extracts dust generated while cutting. Dust will be sucked into the vacuum system. That way, you can keep your workspace nice and tidy!
The Evolution RAGES5-S Multi-Purpose Table Saw is an easily portable table saw on the market. It is fitted with wheels for easy movement, and you can fold it to make it more compact. In addition, this table saw is protected by a three-year warranty. You can count on Evolution power tools for their durability.
The sliding table may not be completely flat, and the mitre slots may not be parallel on some of the products. The table may wobble a little, and the clamp might sometimes not keep the material still. If you find any faults, you should ask for an exchange with the warranty provided.
Pros:
Supports angular cuts
Extendable table size
Collection hose for extracting dust
Easily portable machine
Cons:
The table may not be flat
The mitre slots may not be correctly aligned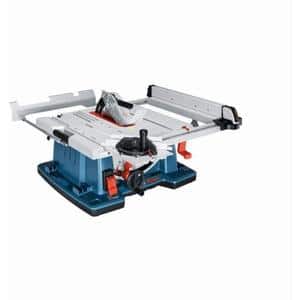 The Bosch Professional GTS 10 XC Table Saw is our luxury choice! It offers the best features for your toolbox. You won't find a DIY cutting project that you can't do with this saw. The Bosch 10 XC is capable of cutting heights up to 79mm. It also has a cutting capacity of 635mm to the right and 250mm to the left of the table saw blade. So, you can use it to cut large-sized materials.
This highly effective table saw uses a motor that is rated 2100 watts! It is also fitted with safety features such as an overload protection system, a motor brake and a corded electronic point. That way, if you need to stop power immediately, it will be safe to do so.
With this table saw, you will be provided with a no-load speed of 3200rpm. The Bosch table saw also features a self-adjusting parallel fence guide and an angle guide that allow you to cut your material cleanly and precisely. You have a mitre gauge and
The Bosch products have extension tables, a table widener and an integrated slide carriage. You can also do concealed cuts because you can lower the riving knife. The riving knife is a useful feature, and its adjustability makes it even better!
Furthermore, the Bosch Professional GTS 10 XC Table Saw is equipped with dust extraction ports that help to clean particles generated as a result of the cutting action of the device. More so, there is storage space available for you to keep assembly tools and the small accessories you use securely.
After a few months, you may possibly experience the rise/fall mechanism beginning to get stuck. Some customers found it difficult to remove the guard. Also, using this table saw for a long time may burn out, so it may need replacing over time.
Pros:
Storage space available
Angle and parallel fence guides ensure neat, consistent results
Dust extraction port to easily get rid of dust by connecting a collection hose
Concealed cuts
Cons:
The rise/fall mechanism may get stuck
The guard may be difficult to unscrew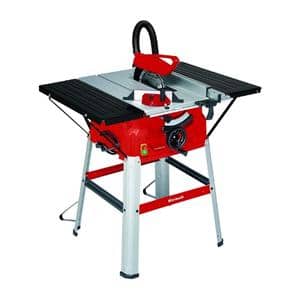 Another top-quality saw table that is worth considering for both professionals and DIY enthusiasts alike is the Einhell TC-TS 2025/1 U Table Saw. This fantastic table saw combines quality with a reasonable price! As our best budget table saw, it features a cross top with an angle scale that runs from -60 to 60 degrees. This affords you a wide range of angled cuts. It is a cheap table saw if you are looking for one to fit your budget.
The Einhell TC-TS Table Saw has an 1800 watts motor and a cutting speed of 5000rpm. As a result, it is one of the most efficient table saws you will find, and its power is strong. The device has a quick clamp fence that ensures consistent results.
Besides that, there is a solid base frame that provides the necessary stability for the table saw. It is important for table saws to have a sturdy base frame that you can rely on because you are using potentially dangerous devices.
The professional-grade carbide tipped saw blade of the Einhell TC-TS 2025/1 U Table Saw is another admirable quality of this table saw. The 254mm saw blade allows you to make perfect longitudinal cuts. It can also be tilted up to 450 for inclined cuts. It is quite cheap compared to other table saws on the market and relatively lightweight.
As our best value table saw, you can trust that it will provide you with all the basic features you need, such as a quick clamp rip fence and a wide table surface.
After a couple of months, there is the possibility that the motor can blow out. The table saw reviews also said that they felt this table saw was quite flimsy. Make sure you clamp materials down properly for the best results.
Pros:
Budget table saw
Saw blade can be tilted for angled cuts
Features a base frame for stability
Equipped with an extendable clamp rip fence that enables you to cut large bits
Cons:
The motor may stop working after a few months of continuous use
It may be flimsy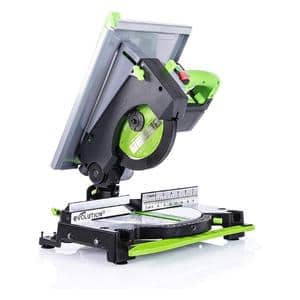 The Evolution Power Tools Fury6 Table Saw is a heavy-duty tool that is suitable for multi-purpose use; this means both professional and non-professional. At just 9.45kg, this is a lightweight and portable table saw, light enough to allow you to easily transport it from one worksite to another.
This table saw combines the use of a 20-tooth saw blade with its high-performance 1200W motor to work at a very high degree of efficiency. It has a high torque gearbox which means that the motor will not be under as much stress as most table saws usually are. This blade is made of carbide, and it is not only strong but also durable.
In addition, the Evolution Fury 6 Table Saw features multi-purpose cutting technology. The blade included cuts steel (mild), non-ferrous metals, solid wood and plastic. This table saw is a quality device that allows you to cut any type of wood seamlessly. Evolution power tools have been on the market for years and have come to provide quality table saws.
You can switch the functions of this table saw: you can mount the workbench! There are also rubber feet to help the table saw staying in place as you work. The table saw mode has a sturdy rip fence that enhances the accuracy of your work by helping to ensure that the edges of the wood are smooth and even. This table saw will help you with exact cutting. Alternatively, you can use the mitre saw mode. This functions both left and right, for every 5° up to 45°.
You may experience the blade becoming blunt after a few months and needing replacing from a table saw review. You can use the 3-year warranty if you have problems. Some customers thought the accuracy of the tools were slightly off.
Pros:
Multi-purpose technology
Lightweight and portable
Very strong and durable carbide blade
High torque technology
Cons:
The blade may become blunt after a few months
The accuracy of the tools might be slightly off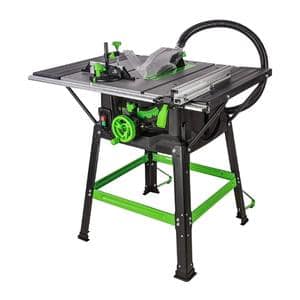 The Evolution Power Tools FURY5-S Table Saw is powered by an efficient 1500 watts rated motor. It has a multi-purpose 255mm blade and an adjustable rip fence that allows you to work with large materials. This blade is a carbide-tipped blade with 24 teeth and is very strong and capable of cutting wood with thickness up to 85mm.
Moreover, the Evolution FURY5-S Table Saw is quite versatile, providing you with a variable bevel tilt angle up to 45 degrees, while the mitre gauge provides angle adjustments ranging from -60 to 60 degrees. The rip fence is very adjustable to your needs. You can also secure the table saw firmly in a particular position for your work so that you will get consistent, smooth edges.
The Evolution FURY5-S Table Saw is easy to use and enhances your convenience when using it. It is also lightweight at 21kg. This allows you to move it from one worksite to the other without any difficulty. It is also equipped with a dust extraction port that cleans the dust made from the material being cut. Keep your workspace wonderfully clean throughout the project, and this means less time cleaning up at the end.
The three-year warranty from the manufacturer is very generous. If you buy the product in the UK, you can expect a replacement for any part of the Evolution Power Tools FURY5-S Table Saw that fails to function properly within this period.
From table saw reviews, the fence may flex, and it may be smaller than anticipated. As with most tables that are used for heavy manual work, this table may experience a little wobble every so often. Some customers thought the blade was slightly warped, too.
Pros:
Extendable rip fence allows you to cut large materials
Quite versatile with 0 to 45-degree bevel tilt and -60 to 60-degree mitre tilt
It comes with a three-year warranty
Dust extraction ports
Cons:
May wobble a little
The blade may come slightly warped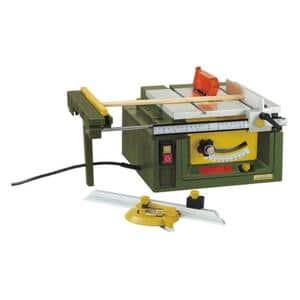 On our list for the best table saw UK customers can buy, the Proxxon Micromot FET is an excellent choice for its very impressive performance. This device is quite powerful and extremely efficient if you want a secure cutting performance. You will find it difficult to get a better table saw when it comes to creating accurate and precise cuts.
This lightweight table saw is equipped with a 24-tooth tungsten-tipped blade. With this blade, you are guaranteed a seamless cutting operation. In addition, you can cut your material at any angle of your choice ranging from 00 to 450; this means you can do angled or cross cuts with no problem. This versatility allows you to cut the material to the exact shape that you require.
One feature that may interest you is that the Proxxon Micromot FET is not blade-specific. Apart from the blade that comes with it, this versatile table saw is also compatible with blades whose sizes range between 55mm to 88mm.
The cutting depth is 1 – 22mm, and there is also a blade guard for your protection. Cutting depth is important for determining the thickness of materials that you can work with.
It has a very efficient dust collector and makes little noise compared to other machines. At just 6kg, this table saw is constructed from die-cast aluminium, and it ranks among the most lightweight table saws available. Hence, it is very easy to transport and our choice for the best portable table, too.
When clamping the fence down, this can move things slightly, so it is best to recheck the position of materials before cutting. The mitre gauge can also wobble, so this may give you inaccurate readings.
Pros:
Extremely lightweight
Adjustable cutting angle
Die-cast aluminium construction makes it durable
Versatile table saw options
Cons:
The fence may move when clamping
The mitre gauge may move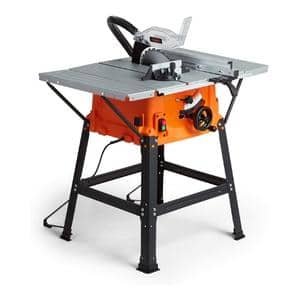 VonHaus is a reliable brand for finding quality equipment, especially power tools. The VonHaus 1800W Table Saw is a handy tool for both DIY enthusiasts and professionals alike. This table saw is quite versatile and affords the flexibility of making angular cuts. It has an angular scale that helps you cut your wood to the precise specification you want.
Moreover, the VonHaus table saw is a device that uses an 1800 watts motor that ensures a smooth and effective operation. It, therefore, has an ultra-strong cutting power which increases its label as one of the best table saws available.
In addition, the table saw blade is carbide tipped on this device, and it makes the saw blade very strong and capable of handling very thick bits of wood without any hassle. Also, there is a quick clamp adjustable rip fence that helps keep the edges of your wood smooth and even, thereby enhancing the accuracy of your work. You can also use a circular saw blade with this device.
It is possible for you to adjust the size of the VonHaus table saw. If you are working with large materials, you can easily increase the size of the table by extending the sides of the table. By doing this, the table saw will be able to accommodate the entire size of the material to be cut, thereby making your work easier. This is why we have chosen the VonHaus as the best large table saw.
The durability of this relatively lightweight device is not in doubt, and the manufacturer has included a two-year warranty to allay any fear that you might harbour. For drilling your new finely cut wood, see our guide on cordless drills and SDS drills.
There may be no spares or replacements available if a part is broken. If you do find a fault, you should apply for an exchange. Also, the blade may become dull over time. You should place the table saw on a stable, flat surface as it could wobble or tip with heavy materials.
Pros:
Angular cuts can be made
Table size can be extended
Carbide-tipped blade
Circular saw blade option
Cons:
There may be no replacement parts available
The blade may become duller over time, and usage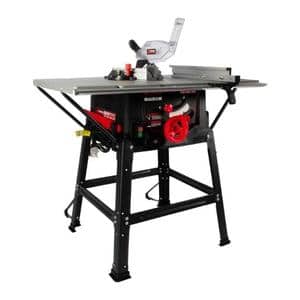 If you are looking for a table saw to cut wood, plastic, metal and other materials on an industrial scale, you needn't look any further than the ParkerBrand PTS-250 High Power table Saw.
This fabulous table has a 64.2mm x 938mm benchtop table that even be further extended. Its 2000 watts motor power ensures that it is a wonderfully efficient cutting tool.
The professional table saw made by ParkerBrand has safety features that will ensure that you encounter no problem while using the device. There is a sturdy blade guard as well as a riving knife incorporated to enhance your safety while using the device. You will be provided with a saw blade cover, which will keep you safe when putting the table saw into storage.
Furthermore, the ParkerBrand PTS-250 High Power blade is first-rate, featuring a carbide tip and 24 teeth, so it is an excellent cutting tool. There is also a blade height adjustment structure so that the device is more suited to you.
The cross stop of the ParkerBrand PTS-250 High Power Table Saw allows you to make high-precision cuts, and you can vary the angle of cut between -60 and +60. It doesn't end there, the ParkerBrand PTS-250 High Power is undoubtedly one of the best table saws around, and you will like it should you opt for it.
This table saw may require you to assemble it, and some customers found this difficult. Some customers found it hard to get a straight cut if the measurements were slightly off, such as not being parallel to the table. The fence and mitre gauge may be quite flexible.
Pros:
Large table size that can be further extended
Variable angle of cut enabled
Highly-quality carbide-tipped 24-tooth cutting blade
Riving knife and blade guard
Cons:
You may need to assemble this product, and it could be difficult
Fence and mitre gauge may be flexible
The Makita MLT100 is another excellent tool for DIYers and professionals who need to cut materials while carrying out their tasks. This fabulous device is one of the safest table saws available, thanks to its double insulation. It greatly helps to make your cutting task easy and faster, providing the utmost comfort and convenience while working.
The Makita comes with a right and rear extension table, giving you a greater maximum cutting capacity. In addition, there is a left extension table that adds even more room to the saw table. It is smooth to operate.
With this table saw, you will have 4500rpm, and it is powered by 240 volts through the corded electric point.
This table saw works with a two-pole slide (blade) system; you can use this to raise and lower the blade to achieve the maximum cutting depth. The Makita is an excellent cutting tool, and you won't be disappointed with your precise cuts.
The Makita MLT100 table saw can cut depths of up to 90mm at 90 degrees and 64mm at 45 degrees using a 260mm carbide-tipped blade. Other impressive features of this great tool include a push stick for storage, a rip fence to protect the material you are cutting, and a mitre gauge that allows you to make angled cuts.
From reviews, you may find that the Makita can struggle more with thicker materials. The plastic components of this workshop table saw might snap after considerable use. Over time, the motor may lose its power and need replacing.
Pros:
Allows you to make angled cuts
Quality carbide-tipped blade
Can cut great depths
Includes push stick
Cons:
May struggle with thick materials
The motor may lose power over time
How to Buy the Best Table Saw in the UK
After the reviews of the top 9 best table saw in the UK, it is now time to read about how to buy the best table saw for you. If you are a professional or DIY enthusiast involved in carpentry, masonry or welding, then a table saw is a necessity. We hope that the above list has helped you to find a table saw that you could see yourself using and adding to your power tool collection.
When it comes to choosing your final choice out of the best table saws, you should consider a multitude of things. You should think about the type of table saw it is: does it have a rack and pinion system? Do you need a circular blade that has a carbide tip? How much rip capacity are you looking for?
Below, we have compiled a list of the things to look out for or consider when finding the best table saw. Choosing the power tool for you can be difficult with so many options out there, but we hope that you will be able to confidently pick the right one for you with our advice.
Brand
You may already know about a few brands for the best table saws, especially a professional. The important thing to consider is that long-term established brands do not always have the best option. In fact, younger brands sometimes offer insightful products with innovative features. However, you may want to pick an older brand if you are comfortable with them and trust their quality.
You may have heard of brands not listed in this article, such as the Ryobi table saw or the DeWalt table saw, and this doesn't mean that they are not good. Their absence from the list is simply due to our choices in selecting the table saws which we think are the best.
Budget
It is always important to consider your budget when buying a potentially expensive power tool. The best table saws will last you a long time. An expensive power tool may claim that it has greater durability. But this is not always the case. Look at reviews for assistance in determining if the product is actually good in real life.
Budget table saws can be an excellent choice for you. A cheap table saw can get the job done just as much as an expensive one, but it may wear out quicker. Considering this, you should never compromise on quality for the price. Therefore, you should aim to buy the best table saw you can afford.
Material of Blade
When choosing a saw table, you should think about the strength of the blade. If you see carbide-tipped or made of Japanese tungsten carbide, these will probably be very strong.
Functionality of Blade
Also, you should think about whether you want a tilting saw blade. This allows you to create bevelled cuts and different designs when cutting materials.
Size of Blade
You should also think about the blade diameter, as the size affects what you can use the power tool for. If you are using the saw for the occasional DIY project, then the 10-inch diameter will be a good match for you. In addition, the 10-inch is usually cheaper than the larger sizes, as they require less power to run.
If you want a bigger size, there is the 12-inch, for example. Professionals in industries use 12-inch saws. Therefore, they need a lot of power. Some households will not have enough power to feed the power tool, and so you should check that you have the capabilities to run it. The 12-inch will more likely require a stronger cast iron table, as the leg stand will be very important in supporting larger materials.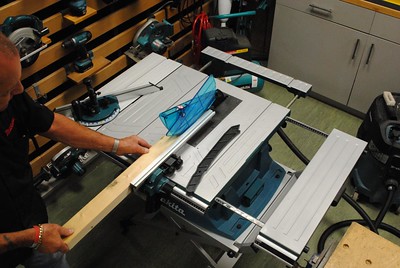 The cutting depth changes depending on the size of the blade, so make sure you check this against the size of materials you are working with.
Teeth
You may notice in your search for your new power tool that table saws have' teeth.' This is the number of spikes on the blade. You might initially think that more is better, but this is not always the case with the number of teeth.
More teeth will not necessarily guarantee you a better cut because the more teeth you have, the more heat is generated. This means that you need to be more careful and make slower cuts. Your project could take longer. With more heat, you may risk burning your materials or leaving marks.
If you are ripping solid wood, we recommend you look for a blade with 24 or 30 teeth. The next level is 40-50 teeth, and this is best if you need a multi-purpose blade or general blade.
Finally, the next level is a 4-80 tooth blade, which you should use for cross-cutting wood or sawing plywood.
Rip Capacity
The rip capacity will affect the materials you can work with and the ease of working with materials. You need to have enough space between the edge of the saw and the fence for your project. When looking at the rip capacity, this will tell you how much space you have to work with.
Table extensions are useful if you need a greater space to work. You could also look for a table where the fence is adjustable or the extension is included. Even if you don't buy a table with an extension, there are ones available to buy to attach.
Mitre Gauge
This is an extremely handy tool used for holding materials and workpieces at a specific angle – which you choose and set – while you cut it on the table saw. There is usually a mitre slot where the gauge can slide in on the table. It is usually a long thin metal guide that you can set to a degree, such as anything in between the pivot of -45 degrees to +45. Different tables have different degree ranges.
Using this gauge will help you to create accurate cuts that will satisfy you with their perfection! Check reviews to see if the metre gauge is sturdy because sometimes they can move, and this will alter your calculations.
Portable Table Saws
If you are moving locations with your table, you should definitely consider how portable it is. The best table saws will cause you no trouble.
A moveable table saw will enable you to have more flexibility with your workstation. You could take the table with you to work, whether that be at an industry, at clients' homes, or in your own home.
You should also check how easy the table and tool is to set up. If you are packing it up, storing it, and then taking it out continuously, then you need it to be easy to set up. Otherwise, you could end up wasting a lot of time and effort. These tools are meant to help you, not cause problems.
Push Stick (Or Push Block)
A push stick is a useful tool in woodworking. It is a safety feature that allows you to push materials over a table saw safely. When using a stick, you will protect your own hands from injury. In addition, the stick gives you increased control when cutting up your materials.
Control is key with these power tools, and so you should definitely make sure the one you pick has the best safety features.
Blade Guard
A blade guard is another safety feature that helps to keep you safe. Some people choose to remove the guard as they are very much accustomed to using the blade. However, you should definitely keep the guard if you are new to using it. The guard covers the very sharp blade during transit and storage.
It is a fantastic visual prompt to keep your hands away from the blade, so you should lookout for a table and saw that has one.
Overload Protection System
Sometimes, the power running through a table saw can cause it to overload. Therefore, it is best to check if the tool has a system to reduce the negative effects—for example, an automatic switch-off or an emergency stop button.
Our Choice
Now, we come to our final choice for the ultimate table saw. As our editor's choice, we have chosen the Evolution Rage Multi-Purpose as it beats all others, in our opinion.
The Evolution Rage5-S is, first and foremost, a strong and durable tool. IT uses 28-teeth, which are all tipped with carbide for even more strength to power through all manner of materials.
This saw can have more versatility because it has a tilt function for both bevel and mitre. This means you can create more unique designs than a non-tilting table saw.
You can have even more space to work with an extendable table, and the dust will be sucked away into a vacuum system. Keeping your space clear will help your productivity and clean up time.
And finally, last but not least, the Evolution Rage5-S is portable! It has wheels, and you can fold it. This will make it a dream to cart around to where you need it.
So, after reading this article and learning about the best options for a table saw, which do you think is the best? Do you know of another one that could make it onto our list? Let us know in the comments below! We would love to hear your opinion.
Additional Resources