Last Updated on April 14, 2021
Our editors independently research the best products online to produce this list. We may receive commission on purchases made from the links below but this will never affect our product choices.
---
Our Favourites
Thermos Thermo Café Stainless Steel Flask (Editor's Choice)
Greenfield Collection Thermos Flask (Luxury Choice)
Thermos Stainless Steel Flask Midnight (Best Value)

Thermos flasks are your best companions if you enjoy your drink at the perfect temperature. Thermos flasks keep the bottle in its ideal temperature for more than 12 hours and give you the privilege of a hot or cold beverage each time. Flasks are excellent travel companions and are very handy when travelling with hot liquids.
Several brands and companies manufacture thermos flasks in the market today. This article will help narrow your choices down till you can choose one that suits your needs.
All the thermos flasks in this article have been tried and tested thoroughly by our internal team. All the products have been reviewed based on their heat retention and insulation for hot and cold beverages, the capacity of the flask, and the materials used. The flasks were also put through a simulation exercise of dropping and picking up to check if they were durable and leak-proof. All the products have been arranged in order of increasing price points, with features mentioned in each.
Things to Consider Before Buying a Flask
Cost: The first thing that you must keep in mind is the cost of your bottle. Remember that you will be using it occasionally, so it is best to go for one that has a nominal price rather than opting for a costly one.
Capacity: Another factor to consider while buying your product is the capacity. The size of your flask should be directly related to your consumption. A bigger or smaller flask will be of no use if you are unable to meet your requirements.
Material: The material of the flask will determine the life of the product and the performance it will deliver. Read the details on the back cover of the product carefully before choosing it.
Heat retention: Heat retention is crucial when it comes to flasks. Ones that help in insulation will keep your beverage hot or cold for a longer duration of time than those that do not have proper insulation.
Warranty: The product that you opt for must have at least one year warranty to give you full value for money along with 100% customer satisfaction.
Best Thermos Flask Reviews – Top 10 Picks
The Thermos Thermo Café Stainless steel flask is a double vacuum flask that keeps your drink at the ideal temperature. At a budget-friendly price, it has a durable stainless steel material body that gives it a long and lasting life. The flask also comes with a cup to pour your drink that also works as a bottle cap.
The Thermos Thermo Café Stainless steel flask nearly eliminates changes in temperature by keeping a vacuum pocket between two layers of stainless steel. You can rely on this insulated container to keep your drinks warm or cold. Thermos products are manufactured in facilities that are culturally compatible and receive strict performance controls to guarantee that the item reaches in safe and perfect order. Keep your other drinks cold with a quality cool box.
Key Features:
Affordable
Heat resistant
100% Safe
It is a perfect flask that is ideal for family picnics, everyday use, and for sports and events too. It consists of a double vacuum layer for best results and also offers heat resistance for more than 7 hours. The flask is cool to touch and does not heat up even if boiling milk or water is poured inside. It offers enough storage space for up to 600ml of liquid.
Made up of high-quality stainless steel, the Thermocafe flask Hammertone Grey is one of the best selling products available at an affordable price that offers 100% customer satisfaction along with full value for money. Buyers will also get a 24-month warranty along with a 6-month replacement guarantee by the manufacturer.
Key Features:
Sleek and stylish
Comes with cover
Heat resistant
The Bamboo thermos flask is a stainless steel product that gives 100% heat resistance to your liquid. The drinks can be kept at their perfect temperature for more than 12 hours. This thermos flask will keep your tea or cold drink fresh for you to sip at a later time.
The best thing about the Bamboo thermos flask is that you can enjoy a cup of hot tea or a glass of chilled cold drink even while travelling. It has a leak proof lid and can store up to 600ml of liquid inside. It also comes with a wooden spoon so that you can move your drink before pouring it into the cup. Grab yourself a pair of binoculars for your outing as well.
Key Features:
Leak-proof
Stainless steel
Heat resistant
The Amazon brand thermos flask is made up of 100% stainless steel and offers heat resistance of up to 7 hours. It gives excellent value for money, along with 100% customer satisfaction.
The flask can be used while travelling as well as daily for best results. It offers a leak-proof experience and also has a lid on top to avoid spilling and creating a mess. Shop for this product and get up to 24 months warranty and a lifelong guarantee from the manufacturer. If you've got kids get yourself a decent double buggy for your trip.
Key Features:
Leak-proof
Long lasting
High-quality stainless steel
Available in eight different colours, the Thermos stainless king flask is going to be your best companion. This flask can store your beverage so that it remains piping hot even after 12 hours. The container comes with a foldable spoon so that you do not need to use your hands and can hygienically enjoy your drink even while travelling long distances.
The thermos vacuum technology of the Thermos stainless king flask helps in keeping the drink fresh and hot the way and also prevents it from fermenting. DO NOT overfill your container and remember to leave enough room in the neck for the stopper to accommodate its place.
Key Features:
Leak-proof
Affordable
12 hours of heat resistance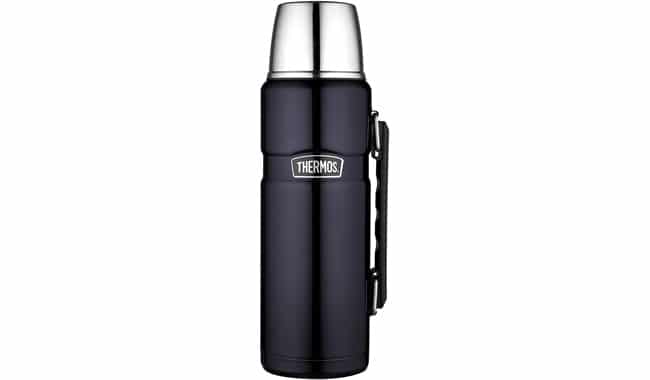 The Thermos Stainless Steel Flask Midnight is available in ten different colours. It is known for its durability and long life with a 24 months warranty by the manufacturer. The flask will keep your liquid fresh for over 9 hours and will let you enjoy your beverage at an ideal temperature while travelling.
The flask has a turn-and-pour stopper so that you do not have to open the entire lid. It does not overheat from the outside and is very easy to carry. The product comes with a zipper case and also offers a 50-year lifetime guarantee. It comes with an extra full mouth and is made up of high-quality material for a consistent and best performance. Check out our guide on vape mods for other great outing products.
Key Features:
High-quality steel
24 months warranty
12-hour heat resistance
Thermos is a well-known brand known for its perfect products that offer 100% customer satisfaction even after years of usage. The Thermos stainless steel travel tumbler will help keep drinks fresh for up to 7 hours and is also easy to carry. You can relish your favourite smoothies or a hot cup of tea even while travelling long distances with the help of this product.
The lightweight Thermos stainless steel travel tumbler is made of high-quality stainless steel. It comes with a cup that doubles as the lid and can be removed easily. Available in 12 different colours, this flask is a must buy. The flask also has a leak lock protection that prevents your liquid from spilling out and creating a mess.
Key Features:
Leak-proof
Sleek design
Available in vibrant colours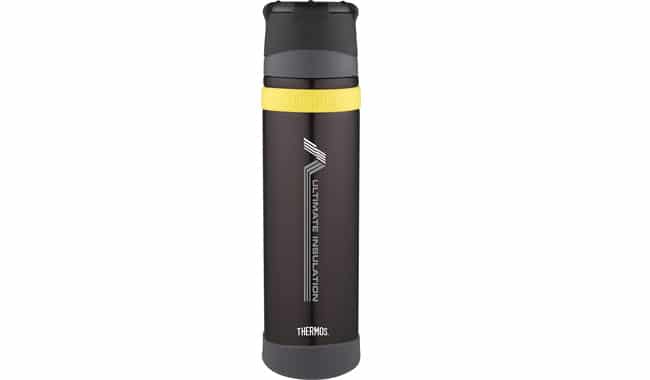 Keep your drinks fresh and at the perfect temperature for more than 12 hours with the Ultimate series flask heat resistant technology. The container is made up of high-quality material that offers a long life. Outdoor lovers can rely on the flask of the Thermos Ultimate MKII Series combining elegant, lightweight architecture with the highest heat efficiency. These ultra long-lasting flasks are excellent outdoor companions with two-part stoppers and a protective, shock-absorbing silicone ring to soften the impact if dropped.
The Ultimate series flask can be replaced with ease if there is a defect within 6 months of purchase. The Ultimate series flask has enough space of up to 600ml to store your beverage so that you can enjoy it for a longer time.
Key Features:
Enough capacity
12-hour heat resistance
Lightweight
The vacuum bottle is the cornerstone of the Stanley brand, providing unparalleled durability and heat efficiency with vacuum insulation. The leak-proof container efficiently prevents heat transfer. It offers an optimal type of insulation that provides minimum thermal loss. A metal layer on the cover also controls the radiant thermal drop. This jar contains 18/8 stainless steel and utilises an insulated cover as a cup.
It is a leak-proof flask and also has enough capacity to store up to 1 litre of drinks inside. Made up of the best quality material, it will give you full value for money. The product comes with a 24-month warranty and a 50-year life guaranteed by the manufacturer. Customers can also check the previous reviews of the buyers and then shop for this best selling product.
Key Features:
Sleek and stylish
Leak-proof
Enough Space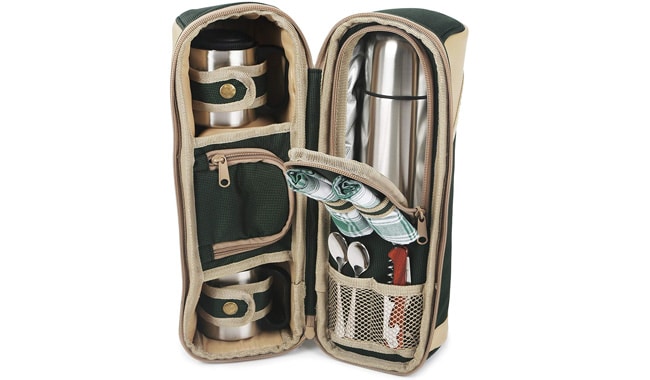 This is a one of its kind combo bag that has thermos flasks for two people. This luxury flask hamper pocket with equipped equipment has everything you need for up to two individuals to comfort hot drinks. In the centre of the pocket, there are two spaces made for fast yet safe closing. Inside the fully isolated zipped compartment, the flask is fitted with napkins secured in mesh pockets to the front via straps for teaspoons. The mugs are equipped with Velcro strings in the other compartment. There is a condiment container with a sheet of Neoprene inside each cup. A fully isolated zipped bag is available between the mugs, perfect for holding extra condiments or sugar.
The lining of the flask is easy to clean with a damp cloth and can also be washed in the machine. With a wet cloth, the covering is simple to wash. It looks convenient and sturdy to hold with a nylon webbing belt and brace. The forest green colour of the product is combined with complementary beige fabric and leather impact texture and strap for an elegant touch.
Key Features:
Classy combo
Elegant design
12-hour heat resistance