Last Updated on March 1, 2022
Our editors independently research the best products online to produce this list. We may receive commission on purchases made from the links below but this will never affect our product choices.
---
Top 10 Best Travel Cots
Travelling with a baby is hectic, but having the best travel cot in the UK can make nap times a bit manageable. While the best travel cots are amazing portability, they are not a replacement for an actual baby cot. However, if you take your baby on holiday or visit friends, you should pack light and carry a travel cot.
A good quality travel cot is easy to move around and easy to set up. Most are easy to prop up in minutes, suitable from birth, and can be safely stored in the boot of your car or taken on public transport. They are essentially smaller versions of newborn beds. If your child gets familiar with the travel cot, they will sleep easily in it too.
There are several factors you need to consider before purchasing a travel cot. Your needs, age range, and other features need to be considered. To help you choose, we've selected a wide range of great travel cots for the UK on the list.
How we Compared Travel Cots
To find the right travel cots we considered multiple factors, including:
Size
Ease of assembly
Portability
Ease of cleaning
Extra features
Our team independently examined and compared hundreds of products to help satisfy different needs. We spent our time researching travel cots and consulting customer reviews to ultimately bring you what, in our opinion, are the best options on the market right now.
To find out more about our editorial process, take a look here.
Travel Cot Reviews
If you are looking for a jam-packed travel cot with features that don't cost much, then the TecTake Portable Baby Travel Cot is for you.
This travel cot has age suitability for younger babies and those up to three years old and has some of the best features on offer. The best feature is the changing unit mat which allows you to change the clothes or diapers easily.
There is also a comfortable sleeping mat in the TecTake Portable Baby Travel Cot, so your little one can rest easy when you're out and about. Thanks to the clips, the changing mat is easy to install, and the baby mattress has a zipper system for raised sleeping positions. We like that the cot is easy to move, thanks to the wheels. They come with dedicated brakes too!
Overall, the TecTake Portable Baby Travel Cot is a well-rounded travel cot that comes in 4 different colours. 
The only minor drawbacks to consider are that the zips could be more resilient to frequent use and that the assembly instructions are rather basic.
Pros:
Suitable from birth to 3 years old
Includes a clip-in changing mat
A cosy sleeping mat is comfortable for nap time
Choice of sleeping positions
Easy to move around
Cons:
Zips could be more durable
Assembly instructions are quite basic
The Babybjorn Travel Cot comes in three different colours and looks just as great in all of them.
However, this is not why it is our favourite premium pick, thanks to its superb design and straightforward setup. The Babybjorn Travel Cot is spacious and easy to handle as well. The travel cot comes with its carry bag, so you can take it out and place it wherever you need it. That's all there is to it. Thanks to the folding mechanism, the legs unfold by themselves, ready to go.
The Babybjorn Travel Cot also has a comfortable padded mattress. The padded mattress gives your baby a comfortable and snug place to sleep during the trips. There is a built-in plate on the base of the mattress, which keeps the cot upright and stable during nap times.
The fabric is made out of child-friendly materials and is completely machine washable. The design is airy and see-through so that you can keep an eye on the baby.
On the downside, this cot sits quite low to the floor, so you'll need to bend down far to place baby in and pick them up. Also, while it is machine washable, we would have liked the material to be wipe-clean too.
Pros:
Available in several colours
Spacious and easy to set up
It comes with its carry bag
The padded mattress is comfortable
Machine-washable
Cons:
Material may not be wipe-clean
It sits very low to the ground, so you need to bend down far to pick up the baby
The Graco Compact Travel Cot is made for parents interested in getting a simple travel cot. This doesn't mean this one is bare-bones, it may be one of the cheaper models, but you get all the must-have features in this travel cot as well.
The biggest plus of the Graco Compact Travel Cot is its good build quality at an affordable price. The Graco Compact Travel Cot features mesh panels so you can keep an eye on the baby easily. There is a basic mattress pad on the cot, but we recommend you get a small mattress in it for long sleeping sessions as it isn't thick.
The foldable design of the cot gives an extra layer of portability and ease of use so that you can take it with you on day trips or holidays without any hassle. A bag is also included that can easily house the whole cot for simple transport.
This cot stands off the ground and has sturdy legs to keep your little one safe and secure. The only drawback is that the locking mechanism to set it up can be tricky to get the hang of, but this should become easier with regular use.
Pros:
Simple, affordable design
Mesh panels enable easy viewing of baby
Very portable and lightweight
It comes with a travel bag
Cons:
The included mattress may not be very thick
The locking mechanism can be a little tricky
The Hauck Dream N Play is one of the larger travel cots on the market, allowing it to be used as a playpen. This versatile model can be used for a hands-free time at home and as a safe space while you deal with daily tasks, as well as for overnight trips away from home. 
Measuring 120cm by 60cm internally, this travel cot and playpen has plenty of space for babies and can be used for toddlers weighing up to 15kg, making it one of the best travel cots for toddlers. The large net fabric sides allow good air circulation and enable your baby to see you and their surroundings. 
Complete with a folding thick mattress base and carry bag, this travel cot folds up to just 76cm tall by 22cm wide with a depth of 21 cm. This makes it easy to pack up into your car boot, take in hand luggage on camping trips or store in a cupboard when it's not in use. This model would also make a good camping travel cot provided you have plenty of space, weighing just 7.6kg. 
As with many travel cot mattresses, the included mattress is more of a base, and your baby will be sleeping low to the ground, which could make getting newborns and young babies in and out fairly difficult. Although it's not difficult to set up, you may need some practice to get it quickly ready for use. 
Pros:
Use as a travel cot and playpen
Large net fabric viewing windows
Suitable for babies up to 15kg
Compact when folded
Includes carry bag and foldable mattress base
Cons:
It could be improved with a thicker mattress
May have difficulty getting newborns in and out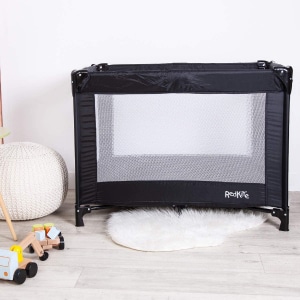 If you are on a tight budget and need a good quality travel cot, you should check out Red Kite Sleep Tight Travel Cot.
It is an affordable and straightforward travel cot for your baby. The cot is fully safety tested, is super easy to assemble, and comes with padded rails for extra security. The Red Kite Sleep Tight Travel Cot comes in 4 different colours, too, so you can choose your favourite.
The Red Kite Sleep Tight Travel Cot makes storage easy thanks to its foldable design. The side panels are made out of sturdy mesh and are see-through. This gives you a clear view of your child. The covers, trims and the carry bag can all be cleaned with detergent and warm water. The metal parts can also be accessed and easily cleaned for maximum hygiene.
On the downside, the included mattress could be thicker. Furthermore, some people found that the locking mechanism became trickier to secure after several uses.
Pros:
Choice of colours
Padded rails keep your little one safe
Easy to store
Mesh panels allow supervision
Simple to clean 
Cons:
The mattress might be thin
The locking mechanism might be frustrating to use sometimes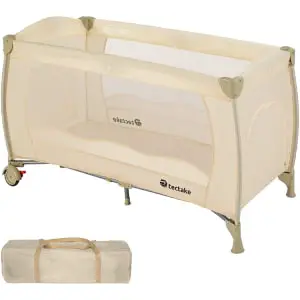 The TecTake Baby Travel Cot is a reasonably priced travel cot for your baby. This is ideal for a night out camping or a stay at the grandparents.
The cot has a simple design, and it is super portable as well. The TecTake Baby Travel Cot comes with a carry case that makes it easier to transport. We loved the high quality and stable frame that keeps your little one secure. There is also a mattress inside the cot for optimal comfort.
The breathable mesh design allows the circulation of air and is also see-through. The baby can look at you while laying down and get comfortable in no time. Thanks to the integrated wheels that include a brake mechanism, moving the TecTake Baby Travel Cot is easy even when deployed.
We love that this cot comes with a sturdy travel bag for simple transport, but the cot can be a little frustrating to fold away until you get the hang of it. The instructions also aren't the greatest, so expect to spend some time setting it up the first time.
Pros:
The mesh design is breathable and allows easy supervision
It comes with a sturdy carry bag
High-quality, stable frame keeps little one safe
Includes a comfortable mattress
Integrated wheels
Cons:
Instructions could be better
It can be awkward to fold away
The Graco Contour Electra Travel Cot is made for children up to three years and 15 kg in weight. The travel cot is ideal for newborns, thanks to its raised bassinet.
A removable changing tablet is included too, which makes changing diapers and clothes a lot easier on the go. There is also a vibration unit in the Graco Contour Electra Travel Cot, which is great for helping to soothe your little ones if they become restless.
The Graco Contour Electra Travel Cot has a nightlight, music, and a timer to keep your baby occupied and relaxed. The cot also has a toy bar with toys on it which is also removable should you not want to use it. The mesh design is great for keeping an eye on the baby and providing air circulation on warm days.
The two wheels enhance portability even when the cot is deployed. You can move the cot around as needed while out and about. The only drawback to this model is that the assembly instructions are not easy to follow, so setting up the first few times you use it can be awkward.
Pros:
Ideal for children up to 3 years old
Removable changing tablet
The vibration unit helps to soothe baby
Includes nightlight, music and timer
Removable toy bar
Cons:
Instructions might be difficult to follow
It may be difficult to set up a first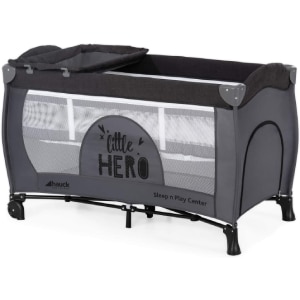 A popular folding travel cot suitable from birth and for older babies, the Hauck Sleep N Play is our best folding option. Boasting numerous extra features and doubling as a handy playpen, if you are looking for a good all-around travel cot for use downstairs at home or away, this model is hard to beat for the price. 
Its generous internal dimensions of 120cm by 60cm make this extra large travel cot a good choice for larger babies, while the included newborn bassinet ensures you can use it with confidence and ease for your newborn. Two wheels make it easy to relocate in your home or hotel room. 
For toddlers, the zippered side entrance makes for easy independent access, and the large mesh sides ensure your baby can easily see what's happening and check where you are. A changing table insert makes this a highly practical multi-functional folding travel cot that is a great choice for travelling with the included carry bag or occasional use at home.
On the downside, you may want to purchase a thicker mattress, and you may also find that the included one may be a little noisy if your baby wiggles a lot. It is very stable and sturdy, so putting this travel cot up and down may require some strength. 
Pros:
Large internal dimensions: 120cm by 60cm wide
Changing table insert
Includes newborn bassinet
Zipped side entrance for independent entry
Two wheels for easy relocation
Cons:
May need to purchase a thicker mattress
It could be a little noisy
This lightweight and compact travel cot is one of the best travel cots for babies weighing up to nine kilograms. Its lockable rocking frame is an excellent way to help your baby to get back to sleep without having to remove them from the crib.
Lightweight at just five kilograms, this lightest travel cot is also very easy to put up and fold away, making it a great choice for trips away with a young infant. The removable hood provides good shade and limits distraction at nap time, while the integrated insect net is a must for summer holidays.  
The included mattress has a removable cotton-upper cover for easy machine washing and meshes sides to improve airflow. A sturdy steel frame makes this compact travel cot a good secure choice for babies, and it also comes complete with two touch toys and a carry bag.
While this is an excellent travel crib for newborns and babies up to 9kg, your baby may outgrow it at around six months old. The travel bag and mattress could be improved by making the bag a bit larger and the mattress a little less noisy. 
Pros:
Suitable for newborns and babies up to 9kg
Lockable rocking frame
Lightweight: 5kg
Removable hood with a built-in mosquito net
Includes mattress with removable cover
Cons:
Travel bag could be a little larger
Mattress may be noisy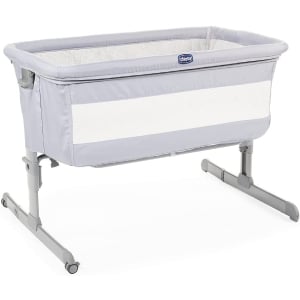 Suitable for babies weighing up to nine kilograms, the Chicco Next2Me is the best travel cot in the UK for breastfeeding mothers and newborns. Use it as a standalone travel cot or remove one side to attach it to your bed for co-sleeping. This makes it much easier to feed and check on your baby throughout the night. 
This newborn travel cot features six height levels with foldable feet adapts to most beds, ideal for your next trip away or visits to friends and family. A travel bag is included, and it folds up fairly easily with a fast setup. The removable mattress features a washable cover, and the mesh sides improve air circulation and visibility. 
One of the best features of this well-designed travel cot is its tiltable base. If your baby is suffering from nasal congestion or reflux, simply adjust the cot to provide a slightly sloping angle and give your baby a better night's sleep. 
While the wheels are a good addition, they could be improved as they are too small to make it easy to move. Upgrading to a waterproof mattress cover and more durable zips could make this otherwise excellent travel cot an outstanding model. 
Pros:
Standalone or co-sleeping with a detachable side
Six height levels, wheels & foldable feet
Tiltable to help with congestion or regurgitation
Removable mattress with washable cover
Travel bag included
Cons:
Zip longevity could be improved
Wheels could be larger
Is It Worth Getting a Travel Cot?
While the answer will vary depending upon your lifestyle and circumstances, whether or not you frequently travel, buying a travel cot is a smart move for most families.
Baby travel cots can be used for staying over at grandparents' houses or other trips to visit family and friends. There is no need to invest in a fancy deluxe travel cot for occasional use. A basic model will suffice. Some of the best travel cots for older babies also double as playpens which can make them useful if you suddenly need to place baby down somewhere safe.
Travel cots are also useful for impromptu naps when getting babies up the stairs may wake them. Plus, if you have other parents visiting with their little one, you can quickly set up a safe and secure bed for their baby's nap time.
Given their high practicality and low price, we'd say it's well worth buying a travel cot.
What Age Is a Travel Cot For?
It all depends on which travel cot you choose. Travel cots can be used from birth up to several years of age. However, this does not mean that all travel cots are suitable for all ages. While you can use an evolutive travel cot for several years, if instead of a Moses basket you opt for a small travel cot or a travel crib, they are generally designed for use between 0-6 months. A larger travel cot will be more suitable for babies aged six months and older unless it comes with a removable bassinet for use by newborns and young babies.
Always check the manufacturer's age and weight recommendations and limits for their travel cot before purchasing. Take a look at this site by the NHS for more information about cot safety.
How to Choose the Best Travel Cot
To help you choose the best travel cot in the UK, we've compiled this handy checklist of the most important features that you'll want to consider when choosing your new travel crib.
Size
Travel cots come in a wide range of sizes. Make sure that you choose one suitable for your baby's size, weight and age. You should also consider how long you expect to be using your travel cot – if you want a travel cot you can make use of for several years as a playpen or for use for a sleeping toddler, you'll need to opt for a large travel cot.
Ease of Assembly
Travelling with a baby can be stressful and invariably involves packing a lot of stuff. For this reason, it is essential to make sure that your travel cot is easy to assemble when you arrive at your destination, providing you with a safe and secure place to install your baby in just seconds.
If, however, your travel cot is going to be primarily left up, be it downstairs at home or a relative's house, no need to spend a lot of money on the easiest to set up models like the Spacecot Travel Cot.
Portability
Not only should your travel cot pack away easily. It should also be light enough to pack and carry. A portable travel cot would also be easy to move around your holiday accommodation, home or relative's home.
Easy to Clean
Ideally, look out for models with removable fabric sides that can be machine washed. At the very least, you'll need a travel cot with a removable mattress cover for easy washing in case of any accidents, reflux or nappy leaks.
Extra Features
Depending on your anticipated usage, the following features could enhance your travel cot or travel crib.
Wheels
Wheels make moving your travel cot in situ much easier. Check for brakes to ensure your baby stays safe.
Carry bag
Essential for most folding styles to ensure that your travel cot stays folded and is easy to carry. Look out for travel cot carry bags with large handles or a shoulder strap for better portability.
Mosquito net
Travel cots with an integrated mosquito net are handy for summer use, meaning you won't have to worry about packing or purchasing a separate one.
Side entrance
If you are using your travel bed as a toddler playpen, a side entrance allows your toddler independent access to go in and nap or play with their toys.
Changing mat insert
This travel cot extra is convenient for safely changing baby when you're away from home.
Conclusion
Highly affordable and extremely practical, if you are looking for a new travel cot, you're sure to find your ideal model in our travel cot reviews. Our overall favourite for the best travel cot in the UK has to be the TecTake Portable Bed and Playpen.
Suitable for use up to 36 months, this outstanding travel cot has numerous features, including a zip system for a raised sleeping position, two large wheels for easy relocation, a baby changing mat insert and a zipped front entrance for independent toddlers access. Plus, it's also easy to assemble and has great value for money, making it an excellent buy.
Additional Resources