Last Updated on February 15, 2022
Our editors independently research the best products online to produce this list. We may receive commission on purchases made from the links below but this will never affect our product choices.
---
Our Favourites
HEATLINE BY VAILLANT CAPRIZ (Editor's Choice)
Worcester 25i Combi Boiler (Luxury Choice)
Noritz CB199-DV-NG Combination Boiler (Best Value)
Boilers come in all shapes and sizes, some are designed for specific tasks like heating water similar to an induction hob kettle or internal heating. A combination or sometimes known as the ''combi'' boiler, is an inventive idea that is space-saving and pioneering. It is a progressively popular choice, especially in British houses. However, most of the people might not be entirely familiar with its functionality.
A combination boiler is a single unit appliance that can perform multiple functions that were previously carried out by separate units; they are hot water and heating. It will save you from the stress of installing a separate water heater like before. Previously there was an immersion heater located in some houses that had to be heated beforehand if hot water was required. Combi boilers put an end to that need by being much more efficient and space spacing while performing the task.
Choosing the right boiler for you might be a problem if you are not entirely familiar with it. There are countless options available in the market currently, and there are several factors to consider if you want to make sure you get the best value for your money. The most significant aspects are mostly how much hot water it requires and the number of radiators that you would want heating.  As a general rule, a 20-35kW combination boiler is enough for an average home; however, that can vary according to your needs.
We have compiled a list of top 8 boilers that will help you choose the right appliance for you. It's based on the performance and durability of the products. So you won't have to run back to the market again and again. While you're here, check out our comprehensive review of the best electric radiators.
How We Compared Boilers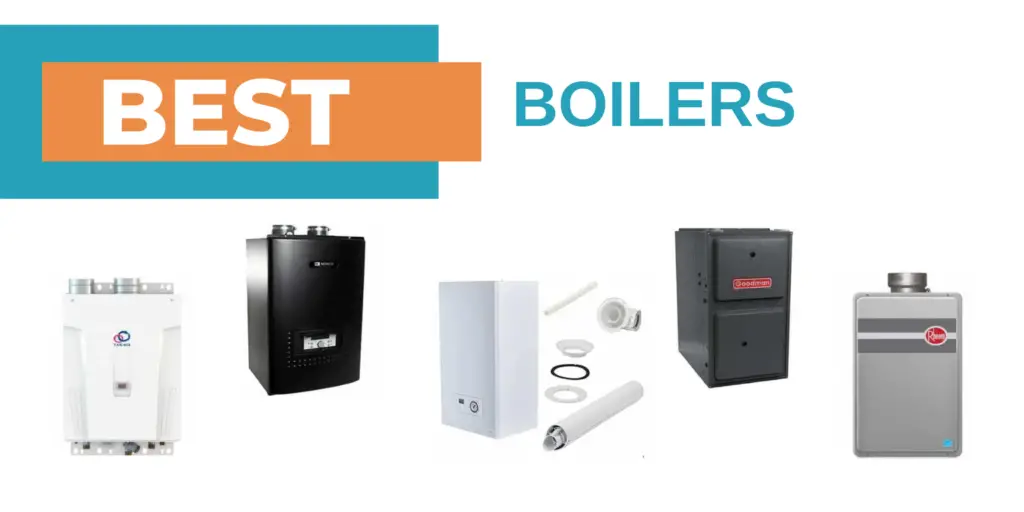 To find the right boilers we considered multiple factors, including:
Size
Performance
Durability
Ease of install
Energy consumption
Our team independently examined and compared hundreds of products to help satisfy different needs. We spent our time researching boilers and consulting customer reviews to ultimately bring you what, in our opinion, are the best options on the market right now.
To find out more about our editorial process, take a look here.
Best Boiler Reviews – Top 8 Picks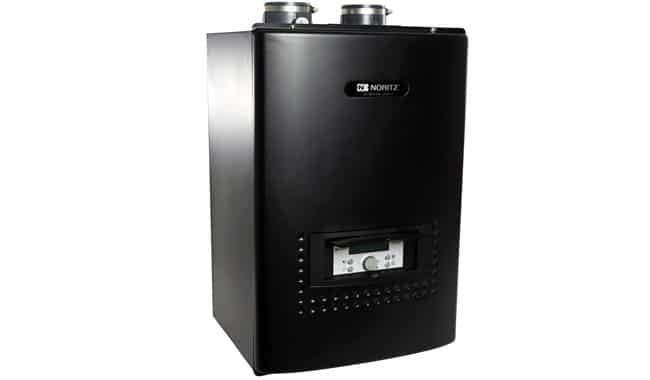 The Noritz CB199-DV-NG Combination Boiler uses the modern hydraulic heating to ensure that you have hot water available to you in a proficient manner. It is an excellent choice for winters, especially when the cold weather is at its peak.
Since it is a combination boiler, it means that it consists of both hot water and house space heating features available in one compact unit that is mostly placed under the roof. One of the most sought after features of the Noritz combination boiler is its 95% efficiency in providing hot water, which is a higher flow rate than many units out there.
The heat exchangers that are present in the boiler are of the most exceptional quality and prepared from stainless steel. The lowest extent of gas input it can hold is 18000 BTU, which can go up to 199000 BTU with an average range of 11:1. The Noritz boiler also has an automatic flow which regulates the water with a high aptitude internal pump.
It is powerful enough to provide a high water flow of 9.2 gallons per minute. The overall dimensions of the unit are 17.6 inches length, 14.1 breadths, and 28.1 heights. Therefore it has an excellent and one of the most compact designs available out there.
Another feature that sets it apart is its ability to be used for in-ground radiant hydraulic heating, which means that it can melt the snow that builds upon the pavements saving you the time and effort for shoveling.
Key Features:
Quick and easy installation
Space-saving design
Can be used for in-ground radiant hydraulic heating
Ten years warranty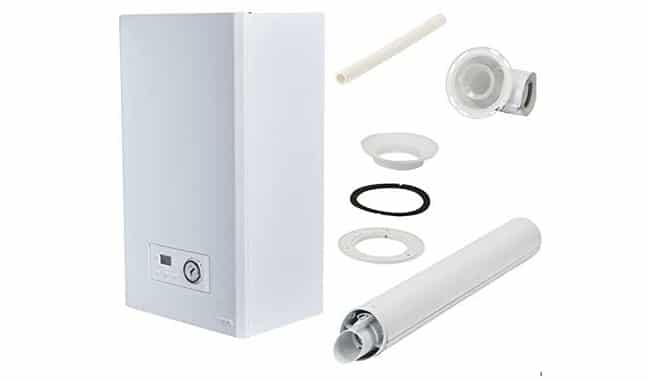 The HEATLINE BY VAILLANT CAPRIZ is a combination boiler that operates on natural gas. It offers stress-free installation, and it's also pretty easy to use.
The Dimensions of the boiler are 740mm length, 418mm breadth, and 300mm height with a weight of 33.3kg. The boiler heating is attained utilizing an aluminium burner. When we talk about its efficiency, it is believed to be approximately 89%.
Though the VAILLANT CAPRIS boiler might not be the biggest on the list, it is packed with quality features in a very compact unit. It consists of a timer that is assembled in an easy to operate and use analogue. Moreover, it emanates with a flue kit. The buyer is presented with the choice of selecting between a vertical and horizontal flue kit based on their requirements.
You can also choose between running the HEATLINE BY VAILLANT CAPRIZ boiler on either LPG or the main gas line via an LPG conversion kit. One of the most notable features that it offers is the temperature regulation system. It can be placed in a separate room from the boiler, and the timer would still be functional for the primary device.
There are two variants available in it; the 28kw version can be used for a comparatively bigger house and more heating requirements.
Key Features:
Proficient consumption of energy
Smooth controls and characteristics
Easy to install
Compact design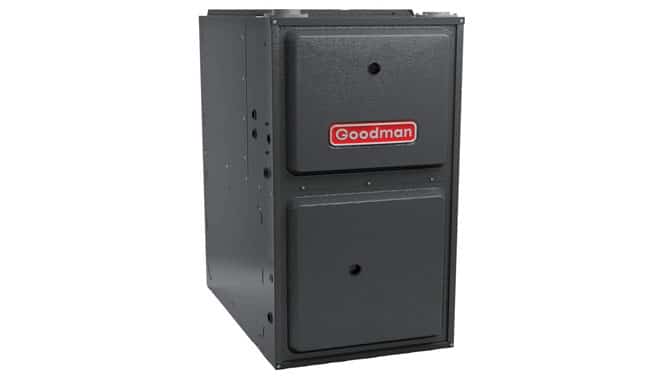 The Goodman GMSS961205DN is an excellent gas boiler for internal heating. The overall dimensions of the device are 29.5 inches length, 25.5 inches breadth, and 44 inches height with a weight of 70 kg. It is an extremely reliable and durable product.
It is a boiler with a motor that operates on a single speed. Also, it can function on 120k Btu/H and 2000 CFM. The device is effortless to install, and it comes with an instruction manual. There are some additional accessories like power tools and welding tools that are included within its package.
You might wonder that you'd be placed at a disadvantage if your gas supply runs short. However, it is not the case as the device can also work on certain oils like, for instance, liquid propane; it can be easily converted by using a propane adapter kit or some other conversion kit. You can also set the boiler up with a UV filter to kill bacteria or insects.
The Goodman GMSS961205DN function on gas is horizontal and is prepared with stimulated steel. Apart from its sharp look, the boiler boosts a 96% AFU efficiency. The device features the wrinkle bend expertise which lets the boiler to sustain its tranquillity notwithstanding of the high quantities of pressure it faces when heating water along with the muffler joints that help in minimizing the sounds produced while the machine functions.
Key Features:
Strong and resilient product
Wrinkle bend technology and muffler joints
Fast heat transfer
Easy to install and operate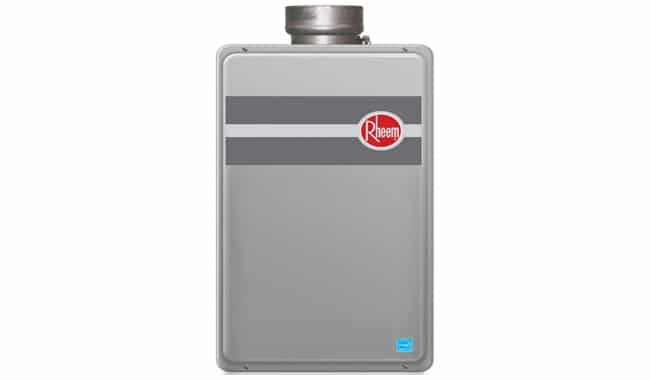 The Rheem RTG-95DVLN 9.5 GPM is one of the most reliable products in the market. When it comes to performance and resilience, this product ranks very highly. The technology used in the preparation of the heater lets it withstand freezing temperatures and save it from freezing equally to a temperature of -34 degrees Celsius.
The heater requires minimal maintenance and is easy to set up. It lets you insert multiple anode rods; thus, you can principally prolong the life of the boiler by two times, which is a fabulous attribute. The boiler also does not require a tank and functions on natural gas producing up to 9.5 gallons of water per minute.
It comes with a controller, which people call the heart of the boiler. The controller is of steel, so it is pretty durable. The heater boosts 94 per cent energy efficiency, and it achieves this due to its smart technical switches. This appliance furthermore features a heat exchanger that is prepared with brilliant material like stainless steel.
The Rheem RTG-95DVLN 9.5 GPM has an aperture structure with dual pipes and is premeditated to get rid of the excessive problem of overheating. This device presents you with an option of choosing among condensing and non-condensing heaters along with multiple tank sizes.
Key Features:
94% energy efficiency
Display for regulation
Durable heat exchanger
Easy to maintain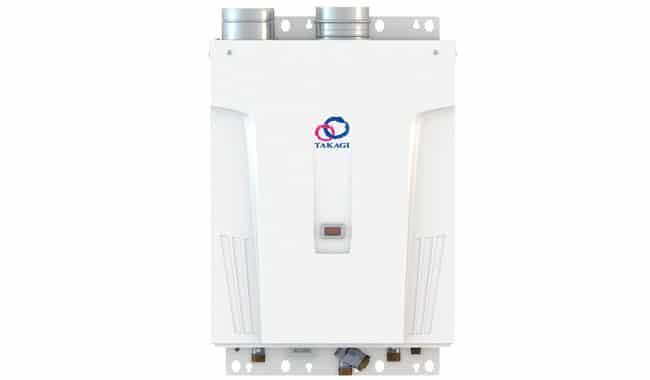 The Takagi T-H2-DV Direct vent is an exceptional device. It operates on gas with an input of 199,000 BTU as well as a liquid; the boiler consists of 92% efficiency with natural gas and 95% efficiency with propane, which is excellent for a boiler of its capacity. It has a beautiful and attractive design that will look great in any house. The boiler is also pretty easy to install and use.
The flow rate of Takagi T-H2-DV Direct vent can vary depending upon the temperature condition of the area that you install it. If the temperature of the groundwater is 60 degrees Fahrenheit along with the output set on 120 degrees Fahrenheit, then the device will deliver a flow rate of 366Gph or 6.1 Gpm. In other parts where the temperature for input might be 40 degrees Fahrenheit or lesser than that, a flow rate of 276 or 4.6 Gpm can be expected. Just like a kettle for hard water the boiler will function depending upon the requirements and need.
The boiler uses two heat exchangers to make the most of the energy efficiency of the unit producing higher efficiency than most of the products available in the market currently. The heater can deliver as a minimum Three Showers Rate of Water Concurrently Accompanied by Single Appliance at Input Temperature of 60 degrees Fahrenheit or More. This model easily intergrates into a hotpoint washing machine.
Key Features:
Can be used with natural gas and propane
Attractive and durable design
Uses two heat exchangers
Integral flow rate, temperature, and analytic display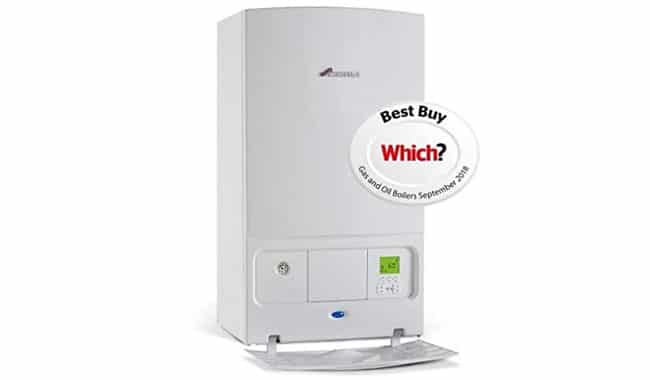 The Worcester 25i Combi Boiler is one of the best products available out there currently.  It is because they're resourceful, consistent, and suggested by most of the installers. One of the most noticeable things is that they are available with a ten-year warranty.
When we talk about Worcester's efficiency, it can vary depending upon their maximum output. When they are operating nearly flat out, they manage to produce an efficiency of 87.7%, which can increase up to 99.4% when functioning at almost 30% of their final output, which is excellent for a boiler.
Though the Worcester 25i Combi Boiler is not the most heavy-duty product to look after a big home that other models cover, it ideally suits smaller houses and flats with 1-3 bedrooms. It consists of a High energy-related product rating of up to 93% along with a compact and lightweight design.
There are several essential features that it has, which sets it apart from other devices in the market. It consists of a central heating output of up to 24 kW, a flow rate equal to 10.2 litres per minute, and an internal output for hot water of 25kW, producing efficient heating and a hot water experience that you'd never forget. Apart from the unit all, you would need is a Coffee pod machine to make sure you enjoy those cold snowy days. Check out some more great Worcester products in our review of the the best oil filled radiators.
Key Features:
High energy efficiency
Excellent for smaller houses and flats
A high flow rate of 10.2 litres per minute
Excellent performance and durability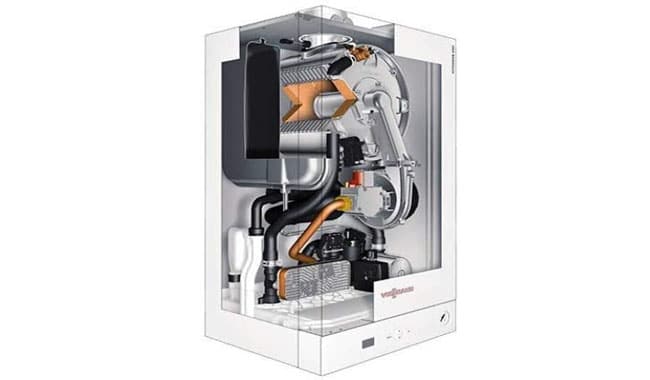 The Viessmann BPJD030 is a robust yet high-performance device. It has a compact design that can easily be wall-mounted, which means that it is intended to save as much space as it possibly can. The boiler also has a pretty low level of noise production. It is something that most of the customers don't like listening to a boiler.
The device is an astounding choice if you intend to replace your old unit, and since it is a combination boiler, it will provide you with both hot water and internal heating. In terms of efficiency, it possesses an A rating. It is also environment friendly and ensures a lower CO2 emission level.
The Viessmann operates on natural gas. It compromises a heat exchanger and cylinder burner that is prepared from stainless steel to ensure that it does not rust away in winter, making it one of the most durable products out there. Another useful benefit of having this boiler is that it is effortless to operate, and you can also order a remote controller with it if you want more stress-free operation. The Viessmann BPJD030 is delivered with a heating output of 29kW.
Key Features:
Compact size and low noise level
Efficient and competent device
Easy maintenance
Cylinder burner and heat exchanger prepared with stainless steel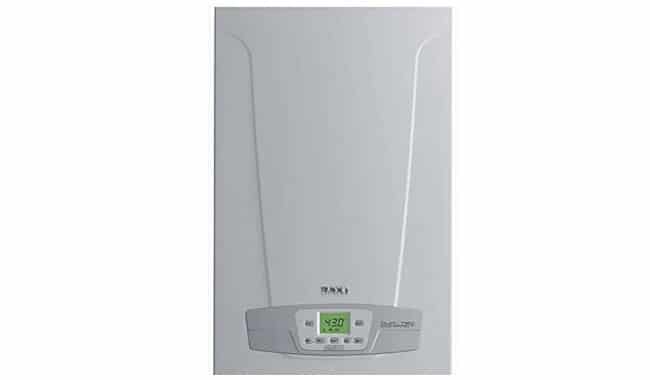 The Boiler Baxi Duo-tec Plus might not be the most premium product, but it is one that delivers outstanding performance with resilience. The Duo-tech plus is ideal for small to medium-size houses, and it is somewhat an affordable option when you compare it to some other choices.
It ensures up to 40kW, producing up to 16.4 litres per minute hot water, which is an excellent performance for running hot water. Similar to a thermos flask the boiler can keep the water hot for quite some time.  When it comes to the efficiency of the units, they have A-rating for both internal heating and running hot water, so you have not much to worry about during those cold winter days.
It can operate on Methane pretty efficiently and comes with a ten-year warranty, so you can expect it to last pretty long. There is a small display located at its top to control the unit, which is a handy feature.
Key Features:
Affordable price
Display for regulation
4 litres per minute hot water
Ten-year warranty
Sources:
Nicole has a passion for everything about the home – especially decor. She loves to add new touches and style to every part of the house. Join her as she documents her ideas at Home & Style.