Last Updated on February 15, 2022
Our editors independently research the best products online to produce this list. We may receive commission on purchases made from the links below but this will never affect our product choices.
---
Top 10 Best Coffee Pod Machines
Want to bring your favourite coffee shop at home and move away from that tired old jar of instant coffee? The best coffee pod machine UK stores have on offer could make that a reality for you. Now you can get the perfect cup at the press of a button, without leaving the comfort of your home! The best coffee pod machines are much less expensive than bean to cup coffee machines, and the drinks they make are consistent and a joy to drink. The device will often pay for itself once you start replacing your daily shop-bought coffee for a homemade one!
The vast array of choices of drink that you have with a pod machine is one of its key selling points; you never need to stick with an americano again. There are as many as 70 different drinks available from the leading retailers, and they are all easily purchased online or at the local supermarket.
Another fantastic selling point about coffee pod machines is how easy they are to use and low maintenance too! The coffee grounds are contained within the pod, so a simple wipe down is all you need to do to keep your machine in good working order!
Although their impact on the environment has been a concern to some, coffee companies are making great inroads in recycling and using compostable materials in the pods to move away from single-use plastic.
So take a look through our top ten reviews and buyer's guide to find the best pod coffee machine for you!
How We Compared Coffee Pod Machines
To find the right coffee pod machines we considered multiple factors including:
Capacity
Environmental Credentials
Features
Our team independently examined and compared hundreds of products to help satisfy different needs. We spent our time researching coffee pod machines and consulting customer reviews to ultimately bring you what, in our opinion, are the best options on the market right now.
To find out more about our editorial process, take a look here.
Coffee Pod Machine Reviews
This compact but stylish coffee pod machine has so much going for it that we have awarded it our editor's choice title. It has a 700 ml water tank that can be filled straight from the tap. It is small and won't use up much space on your kitchen worktop, and it also looks sleek in black.
The main selling point of this best coffee pod machine is just how simple it is to use. With just one press of a button, the machine reads the bar code on the T-Disc and then, using patented 'Intellibrew' technology, it calculates the brewing time, amount of water and temperature required to make that perfect cup of coffee! Once the coffee has been made, the machine automatically cleans itself using a blast of steam, and you are then ready for the next drink without any transfer of taste.
The coffee machine has an adjustable drink stand, so you can place your favourite mug, whatever its size, onto the stand, and it will fit. Additionally, all of the removable parts from this machine are dishwasher safe, and it has no heating-up time, so you will not be left waiting for it to get to the right temperature! It also comes with a 2-year manufacturer's warranty!
One thing to consider with this machine is that its water tank may only make two good-sized cups of coffee before it needs to be refilled.
Pros:
Very simple to use
No heating-up time
Adjustable cup stand
Two-year warranty
One-touch operation
Cons:
Poor instructions
700 ml water tank may not be sufficient for more than two cups of coffee
The lid where you place the pod may be stiff to use
This coffee pod machine from Nescafe DeLonghi has 15 bar pressure for professional coffee with a thick crema when made. It is stylish and compact and comes in black and arctic grey colours.
For a small machine, it has a 0.8 l tank, which is larger than some other pod machines in this review. The cup tray is adjustable to accommodate whatever style mug or cup you like to drink your coffee from. Additionally, once the pod is inserted and you have clicked to go, you do not have to stop the water at a certain point as it is done automatically, ensuring the perfect cup every time.
The DeLonghi Dolce Gusto Mini Me also has an eco mode, meaning it switches off after 5 minutes of inactivity, resulting in the machine having an energy efficiency rating of A. In addition, over 40 variety of drinks are available for this machine, so you will be able to find the perfect one for you without a doubt!
You will find the water tank at the back of the machine, so bear this in mind when you decide where this machine could go in the kitchen. For example, if there are cupboards above where you are placing the machine, you may find yourself pulling it out to refill the tank.
Pros:
Eco-mode
Automatic stop
15 bar pump pressure
Compact and stylish
Adjustable drink tray
Cons:
It may be noisy when in use
It may vibrate considerably
The water tank may be difficult to remove and requires access to the back of the machine
The DeLonghi Nescafe Dolce Gusto Piccolo XS comes in a small package but has great features to offer. The water tank is 0.8 litres, perfect for two cups of coffee before it needs to be refilled.
It also has a manual setting to change it from making hot to cold drinks so that you can enjoy a real range of drinks, perfect for all seasons! In addition, the capsule machine is compatible with up to 50 different options of drinks, so you can try anything from a latte macchiato to a hot chocolate with it.
The machine also has an eco mode which switches it off after 1 minute, saving energy and giving it an energy rating of A. Additionally, the device has a maximum bar pressure of 15, so you get the rich and creamy coffees you associate with your favourite coffee shop.
A couple of things to note with this pod machine are that you need to wait till the green light comes on when making a hot drink, and it does not automatically stop pouring, so you need to stop it at the right point for you.
Pros:
Very compact
Hot and cold drink option
Energy efficient
15 bar pressure
Adjustable drip tray for different sized cups
Cons:
It does not automatically stop pouring
Heat up time for hot drinks
The coffee may not get hot enough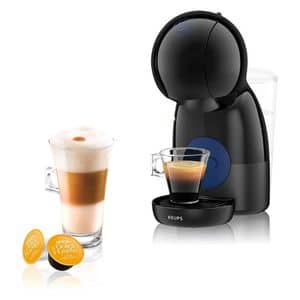 This really is a slimline pod machine, at only 14 cm wide, if you are short on space in your kitchen or if it is only you in your household who likes a good cup of coffee. It has a water tank capacity of 0.8 litres which is standard among other coffee machines in this review. Additionally, it can operate at 15 bar pressure which results in velvety smooth coffees.
There is a small leaver on the pod machine which can change it from hot to cold drinks, and it is compatible with over 50 varieties of coffee pods. It also has an eco-mode that switches the machine off after 1 minute of inactivity, getting its A rating for energy efficiency.
The machine does not automatically stop pouring water at a certain point, which is either a positive or a negative, depending on how much control you like to have when making your coffee. You just need to ensure that you stay by the coffee machine until the drink is poured to your liking.
Pros:
Very slimline
Standard size water tank
Hot or cold beverages
15 bar pressure
Eco-mode
Cons:
You may need to remove the drip tray for larger cups to fit underneath
It may come with a red power lead
It may be noisy when in use
The Pukkr Portable Espresso Maker gives you 2-in-1 value as it is excellent for both coffee pods and ground coffee. It is designed for coffee lovers who want to be in control of their coffee, despite being out and about. Lightweight and portable, it can fit in a bag or backpack without any trouble at all, and it comes with a drawstring carrying pouch and a measuring scoop for grounds. It will take your coffee from the ordinary experience of instant in a travel mug to a fresh and robust espresso on the move!
The handy machine is heat resistant and covered in non-slip silicone for easy handling. Additionally, it creates a rich and creamy coffee, thanks to its 7-8 bar pressure which is impressive in a non-electric appliance! It is also easy to switch between coffee grounds and Nespresso pods; you simply remove the filter and insert a coffee pod into the correct chamber.
Both types of filters are included when you buy the espresso maker, and once you have decided between ground coffee or a pod, you simply pour your heated water into the water chamber and then unlock and use the pump until you have your perfect espresso!
This coffee maker can be cleaned quickly by taking it apart and gives you great flexibility. It also comes with a 2-year guarantee.
Pros:
Suitable for ground coffee and Nespresso pods
Portable and lightweight
2-year guarantee
Heat resistant
7-8 bar pressure
Cons:
May not pierce the pods, and foil film may need to be peeled off
Instructions may not be clear
It may not be hot
The DeLonghi Jovia coffee capsule machine has an 0.8-litre water tank which you can easily remove and refill at the tap. Its drip tray is adjustable so that you can fit a tall latte glass into a small espresso cup with ease. Additionally, it is also dishwasher safe, and it can be easily cleaned when removed from the machine.
There is also a manual and hot and cold drink switch, and you control exactly how much coffee you want by stopping the flow rather than it being automatic. You just need not be distracted by another task and forget to stop the flow; otherwise, you will end up with a very long coffee.
The coffee machine makes coffees at 15 bars of pressure, which gives your drinks the thick crema that you experience in a coffee shop, and there are more than 40 drink options that are compatible with this machine. Finally, it comes with a 2-year guarantee for peace of mind.
Pros:
Adjustable tray height
15 bars of pressure
Hot and cold option
40 compatible coffee options
Two-year guarantee
Cons:
It does not automatically stop pouring
Instructions may not be very clear
The water tank may be difficult to remove
The design of the Oblo pod coffee machine is a standout and will be the talking point of your kitchen if you make a purchase! The black and grey colouring is sleek and classy, and the circle design where you place the mug or cup makes it so different from other best pod coffee machines on the market.
It can pump pressure up to 15 bars for coffee-shop quality and has more than 30 varieties of hot and cold drinks to choose from. The water tank capacity is 0.8 litres, it is easy to use and clean, and it comes with a 2-year guarantee. Additionally, this coffee machine has an eco-mode that shuts the machine down after 5 minutes of inactivity and has an energy efficiency rating of A.
There are a couple of things to be mindful of when considering this coffee machine. The first is that the pods need to be removed straight away since leaving them in can block the nozzle and stop the coffee from being pumped through. The second is that it is not an automatic machine and therefore you have to stop the coffee flow when you are happy with your drink.
Pros:
30 varieties of hot and cold drinks
Easy to operate
Two-year guarantee
Contemporary design
Eco-mode
Cons:
It may not make sufficiently hot coffee
Does not have an automatic stop for the coffee volume
The instructions may not be comprehensive
This pod coffee machine is one of the slimmest in our review at only 15 cm wide, therefore perfect if space is at a premium in your kitchen! It also has an innovative design, setting it apart from its competitors. But looks aren't the only thing that this coffee machine has to offer. For example, it has a water tank with a 1.2-litre capacity, which is larger than other coffee machines in this review.
The drip tray is adjustable on this machine if you like milk-based drinks in tall glasses rather than a shot of double espresso. The pod machine also delivers coffee at 15 bars pressure, so it is velvety and rich, just like you've purchased a coffee from your favourite coffee shop!
The pod coffee machine is easy to use and has the option of a hot or cold drink. You simply insert your coffee capsule and set it to go, remembering to stop it when your drink has reached the perfect volume, as it is not automatic.
Finally, this machine has an A rating in energy consumption and comes with an eco-mode that will switch off the machine after 5 minutes of inactivity.
Pros:
A large water tank of 1.2 litres
Innovative design
Slimline
Adjustable tray height
Energy efficient
Cons:
It may be noisy when in use
Water may leak when the tank is being refilled
It may not have a long lifespan
This capsule coffee machine by Krups has several nice functionality touches, from adjustable temperature and size settings to an espresso boost as well! This gives you a great compromise between an extremely easy-to-use machine but also the flexibility to be involved in making a perfect cup of coffee tailored to your individual tastes!
The coffee machine has a 0.8-litre water tank which is pretty standard among those we have reviewed and should make two cups of coffee before it needs refilling. It has a very compact design, so it is perfect for a small worktop area but can still produce coffee with 15 bars of pressure, giving you a creamy equivalent finish to getting your coffee from a coffee shop.
An eco mode will switch off the coffee machine after 1 minute of inactivity, saving you electricity and keeping those bills down!
Pros:
Espresso boost
Temperature is adjustable
Eco-mode
Compact design
The size of the drink is adjustable
Cons:
Reports of coffee tasting of plastic
May not fit glass latte glasses underneath
It comes with a red power lead
The Genio S coffee machine gives a great level of functionality and involvement in your coffee making. You can adjust both the temperature of your coffee and the size of your drink by simply pressing a button. So if you are making a drink on the go, you can make it extra hot so that it retains its temperature for when you can drink it. Or, if you are in a rush in the morning and don't want a scalding hot coffee, you can lower the temperature slightly and still enjoy the fresh taste of the coffee.
The coffee machine also has a cold drink function and is compatible with over 50 coffee options. It can also produce coffees at high pressure, up to 15 bars, giving you the rich and delicious finish to your crema.
The capsule coffee machine will turn itself after 1 minute of inactivity, saving you electricity, and it also has an alert to let you know when it requires descaling.
Keep in mind is that it is important to remove the pods from the machine straight after use as they are hard to remove once they have started to swell from the addition of water.
Pros:
Temperature adjustment
Cold drink option
One-minute switch-off function
Size is adjustable
15 bar pressure
Cons:
There may not be supporting information as to what the size and temperature lines equate to
Pods may easily become stuck
You may have to remove the tray to fit a large mug or glass
Buyer's Guide
The common feature of all coffee machines in our review is that they take a coffee pod rather than coffee beans or ground coffee, but that is where things begin to branch out, and capsule coffee makers have different features and functions to offer.
To help you navigate the coffee machines on the market, we have created a top ten guide and listed some considerations below to help you find the right pod machine for you:
Capacity
The shape and design of the coffee pod machine often impact how big the water tank is. The very compact ones will not often have a water capacity of more than 0.8 litres, which is only sufficient for two cups of coffee before it needs to be refilled. However, some espresso machines have a bigger capacity: for example, the DeLonghi Nescafé Dolce Gusto Infinissima has a 1.2-litre water tank and is suitable for a larger household of coffee drinkers or for in the office.
Environmental credentials
There are two things that we wanted to talk about under this heading.
The first is about the types of pods that the machines can use. Most coffee machines either work with compostable pods or are part of a pod recycling scheme where the pods can be collected from your street in some cases or be left at drop off points for recycling collection. However, there are a few coffee capsule machines to keep an eye out for that don't offer recyclable pods.
The other key feature to look out for if you want to improve your environmental credentials and enjoy a great cup of coffee is whether the coffee pod machine has an eco mode that switches the machine off after a period of inactivity, normally after either 1 or 5 minutes.
Features
The variety of coffee pods accepted by the coffee machine you are reviewing is important, as you want to know that you can make your favourite brand of coffee once you have made the purchase!
Manufacturers have started producing cold drink options like iced coffee or cappuccino ice, so if you like these drinks, look out for a coffee pod machine with a cold drink option.
Most of the best capsule coffee machines are deliberately easy to use with minimal input from you as the user, but some offer the option to adjust the temperature, size and even the strength of your drink. Adjusting the size gives you the option to take a large coffee out with you in a flask or reusable mug while having a standard size when relaxing at home.
Or perhaps you have limited time in the morning and can't wait for your coffee to cool before you can gulp it down; well, then you can choose a slightly cooler coffee and save the hotter setting for when you have more time on your hands to sit and enjoy your coffee.
A capsule coffee machine with an adjustable tray is also a must-have to fit your favourite latte glass or large mug beneath the spout.
Finally, it's a subject that divides shoppers as to whether this is a positive or negative feature, but some coffee pod machines are automatic and measure out the amount of water to make the chosen drink, whereas others do not have this stop feature and will keep pouring if you let it, long after the coffee has been released.
Having control over how big your coffee is is important to some people, and they prefer to be able to measure it out themselves. Others prefer to remove the judgement and let the machine do the making while they are busy with something else. The choice is yours, and there are both types of machines in our review!
Conclusion
Hopefully, this review has been helpful in providing insight into the product features on offer for the best coffee pod machine in the UK and providing information and guidance on what to look for to buy the right model for you.
Our aim is that you'll have been able to find a machine that makes wonderful coffee from coffee pods that is far superior to instant coffee and that ticks all the right boxes for you. However, if you're still struggling to choose one that suits your needs, you can try our Editor's Choice – the Bosch Tassimo Vivy 2.
It's straightforward to use as you simply press a button, and the coffee machine reads the bar code on the coffee pods and does the rest for you! It also automatically cleans itself after each drink, so you can drink a hot chocolate and then move to a coffee capsule and never know from the taste.
Additionally, the coffee machine has an adjustable water tray so you can make your coffee in your favourite large mug, tall latte glass or espresso cup. The water tank is to the side of the coffee machine, making it easy to remove for refilling. Many of the other pod coffee machines on the market have their tank at the back of the machine, which is more inconvenient to access.
With no heating-up time and all parts being dishwasher safe, this is a smart coffee capsule machine at a great price!
Enjoy your great coffee!
Additional Resources
Nicole has a passion for everything about the home – especially decor. She loves to add new touches and style to every part of the house. Join her as she documents her ideas at Home & Style.