Last Updated on February 16, 2022
Our editors independently research the best products online to produce this list. We may receive commission on purchases made from the links below but this will never affect our product choices.
---
Our Favourites
Bosch PHG 600-3 Heat Gun (Editor's Choice)
Wagner Furno 750 Heat Gun (Luxury Choice)
Tacklife HGP72AC Heat Gun (Best Value)
Heat guns are widely used in all household and offices in and around the UK. From stripping paint, changing flexibility, drying things, to removing dents, shrink wrappings, molding skates, tinting windows, and many more never-ending possibilities, we need the heat gun regularly. The heat gun works on the principle of discharging heat at quite high temperatures to affect the thermodynamics and thermal processing of different materials. This versatile tool has quickly become a must-have item in almost all UK homes and for engineering and DIY hobbyists.
Finding the right heat gun for your unique needs and requirements may seem like a daunting task. There are lots of brands of differing sizes and shapes. They each have simple mechanisms but with different features. With so many options available in the market, making the right selection will seem impossible at first. However, with a little research and budgeting, you will be able to find one that's perfect for you.
How does the Heat Gun work?
The heat is produced when the fan draws the air in and passes it over the heating elements. This generated heat is then sent out through a nozzle and on to the object or work that is being done. The temperatures are much higher than regular heaters and can instantly melt or dissolve objects.
Heat guns should ideally be used at an angle of 45-degrees for the object being worked upon. Blisters, bubbles, and droplets should be scraped away with the help of a scraper.
When using the heat gun, it is very important to observe all safety norms and regulations, so please remember to wear gloves and protective eye covers.
How we Compared Heat Guns
To find the right heat guns we considered multiple factors, including:
Heat output
Power
Design
Ease of use
Energy consumption
Attachments
Our team independently examined and compared hundreds of products to help satisfy different needs. We spent our time researching heat guns and consulting customer reviews to ultimately bring you what, in our opinion, are the best options on the market right now.
To find out more about our editorial process, take a look here.
Best Heat Gun Reviews – Top 10 Picks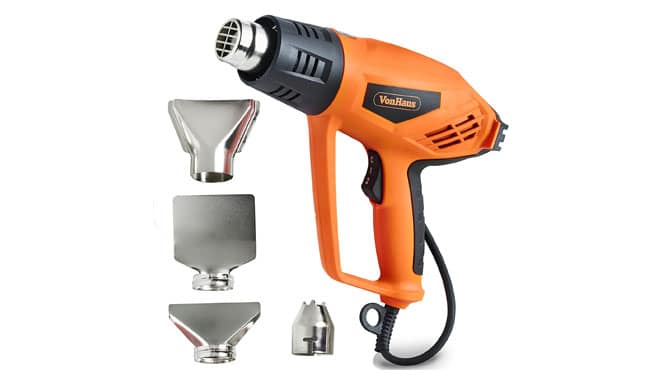 VonHaus is known for their superior quality tools and is fantastic for jobs around the house like varnish and paint removal, loosening rusted bolts, bending plastics, loosening adhesives, thawing frozen pipes, decorating, and sometimes, even melting frozen foods! Extremely safe to use, this heat gun from VonHaus heats up very quickly and doesn't make any noise. The air vents are located strategically to ensure there is no buildup of paint or dust.
This tool comes with 4 sets of accessories – glass protection nozzle for painted wooden frames, air spreader nozzle, reflector nozzle for bending plastics or thawing frozen objects, and a concentrator nozzle for crevices. It has 2 heat settings – 350 and 550 degrees Celsius, and a safety auto-shut option for when the heat gun gets too close to the objects.
Key Features:
4 accessories
Strategically located air vents
Heats very quickly
With a built-in stand for handsfree usage, this heat gun from Black and Decker has already won so many hearts. The inbuilt stand works excellent not only for handsfree working but also to instantly cool the heat gun down. This heat gun from Back and Decker has two heat settings – 460 and 600 degree Celsius. Depending on the usage, you can select which of the two parameters is ideal for your need and requirement.
The Black and Decker KX1650-GB Heat Gun with 1750 W also features two heat and airflow settings for excellent control during usage. This variant from Black and Decker comes with a 2-meter cord for ease of moving around.  Not very heavy at approximately 360 gm, this tool can be stowed and transported very easily. For other great tools see our guide on the best pillar drills.
Key Features:
Variable heat settings
2-meter cord
Inbuilt stand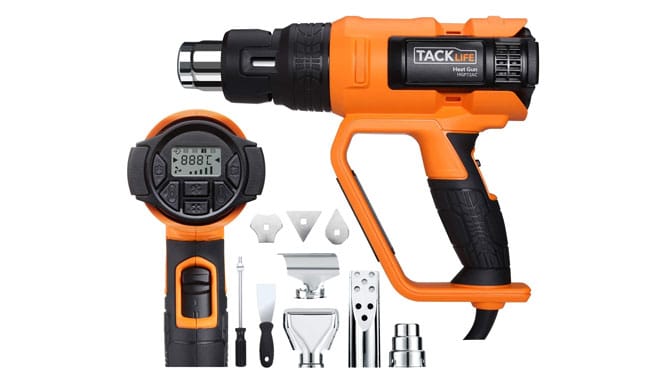 An excellent heat gun at an extremely affordable price, the Tacklife HGP72AC is a perfect buy. This heat gun comes with a lot of additional accessories like a scraper, 2 scraper blades, a fishtail nozzle, reflector nozzle, protective mouthpiece, concentrator nozzle, and charcoal lighter for fireplaces and barbeques. You can peel paint, bend and mold plastics, weld pipes, shrink PVC, soften putty, ignite coal, separate glued objects, and many more with this heat gun from Tacklife.
With 200 Watts of power, the heat produced is between 50 and 650 degrees. It also has a large LCD screen to show you the current heat temperature. Digital controls are added to give you a fantastic heat gun experience with 4 memory settings. For other great tool guide see our picks for planar thicknessers.
Key Features:
LCD screen
Digital controls
Heat temperature between 50 and 650 degrees
The Heat Gun from Aikou has a low of broad applications for DIY and home use. It is ideal for thawing water from pipes, loosening rusted or seized nuts, softening and removing adhesives, drying new coats of filler, and stripping paint amongst other uses. To use, you can rotate the rear cover to adjust the temperature to an ideal one. You can also customize the speed of the air and the heat. This model from Aikou has a turbo structure to help control the air flows.
The temperature range for this variant is between 50 to 600 degree Celsius. With 1800 W power, this heat gun from Aikou has a double heating wire that helps it heat in lesser time. It also comes with an anti-burn design for safety and protection.
Key Features:
Temperature range from 50 to 600 degree Celsius
Anti-burn design
Multiple applications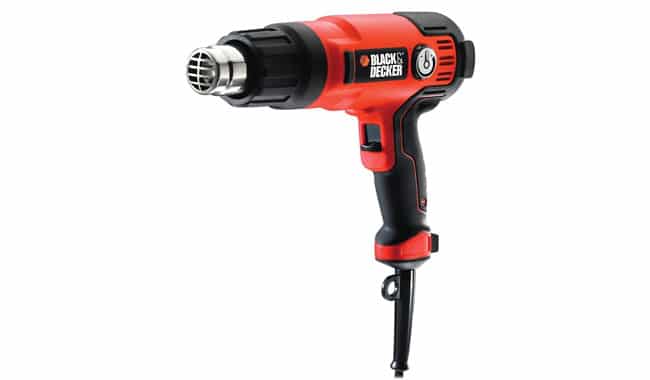 This 2-speed gun from Black and Decker honestly beats its own low range variant. The high performance in this gun will give you options to remove touch coats of paint, varnish and dry fresh coats of filler. It has a highly durable 2000 W motor and is fantastic for tough DIY jobs at home and in the office. This heat gun features auto-off options like many of the models in this list. The heating auto-off is a safety feature to shut down the heating element in case the thermostat detects that the gun is getting too hot.
Once cooled, this lightweight heat gun it will continue running as before. This heat gun from Black and Decker also has a 3-meter rubber cable to ensure that you reach higher areas without needing an extension wire.
Key Features:
2-speed heat gun
Compact and lightweight
3-meter rubber cable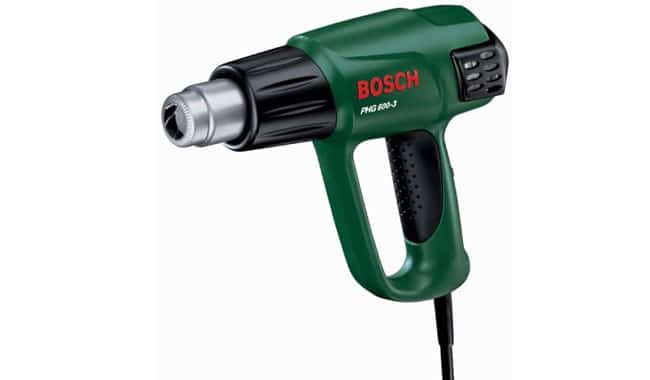 The Bosch Heat Gun lives up to the brand value by offering a 3-year warranty. With a corded battery and electric drive, this heat gun from Bosch is ideal for de-icing locks, welding plastic, stripping paint, soldering metals, and bending pipes. The Bosch comes with an advanced thermostop warning to prevent injuries and accidents from occurring in the case of an overheating condition. The cut off thermostop stop the heat gun from getting too close to the workpiece and producing more heat.
As soon as the temperature cools down, the heat gun will automatically start up again. This dramatically reduces the risk of fire and accidents. This variant from Bosch also comes with its own stand for cooling.
Key Features:
3-year warranty
Thermostop feature
Stand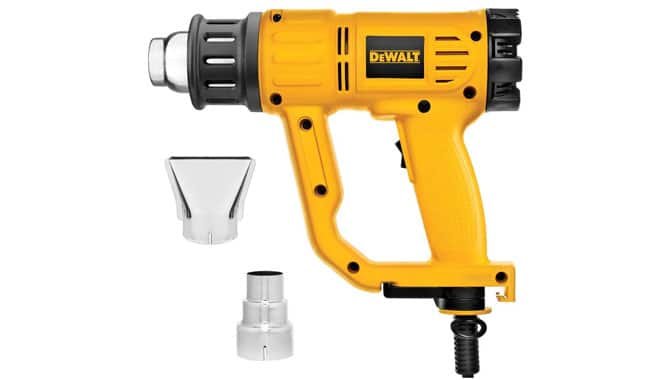 The Dewalt 1800W Heat Gun is one of the best in the market today. Readily available through retail or online ordering, this heat gun is slightly expensive, but with high-performance capabilities. It has an oversized dial for superior heat adjustment, and the handle is ergonomically designed for the use of hand gloves during operations. This variant in the heat guns from Dewalt also comes with a stand for handsfree usage.
It also features superior quality overheat protection. Many tools stand the risk of overheating and burning themselves and their users. With the overheat protection, the Dewalt ensures a spectacular safety function at no additional cost. Extremely versatile, this heat gun should definitely be on your shortlist. For great garden tools see our guide on pruning saws.
Key Features:
Stand for handsfree usage
Overheat protection
Large Dial
The Steinel is a superior quality heat gun with a three-stage ventilation system to dissipate additional energy. Without compromising on the quality and efficiency, this heat gun from Steinel helps protect the user while also protecting the components within. The air can be adjusted in 3 stages according to air-heat temperatures. With an ergonomically designed handle, this lightweight heat gun is ideal for DIY jobs around the house and in offices. It can also be used with one hand while simultaneously working with the other.
You can use the Steinel Heat Gun for applications like defrosting, soldering, paint removal, shrinking cable sleeves, forming, bending plastics, welding and removing sheeting, and so on. The weight of the Steinel is balanced for optimum use.
Key Features:
3 stage ventilation system
Lightweight can be used with one hand
Multiple applications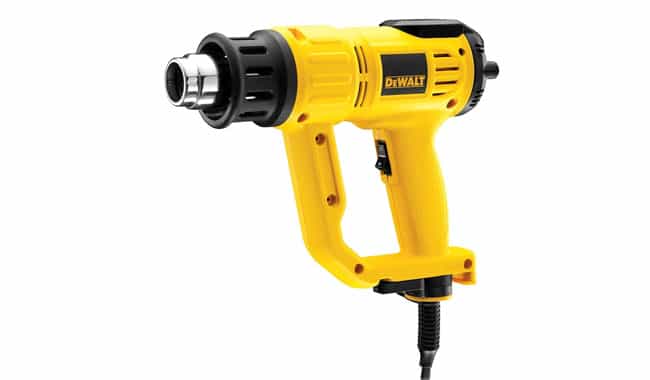 Lightweight and compact, the Dewalt LCD Premium Heat Gun is a valuable addition to all households. With extremely comfortable handling, this gun also comes with an LCD screen to display heat temperatures of the gun during heating, operation, and cooling. The variant from Dewalt comes with a memory setting and temperature controls for different types of jobs.
The temperature range is between 50 degrees to 600 degrees, and this little compact machine can produce fantastic results. With a push button, it is possible to increase or decrease the heating temperature in short increments of 10 degrees. When switched off, the memory last stored is the default that is selected upon restart. This Dewalt LCD Premium Heat Gun has 2 airflow options and is capable of freezing adhesives and soldering. For some great garden tools see our guide on lawn scarifiers.
Key Features:
Temperature range between 50 to 600 degrees
Lightweight and easy to handle
Digital LCD screen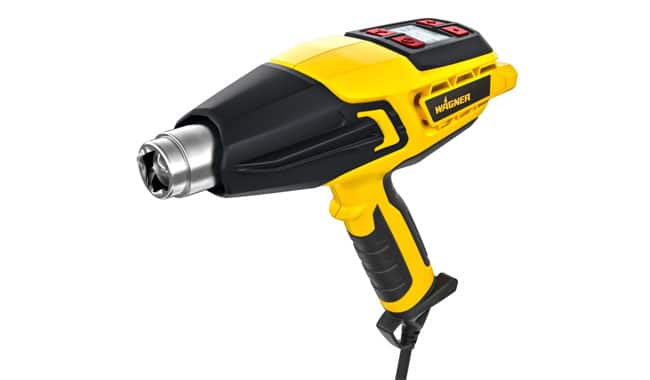 The Wagner Furno is an incredibly powerful heat gun that can be compared to commercial grade guns. This heat gun almost falls into the professional category, and people who enjoy using heat guns for odd jobs will find this model to be a treat. With this, you can strip paint, defrost skis, remove vinyl tiles, shrink the wrapping, light the barbeque, bend plastic, and still have many more applications.
Rated at 2000 W power, this heat gun from Wagner ranges between 50 to 650 degrees Celsius and has 6-speed settings for convenience. It also has a clear digital display at the top and 4 switches to control the airspeed and heat adjustment in 10-degree increments. The handle can also double up as a hands-free holder for the gun. This variant comes with 5 other accessories.
Key Features:
6-speed settings
5 accessories
Digital display screen
Nicole has a passion for everything about the home – especially decor. She loves to add new touches and style to every part of the house. Join her as she documents her ideas at Home & Style.