Last Updated on February 17, 2022
Our editors independently research the best products online to produce this list. We may receive commission on purchases made from the links below but this will never affect our product choices.
---
Our Favourites
Belling Cookcentre 100G Gas Range Cooker (Editor's Choice)
Bertazzoni MAS110-5I-MFE-T-TCRE 110cm Electric Range Cooker (Luxury Choice)
Teknik TKRC100S 100cm Dual Fuel Range Cooker (Best Value)
Are you looking around for a new oven? You can consider buying a range cooker. A range cooker is perfect for cooking. The cooker combines an oven and a hob. It allows you to prepare different meals at the same time. Range cookers offer you adequate cooking space, and you can do all the cooking in a single location, making it ideal for small kitchens too. It also has storage compartments, and the oven is bigger than what you will find in an integrated oven.
A range cooker vents through the rear, so cooking odours and steam are extracted through the cooker hood without difficulty. Importantly, this also implies that you don't have to start looking for the best extractor fan on the market. A range cooker also gives your kitchen that fascinating look every modern kitchen should have. We selected different brands of the best range cookers for you. You will bring your kitchen alive by choosing one of the cookers below.
How we Compared Range Cookers
To find the right range cookers we considered multiple factors, including:
Dimensions
Material
Number of heating elements
Energy consumption
Oven capacity
Our team independently examined and compared hundreds of products to help satisfy different needs. We spent our time researching range cookers and consulting customer reviews to ultimately bring you what, in our opinion, are the best options on the market right now.
To find out more about our editorial process, take a look here.
Best Range Cooker Reviews – Top 10 Picks
The Montpellier 60cm Mini Range Cooker has a lot of advantages over any conventional cooker you see out there. Despite its size, it prepares great meals without wasting time. The cooker has an auto-ignition and rotary function, which makes it easy for you to control your cooking. This cooker has two ovens, the main and the top gas oven. The main gas oven has a programmable timer, so you can have a little chat with your guests in the living room while you prepare them something to eat.
Additionally, there are four hobs with cast-iron pan supports. One of these is a wok burner that allows you to make dishes such as stir-fries within a short time, you can blend the food in a blender and put it inside the wok. It also helps you savor the authentic taste of Asian cuisine,  which you can't get from an ordinary hob.
Key Features:
Four gas burners including wok burner
Rotary controls
Cast-iron pan supports
Top gas oven and main gas oven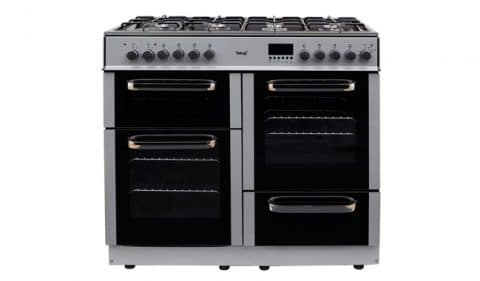 The Teknik TKRC100S 100cm Dual Fuel Range Cooker is a great cooker with fantastic features you won't normally find in this price range. The cooker has a gorgeous silver finish that will enhance the beauty of your kitchen. It has eight burner gas hobs and full flame failure protection, so you don't have to worry about the safety of your kitchen. The product also features a separate electric grill with a temperature control knob that allows you to grill your meat properly. You can as well use a panini press to grill your meat quickly.
Besides, the range cooker provides you with enough space to cook different food at the same time. With this cooker, you can prepare amazing meals for everyone within a short time. The two ovens, each with a capacity of 48L, are amazing too. One is a static oven while the other is a fan oven. You can bake some meat pie for your family even if you are not a professional baker since the oven will bake it to a sumptuous taste. Plus, the cooker is of reasonable height, which makes it convenient to use.
Key Features:
Eight burner gas hobs
Flame failure device (FFD)
Electric and gas power options
Two-year warranty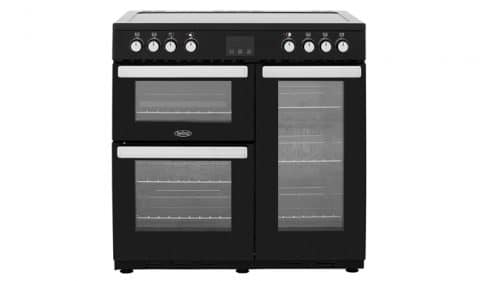 The Belling Cookcentre 90E Electric Ceramic Range Cooker is environmentally friendly and cost-effective. 
This electric range cooker has three cavities, which give you enough space to prepare delicious meals. There is a separate grill cavity in the upper left where you grill meat to your satisfaction. The product also features two ovens; the main fan oven in the lower left and a tall fan oven on the right. The main oven has an electric fan, which helps to cool the cavity so that your food will cook evenly without burning.
The slow cook function in both ovens ensures that your food imbibes enough spice so you can enjoy every bite of your food. The range cooker has ample space where you can prepare your condiment, cook different food at once, and cater for bigger groups of people. This cooker promises to satisfy your culinary needs anytime. You can cook more and worry less about cleaning the cooker. The easy-clean enamel interior is available.
Key Features:
Five zone ceramic hob
Slow cook function in both ovens
Easy clean enamel interiors
Excellent energy rating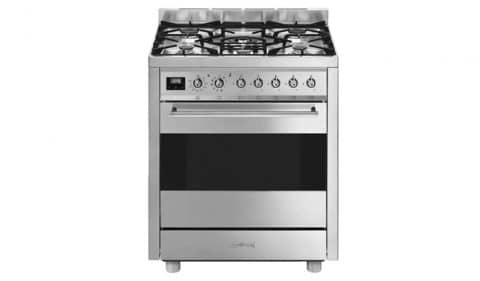 The Smeg C7GPX9 Dual Fuel Range Cooker is uniquely designed to serve you well and prepare great meals. This cooker features five burners and five different cooking levels. Hence you can cook at ease and control your cooking for different types of food.
Additional features of this excellent product include automatic electronic ignition, an excellent cooling system, and a closed-door grilling. You can also convert it into an LPG-powered cooker. All these allow you to cook with ease.
Moreover, the product also features an easy-clean enamel interior, so you don't have to go through the stress of cleaning it when you are through with cooking. Its pyrolytic cleaning function is also a relief. The cooker has different cooking items all in one appliance. These items include chrome shelves, storage compartment beneath the oven, partially extractable telescopic shelf set, and one extra deep tray.
Key Features:
Large oven capacity
Dual fuel options
Heavy-duty cast iron pan stands
Automatic electronic ignition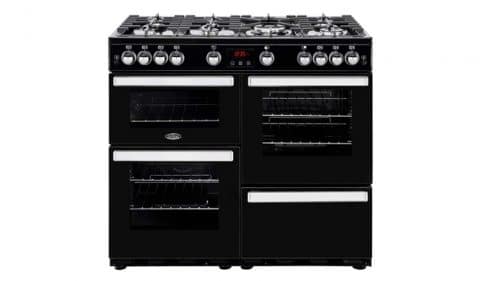 The Belling Cookcentre 100G Gas Range Cooker is an excellent choice because of its traditional British design. This cooker helps you make great meals for a large family without delay. There is plenty of space for you to cook with ease because the cooker is reasonably wide. The cooker features seven burner hobs with cast iron pan supports that ensure your dishes are safe no matter their weight.
In addition, the oven ensures turkeys and pizza crusts come out evenly brown with a rich taste that will make you want to take more. The cooker also offers you adequate storage space, especially in summer, when you need to keep some food out of sight. If you decide to move to another house you can take this cooker with you, place it in your new kitchen and you are ready to cook.
Key Features:
Seven-burner gas hob
Cast iron pan
Adequate storage space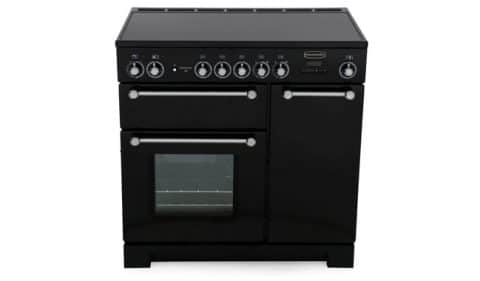 The Range master Kitchener 90cm Electric Range Cooker is a beautiful cooker that will give your kitchen that modern look and also cook nice meals to your satisfaction anytime. It features five burner hotplates, which provide excellent heat to cook your food perfectly. There is a separate grill for you to grill meat, the cooker is multifunctional and will serve you a lot. Plus, two electric fan ovens that ensure food is cooked evenly, leaving it with a palatable aroma.
The control knobs are very responsive, and there are full-width door handles for good grip and to ensure that your food is secure whenever you are cooking. There are heavy-duty cast-iron pan supports, which ensures that your food is safely guided. Not only can you cook more in your range cooker, but you can keep food inside it in case you are not yet ready to eat it, then warm it later.
Key Features:
Fully programmable main oven
Two electric fan ovens
Five burner hotplates
Heavy-duty cast-iron pan supports
The Rangemaster PROP110ECSSC Professional Plus Electric Range Cooker is made from stainless steel with a chrome trim, which makes it durable and beautiful. There are six-zone ceramic hotplate options with different heat. You can use any of them depending on the kind of food you want to cook. There is a separate grill which includes a glide-out grill for safety when you are grilling. There are two ovens with enough space to cater for a large family.
Also, there is a porthole door on the main oven that makes it easy to check on your food without opening the oven door. All doors are fitted with a new stainless steel door to enhance their longevity. It also features sleek chrome handles that are stylish for a cooker such as this. This product also provides you with enough space for storage.
Key Features:
Stainless steel with chrome finish
New catch-rite door fixture
Safety hot hob indicator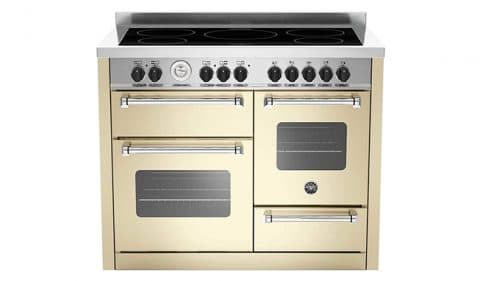 The Bertazzoni 110cm Electric Range Cooker is a premium model because its beautiful design will add more beauty to any kitchen, whether it a contemporary or traditional kitchen. The cooker has two ovens. The main oven is multifunctional, so you can cook different food at the same time and plate them up while they are still hot. The product is also environmentally friendly and does not eat deep into your monthly electricity bills.
There are 5-zone induction hobs, and they are quicker than ordinary gas hobs in cooking meals. The cooker provides you with enough space to cook whatever you want to cook if you have to prepare food for an extended family during important occasions or holidays. The cooker offers more uniform cooking because heat is evenly distributed, it also cooks food to a much more tender texture so you can enjoy eating it.
For more kitchen gadgets see our guide on the best coffee machines and juicers.
Key Features:
Main oven is multifunctional
5-zone induction hob
Environmentally friendly
The Smeg Opera A4BL-81 120cm Dual Fuel Range Cooker helps you make the most of your space due to its size. The cooker houses an excellent grill that promises to grill your dishes to perfection. The six-burner gas hob provides the flexibility you need to prepare the most sophisticated of menus. The product has two cavities, which give you plenty of space to cook your favourite dishes without messing up the whole kitchen.
In addition, the cooker has an uncompromising good look and a generous storage compartment with durable handles. There are two ovens of which the main oven is multifunctional. You can bake bread, pizza, cakes, and pastries in it. The cooker is a great choice because it is designed to ensure reliability and cooking uniformity and to meet the requirements of any home. It is even ideal for use in bars, restaurants, and cafeterias.
Key Features:
Dual fuel (gas and electric) range cooker
Six-burner gas hob
Air cooling system
Durable metal door handles
The Britannia RC-10XGI-DE-RED Delphi 100cm Induction Range cooker is the right choice if you love to cook different meals in a healthy, tasty, and professional fashion. The product features gas hotplate with six brass burners, so you can cook different food at once to save time. There are wok burners too that promises to give your food that sumptuous taste you desire. Also, with the induction hob, you can enjoy safer cooking since a magnetic current activates the heating element of the hob, so there is no naked flame.
This product can fit in with many lifestyles because of its stylish design and durability. The cooker also has ovens, which have lights for proper visibility. Also, the doors are triple-glazed to prevent overheating of the ovens.
Key Features:
Flame failure device
Automatic programmer in the left oven
Soft-close storage drawer
Removable oven door for proper cleaning
Economical energy consumption
Sources: