Last Updated on February 17, 2022
Our editors independently research the best products online to produce this list. We may receive commission on purchases made from the links below but this will never affect our product choices.
---
Our Favourites
Hawklok 6 x 4 ft. Plastic Base Kit for a Garden Shed (Editor's Choice)
Quick Jack Shed Base System (Luxury Choice)
4ft x 3ft Shed Base Kit includes Weed Fabric (Best Value)
There was a time when the aspect of building a shed, driveway, greenhouse or any such other structure was rife with complications and entailed a great effort, expenditure, and discombobulation on one's part. There was the whole cement mixing process, setting the base and much more when it came to setting up a strong foundation.
However, with the advent of time and technology, the most effective and generally facilitating substitute to this monotonous and diligent operation has been discovered. This alternative is of the readymade shed bases. Simply get one of these bases, set them up easily and then go about building your structure in no time at all. The best shed bases currently available on the market are enumerated as following for your perusal and convenience:
How We Compared Shed Bases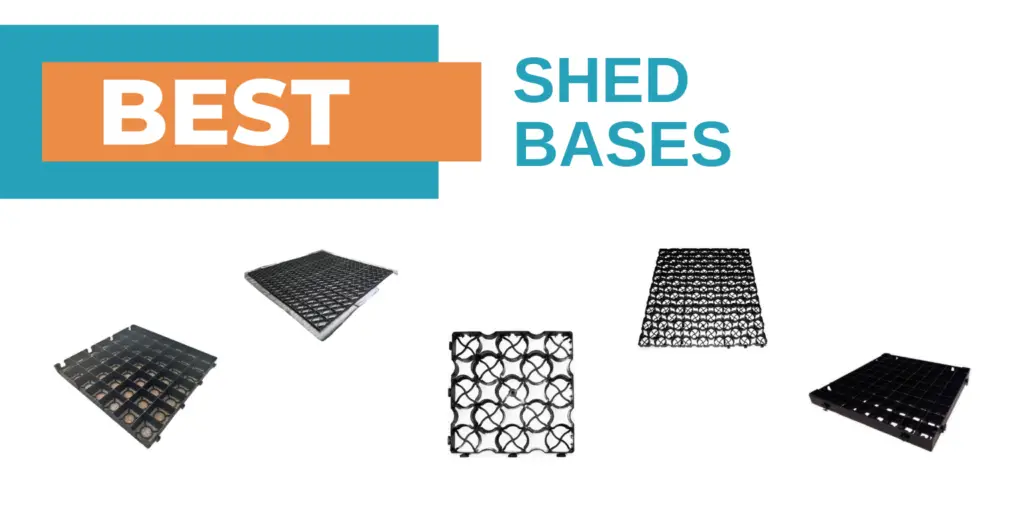 To find the right shed bases we considered multiple factors including:
Easy and Quick Installation
Weather Proof
Environmental Friendly
Materials
Weight
Our team independently examined and compared hundreds of products to help satisfy different needs. We spent our time researching shed bases and consulting customer reviews to ultimately bring you what, in our opinion, are the best options on the market right now.
To find out more about our editorial process, take a look here.
Best Shed Base Reviews – Top 10 Picks
This shed base comes in 4ft x3ft dimensions and this kit comes with weed fabric and 12 grids by TruePave as well. This is an excellent tool for all enthusiasts and in addition to being used for shed building, this base can also be employed when constructing decks, greenhouses, car parking, cabins, etc. the whole process involved in setting this base is simple as well. All you have to do is level out the intended building site with a spade and once you have confirmed that the ground is level and firm, you can proceed further. Unroll the weed control fabric and cut it and as you are laying the grids, clip them up together. Finally, add your own small stones and your bae is ready for the shed or greenhouse that it will be supporting.
Key Features:
Easy and quick installation abled
Comes with weed control fabric and 12 TruePave grids
Is weatherproof and compatible with environmental standards
Can be acquired in different designs as well (Dependent upon stock)
This shed base is excellent for all users who want to build a shed, greenhouse, driveway, deck, etc. It is simple and convenient in installation and requires nothing more than the confirmation that the ground upon which it is to be installed is firm or not and whether if the firmness is adequate or not. All that remains after that is unpacking, placement, completion of requisite procedures and you are ready to go. This shed base comes with adequate weed fabric and 24 paving slabs as well that are supported by TruePave branding. Best of all, this base is totally environment-friendly so you can rest easy in this regard. Check out our guide on shed locks to ensure your possessions  are safe in your new shed.
Key Features:
It features Convenient and easy installation
Environmentally friendly and is tested to be weatherproof as well
Can be used for building a variety of different structures
Includes 24 slabs and weed fabric as well
This shed base is pretty useful and allows a user the option to safely and effectively set up ta construction of their choice using this product as the base. It is sublime in as such that it's base grids are Eco oriented and friendly for the environment. What's more, this product can be used to construct a wide variety of structures that range from decks, patios, driveways, sheds, greenhouses and much more. Another interesting fact about this base is that it requires little effort when it comes to setting up. Even the most novice of users can workably utilize this product for the required purposes. So, if you want a secure and sound base for your shed, make sure you order this one. If you have decking around your shed consider some solar decking lights to keep the area well lit.
Key Features:
Is ideally suited for sheds measuring up to 6×4, 6×5 to 7×5 feet
The base grids included in this product are environmentally friendly
Comes with enhanced stability for pathways
Made from recycled materials in the United Kingdom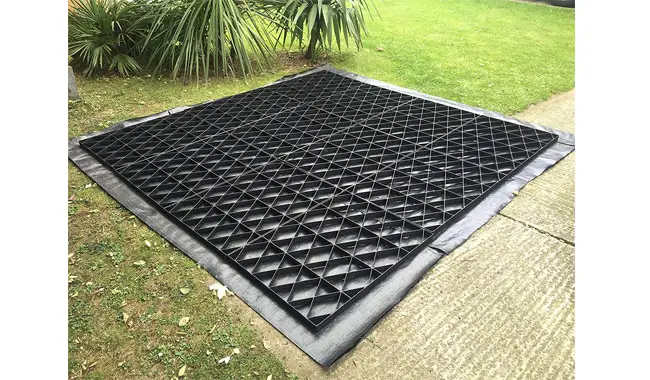 This product is for those who want to construct a structure that is strong at the base and will remain standing even under the most trying of situations. This kit is totally environmentally friendly and comes in dimensions of 2.5mx1.85m. The membrane of this kit has been constituted from plastic that is tough and highly durable while the paving bases are environmentally conducive as well. By using this outstanding shed base, users will be able to attain incredible levels of firmness and integrity in the ensuing structures. This is after all the end result that all customers covet so, it is recommended that they give this product a fair chance.
Key Features:
Made from recycled materials
Can be installed quickly and efficiently
Membrane sheet has been created from high quality, durable plastic
Environmentally friendly product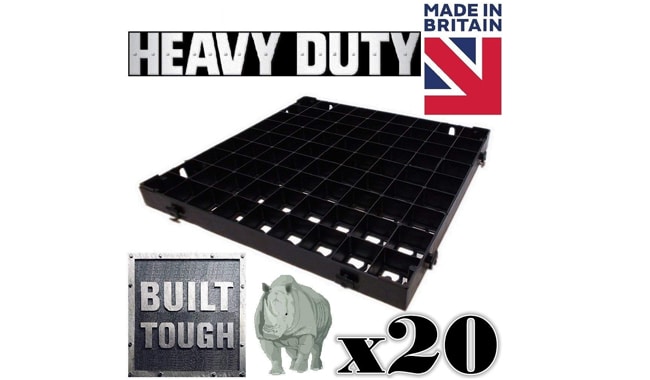 The CrazyGadget shed base is one of the toughest and most resilient of bases currently available on the market. With this product, the prospect of creating a structure that is tough, durable and long-lasting can be realized on an explicit level. The fact that it is so convenient to install and set up also lends much towards enhancing its appeal. The individual pieces of this apparatus can be joined together quite easily and once joined, they don't displace at all. The overall effect is one of consolidated unity and strength in structure, if you want your shed, greenhouse or deck to be durable and enduring, then this is the product for you. Grab yourself some wood preserver or exterior wood paint to add the finishing touches to your new shed.
Key Features:
Comes in a packaging of 20 pieces
Each grid evinces measurements of (W) x 500mm (L) x 40mm (H
The Cell structure is strong and maintains integrity even under great duress
Convenient and easy installation is possible with this product
The KetoPlastics driveway and shed grid/base is great for users who want a base that can support the weight of their sheds, driveways or any other such construction easily and effectively. This product can perform this task on quite a satisfying level. This product comes in an ample quantity of 40 pieces, which can be joined together easily for a tough, durable and strong foundation. That is because the ensuing cell structure prevents any gravel from being lost and in doing so retains the endurance and tolerance of the structure. The dimension of each of these grids or pieces is about 500mm in width with 500 mm in length and 40mm in height.
Key Features:
Facilitating and convenient installation is possible
Contains 40 pieces that have been made from durable plastic
Allows for retention of gravel due to cell structure
1 square meter is constituted from 4 grids.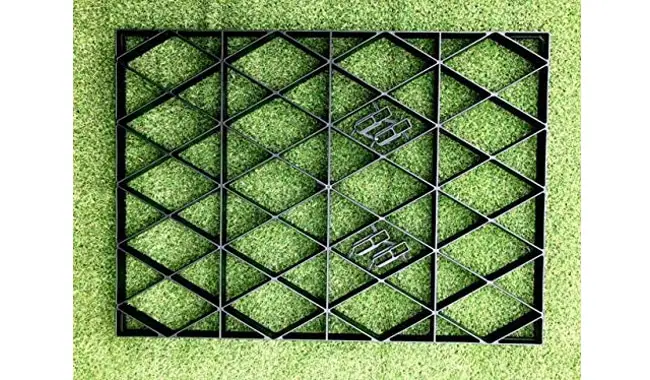 The Eco Deck garden shed base is a modern and updated substitute for the conventional and traditional slab and stabilizing agents that were popular in the past. Now, this product is the future and evinces all the convenience and facilitation as you might expect. Gone are the days when you had to endeavor and exert to the maximum extent in order to get a foundation set up for your shed. Now, all you need to do is level the ground with a spade, clean up the area and lay down this product. Once placed, set it up and start building your driveway, shed, deck and much more without any trepidation or dubiousness. For more great garden product guides see our top picks for garden arches.
Key Features:
Installation is easy and convenient
This product is weatherproof and environmentally friendly
Comes with a unique and easy clip lock system for easy installation
Is backed by a 25 years guarantee by the manufacturer
Have you ever wanted to build a shed, a deck or even a greenhouse in your home's limits but always circumvented on the task as it entails an immense workout and exertion on your part? This is especially true for the foundation portion of the project which takes the main crux of time for building. However, with this amazing product, you don't have to avoid this project anymore. That is because, with this shed base, convenience and facilitation is the key. You can quite easily set this base up to provide a durable and long-lasting foundation for your construction project. So, go ahead with your building plans as this incredible product has got you covered.
Key Features:
This product can be used for different structures like sheds, greenhouses, log cabins, etc.
The included grids are strong, durable and stable
Easy and quick when it comes to installation
Weatherproof and resistant to climate damage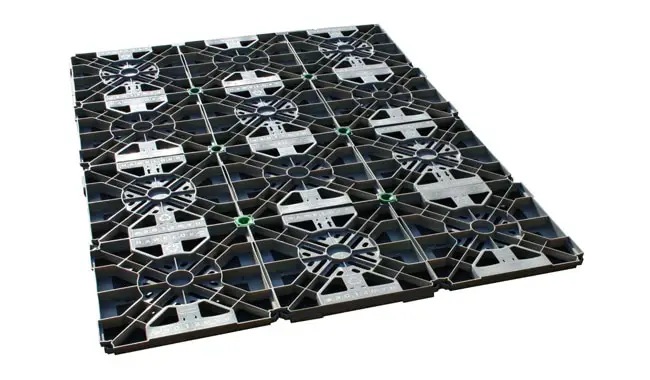 With the Hawlok Plastic Base kit for a garden shed, you can say goodbye to the archaic and dated modes of construction. These include concrete, slabs and digging sessions that, frankly, take up a lot of time. This shed base is convenient and can be set up in no time at all. All users need to do is delineate the site where the construction is to be done. After said demarcation, proceed to place the apparatus on the firm and leveled ground and voila, you have got your base ready already. This product is highly recommended as not only is it easy to install, but it's also durable and very much resilient to damage from the elements and nature.
Key Features:
It can be installed efficiently and easily
Comes with pegs and membranes for preventing weed buildup
Features free draining and self-ventilation functions
Easy to handle and lightweight product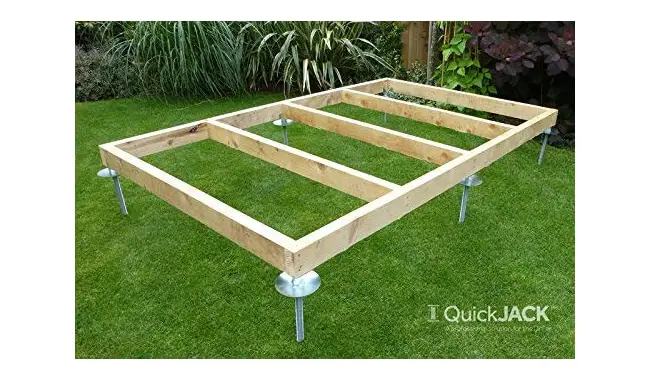 Quick Jack Garden Shed base system is a convenient and easily adjustable base for building various buildings around the house. This system has been created from highly durable components that can support the weight of large and heavy buildings. The procedure is quite simple and requires that you first build a timber frame that is commensurate to the dimensions of your building. Once this has been done, proceed to attach the Quick Jack Shed Base to the timber base and build your building on top of the culminating foundation. If you want to adjust the overall structure for stability and firmness, then you can do this easily by spinning the disks that are attached to the screw piles up or down. If your shed get cold, consider using a greenhouse heater or electric radiator to keep it warm.
Key Features:
Comes with a base system that is adjustable
Keeps the timber and other components ventilated and dry
Is backed by a warranty of 10 years by the manufacturer
Requires no special skills for installation or setting up