Last Updated on February 16, 2022
Our editors independently research the best products online to produce this list. We may receive commission on purchases made from the links below but this will never affect our product choices.
---
Top 10 Best Lawn Mowers
Lawn mowers feature spinning blades that function in several different ways to trim and maintain the length of the grass. If you have any kind of grass in your lawn or garden, chances are pretty good you could benefit from owning a lawn mower. However, if you require a new lawn mower, comparing all of the different options available can often become somewhat overwhelming. That's why we compiled this list of our top 10 picks with a buyer's guide to make purchasing a lawn mower easier and more fun. After all, you are shopping, right? This article will help you find the best lawn mower in the UK for your specific lawn and garden needs.
How we Compared Lawn Mowers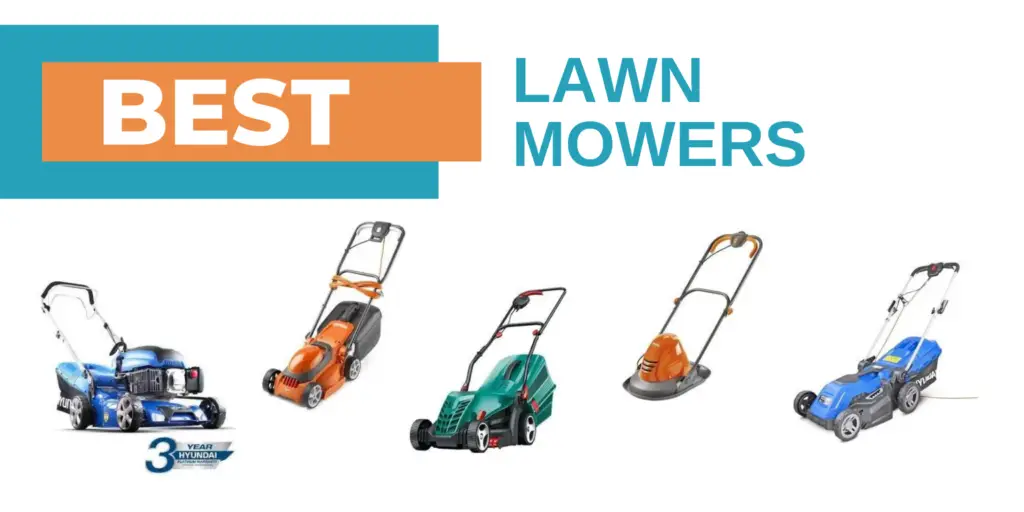 To find the right lawn mowers we considered multiple factors, including:
Design style
Cutting width and height
Lawn and garden size
Grass cutting collection
Additional features
Our team independently examined and compared hundreds of products to help satisfy different needs. We spent our time researching lawn mowers and consulting customer reviews to ultimately bring you what, in our opinion, are the best options on the market right now.
To find out more about our editorial process, take a look here.
Lawn Mower Reviews
Hyundai HYM3800E Corded Electric Rotary mowers are our favourite all-around choice for the best lawn mower available on the market today. Its electric design makes it lightweight and easy to use and comes with a few upgraded features as well.
This lawn mower is great for use in small to medium-sized gardens. It is powered by a 1600 watt motor and has a wide 38 mm cutting width making easy work of your uncut grass. For your convenience, it provides you with low cut settings. There are five different height adjustments, ranging from 20 mm up to 70 mm in height.
To help make this lawn mower easier to manoeuvre, Hyundai equipped this lawn mower with a rear roller. It is also equipped with a handy leading grass comb for cutting close to the lawn's edges, along walkways and walls.
These rotary mowers also possess a mulching capability operated by a quick release mulching plug. In addition, a quick-release large 40-litre grass box helps to catch all of your clippings while you mow. For even more convenience, Hyundai includes a folding handle into the design with a collapsable bag that opens up a variety of compact storage options.
We love this lawn mower, but you should know that the collection box has the potential to clog occasionally, and the mulching function may unintentionally leave some larger clumps. The only other drawback to this particular lawn mower that we found is that it is not great for large lawns due to the restrictive nature of the corded design.
Pros:
Mulching feature 
Wide 38 cm cutting width with 5 heights
Folding design for compact storage 
Quick-release 40 L grass box  
Leading grass comb 
Cons:
Not the best option for large lawns  
The mulching function may leave clumps 
Collection box could clog occasionally 
If you want a petrol-powered lawn mower, the Hyundai HYM430SP petrol lawn mower is worth considering. This cutting equipment is very effective and is ideal for medium to large-sized gardens.
The HYM430SP makes use of a 4-stroke petrol engine that consumes fuel at a minimal rate. In addition, it has a cutting width of 42cm which is very generous. Another great feature of the Hyundai HYM430SP petrol lawn mower is the adjustable cutting height lever that allows you to change the cutting height of the grass to suit your specific requirements. With this feature, you can choose between six different cutting heights, with the minimum height being 25mm while the maximum height is 75mm.
Apart from all the above features, the Hyundai HYM430SP petrol lawn mower also has a very large grass collector. The lawn mower is capable of mulching the grass collected in this grass collector and has a level indicator that notifies you when the grass collector becomes filled up. The Hyundai HYM430SP petrol lawn mower also comes with a three-year warranty. 
The equipment is safe and convenient to use. Its operator Presence Control (OPC) technology ensures that the lawn mower remains in place if you are not pushing it. Hence, it is very easy to control. Indeed, the fantastic features of this superb lawn mower are endless, and another of them is the foldable handles that help to save storage space when you are not using it.
Be aware, this petrol mower is a bit on the heavy side, and you will have to restart it each time you empty the grass box. Lastly, it may not be the most durable option on our list.
Pros:
It has a very large grass collector
Six different adjustable cutting heights are available
Very safe and easy to operate and control
3-year warranty 
4-stroke petrol engine 
Cons:
Must restart the mower to empty the grass box 
It may not be the most durable option 
Heavier overall design 
Our number one pick for the best value lawn mower is the Flymo Turbo Lite 260 Electric Hover. Its hover style design is easier to manoeuvre, and it is also great for storing in smaller spaces thanks to its easily foldable and hangable build.
Turbo Lite 260 Lawn Mowers have a powerful 1400 watt motor and a 26 cm cutting width. You can choose between four variable height options ranging from 11 to 31 mm tall. This electric mower uses a 10-metre power cord giving you plenty of space to move about your lawn and cut grass. It is excellent for small to medium-sized lawns.
For easy operation, these lawn mowers feature dual lever handles. This means you can power it on and off using both your left and right hands with no problem. The long-lasting metal blades provide your lawn with an even cut when powered up.
Flymo's Turbo Lite 260 are some of the best lawn mowers if you are looking for something that is lightweight and compact. The handles easily fold down, and the entire machine can be hung on a wall or slid into a narrow space for compact storage.
Potential cons for this lawn mower include having a more narrow cutting width than most other top options and not being great for large lawns due to its corded design. It could also be less sturdy thanks to it being so lightweight, and it lacks a collection bag for grass clippings.
Pros:
Lightweight and compact 
Great value 
4 adjustable cutting heights 
10-metre power cable 
Hover style design is easy to manoeuvre  
Cons:
Narrower cutting width 
Not great for large lawns 
Somewhat less sturdy
Lacks a collection bag for cuttings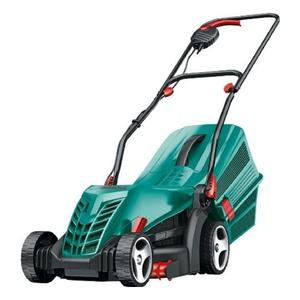 This lawn mower model is newly upgraded. It has a relatively large cutting width of 34cm. With this large swathe, you would be able to cut a very large area of land in little time. Hence, if your garden is quite large, then you should look at the Bosch Rotak 34 R electric rotary lawn mower. 
The Bosch Rotak 34 R electric rotary lawn mower is powered by a powerful 1300W motor. It ensures that you experience a seamless cutting operation. It also cuts neatly and efficiently. An easy to use adjustment lever on this electric mower makes it possible for you to vary the cutting height between 20mm and 70mm to suit your grass level preference.
This Bosch electric lawn mower features a grass collection box that minimises yard work by keeping the cuttings contained instead of scattering them back onto the lawn as you mow. Moreover, this equipment is compact and can be stored easily. It is equipped with foldable handles, and this helps to conserve storage space when the device is not in use. A two-year warranty covers it.
This rotary mower has a considerable weight that is almost double that of the Bosch Rotak 32 R electric rotary lawn mower. However, this weight gives it more stability and really is not that heavy compared to petrol models. You may also find that the collection box is a bit flimsy, and the switch levers could be weaker, meaning you will most likely have to replace them from time to time.
Pros:
It uses a powerful motor 
It has a large cutting swathe
Allows the cutting height to be adjusted
Good for larger lawns 
Foldable handles for compact storage 
Cons:
Heavier total weight 
The collection box might be a bit flimsy 
A weaker switch mechanism is possible 
If you are searching for the perfect lightweight lawn mower, this could be the best lawn mower on our list to suit your needs. The Flymo Easi Store 300R Electric Corded lawn mower excels as easy transport and highly capable manoeuvrability making your yardwork chores as easy as possible.
Easi Store 300 R lawn mowers use 1200 watts of power to give you an even steady cut. It features a 30 cm cutting width with a cutting height range of 20 to 60 mm. It has a manual level that allows you to make a variety of adjustments quickly and easily.
These lawn mowers are equipped with a rear roller and cable storage hooks for added ease of use. It comes with a 30-litre grass box and a 10-metre long power cord making it a good option for medium-sized lawns. The dual lever handles and the close cutting edge further add to the machine's user experience and overall usability.
Flymo designed these lawn mowers so that they can be folded down and vertically stored if you choose. This gives you a couple of different space-saving storage options; simply use whichever one works best for your particular space.
Regretfully, the lever that adjusts the cutting height could occasionally slip while you are mowing, resulting in an unexpected change of height. In addition, this is not a great option for larger lawns and gardens, thanks to its corded design, and it may not be the best lawn mower when it comes to an easy assembly.
Pros:
Vertical storage option
Dual-lever handles
Close edge cutting and a rear roller
Lightweight and easy to manoeuvre
Tidy cable storage hooks 
Cons:
The cutting height handle may slip 
Not great for larger lawns 
It could be a bit tricky to assemble 
Cutting grass is easy when you use the Bosch Rotak 32R Electric Rotary Mower. This is our top choice for anyone looking for the best small lawn mower ideal for smaller lawns.
With a cutting width of 32cm, the Bosch Rotak 32R electric lawnmower is designed for small to mid-sized gardens. It uses a powerful 1200W rated motor. This motor effectively powers its reinforced steel blades, making it suitable for all types of grass. This very sharp, strong blade will cut away even the most stubborn grass.
Cutting is very efficient. With the Bosch Rotak 32R electric lawnmower, you can choose the height of cut depending on how low you want the grass in your garden or lawn to be. You can set a cutting height between 20mm and 60mm.
The Bosch Rotak 32R electric lawnmower has a grass comb that serves as a guide to enable it to cut weeds and lawn edges near and around flowers and plants without harming the plants themselves. Moreover, it is relatively lightweight and easy to manoeuvre. It also has a 31-litre grass box capacity for collecting cut grass as you go. 
This may not be the best choice for you if you have a large lawn as the cord can be somewhat restrictive. In addition, it might not be super easy to assemble, and it is not the most sturdy electric mower available due to its smaller size.
Pros:
Grass comb to protect flowers and plants
Adjustable cutting height settings enabled
Very lightweight and easy to use
31 L cut grass box capacity
Reinforced steel blades  
Cons:
Not ideal for large lawns 
Less sturdy overall
It could be tricky to assemble 
The Flymo EasiGlide electric lawn mower is another powerful, easy to use hover mower from Flymo. It is small, easy to manoeuvre, and specifically designed for people who maintain a small garden. It also has easily foldable handles for more compact storage options.
Easi Glide 300 Hover Mowers are powered by an excellent motor with a power rating of 1300 watts. This lawn mower is equipped with a 20-litre cut grass box capacity and a very sharp metal blade of 30cm. Therefore it has a swathe of 30cm.
In addition, the Flymo EasiGlide electric lawn mower provides you with four adjustable height settings ranging from 12mm to 32mm. In essence, this means that the equipment is suitable for you if you have a small garden or lawn and you want very low cutting heights for the grass.
The Flymo EasiGlide electric lawn mower is very durable and only requires minimal maintenance to keep it operational for a very long period of time. It is lightweight and will make your task very easy and convenient. Though if your grass is struggling to grow and weeds keep cropping up, consider going over it with a lawn scarifier to allow the soil to breathe. 
Keep in mind that this electric lawn mower is not the best option for anyone with a large lawn, and it has a shorter handle height, so it may be uncomfortable for taller people to operate. Our only other concern is that it may not be the best at cutting grass along the borders and edges of your lawn.
Pros:
Lightweight and easy to use
It has very strong metal blades for effective cutting
4 adjustable cutting height positions
20 L cut grass box
Low maintenance durability 
Cons:
Not ideal for large lawns  
Shorter handle height
Not the best at borders and edges 
The Flymo Mighti-Mo 300 Li Cordless Lawn Mower is ideal for a DIY gardener with an average-sized garden. This cordless lawn mower gives you all the perks of electric models without the restrictive cord, so you have free range to roam a large garden or lawn.
This cordless lawn mower has a cutting width of 30cm with an adjustable cutting height feature. This allows you to choose a cutting height for the operation, with the available heights ranging from 25mm and 65mm.
It uses a 40V battery that takes just about 2 hours for a complete recharge. Once fully charged, the battery can last for a considerably long time, allowing you to cut up to 250 square metres of grass. For reference, this is about the size of a tennis court.
The Flymo Mighti-Mo 300 Li Cordless Lawn Mower has a lightweight design that makes it convenient and easy to use. It also features a 30-litre grass collection box to help you keep your lawn tidy while you work.
Due to the lightweight design, this cordless lawn mower may not be as sturdy as some people like, and the battery may not last for as long as expected based on Flymo's predictions. The grass collection box also has the potential to clog, so if you decide to go for this lawn mower, make sure you empty it frequently to avoid making the issue worse.
Pros:
It uses a strong rechargeable battery
It has an adjustable cutting height feature
Relatively lightweight
Cordless lawn mower design 
Wide 30 cm cutting width 
Cons:
The battery life could be shorter than expected 
Less sturdy design overall
The grass collection box could potentially clog 
The Swift 40V EB132C2B 40 V Cordless lawn mower comes with a mulching facility giving you a complete lawn care set of tools. This cordless lawn mower allows you to perform a seamless operation, and you should have no problem using it.
Swift cordless lawn mowers have five different adjustable height settings ranging from 20 cm to 60 cm. Also, it has a cutting width of 32cm, and its 2Ah battery will power it for a long time once it is fully charged. It is estimated to be able to cut up to 250 square metres on a fully charged battery. You should be able to cover most small gardens and lawns with one charge.
The 30-litre capacity of the grass collection bag that comes with it is also sufficient enough for a small garden. Throw the mulching feature of this wonderful product in the mix, and you are seeing a grass collector that will adequately accommodate the weeded overgrowth and long grass of a medium-sized garden.
Swift 40V EB132C2B cordless mowers have a compact design. This compact build is aided by its foldable handles that enable the equipment to be stored without consuming much storage space. There is also a safety key that makes the device easy to control.
Unfortunately, the battery on this lawn mower may not last for as long as expected, and it takes a couple of hours to recharge. Finally, it has a lower handle, so taller people may not find it the most comfortable option available, even when extended to its tallest height.
Pros:
5 cutting height adjustment positions
Compact design for easy storage
Comes with a large grass collection bag
Mulching function
Cordless electric design 
Cons:
Longer charging time 
Shorter battery life possible 
The handle could be too low for taller people 
Another superb lawn mower that makes it into this list is the Yard Force Cordless Lawnmower. The product actually comes in the same package with a trimmer. So, if you are buying this, you will also be buying the trimmer as well. It is our top choice for the best lawn mower under £200.
As the best budget lawn mower, The Yard Force Cordless Lawn mower is a cordless mower and is powered by a 40V li-ion battery. It uses a 30-litre grass collection bag to store the slashed grass. It is also able to compress the grass inside the collector bag so that it will be easy to empty while also helping to make space available for more grass. The device has a cutting width of 32cm and five adjustable height positions ranging between 20mm and 60mm.
It features a flower guard that will help protect your plants from being cut when cutting the grass. Besides, it also comes with a trimmer so you can accurately cut borders and edges with ease.
This cordless lawn mower is lightweight and, as a result, can be manoeuvred easily. Its ergonomically designed handle also makes cutting easier and more enjoyable for you, especially during longer yard work sessions. 
Of course, this lawn mower is not the best choice for larger lawns, and there are reports indicating that it may not be great at cutting longer grass. Also, the handle is a bit lower, so this is not the most accessible option for taller individuals.
Pros:
Lightweight design
Ergonomic handle
5 cutting height positions
Large compression grass collection bag
It comes with a bonus trimmer included 
Cons:
Not good for larger lawns 
Not ideal for longer grass 
Shorter handle height
Buyer's Guide
That is all for our lawn mower reviews in the UK. Now let's take a moment to examine how and why we chose the options we did for our best lawn mowers list. The following sections also aim to answer common questions about lawn mowers in an effort to help you pick the absolute best device your lawn and garden needs.
What to Look for In a Lawn Mower
Whether you are looking for the best budget lawn mowers, the best petrol mowers, the best cordless mowers, or just a good lawn mower in general, there are a few key traits you should keep your eye out for when determining which mower is the best option for you and your lawn.
Design Style
In our opinion, finding the right lawn mower begins with determining what kind of power source will suit your needs best. The motor on lawn mowers can be powered by petrol, battery, or electricity.
Petrol mowers are often the best option for larger sized lawns and also functions well on smaller lawns. They do not restrict you with a cord or a battery, which can often drain before you get a chance to mow a large-sized lawn. However, even the best petrol lawn mower requires some frequent maintenance and of course, requires you to buy and transport petrol. If you prefer to avoid this smelly endeavour, battery-powered or electric lawn mowers may better suit your specific preferences.
Electric mowers use a long power cord to give you continuous power without the need for refilling a gas tank or recharging a battery. Electric lawn mowers are great for small to medium-sized lawns. The main complaint about electric lawn mowers is that they restrict you to a specific area of space and keep you tethered to the main power outlet.
Battery-powered lawn motors use a rechargeable battery to spin the cutting blades. They often take an hour or more to charge and can bring you anywhere from 15 minutes to an hour of operation with a full charge. These are great lawn mowers for small to medium-sized lawns.
Other common types of lawn mowers not featured on our list include robotic mowers and ride-on mowers, which are highly convenient. Both ride-on mowers and robot lawn mowers are designed to accommodate people who simply hate mowing and want to make the task as quick and effortless as possible. However, they come attached to quite a hefty price tag.
Also, the mower itself could be a self-propelled or a manual lawn mower. Self-propelled lawn mowers, or push mowers, are usually desirable, although manual mowers are almost as convenient to use as self-propelled ones.
Cutting Width and Height
Another important factor to consider when choosing the best lawn mowers is the cutting width of the blades. Typical cutting widths range from 20 cm up to 50 cm or wider on larger machines. The larger the cutting width, the fewer passes you will need to take over a specific piece of grass to get the job done and cover the entire area. This is ideal for larger lawns, but this may not be the best choice for smaller lawns. A large width can become too cumbersome in a more restricted space. Choose a cutting width that works for you and your lawn.
Lawn and Garden Size
As you have probably guessed by now, the size of your lawn can play a large role in determining which mower will be most convenient. If you have a big lawn or a large garden, a wider cutting width and a cordless design are most likely best. Medium lawns give you the most options when it comes to choosing a mower because just about any size and design style will function well. All the mowers on our top 10 list cater to different sized lawns, but most of them are best suited to small or medium-sized lawns.
Grass Cutting Collection
Many lawn mowers feature a grass-cut collection box or bag containing the cut grass while you mow. This leads to a tidier lawn in the ned and eliminates the need for raking and collecting the grass clippings. Many collection bags also come with a mulching feature so you can easily repurpose your grass clippings for use in other areas of your garden.
Additional Features
Some additional features you can also choose to seek out in lawn mowers include grass combs, dual levers, and the ability to fold down for compact storage. Dual levers are a good feature for left-handed people and also make a mower easier to use overall.
Grass combs help you bring a mower close to an edge, pathway, or wall. However, the most important thing they do is protect important plants and flowers in your garden when you are mowing nearby.
If you are tight on storage space and are not sure where you can store a new lawn mower, we recommend choosing a machine that can fold or compress in one or more ways. Some mowers can also be hung to help conserve space.
How Does a Lawn Mower Work?
A mower generally has one or more rotating blades that are powered by a motor. The blades are enclosed in the deck. The deck itself is then balanced on four wheels. To make a mower work, it is moved over the patch of grass that is intended to be cut. As the blades rotate, they strike the grass, cutting them in the process. Apart from cutting, some lawn mowers have features that allow them to store the clipped grass and convert them into compost for the garden.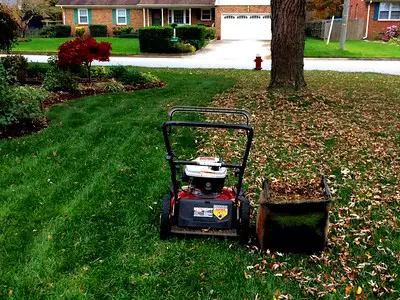 The Best Lawn Mower for Your Lawn
Now that you know all about how to find the best lawn mower in the UK, which one of the fantastic options on our top 10 list would best suit your lawn and garden requirements?
Our favourite is the Hyundai HYM3800E Corded Electric Rotary lawn mower. It is suitable for use in small to medium-sized gardens and has a wide 38 cm cutting width with 5 adjustable cutting height levels. It features a quick-release 40 L grass box that has a mulching feature and is collapsable. The entire mower has a folding design for compact storage, and it is equipped with a grass comb for lawn edges.  
The potential cons for this lawn mower include it not being great for larger lawns, having a less thorough mulching function, and the collection box possibly clogging from time to time. However, we still think it makes a great choice for a lot of different people, lawns, and gardens.
What do you think about our editor's choice? Is it the best lawn mower for you? Let us know your thoughts and leave a comment below.
Additional Resources