Last Updated on February 17, 2022
Our editors independently research the best products online to produce this list. We may receive commission on purchases made from the links below but this will never affect our product choices.
---
Top 8 Best Robotic Lawnmowers
Keeping your garden in check can be time-consuming, and not everyone has the money to pay for a professional landscaper to ensure the area looks its best year-round. One of the easiest ways to make sure your garden looks neat and tidy is to keep the lawn in check, but time can quickly get away from you, and before you know it, it's overgrown and looking a mess.
Investing in a robotic lawn mower takes the effort out of maintaining the lawn, meaning you can programme it to run whenever you like without having to lift a finger. It will even charge itself when it's low on energy, returning to its docking station to recharge before starting up again whenever it's scheduled to run.
With this in mind, you may be wondering how to find the best robotic lawn mower in the UK to add to your garden tools. Rest assured, you have come to the right place. These are eight of the best robotic lawn mowers on the market to suit all different needs, from the basic to the highly customisable. Read on and discover the world of robotic lawn mowers!
How we Compared Robotic Lawnmowers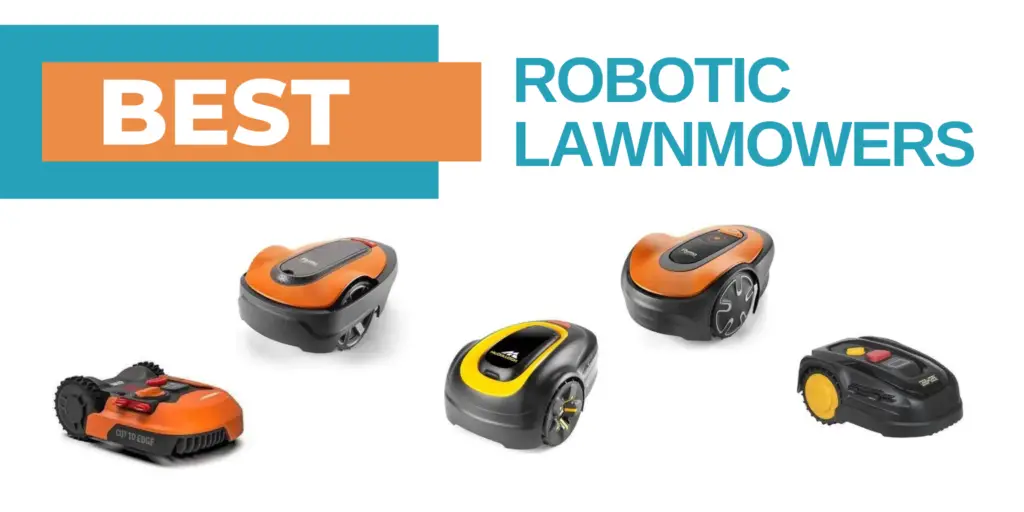 To find the right robotic lawnmowers we considered multiple factors, including:
Weight
Type of blade
Performance
Coverage
Cutting height
Ease of set-up
Noise level
Our team independently examined and compared hundreds of products to help satisfy different needs. We spent our time researching robotic lawnmowers and consulting customer reviews to ultimately bring you what, in our opinion, are the best options on the market right now.
To find out more about our editorial process, take a look here.
Robotic Lawnmower Reviews
The Flymo EasiLife 350 automated lawn mower is our top choice for the best robotic lawn mower in the UK. It is easy to control and adjust and works well on all lawns, even ones with bumps and the occasional incline.
The Flymo EasiLife 350 robot mower is easy to set up and programme and provides the option to quickly change the cutting height to get the right look for your garden. It's quiet and works for around an hour on a full charge before heading back to its docking station to recharge itself automatically.
The Flymo has an 18 V lithium-ion battery and cuts grass anywhere from 20mm up to 50 mm. The lawn mower has collision sensors and a boundary wire to help avoid obstacles and keep it on track while it works and swing back blades for accurate cutting. If you programme the mower to operate regularly, the clippings should be short and will break down quickly into the soil to act as a natural fertiliser. It is capable of mowing on an incline up to 35%.
Regretfully, this robot mower may not be the best option for edges as it has a larger bumper and lacks wireless control; however, this may not be important to everyone. We also think the design could be improved so that you can read the screen when the cover is in its closed position.
Pros:
Covers areas up to 300 m2 with a capacity of 30 m2 per hour
Uses an irregular navigation system
Automatically charges to save time
Mows an incline up to 35%
Collision sensors and the boundary wire 
Cons:
The screen cannot be seen with the cover closed 
Lacks a wireless connection 
It may not be the best at trimming edges 
The Mcculloch ROB 1000 is efficient and easy to use, working day or night and in all weather conditions to ensure your garden looks pristine every week. It mows in a random pattern, so it's great for complicated gardens that aren't a standard shape, as it will still catch every area for a neat and tidy finish.
The ROB 1000 grass cutting robot can cope with inclines of up to 25% and works great on larger gardens of up to 1000 square metres. As for the clippings themselves, the mower chops everything into smaller pieces so that the clippings disappear back into the soil as a form of fertiliser for the lawn and one less task for you to have to worry about.
This mower is easy to install and set up, with a boundary wire to define the area for each type of garden. When lifted, it's also fitted with a loud alarm and a security code for added protection against theft. This robot lawn mower is almost silent when mowing, so feel free to have it work overnight without expecting any disturbances or complaints from your neighbours.
We know we said you could use this robotic mower in all weather conditions, but it should be brought in during thunderstorms to protect the machine from potential electrical surges. You should also know that some people have issues contacting customer support, and the docking station installation instructions can be somewhat restrictive, but if you have space for it, we still strongly recommend this option as a luxury choice.
Pros:
Covers areas of up to 1000 square metres
Can cope with inclines up to 25%
Works in a random pattern for full coverage mowing
Quiet operation
It can be used in the rain 
Cons:
Not protected in thunderstorms 
Somewhat restrictive charging station installation 
Customer support could be difficult to contact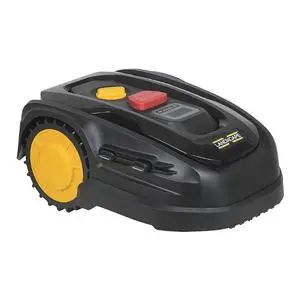 The LANDXCAPE X1 LX799 mowing robot is a great value option that is easy to use straight out of the box. Without the need for programming, you can start getting your grass trimmed with the simple press of a button.
These robot lawnmowers feature a good cutting performance thanks to their three-blade mulching system that lets the blades spin in both directions. This preserves the life of the cutting blades and also makes the cut grass into fertiliser for your lawn. They have a 16″ cutting width that mows up to 300 m2, making it great for smaller lawns.
The LANDXCAPE X1 LX799 robotic mower enables adjustable cutting heights so you can achieve the desired length of grass, again, with the touch of a button. It comes with 130 metres of guidewire for a more elaborate set-up and automatically returns to its charging station when the battery is drained. This robotic mower is also able to mow on uneven ground and can handle steep slopes with an incline of up to 25%.
Be aware that the rain sensor on this robot mower will not activate when the grass is wet, leading to slippage and a loss of traction. In addition, it is not the best choice for large lawns, and we have reason to believe that it may not respect the guidewire boundaries 100% of the time.
Pros:
Great for smaller gardens up to 300 m2
Easy to use straight out of the box 
Adjustable cutting height 
Automatically returns to the charging station 
Mows inclines of up to 25% 
Cons:
Rain sensor could be improved 
Not ideal for larger lawns 
May not respect the boundary wire 
Enabling you to have a great looking lawn with none of the work, the WORX WR142E M700 Landroid Robotic Mower comes pre-programmed with a selection of options straight out of the box. This means all you need to do is install the boundary wire and let it get to work.
The Landroid robotic cordless lawn mower has an edging mode to ensure the perimeters of the garden aren't missed, and its patented AIA technology lets the machine work up to 30% faster than other mowers and helps it navigate narrower sections without any issues. You can access control over this robotic mower via an app or directly on the device itself.
When the Landroid runs out of charge, it will automatically make its way back to the charging station to recharge itself. While operating, it remains fairly quiet, so you should be able to use it at all times of the day. Sensors on this robot mower prevent any collisions with ornaments or pets, and the weather-proof construction also includes a rain sensor.
You should know, there are a few reports indicating issues with the app, and this device has the potential to get stuck on what seems like minor obstacles from time to time. Also, the 180 mm cutting width on this robot mower means it will have to make more passes over your lawn, even on a smaller garden.
Pros:
Programmable with a weekly cutting schedule
Great for larger lawns of up to 700 m2
Built-in rain sensor
Works up to 30% faster than other models
Easily navigates narrow spaces 
Cons:
Could get stuck on some obstacles 
Problems with the app have been reported 
Somewhat narrow cutting width 
If you have a small garden that you are looking to get coverage for come mowing season, the Flymo EasiLife 150 GO makes an excellent choice. It functions quietly and has a variety of sensors to help ensure you get advanced cutting performance and accurately cut lawns.
This robot mower features a 16″ cutting width with an adjustable cutting height so you can change the grass length to your preferred height. It has a comprehensive rain sensor with Frost Sense and Lawn Sense, allowing this robotic mower to avoid hazardous weather and automatically adjust when it cuts lawns based on current conditions.
Passage Sense helps this robot mower travel through narrow spaces in your lawn without getting stuck or lost. It operates quietly, and when the battery life starts to get low, it will return to its charging base to refill and continue working. It comes with a full wire system and has large wheels that can achieve a slope performance of up to 25%.
Lawn size truly matters with most robot lawn mowers, and with the EasiLife 150 GO, this is particularly important. Due to its compact size, it is not ideal for use on medium lawns or large lawns. In addition, this robot mower is not the easiest to install, and the Bluetooth connection means you have to be close to the device to utilise the app.
Pros:
Mows on a slope up to 25%
16 "cutting width with an adjustable cutting height
Rain sensor with Lawn Sense and Frost Sense 
Runs quietly
Passage Sense technology for narrow spaces 
Cons:
Not ideal for a medium or large lawn 
Shorter Bluetooth connection range 
Lengthier assembly process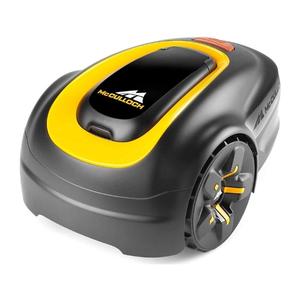 McCulloch ROB S400 Robotic Mowers are great for medium-sized lawns and are easy to control. It has a quick access keypad with a pin code and special scheduling functions, all of which perform relatively quietly.
Just when you thought mowing your lawn couldn't get any easier, these robot lawnmowers feature lawn growth sensors for an accurate cut and intuitive scheduling. This means it will learn to anticipate when your lawn needs a trim and handle it before you have to even think about it. It is able to climb slopes on your lawn and garden that reach up to 35%.
McCulloch ROB S400 Robotic Mowers come with a charging station, and the device will automatically recharge itself when needed. What we love most about this particular docking station is that it has flexible installation requirements. Unlike other options, you can install this one in a variety of places based on your preference.
Regretfully, these robotic mowers may have some issues when they encounter obstacles in the grass, and the battery life could decrease with extended use. These robot mowers also lack any kind of connectivity, so you do not have the option to control them remotely.  
Pros:
Easily climbs slopes up to 35% 
Lawn growth sensors for improved performance
Easy access controls with a pin code 
Flexible location charging station 
Good for medium-sized lawns 
Cons:
The battery runtime could decrease over time 
May have some issues with obstacles in the grass 
Lacks connectivity for remote control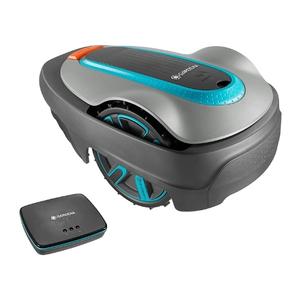 The Gardena Smart SILENO robot lawn mower is highly programmable, bringing you advanced controls and improved access overall. It can also be cleaned easily and has smart features that allow it to operate independently of your monitoring.
The Gardena Smart SILENO lawnmower works with internet connectivity and is programmable via an iOS or Android app on the Gardena Smart Gateway, so it can be programmed on the move. This lawnmower can easily detect and navigate narrower sections of the garden and works in line with the boundary cable to only cut the areas you want it to.
The SILENO Smart mower isn't deterred by obstacles and has a highly efficient sensitive collision sensor that makes it safe to use when children and pets are in the garden. The robotic mower can be cleaned quickly using a garden hose and charges itself by returning to the docking station when it's low on power.
The app allows you to coincide mowing times with the watering of the garden by coordinating the smart Water Control, while the programming wizard guides you through installation and calculates a mowing schedule for you too.
Be aware; the grass needs to be completely dry when this robot mower is in action, or you can expect clogs and a lengthy set-up process is required. Also, the Smart functionality may be a bit excessive for some people, and considering how it contributes to the price tag, you may want to choose an option without connectivity if you don't anticipate using it frequently.
Pros:
Covers areas of up to 500 square metres and gradients of up to 25%
Smart lawn mower with internet connectivity
Easy to install with a simple programming Wizard app
Highly sensitive collision sensor
Automatically returns to its charging station
Cons:
It could take a long time to set up 
Smart functionality may not be necessary for some lawns 
Grass should be completely dry to avoid clogs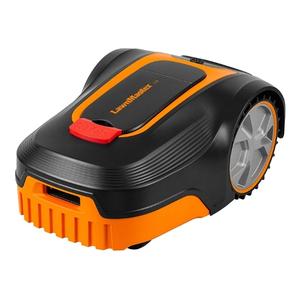 For mowing lawns up to 400 m2, Lawnmaster L10 Robot Mowers are more than equipped to get the job done with great accuracy. They have a wide range of adjustable features, and they are able to charge themselves whenever the battery starts to get low, resulting in minimal upkeep on your part.
Lawnmaster L10 robot mowers work quietly, so they can be used during the day or at night to avoid pets and keep your lawn fully usable during the day. We predict you will not even notice it is on and your neighbours certainly won't have any reason to complain about the noise. It has an adjustable cutting height that ranges from 20 to 60 cm as well as a wide 18 cm cutting width for optimal performance, regardless of the lawn size. The cutting height range on this device allows you to cut the grass at a slightly taller height than other models.
These robot mowers come with all the perimeter wire needed for the one-time installation process. They are also equipped with a rain sensor, and the device itself is fully waterproof as well, so no need to worry about it when it starts to rain.
The positioning required for the docking station on these robot mowers can be somewhat restrictive, and the set-up process can be a bit fiddly as a whole. The only potential con we found is that it takes a good amount of time to complete a mowing job, but fortunately, you can leave it to work all by itself.
Pros:
Adjustable cutting height
Wide cutting width
Easily mows lawns up to 400 m2
Runs quiet enough for day or nighttime use  
Fully waterproof 
Cons:
Somewhat restrictive docking station  
The set-up can be a bit fiddly 
It can take a bit of time to complete a job
A Buyer's Guide to the Best Robot Lawn Mowers
After reading through our robotic lawn mower reviews, you may still have some unanswered questions about how beneficial robotic mowers truly can be and how to pick the best robot lawn mower for your lawn size. The following sections should shed some light on these questions and help you get the clarification you need to make the absolute best choice possible.
What Is a Robot Lawn Mower?
Robotic lawnmowers are available for gardens of all shapes and sizes and are easy to set up and install. They're quieter than a standard lawnmower and often so discreet that you won't even realise they're doing their job. Some at the higher end of the price bracket also come with additional features, such as Internet connectivity, apps and scheduling capabilities. Depending on the size of your lawn, you may need to choose a model that can cope with a larger area and inclines, as well as one with a sensitive collision sensor if your garden has a lot of ornaments, flower beds and other obstructions.
Benefits of Using a Robotic Lawn Mower
The unique benefits of buying a robotic lawn mower are plenty, with large household and landscaping companies spending as high as USD 1000 to acquire a top of the range product. The universal benefits to a robotic lawn mower are safety, time-saving, and precision of cutting. This cutting ensures you don't have to rake the clippings after mowing the lawn. Robotic lawn mowers are also equipped with smart devices and sensors to automatically navigate obstacles and different gradients of grass. Most models also come with an auto shut option when the machine comes in contact with a human and an auto-off switch when lifted from the ground.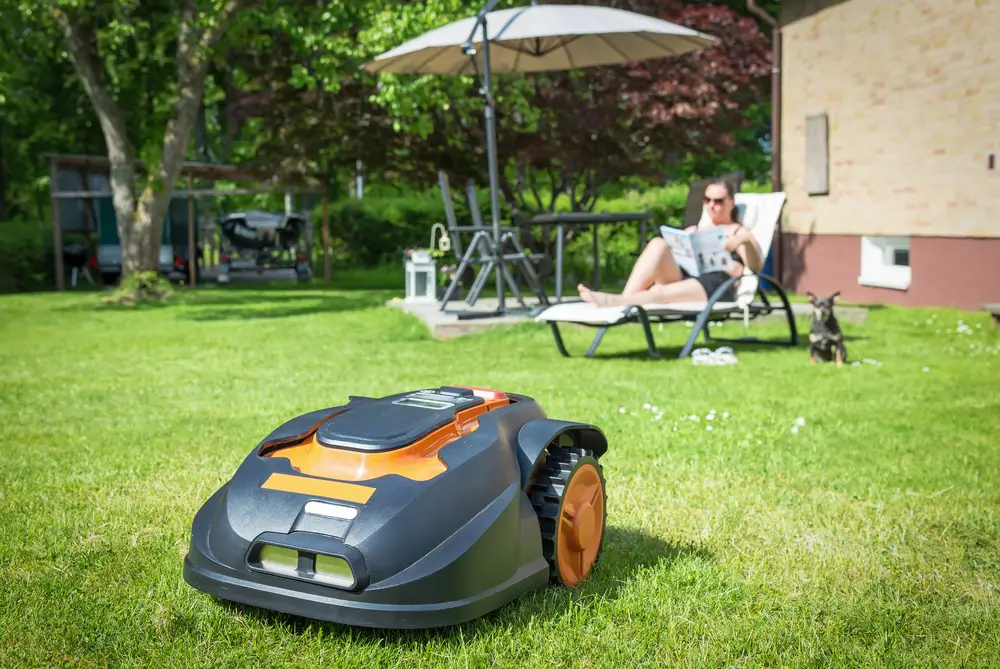 How to Buy the Best Robot Lawn Mower
It may become very confusing to select the best and most viable option for your lawn or garden with all these benefits. We are here to help take the confusion off your minds. With a few excellent qualities, you will be able to gauge the best robotic lawn mower for your gardening needs.
Selecting a robotic lawnmower is not the easiest of tasks. The difficulty in selection could be due to a variety of reasons, the primary being the expense incurred during purchase. There are several models and variants available in the market today that could make things even more confusing. All of the following aspects can make the selection process a bit overwhelming.
Weight of Robotic Lawnmowers
Heavy mowers can be difficult to transport and fit in cars. They are also very bulky and can become a hindrance and cause accidents. Heavy robotic lawn mowers tend to leave excessive track marks in the lawn once the butting is done and might make the lawn look untidy or unkempt. This pattern is especially visible during humid conditions when the soil and grass might be a little damp.
However, smaller and lighter robotic lawn mowers do not leave visible track marks on the grass. They are also much more comfortable to cartload than heavier ones. Easy to stow and transport, lightweight robotic lawn mowers are a valuable addition to almost any collection of garden tools.
Robotic Lawn Mower Topography 
While purchasing a lawnmower, it is crucial to consider the topography of your garden. Steep gradients and sloping lawns can be slightly challenging for regular lawn mowers. Select a robotic lawnmower that can quickly climb and easily descent changes in lawn gradients. Ensuring your robotic lawn mower is capable of handling different types of areas can help get a precise and elegant cut.
Almost all robotic mowers can conquer flat lawns. However, hilly and uneven gardens need specialised lawn mowers that can deliver outstanding performances despite the gradient or humidity.
Type of Robot Lawnmower Blade
Robotic lawn mowers come with two primary blades – pivoting and fixed. Fixed blades do not have the scope to move around a lot and are excellent for flat lawns. They are most suited for gardens that are free of obstacles and unevenness. On the other hand, pivoting blades tend to work around objects and obstacles, allowing the robotic lawn mower to deliver a fantastic performance.
Pivoting blades are more expensive than fixed blades since they perform multiple tasks at the same time. Fixed blades need manual restarting while pivoting blades do not. Before finalising a robotic lawnmower, it is crucial that you take stock of your garden's needs and plan according to the objects, obstacles, humidity, and topography.
Performance of Your Robot Lawnmower 
At the end of the day, when you invest in an expensive machine, you would want to see a superior quality of performance and precision. Cheap models can run on a charge for approximately an hour and a half before dying out, while the slightly expensive ones can last up to 7 hours on a single charge.
If you require precision cuts in a shorter time, you need to choose a robotic lawn mower with a high-performance rate in the first cut. Many models do require re-cutting for an even and precisely manicured lawn.
Lawn Mower Noise
Noise is another important criterion while opting for a robotic lawn mower. Most robotic lawn mowers can be timed to start and stop the function when you are away from home and help you avoid the noise altogether, but the decibel levels might become a nuisance to your neighbours.
A good quality robotic lawn mower will be able to do the job in the middle of the night (with minimal noise) while you sleep without disturbing your neighbours. Select a robotic lawn mower that automatically keeps the noise to a minimum while it is trimming.
The Best Robotic Lawn Mower for Your Lawn
By now, you should be ready to pick the best robotic lawn mower in the UK for your garden and lawn. Which one of our top eight robot mowers will you choose?
Our favourite robotic mower is the Flymo EasiLife 350. It can cover areas up to 300 m2 with a capacity of 30 m2 per hour, uses an irregular navigation system to establish full coverage, and can mow at an incline up to 35%. It automatically charges to save time and comes with collision sensors and boundary wire to get you all set up.  
Unfortunately, you can not view the screen with the cover closed; it lacks a wireless connection, and it may not be the best at trimming edges but overall, we still think it is worthy of our Editor's Choice award. Is it the best robot lawn mower for you? Or would another one of the robot lawn mowers we reviewed better suit your specific needs?
Let us know what you think in the comments below.
Additional Resources
Nicole has a passion for everything about the home – especially decor. She loves to add new touches and style to every part of the house. Join her as she documents her ideas at Home & Style.