Last Updated on February 16, 2022
Our editors independently research the best products online to produce this list. We may receive commission on purchases made from the links below but this will never affect our product choices.
---
Top 10 Best Patio Cleaners
There is something quite satisfying about getting your patio cleaned, but that will only happen when you have the correct tools in place to do the job.
But then you have a problem. There are various patio cleaners on the market, and knowing which are the best patio cleaners is not always that easy.
You will spend time thinking about how to deal with green mould and algae. You will wonder which is the best patio cleaning fluid around. You will wonder if simply pressure washing your patio will be sufficient.
So, here is what we are going to do. We will take you through what we see as the best patio cleaners on the market right now, and by the end of it, you will feel much better about purchasing the correct patio cleaner for you.
With that in mind, we can move on to our patio cleaner reviews.
How We Compared Patio Cleaners
To find the right patio cleaners we considered multiple factors including:
What Can It Clean
Does it Need Pressure Washing
How Do You Apply It
Safety
Keep Mould and Algae Away
Our team independently examined and compared hundreds of products to help satisfy different needs. We spent our time researching patio cleaners and consulting customer reviews to ultimately bring you what, in our opinion, are the best options on the market right now.
To find out more about our editorial process, take a look here.
Best Patio Cleaner Reviews
First, we have this amazing patio cleaner called Patio Magic, and it is very well named when you see it in action.
It works on patios and driveways and paths, and we see it as not only the best patio cleaner but one of the best outdoor cleaners in general.
With this liquid, there's no need for a pressure washer, and also, there's no need to scrub that patio surface to get it to work. This cleaner will both control and kill green mould and algae, but it does do this over several days before you will see a significant difference.
This patio cleaner is also very safe. It is biodegradable, so you do not have to keep pets or children away from the area, which is a major benefit.
Overall, it's the ease with which this patio cleaner can be used that marks it out as being the best. It can be applied to all outdoor hard surfaces, and it will remove that green mould with ease.
Pros:
You don't need to use a pressure washer to get your patio clean
It is completely safe for pets and children
It kills mould and algae
It requires no scrubbing
It can be applied to all outdoor surfaces
Cons:
If you want instant results, then this won't work
You may need a double application for tougher marks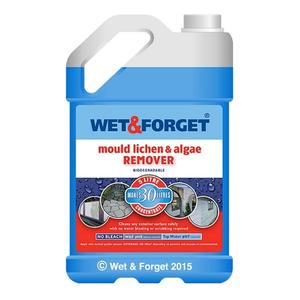 Wet and Forget Moss Mould Lichen and Algae Remover is non-caustic and non-acidic, making it safer to use. It deals with mould, algae, and lichen, so it tackles pretty much everything that you will need to target in your garden.
Using this patio cleaner is easy. You mix the solution with one part cleaner to five parts water, and then put it into your garden sprayer. After that, walk around your patio with your garden sprayer, and then leave it to get to work.
There is no need to rinse or even scrub your patio surface to get this product to work: it's a patio cleaner that does everything for you, and it works even though it is not filled with chemicals dangerous to humans.
Overall, this patio cleaner can deal with getting that mould off your garden furniture, as well as outdoor hard surfaces. The fact it does it so easily is just an added bonus; it is also the main reason this Wet and Forget moss mould remover is included in our list.
Pros:
This mixture is very easy to apply
You just apply and then leave it alone
No scrubbing or washing is required
It just needs a garden sprayer
It will even get your furniture free from mould
Cons:
You need to be patient to get this to work
You will go through the bottle quite quickly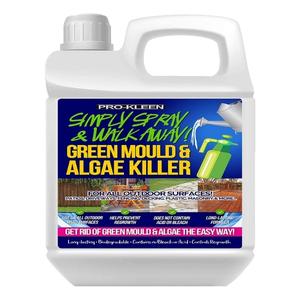 Even though we see this patio cleaner by Pro-Kleen as being the best value, don't make the mistake of thinking that the product is inferior in any way.
This product contains several ingredients, but it will work on green mould and effectively remove algae.
You can also use this product on a variety of surfaces, so it's not only one of the best patio cleaners, but it's also one of the best general garden cleaners, from paving stones to outdoor furniture. Fences, covers, if it's in your garden, then this is the cleaning solution that you want to use.
It is safe for pets and children after it has dried, and you should start to see some impressive results within a couple of days. After that, your patio slabs will be like new and all done without the need for pressure washers either.
Pros:
This patio cleaner is straightforward to use
It is completely safe
You can use it on a variety of surfaces without damaging them
You can apply even with a watering can
It requires no scrubbing or washing
Cons:
It does take a few days to see results
It may require two applications to remove everything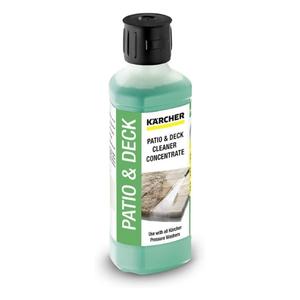 This particular cleaning solution is designed for the KARCHER pressure washer, so if you have that machine, then this is what you will need to get those amazing results.
This product is not only good for cleaning patio slabs, but it manages to produce little foam while still being highly effective. Suitable for not just patio surfaces, it can also be used on all stone and even water-resistant wood.
Thanks to being used in combination with a pressure washer, it does mean you will see results in a short period of time, and you will quickly realise why this is viewed as one of the best patio cleaners on the market.
Pros:
It delivers results quickly due to the pressure washer
It can be used even on wood
It is quick and easy to dilute and apply
It doesn't generate a lot of foam
It deals with both mould and algae
Cons:
You do need the KARCHER pressure washer first
It is a small bottle, so you could go through it quite quickly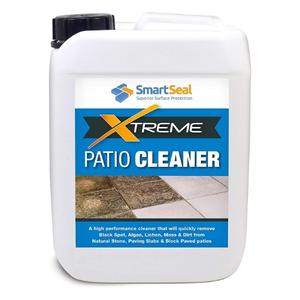 The thing that strikes you about this patio cleaner is that the company states it contains very powerful ingredients. That will then make quick work of both green mould and algae. It also states it will be effective on black lichen, which is a common issue across the UK.
Add in the way that it will burn through grime, and it does mean that this patio cleaner promises a whole lot in its ability to transform your outside space.
This product is also classed as being professional-grade, which adds to the feeling of just how powerful a product can be. You can apply it to block paving and flagstones; actually, you can clean any outdoor space with concrete or stonework with this SmartSeal Patio Clean Xtreme product.
Pros:
It will blast away any marks outside
Even grime is not a match for this product
It is quick and easy to apply
It is professional-grade, so even more powerful
It can even tackle moss on a roof within an hour
Cons:
You may need two treatments to get the desired results
It can have a strong odour
Don't allow yourself to be scared off by the name here, as most patio cleaners contain various chemicals that are scary to think about. Developed by Chemiphase, this is the ideal product for some deep patio cleaning, and it also delivers some remarkable results.
Able to be used on all stonework and concrete surfaces, this product will get even the filthiest block paving looking pristine once more, and it does it with relative ease.
Mix the solution, apply it to wherever you want to be cleaned, and you will begin to see some initial results happening in minutes rather than days. That alone will give you the confidence that this is a wonderful product, and you will want to clean all outdoor surfaces the same day.
Pros:
It works fast
It can be used on all stonework and concrete
It is easy to apply
It can deal with even tough marks
It sounds scary, but it's actually safe
Cons:
You must wear gloves when applying it as it can burn
It does have a bit of a smell to it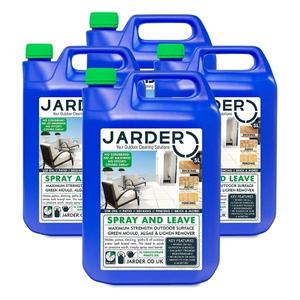 This is another mould lichen algae remover that adopts the spray-and-leave method, and this version by Jarder does indeed deliver on its promises.
You are looking at patio cleaning that takes practically no effort, and that's an impressive thing. Also, this patio cleaner is super concentrated, so a 5L bottle is going to go a long way. That means you can easily cover your entire garden and still have some left by the end.
This patio cleaner solution can also be used on almost any surface, from stone to concrete, terracotta, and even fencing. Some people use it on their UPVC windows, so this may be the best patio cleaner in the UK due to the variety of things it can do.
But another important factor here is that it states it stops the regrowth of mould and algae, and that should mean the work you do will last for longer. However, that does depend on where you live as to how effective that will be.
Pros:
It can be used on pretty much any surface you care to imagine
It is very easy to apply
It stops mould from simply regrowing
It is highly concentrated, so it goes a long way
You just spray it and leave it
Cons:
It may slightly discolour things at first
Stubborn marks may require a second treatment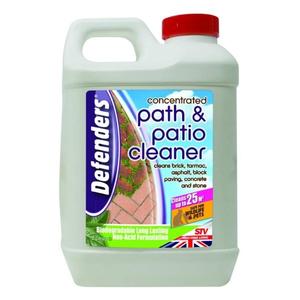 This path and patio cleaner is formulated with a non-acidic concentration, which means this patio cleaner is safe to use.
This one bottle will cover up to 25 square metres, and it will blast those marks and stains that have appeared on your patio over the years. However, even though you do not require a pressure washer for this patio cleaner to work, it takes some time to see the impact.
All you have to do is water it down, add it to your watering can or garden spray, and cover everything you want to clean. Then, let it do its own thing, and see the difference it makes when you then hose it away after a couple of days.
Pros:
Using this product could not be any easier
It is completely safe for pets and children
It blasts those marks and stains
You don't need a pressure washer to get this to work
It is biodegradable
Cons:
It does take some time for it to work
As is normal, it may take two treatments to get the best results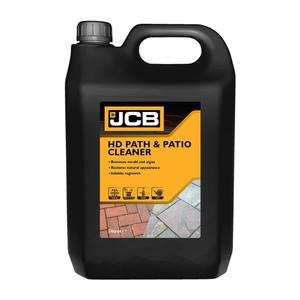 This heavy-duty cleaner is going to be capable of cutting through all manner of grime and dirt on your outdoor spaces, and this product is not just a good patio cleaner. Instead, it goes above and beyond while you don't even need to use a lot of elbow grease to get things clean.
All you need to do is to dilute, simply spray the solution onto what you want to clean, and then rinse it off. You don't even need to use a jet wash to get amazing results; just your normal garden hose will do the job.
This product can be used on not only natural stone patios but also brickwork and concrete. It's not advisable for wood decking, as this is all about hard surfaces, as that is where it will work best in just a few hours.
Pros:
It works in next to no time
It is easy to apply
You only need to rinse it off after it has worked
It can be used on all stone surfaces
It cuts through grime and dirt with ease
Cons:
You cannot use it on anything other than natural stone or concrete
It may require two treatments to work fully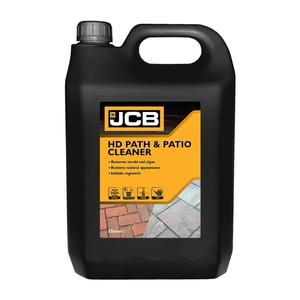 Finally, we have this product by Stonecare4U, and if you have dirty patios, then this patio cleaner will deal with whatever you want to throw at it.
This is a non-acidic patio cleaner, and it will be perfect for cleaning patios and any other outdoor surface without worrying about it damaging the material. It is also environmentally friendly, and it will go beyond just removing surface dirt. Instead, it will also remove mould, moss, and lichen from your garden paths, and it will do so with ease.
To get the most out of this product, which could keep areas clean for up to a year, you need to leave it on the surface for around 2 hours. Dilute the solution, spray and walk away, then come back to see the difference it has made after that time.
It is specially designed to be safe for pets and children, and it won't destroy even garden furniture if some of the chemicals splash onto your patio set.
Pros:
It is non-acidic and completely safe to use
You just spray and walk away
A quick rinse is all that is then required
It can be used on any outdoor surface
It makes a difference in just 2 hours
Cons:
Harder marks may require some scrubbing
You may need to use it a few times to get things pristine
How to Choose the Right Patio Cleaner
So, you want to buy the best patio cleaner in the UK, but what should you be looking out for when it comes to choosing the product? Well, there are several steps to look out for.
What Can it Clean?
When looking to buy a professional patio cleaner, you need to know what your patio detergent is capable of cleaning. With this point, we don't mean mould algae or anything else like that. Instead, it's the items it can be used on.
While you can also apply some liquid patio cleaners to garden furniture and wood, that's not always the case. While one may work well on paving slabs, it may destroy wood, so you cannot then apply it to the wood decking or a fence.
Be sure that you get the best patio cleaner for your own individual needs. The best patio cleaner will give a deep clean to all your items, rather than having to rely on different options.
Does it Need Pressure Washing?
After applying the patio cleaner to the surface, you must know how to deal with things. Do you simply spray and then leave it? Does it need a pressure washer to remove the debris that it will loosen off? Do you even need a specific pressure washer to deal with the cleaner in the first place?
A number of options require minimal fuss. Even the strongest patio cleaner on the market can be dealt with via a simple rinse to remove the dirt it has created.
How Do You Apply It?
You must also pay attention to how you apply it in the first place. While a spray patio cleaner is self-explanatory, most will require diluting into the right solution before adding to those paving slabs.
This diluting process applies to every version, not just a heavy-duty patio cleaner. Diluting becomes even more important if dealing with something such as Indian sandstone. If applied at concentrated levels, the chemicals could eventually damage the stone, so follow the instructions carefully.
Is it Safe?
This point is pretty obvious, but you must be aware as to whether or not this product is safe to use around pets, children, or even if it could damage aquatic life. While most are indeed environmentally friendly, there's more to it than just stating it's eco friendly on the bottle.
You have to remember that this is a product designed to remove dirt and mould. It contains chemicals for the algae remover to really work. However, the best patio cleaners should be safe around everyone, and there shouldn't even be too much of a smell from it either.
Does it Keep Mould and Algae Away?
Cleaning away that moss mould lichen algae concoction is one thing, but will the cleaner be capable of keeping all of those horrible things from just growing back immediately?
That is perhaps something you want to think about. You see, the products we have listed are not just washing up liquid in a spray bottle. They are designed for you to spray and walk away to let them do their job.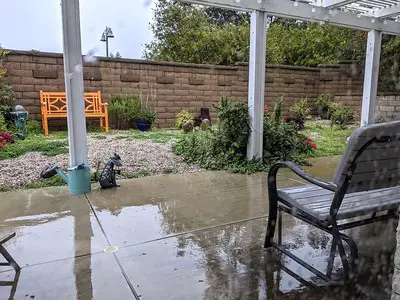 However, some do contain chemicals that help to slow down the development of all those nasty things on your patio, so it will make life easier for you in the long term.
Things to Avoid
Finally, there are undoubtedly things to avoid when it comes to buying these products. So, what should you look out for?
As we said earlier, avoid buying something that cannot clean everything you need. If it focuses on slabs and not brick, and you have brickwork to clean, then there are other options out there that will be suitable.
Also, be aware of the type of stone you have. The harshness of chemicals may damage something such as Indian sandstone, so pay attention to any warnings as to where or how you can use it.
The last thing is to avoid buying too little. A product should be able to tell you how this cleaner can cover a large area, so pay attention to those details. It will mean a better end result.
There's nothing complex about choosing the correct patio cleaner that suits your needs. All that's required is to understand what is to be cleaned, how often you need to do it, the method to be applied, and how long it will last.
Any of the products listed above are more than capable of removing algae and mould from your outside space.
Overall Conclusion
Finding the best patio cleaner in the UK is very easy to do as there are so many options out there to choose from that are all capable of doing a fantastic job. However, for us, the best patio cleaner has to be Patio Magic!
This is the best patio cleaner as it ticks all the boxes. It is safe to use, easy to use and delivers results. There really is nothing that it cannot do. Yes, you do need to be patient to give it time to work, but it will all be worth it in the end.
A patio cleaner will become an essential tool for your garden. There's no need to worry about the chemicals that are used, as the modern versions are significantly safer than the older versions from years ago. There are so many rules and regulations that must be followed that each manufacturer needs to be careful as to what they put into it.
So, feel free to choose any of the cleaners we have spoken about here. They are all excellent at what they do, and there's no doubt that they will make a significant difference to the appearance of your patio.
Additional Resources