Last Updated on February 16, 2022
Our editors independently research the best products online to produce this list. We may receive commission on purchases made from the links below but this will never affect our product choices.
---
Top 10 Best Garden Hose Reels
If you own a home or are living in one with an outdoor tap, chances are pretty good that you have or could benefit from owning a garden hose. A hose can help you water your lawn and garden and also helps you make easy work of cleaning things like your deck, sidewalks, and car. If you are considering buying a new hose, we strongly recommend you choose one that comes with a reel to help protect the garden hose itself and also help keep your lawn tidy. However, choosing the best garden hose reel may not seem all that straightforward without some help.
Below are our top choices for the best garden hose reel in the UK that not only come in handy but are also very easy to use. We also include a buyer's guide near the end to explain the top traits of garden reels and answer common questions to further help point you in the right direction. We are confident you will find an option that exceeds your specific garden, lawn, and cleaning needs on our list. Keep reading to find out which one suits you best!
How We Compared Garden Hose Reels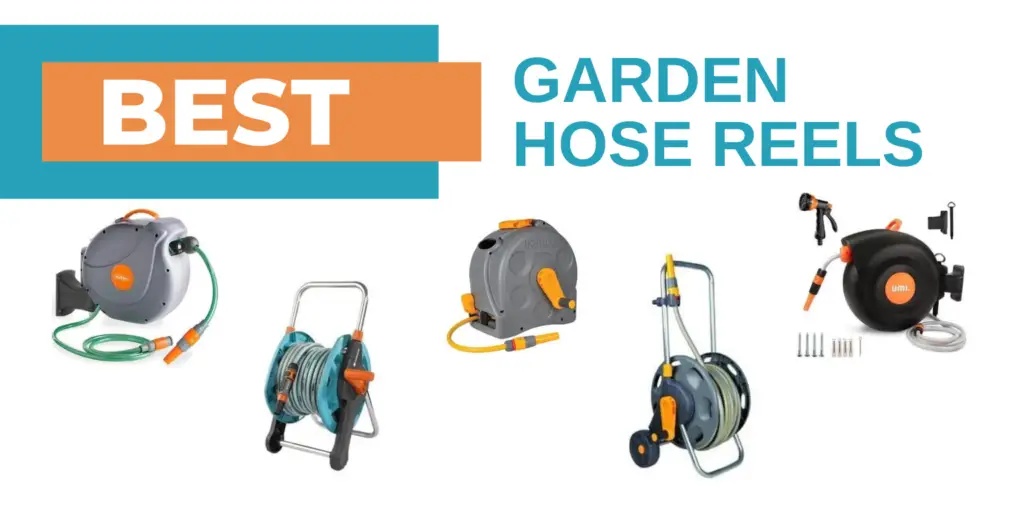 To find the right garden hose reels we considered multiple factors including:
Design Style
Rewind Function
Hose Length
Spray Nozzle
Build Quality and Materials
Our team independently examined and compared hundreds of products to help satisfy different needs. We spent our time researching garden hose reels and consulting customer reviews to ultimately bring you what, in our opinion, are the best options on the market right now.
To find out more about our editorial process, take a look here.
Garden Hose Reel Reviews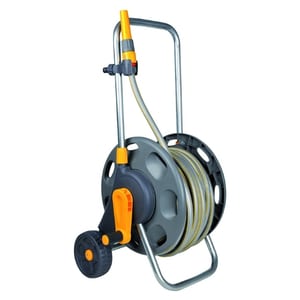 The factory-assembled Hozelock Hose Cart is our favourite all-around Editor's Choice. It is one of the easiest and most convenient to use and does a great job keeping your hose and garden tidy.
This lightweight and portable hose reel allows you to move your hose to water different parts of your garden with ease. It is very efficient and is fitted with a very long 50-metre hose that will get to even the farthest regions of a sizeable garden.
The multi-purpose hose winding handle is extremely effective and gives you no problem at all. As a result, you need not worry about kinking or tangling your hose when using this hose reel.
This reel is produced from high-grade plastic materials. Therefore, it is not surprising that it ranks as one of the most durable hose reels that you will come across. The Hozelock Hose Cart is quite stable, its lightweight design notwithstanding. It is further complemented by a two-year warranty.
Be aware, this garden hose does not automatically recoil after use, and it may kink easier when the hose is heated up considerably by the sun. It also has the potential to leak a small amount at the tap connector.
Pros:
It comes with a very long 50 m hose
Wheels help to enhance portability
Two-year warranty included
Easy and convenient to use 
High-grade materials
Cons:
It does not automatically recoil after use 
Could leak a small amount at the tap connector
Kinks easier when the hose is warmed by the sun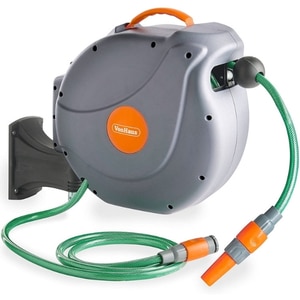 The Vonhaus Wall- Mounted Hose Reel is undoubtedly one of the best garden hose reels being manufactured at the moment. A product from the renowned brand, Vonhaus, this hose reel guarantees a quick watering of your garden. In no time, you will cover the entire area of your garden or lawn when you make use of this garden reel.
Featuring a powerful spring that helps to automatically retract its built-in 20m hose into the casing, this hose reel also unwinds automatically and stays taut when watering thanks to its automatic lock feature. In addition, the Vonhaus Hose reel can be mounted to the wall and, as a result, helps to conserve space.
It is also worth mentioning that this superb product is fitted with a pivot that can rotate through 180°. This greatly helps to enhance its manoeuvrability. It comes with a 2.1cm diameter spray nozzle to effectively distribute water to all parts of your lawn. Moreover, a two-year warranty is included by the manufacturers to serve as additional proof of quality.
This option has a shorter feeder hose and less durable wall mount, wall plugs, and plastic fittings, but they can easily be replaced. Lastly, if you do not release the pressure and excess water in the hose before activating the rewind mechanism, it could be too bulky to fully retract into the hose box.
Pros:
It has a 20 m long hose
Automatic retract feature
Covered by a two-year warranty 
Automatic locking function keeps hose taught 
Space-saving wall-mount design
Cons:
Shorter feeder hose  
Less durable fixings included 
Need to release pressure in the hose to rewind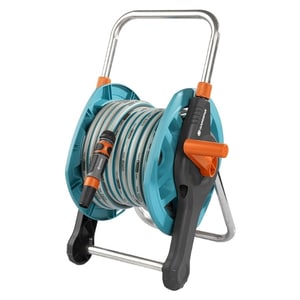 A day in the garden doesn't have to be complicated when you use the Gardena Classic Hose Reel Set. With its simplicity, it is an easy-to-use tool for watering your garden and comes at an excellent value without sacrificing the overall quality of the build. 
This hose reel provides an excellent gardening experience in a compact package. It is lightweight and very portable. In fact, one of its unique features is that the entire compact hose and reel can be fitted into a bag and carried around without stress.
The Gardena Hose Reel Set has a manual recoiling handle that turns easily. To get the best results, simply turn off your garden hosepipe, let the water drain, and slowly and steadily turn the handle until the entire flexible hose is wound around the compact reel. It also has a large, durable carry handle on top so you can easily move it around your garden as needed. The base of the hose is also sturdy and resists tipping easily.
Potential cons for this hose pipe include it lacking an automatic recoil function, having the potential to kink if you do not take your time, and it not having the option to be wall-mounted.
Pros:
Lightweight and portable compact design
Relatively cheap hose for the overall quality
Easy to use
Large carry handle 
Sturdy base resists tipping
Cons:
Not an auto-reel model with a retraction function
May kink if you move too quickly 
It cannot be wall-mounted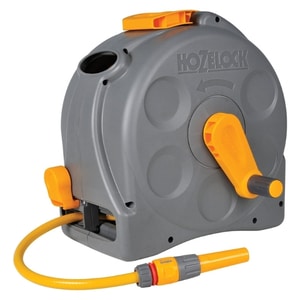 The Hozelock Compact 2-in-1 expandable garden hose could be a great choice if you are looking for a versatile design. As the name suggests, it is also compact, making it the right hose for a medium or small-sized garden.
This extendable hose reaches 25 metres and, when wound, is completely contained within its housing. Its design allows it to be used freestanding, but the hose box also has a sturdy wall bracket hook if you wish to hang it on a wall. The housing also protects your garden hose pipe from the elements helping to prolong its usable lifespan.
This garden hose reel is lightweight and portable. In addition to its more compact size, the expandable hose box also has a foldable carry handle, making it easier to manoeuvre. It comes with a spray gun and the hose connectors needed to connect it to your outdoor tap. It also features a slide mechanism to help the hose pipe wind more evenly.
Be aware that the Hozelock Compact 2-in-1 does require a somewhat lengthy assembly upon arrival. The winding mechanism may also require some added strength to operate, and even then, it could stick from time to time.
Pros:
Good for medium and small gardens
The freestanding or wall-mounted option
Protective hose box with a carry handle
Lightweight and portable compact design 
Hose connectors and spray nozzle included 
Cons:
The winding mechanism could stick occasionally
Rewind may require some force to operate 
Lengthier assembly required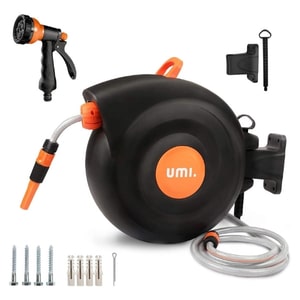 Umi's Auto Rewind Wall-Mounted garden hose reel is another user-friendly option on our best garden hose reel in the UK list. It has all the upgraded features you could want and also comes with a couple of bonus accessories.  
To help you manage the hose efficiently during use, Umi designed this expandable hose with an auto reel that mounts to a wall. The wall bracket has a convenient 180° pivot, so you can easily move around your garden without unnecessarily tugging. We really like that this expandable garden hose also rewinds quickly and locks in place.
This 25-metre garden hose pipe and reel come with an adjustable spray nozzle and an adjustable spray gun. Combined, they give you nine different spray modes, ample water pressure, and the ability to create a jet spray similar to a pressure washer. Unlike other hoses with a wall mount, the Umi also has a carry handle and comes with two different hose diameter connectors so you can easily attach the hose to your outdoor tap regardless of size.
The Umi garden hose reel could leak near the hose connector after extended use, and it has a lower quality spray gun, but fortunately, both of these components can be replaced if or when the time comes. It also has a heavier design.
Pros:
Adjustable spray head and spray gun with nine modes 
Auto reel rewinds quickly 
Excellent water pressure 
Wall-mounted reel with a 180° pivot 
25 m expandable hose 
Cons:
Lower quality spray gun 
Could leak a little near the hose connector
Heavier design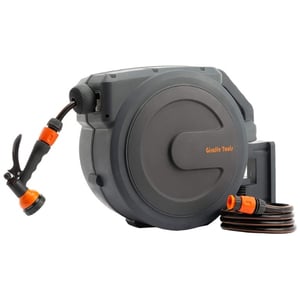 Smooth retraction is key if you choose a hose pipe reel with an automatic rewind function. While some expandable hoses struggle with this, the Giraffe Tools Retractable hose pipe does not.
This expanding hose comes with the typical spray head as well as an additional spray gun facilitating seven different spray patterns for varying water pressure. With all these options, you should be able to water plants, clean your car, and use it as a gentle power washer. It features a spring-loaded automatic rewind with a lock.
Giraffe Tools stocked this reel with a premium quality 35-metre garden hose, but it is also available in a shorter 27-metre option if you have a smaller garden deeming the extra length irrelevant. The reel can be wall-mounted and has a 180° pivot. The mount also features a quick-release, so you can easily lift it off off the bracket with its handle. An included tap connector ensures you start using the product as soon as it arrives.
Even though this hose reel is compact overall, it can be a bit heavy, making it less manoeuvrable when it isn't mounted. Other potential drawbacks include the leader hos possibly interfering with the pivot function, and the housing could fade over time if mounted in a spot that gets a lot of direct sunlight.  
Pros:
Spray gun and nozzle included
Extra-long 35 m hose pipe 
Seven water pressure levels 
Smooth auto rewind with locking mechanism
Quick-release wall mount
Cons:
Housing could fade over time 
Heavier design 
Leader hose could interfere with the pivot function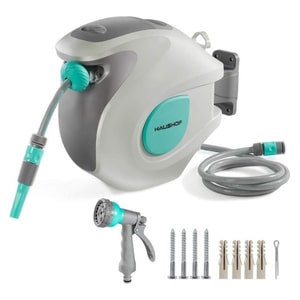 In our opinion, the Haushof Wall-Mounted is one of the best garden hoses available on the market today that comes with a reel. This wonderful piece of equipment, made from quality materials, will make it simple for you to water your plants and is straightforward to set up and use.
The sleek-looking Haushof Hose Reel comes with a 20m hose and has an automatic locking system for added control. It also features an automatic rewind function that operates smoothly without excessive kinks and rolls up automatically after its usage, which is quite convenient.
This expandable garden hose comes with a spray gun and a spray nozzle, so you can choose from different spray patterns and pressures depending on the job you are trying to accomplish. The housing can be wall-mounted and has a convenient 180-degree pivot to help prevent angling the hose in a way that could cause kinks and impede the flow of water while you work.
Regretfully, the spring-loaded retractor may not be the most durable on this option. It also could benefit from more durable or brass connectors, and it could be a bit too short for some larger gardens and lawns.
Pros:
Versatile spray gun and nozzle included
Quite easy to set up and use
Sleek wall-mounted design with a pivot
Auto retraction with a locking mechanism
Quality build and construction 
Cons:
Connectors may be less durable
It might be too short for some larger lawns
Automatic rewind could be less durable than expected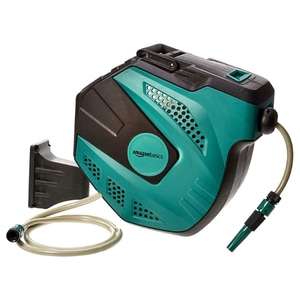 Another high-quality hose reel that makes it onto our list of the best garden hose reels is the AmazonBasics Auto-Rewindable Wall-Mounted reel. The AmazonBasic reel is very easy to install, use and even has a convenient carry handle on the top so you can hang it for storage.
This excellent product is equipped with a 35-metre hose that is long enough for a large or medium-sized garden. If you have a smaller garden, these hose pipes also come in a 15 metre and a 25-metre option as well. Aside from the rubber hoses within the reel, it boasts of a cool auto-rewindable feature with a smooth operation. Furthermore, installing the hose reel is a very easy and straightforward task that can be accomplished in a short amount of time. 
This hose reel, made with a basic yet thorough design, is fully functional, providing efficient coverage for your entire garden and lawn area. In the summer, with its vibrant teal colour, the Amazon Basic makes a great addition to the garden as well.
We really like these AmazonBasics garden hoses with reels, but you should be aware that they have a bulkier design overall. They also have a smaller hose pipe opening, so you will have to pull it out in a relatively straight position. Lastly, it retracts rapidly, so you will want to take extra precautions to prevent injury or possible damage to the spray tip.
Pros:
Smooth auto-rewind feature
Easy to install wall mount
Long 35 m hose for medium to large gardens
Convenient carry handle
Easy to use  
Cons:
Smaller hose pipe opening 
Faster rewind needs monitoring
Somewhat bulkier design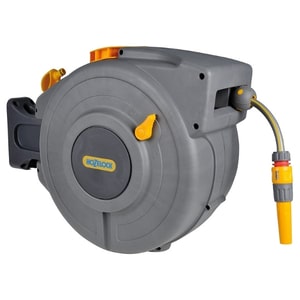 The Hozelock AutoWall-mounted garden hose reel comes in different colours, so this is definitely a great pick as the variety of colours blends with the garden. It also has all the upgraded features and a durable, tough hose pipe.
The Hozelock Auto Reel is wall-mounted, making it a good choice for you if you don't like carrying your reels about. It has a 20-metre long reel that has an automatic lock. This automatic lock ensures that once the job is done, the hose locks automatically on its own, eliminating any manual opening or locking.
One likeable feature of the Hozelock Auto Reel hose is its lightweight design, making it very easy to manoeuvre. Of course, as far as manoeuvrability is concerned, one should also mention the fact that this device has a 180-degree pivot. This allows you to easily reach all parts of your garden. A child lock feature also prevents playful children from accidentally pulling the hose from the reel.
You may need to pull the hose pipe with some force to activate the automatic locking function, and it may leak a small amount inside the reel due to a lower quality hose clip; however, it can be replaced. Our only other concern is that the softer hose pipe could easily kink when warmed in the sun.
Pros:
Automatic lock system
20 m hose pipe
Integrated child lock feature
Lightweight for easy manoeuvrability
Assorted colour options available 
Cons:
The lock may require some force to activate 
Could leak a small amount inside the reel 
The softer hose may kink easier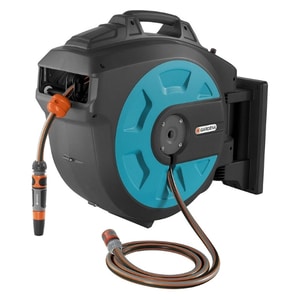 The Gardena Wall-Mounted Automatic hose reel is one that is built to last for a long time. It is designed with quality materials to enhance your gardening experience and brings you the top level of performance with its advanced features. 
The Gardena Wall-Mounted hose reel comes with an automatic recoiling 35-metre hose reel. Therefore, you don't need to roll it up as it automatically rolls itself up once you are done. It is has a wall bracket for mounting and certainly gets the job done quickly and efficiently. Conveniently, the wall mount features a 180-degree pivot point to help prevent unnecessary kinks in the hose while you move about your garden and lawn.
We love that the Gardena also has frost-resistant housing, so no need to worry if you accidentally leave it out in cold weather. In addition, it comes with its own spray nozzle that makes your gardening experience more versatile and pleasurable. It also comes with a five-year manufacturer's warranty to back the overall quality of the device. 
Gardena garden hoses might be a bit harder to pull out of the reel for some people, and the housing lacks a carry handle. Lastly, the included fixings for the wall mount may not be of the best quality, so we recommend using different ones for a more secure mount.
Pros:
Extra-long 35 m reel
Wall-mounted hose reel with a 180-degree pivot
It comes with its own spray nozzle
Quality build and materials
Frost resistant design 
Cons:
It could be a bit harder to pull the hose out of the reel 
It lacks a carry handle 
Lower quality fixings are possible 
Choosing the Best Garden Hose Reel for Your Home: A Buyer's Guide
Now that you know all about our top picks for the best garden hose reels, let's look at what we think are their most important features and cover some common questions. The following sections should help you narrow down the choices to ensure you wind up with the best possible product for your home and garden needs in the end.
What to Look for In the Best Garden Hose Reels
The following traits are a good indicator of how well or how easily a garden hose reel will function. We recommend prioritizing the traits that you think will be most useful to your specific setup and garden size.
Design Style: Wall-Mounted or FreeStanding?
When determining which garden hose reel is best for you, the very first trait we recommend considering is the overall design style. For the most part, garden hose reels are designed to either be freestanding or mounted on a wall or steady pole. However, some of the best garden hose reels have the option for both.
Wall mounting your garden hose reel is a more permanent solution that aims to keep your lawn free from any kind of clutter. Often, keeping your garden hose and reel elevated off of the ground also helps to keep it drier. Another major perk is that many but not all mountable garden hose reels feature an automatic rewind function. The best wall-mounted hose reels also feature a pivot, typically 180 degrees, that helps prevent kinks in the hose where the hose comes out of the housing. Without a pivot, the hose is more likely to press on the opening while you move around, causing a significant decrease in water pressure and slowing down your progress.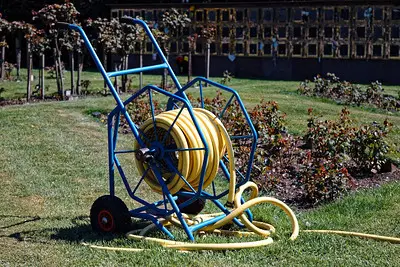 Of course, a garden hose is not uncommon in a lawn, so it isn't really considered clutter by a lot of people. If you fall into this category, then you may not want to discount freestanding garden hose reels. A freestanding garden hose reel also gives you the ability it move it around with ease. Some even come with wheels on the base so you can drag it around behind you while you work. One of the major complaints about freestanding hose reels is that they typically do not feature an automatic rewind function.
Rewind Function: Automatic or Manual Rewind?
As we briefly discussed above, you will also want to consider whether or not an automatic rewind function is something you could benefit from.
Many people prefer a manual rewind function because they find the faster retraction of an automatic reel to be dangerous. In addition, with a manual reel, the hose is often more exposed, so you can adjust the hose while you wind to ensure it winds evenly and without any kinks.
Automatically retracting hose reels are wildly convenient, as long as they work smoothly like the options on our list. An automatic rewind typically takes just seconds to wind the entire hose making cleanup virtually nonexistent. Many also have a braking system to prevent possible injury so that the hose isn't sucked back in at a dangerous speed. We think the best retractable hose reel will also have a locking mechanism that keeps your hose extended while you work without you having to tug on it repeatedly.
Hose Length
It may seem a bit obvious, but different reels contain different sized hoses. You will want to make sure you choose a reel with a garden hose that is long enough to reach your entire lawn, plus a little extra space for comfort. Garden hose reels can contain a hose that is anywhere from 15 to 50 metres in length. Choose the length that will best accommodate your property.
Spray Nozzle
Almost all hose pipes come with a nozzle to concentrate the spray, but not all have adjustable spray patterns and water pressure. In addition, some garden hose reels also come with a spray gun as an added bonus. Varying spray patterns and water pressures can help you accomplish a variety of tasks in your garden without damaging your plants or other materials. Some spray nozzles even allow you to use the hose as gentle pressure washers.
Build Quality and Materials
This may be the last trait we recommend keeping your eye out for, but that does not mean it is the least important. As with any product, you should consider the build quality and the materials used to make a garden hose reel. Choosing a product made from top quality materials may be slightly more expensive upfront, but chances are it will last longer and function better overall. We made sure to choose garden hose reels for our list that are made with top-quality components.
Do You Need a Garden Hose Reel?
If you own a garden or lawn, then you need a couple of pieces of equipment to make it stay beautiful. Otherwise, it becomes unkempt and an eyesore to you and others. The garden hose reel is one such important tool for our garden. A garden hose is used to bring water to the garden to make the plants and flowers flourish and grow beautiful. It is used as a connector from the water source to the garden itself to provide water to the garden.
Nevertheless, it is important for you to adequately take care of your watering hose. If you pay proper attention to its storage, a good hose should last you for several years. On the other hand, improper storage and negligence could cause kinking and tangling, which can shorten the lifespan of the hose and even lead to premature damage. Therefore, it is advisable to also buy a hose reel when you buy a hose for your garden so you can avoid having to replace or attempt to repair minor damage. You may not even need a hose at all since most of these hose reels are now equipped with hoses themselves.
The Best Garden Hose Reel for Your Home
Garden hose reels are a useful tool that can help protect your hose from harsh outdoor conditions, expand your hose's useable lifespan, and help to keep your lawn tidy and organized. The best garden hose reel for UK homes depends on your own personal preferences as well as your specific size and coverage needs. Now that you know what to look for in the best garden hose reels, let's quickly review our number one Editor's Choice before deciding which option best suits your needs.
Our favourite garden hose reel is the Hozelock Assembled Hose Cart. It comes with a very long 50-metre garden hose, has large wheels that help to enhance portability, is made with high-grade materials, and is easy and convenient to use overall. To top it off, Hozelock backs this product with a two-year manufacturer's warranty.
The Assembled Hose Cart reel does not automatically recoil after use, could leak a small amount at the tap connector, and may kink easier when the hose is warmed by the sun, but we still think it makes an excellent choice for large lawns and gardens. Is it the right choice for you?
Let us know what you think in the comments below.
Additional Resources
Nicole has a passion for everything about the home – especially decor. She loves to add new touches and style to every part of the house. Join her as she documents her ideas at Home & Style.