Last Updated on February 17, 2022
Our editors independently research the best products online to produce this list. We may receive commission on purchases made from the links below but this will never affect our product choices.
---
Top 8 Best Garden Vacuums
When autumn arrives, you're likely to be faced with the task of clearing fallen leaves and other debris from your garden. Every time the wind blows, more leaves will fall, making your garden look unsightly. A garden free of fallen leaves is much more attractive to look at and provides a sense of self-satisfaction for a neat and tidy area of your home.
The easiest way to keep your garden tidy during the autumn is with a small garden vacuum or leaf blower. Having a leaf blower or garden vacuum can help make a daunting task much quicker and easier! A leaf blower or garden vacuum is extremely effective at removing fallen leaves and other tree debris from your garden, but choosing the right one for your needs may take some time.
For example, there are electric-powered garden vacuums, as well as cordless battery powered garden vacuums. You can choose to go with the best leaf blower you can find, or choose a combination unit that can vacuum and mulch as well. Let's take a closer look at a variety of different garden vacuums and leaf blowers to see which may work best for your budget and unique expectations.
When looking for the best garden vacuum in the UK, you'll notice a wide range of standard and unique features. Whether you are searching for a cordless or electric model, a lightweight or heavier duty one, or just want a simple leaf blower, let's take a closer look at eight different garden blowers below in this list of the best garden vacuum reviews.
How we Compared Garden Vacuums
To find the right garden vacuums we considered multiple factors, including:
Capacity
Power levels
Weight
Cord lengths
Extra accessories
Our team independently examined and compared hundreds of products to help satisfy different needs. We spent our time researching garden vacuums and consulting customer reviews to ultimately bring you what, in our opinion, are the best options on the market right now.
To find out more about our editorial process, take a look here.
Garden Vacuum Reviews
Hyundai has put a lot of focus into ergonomics and the comfort of use with this model. Not only does it include anti-vibration technology, but it's also extremely lightweight. At only 3.3kg in weight, it's highly portable and easy to manoeuvre around the garden throughout the year. If you're searching for the best garden vac and blower for your home, consider the Hyundai 3-in-1.
The attached padded shoulder strap and two small front wheels help reduce the weight of this unit while you are using it, and with a 12-meter long cord, you can reach every corner of your small or medium-sized garden. With the shoulder strap and wheels, this unit feels very balanced and comfortable to use for longer periods of time while in one of its vacuum modes.
This Hyundai unit has a 3000W powerful motor to give plenty of vacuuming and blowing power. You'll also notice the chute can be extended up to 100cm or reduced to 70cm for easier storage when not in use. The variable speed abilities of this versatile and powerful garden implement go from 8000 to 14000 RPMs which provide extreme levels of airflow into and out of the unit when using the blowing function or garden vac setting. 
You'll have no trouble blowing leaves and other debris out of your garden or vacuuming it up and mulching it to reduce the size of the foliage to 1/10th its size. This helps with composting speed and efficiency. And with a 45-litre size holding container, you can do a lot of garden tidying at any time of the year.
Pros:
Ergonomic and lightweight
Includes blower function, vacuum mode, and mulcher
The 12-metre long cable allows free movement around your garden
Cons:
Chute is not removable or changeable
Very prone to clogging with wet leaves or grass
Bosch has combined the best of both worlds by creating this 2-in-1 garden vacuum and leaf blower combination that stands apart from most garden vacuums. Convert between the two modes by simply switching out the nozzles and adding a holding bag for vacuuming. It takes only a few minutes to remove the release screw and is extremely easy.
If you want more power, this leaf blower vacuum offers a powerful 1800 watt motor that effortlessly shifts even wet leaves around to help them dry and prevent brown spots in your garden. On the flip side, the vacuum ability is impressive for the size of this unit, and it will quickly suck up a variety of vegetation debris from around your home.
This garden tidy unit is lightweight, and the motor is relatively quiet since it uses Bosch's ProSilence technology. You'll be able to tidy your garden in the early morning or late evening without bothering your neighbours. The massive 45-litre holding bag is great for holding a large number of leaves, grass and twigs to make your garden look spotless.
Pros:
Very quiet motor with ProSilence technology
It has a large 45-litre collection bag
1800 watts of powerful blowing and vacuuming abilities
Cons:
It can be time-consuming to thoroughly clean
The unit gets heavy when vacuuming debris
VonHaus has created a versatile electric leaf blower and garden vacuum that is a budget-friendly 3-in-1 model. It vacuums, mulches and acts as a corded leaf blower. This gives it a high level of versatility and convenience for anyone looking to improve the tidiness of their garden area or who may be wanting to ditch their petrol model for something more efficient.
The motor on this versatile tool is a powerful 3000 watts that provide more power for carrying out any of the three functions you demand. When vacuuming and mulching, the 35-litre bag will hold a reasonable amount of debris, and the 10:1 mulching ability will help make all of the leaf litter perfectly suitable for rapid composting.
It's an extremely lightweight electric leaf blower and garden vacuum, and as a result, it is also easy to manoeuvre around the garden and any landscaping you may have. The included shoulder strap and nozzle support wheels make using this unit comfortable and convenient.
Pros:
Compact and lightweight garden vacuum
10:1 mulching abilities for better composting
Includes a 2-year warranty from the manufacturer
Cons:
Motor and fans can be loud on higher power speeds
The nozzle can easily clog when vacuuming large wet or dry leaves
Garden Gear is here to offer an extremely powerful 3-in-1 garden vacuum to tackle any tidying job you can think of. The 3500-watt motor can easily shift even damp leaves around to help them dry or simply move them off your lot.
When using the vacuum ability, the 45-litre collection bag gives you plenty of time to collect leaf litter and other vegetation debris before you have to empty it. You can even vacuum and mulch slightly damp leaves and grass without issue.
This garden vacuum is budget-friendly and great for an entry-level garden accessory if you simply want to test out the handy tool and see if it can benefit you. Garden Gear has included a lengthy 10-meter cable to ensure you have plenty of working space and easy manoeuvrability in your garden.
Pros:
Powerful 3500-watt motor
Can vacuum and blow even wet leaves
Includes a large 45-litre capacity collection bag
Cons:
Made from plastic and can look cheap
Difficult to unblock if it becomes clogged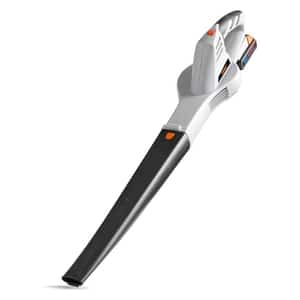 Finding the best garden vacuum in the UK can be difficult, but if you're looking for the most freedom for walking around your garden, blowing leaves out of every corner and nook, this VonHaus cordless model is extremely versatile and lightweight. It's compact and perfect for small or medium-sized gardens.
Handling this leaf blower is comfortable as the handle is padded in a soft rubber grip. You'll get a solid 15-20 minutes of non-stop usage time from the high powered 20-volt lithium-ion battery from a one-hour charge. 
You can easily shift damp and wet leaves around to expedite drying time or to move them off your lot entirely to prevent them from damaging your grass, leading to brown spots and other unsightly areas of your garden.
The motor on this leaf blower is powerful yet quiet, giving you the ability to work outdoors in the early mornings without bothering your neighbours with loud sounds. 
Pros:
A powerful lithium-ion battery gives plenty of usage time
Cordless gives you ultimate freedom of movement
Lightweight and compact for easy use and storage
Cons:
Does not vacuum or mulch
Plastic is thin and can be prone to damage
If you have a small to a medium-sized yard, the Handy model featured here is a great option to consider. It includes a 10-meter long cord giving you plenty of freedom when moving around the garden.
This 3-in-1 model will blow and vacuum leaves, unwanted debris and mulch into the spacious 45-litre collection bag. Handling is easy as the unit is lightweight and includes a shoulder strap for comfort even when handling a full collection bag.
The 3000-watt motor is powerful enough to quickly move large amounts of dry leaves, twigs, and other vegetation out of your garden. The noise level at higher speeds can be a bit much, but since it makes quick work of most small garden tasks, you won't be using it long, so there is no worry about bothering close neighbours.
Pros:
The powerful 3000-watt motor makes quick work of garden tidying
10:1 mulching ratio to improve composting efficiency
Huge 45-litre collection bag with shoulder strap
Cons:
May struggle to shift wet leaves
Motor and fan can be loud
If you've been searching for the best cordless garden vacuum or cordless leaf blowers, Greenworks may have provided it in this unit. It features an extremely effective 40-volt battery to give you a solid 15 minutes of non-stop usage time at the highest power setting. You'll have your garden free of leaves and blossoms in no time with this cordless leaf blower and garden vac combination.
This cordless unit weighs just 4.8kg with the battery inserted. You'll easily be able to walk around your entire garden blowing or vacuuming leaves out of the way with the high suction capacity and leaf blowing ability. The included 45-litre collection bag holds a huge amount of garden debris which you can then move to a new location or use as compost where it's needed.
If you're worried about the noise level, this unit only tops out at 90 decibels, giving you the peace of mind you need when using it in the mornings or evenings. You won't disturb your neighbours with any obnoxious motor sounds. It's extremely quiet, especially when compared with petrol models of the same size.
Pros:
Genuinely powerful for a cordless unit
Extremely quiet in comparison to other units
Cordless operation for complete freedom of movement
Cons:
High power reduces usage time to 15 minutes
Does not mulch leaves vacuumed up
Black & Decker has created a very effective 2-in-1 cordless garden vacuum that also mulches at a shredding ratio of about 7:1, which helps speed up time for composting the litter you collect. The 17.5-litre holding bag is somewhat on the small side in comparison to most other models but is still large enough to collect a large number of leaves, blossoms, and twigs.
The 36-volt lithium-ion battery can give you up to 20 minutes of usable time out in the garden, whether you are leaf blowing or vacuuming and mulching. At just 4.9kg weight, this cordless unit is not a feather but is still lightweight enough to make working in the garden enjoyable for your back and shoulders. 
Pros:
Powerful 36-volt Lithium-ion battery
One hour charge gives 20 minutes of usable time
Less than 5kg for comfortable manoeuvring 
Cons:
Smaller than most collection bags at just 17.5 litres
More suited for smaller tasks and very dry leaves
Buyer's Guide
If you've spent the time looking through the above reviews of the eight models in this article but still don't know which one is the right garden vacuum for you, don't worry. You simply need to take a bit of time to think about what you need and what you expect from the best garden tool.
For example, if you have a very spacious garden to maintain, you might want to look for a high powered motor and corded model. Cordless models can be just as powerful as a corded model, but their work time is greatly reduced due to battery limitations.
Will you be moving leaves to an exterior area of the garden, or do you want to pick them up? If you plan on picking them up, will you be mulching them as well? These considerations are also important since if you plan on just moving the leaves around, a simple leaf blower is perfect for you. If you want to pick them up and mulch them, a more powerful unit with a collection bag is necessary for finding the best garden vacuums.
Also, take into consideration your own experience handling garden tools and simply being out in your garden moving around while holding a vibrating, noisy and sometimes heavy garden implement. If you have very little experience, you may want to start with just a blower to keep things simple as you learn.
On the other hand, if you are experienced and don't mind putting in some work yourself, a 3-in-1 model with exchangeable nozzles may turn out to be one of the best garden vacuums for you and your needs.
Now that you have the basic idea of the best garden vacuums in mind, let's break it down a bit more. Asking yourself these additional questions can help narrow it down even more:
Do you have a spacious or compact area for easy storage of the garden vacuum?
If mulching is important to you, what mulching ratio or shredding ratio do you prefer?
Will a corded model be able to reach all areas of your garden?
Do you want a shoulder strap, adjustable handle and other ergonomic features?
Is a variable speed control important to you?
Separating the Best Garden Hoovers and Blowers
The biggest benefit to a garden vacuum is they are rather simple tools. The exact same motor and fan can be used as a blower or vacuum. Since they aren't high tech garden implements, their price is usually very budget-friendly.
One of the biggest things to look out for in a model that works for you is how they are powered. Corded models tied to the mains are extremely powerful and can be used for extended periods of time, but the length of the cord limits you. You can add an extension power cord, of course, but then you are limited by some landscaping and décor as you try to manoeuvre around the garden.
Cordless models give you freedom of moving where you need to and manoeuvring around trees and other landscaping, but you may notice a lack of power in some motors. Even those that have powerful motors equal to corded versions have the limitation of battery life. A one hour charge may only get you half an hour of usable time.
Differences in a Garden Hoover and a Leaf Blower
Some individuals may not understand the differences between a leaf blower and a garden hoover and how they can benefit you in different ways.  Understanding the differences is the first step in choosing the right garden vacuum or garden leaf blower.
A garden leaf blower does what exactly it says. It blows leaves from one area of the garden to another. Often to a central pile where the leaves are then disposed of by hand using a leaf rake and recycling bins.
This provides more work for you but also provides enjoyable piles of leaves for children to play in. So it has an added benefit there.
A garden hoover does the opposite. Instead of blowing the leaves away, it sucks them into the unit, mulches them internally, and collects them in a large collection bag that rests below the unit. This usually works best for smaller and thinner leaves, flower blossoms and petals, tiny twigs, and small seed pods. 
The biggest downside here is that you will be carrying the weight of the collected garden vegetation around with you in the large collection bag, which can cause muscle pain during long work sessions. The benefit is that you have access to instant mulch, which can be placed around your garden or among vegetable plants to increase the quality of the soil.
Consider the Capacity
The capacity of your collection bag is often an overlooked and sometimes ignored factor when it comes to choosing a garden vacuum. This, of course, only applies to the vacuum and mulching units and does not apply to the simple leaf blowers. Your biggest question may be, "How much capacity do I need?" when it comes to a vacuum function model.
As you work in your garden collecting leaves, blossoms, twigs, and other debris that falls from the trees and shrubs, you will be filling up a large collection bag that is attached to the unit. After the bag is full, you will likely have a convenient zipper on one side that can be unzipped to release the mulch where you want it. This can be a recycling bin or compost heap, depending on your needs.
On lower-priced units, the bag may be poorly designed with inconvenient ways to empty it. You might also have to deal with frequent clogs and other blockages, especially if you are working with wet leaves and vegetation. When considering which garden vacuum to purchase, always try looking at how the collection bag is set up. This often-overlooked feature can become a headache for you later if it is poorly designed. 
Collection bag sizes often range from 15 to 50 litres, with 35-40 litres being the most common. Smaller gardens or those with very small leaves to vacuum will do perfectly fine with collection bags on the smaller size as well. Twenty litres or less is usually perfectly suitable in these cases.
For gardens with oak trees, maple trees, or other larger vegetation, or small twigs and pine cones that are slightly bulkier overall, a larger collection bag will be better suited. For example, a 35 or 45-litre size will probably suit your needs better. 
The larger bag capacity will also reduce the number of trips you need to make to empty the collection bag at the recycling bin or compost heap. The downside is that you may be tempted to leave garden debris and mulched leaves in the bag between uses, which can lead to vegetation rot and undesirable smells.
With bigger bags, however, comes the weight and ergonomics issue. As the bag fills up, it will quickly increase in weight. Properly balanced models will have the bag balancing with the weight of the nozzle, which reduces the amount of effort you need to hold it up. A comfortable and adjustable handle or a shoulder strap can make a huge difference here as well, especially if you will be working in a larger garden.
Power Levels, Weights and Cord Lengths
Deciding how much power you need will depend on the amount and size of leaves you will be shifting or picking up, as well as the surface you'll be working on. Leaves on a patio are much easier to shift with a blower than leaves in tall grass, so you won't need as powerful of a motor or as high a power supply.
Weight is also an important consideration if you plan on using the unit for extended periods of time. As you work, even a lightweight unit can feel heavier as time goes by. If weight is an issue, look for models that have shoulder straps or wheels on the blower tube to help reduce the amount of weight placed on your arms, shoulder and back.
Last but not least, consider how much room you need to work. Most corded models have 10-12 meter long cables, but if you need more room to work, consider purchasing a separate extension cable to increase the amount of reach you have in the garden.
Extra Accessories to Consider
Smaller but often overlooked additional costs when it comes to purchasing your garden vacuum may include things such as: 
Eye Protection
Ear Protection
Gardening Gloves
Safe Work Shoes
Manufacturers of garden blowers and garden vacuums unanimously agree that wearing eye protection is extremely important. It's a very simple precaution that can protect your eyes from dust and other debris being blown around.
Ear protection is also a consideration for some models or those you plan to use for extended periods of time. While most of the models on this list are not obscenely loud, they can still cause hearing damage if used often without any type of ear protection. A simple foam insert can do wonders for protecting your hearing.
Gardening gloves and work shoes will protect your skin from splinters and other minor damages when working with twigs, mulch and other garden debris. 
The Best Garden Blower and Vacuum to Consider
Hopefully, this article full of reviews and a small buying guide helped you select the best garden vacuum in the UK for your needs. Whether you are looking for something that can handle a large garden or only have a single tree with a small number of leaves to collect, you may have seen a garden vacuum that suits your needs.
As far as the editors choice goes, the garden vacuum cleaner that seemed to provide the best balance of features to price was the Hyundai 3-in-1 Electric. Not only is it highly affordable, but it features all three options in a garden vacuum with a 10:1 mulching capability and great suction power. It's a sturdy, reliable, and highly efficient vacuum, blower and mulcher in one compact and easy to store garden vacuum.
Regardless of the garden vacuum cleaner you choose, you will soon be enjoying a tidy and neat garden all through the year. The best garden vacuum cleaner can make quick work of leaves, blossoms, seed pods, pine cones, and small twigs to leave your garden clean and pristine with less stress and hassle on your part.
Each garden vacuum shown on this list has its pros and cons – such as motor power output, energy usage, mulching ability, blow function, and more. So, always take your time to consider how each factor applies to you before making your final purchase decision.
Additional Resources