Last Updated on February 20, 2022
Our editors independently research the best products online to produce this list. We may receive commission on purchases made from the links below but this will never affect our product choices.
---
Top 8 Best Pond Pumps
The best pond pump UK customers can buy offers a reliable way for garden lovers to keep their ponds in excellent shape. If you have a pond of your own, or you're planning on designing one, a pond pump is a must-have purchase. The right investment will help to reduce the amount of time and effort you put into the upkeep and maintenance of your pond.
Without a pond pump, you're going to have to dedicate a lot of time and effort to keeping your pond free of debris and dirt. If you run out of time in your schedule to manage your pond water each day, you'll end up with a grimy looking water feature. Unfortunately, this also means the life within your pond, like fishes and tadpoles, will begin to suffer.
The right pond filter pumps keep your pond in great condition, without excess work on your behalf. These tools get the job done automatically, so you can focus on enjoying your garden. If you are interested in this product, we have compiled a list of the best Pond Pumps available on the market at present.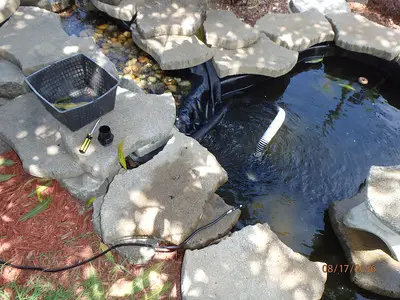 How we Compared Pond Pumps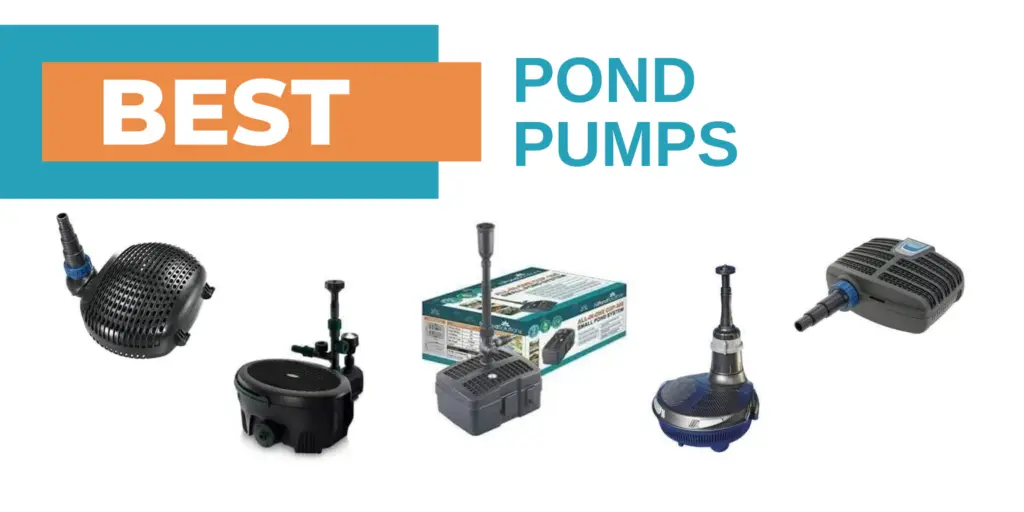 To find the right pond pumps we considered multiple factors, including:
Sturdy design
Foundation head
Functionality
Installation
Our team independently examined and compared hundreds of products to help satisfy different needs. We spent our time researching pond pumps and consulting customer reviews to ultimately bring you what, in our opinion, are the best options on the market right now.
To find out more about our editorial process, take a look here.
Pond Pump Reviews
The Blagdon Inpond 5-in-1 pond pump is an exceptional investment, a comprehensive tool for cleaning and transforming your pond. This easy-to-use pump unit comes with a strong filtration system and a UV clarifier to get rid of the unwanted mess. You'll have everything you need for a pond that is clean, healthy, and salubrious for pond life.
This pump and its filter offer five attractive features for your fountain: mechanical, polymer wool, UV Clarifier, and biological filter. This product also comes with a unique night-time LED that is automatic and features a pivoting capability as well. The light brings your pond to life after night falls, and it only requires you to change the bulb every year or so.
The UV clarifier kills algae quickly and keeps water clear, while the pump processes 1500 litres of water per hour with uninterrupted performance. This product will ensure that your garden stays clean and well aerated. For your furry friends, see our top picks for hedgehog houses.
Pros:
5-in-1 solution for clarifying your pond
Multiple fountain heads included for a unique water feature
LED spotlight with automatic pivoting
Complete in-pond solution can process up to 6000l of water
Guarantee of 2-years from the manufacturer
Cons:
UV light may be a little dim for some
May require a professional for installation
The Eco Pond pump by Oase is one of the most reliable and effective ones available in the category. This pond pump is widely regarded as one of the best on the market for keeping water clean and minimising energy use. This high-performance pond pump will clean your pond with up to 25% less energy usage than other leading brands.
A reliable and easy-to-use pond pump, the Oase Aquamax can perform well in a range of pond environments. This pump is 280mm in length, 230mm in width, and 130mm in height. It's pretty compact and comes with a power cable that measures 10 meters in length for user convenience. With a powerful motor at its disposal, this pump can easily pump 5300 to 17400 litres per hour.
If you're worried about excessive energy use when you're pumping water through your pond, the Oase Aquamax has you covered. It can even process debris up to 8mm in diameter. So, if you want a pond pump that is effective and reliable, then this is the one for you. See our top picks for potting benches for more handy pond side guides.
Pros:
Highly functional and reliable product
It can accept debris measuring up to 8mm in diameter
Compact and easy to install
Reliable, sturdy design
Comes with a 5-year guarantee from the manufacturer
Cons:
Power lead may be too small for some
Can be a little loud
Designed to transform any pond in no time, the All Pond Solutions CUP-305 Filter Pump is a must-have for any pond owner. This pump is all you need to ensure that your pond is clean, serene, and free from algae or any other undesired debris. Its installation is very easy because it has been designed as a single unit containing a normal, single power cable.
Ready for installation in a range of different pond environments, the All Pond solutions pump will filter water quickly and easily. The pump itself is capable of pumping about 1000 litres of water at an hourly rate and thereby removes any requirement for an external water filtration unit. This is convenient as it would be difficult otherwise to integrate an external filtration system around a small pond.
This product measures about 12mm in length, 20mm in width and 25mm in height. This allows for easier submersion beneath the waterline of a pond. The water fountainhead allows you to choose from a range of effects with three different head options. This pump also comes with a built-in UVC lamp with 5w power reading.  
Pros:
Suitable for 1000 litre to 2000 litre ponds
Comes with three different foundation heads for different fountain effects
It is backed by a warranty of 1-year from the manufacturer
Straightforward installation for most
Includes UV light steriliser
Cons:
May not be strong enough for some larger ponds
Can take a little while to install properly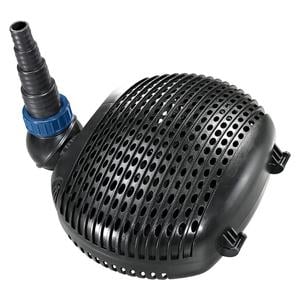 Get the most out of your garden pond by banishing dirty water with the Jebao pond filter. This powerful pump comes with an impeccable high-performance motor, designed with energy efficiency in mind. If you want to keep your pond in great condition but you don't want to spend a fortune on energy, the Jebao filter could be ideal for you. It can save up to 65% energy compared to the other competitors on the market and has an automatic power-off protection mode.
The Jebao TMP 8000 pond pump is designed with high-quality and durable materials throughout and allows users to take a more intelligent approach to purify pond water. This device can handle between 6500 and 10,000 litres of water, making it ideal for a range of garden environments. It also comes with automatic IC electronic detection to automatically power off when necessary.
The wear-proof ceramic shaft ensures a longer impeller life, so you don't have to keep replacing your pond pump. There's also a powerful internal system to handle solids and dirt particles up to 6mm in size. You'll even have a 10m cable for easier connectivity to any electrical sources nearby.
Pros:
Can handle solid debris particles up to 6mm
Saves up to 65% of energy usage
Automatic power-off protection included
10m cable for easy access
Fantastic wear-proof ceramic shaft
Cons:
Pump may be too powerful for some filters
Might be too big for smaller ponds
This pond pump by Hozelock is an efficient in-pond filter designed to simplify the way you care for your pond. There are multiple settings to choose from, including a fountain or waterfall effect, to help bring your garden to life. There's also a handy foam filter to avoid excess bubbles in your pond.
The pump that this device contains is very proficient and workable and does the job admirably. It comes with just a single power cable, thereby making its installation convenient and very much easy. This pump is the best one for those ponds that are swept over with debris and refuse. With the ministrations of this pump, you will be able to attain maximum clarity and ventilation in your pond. This will spell certain benefits for the pond life as well since the water will be healthier.
The 5W UVC filter that is integrated into this pump prevents the build-up of algae and moss in your pond water. There's no special maintenance required for the pump, except for regular cleaning, and you can even process up to 9000 litres of water with this high-performance pump. For more handy garden products, see our guide on cantilever parasols.
Pros:
Adjustable fountain or waterfall effect
Integrated pump manages up to 9000 litres of water
Foam filters to protect against bubbles
Removes excess algae and green growths
Minimal maintenance required
Cons:
Caching hole inlet size may be a little large
Requires the replacement of bulbs and filters regularly.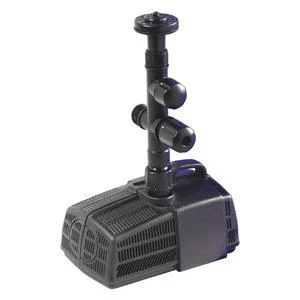 A pond pump and water fountain feature in one, the Hozelock 3354 Cascade is a fantastic investment for the modern garden lover. This product comes with a powerful, high-efficiency motor to help process large amounts of water – up to 1500 litres per hour. You'll also get a durable design intended to stand the test of time, even with regular use.
Features:
The Hozelock cascade pond pump and waterfall is a great all-around product for ease of use and performance. Alongside your high-performance motor, you'll also receive a foam-free, anti-clog inlet to help prevent the need for regular maintenance and fixes. There's a base plate, so you can connect the pump to the floor of your pond and ensure extra stability too.
Ideal for all kinds of pond environments, the Hozelock model comes with the option to transform your pond into a waterfall or fountain with multiple modes to choose from. However, you will need to make sure you have a permanent power supply connection available to run this device.
Pros:
Fountain, waterfall or basic filter modes
Anti-clock inlet with foam prevention
High-efficiency motor with minimal energy use
Base plate included for added stability
Pumps up to 1500 litres of water per hour
Cons:
May not be suitable for some larger ponds
May require the assistance of a trained electrician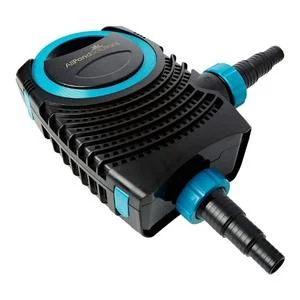 If you're keen to upgrade your pond's quality but don't want to start spending a fortune on energy, the All Pond Solutions pond pump could be the ideal choice. Designed for Koi fish ponds and water features, this product can handle up to 10,000 litres of water per hour without taking up too much of your energy bill.
Features:
The All Pond Solutions AquaECO pond pump was created for the perfect combination of functionality and energy-efficient performance. It is easy to use, with a high water flow performance and low energy consumption. The powerful impeller and ceramic shaft allow you to eliminate and filter dirt particles without a problem. You can pump dirty water 24/7.
The robust cage design comes with a handle for easy placement and retrieval when performing maintenance on your pond product. There's also a strong filter housing system to reduce the risk of blockage and make installation simpler. Just make sure you clean out the filter system regularly so you don't end up with clogs.
Pros:
Pumps up to 10,000 litres of water per hour
Excellent eco-friendly design
Unique cage design and handle for easy placement
Simple hassle-free maintenance
Robust performance for long-term use
Cons:
Can become blocked with regular exposure to debris
May be noisy for some gardens
The Swell UK (16000) Pond Filter Pump is a must-have for those users who want a pond in their garden that is free from debris. The device can handle debris up to 4mm in diameter, so you're less likely to end up with blockages that prevent your pump from working correctly. All you need to do is empty the filter from time to time.
Features:
This high-quality pond pump can aerate and pump about 16000 litres of water at an hourly rate with ease. Installation is simple, and there are plenty of intelligent features to explore, such as a convenient outer strainer that keeps your pond water clean and a 10-metre cable so you can easily connect to power sources.
The high-performance motors in this premium pump are designed for both strong and efficient operation. There's also the option to create waterfalls or stream patterns within your pond. Full instructions are included to help you figure out how to install the pump quickly, and you'll get a 3-year guarantee too.
Pros:
Highly durable and reliable product
Uses about 180w of energy and pumps 16000 litres per hour
Can be installed with ease and convenience
Comes with a warranty of 3-years by the manufacturer
Waterfall feature available
Cons:
May require regular maintenance and cleaning
Can struggle to filter smaller debris
Choosing the Best Pond Pump UK
The best pond pump in the UK can offer for you will depend on a number of factors, including the size of your pond, how much power you need, and what kind of energy efficiency levels you're looking for. Ideally, you'll want a pump that's reliable, easy to install, and capable of filtering dirt and debris from your water as quickly as possible. It's also worth looking for something that requires minimal maintenance, so you don't have to worry about constantly cleaning and fixing your device.
Our top product from this list is the state-of-the-art Blagdon Inpond 5-in-1 pond pump. This device features a fantastic filtration system, a UV clarifier, and tools to help you transform your pond with waterfalls and fountain features. This product includes an LED spotlight and can kill algae quickly while processing up to 1,500 litres of water per hour. You even get a two-year guarantee from the manufacturer.
If you're looking for a reliable and eco-friendly water pump, the Blagdon Inpond should be a perfect pick for you, and it's suitable for all kinds of ponds. Remember to carefully follow the instructions provided with your pond pump when performing routine maintenance to help your device last as long as possible. 
Additional Resources