Last Updated on February 20, 2022
Our editors independently research the best products online to produce this list. We may receive commission on purchases made from the links below but this will never affect our product choices.
---
Top 10 Best Solar Decking Lights
Lighting has been used for ages to beautify and highlight homes and other intended locations. This has been done to honour, celebrate events, and generally to lend a more attractive and auspicious tone to one's homes and gardens. 
Traditionally, we use battery or mains-power operated lights. These can be costly and often require more setup and installation. If only there was a more effective, simpler alternative? There is – solar lighting. The best solar decking lights in the UK offer an excellent alternative to traditional outdoor lighting.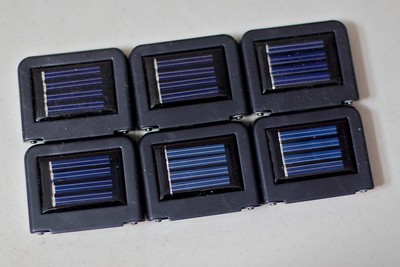 They are generally easy to install and often do not require any cables or mains power. Solar decking lights are usually powered via a solar panel that absorbs sunlight and turns it into electricity. This provides an effective, low-cost option for decking and outdoor lighting. In the guide below, we have picked out 10 of the best solar decking lights currently available.
How we Compared Solar Decking Lights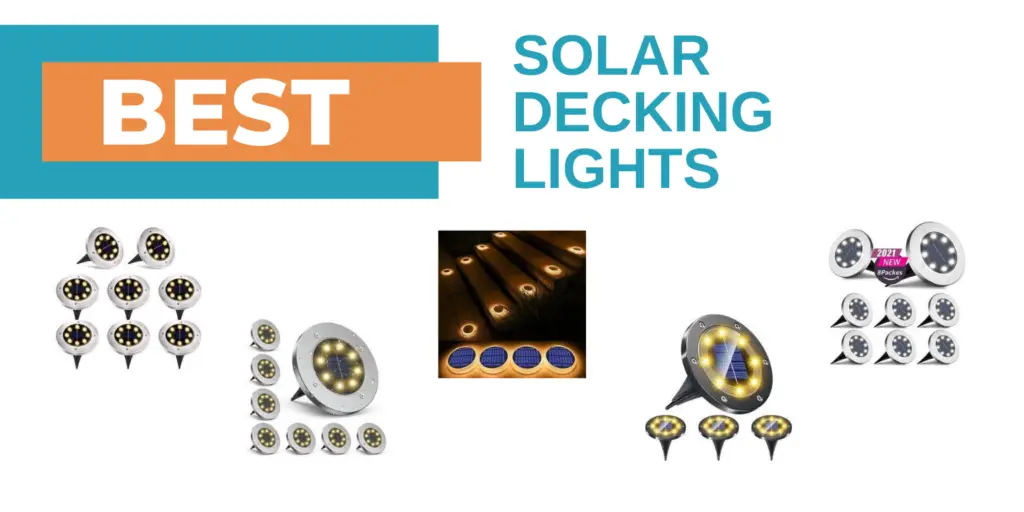 To find the right solar decking lights we considered multiple factors, including:
Design
Power
Ease of installation
Light
Material
Our team independently examined and compared hundreds of products to help satisfy different needs. We spent our time researching solar decking lights and consulting customer reviews to ultimately bring you what, in our opinion, are the best options on the market right now.
To find out more about our editorial process, take a look here.
Solar Decking Lights Reviews – Top 10 Picks
Our top pick for the best solar decking lights in the UK is the Infray Solar Ground Lights. These lights look great, are easy to use, and provide ample lighting for your outdoor space.
For solar charging and use, each light has a 600mAh battery and a large solar panel. The battery can be fully charged in 6-8 hours and will provide up to 8 hours of lighting.
We also like that these lights have automatic functionality. Simply turn them on, and after this, the light sensor will automatically turn them on or off to suit the outdoor lighting conditions.
However, you could find the plastic spike can be a little flimsy. Also, depending on positioning, there may be a difference in brightness between lights.
Pros:
Can provide warm light for up to eight hours
No mains powered required – each light is self-charging
The design is made from IP65 waterproof materials
Simple installation with no wiring required
Provides a light temperature of 3000 Kelvin
Cons:
The plastic spike to dig into the ground may be a little flimsy
You could notice a difference in brightness between lights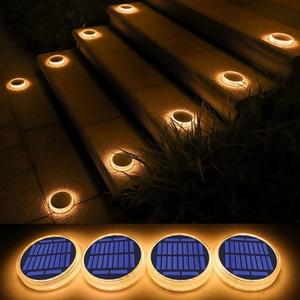 The WILLED Solar Deck Lights have a unique design that is different to most traditional solar lights. They have a large central solar panel, and the rim of each light contains 24 LED bulbs that provide a stylish ring lighting effect.
For durability, these lights are IP68 waterproof, have a high-pressure resistance, and are also corrosion-resistant and heat resistant. We also like how easy these solar decking lights are to install and require no tools.
In the basic pack, you get four solar lights. However, you can also buy these lights in blue, and in 8-pack deals too.
The only downside is that the light can be a little temperamental, and the battery is virtually impossible to replace if faulty.
Pros:
Large solar charging panel with a built-in 700mAh battery
Can fully charge in 4 hours of sunlight
Provides up to 16-hours of lighting from a full charge
IP68 waterproof, heat resistant, corrosion-resistant
It has an automatic switch on and off feature
Cons:
You could find that these solar lights can be temperamental
There may be no way to replace a battery if it is faulty
The Biling Store Solar Lights are great for use on decking, your lawn, or to light up borders and paths. They provide a simple warm light, and each light has 8 LED bulbs. The LED bulbs are efficient and should last for a long time.
These lights also have a better solar battery that offers a conversion rate of up to 20%. This means that they should charge quicker and need less direct sunlight. In terms of build quality, these solar decking lights are made from stainless steel and polycarbonate plastic. This means they are relatively durable and are also IP65 waterproof rated.
The lights should also be mower-friendly and safe for use with children and pets.
A few minor drawbacks include the light output, which can be underwhelming and the lack of sufficient charging during winter.
Pros:
It has an increased battery power of 800mAh for better conversion
Made from durable stainless steel
Includes six-strong fixing screws
The ground spike is made from reinforced plastic to improve durability
Relatively easy to install and set up
Cons:
They may not have the strongest light output
It may not be suitable for winter use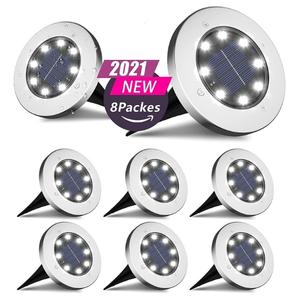 The FLOWood Solar Lights look great and have a stylish design. Each light has a circular stainless steel trim and a central light fixture containing 8 LED lights. They will look great in any garden style and are easy to push into your lawn or decking.
We also appreciate that you can buy these lights in two different colours – either a cold white or a warm white. They are also available in packs of either 8 or 12 lights. These solar lights are made for outdoor use; thus, they are entirely waterproof and corrosion-resistant.
A minor downside to these solar decking lights is that the ground spike can break easily. Also, some people have received damaged lights on delivery.
Pros:
Stylish design with a stainless steel metal trim
Each light has a 60mAh battery that charges in 8 hours
Provides 8-10 hours of lighting when fully charged
The exterior components are waterproof and corrosion-resistant
Simple setup with a wireless design
Cons:
You could find that the ground spike can break easily
Some customers have reported damaged lights on delivery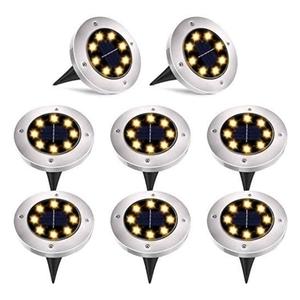 The GEEDAIR Solar Garden Lights are a great product. Included in this affordable package, you get eight solar lights. This should be more than enough to light your garden, decking, or walkway, for example.
The battery for each light is 600mAh and can be charged in 6-8 hours. When it is fully charged, it should give lighting for up to 10 hours. Each light also has an integrated light sensor so that the lights can automatically switch on and off depending on the sunlight and time of day.
These lights are made from stainless steel and ABS plastic that is both IP65 waterproof rated.
Potential negatives to consider are the medium-brightness output and the lack of clear instructions for installation.
Pros:
These lights automatically turn on and off depending on the external light
Each light has a spike to fix into the ground/decking
No wires or mains power required for usage or installation
The stainless steel casing is IP65 waterproof
Can fully charge in 6-8 hours
Cons:
May not have the brightest of light outputs
The instructions may not be the clearest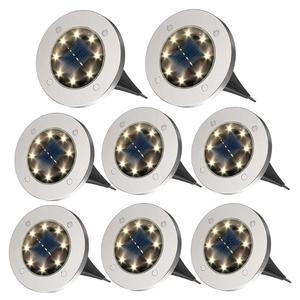 If you want fully waterproof LED solar lights, the ZFITEI Solar Ground Lights are a great choice. They are waterproof to IP65 standards, and the light casing is made from stainless steel. The LED casing is also made from durable clear plastic and sealed tightly.
For installation, each light has two ground spikes. Also, these lights have a large 4.5 x 5.1-inch solar panel and 8 LED lights for charging and efficiency. The solar panel allows the lights to charge effectively, and they have a conversion rate of approximately 14%.
These are great lights, but you may find a faulty unit that doesn't switch off. Also, they may not have the best longevity.
Pros:
Should be protected from adverse weather and dirt
Installed in the ground or decking via two simple spike rivets
It has a light sensor that automatically switches the lights on or off
Each light contains 8 LEDs to provide a beautiful warm white light
Once fully charged, the lights can last for up to 8 hours
Cons:
You could get a faulty light that doesn't switch off
It may not have the best longevity and could eventually fail completely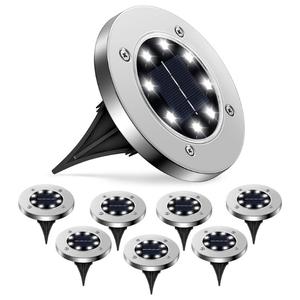 The Moinkerin Solar Ground Lights look fantastic and have a traditional circular design with a simple plastic ground spike. They are easy to install – simply switch them on, let them charge, and stick them into the ground or decking.
The LED lights provide a warm white light and take 10 hours to fully charge. Once fully charged, you should get a working time of up to 10 hours. We also like that these lights have a light sensor that will automatically switch them on or off depending on the outdoor lighting.
Downsides include that sometimes the lights could flash, and some people have found the LED cover cracked on delivery.
Pros:
Made from durable stainless steel and ABS plastic
Fully waterproof for outdoor use regardless of weather conditions
Each light produces a subtle warm white light
Include long-lasting LED bulbs for greater efficiency
Simple installation with no wires or tools required
Cons:
You could find that occasional the lights will flash
Some customers have reported cracks on the casing on delivery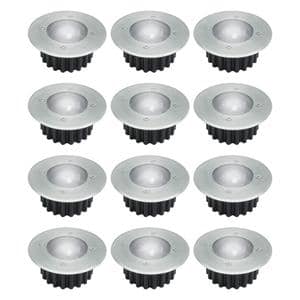 The Woodside LED Deck Solar Powered Decking Lights are the stuff to get if you want to spruce things up in your garden. These high-quality LED lights are great for lighting up your decking in an attractive manner. With these lights, you can beautify your borders, patios, driveways, decking, etc.
Also, these lights are so easy and convenient to install that even the most novice of users can install them without hassle. That is because these lights are free from the added burden of wires and are constituted from a high-quality stainless steel material that provides them with durability and sturdiness. Plus, they come with a nifty solar panel as well.
Pros:
Ideal for lighting driveways, patios, gardens and decking
Composed of high-quality stainless steel for added durability
They don't require wiring
The added solar panel allows for absorption and storage of energy for use during daytime
Cons:
You may find the occasional faulty light that needs returning
The lights may not have the best longevity for multiple years
The SolarCenter Outdoor light comes in an attractive and ubiquitous square format. This feature makes it ideal for installation and subsequent beautification of any area or location in which it is installed. These lights are premium level and are constituted from stainless steel. This not only ensures durability but also allows for considerable endurance against impact as well.
If you are interested in enhancing the appeal and aesthetics of your decking, walls, garden, driveway, etc., then these are the lights that you need to procure. These lights are also accompanied by Ultrabright technology to illuminate even the most nocturnal and dimmed environments. That is why we highly recommend these lights to anyone interested in brightening up their milieu with little effort. Grab yourself some garden furniture and a bbq smoker to round out your decking area.
Pros:
Made from high-quality stainless steel
It comes with UltraBright technology for improved lighting capability
Hassle-free as they operate on rechargeable AA batteries
No wiring required for these lights
Cons:
You could find that some of the lights can leak water
Some customers have reported faulty lights with broken seals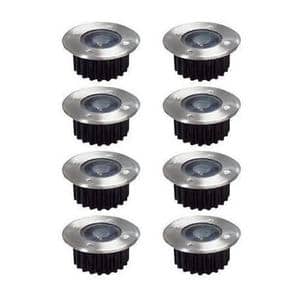 These Solar Powered Lights are LED-based illuminators and can go a long way towards enhancing the atmosphere of the place where they are installed. They come in a convenient packing of 8 lights so that you have an adequate number of bulbs to use. Also, these lights are pretty easy to install as they require no wiring and use solar power. This means that they charge during the day, and at night, they turn on by themselves and charmingly illuminate their surroundings.
Plus, these lights have a stainless steel construction, meaning that they are able to take a beating as well. So, if you want value for your money, we suggest that you get these lights. You could even place some around your trampoline so the kids can play at night.
Pros:
Features easy installation with no need for wiring
These LED lights are very bright and have a long lifespan
These lights are powered through solar power
After night falls, these lights turn on by themselves
Cons:
Some customers have reported missing screws on delivery
You could find some of the lights are faulty on delivery
Conclusion
The best solar decking lights in the UK offer a stylish, affordable, and simple solution to garden and decking lighting. You do not have to worry about setting up expensive cable networks or potentially digging up your lawn. Simply secure the solar lights to your decking or in the ground, and set up the charging unit if there is one – what could be easier?
Any of the ten solar lights we have listed would certainly add style to your outdoor area. However, our top pick is the Infray Solar Ground Lights for Outdoor. These lights look fantastic with their stylish metal trim and IP65 waterproof covering. The lights themselves are also energy efficient and provide a beautiful warm light on your decking or garden for up to eight hours.
Additional Resources
Nicole has a passion for everything about the home – especially decor. She loves to add new touches and style to every part of the house. Join her as she documents her ideas at Home & Style.