Last Updated on February 15, 2022
Our editors independently research the best products online to produce this list. We may receive commission on purchases made from the links below but this will never affect our product choices.
---
Top 10 Best BBQ Smokers
There is nothing better than outdoor cooking, something about the aroma and taste of smoked meat that other cooking styles just can't match! Food cooked in a charcoal smoker or over a barbecue grill has wonderful juiciness and flavour, whatever the location and weather!
Smoking meats and other foods is an age-old practice that was originally done to increase product longevity. Nowadays, meats are smoked and cured to improve flavour quality. There is a wide variety of foods that can be smoked in BBQ smokers, such as poultry, whole cuts of meat, seafood, fish, and cheeses. The world is your oyster in terms of trying out which one is your favourite.
Purchasing a charcoal barbecue or offset smoker does not have to be a significant outlay either if you are only just starting out on your smoking adventure. There are many available for a very reasonable price that is easy to use; really, all you need to do to get started is choose your ingredients and your favourite BBQ sauces and give it a go!
How We Compared BBQ Smokers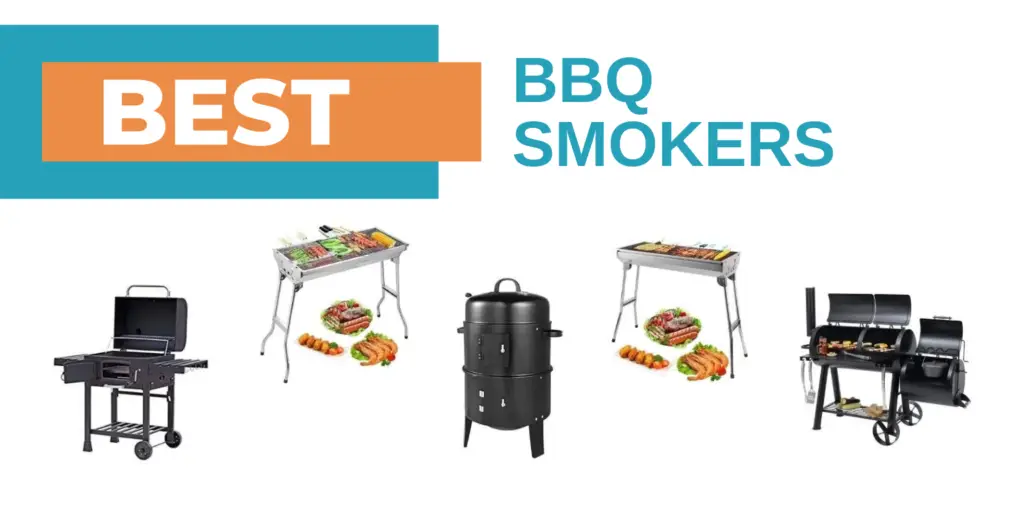 To find the right BBQ smokers we considered multiple factors including:
Size and capacity
Additional features
Speciality cooking
Practicality
Cost
Our team independently examined and compared hundreds of products to help satisfy different needs. We spent our time researching BBQ smokers and consulting customer reviews to ultimately bring you what, in our opinion, are the best options on the market right now.
To find out more about our editorial process, take a look here.
BBQ Smoker Reviews
The CosmoGrill XL wins our accolade of Editor's Choice for the best BBQ smoker UK for any number of reasons. It is a great sized BBQ, perfect for a large household or if you enjoy the sociability of inviting friends or neighbours around for a tasty but relaxed dinner. It has plenty of capacity to be cooking food for all with a large cooking surface of 58 cm by 42.5 cm.
There is a temperature gauge, air vents and a chimney to give you full control of the cooking temperature and smoke levels, and the coal tray has four adjustable settings that you manoeuvre up and down with a stainless steel handle. So you can adjust how high you want the heat when cooking meat, fish or vegetables, or want a long slow cook rather than a quick hot one. You can also access the coals via a door on the front of the BBQ rather than having to adjust them through the grill when you are cooking.
There is also a stainless steel warming rack so you can keep your cooked food at the perfect temperature while you get everything ready. This BBQ smoker has four utensil hooks and a bottle opener, so the designated chef has everything they need to hand, and the side tables fold out and down, depending on what additional space you need.
The BBQ has two wheels for easy moving around your garden, and in terms of cleaning, it couldn't be easier; you simply remove the grills and coal tray and give them a wash before replacing them.
Pros:
Thermometer for temperature control
Adjustable coal height
Large cooking area
Wheels for easy movement
Warming rack
Cons:
No specific smoking section
Issues reported in reviews with lid lining up
Long assembly time
Wow, this is an impressive looking BBQ smoker!! This is the best bbq for the serious BBQ professional. It has two chambers for cooking; the first is 97.5 cm by 44cm and has four enamelled cooking grills and two lids so you can open the one over the food you wish to adjust and not to the whole thing. The second is smaller at 48 cm by 43 cm and has two grills. The lids in the main cooking space have a built-in thermometer, so you can fully control your cooking.
There is a shelf in front of the main cooking section with hooks for your cooking utensils and an ash collection container to the side of the smaller cooking area. The smoker barrel has a deep lid to allow the depth of a pan to sit on the grill and cook with the lid down, so you have complete flexibility when cooking. So you can have a pot of Boston beans on the go whilst cooking up your western feast!
This BBQ smoker by Tepro has a paint coating that is heat resistant up to 600°, so you needn't worry about it being damaged by overheating! It is called the solid smoker because of the thickness of the metal it is constructed with, 5 mm!
Wood is burned in the smaller of the two chambers to operate it, and the smoke travels into the main cooking chamber where you place the food to be smoked. There is a chimney flue on the larger chamber to move the smoke through and around. Smoking keeps the food at the same temperature throughout and gives you a tender and juicy finish to meats. A handy tip is you need to remember to position this BBQ smoker so that the airflow goes in the direction of the burner to the chimney flue.
There is a sturdy bottom rack for handy storage of items and the wheels for easy transportation of this heavy-duty BBQ around your garden.
Pros:
Temperature regulator on the lid
Large cooking space
Two separate cooking areas
Deep enough to hold a pan with the lid closed
Sturdy construction materials
Cons:
Requires seasoning for a few hours before use
Assembly requires two people
The lid thermometer may be unreliable
This lightweight barbeque grill can cook sausages and burgers for up to five to ten people; the cooking space is a generous 73 cm by 33 cm. It is easy to carry as you can fold the legs up, and you then have the option to take it with you to picnics, to the beach or even on camping trips. It also makes it a great item to store away over winter. Handles at either end make it really easy to carry.
Assembling the BBQ smoker is simple as well, with no need to use any tools. Simply open the grill and pull the legs down, and the smoker is ready to use!
There are air vents in both ends of the BBQ to help the airflow through the grill to distribute the cooking heat for an even finish to food. The smoker is manufactured in rustproof stainless steel, making it a heatproof and durable product. There are two sizes of racks, one with finer gaps than the other, so that if you are cooking smaller items of food, kebabs or thin sausages, for instance, these are much less likely to be lost through the gaps than in the bigger rack.
This is a great BBQ smoker, easy to assemble and straightforward to use, with plenty of cooking space available.
Pros:
Easy assembly
Generous cooking space
Two ventilation vents for airflow
Portable as legs fold away
One year guarantee
Cons:
The blue protective film is fiddly to remove, and there is a lot of it
BBQ could unbalance as it is top-heavy once full of coals, so you need to be careful around it
The finer rack may warp
This BBQ smoker by Deuba is really versatile and can be used for smoking, grilling, or barbecuing. It is easy to move around by the two heatproof handles on each side and isn't imposing in your garden. It looks really smart and stylish too in the matt black.
The temperature can be easily adjusted with the help of a ventilation slide on the top; simply open the adjustable vents to let more air in. A thermometer allows you to monitor your cooking or smoking temperature to ensure you are at the optimum for whatever you are cooking. If you need to have a sneaky peek from time to time, there is an opening in the middle that lets you see the food being cooked.
The coals or wood chips go in the base section of the barrel BBQ smoker, and you can add more without needing to dismantle it by using the door on the side of this section. Opening the door here will also allow more air to the coals, to fire them further.
If you don't want to grill or smoke your meat, fish or vegetables directly, you can use the water pan and cook your dishes in there with the lid on for a tender, juicy finish. Or keep the lid off and grill in the more conventional way; the choice is yours.
Pros:
Option to stew or simmer food in the pan
Can grill, barbecue or smoke food
Thermometer and adjustable air vents
Portable
Can use coal or woodchips for smoking
Cons:
Not suitable for catering for large numbers of people
The built-in thermometer may be inaccurate above a certain heat
Instructions only come in German
This is a foldable and portable smoker which has a good cooking surface of 76 cm by 37 cm. It is inexpensive to buy and is easily portable by the handles on either side. It is really lightweight and can be stored and transported easily, so it makes the perfect option for taking it to an impromptu get together or trip you have planned. It also won't take up too much space in either a shed or car when being transported.
The material used to make this machine is stainless steel and shouldn't rust or warp with heat.
Assembling the BBQ smoker is easy, and assembly instructions are given in the manual. Once you open it, you put it together from the feet up. Air vents at either end of the BBQ allow the air to flow evenly, distributing the heat and giving a consistent cooking temperature across the whole cooking area.
This BBQ needs to be placed on a solid, flat surface, as it is on long thin legs and may topple if knocked, so it may be worth bearing that in mind and placing it out of the way if there are going to be a lot of children at the occasions you have in mind for this BBQ smoker.
Pros:
Foldable and portable
Air vents on both sides
Steel does not rust easily
Inexpensive
Good cooking area
Cons:
BBQ could unbalance as it is top-heavy once full of coals, so you need to be careful around it
The blue protective film takes a long time to remove
Racks can warp in the heat
This is a multi-functional smoker BBQ and gives you lots of options on how to use it. There are two cooking chambers, and you can smoke, grill or cook food indirectly in a pan or dish over the flames or in the smoke. The smaller of the two cooking areas is 31 cm by 30 cm, and the main grill is 62.5 cm by 30 cm, so you have plenty of space to cook for family and friends at large gatherings.
The TecTake BBQ is portable, with two wheels and a handle to move it around your garden or patio with ease. There is a wire shelf underneath the BBQ for storage and a wooden shelf at the front. The handles on the cooking areas are also made of the same wood for an attractive finish.
The larger of the two cooking chambers has a thermometer on the lid so that you can monitor and control the temperature you are cooking or smoking at by using the adjustable air vents at the side of the BBQ smoker.
Another nice feature of this BBQ is that it includes a drip tray for any roasting juices coming off, which can then be used to baste the meat.
Pros:
It has a thermometer on the lid
Adjust temperature through vents
Includes a drip pan to collect roast juices
It can be used to grill, smoke and cook indirectly
Two good sized cooking areas
Cons:
Instructions are difficult to follow
Lids may not line up correctly or fully close and allow smoke to escape
Thin metal construction
This smoker barbeque by First4Spares is small and versatile. It can be used for grilling, smoking and has nifty hooks in a hanging chamber for smoking items. It looks smart in a black paint finish and has two doors in each of the two compartments for easy access to those sections and for airflow if needed.
There is a thermometer to check that the internal temperature is right for the different types of smoking you may wish to try out with this smoker. If trying out cold smoking, perfect for smoking fish, you need to keep the temperature low throughout. Temperature vents are adjustable on the top chamber of the BBQ smoker.
There are coal trays included, and the cooking grates can be positioned at different heights. You can use smoking logs, woodchips and charcoal in the BBQ to achieve the smoky flavour you desire.
It is small at 76 cm high and width 40.5 cm, which means it is perfect for small gardens or patios or a small household using it.
Pros:
Inexpensive
Hanging chamber for smoking
It can be used for grilling or smoking
Great for small spaces
Cons:
Temperature gauge not accurate or faulty on some BBQs
May need to modify by adding additional air holes in the lower section
Reports of handles coming off
If you are a fish lover, then the thought of freshly smoking your own salmon, trout or mackerel on this smoker probably sets your mouth to watering. But don't just limit yourself to fish as it can be used for other ingredients, such as chicken, cheese, even venison steaks!
There are two sections, the smoker oven and the smoker cooker. You simply light the meth burner under the smoker cooker, add a small amount of sawdust from your preferred wood, place the food on the smoking rack and close the lid. In no time at all, the perfect smoky flavour should greet you when you lift the lid.
The valve of the smoker is easily adjustable, and the regulator in the lid helps control the temperature. Quick heating of the smoker can be done with the help of the two burners supplied. The smoker comes with two cooking levels so you can be in complete control of your smoking experience.
At only 42 cm by 22 cm by 11 cm, this smoker is easily transportable, so you can take it with you on trips, or even when you go fishing, for the ultimate fresh experience. It is also a dream to store as it will fit away in a kitchen cupboard.
The instructions may need supplementing with YouTube videos for hints and tips on how to smoke food if you are trying this for the first time.
Pros:
Temperature regulator on the lid
Two burners for heating up quickly
Large double cooking areas
Portable and easily stored
Perfect for fish smoking
Cons:
Instructions are not that informative for first-time smokers
Heat and flames using methylated spirit supplied are difficult to control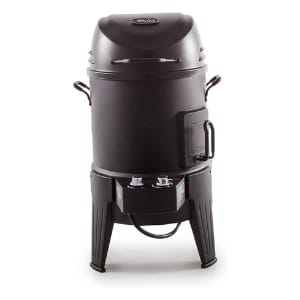 This is one of the most expensive BBQ smokers in our review, but equally, it is one of the most professional bits of kit for producing perfect results when smoking food. You can smoke meats, whole joints of lamb or brisket or whole chicken, whatever you prefer, in the 11 kg capacity roaster basket. It also comes with rib hooks that you can use as the name suggests or for hanging fish from.
There is a removable cooking grill that is perfect for barbecuing sausages, burgers and kebabs, giving you versatility from smoking. The grill is porcelain coated for long life.
The smoker is easy to ignite and uses a 'TRU-Infrared' cooking system which is designed to prevent flare-ups. The Big Easy ® advertises 50% juicier food through its cooking method and doesn't require additional cooking oils to be used in it.
Other excellent additions that this product comes with are a drip pan for collecting grease as you cook and making cleaning easy and a smoker box where your favourite flavour wood chips are placed, infusing your food with that wonderful flavour and aroma. It also comes with a bespoke 'Big Easy' weatherproof cover, so you don't need to worry about finding somewhere to store it over winter and can keep it protected from the elements all year round. A food thermometer is included as a standard when you make a purchase.
Pros:
Two-year warranty on all parts, including the burner
Very good for cooking whole chunks of meat
Can grill as well
Easy to clean
Easy to light
Cons:
Not as good as a smoker
Temperature can get a bit high for a long slow cook
Smoker box can jam
This BBQ smoker has versatility as its middle name as there are so many combinations of options for use! It can be used without the third lidded compartment as a BBQ grill, with the first and second sections separated as two BBQ grills, with the lid on as a smoker and with the first section only as a fire pit! The smoking chamber can be used for hot or cold smoked meat or fish, giving you free rein to experiment with different ingredients!
The charcoal pan is enamelled for extra protection and durability, as is the water pan. The two cooking grates are chrome plated and provide a great cooking space, a huge cooking area of 453 inches in total! The first two sections have hinged doors, so you are able to add more woodchips or charcoal or check on your food in the second layer without losing too much heat and smoke in the process.
The Sunlifer smoker BBQ also comes with four hooks on a crossbar in the lid, perfect for smoking ribs or fish from! In addition, there is a built-in thermometer in the lid and adjustable air vents so you can be in control of the cooking temperature.
There are three strengthened legs for good stability and two handles for easy moving. The latches for each level mean it is securely put together but easy to disassemble too. The fact that it separates down into four parts means it is small enough to transport in the boot of a car and can be used at a friend's house, the beach or on camping trips. This is a great smoker barbecue!
Pros:
Great for smoking food
Multipurpose and lots of options for cooking
Temperature gauge works well
Holds a constant heat well for smoking
Portable
Cons:
Reviews mention some damaged enamel on delivery
No guidance on recipes or how to use in instructions
Some missing screws or parts sometimes reported
What to Look For in a Bbq Smoker?
With the dizzying array of functionality out there now in terms of the best BBQ smokers, it's perhaps hard to make the decision about which one is right for you. We've set out a few considerations below to help you make an informed choice, and we hope that with this and the reviews above, you will be able to make the perfect purchase!
Size and Capacity
This should be an easy question to start with; is this a BBQ smoker for you and your household to use? Or are you the ultimate host who loves to throw a BBQ for neighbours, friends and family and are therefore looking for the best BBQ smoker to cater to lots of hungry people and maybe cook some show-stopping centrepieces?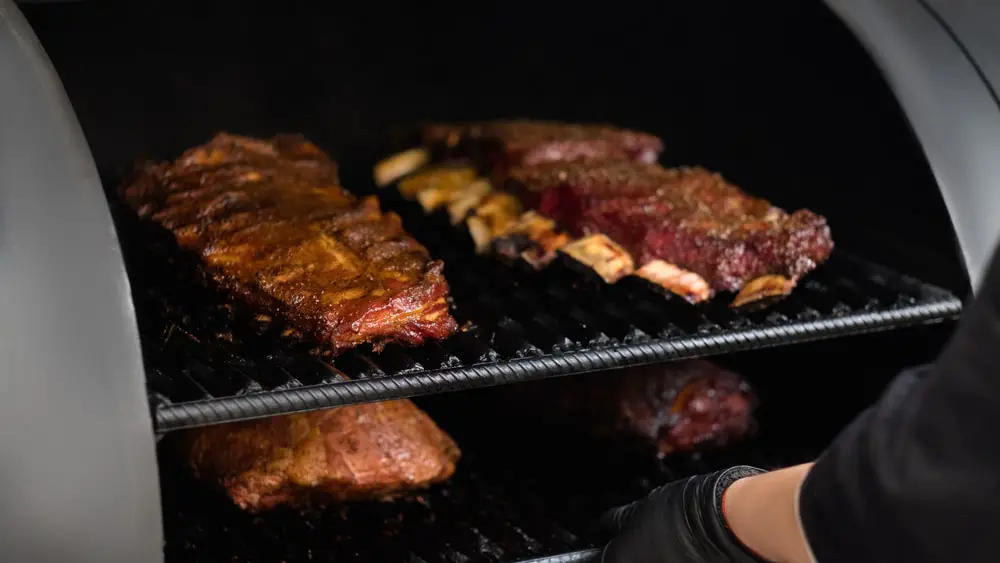 Another factor is, of course, the space you have to keep a BBQ. Do you have a small, compact garden which would be overcrowded with the addition of a large imposing BBQ? Or do you have plenty of space and are looking for a statement piece to go on your patio in pride of place?
There are BBQs to match all requirements.
Some are designed to be small, compact and storable so that you can pack them away in the kitchen or shed when not in use. These are also perfect if you are looking for a BBQ to take with you on camping trips or maybe to the beach.
Others are barrel design and come on three legs, and again do not take up much space. These are also quite portable and tend to be versatile in terms of the cooking options they offer, as they are built up of multiple layers or sections for barbequing.
Then there are the statement BBQ smokers, which may have an offset smoking chamber or two charcoal grills. These will give you a lot of cooking surfaces so that you can really cater for the masses and look great too! They often have a large charcoal pan so that you can cook enough food on it to keep your hungry guests happy.
Additional Features
Other features to look out for are:
Adjustable charcoal grids, so you have complete control over your cooking heat.
Drip trays for juices running off the meat so that you can baste with them.
Built-in thermometer for temperature control and.
Warming rack, if you are cooking a large amount of food and want to keep some warm whilst more cooks.
Some BBQ smokers also have a rack underneath for storage and shelves in front or at the sides with hooks for utensils and maybe even a handy bottle opener!
A weatherproof cover included with your BBQ is a great find, as it will keep the heat resistant paint protected from all the elements that the British seasons can throw at it.
Speciality Cooking
It's great to consider what use you want to get from your BBQ smoker before you buy. For example, have you been thinking about experimenting with both cold and hot smoking? Or do you fancy the option to be able to try slow smoking a large joint of meat such as a leg of lamb, rack of ribs, a whole chicken or fish?
If so, then look for one of the top BBQ smokers that have options like hooks hanging from the smoker hood so that you can hang fish or meat for smoking. Or a food cage to place a joint of meat into, which goes into the centre of the smoker.
Temperature control is essential, so you need a BBQ smoker that comes with either a meat thermometer or a built-in thermometer to ensure that you keep the internal temperature to the optimum for the kind of smoking you are doing. For example, cold smoking requires a low internal temperature to be kept consistent throughout.
You may also already have a preference for the type of smoking you wish to be doing; for example, you may be a keen angler and want to smoke some of the fish you catch. In which case, a specialist fish smoker would be ideal. Or you may be set on a pellet smoker or charcoal smokers instead, or maybe you are a convert to using propane gas for a consistent internal temperature. Well, these are all options available to you.
Many of the BBQs in this review also have water pans so that you can fill them with water or wine and keep the food away from the direct heat, but infuse the meat or fish in the flavours and keep the flavourful food juicy and tender.
Practicality
The thing to consider under this heading is, do you need to be able to store or transport your BBQ easily? Some are designed specifically to be small and portable, and easy to store. Other larger ones have wheels and a handle for easy manoeuvrability around your garden.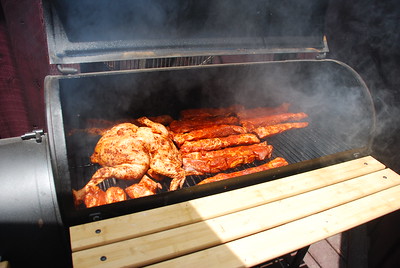 The barrel design is a great option if you want a gas or charcoal smoker that is portable. The sections come apart and can be stacked in pairs for easy transporting in a car. They also don't take up anywhere near as much space as a barbecue grill with an offset smoker. A final practical feature to look out for with these smokers is that they often have doors to the charcoal tray and the barbecue grill so that you can access the space without having to take a section off, losing heat and smoke in the process.
Cost
Like anything else, you really can spend what you want on a smoker barbecue, but it's best to consider all of the features and capacity that you need from one and then set about finding the right one in that category for the best cost.
We have added BBQs here that start at just a few pounds but have a great cooking capacity, through to ones that will cater for a lot of people, are made of very durable materials that you know will last for a long time and have many great features, but that, of course, come with a price tag into the hundreds.
But, as hopefully, it is clear from these reviews, you don't need to spend a really significant amount of money to get the best BBQ smoker.
Conclusion
Hopefully, this review has been helpful in providing food for thought into the things on offer for the best smoker on the market and providing information and guidance on what to look for to buy the right one for you.
Our aim is that you'll have been able to find a barbecue that ticks all the right boxes for you. However, if you're still struggling to choose the right one for your needs, you can try our Editor's Choice – the CosmoGrill XL. It is a great sized BBQ, with plenty of capacity to be cooking food for all your family, with a large cooking surface of 58 cm by 42.5 cm.
There is a temperature gauge, air vents and a chimney to give you full control of the temperature and smoke levels, and the coal tray has four adjustable settings that you manoeuvre up and down with a stainless steel handle. There is also a stainless steel warming rack so you can keep your cooked food at the perfect temperature while you get everything ready.
Enjoy your best smoker UK!
Additional Resources