Last Updated on February 28, 2022
Our editors independently research the best products online to produce this list. We may receive commission on purchases made from the links below but this will never affect our product choices.
---
Top 10 Best Charcoal BBQs
A charcoal BBQ can be a wonderful item to own. Capable of producing some pretty amazing food, it helps to create a wonderful atmosphere during the better weather where friends and family can get together in the evening.
Your charcoal barbecue uses a particular fuel, but at the end of the day, you will be able to cook food with an amazing smokey smell and flavour to it, and that is pretty cool. Also, you can easily pick up a quality charcoal BBQ for next to nothing, and with the correct care, it will last for years.
There is nothing better than firing up a barbecue, having that amazing smell moving through the air, and then knowing you will have some impressive food at the end of it all. You can easily make an evening of it or even take things out on a picnic during better weather. If that sounds appealing, you will notice there are various portable options on the market, and they are capable of helping you cook up a storm.
However, there is a problem. You have so many different charcoal BBQs out there on the market that it can be a bit tricky to find the right one for your needs. With that in mind, let's go through our list of the best charcoal BBQ in the UK right now to see if we can make life that little bit easier for you.
How We Compared Charcoal BBQs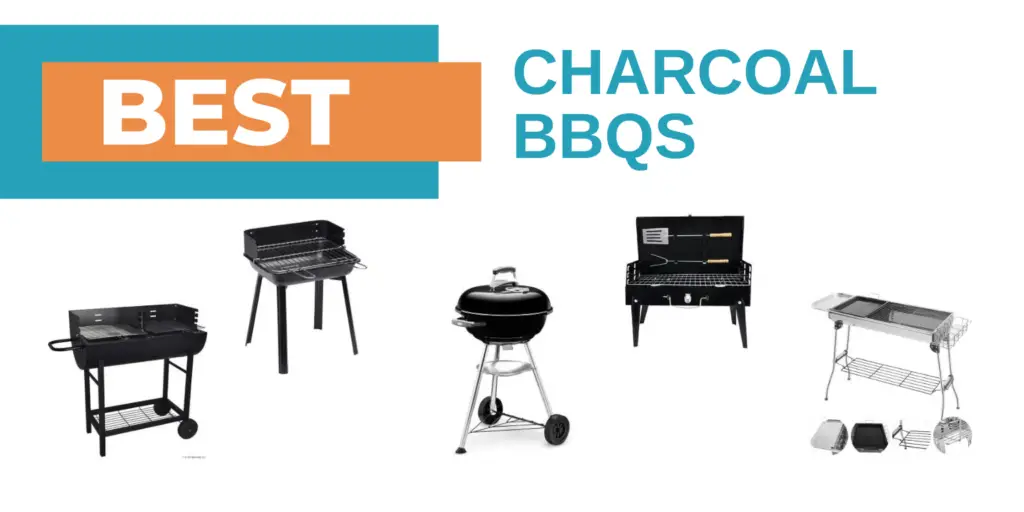 To find the right charcoal BBQs we considered multiple factors, including:
Size
Portability and storage
Ease of cleaning
The grill
Height
Safety
Additional items
Our team independently examined and compared hundreds of products to help satisfy different needs. We spent our time researching charcoal BBQs and consulting customer reviews to ultimately bring you what, in our opinion, are the best options on the market right now.
To find out more about our editorial process, take a look here.
Charcoal BBQ Reviews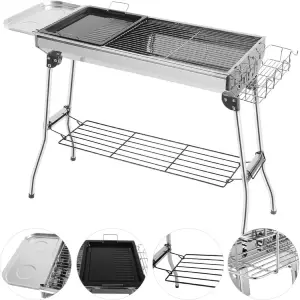 Available in both a deluxe and standard version, this charcoal grill is crafted from stainless steel, giving it an authentic feel. However, you must not think that stainless steel is a bad material for this. It is not as it makes it lighter, while it is also pretty easy to clean.
It also comes with three different racks, making for easy storage of condiments, a cooking grate, a warming rack, and generally everything you need for the complete barbecue experience. It also contains a reasonably sized cooking surface without taking up too much space.
Not only that, but even though it is made from steel, it also comes with anti-scalding handles, which you will find on both sides of the barbecue. This makes moving it around a whole lot easier. Overall, it measures some 73 cm in length, 33 cm in width, and a height of 70 cm.
On the other hand, it is important to note that the metal of this appliance may be easy to dent. Also, it may not include temperature control.
Pros:
This charcoal BBQ is very easy to assemble, and it can fold for easy transport
It contains ample cooking space for all your needs
The anti-scald handles are a useful addition
It is exceptionally easy to clean, as you can scrub the BBQ
It comes with ample storage space as you use it
Cons:
It may not include temperature control
It may be very easy to dent the metal
The reason why we have this as one of the best charcoal BBQs is simply because of the quality of the structure. Complete with the half-drum style, it is manufactured from crafted steel, and the best part is that it comes with two impressive cooking areas.
It can adjust both cooking areas to have them at different heights depending on what you are cooking. This is a great additional feature, which you don't always find on other charcoal BBQs, so this is an extra feature you may want to give some serious consideration to.
It also comes with a large enough cooking tray, which does add to the overall dimensions of this particular BBQ which measures some 77 x 62 x 89 cm.
However, this charcoal BBQ could be challenging to clean. Also, it could get too hot when you are using it, so you may need to be extra careful with that.
Pros:
The adjustable cooking heights is great for cooking different things at the same time
This is one sturdy charcoal barbecue, thanks to the alloy steel
It is exceptionally easy to put together
The chrome-plated racks will last for years
The shelf underneath adds some useful storage
Cons:
It could be a bit tough to clean
It could get a bit hot when in use, so be careful of the metal
This charcoal BBQ represents real value for money, both in size and the fact it is highly portable and can even fold down. 
Its design is impressive. With useful utensils clipping into the cover, it is one of the best charcoal barbecues for people that may want to go out somewhere for a picnic. The product itself is not too big, but it is still made from alloy steel, and the fact you can fold it down to something that resembles a suitcase is just a real bonus.
Overall, this product measures some 43 x 26 x 42 cm, so it's going to still give you enough cooking space for a few things without taking up too much space. That in itself is a huge bonus as it is still highly functional without getting in the way.
It is important to note, though, that this Denny International charcoal BBQ might be difficult to clean. Also, with its size, there might be some restrictions when it comes to cooking space.
Pros:
Its compact size is a real bonus
It is easy to fold down and carry around
It still offers a large enough cooking surface for many people
It is made from alloy steel so that it will last for a long time
It is very easy to assemble
Cons:
While compact is good, it may restrict you with cooking space
It might be a bit tough to clean
This charcoal BBQ by Landmann Porta is chrome plated and is also exceptionally easy to assemble. 
Measuring some 35 x 28 x 44.5 cm, this is pretty compact when it comes to a charcoal barbecue, while it still offers you enough space when it comes to trying to cook food. However, this charcoal barbecue has a party trick that even the best charcoal BBQs out there cannot do.
Here, you can remove the bowl and use it along with the instant light charcoal bags, so that's another possible option for how it can use this charcoal BBQ. However, the main thing is how it can assemble this barbecue faster than you could ever hope to achieve with gas barbecues.
On the other hand, you'd want to consider that this equipment may occupy more space than most charcoal BBQs.
Pros:
It is exceptionally easy to assemble
It is very easy to clean
It has a reasonably sized cooking space enough for four people
It is very easy to transport around
You can use it along with an instant light charcoal bag
Cons:
It does not come with additional storage space
While strong, there may be other options out there that feel sturdier
When it comes to quality names for the best charcoal barbecue in the UK, Weber has to appear. After all, they are known for producing quality BBQs.
This charcoal barbecue has the classic circular Weber shape, and at 53 x 54 x 88 cm in size, it may be classed as compact, but it still offers a good cooking area for cooking food. 
The lid and bowl are both enameled, so that does mean they can put up with a lot of punishment. The bowl holds a substantial amount of charcoal, giving you that strong smoky flavour that will make all the difference.
With this model, the cooking grill grate is chrome plated, and it is designed to be super easy to clean. However, this entire barbecue is easy to clean as it comes with a large ash catcher that sits suspended high up on the legs. So, less mess to clean up on the inside, and no need to wonder how you will get the ash back out.
Overall, this barbecue is what you expect from Weber. It's well made, has a good cooking area, and is easy to care for.
You'd have to consider, though, that this may not come with a warming rack. Also, it may lack external storage.
Pros:
It is a healthy size for an impressive amount of food
The ash catcher is a good size and very well positioned
The grill is easy to get clean
The lid is easy to open and does a good job of protecting you from the heat
It is very well made throughout
Cons:
It may not come with a warming rack
It may lack external storage
Coming as a complete charcoal barbecue set, this model by Fishoaky is a compact and portable charcoal BBQ that gives you everything you need to get started with charcoal grilling.
Aside from the actual BBQ grill, you also get gloves, tongs, and a BBQ spray, so you are all ready to start cooking. 
This charcoal barbecue is easy to fold up, making it portable. The barbecue is lighter than you would imagine, even though it is made from heavy iron. Of course, it is also coated, meaning it's difficult for it to rust while the entire item retains heat exceptionally well.
But this item is different from most other charcoal barbecues on the market. It has an airflow design that improves ventilation and acts as a form of temperature control as well. 
Overall, this BBQ offers easy heat distribution and takes only a few minutes to put together. It provides an even cooking temperature and enough space to cook ample food for several people.
While this is a great choice for the best charcoal BBQ in the UK, it might be a bit shaky, depending on the assembly.
Pros:
It is pretty compact
The airflow design makes a difference when cooking with this charcoal BBQ
It takes only a few minutes to put together
It has a large enough cooking area
It is rustproof
Cons:
It might be pretty low down, so you would want to keep that in mind
You may need to double-check the assembly, or it can be a bit shaky
This charcoal BBQ comes with foldable feet, so reducing its size for storage and carrying it around won't be a problem. The actual charcoal grilling area on this barbecue is decent enough for several people, as the entire BBQ measures 44.5 x 29.5 x 24 cm. 
This BBQ has a silver coal bowl, a silver grill, and also a black grill. The entire item is very easy to clean, with the whole item being made from stainless steel. That does mean it is resistant to rust, and it's also pretty sturdy.
The BBQ has ventilation incorporated into the sides, vastly improving how air circulates through the charcoal. That makes it a bit easier for temperature control, and it should lead to a better result. 
Overall, this is one of the best charcoal BBQ for moving around, as it takes seconds to fold down or rebuild while offering a big enough charcoal tray to allow food to be cooked for up to six people.
However, you'd want to consider that several customers have claimed that this charcoal BBQ becomes unstable at times.
Pros:
It is so easy to clean
Building it takes seconds
It comes with a removable baking net
Ventilation holes help with cooking
Made from stainless steel
Cons:
It might be low down, so you may need to think carefully about where you place it
You may need to check that the legs are steady as they can be unstable at times
Even though he is better known for his grills, this charcoal barbecue by George Foreman offers you a reasonably sized cooking area, while it also comes with wheels, making it easier for you to move it around.
The body is black porcelain, which has enamel on top, and the cooking grates are chrome plated. This model is also one of the best charcoal BBQs because it comes with a temperature gauge included, so you can keep track of those searing temperatures and make sure that you keep on top of the cooking process.
Overall, the best thing about this barbecue is the temperature aspect. Anything that allows you to create the optimum cooking conditions is something to be welcomed.
It is important to note, though, that this might be a bit shorter than you have expected. Make sure to consider that, as you must be comfortable when using your charcoal BBQ.
Pros:
The temperature gauge is a real bonus
The cooking area offers the perfect grill size for an average family
The wheels make it easy to move the barbecue around
The handles stay cool at all times
It is very easy to clean
Cons:
Assembly could be a bit awkward, so you need to take your time
It may be a bit shorter than some may expect
The best thing about this Uten charcoal BBQ is the way that it weighs next to nothing. Of course, this is because it is made of stainless steel instead of cast iron, but the weight is not the only positive for this product.
The legs, which also have a stainless steel finish, can be folded down for easy storage. This barbecue has a couple of useful handles to help you move it around, while the base of the feet comes with rubber stoppers that will prevent the legs from sliding around. 
When it comes to the grill size, then it's big enough for cooking for up to 10 people at a time, and that's impressive. It has ventilation vents at either end, but sadly it's not an adjustable air vent, but that will still help with the heat distribution and allow food to cook evenly.
So the main thing about this product is the way you can fold it down. It's lightweight, easy to store, and has a huge grill size to boot.
On the other hand, an important consideration to note when getting this equipment is that it might become too unstable when positioned on uneven ground.
Pros:
Lightweight, but still strong.
Very easy to scrub clean after use.
Folding down takes seconds, as does rebuilding it.
The grill size is very impressive.
The vents help with moving the heat around.
Cons:
It may not be good on uneven ground, so you need to be careful
It comes covered in blue film, which may take some time to remove
The Fixget Charcoal is built from rolled iron and a chrome wire mesh for the grill. This barbecue is resistant to rust.
Completely foldable, this grill is easy to carry around, and it's pretty lightweight as well. Assembling it is easy to do, with no additional tools, and then there's the actual barbecue function.
This model has air vents on either end, making it easier to cook food evenly, no matter where it is placed on the grill. The grill itself measures some 44 x 29 x 23 cm, which means it is large enough for up to 5 people at a time. Overall, this item is compact, is easy to use, and will last a lifetime.
However, you must make sure that you put it on even ground. Otherwise, it may become unsteady and may cause accidents.
Pros:
It is easy to fold down and carry around
It is exceptionally easy to clean
It is lighter than you would expect
The air vents make for easier cooking
The handles are comfortable
Cons:
You may need to place it on an even surface, or it might become unsteady
You may need to put tin foil in the base of the charcoal grill to get the most out of it
Why Charcoal BBQs Over Gas Barbecues?
But why would you opt for a charcoal grill as opposed to buying a kettle barbecue that is perhaps powered by gas? Well, there are several reasons.
First, the best charcoal BBQ will provide you with a far superior taste and flavour to your good. This is something only a kettle BBQ or even an open charcoal BBQ can achieve. A gas version can't have the same result.
There's also the issue of portability. All you need is your kettle barbecue or folding open version and some charcoal, and you are good to go. There's no need to carry a gas bottle around and then connect everything up. Just throw the charcoal into the adjustable charcoal tray, light it, and you are ready to cook.
Choosing the Right Charcoal Barbecue for You
The ten different charcoal grills listed above are all excellent in their own right, but how do you choose the best charcoal barbecue for your own needs? Well, it's easier than you may have initially thought.
What you need to do is to break down your requirements into a few different sections. In the end, you will have a much better picture of what you are looking for. So, here are the key areas to think about before buying a charcoal barbecue.
The Size for Cooking
First, there's the size, and we don't just mean the grill size either. The best charcoal BBQ for you will undoubtedly be one with a cooking area that is large enough for your needs. It is important to know how many people you will be cooking for at a time, and then work out which kettle BBQ or other versions you will require.
Now, at this stage, we are not talking about a warming rack or anything else on your charcoal BBQ. Instead, focus primarily on where you will cook all the food.
Portability and Storage
Another important area is portability along with storage. Thanks to not having a gas bottle to contend with, you will find that storing even a kettle grill will be relatively easy and pain-free.
Of course, if space is very limited, then a kettle charcoal barbecue wouldn't be the correct option. The lid cannot be folded down, which means it takes up more space as a result.
In this instance, look more closely at a charcoal BBQ that has an open grill. Many of these come with folding legs, and that does make life a whole lot easier.
Cleaning
Cleaning is something else to consider when it comes to your barbecue, but even here, there can be a difference if you go for the kettle charcoal barbecue option.
Even the best kettle BBQ will have a lid to be cleaned due to food spitting while cooking. If you want to make life as easy as possible, go for the open version without a lid. At that point, you only need to remove the charcoal and dust from the base before cleaning, and that's pretty straightforward.
Speaking of dust and pieces of carbon left over, some charcoal BBQs come with a catchment plate under the tray itself. This makes it easier to remove the dust after things have cooled down, so this is a cool option if you are interested in making life nice and simple.
The Grill
When it comes to the grill, you may want to avoid ceramic grills and focus on chrome-plated ones. You can scrub them, and the heat won't be a problem either. Also, if you care for them correctly, they will last for some time, and they can cope with both direct and indirect heat.
The only thing you need to think about with the grill is the size it covers. However, that potential issue is addressed when you select the size of the charcoal barbecue at the outset.
The Height
But while you have several key things to think about when it comes to your charcoal grill, there are a few things you need to avoid.
Look at the height of the barbecue, and think about how you will be using it. Several folding or portable charcoal grills will be low to the ground, so that's something to think about.
You need to be aware of where you will be grilling. This requires a flat, stable surface for it to work correctly, or your charcoal barbecue will be unsteady, and that's when it becomes dangerous.
Safety
Let's quickly look at the safety aspect when it comes to your charcoal barbecue.
We just mentioned the need for a level surface, but there's more to being safe than just that. Instead, look at the handles and how they are positioned for moving the barbecue. Do they get hot, or are they insulated to make life easier for you?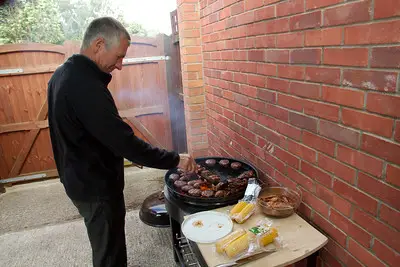 Also, pay attention to the feet. You want them to have some form of non-slip rubber foot on the base. That adds some stability to the entire thing, and you don't need to worry about going overboard when it comes to safety.
Additional Items
Finally, pay attention to additional items that may or may not come with your brand new charcoal BBQ. If cooking for a lot of people, be aware of how you will keep food warm. In this instance, a kettle BBQ does a better job: instead of the more open version, the lid will allow it to retain heat.
Then there's the point regarding storage for condiments. This is often missing with most portable versions, but you may find other charcoal barbecues with a lower shelf or a side attachment to help with this part.
Once again, this all comes down to you understanding what you need and how you plan to use the barbecue in the first place. Look to see what is included in your potential new barbecue, as some come with additional tools thrown in, which will be ideal for people starting with their barbecue life.
Charcoal Grilling Made Easy
Finding the best charcoal BBQ in the UK companies have to offer is easy, thanks to the sheer array of options out there on the market. There's no doubt that Grandma Shark Stainless Steel charcoal barbecue gives a more authentic taste and feel than a gas grill, and then there's that smoky flavour that everyone wants. Quite simply, you don't get the same results with a gas burner.
So go through the options we have included above, and ultimately you will be able to settle on the best charcoal barbecues for your needs. Remember the size according to the number of people you will be cooking for, and consider if you need additional items, such as a warming rack. After that, all that's required is to get the charcoal, fire it up, and get cooking.
Additional Resources