Last Updated on February 17, 2022
Our editors independently research the best products online to produce this list. We may receive commission on purchases made from the links below but this will never affect our product choices.
---
Top 10 Best Garden Spades
Finding the perfect spade that is not only effective but comfortable and easy-to-use can be difficult. Digging out soil or cutting roots is tough work, so our mission is to help you find the right garden spade, which will make the work easier and be a lifelong addition to your gardening tools.
With so many models available at the click of your finger nowadays, it can be confusing as well as difficult to pinpoint a single tool that will provide you with all the features you want.
Thus, to aid you in your venture to find the perfect spade, we have gone through numerous spades and found ten unique spades that stand out from the rest. Value, comfortability and longevity are our main concerns for the best garden spade.
So, whether you need a spade that can be used in a garden or at a working site, these ten tools are the best ones in the market. All the spades that we have reviewed below have a rating of at least 3 or above, out of 5, so you can be sure that these units are of good quality and will provide you with optimal performance.
How we Compared Garden Spades
To find the right garden spades we considered multiple factors, including:
Durability
Footplates
Style and material
Ergonomic shape
Our team independently examined and compared hundreds of products to help satisfy different needs. We spent our time researching garden spades and consulting customer reviews to ultimately bring you what, in our opinion, are the best options on the market right now.
To find out more about our editorial process, take a look here.
Garden Spade Reviews
Fiskars Xact's digging spade is a pointed-edged spade with a long shaft, 108 cm in length (43 inches), making it apt to be used by almost anyone! It is perfect for digging out stony and cracked hard soil without much hassle. In addition to this, it can also easily dig out and remove grass as well as roots.
The shape of the spade has been made with ease of use in mind. It is light in weight – it weighs only 1.87 kilograms – and portable. Moreover, it has a sharp-edged blade which helps you to turn and dig out soil much easier. The non-slip top edge helps you easily grip it. So, with Fiskars Xact's digging spade, you can work for as long as you want with minimum exertion!
The D-shaped handle is ergonomic and will suit any hand size. It is easy to grip and adds to your comfort level while you work. The expert design of Fiskar's digging spade also ensures that your hand and wrist muscles, as well as back, are not under stress. Furthermore, the handle is composed of fibreglass reinforced plastic which elevates the finesse of the spade.
The quality of the spade is top-notch, with promises of longevity and efficiency. It is available in a unique colour combo of orange and black – easier to spot among your tools!
A few customers state that the spade may snap under immense pressure, so ultra-tough weeds should be dealt with care. Some customers wanted to use this spade as a border spade but felt when using it that perhaps it is not best suited to borders after all due to the curved style.
Pros:
Pointy hilt to effectively dig soil and cut grass and roots
Long shaft and handle to maximize comfort
Easy to use and carry around
Anti-skid top edge
Cons:
May snap under too much pressure
Borders may be slightly difficult to maintain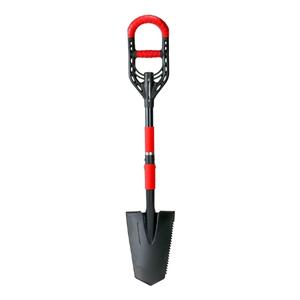 We included Roamwild Multi-Digger in our top 10 Garden spades because of its exceptional blade that has been designed precisely to cut through the soil easily and without much exertion. The blade is sharp, has a root-cutting edge and large footplates so you can use your entire strength.
The spade has a unique handle with two sets of grips. You can hold the spade on the second grip for more control and precision. The digging spade height is 102 cm, which makes it suitable to be used by most people without the need to bend over and hurt your back. Even better, this spade has a power-efficient design, with aligned curvature between handle and blade. This means that your energy won't be wasted.
It weighs only 2KG, so if you are a professional gardener or a site worker who needs to carry their tools with them all the time, this tool can be beneficial for you as it is light in weight and easy to transfer from one place to another. The Roamwild Multi-Digger is made of fibreglass, but the air cut holes in the handle make it even more lightweight.
Since this is a high-quality spade, it is very sturdy, and so it may be heavier than you think, even though it is still classified as lightweight. If not used correctly or pressure is applied in the wrong way, this might result in breakage, so you might want to make sure you are using it correctly and safely.
Pros:
Lightweight
Dual grip
Large footplates
Ergonomic design
Cons:
It may be heavier than you think
It may break if pressure is applied incorrectly
Kingfisher has not just kept the sturdiness of their spade in mind during manufacture. They had been equally thoughtful about their users' ease while making this particular unit. If you are looking for a good garden spade worth the value, the Kingfisher CS570 will help you there.
Kingfisher CS570 Digging Spade has a soft D-shaped grip handle that makes working with it very comfortable. So if you are someone that works for long hours, this particular spade will make strenuous long hours more bearable compared to before.
The spade's head is a carbon steel blade, and this material is hard enough to dig out any type of soil or roots while maintaining its smooth yet indestructible composition. Furthermore, the width is only 17.7 inches which is the usual side for a digging spade. For more great garden tools, see our guides on lawn scarifiers and robotic lawnmowers.
Under immense pressure, the Kingfisher spade might bend, so it is best to apply the force systemically. Furthermore, you might want to wear thick boots if you intend to use your feet on the spade to apply pressure. The tick soles might be necessary because the blade may not have footplates.
Pros:
Light in weight
D-shaped handles with optimal grip for added comfort
Durable
Reliable and resilient
Cons:
Under pressure, this spade may bend
You might need thick soles to protect your feet with this spade
If you are looking for a garden spade that is going to endure through thick and thin, quite literally, then Spear & Jackson have manufactured just the right product for you. The head of this spade is a stainless steel blade and features an elegant mirror polish. In addition, this spade head is resistant to scratches and corrosion.
To begin with, the material of the head is high-end steel which is very durable and reliable. Additionally, the shaft is made from polypropylene, a plastic polymer known to withstand damage. Hence, it is a unit that will last for a long time if you choose to buy it!
It is 102 cm in length which makes it easy and convenient to use without you having to bend down. Say goodbye to back pains! It weighs only 2.18 kg which makes it extremely lightweight as well as easy to carry with you wherever you want. The tilting handle also makes handling the spade easy.
The Spear & Jackson Stainless Digging Spade won gold in the 'Grow your own' Great British Growing Award in 2020, which makes it a reliable and trustworthy component to add to your tools. For more tools, check out our guide on garden forks.
The blade is slightly curved for if you want to use your foot soles on the spade; however, some customers felt this was a hindrance. This is because you may not be able to dig deeper than the length of the spade due to the curved metal stopping the spade from sinking further into the earth. This mirror-polished stainless steel digging spade may possibly bend or snap if too much force is applied, although this has only happened in very few cases.
Pros:
Possesses a stainless head made from steel
It has an ergonomic designed forward tilting handle
Perfect for turning over the soil as well as digging it up
Long enough to be used without bending or hunching over
Cons:
The curved footplates may stop you from digging deeper than the blade length
May bend
May snap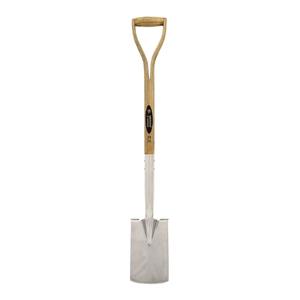 With its stainless steel blade, this next model by Spear & Jackson will surely help you dig the soil as well as turn it over as effectively as possible. This design is called the Spear & Jackson Traditional border spade because it features a beautiful wooden shaft with a timeless, natural aesthetic. Connected to the shaft is a mirror-polished stainless steel blade that is rust-resistant.
This model also won the gold in the Great British Growing Award, just like the other model we have chosen. This means that you are getting a product that has been tested as well as ticked off as safe, reliant and effective. Weather-proofed, the hardwood shaft adds to the durability of the Spear & Jackson border spade.
The wishbone-shaped handle is a part of the one-piece wooden shaft, giving a wonderful aesthetic finish to one of the best border spades on the market. You do not have to bend or exert extra force while using this tool!
Since this border spade is made of natural materials, the spade's handle and shaft may alter over time. However, it will probably take a few years for this to happen, so you won't need to replace it for a long time. In very rare cases, customers claimed that there were possible splinters from the wood.
Pros:
Spotless steel blade
Wooden and natural aesthetic
Durable
Cons:
After a few years, the wood may warp
May need replacing after a few years
Splinters may occur
Faithfull has put into the market a very sturdy and resilient digging spade that will help you turn over the soil, remove those annoying weeds as well as help you plant new seeds! All this can be done with less hassle when you use the Digging Treaded Spade.
Faithfull's Digging Treaded Spade has a head that has been solid forged from carbon manganese steel which makes it strong as well as indifferent to corrosives and water, and other chemicals. It is ideal for individuals who need a spade for site work or transplanting. Thus if you are one of these individuals, Faithfull's Spade could be an excellent choice.
The shaft is one of the most important parts of a spade. After all, it lets you control the head and get the job done neatly. Keeping this in view, the manufacturers have made the shaft out of metal and fitted it with a Y shaped hilt that adds to its durability as well as reliability. The wooden handle adds a natural touch.
Moreover, it has flat treads and a wooden cross dowel, increasing your comfort while using this spade. In addition to all these amazing features, you get a 5-year guarantee! You might also be interested in our guides on the best long reach hedge trimmers and the best cordless strimmers.
After looking at reviews, some customers felt that the spade was quite small. Also, this garden spade may be quite heavy, so it may not be easily used as a border spade. Another point is that this digging spade may not be sharp.
Pros:
Extra sturdy head
Made from strong carbon-manganese
Non-corrosive
Wooden handle
Cons:
It may be quite small/short
It may be heavy
It may not be sharp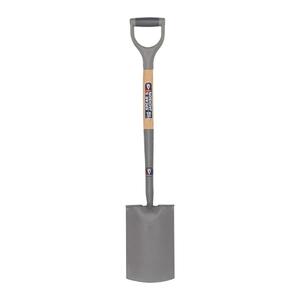 Spear & Jackson have been selling garden spades since 1760, and so their solid place in the market ensures the quality and longevity of their products. This particular model – the 1180NB Neverbend Carbon Steel Digging Spade – is made of solid forged carbon steel and even includes an extra-long socket for strength.
The best garden spades will suit all weather, as gardening can be variable. Therefore, this garden spade has a weatherproofed shaft made of hardwood. In addition, the head is coated with hammer finish power, which will improve the spade's resistance to rust. These features add to the durability and longevity of the spade, ensuring that you can use it for years to come!
This carbon steel garden spade has a Suregrip handle that is engineered with a forward tilt. From research, this tilt has been found to be the ideal digging angle, so you will be less likely to experience pains in your wrists and hands.
For ease of digging, the Spear & Jackson carbon steel garden spade has integrated footplates, which is called 'treading', so that you can use your feet to help you with digging.
Under a few circumstances, the spade might have snapped for customers, but there are not many cases. This spade may also be short for some people and heavy due to the sturdy material.
Pros:
Strong carbon steel
Weatherproofed and rust-resistant
Durable and longlasting
Forward tilt in the handle
Cons:
Chance of snapping
It may be short for some people
It may be heavy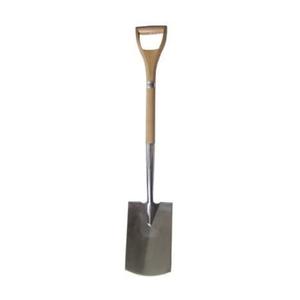 Wilkinson Sword digging spade possesses a steelhead that will remain damage-free after long, rigorous digging sessions. The material used to make the head is a resilient type of stainless steel that will surely last for a long time, no matter how difficult or meticulous the gardening tasks are. Stainless steel digging can be much easier than other garden spades because the material glides into the soil.
Moreover, the handle is made from ash wood which is known for its durability. In addition to having a longer life span, it is lightweight, which will make carrying the spade anywhere you want trouble-free. It is aesthetically pleasing and also is superb in absorbing any sort of wood stains. 
The head of the spade is larger than the average, so this spade will be very useful for sorting out unprepared land, fixing drainage issues, and so on.
The company provides you with a 10-year guarantee, so if you notice any defects in the unit, all you need to do is call up their customer service and get it sorted out!
As with most garden spades, there is always a minor chance of snapping. So, this garden spade also faces that chance. After a few years, this garden spade may need replacing.
Pros:
Well-built unit
Long-lasting
Effective for digging, turning the soil as well as irritating
Extremely lightweight; weighs only 998 grams
Cons:
It may have a chance of snapping
It may need replacing after a few years
Bulldog Digging Spade model 710772890 has an ergonomic forward angled head that is supposed to provide you with ease as well as efficiency while you dig out the soil. Moreover, the hilt has been forged so that it does not damage your boot's sole while you are working. Bulldog Tools have been popular since 1780, so you can't go wrong with this brand.
It is ideal for gardeners who are looking to prep their garden for planting, so if you have moved into a new place and are thinking of turning the garden into a colourful paradise, this particular spade will help you do it! The head is composed of carbon steel which is durable as well as reliable. It is coated with epoxy, making it resistant to rust and other corrosive materials.
It features a long socket which helps to increase its life expectancy as much as possible. Furthermore, the shaft is made from ash, while the handle has an anti-slip grip. This means the spade is comfortable to work with and will unlikely cause no stress to your hands and wrists. See our guides on fence sprayers and wood preservers for more ways to keep your garden looking smart.
The point where the blade meets the shaft is the weakest point, and so there is a possibility of breakage here. There are no footplates, so using your feet on the blade may be slightly uncomfortable.
Pros:
Reduces soil adhesions
Ergonomic forward angled hilt
Ideal for planting
Sturdy and tough carbon steelhead
Cons:
It may split where the shaft meets the blade
It may be uncomfortable to use feet on the head of the spade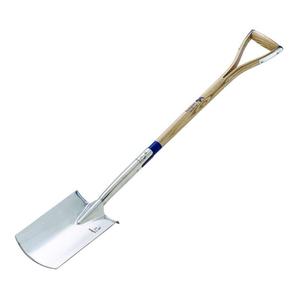 Pedigree Digging Spade has a sleek finish with its stainless steel head and a double riveted socket. The high-quality steel blade is tough in composition and resistant to rust and corrosive materials. This makes it have a longer shelf life. Furthermore, the riveted strapped socket helps to make things easy for you and alleviate as much strain as possible from your back and shoulders.
The handle is made from FSC certified ash wood which further helps to make the tool durable and able to withstand harsh conditions. It has a 32 inches long capped Y shaped handle with an ideal grip. This is great if you want extra leverage or you are a tall person.
The top edge of the head has been treaded to protect your boots from cracks and damage. Furthermore, it surpasses the British standards for toughness and strength. You can count on it to last.
This spade may be subject to cracking, and if so, will need to be replaced. Only a tiny percentage of customers commented that the handle twisted under their hands.
Pros:
Long treaded spade
The anti-skid grip of the handle
FSC certified sustainable wood used for the tool's composition
Cons:
May crack
Handle may twist
Choosing the Right Garden Spade
Now that we have reached the end of the ten best garden spades list, it is time to give you some tips on how to choose the right one for you. This can be a simple process by looking at the factors listed below and deciding what suits you best.
Our choices of the best garden spades adhere to the highest standards and feature what most people look for in a garden spade. So, we hope your search for your new garden spade will be much easier and quicker after reading our guide!
Durability
The most important thing to consider when searching for the best spade for digging is durability. You will want your spade to last you for a long time and become a permanent addition to your garden tools. Things that contribute to the longevity of a spade is whether the blade is solid forged, rust-resistant, and weatherproofed.
The best way to certify if the spade will have a long life is to see if the spade has been awarded. Also, check reviews! People who have already tried and tested the garden spade will know best.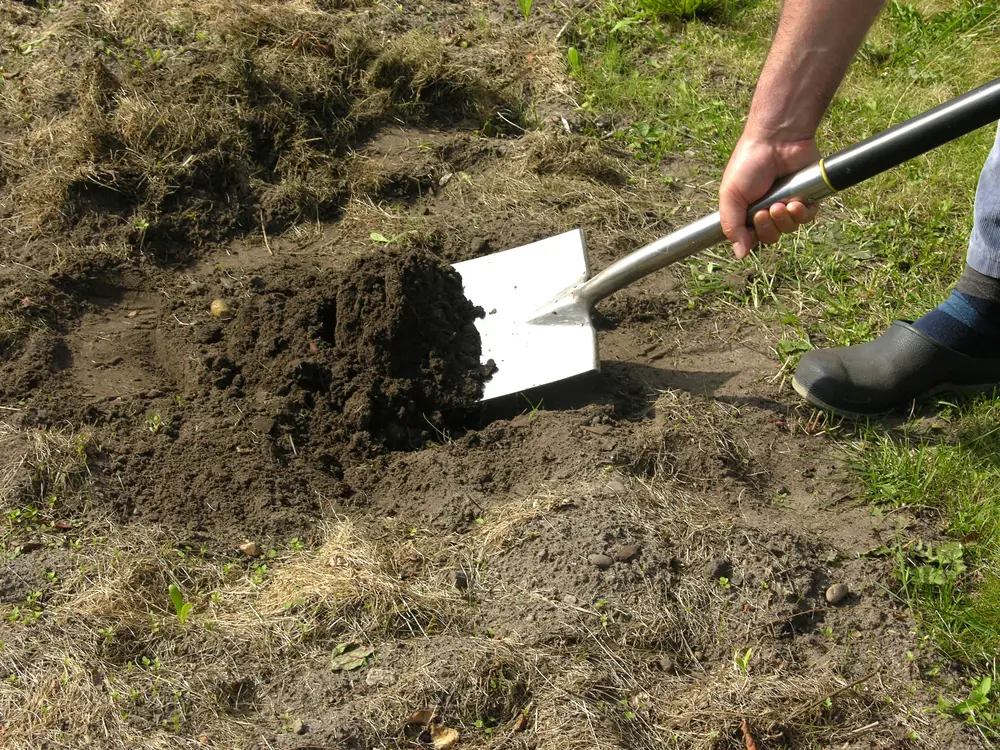 Footplates
Footplates, or treading, are shoulder-like plates on the top of the blade where you place your foot to push the blade into the ground. Footplates will help you to effectively dig out the soil because you can use the entire strength of your body. Also, footplates keep your boot soles intact and without cracks!
If you're digging below ground level, footplates can be a hindrance. However, their benefits greatly outweigh the costs.
Style and Material
You may prefer the traditional wooden handles as this has a natural aesthetic. Or, you might like the elegance of a shiny stainless steel spade. A plastic handle may also offer you another variety, although they are not as sturdy as wooden handles.
You can get a flat blade, narrow blade, pointed blade, and the choice all depends on what you are using the spade for. The best border spade will be sharp, small and flat.
Spade heads need to be strong to break through the earth and stubborn roots. You might opt for a stainless steel head. A serrated edge or a sharpened blade will help you with tough plants.
Ergonomic Shape
To ensure that you suffer as few aches and pains as possible after gardening, finding a garden spade with the best ergonomic shape is important. The best garden spades have a tilted handle. Other garden spades have straight hands, but this is not the best design for your wrist.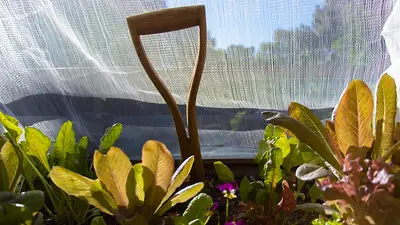 Also, a lightweight spade will be much more comfortable in the long run.
Why Should You Buy a Garden Spade?
If you work on areas that have a large vicinity of soil areas, then the garden spade is your best friend.
Gardening tasks like digging soil, breaking ground, working with confined spaces such as raised beds, preparing land or soil for planting shrubs, seeds and vegetables and so on can be much easier with a spade.
So, the real question is, why should you NOT buy a garden spade? The best garden spades will make garden work a breeze, not only for professional gardeners but also if you like occasionally gardening.
Our Choice: The Best Garden Spade
For our final decision, our choice must be Fiskars Xact spade. This blade is perfect for anyone!
The pointed blade is solid forged, sharp and strong enough to cut through garden roots. You can work for long hours with this spade because it is a good length and has strong footplates (treads), so you won't get as many aches or pains. With the ergonomic handle, too, you can forget the pains of gardening.
It isn't heavy, and the non-slip features mean that it is safe. You can add this to your tools as a lifelong companion!
Which do you think is the best? Let us know in the comments.
Additional Resources
Nicole has a passion for everything about the home – especially decor. She loves to add new touches and style to every part of the house. Join her as she documents her ideas at Home & Style.