Last Updated on February 15, 2022
Our editors independently research the best products online to produce this list. We may receive commission on purchases made from the links below but this will never affect our product choices.
---
Top 10 Best Garden Forks
Gardening has always been a keen pastime for many, and it takes dedication and love, and of course, the right tools for the job, to keep your garden, raised beds and borders in the best condition possible.
Having the right set of tools for the job is an essential part of gardening, and it can remove a considerable amount of frustration if your gardening tools are not fighting against you.
Every year, your borders will need digging over to plant bulbs for the spring or to ready the ground in your vegetable plot for this year's crops and to do that, you need the best garden fork!
Alongside the garden spade, a digging fork is indispensable in your gardener's arsenal, and there are many to choose from. So, how do you know what the right one is for the job? There are a few options and factors to consider, such as the garden fork's material, weight, length, along with its design and handle shape.
Stainless steel forks are popular and are good at preventing soil from coating the tines. A garden fork with a hardwood handle is a timeless and hardwearing option. Then there are garden forks that come with an O shaped handle, a T shaped handle or even a D!
Then there are the types of gardening jobs you are looking to tackle with your new border fork, and the type of soil in your garden will influence the type of garden tools you purchase.
To find out what all of that means, take a look through our top ten garden forks and our buyer's guide to find the strongest garden fork for you.
How We Compared Garden Forks
To find the right garden forks we considered multiple factors including:
Type of Gardening Job
Materials
Tines
Sustainability
Size and Weight
Our team independently examined and compared hundreds of products to help satisfy different needs. We spent our time researching garden forks and consulting customer reviews to ultimately bring you what, in our opinion, are the best options on the market right now.
To find out more about our editorial process, take a look here.
Garden Fork Reviews
The Spear & Jackson Stainless Border Fork has stainless steel tines and also comes with a polypropylene shaft. Stainless steel tines prevent soil and mud from sticking to it when it comes out of the ground. The head measures 23 cm by 14 cm, while the handle is approximately 72 cm.
The Spear & Jackson Stainless Border Fork is easy to handle and use due to its lightweight design and smaller head and is perfect for working amongst plants when you need extra dexterity. Additionally, the handle has been ergonomically designed with a forward tilt, so it is easier to grip and manoeuvre.
This best border fork has been tested to exceed BS3388 load tests, so you can be assured of its quality and durability as the best garden fork in the UK.
Pros:
Lightweight
Smaller head for work in amongst plants
Stainless steel tines
Polypropylene shaft
Ergonomic handle design
Cons:
It may not be robust enough for heavy digging work
The prongs may bend if they come into contact with hard materials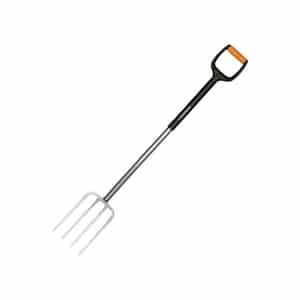 The Fiskars Xact is the ideal tool for working hard and unconditioned soils. The high-quality garden fork is manufactured from robust materials; the four tines are made from steel and the handle from reinforced fibreglass, meaning it will withstand working in stony soil.
The fork is 120 cm in total, weighs approximately 2 kg, and is the perfect model for taller landscapers and gardeners. There are smaller forks in the same range for smaller heights. Additionally, the handle has an ergonomic D-shape design, is coated in non-slip material and is angled by 7° to make it comfortable to use.
Pros:
Larger digging fork at 120 cm
D grip and the non-slip surface on the handle
Sharp tines made from steel
Suitable for unconditioned soils
Ergonomic design
Cons:
Tines may buckle under heavy work
At the higher end of the price range
The join between the steel and fibreglass handle may be weak
The Rolson Digging Fork has a carbon steel head and a hardwood shaft, and a handle made from ash, making it an inexpensive but reliable garden fork for general use in the garden. The four tines are heat-treated and hammer-finished to ensure that they are robust and hardwearing.
It is 100 cm in length, weighs 1.92 kg, suiting the average height gardener perfectly. However, one thing to be aware of is that the handle has a plastic finish that is not non-slip and may feel a bit shiny when in use.
Pros:
Carbon steel head
Heat-treated handle
For general use
Hardwood handle and wooden shaft
Inexpensive
Cons:
The spade may not be suitable for tall gardeners
It may not be a heavy-duty garden fork
Plastic handle coating
The extremely affordable Silverline Border Fork is suitable for light-duty work and can easily accomplish small tasks within your borders and amongst plants. Silverline has been a popular gardening and power tools manufacturing company for 30 years.
The four tines on this cheap fork are sharp and epoxy coated for durability. The shaft is made from polypropylene for strength, and it has a PD handle. The garden fork has been load-tested by the manufacturers for 3 minutes at 55 kg, so you know you are getting one that has been tried and tested.
It is not the biggest fork with a length of 92 cm, and it weighs 1.88 kg, so it may not be suitable if you are tall but should be ok for those of average height.
Pros:
Four epoxy coated tines
PD handle
Polypropylene shaft
Load tested
Inexpensive
Cons:
It may not be suitable for more than light work
It may be heavier than some forks for its size
The Kent and Stowe Carbon Steel Border Fork is ideal for most border maintenance jobs such as turning the ground and aerating the soil and receives good reviews from keen gardeners. At 105 cm in total length, it is a good garden fork for most height ranges, and it weighs 1.8 kg.
The head and tines are made of carbon steel for durability and strength and will not flex under working through less conditioned soil or heavy pressure. The shaft and handle of the Kent and Stowe Carbon Steel Border Fork are made up of attractive ash hardwood, and the handle is YD in shape. Additionally, the shaft is extended to give it additional strength when performing heavier duty work.
Pros:
Carbon steel head
Traditional looking design
Hardwood handle and shaft
Durable
Good for raised beds and border work
Cons:
The head may not be wide enough to place a foot on sufficiently to push forcefully into the ground
It may be more suitable for a female user than a male due to its size
The Spear & Jackson Digging Fork is made from hardwood which is weatherproofed to make it a durable product. The shaft is made from one piece of wood, which is split to form the wishbone handle, and it is 90.5 cm in length.
The polished stainless steel digging fork ensures minimal soil adhesion, making it easy to clean and maintain, and avoids rust developing. The Spear & Jackson Digging Fork was made for daily use and is quite the workhorse. The grip is ergonomic, and the handle sits comfortably in hand, and because of its weatherproofing, you can use it in any condition!
The good quality fork weighs 1.95 kg putting it at the upper end of products in our review, and it is also not a long-shafted fork, so bear that in mind when reviewing our best garden forks. If you are tall, this may not be the fork for you.
Pros:
Well balanced
Polished stainless steel head
Weather-resistant
Wishbone handle
Rust resistant
Cons:
It may not be suitable for heavy work or levering roots
The wood shaft may be vulnerable to snapping under pressure
The tines may be prone to bending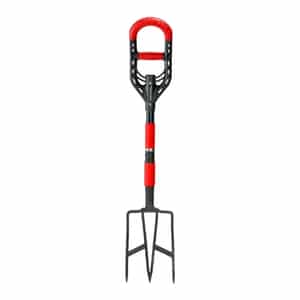 This is the next level as far as digging forks go! Unlike most garden forks on the market, the Roamwild Multi-Digger Spading Fork has a unique diamond-shaped head with super sharp tines for chopping through and breaking up large lumps of soil. The tines actually have connecting angled chopping blades on them to assist in this heavy-duty work!
The fork also sports impressive dual-grip air-light technology on the two handles; the top one is large and comfortable for general use, and then there is a lower handle for close up control when digging. Additionally, the shaft is made from lightweight fibreglass, making this a comfortable but hardworking fork, perfect for compacted soil.
This innovative garden fork is 102 cm in length and weighs just 1.6 kg, making it one of the lightest best garden forks in our review.
Pros:
Lightweight fibreglass shaft
Unique dual-grip handle
Chopping blades
Ergonomic handle
Sharp, tapered tines
Cons:
At the upper end of price in our top ten best garden forks review
It may be too short in length for taller gardeners
There may be a weak point between the head and the shaft
This is one of the longer-length garden forks in our review, at 113 cm. The shaft is lightweight and made from aluminium, weighing in at just 1.25 kg.
The four tines are sharp and made from high-quality steel. Additionally, the D-grip handle is ergonomically designed so that you can use this garden fork by Fiskars without causing yourself back pain. It is a good garden fork for aerating and turning loose soil, and removing weeds and small stones from your borders.
Pros:
Lightweight
Long length at 113 cm
Four steel sharpened tines
D-shaped grip
Ergonomic design to be posture-friendly
Cons:
It may be better suited for taller gardeners
It may not be suitable for heavy-duty digging
The plastic handle would be better with a non-slip coating
The Bulldog border fork is manufactured to be robust and long-lasting and is stress-tested to withstand 200 lbs weight.
The head and socket for the shaft are produced from a single piece of stainless steel, so there are no weak joints, and the shaft is inserted deeply into the socket to prevent it from snapping, unlike cheaper forks.
The wooden handle is hand-turned and a D-shape, and like all Bulldog tools, it is built to last. Another thing that we like about the Bulldog Border Fork is that the wood used in the shaft and handle comes from sustainable sources in Europe and the USA.
One fact about this garden fork to be aware of is that it is only 71 cm in length.
Pros:
Forward angled for better grip
Steel tines
A single piece of steel is used for the head and socket to prevent weak spots
Sustainable materials used
Robust design
Cons:
Flat-faced tines that may not be particularly sharp
It may be narrow on the shoulder, meaning your foot may slip
Tines may bend under heavy use
This solid forged carbon steel garden fork by Draper is durable and tough-wearing. The solid steel shaft is plastic coated, and the tines are epoxy coated for durability.
The garden fork has a Y-dee shaped handle, is 75 cm in length and weighs 1.95 kg. This makes it quite a compact but heavy digging fork, which may be suitable for the stronger gardener but is something to bear in mind when making a purchase.
The garden fork is ergonomically designed and is perfect for aerating soil.
Pros:
Robust design
Carbon steel
Epoxy coated tines
Plastic coated shaft suitable for all weathers
Compact length
Cons:
The shoulder may be narrow for larger feet
No non-slip grip on the handle
It may be too heavy for some gardeners
Buyer's Guide
When reviewing garden forks, there are a number of considerations that are worth going through before making your purchase. It can be mind-boggling trying to decipher what exactly sets a potato fork apart from a compost fork, and do you really need one that specifies a particular job when what you really need is a good all-around garden fork!
We have set out below the ones that we think are most important for you to come to the right decision to add to your existing garden tools.
Type of Gardening Jobs
Are you looking to aerate and turn over loose soil ready for planting, or is your ground more compacted or filled with rubble or roots and weeds? Knowing the answer to this question will help you narrow down the types of border forks suitable for you.
Some digging forks specifically mention that they are not suitable for heavy-duty use or for removing roots, for instance. These forks may be made from lightweight materials and are ergonomically designed for gardening amongst plants and performing lighter-weight tasks.
Solid forged forks with a steel handle are instead more robust and can perform heavier work.
Materials
The material that your garden fork is produced from will have the biggest impact on its usability. There are many choices on offer, solid forged carbon steel, which is extremely long-lasting, and stainless steel, which is great for easy maintenance as the stainless steel head is easily cleaned and won't retain soil when it is brought out of the ground.
Then there are wooden or polypropylene shafts to choose from as well. Or aluminium is another option if you want a lightweight garden fork.
Some forks come with a plastic coating for weatherproofing and may have non-slip grip sections so that you are able to work in all weather conditions.
Tines
The shape and sharpness of a fork will determine how easily it performs certain tasks. For example, some forks have flat or broad tines, whereas others have sharp and pointed tines that will better penetrate the earth. The type of digging you need to do will determine whether round tines or sharpened ones are the right design for you.
One of our best digging forks has an innovative tine design with connecting blades to chop through large clumps of soil.
Sustainability
Some garden forks may last for many years if well maintained, but there is always the chance that you will be unlucky with your purchase and need to replace your digging fork within a few years. Selecting solid forged forks may be an option to avoid breakages, but other sustainable options are to consider.
Wooden quality tools, such as those manufactured by Bulldog, have great sustainability credentials. All of the wood in their garden tools is sourced from sustainable producers. So in purchasing a border fork from a producer such as them, you are supporting sustainable use of our planet's materials. Many wooden handled forks are treated with weatherproofing, so you do not need to worry that they will not be durable in the long term.
Size and weight
The length and weight of our top ten garden forks vary considerably.
Our forks range in length from 72 cm to 120 cm, with lots of options to choose from in between. Factors that might influence your decision are how tall you are and if you are purchasing for a man or a woman gardener. Typically, the length of your garden fork will correspond to how tall you are.
If you select a digging fork that is too short for you, you may end up suffering from back pain over time. Equally, selecting and trying to use garden tools that are too large for you will end up with them being too unwieldy for you to use comfortably.
In terms of weight, the garden forks that we have included in this review vary from just slightly over 1 kg to 2 kg. Of course, the material that a fork is made from will be the biggest determining factor in how much it weighs. Solid forged carbon steel or a steel fork can be at the heavier end of the spectrum, but they may also bring durability and strength with them.
Lighter weight forks such as those made from polypropylene are suitable if you have good conditioned or loose soil, which does not require the heavy digging and turning over that a steel fork may be more suitable for. If you are looking to purchase a garden fork as a present for a keen gardener, then bearing in mind their stature and strength is always well worth doing.
Conclusion
Deciding to purchase new garden tools will not set you back by significant amounts of money, but the product you end up buying will affect the quality and outcome of your gardening and make the difference between having a pleasurable experience or an extremely frustrating one!
Our aim is that having read our review of the best garden fork UK markets have to offer and our buyer's guide, you'll have been able to select the best digging fork for your needs. However, if you're still undecided about the best fork, then we recommend that you give our Editor's Choice a go – Spear & Jackson Stainless Border Fork.
Like most gardening tools from Spear & Jackson, this stainless steel digging fork is of high quality and built to last. Stainless steel forks prevent soil and mud from sticking to it when it comes out of the ground, making them easy to clean and maintain. The forged steel tines do easy work in amongst your plants, and the polypropylene shaft is lightweight.
The head measures 23 cm by 14 cm, and the handle is approximately 72 cm. Additionally, the handle has been ergonomically designed to tilt forwards slightly so that it is easier to grip and manoeuvre.
Unlike most forks, this steel fork has been tested to exceed BS3388 load tests, so you can be assured of its quality and strength and be confident in your purchase!
Additional Resources