Last Updated on February 17, 2022
Our editors independently research the best products online to produce this list. We may receive commission on purchases made from the links below but this will never affect our product choices.
---
Top 9 Best Garden Kneelers
So you love getting out into your garden, and who couldn't blame you. However, getting down to pick up those weeds, tend to those plants, and generally tidy up can be uncomfortable. So, what are you going to do?
Well, there are a few ways in which you can make life easier and more comfortable for yourself. One of those ways is to use a garden kneeler. This simple piece of gardening equipment can transform how you can end up caring for your flower beds. It makes getting down closer to the ground a whole lot easier.
But choosing the best garden kneeler UK companies have to offer is not easy. There are a huge number of options out there when it comes to garden kneelers, and you don't want to waste your money.
However, it's OK. We have you covered as we are going to work through an array of garden kneelers that we believe can transform how you go about carrying out those gardening tasks. By the end, we are sure you will be able to find the best garden kneeler for your own individual circumstances.
We can get started with checking out the different garden kneelers with that in mind.
How we Compared Garden Kneelers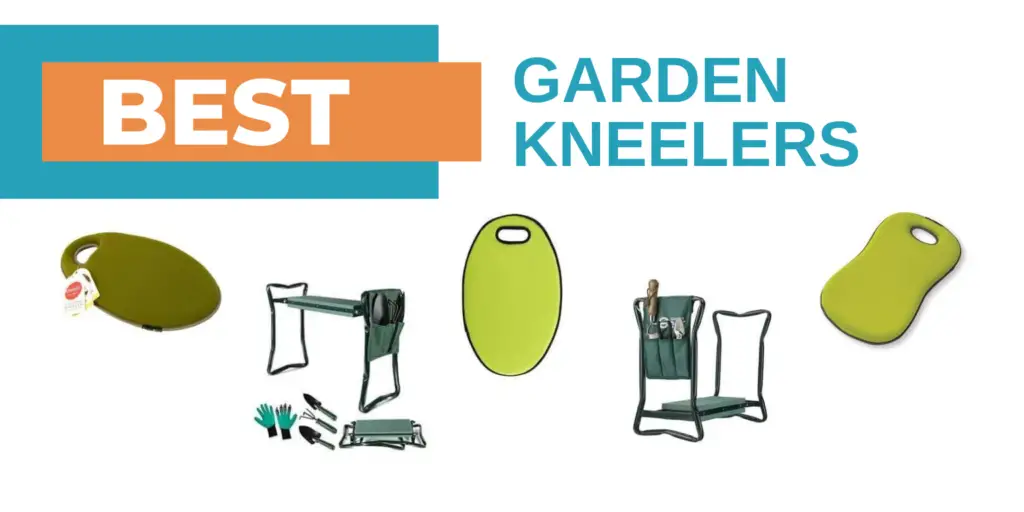 To find the right garden kneelers we considered multiple factors, including:
Size

Comfortability

Material
Our team independently examined and compared hundreds of products to help satisfy different needs. We spent our time researching garden kneelers and consulting customer reviews to ultimately bring you what, in our opinion, are the best options on the market right now.
To find out more about our editorial process, take a look here.
Garden Kneeler Reviews
First, we have this garden kneeler courtesy of the people at Garden Gear, and this kneeler gives you a number of different options.
This item will act both as a garden kneeler and as a seat, so if you ever feel the need to rest while gardening, you will have a solution. The frame for the seat is constructed from metal, and it is extremely sturdy. You will have no concerns about putting your weight on this frame, as it will cope with ease.
The cushion part is excellent. Made with polypropylene, it does come with a huge amount of padding, so it's not uncomfortable when you are in that kneeling position. There is a piece of metal between the two cushions, but that adds strength to the seat part and does not affect the comfort.
But this kneeler can also be folded away into something that is ultra-compact, so storing it in your greenhouse or shed won't be a problem. Add in a handy tool pouch on the side, and this garden kneeler will quickly become one of your favourite items.
Pros:
It contains both a kneeler and a seat
The cushion is waterproof
It folds up easily for storage
The tool pouch is a nice addition
It's sturdy
Cons:
The cushion may be slightly too firm for some people
If you are small, the sides may be slightly difficult
This garden kneeler also comes with more than one function, as it too has both a seat and a stool. With a 150kg weight limit, this will prove to be strong enough for the majority of individuals, and it's comfortable as well.
The kneeler has a strong metal frame, and the cushion part contains shock-absorbing EVA foam, so it's tough as well as being comfortable. The handles on either side provide you with a firm grip, giving you confidence when moving from the kneeling position to standing upright.
This model can be folded down for easy storage. It comes with a pouch that includes gardening tools and gardening gloves. There's no doubt this garden kneeler will allow you to tend to those flower beds without having to worry about how to do so comfortably.
Pros:
It acts as both bench and kneeler
It has a thick cushion
It can be folded away
The handles offer a firm grip
It comes with a sturdy tool bag and gardening gloves
Cons:
The gloves may not be suitable due to their style
Some may feel the cushion is too firm
The first thing that strikes you about this gardening kneeler is that it weighs virtually nothing. However, it's still capable of being used for that gardening task and helping to support your knees.
What you get here is a foam kneeler with extra thick padding. That alone will give you so much support, and it will support your knees comfortably and without having to worry about kneeling on stones by accident.
The padded part is also weatherproof. Wet grass is going to pose no problem to this foam kneeler, and there's no drying out period either once you have finished working on that flower bed, even after the rain.
Pros:
The foam pad is large
The foam is thick, giving more comfort
The carry handle is useful
It's waterproof
It's lightweight
Cons:
Some people may find it's still too thin
It may not be firm enough for some
The memory foam cushion with this kneeler is one of the best on the market. Not only is it relatively thick, but it's also very comfortable, which is just what you want.
Also, the memory foam will absorb shocks, so kneeling on small stones won't cause a problem.
The cushioning is also wrapped in a special neoprene coat along with a nylon coat on top of that. It all adds to it being able to cope with the weather, and wet grass stands no chance of damaging the foam cushioning.
Cleaning this model is also easy. Simply wipe with a damp cloth, and those marks should come off.
Pros:
It contains memory foam
It has a waterproof coating
The foam is thick
The foam is shock absorbent
It's easy to clean
Cons:
Some dampness may come through
It may only be comfortable for up to 20 minutes at a time
This garden kneeler is fantastic in that the memory foam will form around your knees, giving you the greatest amount of support possible. This increases the comfort level as well.
It also has five layers in the construction. That means this is the best garden kneeler around when it comes to using simple technology to produce an amazing kneeler that far surpasses most of the kneeling pads out there.
It comes with a nylon cover, which means water will not be absorbed, and it can also be cleaned with a simple wipe with a damp cloth. Carrying it is easy to do with the integrated handle.
Overall, this garden kneeler focuses on simple things and does them exceptionally well. This could easily become a key piece of gardening equipment as soon as you try it out for the first time.
Pros:
It's lightweight
It's portable thanks to the handle
It can be easily cleaned
It forms around your knees for added comfort
It's waterproof
Cons:
It may be too small for some people
The padding may feel too thin for some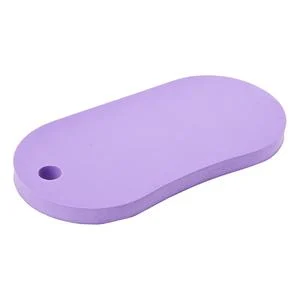 This garden kneeler may not look like much, but it is still highly effective when you want to tend to that flower bed. This model is extremely light, and it's easy to carry around. All you need to do is throw it down where you need it, and it's ready to go.
Created from expanded polyethylene, the kneeler itself measures some 15 inches by 8 inches, so it's a reasonable size for the job at hand. Cleaning it involves simply wiping it with a damp cloth, and it will remove those marks and stains with ease.
Also, it may not look like it, but this garden kneeler is not going to absorb water. You can then use it in almost any condition without worrying about it.
Pros:
It is extremely light
It's a reasonable size
It can be cleaned by wiping it
It won't absorb water
It has thick cushioning to help provide added comfort
Cons:
The carry handle could be bigger
The thickness can vary
This 2 in 1 model by Mastertop is the best garden kneeler in the UK if you want something that is sturdy and supportive.
As gardening equipment goes, this item is amazing. It acts as both a cushion along with turning into a seat, so if you need to rest, then it's there for you.
The cushion is waterproof, and it also has memory foam, so that gives you some added comfort. Throw in a pouch for garden tools, and you have one piece of garden equipment that is multi-purpose.
Even though it is relatively large when expanded, it folds up to a smaller size, so storing this model is also easy.
But it's the strong metal frame that is the key here. It is sturdy and will support your weight as you try to stand from that kneeling position. That alone will give you confidence in using this product.
Pros:
It has both a seat and a kneeler included
The cushion is waterproof
The frame is strong
It folds up with ease
You have a garden tool pouch included
Cons:
The gloves might not be the best
The handles can be tall for some individuals
One of the first things you will spot with this garden kneeler is that it's wider than most. In fact, this version is almost 17 inches wide and almost 2 inches thick.
That means the memory foam in this version is thick and will give amazing support, and that is why we think it's one of the best garden kneelers around.
But this garden kneeler also has a non-slip surface, and that's not something you always get with knee pads.
The outer material is black and waterproof, as the best garden kneelers should have, and it's also strong and pretty indestructible. That should mean this garden kneeler will last for a considerable period of time before it has to be changed.
It also comes with useful carrying handles, and as this is lightweight, moving it around is not a problem.
Pros:
It is wider than most garden kneelers
It is waterproof
It has a non-slip surface
It contains memory foam
It's thick at almost 2 inches
Cons:
Some may feel the memory foam is too soft
It doesn't have shock absorbency properties
Acting as both a bench and a garden kneeler, this model by Outsunny is an amazing example. This foldaway garden kneeler will end up taking next to no space when not in use, so it will sit perfectly in your garden shed or greenhouse without taking up too much room.
The cushion on this model consists of memory foam, but that's common when it comes to a garden kneeler. The kneeling pad is thick and comfortable, whether you use it as a kneeling pad or as a bench.
The shock-absorbing foam does mean this is a comfortable kneeler, and the neoprene cover means it's water-resistant as well.
The frame is metal, but this foldaway garden kneeler is still extremely lightweight, and therefore very portable.
Pros:
It folds down with ease
It is both a seat and a kneeler
It has shock-absorbing foam
The foam is water-resistant
The frame is metal and strong
Cons:
The seat might be slightly narrow for some
You need to build this version yourself
Choosing the Right Garden Kneeler
The garden kneelers we have included above are all excellent in their own right, but you will have noticed that they cover a number of different styles. So, how do you choose the correct one for your needs?
Understanding the Key Features
The first thing is to understand the key features you need to remain comfortable as you work on your garden.
Perhaps you feel a gardening kneeling seat is good, as you have trouble squatting? Perhaps a garden kneeler mat is fine if you just don't want to kneel directly on the ground when the grass is wet?
Do you need a large carrying handle? Do you need to be using it for extended periods? Do you need memory foam due to having sore knees?
Understanding how you will plan to use your gardening kneeling stools or your pads will help you narrow down your options.
How it Copes With the Ground
You must also look at how the kneeling mat deals with the ground, and we don't mean only damp grass.
The problem with gardening is that small stones are thrown up from time to time, and kneeling on those small stones will kill your knees in an instant. Also, the ground is never even and perfect, and if you are using a kneeling mat rather than a seat, you need to be aware of how it copes as a kneeling pad for gardening.
What you want with your kneeler is for it to be able to absorb those small stones as one of its key features. That way, you don't need to clear an area before you get on your knees as that would involve bending, which is what we are trying to avoid.
Caring for Your Gardening Kneeler
Be aware of how to care for your kneeler to make sure it lasts a lifetime.
Your kneeling mat only requires you to wipe it clean with a cloth. It should have a waterproof outer cover that won't be destroyed even when doing heavy-duty tasks. It should also not burst when you are on your knees for an extended period of time. A kneeling pad that splits after little usage is not an option.
It should also be able to dry out quickly to stop the outer coating from being damaged, resulting in the moisture getting into the foam. This happens with poorer quality kneeling pads, and that's when the foam becomes damaged, and the kneeling pad loses its support.
However, the different kneeling mats we have included above are all going to be waterproof, but it's still something to look out for when making your purchase.
The Size
You must think of the size of your kneeling mat or seat before you buy. After all, you think about how you will be using your garden kneeler and how much space you need.
For this, look at the width rather than the length. Also, the thickness of the kneeling pad is critical since that offers you protection to your knees.
These dimensions will vary a great deal. Typically, garden kneelers with handles, which means those versions which double as seats, will have a smaller kneeler part. At the same time, you do have the support from the frame, and you don't have to worry about your balance.
Things to Keep in Mind Before Buying a Garden Kneeler
So we can sum up the key points you need to think about when it comes to buying the right garden kneeler.
Know if you need a seat or a kneeling pad
Understand how it will be stored when not in use
Is it easily portable?
How comfortable is the padding?
Is the padding waterproof?
If there's a frame, is it sturdy?
How long can you kneel on the pad before it gets uncomfortable?
Does the padding come with the ability to absorb shocks and small stones?
As you can see, the hardest part is simply trying to choose from the variety of available kneeling pads and seats.
Overall Conclusion
Our gardening knee pads reviews are designed to make it easier for you to work out the best garden kneeling bench or gardening knee cushion for your needs.
When it comes to the best garden kneeler in the UK, we feel that it has to be one that is highly comfortable and supportive to your knees, no matter how you use it. That is why we love the Garden Gear model. Not only does it make it comfortable when kneeling, but the seat part is also a generous size. The fact it can fold is an added bonus, and it's this multi-use feature that is the best part about this particular piece of gardening equipment. Your gardening experience will certainly benefit from this product!
At the end of the day, get the right garden kneeling pad that will offer more protection for your knees than you think you need. Thanks to that, your garden kneeling solution will last for long periods before it needs to be replaced.
Additional Resources
Nicole has a passion for everything about the home – especially decor. She loves to add new touches and style to every part of the house. Join her as she documents her ideas at Home & Style.