Last Updated on February 17, 2022
Our editors independently research the best products online to produce this list. We may receive commission on purchases made from the links below but this will never affect our product choices.
---
Top 10 Best Garden Hoses
You need to water your garden or lawn more frequently during the hot or even relatively warm summer months. If you have children, they need to get comfortable in the heat, and inflatable splash pools or even a splash in the backyard is your best option.
To do all these, you need a garden hose. For those days that you neither need it for the heat or water your plants, it also comes in handy when cleaning. Washing your car with a bucket may be hectic and cumbersome, considering the number of back-and-forth trips you have to make.
But with a garden hose, you can have all the water you need to wash a rinse. Garden hoses, as we know them today, have come a long way from what they once were. No longer are they mere pipes that get water from point A to B. They have become an essential part of a home. Manufacturers have made them such that they no longer tangle or have snags when using.
When shopping for a garden hose, you may be tempted to choose the more heavy-duty options and the longest hoses. This can, however, prove problematic when it comes to using the hose and even storage. All this may seem like much without adding more factors to the list of things you need to look for when shopping for a garden hose.
To save you the trip down the hose rabbit hole, we have scoured the internet, and we have compiled a list of ten of the best garden hoses in the UK. 
How we Compared Garden Hoses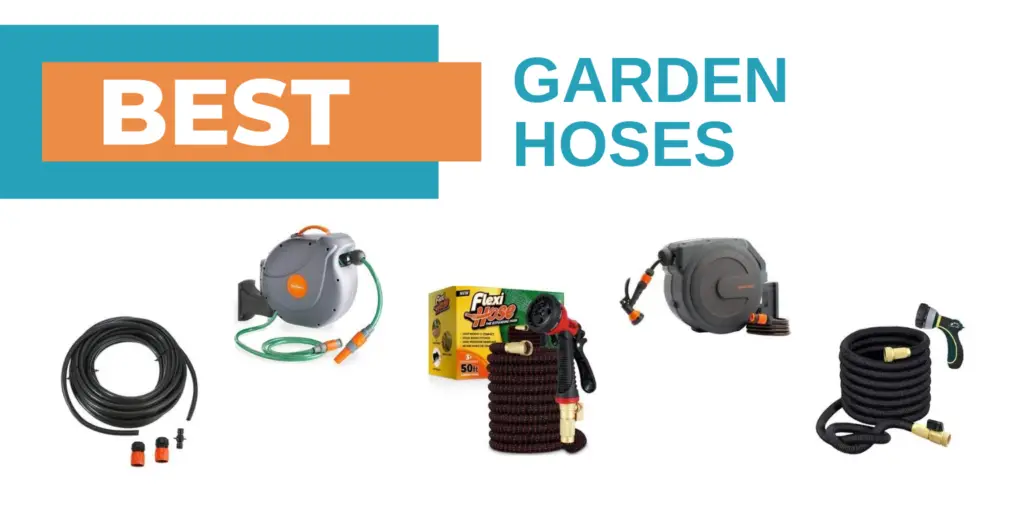 To find the right garden hoses we considered multiple factors, including:
Length of the hose
Diameter of the hose
Couplings of the hose-pipe
Versatility
Portability
Hose material
Kink resistance
PSI rating
Our team independently examined and compared hundreds of products to help satisfy different needs. We spent our time researching garden hoses and consulting customer reviews to ultimately bring you what, in our opinion, are the best options on the market right now.
To find out more about our editorial process, take a look here.
Garden Hose Reviews
The VonHaus Hose Reel is a 20 meters long rewind hose; this means it is retractable, and this feature alone makes it an ideal candidate for lawn and garden works.
The extended length of this hose does not make it a candidate for snags and kinks. This is because the hose is made to untangle easily when in use.
Unlike traditional hose, the VonHaus Hose does not need you to unroll it whenever you want to use it or roll it when storing. 
This is because of the unwind and rewind mechanism that comes standard with this hose. This mechanism is automatic, and when it is done unwinding or rewinding the hose, it stops and properly locks in place.
Getting the proper fittings for your hose may prove hectic and even impossible because not all fittings come standard to all hoses. 
The VonHaus Hose Reel comes with all the necessary fitting you may ever need to save you the trouble. This hose can be mounted on walls to save you space without compromising on pivots, seeing that it has a 180-degree pivot when mounted to the wall.
Pros:
Features a powerful auto rewind hose reel to avoid manual winding
Installed with an intuitive stop and lock for convenience and control
The included hose can reach all areas of your garden
It comes with a manual for easy installation and use
It has a 180-degree pivot when mounted
Cons:
It might be prone to leakage after some time
Replacing the accessories might be quite challenging
The auto wind system may break after some time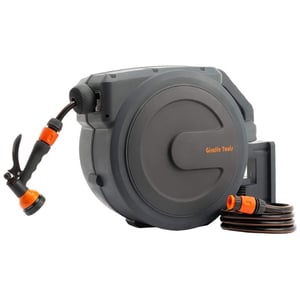 When shopping for a garden hose, you may want to consider going for well-known brands. These are brands whose track record has proven to be in the up and up both in the manufacturing of garden hoses and other equipment related to it.
An excellent example of this is Giraffe Tools. This company has proven to be one of the best manufacturers of air tools and garden hoses for the past couple of years, and they are even considering adding power tools to their portfolio.
At the top of their must-have items is the Giraffe Tools Retractable Hose Reel, another great choice in our list of best garden hoses in the UK. This 30-meter-long hose comes with a standard 2-meter leader hose that has an attached spray nozzle. 
This hose is made of a hybrid layer that guarantees durability, giving you a longer service time. The woven layer makes this hose difficult to deform and snug. 
The innermost part of the Giraffe Tools Retractable Hose Reel comprises a hybrid layer that makes it flexible during the winter months.
The quality in the build of this hose is transferred to the casing used. The casing is made of solid and sturdy polypropylene, and this casing protects the hose from the elements. For convenience, this hose comes with seven spray settings and a convenient quick connect for your tap.
Pros:
Features an automatic retraction system to prevent kinks
It comes with stable and easy to install accessories
Installed with a hose lock feature
Includes a standard-length leader hose
It has seven adjustable spray settings 
Cons:
The flimsy wall bracket might not withstand the test of time
The hose connector may tend to break easily
Some users might find the assembling process to be quite a hassle
When shopping for a hose, you are looking for the best value for money. This means that whatever you choose to buy, you need to get an outstanding hose.
If the value for money is your determining factor for expandable hoses, you have to have the TheFitLife Expandable hose at the top of your list.
This comes as a complete package. When you buy this hose package, you get one hose, a user guide, an 8 in 1 pattern spray nozzle, a metallic colour nozzle connector, one orange silicone O-ring, brass connectors, a ½ an inch tap adapter, two ½ inch and two ¾ inch backup washers.
The TheFitLife Expandable Hose is lighter than your traditional hose, weighing in at only 1/3 of what standard traditional hoses weigh. Its weight, in turn, translates to its overall size.
It is easy to carry it around because it is an expandable garden hose. The flexibility of this hose ensures that not only is it kink and sung free, but also twist free.
This expandable hose is made of a 13-layer latex tube and exterior polyester fabric. This guarantees that the hose lasts longer with little maintenance.
Pros:
Features an eight-pattern spray nozzle
Includes solid brass fittings for better water flow control
It's easy to operate and store
It comes with a retractable hose ideal for multiple purposes
Has an elastic fabric with standard fittings to prevent bursts, cracks, or leaks
Cons:
Some users might find it quite a hassle to encourage the hose to reach full extension
The tap connector may require tweaking and adjusting to prevent leaks
Extending the hose pipe without high water pressure may be quite challenging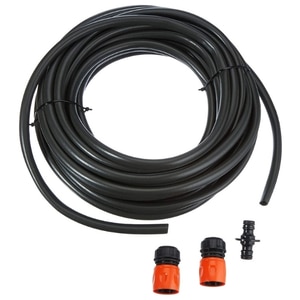 Modern garden hoses seem to be the most popular and have made it to everyone's top ten list. However, a percentage of people are looking for hoses that they can have a personal interaction with.
These are hoses that you can personally unwind and rewind without the use of any mechanical help. A good example of such a garden hose is the Draper 68261. This 15-meter-long garden hose that comes with a 12mm bore is a perforated soaker hose that is designed to be used in gardens and lawns.
The perforated design makes it ideal to be laid permanently along your garden borders. To give you better results, when installing the Draper 68261, ensure that you have it laid under the garden soil. This hose is part of an extended Draper Tools catalogue. 
All Draper tools are manufactured to meet the market's standards. To effectively do this, the company uses high-quality materials and manufacturing practices.
All Draper Tools are built to give customers their money's worth, and the Draper 68261 is no different. The best thing about this hose is that while you can not use it to wash your car or water your plants, you can connect it to other hose pipes when looking to water your garden, so there is no need to have it connected to the tap directly.
Pros:
Features a two-way coupling and two hose connectors
Can be laid permanently in garden borders
It is easy to install and use
It comes with a water stop function
Can offer good water distribution
Cons:
It might tend to crack or clog after some time
A slow water flow may be experienced when using a low water pressure system
The perforated holes may get blocked after some time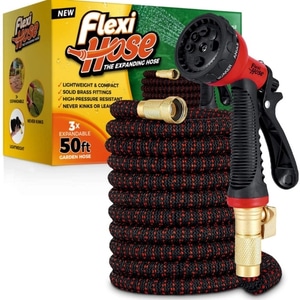 When shopping for the best water hose, you need to consider how much the hose weighs. You do not need a hose that makes your chores even more hectic than they already are. If this is a priority for you, then you should consider the Flexi Hose.
The Flexi Hose is made of two layers of 2mm thick latex. The flexibility of this latex guarantees no snug or kinks when using the hose. Unlike other hoses that come with a standard length, the Flexi Hoses comes with up to three-length sizes you can choose from. 
These lengths range from the most popular 15 meters, 22 meters, and 30 meters. You also have a choice in the colour of your hose. You can choose to either have the black hose, the red hose, or the black and red hose.
This garden hose comes with a standard nozzle lead that has eight spray settings. This makes it easier to adjust the spray setting depending on what you use the hose for. The fittings on this hose are 100% brass. This gives you a longer service time when using the hose.
Pros:
Extra pressure washers are included to extend the life of the hose when originals wear out
It's lightweight and easy to manage even when fully extended
It comes with far-reaching spray settings
Includes secure and brass fittings feature to prevent leaks
This hose pipe can be neatly stored thanks to its compact design
Cons:
It might get faulty if exposed to cold weather conditions
Some users might find it quite challenging to keep the hose at full extension
It may lack a locking system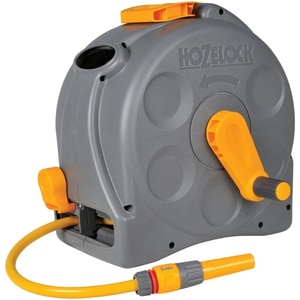 The Hozelock 2415 0000 is a 2 in 1 compact reel hose that fits the form and function category. If you ever want a beautiful hose in your hand when watering your garden or washing your car, then this is the hose to have. Its 2 in 1 functionality allows it to be used as a free-standing hose, or you can have it mounted to the wall.
This garden hose has a folding handle that can carry it from one place to another if you choose to use it as a free-standing hose. You can also use this handle to clip to the wall bracket in case you opt to mount it.
An easy rewind action allows you to rewind your hose and store it away hustle-free easily. This 25-meter hose is multipurpose, and so are the fittings that come with it. Its sturdy casing protects the hose from the elements, reducing wear and tear brought on by the elements.
Pros:
Fitted with a large winding handle ideal for hassle-free manual rewinding
Features a portable, lightweight design and folding carry handle
It can be easily assembled
It comes with an enclosed casing for enhanced protection from wear and tear
Has multi-purpose hose and fittings 
Cons:
Some users might find the instruction manual to be too vague
The winding feature might tend to stick after some time 
Some users might find the handling of the device with two hands to be quite challenging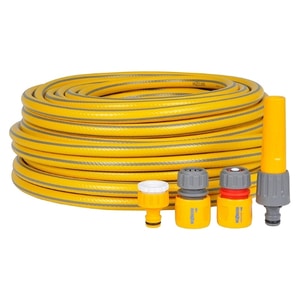 If you are looking to buy a product that guarantees both quality and value for money, you have to go for brands that have been doing it for years.
Hozelock is an excellent example of these brands. For the past 60 years, Hozelock has made it their life mission to make hoses that meet the needs and wants of all gardeners.
When they rolled out the Hozelock, this is what they had in mind. Unlike other hoses that come encased in a hose case, the Hozelock is your traditional hose but with a twist.
This hose comes with a kit. This is the starter kit. It comprises a double male connector, a hose repair connector, and a mixer tap connector. This garden hose is tangle-free, kink-free, and snag-free, thanks to a hard and sturdy four-layer braided combination of phthalates-free materials.
While it does not have a protective case, this hose is built to withstand all weather elements. It is UV proof and frost proof. You get a ten-year guarantee and a tap connector, a hose-end connector, an Aqua stop connector, and one nozzle when you buy this hose.
Pros:
Features 4 layers with braided reinforcement to prevent damage and leaks
Installed with a spray gun nozzle
It can be easily assembled
It is easy to unravel for next time use
It comes with UV and frost protection to withstand the test of time
Cons:
The plastic fittings may be too prone to kinking
Some users might find it to be quite stiff
The lack of stand may not sit well with some users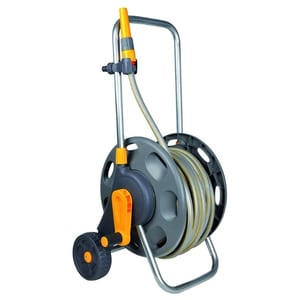 Having your hose mounted to the wall can prove limiting. This is if you are looking to use your hose in other parts of your home.
If you are looking for an easy-to-haul hose that will not have you straining your back every time you lift it, you should consider getting the Hozelock 2435 0000.
This 50-meter-long hose sits on a hose cart with soft patterned wheels and a steel axel. The low centre of gravity and the broad base allow the hose cart to maintain stability even when the hose is used. To easily unwind the hose, a metal winding handle is attached to the hose cart.
This hose comes standard with all the hose connectors and fixings you will need to make hosing duties easy.
Pros:
Features a one-piece winding handle ideal for quick and easy rewinding
Fitted with robust and durable hose reel
It comes with a hose cart that allows it to be moved around easily
Installed hose reel protects kinks and tangles
It comes ready assembled with an AquaStop connector
Cons:
The hose cart might be quite light for some users 
It might be prone to leakage
Some users might find the instruction manual to be too vague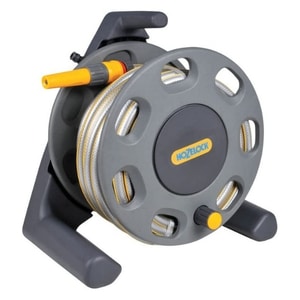 If you are in the market for a new hose that will not take up more space than it should, then the Hozelock 30m Compact is the garden hose for you.
This hose comes with a compact and sturdy hose box that protects the hose from weather-inflicted wear and tear.
This hose can be used as either a wall-mounted hose or a free-standing reel. Whichever way you choose to use it, you are guaranteed easy unwinding and rewind, zero kinks and snags, and flexibility even during the winter months.
The standard Hozelock 30m Compact package comes with hose end connectors, a nozzle and an Aqua Stop. The reel is fitted with a large handle for winding the hose reel when using the hose. This hose weighs just over 5 kilograms making it easy to carry around if you use it as a free-standing hose.
Pros:
Features a steady frame for quick and easy rewinding
The brass fittings can connect to an outdoor tap
This compact hose comes with a free-standing feature for easy movement around a garden
It has a multi-purpose hose, threaded tap connector, and hose nozzles 
It can be used as a wall-mounted hose
Cons:
Some users might find the assembly instructions to be quite challenging
It might be prone to leakage after some time
The ultra-flimsy hose pipe might get faulty under high water pressure
Many hoses today come with automatic reels. While these make work easier when unwinding or rewinding your hose, they are also susceptible to damage over time, leaving you with no reel. On the other hand, manual hose reels need a simple routine of cleaning and oiling, and you are good to go.
The Kärcher HR4.525 hose is a good example of a hose with a manual reel. This 25-meters-long Prinoflex hose can either be mounted on a wall or used as a free-standing hose.
It comes with a wide range of accessories. The spraying gun also comes with a wide range of spray patterns used on different surfaces.
Pros:
It has an AquaStop connector and three hose connectors 
The hose reel can be easily wall-mounted or used as a free-standing reel
Features a spray gun with a variety of spray patterns
It can withstand the test of time
It comes with easily replaceable fittings
Cons:
The metal legs and handle on the reel might come off after some time
Some users might find it quite challenging to take off the tap connector after use
A small hose may be required to attach the hose reel to the garden tap
What to Consider When Buying a Garden Hose
That is it for our best hose pipes reviews. Well, here are some factors you should consider when selecting the best garden hose that will suit your preferences and needs.
Length of the Hose
When selecting a garden hose, different factors come into play, and length is no exception. It's wise to consider the length of the hose and how long you need it to be when purchasing one.
Bear in mind that the hose length should be determined by the size or the area where you will use the garden hose.
If you have a large garden, an extendable hose is what you should settle for. However, if you're going to use the garden hose in small or medium-sized gardens, settle for a hose pipe that is comfortable to use when watering your garden.
Diameter of the Hose
When selecting a garden pipe, it's always essential to consider its diameter. It's worth mentioning that the larger the hose diameter, the heavier it becomes to handle.
Moreover, a heavy garden pipe is usually not flexible. So, it's always advisable to settle for garden hoses with smaller or medium diameters with high water pressure. This not only makes them very light to handle but also, they are flexible.
Couplings of the Hose-Pipe
It's always essential to consider the type of couplings in a garden hose pipe comes with. By this, we simply mean the part of the hose at its end that allows accessories like nozzles, sprinklers, and spigots to be attached to the hose pipe.
It's noteworthy to mention that different couplings are made of different materials, such as plastic or reinforced metal. Moreover, it's always advisable to settle for metal couplings since they are robust and durable compared to their plastic counterparts.
Versatility
The versatility of a garden hose is another key factor that one should consider when selecting their ideal hose pipe. Not only will a versatile garden hose allow you to perform various garden duties with it. But also, it will allow one to have access to extra attachments and make good use of them with the help of a single hose.
Portability
When shopping for a garden hose, it's wise to consider its portability, especially if you'll be working on a large garden. It's always wise to consider the storage's distance of the hose to where it will be used.
Settling for a garden hose that has a hose cart can be the best option if you'll be up and down the garden.
Additionally, it's always essential to consider the quality and durability of the hose cart. Ensure you also check for rust presence and how it fits in your hand.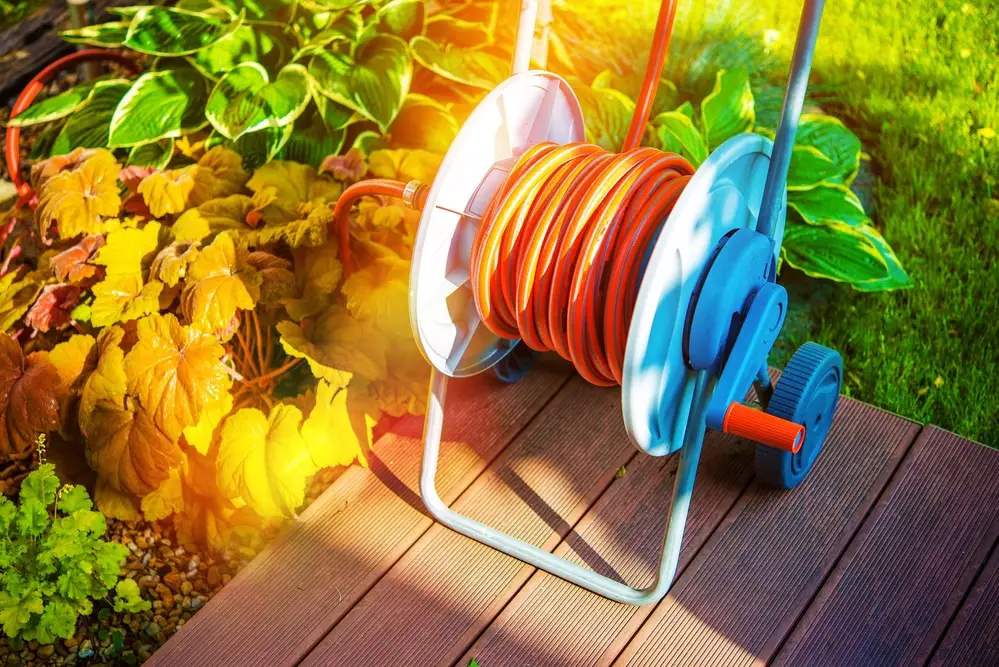 Hose Material
The material of a garden hose is another essential feature to consider when shopping for one. The type of material can determine the durability of your ideal hose. Bear in mind that basic vinyl is the most lightweight and least sturdy.
They are also not suitable for harsh weather conditions since they tend to split and crack easily. On the other hand, rubber hoses can withstand harsh weather conditions and don't degrade easily.
Their higher price correlates with their long-lasting and robust features. Additionally, rubber garden hoses can carry hot water efficiently.
When it comes to reinforced hoses, these are hoses with mesh linings between the rubber vinyl. These linings make them more resistant to fraying and splitting. Moreover, they can be used with water that has high-pressure levels.
Kink Resistance
Most garden hoses are generally advertised as kink-proof. But have you ever stopped and wondered what this means? A Kink can also be described as a bend on the hose pipe that slows down or stops the water flow.
Remember that a garden hose can be designed to kink less frequently, but this does not mean it will never kink. So, when shopping for a hosepipe, ensure that you settle for one that has minimal kinking since no garden hosepipe is completely kink-free.
Temperature Threshold of a Hosepipe
While a number of garden hose pipes are more resistant to water and weather temperatures, others might not be able to withstand extreme weather conditions such as scorching summer and winters. So, when selecting a hosepipe, ensure you can go for one that can take on either hot or cold conditions.
It's always essential to check the temperature specifications of a hose pipe before settling for one since not all garden hose pipes can sit well with hot water.
PSI rating
When selecting a garden hose pipe, it's always important to consider the water pressure it can handle safely. Lower quality hose pipes have a rating of approximately 200 PSI, while their high-quality counterparts can be rated up to 600 PSI. 
Bear in mind, high-quality hoses are not only puncture-resistant but also have a kink-free design that keeps water flowing when in use.
That being said, it's noteworthy to mention that the water pressure range of residential areas is 45-80 PSI. Keep in mind that it's advisable to settle for a hose pipe with a PSI rating of 350 or more for residential use.
However, if you'll be using your hose pipe for pressure washing, it's always advisable to refer to its instruction manual for more information.
What are the Different Types of Garden Hoses?
Garden hoses can be categorized into three- light-duty hoses, medium-duty hoses, and heavy-duty hoses. Please note that these different hoses have their specific uses and their outdoor needs.
Light Duty Hoses
These types of hoses are ideal for plant care and small gardens since they are usually lightweight and can be stored effortlessly.
However, light-duty hoses are prone to damage and have a short shelf life compared to medium-duty counterparts.
Medium Duty Hoses
They are also known as standard hoses. These garden tools are a decent selection for landscape maintenance and residential lawns.
Heavy-Duty Hoses
Durability and sturdy are terms that best describe heavy-duty hoses. You can use these hoses for various tasks that require high water pressure.
Furthermore, they can withstand the test of time even when exposed to certain elements. These also boast high-quality metal couplings and anti-kink technology.
What is the Difference Between Expandable Hoses and Extendable Hoses?
An expandable garden hose can stretch to hold a certain amount of water. Bear in mind that an expandable hose can also be extendable. 
On the other hand, extendable garden hoses can be extended to cover a large area or garden. They are also ideal for persons looking for a longer hose that sits well with their needs.
Can I Use Hot Water in My Garden Hose?
This normally depends on the type of hose pipe you own since not all garden hoses are designed to handle hot water. So, if you plan to subject your hose pipe to hot water, ensure that it has a hot water rating and is designed to sustain high water temperatures.
Conclusion
That is it for the best garden hoses UK stores have to offer. We hope that our list and guide on choosing which garden hose suits best your needs will help you narrow down your choices the next time you are shopping for a hose. If you are still not sure of your decision, you can reach out to registered garden experts online or within your area for further assistance.
However, if we were to pick an overall winner from our reviews above, we would go with our editor's choice, the VonHaus Hose Reel. Not only does this garden hose boast of a powerful auto reel to avoid manual winding. But also, it has an intuitive stop lock for convenience and control. This garden hose pipe also comes with all the necessary fitting for your hosing needs.
On the other hand, if you have already picked out your garden hose, we are glad to be of service to you. Happy gardening!
Additional Resources