Last Updated on February 20, 2022
Our editors independently research the best products online to produce this list. We may receive commission on purchases made from the links below but this will never affect our product choices.
---
Top 9 Best Plinth Heaters
Plinth heaters can be installed in small tucked away spaces such as underneath cabinets or sinks in what is commonly called the kickspace of a room. Plinth heaters are designed to bring you added warmth and air circulation in a discreet manner that also takes advantage of space that would typically be unused are generally more energy-efficient as well. If you think you could use some added heat in your kitchen or another room, a plinth heater could be a great alternative to installing a traditional radiator or using a space heater, which is known for consuming large quantities of power and being less cost-efficient.
With this article, we aim to help you find the best plinth heater for your space by comparing the top options, examining plinth heater reviews, and answering some common plinth heater questions pertaining to how they work and how they can best be used. Keep reading to learn all about the best plinth heaters available in the UK market today.
How we Compared Plinth Heaters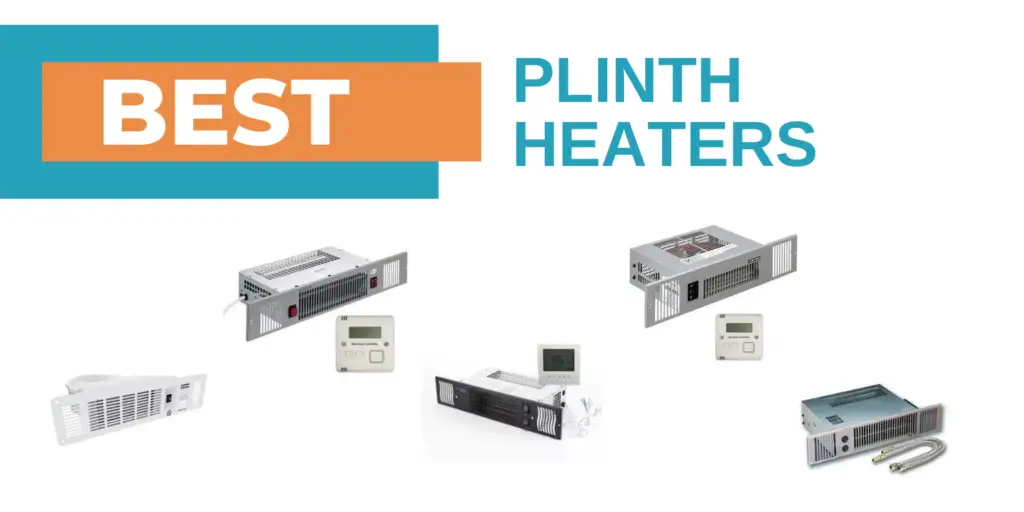 To find the right plinth heaters we considered multiple factors, including:
Types
Noise
Settings and heating modes
Size
Our team independently examined and compared hundreds of products to help satisfy different needs. We spent our time researching plinth heaters and consulting customer reviews to ultimately bring you what, in our opinion, are the best options on the market right now.
To find out more about our editorial process, take a look here.
Plinth Heater Reviews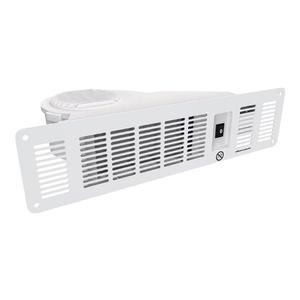 The Winterwarm WWFH20E plinth heater is our favourite all-around choice. With its high ratings and a lot of satisfied users, this plinth heater has proved to be one of the best. What makes it a lot more interesting is the extra built-in features that come with this product, making it easier to use and more efficient. 
This plinth heater comes with a Bluetooth remote control through which you can turn your heater on and off just by a single tap from your phone or any other smart device. Another great advantage of this product is that it consists of a programmable weekly timer. This enhanced feature saves you the trouble of turning it off if you forget it by chance; we do not want a high electricity bill now, do we?
In addition to this, it is comprised of an accurate electronic thermostat through which it automatically maintains and controls the temperature of the kitchen or room where it is placed. Coming to the physical features, the product weighs about 2.3kg, and the product dimensions are 41 x 11x 21.5cm which makes it an easy fit, saving a great deal of space. 
This plinth heater may be easy to install, but it only features one fan speed, and it can be a bit noisy at times. The controls could also be a bit complicated until you get the hang of them.
Pros:
Bluetooth control
No plug
Programmable weekly timer
Easy installation
Accurate electronic thermostat
Cons:
Noisier fan possible
Somewhat complicated controls 
Only one fan speed 
The Smiths Hydronic Space Saver 5 is a highly efficient fan convertor used along with central heating systems. This corded electric plinth heater saves a great deal of space, providing you with a lot of extra workspace, and it happens to be 24% more efficient than that of other panel radiators. If you are looking for a luxury choice, this option is strongly recommended.
The average room size for this heater is 37 m3, and it uses between 21 to 30 watts of power while in use. It easily connects to your central heating pipes and is thermostatically controlled by your home's primary thermostat control. We love that this hydronic plinth heater is also quiet while running and typically doesn't exceed 43 dB of noise.
This heater is manufactured in the UK, and the company provides a five-year warranty for parts and labour. In addition to this, the company also provides two flexible hoses along with a brushed stainless steel grill.
Since the Hydronic Space Saver 5 connects to your central heating system, it does not feature adjustable heat settings or an inbuilt thermostat on the unit. Also, it is not designed for use in wet rooms like bathrooms or kitchens.
Pros:
Easy installation process
5-year parts and labour warranty
Connects to your central heating system
Highly efficient design 
Manufactured in the UK 
Cons:
Not for use in wet rooms 
No inbuilt thermostat 
No adjustable heat settings on the unit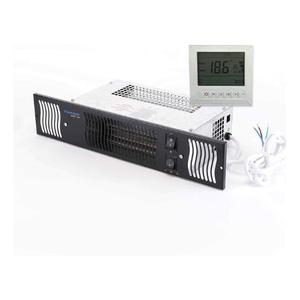 The Diamond Electric Kitchen plinth heater is a great alternative for radiators and electric standing heaters. It has advanced control settings that are easy to use and, of course, effective.
It also comes with a seven-day automatic timer as well as a room thermostat similar to a thermostatic valve. This amazing feature allows you to save a great amount of time rather than spending it on setting the temperature. It also comes with a dual heat setting with 950 watts and 1.9 kW power.
In addition, the company, Bidex, also provides its customers with a few choices for the grill, which are White, Black or Stainless steel. The average weight of the item is approximately 5 kg, along with its dimensions of 30 x 9.7 x 20 cm. Along with this, the company provides a two-year warranty in case of any defects. 
However, the drawback to this product is that it does not contain an automatic switch to turn off the plinth heater in case of overheating. In addition, setting up the controller could be a bit tricky, and it is not ideal for larger rooms, but it still makes an excellent choice for smaller spaces.
Pros:
Custom choice
CE approved
Room thermostat
Easy and efficient installation
7-day automatic timer
Cons:
No auto-shutoff in case of overheating  
Controller setup could be a bit tricky 
Not ideal for larger rooms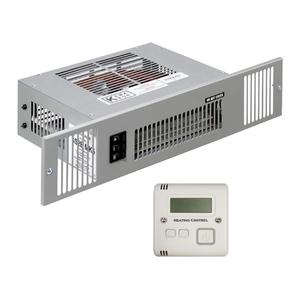 Our top choice for the best plinth heater with remote control access to the settings is the Smiths 2 kW SS2EW. It is proudly manufactured in the UK and easy to install.
As you may have guessed, these electric plinth heaters connect to your home's existing electric system. It is designed to be good for use in rooms that are up to 22 m3. It comes with a thermostat control panel for the room so you can easily adjust and get more hot air and extra warmth when you need it most. The thermostat on this electric kickspace heater also features a handy timer to make it more energy-efficient and a frost setting that allows it to automatically turn on the electric fan when the temperature drops below a certain point.
This plinth heater model features a brushed stainless steel finish on the grill. Another six different overlays for the grill can also be purchased to give you a black, gold, aluminium, brown, chrome, or brushed steel look. For added versatility, the SS2EW also features a fan only mode so you can circulate air in the summer.
These electric models are great for small to mid-sized rooms but might not be as effective in larger rooms. It also lacks a power indicator light, and the timer function is only for the runtime, not for preset start times.
Pros:
Room thermostat control panel
Electric heating system 
Stainless steel grille with an option for overlays 
Automatic frost prevention setting
Fan only mode 
Cons:
It lacks a power indicator light
Not ideal for larger sized rooms 
Restricted timer functions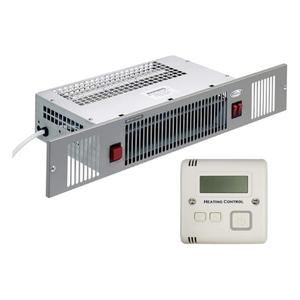 The Smiths Space Saver is specially designed for it to easily fit in the plinth space below the base shelf of a cupboard or wherever you prefer to install it. What makes this plinth heater special is that it comes with an in-built electronic safety control.
Because of the electronic safety control, this plinth heater is manufactured to automatically turn off in case of overheating. As long as you follow other common safety prevention measures, this feature makes it a safety device and prevents any sorts of potential fire hazards. It is suitable for rooms up to 58 m3 and comes with a room thermostat with different heat settings.
This device comes with a highly efficient fan convertor that easily fits into the area of the plinth heater, saving a great amount of space and enabling you to work freely without any difficulty as that of a standing heater or a radiator. In addition to this, the item comes with a free five-year warranty for each of its parts along with a labour warranty, both backed by the manufacturer.
While we love this plinth heater, its corded electric design may not be ideal for every situation. We also think the instructions could be more thorough, and we wish it had a programmable timer.
Pros:
Highly efficient fan convertor 
Space-saving design
Five-year warranty
Electronic safety control
Multiple heat settings 
Cons:
Instructions could be more thorough 
Lacks a timer 
Corded electric design not suitable for everyone 
If you happen to have a central heating system at your home and want to attach a plinth heater to your kitchen, you must be wondering if you could somehow use it along with the system? Fear not, the Diamond 500 Central Heating Kitchen plinth heater could be what you're looking for.
The Diamond 500 kitchen plinth heater is one of the best plinth heaters which can be used along with your central heating system. This heater automatically syncs along with your central heating system and turns the warm air off and on according to your desired temperature.
Furthermore, this heater saves a lot of space and can easily fit under a 500 mm wide kitchen cabinet without any difficulties. As for the specifics of this heater, it can easily and efficiently heat up a room which is 27 cubic meters. This specific plinth heater boasts being up to 24% more effective than other top panel heating options.
Central heating plinth heaters can be convenient for many reasons, but only if you have access to this kind of connection. Unfortunately, this option does not have the quietest fan, and the compression fitting that comes with this plinth heater isn't the best quality either. However, you can easily upgrade the fitting if you decide this is the right kitchen plinth heater for you.
Pros:
Large capacity
More efficient
It saves up a great deal of space
Easy to install
Connects to central heating systems
Cons:
Central heating design isn't for everyone 
Not the quietest 
Lower quality compression fitting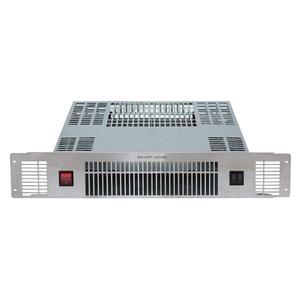 The SIA PLH1 2 kW Slimline Electric Kitchen plinth heater has a well-crafted design with a sleek stainless steel finished grill. It has easy to use, intuitive controls and is a great option when it comes to saving and utilising your available space to the best of its ability.
This kitchen plinth heater features an automatic safety shutoff function for your protection. It also has two heat settings, accessed via heat switches located right on the unit, plus a fan only setting for circulating cold air in the summer. Whether you want extra heat or cool air, this option has got you covered.
These electric plinth heaters have a slim design that easily fits underneath a regular-sized counter. Like other kitchen units, it is designed to be safe for use in kitchens, bathrooms, or other potentially wet rooms. It gives you energy-efficient heating just about anywhere you want.
Sia Slimline electric heaters are not super quiet, especially on the higher fan setting, and it lacks advanced control settings like a programmable timer. In addition, the heat output may be a bit slower until it gets warmed up.
Pros:
Automatic safety shutoff 
Two heat settings and a fan-only mode 
Stainless steel finished grill 
Energy efficient 
Easy to use and install 
Cons:
Not the quietest operation
Lacks advanced functions  
Slower heat output is possible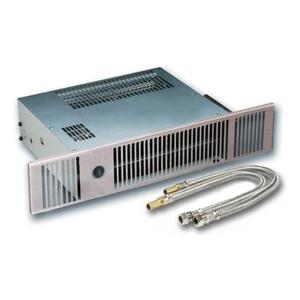 The Smiths SS7 Hydronic Kitchen plinth heater is hot water radiant. These heaters are a great alternative that fits into small places like under the kitchen or bathroom cabinet where ever you prefer using them. 
In this plinth heater, water is heated by a hydronic water boiler and is then moved through the heater. In order to supply the heat to heat up the room, the fan is used. With the use of this plinth, you no longer need any other traditional radiators. It has two heat settings, and many people find the lowest setting is sufficient.
The SS7 Hydronic Kitchen also fits easily under any kitchen cabinet utilising that free space. Furthermore, the company provides two flexible hoses, making it suitable for a two-pipe central heating system. This plinth efficiently heats a room size up to 46 cubic meters. In addition to this, the company also provides its users with a two-year warranty for its parts as well as labour.
Regretfully, this hydronic plinth heater can be somewhat noisy when the fan is set to its top speed. Its design also requires plumbing and electrical connections, which may not be suitable for all spaces. Finally, the SS7 hydronic plinth heater is not compatible with Ikea kitchens.
Pros:
Hydronic design
Easy to install
Save space efficiently
It has a two-year warranty
Heats rooms up to 46 m3
Cons:
Not compatible with Ikea kitchens 
Requires a plumbing and electrical connection 
It can be noisy on the highest heat setting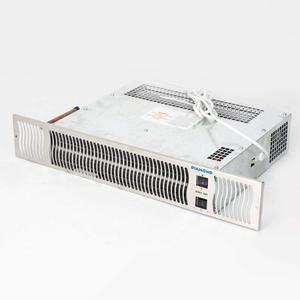 The Bidex 900 Central Hydronic Heating Kickspace Kitchen plinth heater is another fantastic option on our list that can be used near a water source, like in a bathroom or kitchen. It has an electric central heating system connection as well as a plumbing connection to facilitate the hydronic design. It makes a great alternative to a full-sized radiator for most homes.  
This powerful hydronic plinth heater brings you almost instant heat in rooms up to 40 m3. It features power and a temperature switch on the front, giving you easy access to the controls directly on the device.
The Bidex 900 Central Kickspace Kitchen plinth heater has two fan speeds, and aside from the switches on the front of the grill, it can also automatically turn on and off with your central heating system. This helps you make the unit more energy-efficient as a whole.  
Be aware, with these hydronic plinth heaters: you can expect some additional shipping costs if you live outside of Mainland UK. In addition, they are not known for being ultra-quiet, and the connectors supplied may not be of the best quality.
Pros:
The central heating system connection for energy efficiency
Heats rooms up to 40 m3 
An easy-to-use hydronic heating unit 
Safe for use in kitchens and bathrooms 
Two different fan speeds 
Cons:
Could require extra shipping costs if outside Mainland UK
Not the quietest option  
The connectors could be improved 
Choosing the Best Plinth Heaters: A Buyer's Guide
What Is a Plinth Heater?
Plinth heaters are specifically designed to heat up small areas where there is no or very little room for a radiator or an electric heater. These areas are mainly the kitchen or a utility room where there is not enough room. The plinth heater is a great alternative that gives you an extra area of free space and helps utilise the extra space, usually left underneath the kitchen or even bathroom cabinets.
They provide efficient heating and can also be hidden in the room if placed in that way. In addition to this, as the plinth is fixed near the floor, often toddlers or even pets tend to touch or look into it. But fear not as the plinth heater is a great alternative and it does not get too hot to touch, unlike other electric heaters or traditional radiators, making it totally safe for you to use.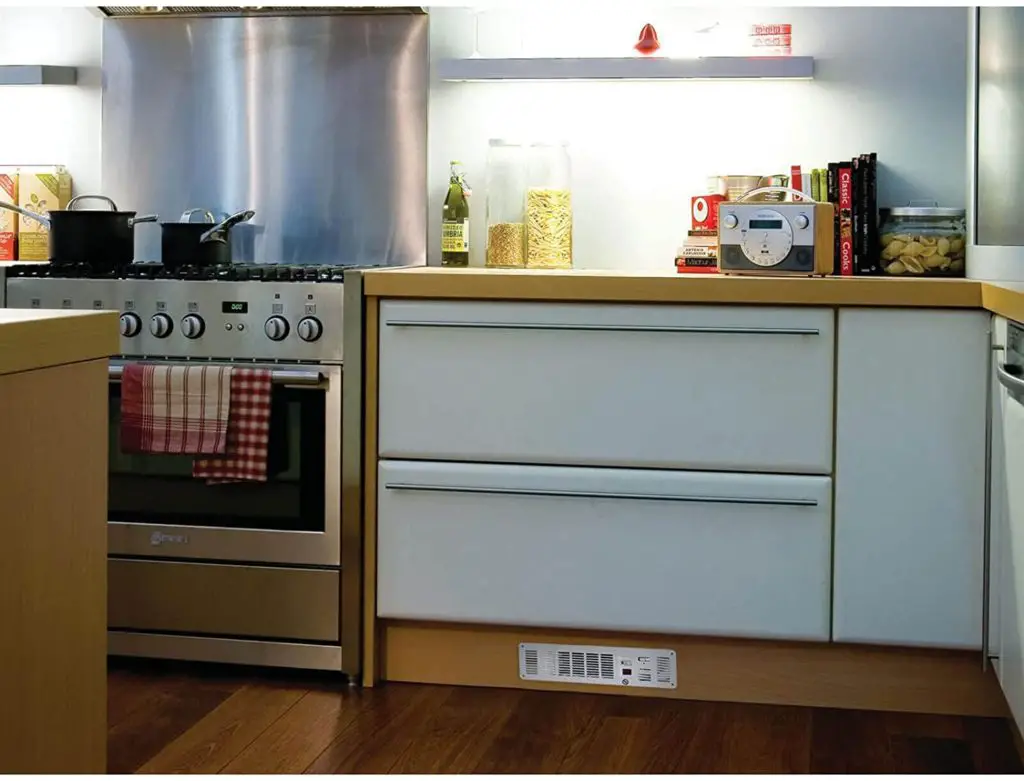 What to Look for In a Plinth Heater
Types
A plinth heater works to effectively heat spaces without using too much energy by blowing hot air. So, are plinth heaters electric? Some of them are, and some of them feature a hybrid electric hydronic design. Hot water circulates in a hydronic plinth heater to create additional heat output. Either way, they supplement your central heating system; you just have to decide whether you want electric or hydronic power. Electric heaters are often easier to install but use more power. Hydronic heaters often use less power but take longer to create heat as the water temperature rises to emit warmth.
Noise
You may be wondering, are plinth heaters noisy? If so, the answer is it depends. Some plinth heaters can actually be quite noisy, while others remain fairly quiet and can often go undetected. While the noise produced by a fan may not bother some people when abnormally loud, they can interfere with other sounds in the room and actually become quite disruptive.
Most of the fans on our list remain quiet while in use; however, when multiple fan speeds are present on a device, you can expect them to make a bit more noise. Taking the time to install your plinth heater accurately and with a snug fit can seriously help reduce and dampen the noise and vibration produced by a plinth heater.
Settings and Heating Modes
Plinth heaters often have multiple heat settings and fan modes. Some have three heat settings, others two heat settings, and some have a fan-only mode to be used in warmer weather. As a handy bonus feature, many plinth heaters also feature an automatic safety cut to prevent accidents.
How you access these controls can also be important when comparing options. Plinth heaters can either use a remote control thermostat for the room or directly connect to your central heating system.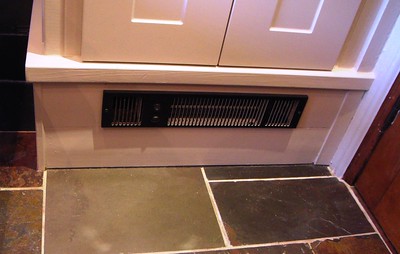 Size
The last thing you want to look for in a plinth heater is its overall size. You want to make sure the heating unit will fit in the space you wish to install it. This can be particularly true for kitchen units as they are often fitted underneath an overhanging cabinet or counter.
Are Kitchen Plinth Heaters Expensive to Run?
In general, plinth heaters are fairly cost-efficient and are not expensive to run. This is especially true if you compare them to other types of home heater options. However, electric plinth heaters are more expensive to run than hydronic plinth heaters because they do not use the radiant heat produced by hot water. In addition, if a plinth heater can attach to your home's central heating system, it will most likely be less expensive to run.
The Right Plinth Heater for Your Home
As discussed above, choosing the best plinth heater for your home depends on a few specifications, but we included a little bit of everything on our list so we are sure you can find something right for your space and home's particular heating system.
Our favourite option is the Winterwarm WWFH20E because of its convenient Bluetooth controls, accurate electronic thermostat, programmable weekly timer, and its easy to install and use design that does not have a complicated plug.
It may have a noisier fan with only one setting and slightly complicated controls, but we still think it could make an excellent addition to your home heating system. If not, we are sure you can find something else on our list that is better suited to your specifications and preferences.
What do you think about our options? Let us know by leaving a comment below.
Additional Resources
Nicole has a passion for everything about the home – especially decor. She loves to add new touches and style to every part of the house. Join her as she documents her ideas at Home & Style.