Last Updated on February 17, 2022
Our editors independently research the best products online to produce this list. We may receive commission on purchases made from the links below but this will never affect our product choices.
---
Top 10 Best Thermostatic Valves
Having a thermostat radiator valve connected with the heating system of your house is always a good plan. It not only helps you regulate the temperature of your home, but the device also saves energy by monitoring the amount of water that flows in and out of the heating system.
A thermostat valve is not a "one size fit all" kind of thing. It comes in different types for different needs. Straight, corner, and angled are a few of the conventional types of valves. Also, some brands have started introducing smart thermostats, which you can control via a companion app on your smartphone or tablet.
We have reviewed the best thermostatic valve and nine other suitable products from reliable brands available in the UK, so you do not have to do the work. This should give you a great idea of the different products available so that you can pick one suitable for your home heating system.
How We Compared Thermostatic Valves
To find the right thermostatic valves we considered multiple factors including:
Battery
Compatibility
Suitability
Temperature Control
Weight 
Build and Design
Our team independently examined and compared hundreds of products to help satisfy different needs. We spent our time researching thermostatic valves and consulting customer reviews to ultimately bring you what, in our opinion, are the best options on the market right now.
To find out more about our editorial process, take a look here.
Thermostatic Valve Reviews – Top 10 Picks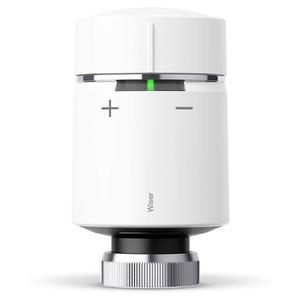 If you already own Drayton Wiser Heating System and Drayton Wiser Heat Hub, you should get Drayton Wiser Smart Heating Radiator Thermostat. But you can enjoy this smart technology even if you do not have other smart devices by Drayton. This product is versatile and works with 90% of existing heating systems.
The device is compatible with Google Assistant, Alexa and IFTTT; this enables you to use the voice command feature. You can monitor the temperature from your Wise iOS and Android app; the range is 24 to 50 feet, but the range could depend on the thickness of your walls.
The Wiser Smart Heating Radiator runs on 2 AA x batteries (which are shipped with the product). Batteries are supposed to last 12 months, but battery life depends on your interaction with the device. Wiser is not compatible with gravity fed systems.
Pros:
Best for Drayton Wiser Heating System
Voice command enabled
The temperature could be monitored from a Wiser app
The battery lasts 12 months
Compatible with multiple systems, including Amazon Alexa
Cons:
It may not be able to connect to a 5GHz WiFi connection
The signal can be inconsistent depending on positioning and walls
The tado° Smart Radiator Thermostat is a smart device to monitor the temperature of your room. You can check and change the temperature of the room using nothing but a simple mobile app.
The device is made well and durable. This smart device will work fine with any regular heating system, just unscrew the old conventional thermostat radiator valve and fit in the new tado° Smart Radiator Thermostat. You can install more than one smart radiator and monitor all devices with one touch using your phone.
This product comes with 2 AA batteries as well; all you have to do is insert the batteries, fit the new radiator and set the desired temperature. The smart radiator will regulate the heat for you. The batteries last for 12 months, so changing batteries every other week would be your least concern. 
Pros:
Suitable for almost all of the heating systems
Monitor temperature from your comfort zone
The batteries last a year
It could be used to keep check of the temperature of multiple rooms at one touch
Allows for easy temperature control in different rooms
Cons:
This TRV may not be the best when using rechargeable batteries
Tado may not provide the best customer support if you have issues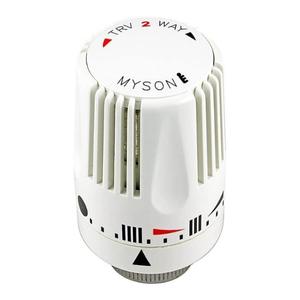 The Myson Standard Thermostatic Radiator Valve is a simple replacement head. It has a traditional design and is made from durable plastic for great longevity. Also, it offers simple operations. To change the temperature, simply twist the dial to the desired number.
It is interchangeable with a Myson Contact Thermostatic Head and is relatively easy to install once you have also bought a valve. This Myson product is a great option if you want a simple TRV with no advanced connectivity and without spending a fortune.
This is a great TRV, but it only includes the head – a valve must be bought separately. Also, remember this is only a basic head with no WiFi or smart controls.
Pros:
Simple twist control for easy temperature management
Lightweight and simple design
Made from durable materials for greater longevity
It can be used to replace a Myson Contract Thermostatic head
Includes the head and two TRV locking pins
Cons:
Only includes the head – you must buy a valve separately
It doesn't provide any advanced controls or connectivity
The Kartell TRV Thermostatic Radiator Valve is a great product that offers a simple design compared to some of the advanced options. It doesn't have any WiFi connectivity or advanced features – just a simple lock system and traditional thermostatic control.
This specific product is not only inexpensive but works amazing if you consider the lower price of this thermostat valve. Kartell TRV is made with steel which makes it long-lasting. The colour is white with a glossy finish which means it will also fit with any decor in your home. Kartell also provides a guarantee of 1 year along with your purchase.
In short, this product is priced reasonably and has great reviews and a large number of satisfied customers. See our picks for electric radiators and bathroom heaters for more heating guides.
Pros:
Strong metal build
One year guarantee
Reasonable price
Easy to use for fit in the system
Simple thermostatic control thanks to a twist-dial operation
Cons:
It does not offer any advanced controls
Also does not have any connectivity for smart-home use
If you are looking for a corner thermostat radiator valve, then this West Radiators product is the one for you. The package not only comes with your corner thermostat radiator valve and 15 mm lockshield, but the manufacturer provides you with the instructions booklet and user manual.
The Realm Corner Thermostat Radiator Valve is made with pure brass and has a chrome finish. This product is best for modern designer radiators as well as for chrome towel rails. This product also has a 15 mm (1/2") connection, which makes it usable with most European central heating systems.
The West Radiator manufacturer promises a 100% money-back guarantee in case you don't find the product suitable for your needs. A 6-year warranty also comes with the product. Along with being energy-saving, the Realm Corner TRV is an environment-friendly device. The dimensions of this product are 10 x 9.5 x 7 cm.
Pros:
Long-lasting, durable build
Money-back guarantee
6-years manufacturer warranty
Compatible with all European style heating systems
1/2" connection for great compatibility
Cons:
It does not have any smart connectivity functionality
You may notice a slight whistle occasionally when the TRV is open
Not all radiators and towel racks are white or chrome. You can also get modern designs made from materials like black anthracite. If you want a stylish, modern TRV to match such a radiator, the Home Standard Anthractice Angled TRV is a great option.
This high-quality TRV is made from black anthracite and looks fantastic. It also includes both the TRV and the opposing lockshield valve. For connectivity, the valves have a standard 15mm pipe connection. This should be compatible with most heating systems and is easy to install.
The temperature control is also simple and has a twist-dial on the top of the TRV. Simply twist it to set the desired temperature.
This is a decent thermostatic, but you could find that the exterior coating eventually degrades. Also, the temperature control can sometimes be inaccurate.
Pros:
Made from stylish black anthracite
It has a standard 15mm pipe connection for easy installation
Includes both the TRV and lockshield valve
It has a simple temperature sensor and easy temperature control
Cons:
The exterior coating may eventually scratch
The temperature control can sometimes be a little inefficient
The Honeywell Home T4021 Thera TRV is available in four different finishes. Each finish is stylish and durable, and they are – black chrome, brushed, chrome, and white chrome. This means you can easily get one to match your home decor and radiator style.
This TRV has an M30 x1.5 EU connection for build quality and specifications and is DIN EN tested and certified. It also has a high-quality liquid temperature sensor inside for accurate temperature control. To change the temperature, simply twist the dial of the valve.
We like this Honeywell TRV, but it only has a minimum temperature setting of 6 degrees Celsius. Also, depending on your radiator connection, an adapter may be required.
Pros:
Conforms with a standard M30 x1.5 EU connection EN215
It has a stylish white and chrome finish
DIN EN tested and certified
Available in four different finishes
It comes simple twist mechanism for the temperature control
Cons:
Only has a minimum temperature control of 6 degrees Celsius
You may find that an internal adaptor is needed for some connections
The next recommended product in the list is the Drayton TRV 15mm Angled. Instead of being a straight valve, this is an angled thermostat valve. Drayton brand provides quality products and manufactures them in a factory certified to BS EN ISO9001.
Drayton Thermostat Radiator Valve is also a self-operating device. Set your desirable temperature one time, and this mechanism will control the temperature of your radiator indefinitely until you change it again.
The valve is 15 mm angled lockshield, and the maximum limit this device can bear is 110° C. This device can work over a temperature range of 10° C to 27° C. Drayton Thermostat Radiator Valve also has the unique feature of frost protection setting mark. 
Dimensions of this product are 12.2 x 9.7 x 6.3 cm, the dimensions may seem small, but this device works incredibly effectively. This brand manufactures its TRV devices with solid and durable metals. The chrome finish and white colour make the device look better than most other thermostats available online. For more must-have home items, see our guide on water softeners.
Pros:
Self-operating device
Has the unique setting of frost protection
Can bear up to 110° C
Works in a wide range of temperature
Easy to install on any radiator valve
Cons:
Only offers manual temperature controls
Some customers have found dented thermostatic valves on delivery
iBathUK as a brand is well-reputed and serves people all around the UK with its well made, well designed and leak-proof formula.
The reason for iBathUK TRV's durability is its brass core, while the glossy white finish makes the device look premium. The valves are angled at 90°, and the connection is standard – 15 mm. The construction process of this specific product uses low carbon steel. These valves have triple layers, which also makes them leak-proof. 
The company has high factory standards for all of its products, and its thermostat radiator valves are tested and approved with BS2767 regulations. But if you are still not sure even after reading all of the features, this product comes with ten years guarantee. iBathUK values customers' satisfaction above everything, so if you ever find a problem with your purchased product, you can and should contact them. 
Pros:
10-year guarantee
Compatible with all of UK plumbing system
100% leak proof
Expensive white glossy finish
Cons:
The tapered thread for the valve connection can be a little flimsy
You may find that over time, the plastic exterior degrades
The Hot-Flow Marella Modern Thermostatic Radiator Valve is another product that is available in several styles. It is available in satin nickel, white, chrome, or black nickel. Each design looks great and is also made from high-quality materials.
This product includes an angled thermostatic radiator valve pair, together with the lockshield valve. This gives you everything you need to create a secure valve connection on a radiator or towel rack.
The temperature control uses a simple dial, and the installation should be easy due to the standard valve connection. We also like that this product has a 6-year manufacturers warranty and has a built-in frost protection feature.
This is a great TRV, but you may find it is noisy when at the desired temperature. Also, it is only a simple TRV and has no connectivity or advanced controls.
Pros:
Includes the angled thermostatic vale, and the lockshield valve
Made from high-quality chrome material
Include a 6-year manufacturers warranty
Also, have a built-in frost protection feature
Available in several different finishes
Cons:
You may find these valves are noisy when at the set temperature
It does not offer any advanced control
Conclusion
Having a reliable set of thermostatic valves for your radiators and other heating systems is essential for temperature control in your home. A thermostat is the easiest way to manage the temperature of your radiators without continually changing the central heating settings. Also, many TRV's today have advanced controls and can even be managed from a smartphone.
Any of the ten TRV's we have chosen would make an excellent choice. However, the best thermostatic valve for convenience and control is the Drayton Wiser Smart Heating Radiator Thermostat. This smart thermostatic valve works with multiple platforms via a WiFi connection, including Amazon Alexa and Google Home Assistant. In total, you can manage up to 32 TRV's across 16 different rooms. The connectivity is also decent and has a potential range of between 25-40ft.
Additional Resources
Nicole has a passion for everything about the home – especially decor. She loves to add new touches and style to every part of the house. Join her as she documents her ideas at Home & Style.