Last Updated on April 14, 2021
Our editors independently research the best products online to produce this list. We may receive commission on purchases made from the links below but this will never affect our product choices.
---
Our Favourites
Morphy Richards Sear and Stew Slow Cooker (Editor's Choice)
Crock Pot Multi Slow Cooker (Luxury Choice)
Andrew James Slow Cooker (Best Value)
Home cooking is the first significant work in your hectic schedule. However, if you are not ready to sacrifice the whole time, then a slow cooker is a fantastic alternative to prepare a meal. It is perfect for soups, severe cuts of meats, and stews. Slow cookers help control the flavour profiles of all foods and simmer for hours to get a perfect consistency.
There are many recipes for slow cookers. Meats, veggies, and endless combinations can be made in slow cookers. Here we have tested, slow cookers from Black Decker, All-Clad, Crock-Pot, and much more. Find an ideal unit for you that must determine your budget and your requirements according to needs.
How to Buy the Best Slow Cooker?
Look for sturdy handles that are the most useful features for preparing a meal. Many slow cookers have an oval-shaped pot that accommodates roast and other massive cuts of meat in a better way. The lids on your slow cooker should be made of glass or clear plastic so that you can observe your food cooking without messing up the temperature and lifting the lid.
An overall capacity of a slow cooker ranges from 1.5 to 1.8 quarts, but it recommended that the slow cook pot should be filled to ½ and ¾ to avoid overcooking and under-cooking. Slow cookers with best ratings are of 6 to 7 quarts. It is a popular size and is ideal for a medium-sized family.
Below is the list to choose the right one for you.
Best Slow Cookers Reviews – Top 10 Picks
The Andrew James Slow Cooker has a net capacity of 1.5 litres and is fantastic for couples, small families, and individuals. It prepares delicious curries, stews, jambalaya, and desserts. It has a removable ceramic bowl and a tempered glass lid so that you can serve food on the dinner table without transferring it to a serving bowl.
The Andrew James Slow cooker has three temperature settings – high, low, and auto to set the temperature according to your cooking needs. It is better to keep the temperature setting on auto to maintain constant cooking temperature. This slow cooker is economically convenient to use as it consumes less electricity than a conventional oven. It cooks delicious food at hardly any cost. Also, you can turn economic cuts of meat into juicy ones. The manufacturer provides two years warranty upon buying this slow cooker. Consider a halogen oven if you wish to cook quicker.
Key Features:
Small cooker 1.5-litre capacity
Three temperature settings
Removable ceramic bowl and glass lid
The Russell Hobbs Chalkboard Slow Cooker has a functional net capacity of 3.5 litres that is a perfect unit for small families. It has a matte black powder coating and is ideal for four food proportions. This slow cooker has a digital display timer and three heat setting features to set it to high, low, and auto according to your needs. It has a glass lid that lets you view the cooking. It has cool-touch handles on its main body that makes it safe to use.
The Russell Hobbs Chalkboard Slow Cooker gives you nutritious and tasty food in a few hours with additional grilling features. It is suitable for four people in a family. Its looks are stylish and will look fantastic on your kitchen counter. The Russell Hobbs Slow Cooker retains nutrients of the food cooked. For more kitchen appliances see our guide on toasters.
Key Features:
Net 3.5 Litre capacity
Matte black powder coating
Ideal for four food proportions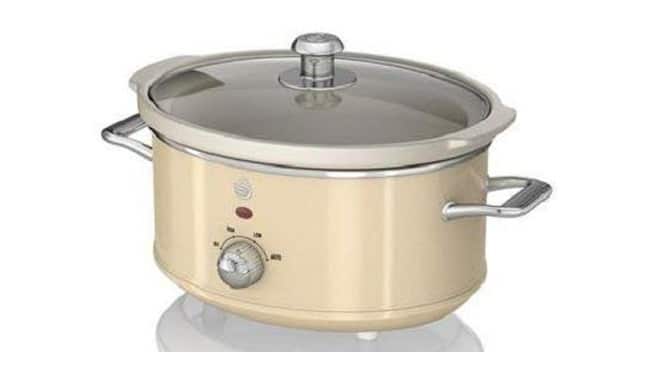 The Swan Retro Slow Cooker has a removable ceramic pot that is suitable for serving food. It has three temperature settings of low, high, and auto. It's auto function let your food remain warm for longer when you move back to do other work. It has a large oval shape with a net 3.5-litre capacity that is suitable for a small family of four people. This cooker is available in different colours and comes with a 32 pages recipe book. It also has a keep-warm function that prevents your food from going cold when you need to delay your mealtimes.
The Swan Slow Cooker keeps your meal at a perfect temperature and makes it ready to serve every time. You can use the high setting function for baking, and cooking dried beans or pulses.
Key Features:
Three heat settings
Keep Warm function
Net 3.5-litre capacity
Prestige Slow Cooker has a small family use capacity of 3.5 Litres. It has a programmable digital control timer to set the cooking from 30 minutes to 20 hours. This slow cooker consists of an LCD digital timer for smooth operation. The Prestige Slow Cooker has a removable ceramic container and stainless steel body that makes it convenient in cleaning up. It is highly durable and long-lasting.
This slow cooker appliance is ideal for efficient and conscious slow cooking. It enables a busy cook to create wonders out of unconventional cooking. You can simply add all your ingredients together in the cooking bowl, set the timer, and go about your daily chores while your meal is prepared. It is a fantastic product to cook for hungry tummies. For more kitchen appliances see our guide on hot water dispensers.
Key Features:
Programmable digital control timer
LCD digital timer display
Removable Ceramic container
The Morphy Richards Sear and Stew Slow Cooker has a single pot. It consists of a cooking pot and a glass lid dishwasher. The net capacity of this slow cooker with a toughened glass lid is 3.5 litres and serves 3-4 portions. It has a Dishwasher-safe, lightweight, non-stick cooking pot. This 3.5-litre cooker allows preparing a homemade nutritious meal from scratch. There is no need to monitor the cooking using this slow cooker continuously. Additionally, you can comfortably sear all your meats in the same pan before you start slow cooking.
It has a non-stick coated pot that is durable and easy to clean. This slow cooker can make your cooking process easy and efficient without losing the nutritive value of food.
Key Features:
Stew and sear in the same pot
Net 3.5 litre bowl capacity
Has a safe glass lid dishwasher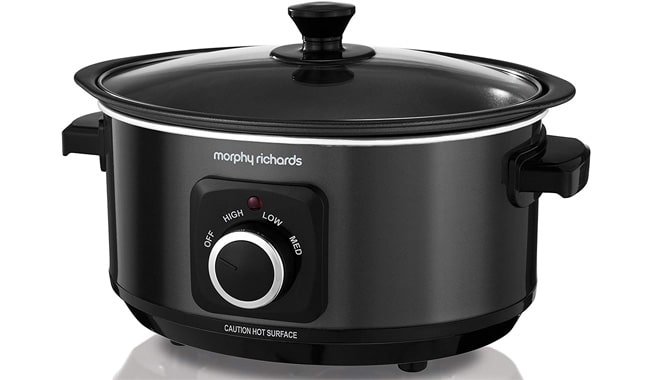 Morphy Richards Slow Cooker has a hob proof cooking pot to cook meals slowly. It has a glass lid that is dishwasher-safe for quick cleaning. The lid is also tough and can withstand high heat and temperatures to monitor the cooking of food. It comes with a shatter-proof cooking pot for peace of mind. Morphy Richards Slow Cooker is one of the healthiest and most cost-effective ways to prepare family meals.
Morphy Richards understands the hectic lifestyle as there is not much time to take care of family needs and completing the demands for delicious meals. Keeping this in mind, the manufacturing of the Slow Cooker came into being. You can follow the step by step instructions while preparing meals and adding different flavours and tastes to food. Since this variant is a slow cooker, it takes approximately four to twelve hours to cook one dish. Enjoy a nice side of bread from a bread maker with your slow cooked food.
Key Features:
Hob proofing cooking pot
Toughened glass lid
Shatter-proof cooking pot
The Wahl James Martin Slow Cooker has a net capacity of 4.7 Litres. The ceramic pot can cook large meals, including casseroles, soups, stews, and curries. It is a large slow cooker with a digital indicator for hassle-free cooking. Simply add all the ingredients in a single step and turn the appliance on for the cooking function to start. Once you set the temperature and time for cooking, you can go about your daily chores without any worries. You can even use it at night with a pre programme.
Most homemakers consider this slow cooker a blessing since it allows them to concentrate on other priorities. The Wahl James Martin Slow Cooker is best for family meals and entertaining at parties. It has a programmable LCD and does not require constant monitoring. It provides two setting displays to control temperature and even cooks food if you have a shortage of time.
Key Features:
Net 4.7 ceramic pot
Two heat settings – high and low
LCD digital timer display
Crock-Pot Lift and Serve Digital Slow Cooker has a digital set cooking timer from 30 minutes to 20 hours. It has an auto Keep Warm feature to keep the dish warm and ready to eat. It has made serving and stirring easy and quick and helps reduce the mess in the kitchen. This slow cooker comes with a dishwasher safe bowl and a lid that are easy to clean. The Crock-Pot Slow Cooker has a net capacity of 4.7 litres and is suitable for family use.
The ceramic bowl of the Crock-Pot Lift and Serve Digital Slow Cooker is removable, and you can also use it has an oven-safe product. It comes with three heat settings that range from low, high and keep warm for your delicious dishes, stews, desserts, and soups. For more home appliances see our guide on dehumidifiers.
Key Features:
Net 4.7 litre bowl capacity
Digital timer 30 minutes to 20 hours
Easy cleaning dishwasher-safe bowl
Crock-Pot Duraceramic Slow Cooker is made up of a removable die-cast aluminium pot for slow cooking. It helps in adequate meat breakdown, and thorough cooking of onions and vegetables, to maximise taste and flavour. The lid and container of this slow cooker are oven-safe and provide convenience and flexibility in usage. It has a large capacity of 5 litres and is ideal for large families and entertaining guests.
This cooker has a digital timer with an LED countdown display that makes meal planning quick and easy. It also has an auto keep warm feature and a metal lid handle that is suitable for the oven. The Crock-Pot Duraceramic Slow Cooker creates delicious home-cooked dishes and is perfect for casseroles and soups. It has made home meal planning easy and quick. This slow cooker box contains one Crock-pot 5L slow cooker. For more home guides see our one on bathroom heaters.
Key Features:
Die-cast aluminium pot
Lid and handle are safe for oven
Has a digital time LED countdown
The Crock-Pot Multi-Slow cooker is best for roasting, sautéing, steaming, and baking your food items in a fantastic manner. It is an ideal unit for curries and casseroles and also for steamed fish, Sunday roast, fluffy rice, cakes, and desserts. It has a digital display timer with an easy to use control panel. Also, this cooker consists of a roasting rack and helps measure rice.
It has a dishwasher-safe removable bowl that reduces washing-up time. The net capacity of this slow cooker is 5.6 litres and is enough for a large family and for hosting guests at parties. For more home appliances see our guide on steam irons.
Key Features:
Ideal for curries and casseroles
Large 5.6 Litre capacity
Digital display timer