Last Updated on February 28, 2022
Our editors independently research the best products online to produce this list. We may receive commission on purchases made from the links below but this will never affect our product choices.
---
Top 10 Best Carpet Cleaners
Carpets add a homely and comfortable touch to any home or office. While they add beauty and add grace, they can be quite tough to clean. This is where carpet cleaners can save the day! Carpet cleaners – also known as carpet washers or vacuum cleaners – are needed for regular maintenance to keep your carpets smelling fresh and looking good.
Carpet cleaners help remove stubborn stains, oil spills, food particles, grease marks, scrubby footprints, and animal and pet fur. By investing in a carpet cleaner, you can preserve your carpet for much longer and keep the carpet fibres looking polished and fluffy.
There are several excellent carpet cleaners in the market today. These carpet cleaning machines are easy to use and can easily be stored in and around the house. Using them requires very little strain or pressure, especially now that there are many lightweight options. Say goodbye to back pain or plain awkwardness.
You must select a carpet cleaner that is suitable for your requirements. Before purchasing a carpet cleaner, you should have a fair and basic idea about the footfall your carpet would receive and what kinds of stains and mess you are expecting from it. The best carpet cleaning machines will help make the cleaning process a dream.
Here are our top 10 picks of the best carpet cleaner in the UK for you to buy for your house, office, or wherever you are going to use them.
How We Compared Carpet Cleaners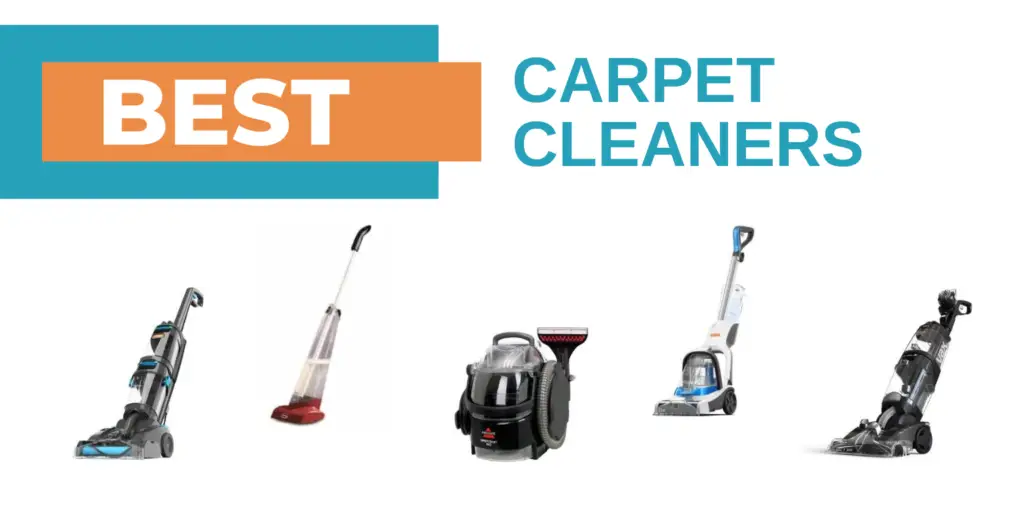 To find the right carpet cleaners we considered multiple factors, including:
Cleaning power
Carpet revival
Cleanliness
Efficiency
Plug or cordless
Capacity
Weight
Heating element
Attachments and versatility
Style and compactness
Our team independently examined and compared hundreds of products to help satisfy different needs. We spent our time researching carpet cleaners and consulting customer reviews to ultimately bring you what, in our opinion, are the best options on the market right now.
To find out more about our editorial process, take a look here.
Carpet Cleaner Reviews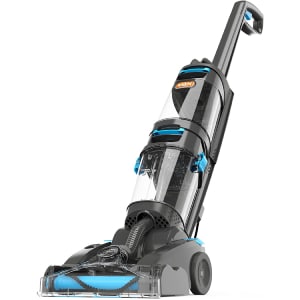 Are you looking for the ultimate solution to cleaning your carpets? The Vax Dual Power Carpet Cleaner with dual rotating brush bars helps lift the toughest of tough stains whilst freshening up the carpet with the cleaning solution. 
The brush bars of this carpet cleaner will lift out any deep down-trodden dirt hiding within your carpet. This is why the Vax carpet cleaner is considered the best carpet and upholstery cleaner in this article. 
This product design from Vax has a Twin Tank technology that separates clean water from dirty. The two-tank design also means that it is much easier to empty the containers and fill them up again for the next use. 
For you to remove dirt stains from mats, carpets, the stairs, and even upholstery, this cleaner comes with a wash tool and a hose that will stretch 2.4 metres. Extend the reach of your arm into tricky spots!
The Dual Power Carpet Cleaner has a pre-treatment wand and a solution that defeats stains that are stubbornly clinging to your carpets and furniture. This is perfect for areas that experience much footfall or markings from pets. It also has a pre-treatment kit wand and a cleaning solution that helps in stain removal.
From these carpet cleaner reviews, some people found it difficult to clean the actual cleaner. On top of this, the cleaner may be difficult to disassemble further than taking the tanks out if you wanted to figure out a fault.
Pros:
Pre-treatment kit solution for dirt breakdown
Dual rotating power brushes
Twin tank technology to separate water
Cons:
This cleaner may be difficult to clean
It may be difficult to disassemble if you want to check for faults
The VAX ECB1SPV1 Platinum Power Max is another strong contender for the best carpet cleaner in the UK!
It is known for its unique feature, the Seven SpinScrub brushes, which efficiently remove stubborn dirt from your carpet by rotating the brushes in different directions to lift any dirt. This cleaner will get rid of up to 93% bacteria and bring your carpets back to life! Therefore, the Duronic vacuum cleaner is labeled the best carpet cleaning machine for pet urine. 
There are two cleaning options for this carpet washer. First, you can use 'deep clean'. This method is guaranteed to dry within an hour so that you won't have soggy carpets. The second option is 'quick clean', which is handy if you want just briefly to clean your carpet or top up a deep clean. 
With the pre-treatment wand, you can spray the cleaning solution onto the target area before using the carpet cleaner. This will allow you to lift the dirt much easier. 
Your purchase will come with 2x 250ml bottles of Vax Platinum Professional Solution and 1x 250ml Pre-Treatment Spray, too, so you are all set for the perfect deep clean. Additionally, you will receive a 6-year guarantee which is sure to set your mind at ease.
From carpet cleaner reviews, you may be waiting a little longer than an hour for the carpet to dry, but this depends on the type of carpet you have. Also, since it does such a deep clean, you may use lots of water with this carpet cleaner. 
Pros:
May remove up to 93% of bacteria 
SpinScrub brushbar technology 
Drying time up to 1 hour
6-year guarantee 
Cons:
Carpets may be wet for longer than an hour 
You may use a lot of water 
This carpet cleaner ay work best with short carpet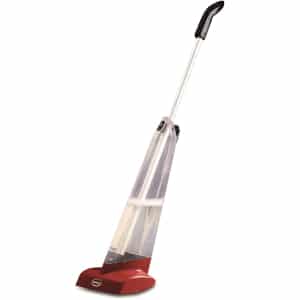 The Ewbank is one of the best minimalist designs on the market for carpet cleaners. 
You can very easily fill the large capacity 2.5-litre tank by popping off the valve and pouring in your desired amount of warm water and then add the carpet shampoo. The tank is see-through and also has markers so you can check how much water you are using. We have chosen this product as the best budget carpet cleaner because it offers an exceptional cleaning service without breaking the bank. 
Your purchase will come with a free 500 ml bottle of shampoo, including oxy action. This will help to make your carpets smell wonderfully fresh. 
Lightweight and compact, you can move the carpet cleaner around your furniture with no hassle or strain. The Ewbank is very effective, and the control is all with you. The telescopic handle with the trigger release means that you have ultimate control over how much cleaner solution you put on your carpet. Once the shampoo and the foam dries lift the dirt, the carpet is ready to be vacuumed. 
The innovative design means that you don't need power or batteries to operate the Ewbank Cascade carpet cleaner. It works simply by the trigger function under your thumb and the polymer roller with twin brush strips that encourage the dirt to rise out and lose its hold on the carpet.
On the other hand, you may not want to apply too much pressure or a heavy hand to the handle as the collapsible function may activate. Also, a few people have had leakage problems when filling up the tank. 
Pros:
Fantastic minimalist design 
No need for power or batteries 
Free shampoo bottle 
Control in your hands
Cons:
You may not want to apply too much pressure to the handle
You may find that the tank leaks
The BISSELL SpotClean Pro has a professional and functional style that will help you with your deep cleaning. The combination of water, shampoo formula, and powerful suction will remove those stubborn stains from your upholstery, furniture, carpets, stairs, rugs, and so on. 
This cleaner has been chosen as our best portable choice. The large and ergonomic handle at the top of the cleaner makes carrying it much easier! The weight distribution is even, so you will find it comfortable to move around. In addition, the BISSEL SpotClean Pro is designed to be space-saving, as the round shape is compact enough to fit into cupboards and small spaces. 
There are two clean and dirty water tanks which are large enough to hold a lot of water for lots of cleaning. This means fewer trips to the sink and a more efficient cleaning process. Furthermore, this carpet washer comes with a tough stain tool so you can scrub away any embedded dirt. 
Looking at carpet cleaner reviews, some customers found the cable to be too short, and so this depends on how far or close you would like the cleaner to be to you when operating. You may find that the cleaner sometimes leaves wetness behind, and so you may have to wait whilst your carpets dry.
Pros:
Excellent portable design
Very compact 
Powerful suction 
Tough stain tool included
Cons:
The cable may be short, depending on preference 
The suction power may vary for different surfaces 
May leave wetness behind
The Vax Compact Power Carpet Cleaner is a perfect unit if you often look after stains and pet messes. 
This machine works with an Aquaspin brush bar, which contains antimicrobial bristles that prevent and ward against bacteria growth. It weighs around 5.5 kilograms and so it is quite light to carry around. 
This carpet washer has a narrow floor head and is the perfect machine to reach small and hard-to-reach places. It uses a twin tank technology that ensures a separation between clean and dirty water. Furthermore, the Vax carpet cleaner also uses heat technology: a blast of hot air is directed onto the carpet to assist the drying process. Some carpet cleaners have often been found to leave wetness behind, so the Vax carpet cleaner has improved this.
The Vax Compact Power carpet washer has a compact design for secure storage in small areas. It is long and thin, so it will fit nicely in cupboards without taking up too much space. It also comes with a complete kit of the Vax Platinum Solution. With this cleaner, you can have your carpets smelling clean and fresh in no time. 
With this carpet cleaner, you may have to repeatedly refill the water tank if you do lots of deep cleaning. Furthermore, the machines may start to smoke in a few rare cases, so follow instructions precisely. 
Pros:
Lightweight design
Perfect for small areas
Leaves carpet dry in no time
Cons:
It may have to refill the water tank during operation 
Some machines may have started smoking 
The Duronic Bagless Cylinder Vacuum is a user-friendly cleaning unit with an A+ energy rating, so it is one of the best energy performance carpet cleaners on the market. It is a perfect unit for your home or office that ensures a pleasant environment in your surroundings. 
This design is an efficient carpet and vacuum cleaner which uses cyclonic technology to separate dust from the air. This means that it can catch up to 99.97% of the particles in its filtration system. For pet owners or those who are sensitive to allergens, this is a perfect choice. 
This model is much lighter than other carpet cleaners, as it weighs only 4.6 kg. There are also two handles on the carpet cleaner so that you can lift the unit easily. There are also two wheels so that you can roll the unit around the house, which means less lifting! When you are doing your floor cleaning, you can roll the cleaner around with you.
The Duronic Bagless Vacuum comes with four attachments for the cleaning heads. First, there is a floor brush so that you can clean hard floors and short-pile carpets. The second head is a turbo brush for thicker carpets. The third is a shaped crevice tool that can reach into small spaces. Finally, the fourth attachment is an upholstery tool brush specifically designed for upholstery cleaning, as this can be a delicate job.
The vacuum cleaner reviews have suggested that you may need to go over the same area repeatedly for long-pile carpets, as the suction may be weaker with this type of carpet. Also, some customers have said that the cord is quite short, so you may need to change plug sockets. 
Pros:
Very lightweight – only 4.6 kg
Impressive energy rating 
Four attachments for versatile cleaning
Cons:
The suction may be weaker on long-pile carpets 
The cord may be short
You may need to go over some areas repeatedly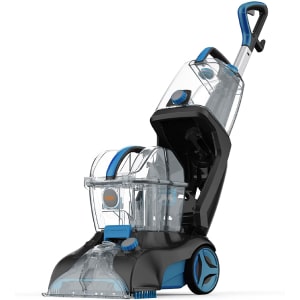 The Vax Rapid Power Plus Carpet cleaner is a perfect unit for deep cleaning carpets and drying them within an hour. It uses spin scrub technology for a deep and thorough cleaning procedure. This variant is an ideal unit for cleaning the stairs, car seats, and upholstery. The large tank capacity allows for deep cleansing without the need for constant refilling. 
This cleaner has an edge-to-edge cleaning process that can target crevices and the edges of your carpets. There are two modes: wash mode is the deep clean mode, and it uses the solution to lift away loose dirt. The deep clean mode is not for spot cleaning but for removing the tougher stains. Then, the rinse mode removes any shampoo residue and water left behind, so you are not left with soggy carpets. 
This Vax carpet cleaner comes with a complete kit consisting of a spin scrub tool, upholstery wash tool, platinum solution, crevice tool, and pre and post-treatment solutions. It has made your task entirely messy and hassle-free. It has an auto mix system that takes the guesswork out of the solution that you must use. The two water tanks mean that you will only ever rub the solution into the carpets. 
You may find that this carpet cleaner may be heavy due to the size of the tanks that you can fill with water. Some people found the suction to vary; for example, when gravity is working against the cleaner on the stairs, you may find the suction to decrease slightly. 
Pros:
Deep cleaner for carpets and dries quickly
Uses spin scrub and patented technology
Large tank capacity for prolonged use
Lots of attachment 
Cons:
This cleaner may be heavy 
It may be difficult to carry up and down the stairs
Suction may vary on different surfaces
The BISSELL ReadyClean Wash carpet cleaner has five rows of cross-action rotating brushes that remove embedded dirt from carpets and rugs. These create a powerful surround suction for the dirt removal. 
With this awesome carpet cleaner, you can be ready for any spillages or messes at any time!
The dirty water tank and the clean tank are perfect for the house, at a 2-litre capacity. These water tanks make a two-in-one tank system, enabling you to clean large areas. The BISSELL carpet cleaner is a convenient unit for smooth dirt and stain removal from upholstery and areas that are hard to reach with hoses and tools.
The BISSELL carpet cleaner is also lightweight, weighing only 5.4 kg, and has a cord of 6 m, which is a decent size. This cleaner comes with a BISSELL Carpet Cleaning formula bottle, so you can begin your cleaning as soon as you get the product!
You may need to go over areas repeatedly if you want a very thorough clean. Some people found that the cleaner consumed the water quickly, so you may have to repeatedly fill the tanks depending on how big the area you are cleaning is. 
Pros:
Five rotating dirt lifter power brushes
Two water tanks
Free cleaning solution
Cons:
May need to repeat cleaning over areas
It may consume the quickly
You may need to refill the tanks every so often
The Russell Hobbs RHCC5001 has been made to our top 10 list since it has a great see-through design that allows for visible cleaning. 
You can watch as the dirt is sucked out, and your carpet is left wonderfully fresh. This is ideal for pet owners or anyone wanting to clean up spills or muddy prints quickly. 
The extra-long cord is 8 meters long and so gives you maximum movability. In addition, this carpet cleaner is lightweight – it weighs less than 6kg – so combined with the cord length, you can easily get to every corner of the house or in the car. You won't have to keep swapping between plug sockets. 
For efficiency, the clean and dirty water tanks are separate. The clean water tank is 1.8 litres, and the dirty water is 1.75 litres, so you have plenty of space for cleaning without breaking off to refill the water at the sink. 
You are provided with 500 ml of Alpine Fresh carpet cleaning solution when you purchase the Russell Hobbs RHCC5001. To use this, fill the clean water tank with warm water, add the cleaning solution, and then you are ready to go! Follow the instructions for safe operation.
Another great thing about this Russell Hobbs carpet cleaner is it comes with a free 1-year manufacture guarantee. This means you can return or replace the product if you encounter problems.
You may find the carpet cleaner leaves wetness in the carpet, so you may need to let the carpets dry for a while. Furthermore, you may find this carpet cleaner noisy.
Pros:
See-through design for visible cleaning 
Extra-long cord 8m 
Lightweight 
Cons:
May leave wetness in the carpet 
May find it noisy
The Rug Doctor Deep Carpet Cleaner is another great choice if you are looking for the best carpet cleaner in the market.
It has a new super boost spray function that allows customising the cleaning of your carpets. You can tailor your cleaning method to high-traffic, heavily soiled areas or lighter cleaning spots. This carpet cleaner uses dual cross-action brushes designed for deep cleaning on each side of the carpet fibres. After using the Rug Doctor, your carpets will look plush! 
It is convenient and manoeuvrable with easy filling and rinsing tanks. The water tanks are labeled and detach from the machine. There is also a removable tool caddy so that you can place all attachments in one place together. Convenient and compact!  
You can either use the grooming brush for polishing or the agitating brush for a deeper clean. The hand tool is perfect for reaching places above the floor level, such as car interiors, carpeted stairs, and so on. 
The Rug Doctor also has a built-in detergent measuring cup and large opening lids. The suction on this carpet cleaner is considerably more than other carpet cleaners at 13000 watts. 
You can now clean carpets hassle-free! The Rug Doctor Deep Carpet Cleaner includes a collapsible handle for quick and easy compact storage. Finally, run over your carpet with a handheld vacuum cleaner.  
A very low percentage of reviews found that the tool sprayed randomly if not connected properly with the Rug Doctor. Also, some people found this carpet cleaner to be heavy and bulky and that they found leaks but only when there was a fault with the machine. 
Pros:
Grooming Brush and Agitating Brush
A hand tool for effective cleaning
Super boost spray and removable tool caddy
Cons:
The tool may spray randomly 
Carpet cleaner may be heavy and bulky 
May leak if faulty
How to Buy the Best Carpet Cleaner
We hope that our top picks for the best carpet cleaner will make it easier for you to choose the one that fits all your needs. Choosing the best carpet cleaner can be a lot of work, but our list is here to do the work for you!
There are many options on the market, so it may be helpful to use a guide rather than scrolling through all the information yourself. Work smarter, not harder!
After reading this guide, we hope that you will decide on the best carpet cleaner that will suit all your needs. Read on for a checklist that summarises all the points to consider before choosing your carpet cleaner.
What to Look For When Buying a Carpet Cleaner
If you are wondering what factors we based on when we chose our best carpet cleaners or if you want to learn what you need to consider when buying a carpet cleaner, read further below to learn what to look for when buying a carpet cleaner.
Cleaning Power
The first thing to think about when buying a good carpet cleaner is to check its cleaning power. Ideally, it should not be a one-time use. Carpets need regular cleaning and maintenance, so purchase a cleaning machine that can be used several times over the years.
You may just need a carpet cleaner for touching up the most trodden spots in the house. However, if you have heavy foot traffic or dark stains, you may want to look for a cleaner with extra cleaning power.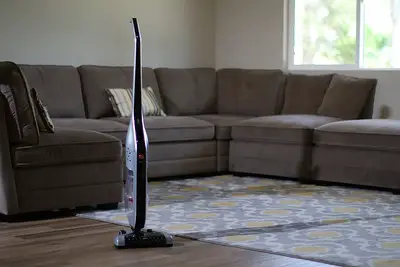 Carpet Revival
Another point to consider is to ensure that the carpet cleaner you select can do an excellent job of reviving your carpet and bringing it back to life. Any cleaner that does a poor job will deteriorate the lifespan of your expensive carpets. While it may be a bit more expensive, it is a great investment as you can be assured that your carpet will be properly cared for.
Cleanliness
Some carpet cleaners have in the past been known to spew out old dirty water. However, these choices here have reputations for checking exactly for this. Twin tank technology means that the clean and dirty water are kept separate, so there is less chance of regurgitating the dirty water onto the carpet.
Efficient
A good carpet cleaner must be easy to use and efficient in pricing. You should also consider the annual maintenance cost. Does it have removable brushes to clean or not?
You must also consider your budget. The 10 ten choices provide a range suitable for all budget types and provide you with an expert cleaning tool.
Another efficiency point to consider is the energy rating. Some carpet cleaners do not require power or batteries. However, others need plugging in, and so then the carpet cleaners begin to vary in power.
While the price is an important factor to consider, we still recommend that you get carpet cleaners of high quality. They may cost a bit more, but most of them are more durable, meaning you do not have to worry about having problems with them for a long time.
Plug or Cordless
You may be happy with a powerless carpet cleaner, as it gets the job done for you. Or, you may be looking for carpet cleaners with more power, so you will need to find ones that have plugs.
When considering whether you want a cord or not, also consider the length. The longer the cord, the less you will have to plug and unplug the carpet cleaner when changing location. Sometimes, a longer cord is better if you need to reach into places such as the car.
Capacity
Think about the areas in which you will use the carpet cleaner. Most carpet cleaners are used in homes, but you may want a large tank if you are using them in large offices. This means that you won't have to keep breaking away from the cleaning process to fill up the water tanks.
If you have large carpeted areas, you may also want to look for large tanks. However, if you only have small carpeted areas, you won't necessarily need or want a large tank. The smaller tanks also make the carpet cleaners easier to transport and move.
Weight
The weight of carpet cleaners is a strong factor in finding the right product for you. Many have overlooked this factor, and most have regretted that they did not choose something lighter. You will probably want a lightweight one if you are going up and down while cleaning carpeted stairs so that you are not under any unnecessary strain. Also, a light carpet cleaner means you can manoeuvre it easily when cleaning your home or office.
Heating Element
Many carpet cleaners also have heated-cleaning functions. For example, some carpet cleaners have technology that incorporates hot air drying at the target carpet area to assist with drying after the deep wash.
If you have had a problem in the past with carpet cleaners leaving the carpet wet for longer than you would like, finding a carpet washer with heated cleaning may be the answer for you.
Attachments and Versatility
The best carpet cleaners will come with a range of attachments because cleaning can be a hassle, and there are lots of nooks and crannies and narrow spaces in the house to get into. By choosing the right carpet cleaner, this hassle will disappear.
You may want to look for carpet cleaners that come with brushes specifically designed for hard floors. There are such things as a crevice tool to get into tight corners or the edges of carpets. For embedded dirt, you may want a specific pre and post-scrubber and cleaning solution. There are lots of options to choose from.
Style and Compactness
You might be interested in the aesthetic of the carpet cleaner. They come in all sorts of colour combinations and shapes.
Think about your storage space. Would the best carpet cleaner for you compact into a ball-shape or long-thin shape? For example, some cleaners can compact to be below the knee and fit into the bottom of cupboards. Other customers prefer thin carpet cleaners that will tuck beside a wall or into a cupboard against the side.
Why Buy a Carpet Cleaner?
Previously, vacuuming, cleaning carpets, removing stubborn stains, cleaning household upholstery, and even cleaning car upholstery were a chore. This is no longer the case. The best carpet cleaners help to make cleaning hassle-free. Of course, you will want a carpet cleaner that can minimise your chores and free up your time.
You can also save lots of time with a carpet washer. Excessive scrubbing and buying lots of products such as cleaning brushes can put a strain on you physically and on your money! With carpet cleaners, you can easily do spot cleaning or attack the deep stains. Let the carpet washer do the work for you!
Cleaning stairs will also become easier with a carpet cleaner because it will provide you with the tools to reach the higher spaces.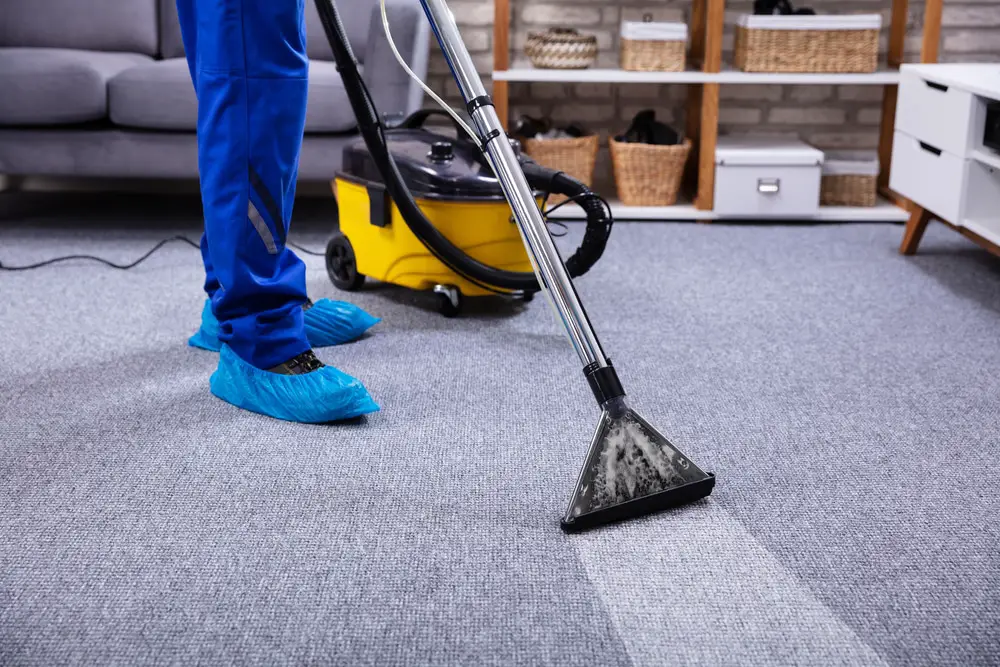 You can also save money getting your carpets cleaned because you can now clean your carpets to the same expert standard as your carpet cleaning service!
Our Choice
Now that we have reached the end of the article, it is time for our chosen recommendation. We have chosen the Vax ECR2V1P Dual Power Carpet Cleaner as the best carpet cleaner in the UK. It is undeniably the best choice due to its power, efficiency, and ease of use.
The Vax Dual Power is strong: it is powered by 800 watts. This means that the rotating brushes will remove ingrained dirt swiftly and easily. Not only this, but the twin tank technology will ensure that clean and dirty water will be kept separate – no mucky carpets for you!
This Vax carpet cleaner is one of the best carpet cleaners because it has a 2.4m stretch hose so you can get into tight spaces. The wash tool and pre-treatment wand and solution are extra handy supplements that make washing carpets so much easier. We also appreciate that if this product is not for you, Vax provides a 1-year guarantee to return it.
Of course, choosing the best carpet washer is ultimately down to preference. Aside from that, users have different needs and may look for different features in a carpet cleaner.
So, we are interested in hearing your opinion. Which carpet cleaner do you think is the best and why? What features do you want in a carpet cleaner? We'd love to hear from you. Let us know in the comments below!
Hopefully, our selections have helped you with your search to find one of the best carpet cleaners out there. Best of luck when choosing!
Additional Resources
Tania is a full-time writer and home product enthusiast. She loves helping readers not only get the most out of their home but to also pick the right products for their needs.