Last Updated on February 28, 2022
Our editors independently research the best products online to produce this list. We may receive commission on purchases made from the links below but this will never affect our product choices.
---
Top 10 Best Electric Fires
An electric fire is a cost-effective and attractive addition to any home. Electric fires can fit neatly into almost any space, from your living room or dining room to a large bedroom, unlike gas and coal fires. All you need is the right electrical connections and remote control.
Electric fires are easy to use and often friendlier to your budget than other fire types, which require you to stock up on regular fuel sources. Some devices even allow you to choose what kind of design you want to see on the fireplace or switch the colour of the flame.
Today, we're going to share with you our list of the best electric fire in the UK so that you can make the right choice for your home.
How We Compared Electric Fires
To find the right electric fires we considered multiple factors, including:
Design
Heat output
Energy efficiency
Extra features
Our team independently examined and compared hundreds of products to help satisfy different needs. We spent our time researching electric fires and consulting customer reviews to ultimately bring you what, in our opinion, are the best options on the market right now.
To find out more about our editorial process, take a look here.
Electric Fire Reviews
Modern and efficient, this high-quality and high-gloss fireplace from HomeZone is sure to look fantastic on any property! 
The HomeZone electric fireplace combines excellent heat output with remote control management, so you can decide exactly how warm you want any room to be. There's also the option to adjust the intensity or brightness of the flame effect.
The remote-control electric fireplace from HomeZone comes with a low-cost electricity performance so that you can keep your expenses as low as possible. There's a wall mounting bracket included to help you get set up, and the heater operates quietly enough to avoid distracting you from whatever you're doing. The LED flame effect is particularly realistic. 
If you're looking for a top solution in modern electric fires, this powerful electric heater is a great choice, with 7-day programmable settings and easy installation.
However, it is important to note that while this electric fire has an attractive design, its fan could be noisy at times. Also, if you are new to using this kind of equipment, the settings might be difficult to figure out at first.
Pros:
Attractive, realistic flame performance
Low energy usage
Remote control with programmable settings
Multiple brightness and intensity options
Great easy installation
Cons:
It may be difficult to figure out the settings at first
The fan might be a little noisy
Created by Endeavour fires, the Runswick luxury electric fireplace is one of the best replacement options for existing fireplace installations on the market. 
This stunning design is sure to grab the attention of anyone who visits your home, with multi-colour flame options and a unique glass effect. You'll love using this wall-mounted fireplace as the focal point of your sitting room.
Far more efficient than any standard log burner or electric heating, this high-performance electric fireplace is eco-friendly and reliable, with an extra-strong heating element capable of producing optimum energy efficiency. The digital remote control comes with a seven-day programmable setting, a thermostat, and a display. 
It comes with open window detection and adaptive start control. You will also have the option to switch between 1 or 2 kW of power depending on what the room requires. 
However, the heat setting can be a little complicated for beginners. Also, it could be tough to install for some users.
Pros:
Excellent appearance- looks great in any room
Digital remote control with seven-day programmer
13 colours of mood lighting
5 levels of brightness
Eco-friendly energy efficiency
Cons:
It may be difficult to set your heat level
It might be tough to install
Create a cosy atmosphere with the electric fireplaces from FIDOOVIVIA!
This cost-effective heating system comes with a realistic flame and looks similar to traditional fireplaces. You can choose your required heat setting from a range of options via manual control or remote control, and there's a safety cut-off included too. 
The white MDF mantel, together with the black iron spray, come together to make this electrical fire look amazing, as though it fits perfectly into your existing chimney space. There are two heat setting options to choose from, five brightness levels and a real log flame effect. You'll also get the same warmth and aesthetic appeal as you would from traditional fireplaces. 
Either used as an all-in-one fireplace with the mantel surround or as a standalone electrical fireplace, the FIDOOVIVIA device looks great. 
On the other hand, you may find it's a little difficult to set everything up at first. 
Pros:
Same comforting glow as a real fireplace
Mantel included for a chimney effect
Tempered glass for excellent protection
Full temperature control (manual or remote)
Enough heat to warm a range of spaces
Cons:
May is not easy to install for some
It can be difficult to get answers to questions from manufacturers
The best electric fire in the UK is usually one that can fit perfectly into your existing home. If you're looking for electric fires with a good heat output, a great flame effect, and a range of heat settings, this Roxby fireplace could be ideal for you! 
The Roxby fire has two heat settings to choose from, based on your temperature requirements and five brightness levels. 
One of the best electric fires for a cosy and traditional look, this Roxby electric stove, with its realistic flame effect, is a great addition to any home. A good alternative to a real fire, the 100% LED flame effects look stunning in any space, and there's a programmable remote control so you can set your heat for several days in a row too. 
With a one-year guarantee, you get excellent peace of mind, and the fire design will work well with an off-white MDF mantel too. For those who want more control over timing, there's also an automatic switch-off mode.
It is important to consider, though, that is electric fire might be small for some. Also, even with its small size, it could be difficult to install.
Pros:
Great inset design for modern homes
7 -day programmable remote
Multiple heat options to choose from
Flame and brightness adjustment
1-year guarantee
Cons:
It might be a little small for some homes
It might be challenging to install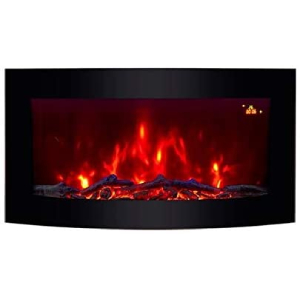 Make the most of your living room wall space with a beautiful electric fire from TruFlame! 
This side-lit electric fireplace comes with a series of seven-colour options to choose from, so you can adjust the mood in your living room or bedroom. There's a thermostat so you can change all the settings manually, a timer, and an on-screen display. 
The Truflame 7-LED electric fireplace has a natural log fire effect, which you can alter using the manual settings or remote control. The curved glass front looks stunning on any wall, and the fan heater delivers great temperature adjustment without raising your heating costs too significantly. There's even a timer to turn your heater off after a certain period automatically. 
This is one of the best wall-mounted electric fires: it also comes with an inset fire design that will surely soothe you on nights when you're watching the glowing embers from your sofa. 
Meanwhile, this electric fire might not fit some wall spaces. Also, you may find some of its colours to be unusual.
Pros:
Beautiful colours from 7 LED lights
Log burner design for log effect
Energy efficiency performance
Manual or remote control
Easy to install
Cons:
Some colours may look a little unusual
It may not fit in all wall spaces
This Egton fire has 100% LED lighting and a flame effect that gives you a very realistic experience of sitting in front of a crackling fire. You can easily adjust the heat using the remote control and set a timer to ensure the heat shuts down automatically if you happen to fall asleep when you're watching the fire. 
The 100% LED lighting brings real life to the flames on this Endeavor fires Egton model. If you're looking for an energy-efficient electric fire, this product meets the requirements of Eco Design 2018 to ensure you get the highest performance for minimal running costs. Instead of artificial logs, you also get a unique pebble effect, perfect for a modern home. 
The digital remote included with the stylish Egton electric files comes with a seven-day programming option, a thermostat with a display, and an "open window" detection mode, which turns your heating down if you have a window open. You can even turn the heat off and watch the flames.
However, it could be a bit bulky, especially if you have a small room. Also, while some may find it attractive, you might find the design to be too bright.
Pros:
Multiple mood lighting options 
One of the best flame effect electric fire options
100% LED lightning with eco-friendly design
Remote or manual control 
Timer to automatically turn off at a certain time
Cons:
It might be a little bulky for some rooms
It may be too bright for some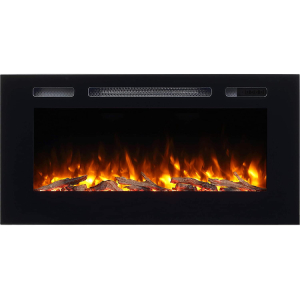 If you're looking for the best inset electric fire for your home, the Hawnby recessed fire could be a perfect choice. 
This electric fire is specially designed to deliver amazing heat performance while looking fantastic in a recessed wall. You get a wall bracket to help set your fire up and a 100% LED flame effect. 
The fire on this Hawnby recessed fireplace dances on top of artificial logs, with a fan heater to help spread the warmth around the room. You can adjust the flame effects to crystal stones if you prefer and change between multiple flame settings. There's also the option to use the log effect without heat. 
The digital remote means you can adjust your temperature from a roaring fire mode to something more subtle. There's a seven-day programmable option on the remote control, thermostat, and an open window detection mode. You can also use adaptive start control to turn the heater on only at a programmed start time. 
You have to consider, though, that it may not give enough heat versus what you have expected.
Pros:
Great design for modern living rooms
Lots of flame and log or stone effect options
Seven-day programmable remote control
Open window detection and adaptive start control
Energy-efficient design
Cons:
May not give enough heat for smaller rooms
It can be a little bright for some people
If you want one of the best electric fires on the market with the same soothing effect of a log burner, then the digital flames designer product could be perfect for you. 
This awesome equipment has a set of different flame colours to choose from, so you can decide how bright and colourful your fire is. There's also the benefit of an easy-to-use remote control. 
With two heat settings to choose from, you're sure to get a comfortable temperature for you and your family. The stylish electric fires from Digital flames also come with a safety device to prevent the technology from overheating. 
One of the best electric log effect fire options on the market, the Digital Flames product looks great, and it comes with the option to switch your fuel bed to crystals too. You even get a two-year manufactures warranty. 
If your wall has little space, you may want to think carefully about whether or not you should get this electric fire as it is known not to fit small spaces of some users.
Pros:
Excellent range of fuel bed options
Beautiful selection of 10 LED flames (colours)
Two heat settings 
Wall mounting with study wall mount included
2-year manufacturer warranty
Cons:
It could be difficult to fit on your own
It may not be suitable for walls with little space
If you're looking for the best freestanding electric fires, Warmlite could have the perfect solution. 
This attractive electric fire looks as though it's burning real coal. There's no need to worry about having a stud wall mount because the fire sits on your floor like an old-fashioned fireplace. You can also easily reach your desired temperature with a programmable timer.
You can choose between 1000w and 2000w heating settings according to how quickly you want to fill your room with heat. The stylish chrome finish and realistic looking fuel bed come together for a perfect fireplace update if you're renovating an older house or upgrading a new home. The realistic flame effects and coal combined with the two heat settings make this one of the best electric stove fireplace options around.
If you want a traditional fireplace without paying for a professional to get it wall-mounted, this is a great product. There's also a two-year warranty for peace of mind:
However, it may take up too much space, so it might not be ideal if you have a smaller home.
Pros:
Attractive traditional fireplace or electric stove design
Realistic flame effect and coal effect
It doesn't need to be wall-mounted
A contemporary alternative to traditional fireplaces
Good heat output
Cons:
May take up a lot of room in small homes
It can be difficult to choose the power level
While some homeowners want the best electric fires for heat, and others want very quiet electric fires, there's always a demand for a fireplace that looks amazing. This Canterbury adjustable thermostat electric fire comes with an elegant ivory surround and a beautiful realistic flame with different effects. 
There's no stud wall finding or assembly required for this convenient electric fire. You can plug the system in and choose the fuel bed and fire design you want. There's a one-year guarantee for peace of mind and an excellent set of two heat options with simple switch operations. Overall, if you're looking for the best electric fireplace to fit in any room, this could be a great choice. 
The modern electric fire from Warmlite is a great alternative to most standard wall-mounted electric fires and great for heat output. However, it is a bit noisy.
There are some disadvantages to this electric fireplace, however. It could be a bit larger for some homes, and it could be noisier than other models.
Pros:
One of the most attractive electric fires
A great alternative to a wall-mounted electric fire
Lots of control over energy use and heat
Competes with the best electric fires for effects
Reliable performance
Cons:
It might be a bit noisy
It may be quite large for some homes
Choosing the Best Electric Fires
Finding the right electric fire can be a difficult process, mainly when you haven't installed your electric fireplaces before. There are tons of different options to choose from, and many come with a range of great features. Here are some things to consider when making your choice after reading our electric fire reviews:
Design
Choosing whether you want a wall-mounted electric fire or one that's freestanding is an important first step. You'll also need to know what you want your electric fireplaces to look like in terms of flame effects and flame bed options.
Heat Output
Look for an electric fire that can deliver enough heat for the room you want to keep warm and cosy. Remote control with many options is often a good choice. Having the choice to switch between two power modes is helpful too.
Energy Efficiency
Nobody wants to spend a fortune on running an electric fire, so make sure you know how much energy you're going to use to keep it running. Eco-friendly features like the ability to set a timer can help you save money.
Extra Features
Don't forget to look into extra features like the option to detect when a window is open or access to no heat modes.
The Best Electric Fire
The best electric fire is a personal choice for any homeowner. Our first choice overall for the best electric fire in the UK has to be the HomeZone Modern Hi-Gloss with its stunning glossy finish, exceptional remote-control management, and range of flame effects. You even get extra low energy use so that you can protect yourself against any painful electricity bills.
Additional Resources
Nicole has a passion for everything about the home – especially decor. She loves to add new touches and style to every part of the house. Join her as she documents her ideas at Home & Style.