Last Updated on February 28, 2022
Our editors independently research the best products online to produce this list. We may receive commission on purchases made from the links below but this will never affect our product choices.
---
Top 10 Best Hand Mixers
The best hand mixers offer a cheaper and more manoeuvrable approach to whisking, mixing or kneading ingredients than a stand mixer or food processor. This item is small, lightweight and portable. Hand mixers are a perfect addition to the kitchen for a baking enthusiast, but also cheap enough to warrant buying for those of us who only foray into the world of baking to make an occasional batch of buns!
Just like a stand mixer, a hand mixer is often supplied with bread hooks for kneading, as well as beaters and a balloon whisk as well, but it will only set you back tens of pounds rather than hundreds!
The best hand mixers will come with solid accessories, stainless steel being a robust finish to look out for, that will stand the test of time and also make short work of whisking up eggs or cream or even large batches of cake mixture, perfect for if you make a Christmas cake every year.
Many different features set the best hand mixers apart, so our buyer's guide and top ten reviews list aim to give you all the details you need to find the best hand mixer in the UK for your needs.
How we Compared Hand Mixers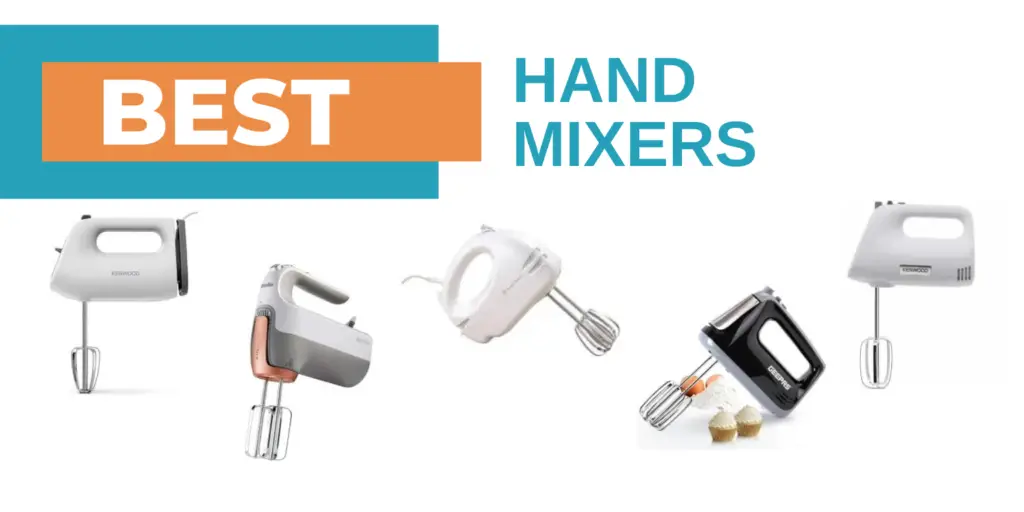 To find the right hand mixers we considered multiple factors, including:
Accessories
Material
Cord length
Weight and power
Additional features
Our team independently examined and compared hundreds of products to help satisfy different needs. We spent our time researching hand mixers and consulting customer reviews to ultimately bring you what, in our opinion, are the best options on the market right now.
To find out more about our editorial process, take a look here.
Hand Mixer Reviews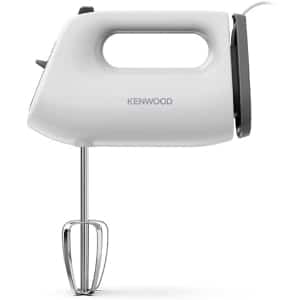 Our editor's choice, the Kenwood QuickMix Lite hand mixer, has five-speed settings, the initial one being a slow and gentle speed to minimise any mess being made before the ingredients start to come together.
Other features that we love about this hand mixer are its integrated cord wrap, so it is neat and easy to store away without a loose knot of wire to deal with. And the SureEject tool, which ensures that the beaters are only ejected when you want them to be and not mid mix!
This is also Kenwood's most lightweight hand mixer to date, at just 970 g, making it easy to handle but still powerful enough with its 300 W motor to power through most baking and cooking tasks. The removable parts are also dishwasher safe.
Meanwhile, this hand mixer may not be powerful enough to beat a stiff mixture. Also, it may not be the best equipment to use if you plan to use it for more than six minutes without stopping.
Pros:
Dishwasher safe beaters
Retractable cord
Slow first-speed setting
Lightweight
SureEject tool
Cons:
It may be difficult to insert the beaters
It may not have the power to beat a stiff mixture
It may not be ideal if you plan to use it for more than six minutes without stopping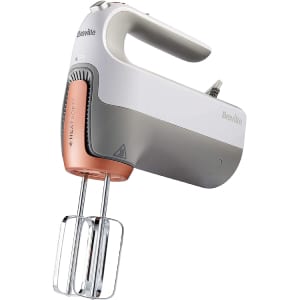 This HeatSoft hand mixer by Breville takes away the inconvenience of waiting for butter to come to room temperature when you are baking. At a touch of a button, the beaters will begin to heat and can soften butter up to 12 times quicker than leaving it out to come to room temperature, meaning you can start baking straight away!
You also get a lot for your money with the Breville HeatSoft hand mixer as it comes with a dough hook, whisk and a carry case, as well as the standard beaters. In addition, all of the attachments are dishwasher safe, and there is a push button to eject them easily.
Additionally, you can stand this electric whisk upright between uses, and it has no less than seven-speed settings and a boost option.
One slight negative with this electric hand mixer is that it weighs 2.28 kg, which is at the heavier end of the products in our review.
Pros:
HeatSoft technology
270 W motor
Seven-speed settings and a boost function
Accessory eject button
Carry case for neat storage
Cons:
It weighs 2.28 kg, so you may find it heavier for your preference
Noise level may be quite high
May benefit from a slower speed setting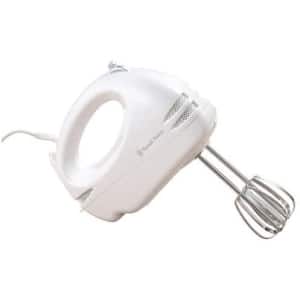 If you are on a tight budget but need a durable hand mixer that offers quality features, look no further than the Russell Hobbs Food Collection hand mixer. The hand mixer is perfect for regular use, and it comes in a clean white finish that looks great in any kitchen.
The hand mixer features six different speed settings; these are adjustable and useful for different ingredients. It includes two chrome beaters that are easily inserted, and the release button allows them to be removed and cleaned in the dishwasher. This is a compact electric whisk that is easy to store and carry around. It weighs just 765 g, and the cord can be wrapped around the base to keep it tidy and ready for its next use.
At 125 W, this is less powerful than some other electric beaters in our top ten, but it still delivers excellent mixing at an affordable price.
Pros:
Compact and easy to store
Lightweight
Six-speed options
Easy release button
Inexpensive
Cons:
The higher speed settings may scatter food out of a bowl
The slowest setting may not be slow enough
The beaters may come loose mid-use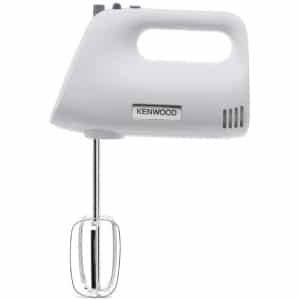 The Kenwood HMP30.A0SI hand mixer is an excellent product and has a powerful 450 W motor that is perfect for kneading dough or delivering quick results for whipping cream or egg whites.
The hand mixer offers up to five different speed variations to choose from and has a turbo mode to help get through any tough sections of mixing. Additionally, it comes with stainless steel beaters and kneaders for longevity and strength.
Although powerful, this is not a cumbersome electric hand mixer. It weighs 1.35 kg and is compact and easy to handle.
The power lead is quite short on this hand mixer, so you should review if it has the length you need to stretch from a socket to your preferred work area.
Pros:
Powerful 450 W motor
Five different speed options
Stainless steel beaters
Compact and simple to use
Includes kneaders
Cons:
The slowest setting may be too powerful
The power lead may be too short
It may be noisy when in use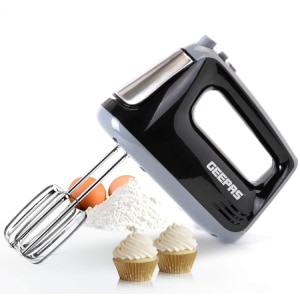 The Geepas 400W Hand Mixer is an appliance that is packed with features. It offers countless excellent functions that make it one of the most customer favourite choices in the market.
The hand mixer offers five-speed options along with a turbo function to provide an additional power boost. The hand mixer makes whipping egg whites and mixing ingredients extremely easy. All you have to do is use your thumb to modify the speed.
The powerful 400 W motor is strong enough to handle most recipes, and the stainless steel beaters and dough hooks are robust and won't rust over time. An accessory eject button allows you to remove and put them through the dishwasher safely.
The cord can be wrapped around the hand mixer, and there is an interlock safety system to prevent the beaters or dough hooks from ejecting by accident whilst in use. Additionally, there is a 2-year manufacturer's warranty with this product.
One thing that could improve is the cord's length that comes with this hand mixer, as it is quite short.
Pros:
400 W powerful motor
Five-speed options and a turbo function
Beaters and dough hooks
Eject button for easy dismantling
2-year warranty
Cons:
The power lead may be too short
The speed settings may be too powerful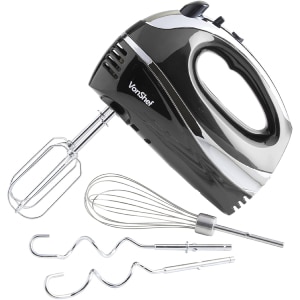 The VonShef Professional 300W Hand Mixer is stylishly finished in black and chrome but is functional too. The hand mixer is supplied with two beaters, two dough hooks and a balloon whisk. All of the appliances are safe to go in the dishwasher.
The hand mixer has a powerful 300 W motor that can make light of whisking and mix, from egg whites to bread doughs. Additionally, there are five different speed options which are adjustable with your thumb, an ejection button, and a turbo function. You can adjust these depending on the ingredients being mixed. The hand mixer is lightweight at 1.32 kg and comes with a 2-year warranty.
However, the eject button may be too sift. Also, it only has a two-minute maximum usage time
Pros:
Smart black and chrome design
300 W motor
Five adjustable speed settings
Dough hook and balloon whisk accessories
1 m cable
Cons:
The eject button may be a bit stiff to use
The first speed setting may be quite fast
Two-minute maximum usage time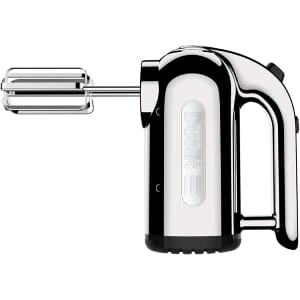 This powerful 400 W hand mixer has interchangeable attachments, including beaters, dough hooks, a whisk, and four-speed settings. This makes it a great hand mixer for cakes, but it is versatile for making meringues or doughnut dough.
We love the retractable cord function and that you can store the plug away neatly at the end when not in use, making it perfect for even the smallest of cupboards.
The hand mixer looks fantastic in its chrome finish and has a comfortable soft-grip handle; plus, it only weighs 1.3 kg, so it is lightweight to use.
On the other hand, some users have complained that the beaters detach while using their hand mixers.
Pros:
Four-speed settings
Interchangeable beaters, dough hooks and whisk
400 W motor
Retractable cord
Lightweight mixer
Cons:
May only run on a higher speed setting for a couple of minutes
The beaters may fall out when the hand mixer is in use
It may not be as sturdy as it seems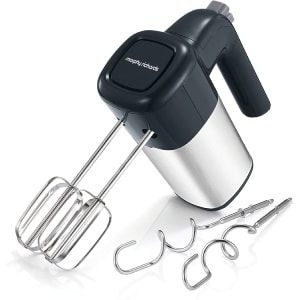 This is a no-nonsense hand mixer by Morphy Richards. Perhaps not the most stylish amongst the hand mixers in our review, but if this is not an important factor for you and you want an inexpensive but functional appliance, this could be just the one for you.
It boasts adjustable speed settings, five in total, and has an easy-to-use ejection button for the accessories. Additionally, two dough hooks are included, and the beaters are made from stainless steel.
The 400 W motor is powerful enough to make light work of most mixing tasks, and this hand mixer also has a turbo boost button for when you need it in the mixing process.
A point to note is that this is one of the heavier hand mixers in our review, at 1.7 kg, so it may not be suitable for you if you want to do baking with children or if you suffer from weak joints.
Pros:
400 W motor
The beaters and dough hooks are made from stainless steel
5-speed options
Accessory ejection button
Boost function
Cons:
It may be too heavy for young children or people with joint problems
The first setting may be too fast
It may not be ideal to use it for more than five minutes continuously
This matte finish hand mixer stands out for its sleek design and the fact that it has plenty of functionality too. You can place it upright to stand between mixes or when put away in a cupboard and comes supplied with beaters and dough hooks, both of which are chrome plated and safe to be placed in the dishwasher.
There are five settings plus a turbo option, so this hand mixer can deal with anything from gently folding in flour to a mix to whipping cream or Yorkshire pudding mix. Additionally, there is an eject button for the accessories, so they come out safely after use, and this is a lightweight hand mixer at just 1.2 kg, so you won't get tired of holding it.
This best electric hand whisk also comes with a two-year guarantee and a further year if you sign it up on the website!
It does come with some disadvantages, however. The eject button may be hard to operate, and the lowest speeding may still be too fast for you.
Pros:
Five-speed options
Turbo boost
Stands upright for storage or between uses
Up to 3-year guarantee
Dough hooks and beaters are included
Cons:
The eject button is the same as the speed button and may be difficult to operate
The beaters may be too thin to work thicker mixtures
The lowest speed setting may be too fast
The last option in our best hand mixer in the UK reviews is the Bosch CleverMixx MFQ3030GB: this electric hand mixer has stainless steel beaters and bread hooks robust enough to make short work of whisking mixtures or kneading even the firmest of doughs! They are safe to be washed in the dishwasher, making them easy to clean.
The hand mixer has multiple speed settings and a pulse function, making this a versatile option if you are looking for the best handheld mixer. There is also a separate ejection button to safely remove the accessories, and the hand mixer has a groove where the cord can be wrapped around it, safely out of the way, when it is not in use. With a 350 W motor, this hand mixer isn't short on oomph but is very lightweight at just 850 g!
However, you may find this not too powerful for you. Also, the beaters have plastic tips, which you may not like.
Pros:
Lightweight hand mixer
Four-speed options
Pulse function
Bread hooks are included as well as beaters
Powerful 350 W motor
Cons:
The speed settings may not be powerful enough for heavier mixtures
The blades on the beaters may be flimsy
The plastic tips on the beaters and hooks may crack
Buyer's Guide
There are many hand mixers on the market, and ostensibly they all do the same thing. However, there are many features that the best hand mixer in the UK has that make it worth considering some of the points we've thought to set out below to ensure that you are selecting the right one for the job.
Accessories
It is worth asking yourself what types of tasks you want to achieve with your hand mixer, and does it have the accessories you need to make that job easier?
If you are a keen baker, then many of the best hand mixers now include bread hooks, so you can knead the dough using a hand mixer rather than relying on a more expensive stand mixer.
If you are a pavlova addict, then a hand mixer that comes equipped with a balloon whisk is a must for you!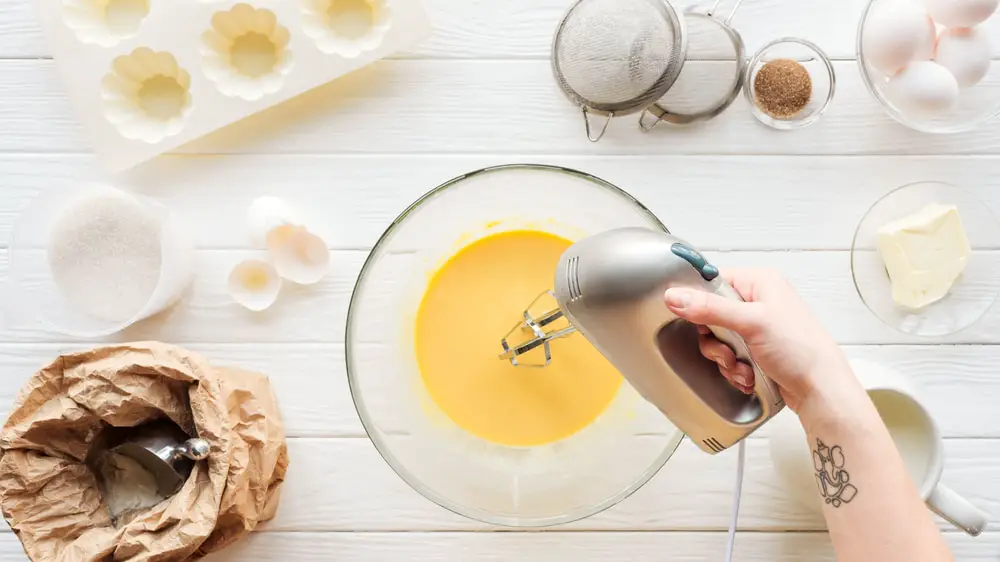 Material
Making sure that the quality of the accessories is up to scratch for the job is a critical factor when reviewing hand mixers. Stainless steel is long-lasting and more robust as a finish than a chrome-plated metal.
Stainless steel also helps prevent the mixture from getting stuck to the blades and slowing down the hand blender. Also, stainless steel will not rust so that you can be sure of the longevity of your accessories.
Cord Length
A simple thing, but having a power lead that is long enough is a make-or-break factor in a hand mixer. If it is too short and you cannot reach the part of the worktop you do your food preparation on without an extension lead, you will probably be looking again for the best hand mixers.
Weight and Power
If you want to bake with children or have joint or strength issues, selecting one of the hand mixers from the lighter end of our range makes sense. If you need a robust hand mixer for heavier bread or cake mixtures, then consider both weight and power together to find the right mixer for you.
Our hand mixers' weight varies considerably, from the lightest at 765 g to the heaviest at 2.28 kg! It would help if you had a hand mixer that is comfortable to hold for minutes at a time, but at the same time, you don't want one that is so lightweight that it does not have the power behind it to mix more than batters or cream.
A power level of 270 W and up should be sufficient for most day-to-day mixing tasks, but we have hand mixers in our review that go up to 450 W motors!
Additional Features
Speed Settings
Give you control over how fast your mixer brings your ingredients together. A slow-speed setting is essential when you still have dry ingredients loose in your mixing bowl. Many hand mixers will have settings that are too fast initially and cause ingredients to fly out of the bowl.
Storage
Not having to deal with loose cords taking up space in cupboards is a real win, and some of our hand mixers have retractable cords or groves in the mixer's body to wind the cord around after use. One mixer also has a nifty solution to insert the plug into the base so that everything is neatly stored away!
Ejection Button
No more fighting with accessories to get them out cleanly; an ejection button allows you to choose when you have finished with your stainless steel beaters and cleanly remove them into the washing-up bowl or dishwasher.
Conclusion
Hopefully, we have provided insight into the product features available for the best hand mixer UK stores have to offer and assisted with what to look for to purchase the perfect model for you.
Our aim is that you'll have been able to find a hand mixer that makes light work of beating, whisking and mixing your favourite ingredients at the flick of a switch. However, if you're still struggling to choose the best hand mixer in the UK that suits your needs, you can try our Editor's Choice – the Kenwood QuickMix Lite hand mixer.
This is Kenwood's lightest hand mixer to date, at just 970 g. It is very easy to handle but still powerful enough for all your baking needs. There are five-speed options, and unlike other electric hand mixers that tend to be over powerful on the lowest setting, the initial one on this hand mixer goes at a gentle pace to prevent any mess being made before the ingredients start to come together.
Other fantastic features on this hand mixer are the integrated cord wrap, making it neat and easy to store away, and the SureEject tool, which ensures that the beaters only come out when pressed. The beater blades are made from stainless steel and are safe to be placed in the dishwasher.
Enjoy hassle-free baking with one of our recommended hand mixers!
Additional Resources