Last Updated on February 16, 2022
Our editors independently research the best products online to produce this list. We may receive commission on purchases made from the links below but this will never affect our product choices.
---
Top 10 Best Home Safes
If you have a decent collection of valuable items in your home or office, you need to make sure they are safe. They need to be safe from any damage or robbery. Depending on the value of your items, you can have anything from a custom safe to a readily available safe.
If you have watched any drama or crime movie, you have realized that many safes are placed in areas where nobody can tell a safe. But these movies have made it hard to find a place to install a safe.
Regardless of where you choose to install your safe, it would be best if you considered a couple of things. Some of these include but are not limited to the safe's size, level of protection, placement of the safe and price tag.
Once you have all these figured out, you can now narrow down your options. If you are still not sure what safe you need, then these home safes reviews are for you.
Here are our top ten picks for the best home safes in the UK. This home safe list cuts across all your wants and needs ranging from placement locations to best value for money.
How we Compared Home Safes
To find the right home safes we considered multiple factors, including:
Size
Cash ratings
Fire ratings
Locking mechanism
Ease of installation
Our team independently examined and compared hundreds of products to help satisfy different needs. We spent our time researching home safes and consulting customer reviews to ultimately bring you what, in our opinion, are the best options on the market right now.
To find out more about our editorial process, take a look here.
Home Safe Reviews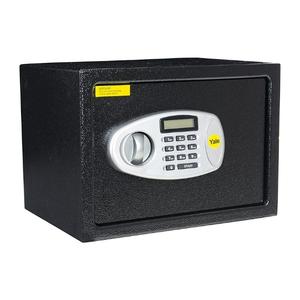 The Yale T-MS000NFP Medium Digital safe is a steel safe that features an LCD, steel locking bolts, and an emergency override key. This safe has a maximum capacity of 16 litres, and it measures 25cm x 35cm x 25cm. It can be used as a home or office safe and can be mounted on the wall or floor.
The LCD display fitted in this safe can allow easy access in low light conditions. The Yale Y-MS0000NFP has a protective lining inside to protect your valuables. The override key is a manual high-security mechanical key that can be used to bypass the safe's protective system. This override key is used alongside a user code and a master code.
While this safe comes with a 16-litre capacity, you can get the same build in different sizes depending on what you are looking to store inside.
Pros:
It comes in a discreet size
It has a 4-digit programmable keyboard
It can be easily mounted
It has a felt-lined interior
It can be used to store paper documents and other valuables
Cons:
Some users may find it to be relatively small
Its locking mechanism may become faulty after some time
Some users might find the instruction manual to be too vague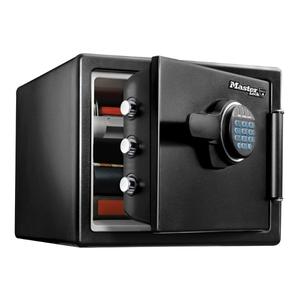 When it comes to buying and installing a safe, one hopes to find a safe that will protect their valuables from any unwanted damage. However, not all standard safes come with a fire, water, and even dust protection feature.
The Master Lick LFW082FTC Fireproof is the best fireproof safe on our list. Not only does this fire safe protect your items from fire damage but from water damage as well.
This safe features a large digital combination lock. The bolts fitted on this safe are 60% bigger than the bolts used in standard safes.
It's also made of steel, and a programmable digital combination that comes with a standard LCD screen is mounted on the front of the safe.
The Master Lock LFWO82FTC can withstand up to 927 degrees Celsius of heat and a fall of up to 4.5 meters. This safe can protect your valuables in up to 12 cm of water for 12 to 24 hours when submerged in water.
Pros:
This safe is water and fire-resistant
It comes with a spacious storage capacity
Installed with a programmable lock with a backlit keypad
It has an internal light and multi-position shelf
Features a Master locking system for easy access
Cons:
This fire-safe may require factor reset
Some users may find it to be quite heavy
It may only require batteries to function
Like any item when buying a safe, you need to consider the value you are getting. Is it your money's worth, or could you do better? The Mutiwill Safe Box is a high-security steel lock home safe. This safe is best used as a money box or gun storage.
This safe measures 23cm x 17cm x17 cm, it weighs 3 kgs and is made of steel. This safe comes with fitting bolts. This allows it to be fixed anywhere you want. The standard Mutiwill Safe Box has three keys and fitting bolts.
This safe leans towards the old school safe side because it only uses a key, and there are no other safety precautions to protect your items.
Pros:
Three keys and fixing bolts are included
It can be ideal for storing small sensitive documents
This safe can be easily mounted on any floor or wall surface
It is portable
It comes with an operating manual
Cons:
It might be easy to snatch due to its lightweight design
The safe might not be as secure as more robust safes
It may only be suitable for holding small items
Amazon Basics Home Safe is a 51-litre home safe that can be used to store everything from documents, jewellery, memorabilia, and other valuable items.
This safe comes with a standard programmable electronic keypad for security and easy operations. A backup key also comes with this safe for emergency use only.
The door of the Amazon Basics home safe features an eight-gauge lock and a fourteen-gauge body. The whole safe is made of heavy-duty carbon steel. Two live-door bolts are retrofitted to the door, making it pry-resistant. The concealed hinges add to the safe's security as well.
For installation, the Amazon Basics Home safe comes with pre-drilled mounting holes for wall mountings and fitting bolts for floor mountings.
Pros:
Features a heavy-duty carbon steel construction
Installed with pre-drilled mounting holes and hardware for easy mounting
It comes with an electronic keypad
A backup key is included
Fitted with pry-resistant concealed hinges
Cons:
The front plastic combination case may get flimsy over time
It may not be fire-resistant
The supplied batteries may not withstand the test of time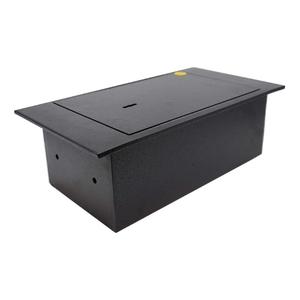 The Yale YFLS0000 is one of the best floor safes you can get your hands on. This safe is made of alloy steel. The looking bolts fitted to the door are steel locking bolts. This safe is designed to be fitted to joists or under floorboards.
This safe measures 13cm x 39cm x 21 cm. The interior of the Yale Y-FLS0000 is lined with a soft material to protect your valuable items and important documents.
This is a manual safe and can only be accessed using a key. In the case where you lose your key, two emergency Yale keys are provided for you.
While this safe is designed to be fitted in floors, you can also mount it. The maximum capacity of this safe is 4-liters.
Pros:
A high-security mechanical key is included
The supplied locking bolts make it easy to install
Features a felt-lined interior base
It comes with a compact and discrete design
It can be ideal for both floor or wall mounting
Cons:
It might lack fireproof safe features
The keys may get flimsy over time
It may not be suitable for storing larger items
The Rottner Saturn LE17 safe is ideal for anyone looking to install a safe in their home, office, or business. This safe measures 170mm x310mm x 280mm, has a maximum internal capacity of 11 litres and weighs 7 kgs. This safe comes in a standard black colour.
If you are looking for a compact safe that will protect your items from fires, then this is the best safe you can buy.
The walls of this safe are made of high-quality steel. The body is 3mm thick, and the door lead measures 4mm. The entire safe is fitted with robust hinges and a fire crease.
The Rottner Saturn LE17 comes with pre-drilled holes at the back for mounting. Fitting bolts are also provided.
Pros:
It can be suitable for both office or home safe use
Installed with a fireproof seal for safer fire protection
Two keys are included
Includes pre-drilled holes for easy wall installation
It comes with a double-bit safety lock system
Cons:
Some users might find the installation manual to be too vague
The steel layer may not be as robust to scratches or dents
The lock mechanism may get faulty
The Amazon Basics Security Safe guarantees the safety of your most valuable items. This reliable safe offers a 0.7 cubic-foot of internal storage capacity. The interior is made of steel and lined with protective carpeting to protect your items from damage.
This safe comes with a programmable electronic lock for easy operations and set-up. The safe comes with a keypad that you will need to enter your keycode whenever you access the safe. In the case of an emergency, the Amazon Basics Security Safe comes with two override keys.
This safe comes with two live-door bolts, concealed hinges, and a pry-resistant door for extra security.
Pros:
Has reprogrammable digital access system
Fitted with pry-resistant concealed hinges
The removable shelf can be adjusted or removed to create more storage space
It comes with an electronic combination lock and backup override keys
Features double-walled steel construction with the carpeted floor for scratch resistance
Cons:
It may lack fireproof features
This safe may not be ideal for items that require more height space
The electronic lock system may require batteries to function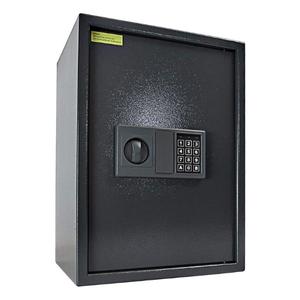 The Dirty Pro Tools is a 44.6-litre safe that measures 50mm x 350mm x 310mm. This safe comes with a programmable keypad and led indicator.
The keypad can be programmed with three to eight digits. The Dirty Pro Tools home safe is made of heavy-duty carbon and finished with a fine powder coating.
The storage capacity of this safe ensures that you do not have to pile your valuables or force them to fit. The electronic components make this one of the most secure home safes, which is also a good option for offices or business settings. With three correct entries, the Dirty Pro Tools has an auto-locking buzzer.
The safe package comes with fitting bolts and batteries. Two backup keys are provided in case of emergencies. To create more space for taller items, the shelving unit in this home safe is removable.
Pros:
Has both keys and digital keypad functions
It comes with four pre-drilled holes with locking bolts for easy mounting
A spare key is provided in case of emergency
Features scratch-resistant steel construction with fine powder-coated design
The installed shelf can be adjusted or removed
Cons:
This safe may lack fire resistance or cash rating features
Some users may find the safe to be relatively light
The supplied locking bolts may not withstand the test of time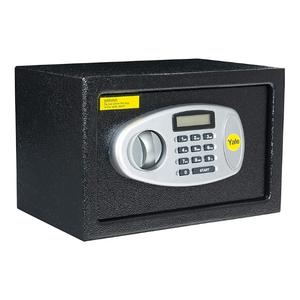 Nobody said that safes are meant to be huge. Compact safes have over the years been the go-to for those looking to invest in portable safes. If this is the route you wish to take, you might want to consider the Yale Y-SS0000NFP.
This small home safe features a digital LCD display, interior protective lining, and fitting bolts for either wall mounting or floor installation.
The Yale Y-SS0000NFP has a maximum capacity of 8 litres and measures 200mm x 310mm x 200mm. In the case of an emergency, this home safe comes with two manual override keys. To use this safe, you need to install batteries.
Pros:
It comes with a manual override key in case of emergency lockout
It has a felt-lined interior
Fixing pack and instructions manual is included for easy installation
Installed with a programmable digital keypad with LED display
It has a durable steel hinge design
Cons:
This safe may be easy to snatch if not mounted to a surface
It may lack an interior light
The LCD screen may get faulty
Every day there is an introduction of a new safety feature when it comes to different items. One of the latest safety features is biometrics. The Amazon Basic Biometric Fingerprint is a technical safe that locks away your valuable items. This stylish safe comes in a wide range of sizes ranging from 15cm to 54.9 cm.
Depending on the size you choose, this home safe guarantees enough space for storing away your items. The exterior and interior of this safe are black, giving it a premium look and finish. The matte black finish complements any home or office.
Unlike other safes that use a key or keypad to unlock, this safe is fitted with a biometric system that scans your fingerprint. This system is considered safe and easy to use. This safe can be programmed to take up to 50 fingerprints at a time and a 1,000,000-touch lifetime span.
The safe itself is made of heavy-duty carbon steel, the hinges are concealed, and two live door bolts are retrofitted to the door to make it pry proof.
Pros:
Pre-drilled mounting holes and floor hardware are included
Installed with a biometric fingerprint sensor with great match speed
Fitted with pry-resistant concealed hinges
It comes with a backup key for emergency use
Features a durable steel construction
Cons:
The fingerprint technology sensor may crash
It may lack robust fire or water resistance features
Some users may find it to be quite heavy
What to Consider When Buying a Home Safe
Here are some of the essential factors that you should consider when buying a home safe.
Size
When shopping for a home safe, you should always consider what you'll be storing inside. Be it jewellery, important or sensitive documents. It is always ideal to go for a home safe that will accommodate your valuables effortlessly.
Whether you'll be settling for a larger or smaller safe, it is always essential to go with one that can withstand the test of time. Bear in mind that a large home safe can provide extra-large storage space.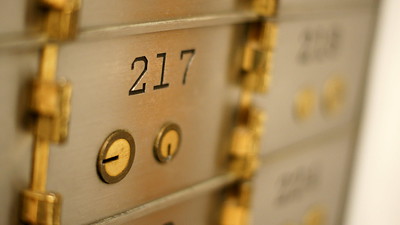 However, they are less subtle and hard to conceal when compared to their miniature counterparts. That being said, whether you prefer a small safe or not, always ensure you settle for one that can withstand the test of time.
Cash Ratings
The cash rating of a safe determines how burglar-resistant the home safe is said to be. Typically, this factor is determined by the resistance of the safe's lock, thickness and strength of the walls. Additionally, ensure that you check for the exact cash ratings of your safe with your public or private insurer since different insurers offer different policies.
Fire Ratings
The fire rating of a home safe is usually measured in hours. This rating can be used to establish how long a safe can withstand fire while protecting the valuable items it houses inside. It's worth mentioning that the ideal fire rating of a safe is one hour. Moreover, a fire-resistant safe should come with a fire-resistant seal on its door.
Locking Mechanism
Another essential feature to consider when selecting a home safe is the locking system. Most home safes and key safes typically come with electronic keypads, which require an electronic combination to gain access.
These safes are considered the best since only one person with the combination code can access them. However, remember that electronic safes come with override keys that grant anyone access if the code is forgotten.
Well, how safe are these safes, be the judge of this. On the flip side, non-electronic solely electronic safe lack the above backup option. So, if the key is misplaced or lost, the belongings are stuck inside.
That being said, when selecting a home safe, it's best to settle for a home safe that has a locking system that will keep your documents, valuable jewellery and other valuables safe.
Installation
When shopping for a home safe, it's always important to consider how complex or straightforward the installation can be. Whether you're looking to mount your safe on the wall, floor or tuck it away in your bedroom, always ensure you can easily access it during any emergencies.
What Are the Different Types of Home Safes?
Let's take a look at the different types of homes safes UK stores have to offer.
Fire Resistant Safes
These safes are mainly used to protect sensitive documents and valuable items against fire. Fire safes are highly resistant to high temperatures. However, they sometimes fall short when it comes to forced entry compared to traditional home safes.
Mercantile Safe
These safes are both fire and theft-resistant. Both the safes box and the door are made using tough steel. It's wise to mention that the door's thickness is at least two and a half centimetres while the box is just over a centimetre.
Gun Safes
If you're a licensed gun owner, owning a gun safe to store your firearms specifically is advisable. Such safes are ideal for licensed firearms holders since they help keep the gun out of children's reach. Also, these safes prevent helps prevent any gun hazards or fatal accidents from occurring.
What is the Difference Between a Wall, Floor and a Bolted Safe?
A wall safe is also known as a hidden safe. So, if concealment is what you're after, then a hidden safe should be your got to option. This safe can be used to store secure and valuable items from prying eyes. They are also ideal for storing everything in one location that only the user knows about.
On the downside, these safes are often not fire or waterproof resistant. Moreover, they can be easily removed since they are not drilled into the concrete.
Optionally, if you're looking for the best flat-designed safe that is less likely to get carried off, then a floor safe is an excellent selection.
Typically, this safe is surrounded by concrete, making it hard to remove from the ground, thus providing a safe space for your valuable items. It can also withstand the test of time compared to a wall safe.
Last but not least, if you're looking for a standard home safe that can be fixed on either floor or the wall, then a bolted-in safe is a great selection. These types of safes are sturdy enough to protect the contents stored inside them.
Conclusion
The world of safes is very diverse, and most of the features depend on how much you are willing to pay for them.
Top-notch security is not cheap. But if you are in a fix and really need a safe, you can always compromise on a couple of things and work with what you have.
The best home safes in the UK listed above are among the best affordable safes you can get on the market. While these safes do not guarantee 100% protection, the little they do goes a long way to keeping your most valuable possessions safe.
Well, if we're to pick an overall winner from our list above, then we would go for our editor's choice, the Yale Y-MS0000NFP Medium Digita safe. Not only does this safe boast of a 4-digit programmable keyboard. But also it has a lined interior. This digital safe comes in a discreet size that can be easily mounted.
Additional Resources
Nicole has a passion for everything about the home – especially decor. She loves to add new touches and style to every part of the house. Join her as she documents her ideas at Home & Style.