Last Updated on February 15, 2022
Our editors independently research the best products online to produce this list. We may receive commission on purchases made from the links below but this will never affect our product choices.
---
Top 10 Best Drill Bit Sets
The drill bit set has become a godsend for the mechanics, for DIY enthusiasts, homeowners, and renters alike. Drill bit sets let you make a hole just about anywhere you want and enable drilling deeper holes. With the right drill bit set, you will be able to drill in a wall and in hard and soft wood, varying types of metal and even glass. Considering all of the possibilities, it might be time to invest if you don't already own one. This article explores our top 10 picks for the best drill bit set in the UK market to help you find the best option for your drilling needs.
How We Compared Drill Bit Sets
To find the right drill bit sets we considered multiple factors including:
Pieces included
Drilling materials
Additional accessories
Convenience
Our team independently examined and compared hundreds of products to help satisfy different needs. We spent our time researching drill bit sets and consulting customer reviews to ultimately bring you what, in our opinion, are the best options on the market right now.
To find out more about our editorial process, take a look here.
Drill Bit Set Reviews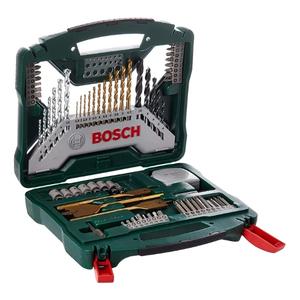 The Bosch X-Line Titanium Set is our top choice for the best multi-purpose drill bits set. It facilitates precise drilling for precise holes and comes with all the twist bits, masonry bits, wood bits, and flat bits you could need.
This Bosch drill bit set is one of the best titanium drill bit sets available thanks to its wide range of accessories that enable drilling holes in virtually any kind of material. It comes with 70 pieces in the set, including 6 masonry drill bits, 11 metal drill bits, 3 spade bits, 5 wood drill bits, and an extensive selection of different sized screwdriver bits.
Bosch drill bits and screwdriver bits are made with a tungsten carbide tip and a titanium aluminium nitride coating. When combined, this attention to build quality makes for a more efficient drilling experience overall. To help you stay organised and make this set more portable overall, a durable carry case with strong fastener clips also comes.
This combination drill bit set could have some lower durability screwdriver bits making it less than ideal for professional-level use. It also has significantly more screwdriver bits than drill bits which some people find less useful.
Pros:
Tungsten carbide tip 
70 drill bits and screwdriver bits 
Convenient storage and carry case 
Compatible with stationary and handheld drills 
Titanium nitride drill bit coatings 
Cons:
Weaker screwdriver bits are possible 
Not ideal for professional use 
A large number of screwdriver bits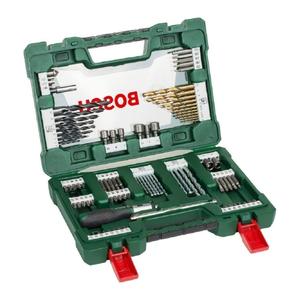 Whether you are looking for the best drill bit set for metal, the best drill bits for steel, or the best drill bits for wood, the Bosch V-Line Titanium Set has got you covered. It is capable of drilling shallow and deep holes in a wide range of materials and is easy to tote around as well.
Bosch built their V-Line set with 91 different versatile pieces. It has an array of titanium nitride drill and screwdriver bits, wood bits for hard and soft wood, masonry bits, titanium metal bits, as well as a ratchet screwdriver and a magnetic bit holder rod to help you pick up screws and drill bits in tiny spaces.
Bosch contains the V-Line drill bt set in a well-organised carry case with clear components for easy viewing. It has a layered storage design inside and an application pictogram so you can easily locate the screwdriver bit or drill bit you need with minimal searching.
This combination drill bit set may not be the best option for professional use, and it will allow you to drill holes in a variety of different materials. You should also know that the ratchet screwdriver and the carry case could be less durable.
Pros:
91 piece set with titanium components
Ratchet screwdriver and magnetic bit holder rod included
Good drill bit set for steel
Wood drill bits 
Masonry drill bits 
Cons:
The ratchet screwdriver could be less durable 
Not the best for professional use 
Carry case could be less durable 
If you want a well rounded basic collection of screwdriver and drill bits, the Bosch X-Line 34 Piece Classic Set come highly recommended. This option is our top value choice and is great for amateurs to intermediate users.
The screwdriver and drill bits in this X-Line case include all the basics like masonry, metal, and wood drill bits. It also comes with 3 standard nut setters so you can manipulate key headed screws and a countersink bit for added versatility.
A universal magnetic holder is also included in this drill bit set to help you change out the drill bits quickly and easily without having to fiddle with them too much. All of the pieces are contained within a clear, easy to understand layout in convenient storage and carry case.
While this may be a more basic set with relatively fewer pieces, it still comes with all of the basics needed to accomplish a variety of light to medium work drilling and DIY tasks. You should also be aware that the masonry and other drill bits could prove to be less durable if you attempt heavier duty drilling work.
Pros:
Metal, wood, and masonry drill bits 
Clear layout carry and storage case 
Excellent value option
Magnetic universal holder 
Countersink bit 
Cons:
Relatively fewer screwdriver and drill bits 
Less durable masonry drill bits are possible
Not ideal for heavy-duty drilling tasks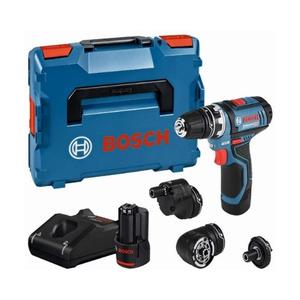 The Bosch L-BOXX 12V drill system lets you drill with ample power and control. One exciting thing about this one is that it has got a one-click attachment system, so it is easy to change the drill bits according to your requirements.
Another feature that we loved about this Bosch professional drill bit set is that it has a coating of stainless steel, which makes it super-shiny and keeps it going for a pretty good passage of time. It also has a strong outer covering and comes with a convenient carry case. The variety of drill bits can easily drill holes in materials like metal, wood, plastic, and even glass.
The Bosch L-BOXX works on two lithium-ion batteries. This means that it has got mobility, so you can easily carry it to the place you want to drill holes. No more messing with wires or getting tangled in them. Similarly, another feature you would adore is that it has a rotatable chuck, which means you don't have to fuss about those tight dilemmas anymore. The rotatable chuck lets you fit whatever you want.
Be aware that this is not a brushless drill, and the chuck may not always stay in place. The rechargeable batteries may not hold their charge as well after extended use either, but they can always be replaced.
Pros:
Works on battery
Rotatable chuck
One-click system
Strong outer covering 
Carry case 
Cons:
Chuck could be less stable 
Lower quality rechargeable batteries are possible
Not brushless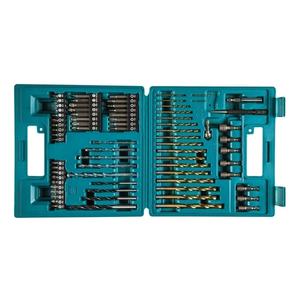 If you are searching for a large drill bit set with a variety of versatile drilling accessories, the Makita 75 Piece Set makes an excellent choice. It facilitates drilling in a variety of different materials, giving you plenty of options.
The Makita 75 Piece drill bit set contains metal, masonry, wood, and screw bits so you can drill in just about anything you want. Nutsetters and a countersink centre punch magnetic bit are also included in the set to round out your collection.
Makita includes heavy-duty storage and carry case with this set. The case features a large carry handle and durable clasps, so you don't have to worry about it popping open unexpectedly. Conveniently, this drill bit set is compatible with most handheld drills and stationary drills, so there is no need to buy a specific drill or screwdriver to use the bits.
This Makita drill bit set may not be ideal for lengthy, serious drilling work, but we still like it for simpler jobs. In addition, the metal and wood drill bits could become blunted or snap easier than expected, making this set less durable overall.
Pros:
Large 75 piece set 
Heavy-duty storage and carry case 
Countersink centre punch magnetic bit 
Good quality masonry bit 
Several nut setters included 
Cons:
Metal and wood bits could become blunted easier
Not ideal for lengthy jobs 
It could be less durable overall 
The Douup Swivel Head Driver Kit is highly recommended if you are wondering which is the best drill for home use? It provides the smooth drilling of domestic items like plastic, copper, aluminium pots or metal sheets, so you can consider it as a handy tool to complete all those unfinished projects.
The most innovative and unique trait of the Bosch Swivel Head is that it has a two-fluted design that drills faster than other options. If you apply a little more pressure, in addition to drilling wood, you will also find accessible drilling metal, high carbon steel, and low carbon steel.
It comes with 2 countersink bits, 8 flathead drill bits, and 8 Phillip's head drill bits. Impressively, the swivel head takes all the work out of switching between drill bits as well, making this option easier to use than most. The components are also made from corrosion-resistant high-speed steel making the drill bits highly durable.
We love this accessory kit but keep in mind that it does not come with an actual drill and is not ideal for heavy-duty work. In addition, while the drill bits are durable, the swivel head may not hold up for quite as long.
Pros:
Swivel head design
Ideal for domestic use
Corrosion-resistant high-speed steel
Two-fluted design for faster drilling
Drills through all kinds of hard materials
Cons:
It does not come with a drill
Swivel head may not be as durable as expected 
Not ideal for heavy-duty drilling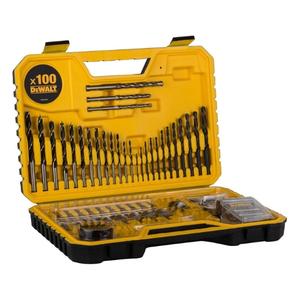 In our opinion, the best combination drill bit set on our list is the DeWalt Combination 100 Piece drill bit set. It comes from the trusted DeWalt brand name known for its quality tools and construction equipment and is able to drill accurate holes with ease.
These combination drill bit sets come with Dewalt's signature Black Oxide Drill Bits. They are constructed out of high-quality steel and feature a precision spiral groove with a 118-degree point angle cutting edge. Combined, these features are able to speed up the drilling process and make accurate holes in a variety of materials. With their help, you can make drilling more efficient and more precise, resulting in less waste material and less damage to the surfaces you are drilling.
The set includes 2 hole saws, a countersink, a magnetic holder, and bits for drilling through metal, plastic, and wood. To top it off, it comes with a heavy-duty carry case with clasps and a carry handle.
The clasps on the case could prove to be a bit flimsier than expected, and there have been some reports indicating warped components are possible upon arrival. Lastly, the magnetic holder could be slightly more magnetised, in our opinion.
Pros:
Trusted DeWalt brand name 
Top-quality steel construction 
Signature Black Oxide Drill Bits
2 hole saws included 
Precision spiral groove 
Cons:
Flimsier case clasps 
Less magnetised holder 
Warped pieces possible 
The Yiyai Cordless Drill Set comes with its drill driver, so you don't have to worry about which drill driver it will be compatible with. Another interesting thing is that it is battery operated, giving it mobility so you can easily carry it to the workplace without being restricted by a wall plug.
The drill bits consist of high-quality steel that can easily pass through wood up to 23mm and up to some 10mm in the steel. This indicates its professional side. The steel construction also protects the drill bits from corrosion and rust, increasing their overall durability. The drill bits are also treated with high heat to ensure they won't lose the shape or their efficiency and remain intact.
The Yiyai Cordless drill features an ergonomic, anti-slip grip to keep you steady and a convenient LED work light that can also be activated to bring light to a tight or dark space while you work. With this kit, you get 29 accessories, including a screwdriver and a carry case to keep them all organised and easily accessible.
This option may not be the best when it comes to drilling hard material for heavy-duty jobs as it is not the most powerful. We also think the battery life could be improved, so we recommend replacing it.
Pros:
It comes with a driver
Drill bits treated with high-heat
Stainless steel drill bits
Rechargeable battery
LED work light
Cons:
Not ideal for drilling hard materials 
Less powerful 
Shorter battery life possible 
Black & Decker is a trusted name for power tools and other home improvement equipment, so it is no surprise that their 50 Piece drill bit set made its way onto our top 10 list. It has just enough bits to help you conquer the most common drilling tasks without overwhelming the beginner hobbyist or casual user.
This drill bit set comes with masonry, metal, and wood bits to get you started with a range of drilling material possibilities. The kit also contains screwdriver bits, HSS bits, countersinks, a centre punch, a magnetic bit holder, sockets, and a socket adapter. All of the drill and screwdriver bits are finished with titanium to make them more durable and to help make drilling easier and faster.
To keep this 50 piece set organised, Black & Decker includes a padded, heavy-duty carry case. This particular drill bit set does not come with the actual tools, just the accessories, but they do have an upgraded bundle with a drill and screwdriver included if you want to complete your collection.
This option may not be the best for professional use, but it is a great drill bit set for hobbyists and domestic users. Also, be aware the masonry bits may not function quite as well as expected, and the clasps on the storage case may be less durable.
Pros:
50 piece set of most commonly used bits
Optional upgraded bundle with drill included 
Trusted Black & Decker brand name 
Magnetic bit holder included 
Titanium nitride finish for durability
Cons:
Less durable case clasps possible 
Not the best option for professional use 
Masonry bits may not work as well as expected 
The Draper Masonry 15 Piece drill bit set is great if your focus is on drilling masonry alone. The drill bits are made from tungsten carbide to maximise drilling efficiency, and the overall durability and effectiveness of the drill bits make your job significantly easier.
Draper masonry drill bits feature a tungsten carbide tip for added strength and efficient drilling through masonry. They also feature a unique and helpful fluted design on the tip to quickly remove waste material around the drilling hole. This helps you keep an eye on your work in real-time without any distractions.
This drill bit set comes inside a strong carry case to help you keep all of the drill bits organised and easy to find based on their specific size and purpose. The case also has a soft grip with rubber padding for protection and enhanced storage capacity.
This drill bit set does come with significantly fewer drill bits than many of the other options on our list and lacks screwdriver, metal, and wood bits entirely. However, if you are looking to tackle masonry jobs with ease, it still makes an excellent choice for most people.
Pros:
Top-quality masonry drill bits 
15 piece set
Strong carry case 
Tungsten carbide tip 
Special fluted drill bit tips 
Cons:
Fewer pieces in the set 
Lacks screwdriver bits 
Lacks metal and wood drill bits 
Choosing High-Quality Drill Bits: A Buyer's Guide
Picking the best drill bit set for you depends on a few factors, which we will discuss in this buyer's guide. Whether you want the best drill bit for metal, the best drill bit for wood, the best drill bit for steel, or the best cobalt drill bits, we have got you covered.
What to Look for In a Drill Bit Set
To find the best quality drill bit set in the UK, we recommend paying attention to the following traits when comparing your options.
Pieces Included and Drilling Materials
One of the main differences between drill bit sets is the number of drill bits and screwdriver bits included in the set. Aside from a good variety of bits, you may also want bits that are able to drill into a variety of materials. The most common types of drill bits include wood drill bits, masonry drill bits, and metal drill bits. Look for the specific drill bits you think you will use most.
Additional Accessories
Some drill bit sets also come with additional accessories such as a magnetic rod, hole saws, or even a drill. Of course, not all drill bit sets come as a drill set with an actual drill included. Actually, only a couple on our list do. So keep an eye out for this detail based on whether you need an actual drill or not. That way, you won't wind up with an extra or be unable to start projects when your drill bit set arrives.
Convenience
Convenience is key when you are trying to accomplish a drilling task. Aside from having an array of drill bits to choose from, most drill bit sets also come with a carry case to help keep you organised. This allows the bits to be organised by drilling material and size so you can easily locate the best tool for the job with minimal effort.
What Are the Strongest Drill Bits?
If you wonder what drill bits are good for steel or are looking for drill bit sets for metal, you most likely want the strongest drill bits possible. In fact, strong drill bits are good for any drilling job if you want them to be effective for as long as possible. Softer or poor quality drill bits will wear out faster, become blunted easier, and can even snap off while you are drilling, creating large holes that are less precise.
The strongest drill bits are made from materials like tungsten carbide and steel. Titanium nitride coatings can also help improve drill bits' overall strength and accuracy. Keep your eye out for these materials if you want the strongest possible drill bits and accessories.
The Right Drill Bit Set for You
Drill bit sets have become a necessity in almost every household, irrespective of your job or level of craftiness.
Our top pick for the best drill bit set in the UK is the Bosch X-Line Titanium Set. The components are compatible with a stationary or hand drill with a carry case and 70 drill and screwdriver bits that feature a tungsten carbide tip with a titanium nitride coating so you can drill through different materials with ease. However, weaker screwdriver bits, of which there are many, are possible, which may not be the best option for professional use. Is it the best drill bit set to compliment your power tool collection?
Let us know what you think in the comments below.
Additional Resources