Last Updated on February 15, 2022
Our editors independently research the best products online to produce this list. We may receive commission on purchases made from the links below but this will never affect our product choices.
---
Top 10 Best Band Saws
Bandsaws have been in production in the UK since the 19th century and have had a lot of uses in that time. Workshops and woodworking were transformed from the manual use of hacksaws to the much quicker, efficient and accurate use of bandsaws. They are most widely used for wood and metalwork now and are used by professional carpenters and hobbyists alike.
They can achieve uniform cutting from the evenly distributed tooth load and have the ability to cut irregular shapes, similar to a jigsaw.
Bandsaws differ by size, price, cutting depth, cutting width, table size and many other features, and it's hard to know which one to buy, especially if you are new to the topic. You can get benchtop bandsaws and ones with stands, ones with an LED work light, ones with a large table size or even portable ones. At the end of this review, you can find our buyer's guide, giving you more tips and information to help you make your mind up.
So let us introduce you to our top ten bandsaws, giving you the best of some of those features, so you can make an informed purchase when getting the best bandsaw UK!
How We Compared Band Saws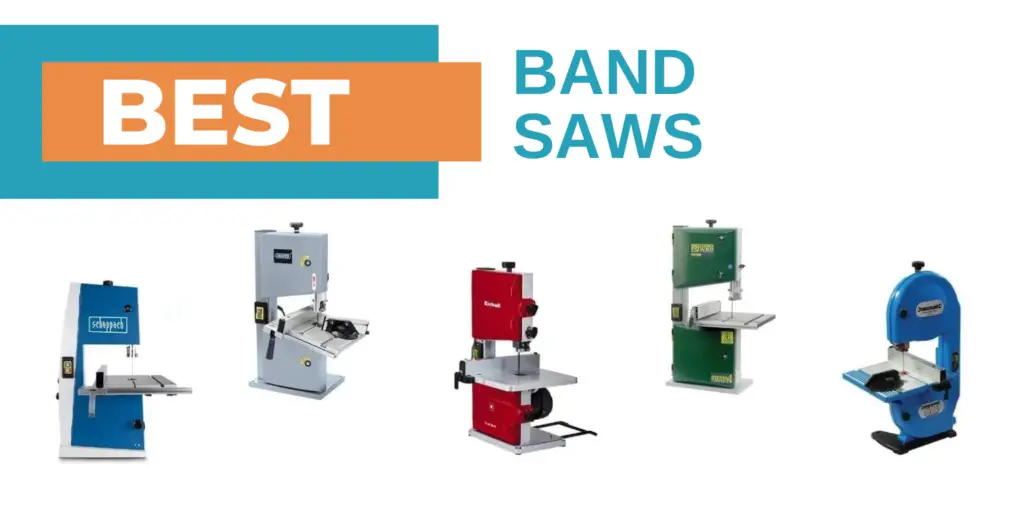 To find the right band saws we considered multiple factors including:
Type of bandsaw
Cost
Features
Reason for purchase
Our team independently examined and compared hundreds of products to help satisfy different needs. We spent our time researching band saws and consulting customer reviews to ultimately bring you what, in our opinion, are the best options on the market right now.
To find out more about our editorial process, take a look here.
Band Saw Reviews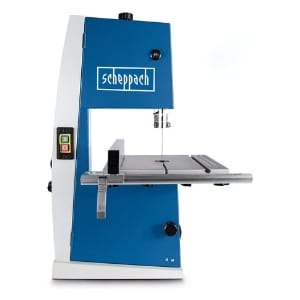 The Scheppach Basa 1 Hobby Bandsaw is ideal if you have a small workshop and cannot afford the space for a larger machine but still want the functionality you would get in a bigger band saw. It is marketed as being perfect for toy craft and model making, as well as smaller DIY and joinery projects.
This best bandsaw has all the features of the bigger models in the range, but as it is a benchtop bandsaw, you don't need to find the extra space.
It has a solid cast iron table that tilts to a 45° angle and precise one-hand setting control. It also has a rigid fence system with a magnifying glass for precision setting. It is quiet when cutting and has a vibration-free and smooth performance. The triple-blade guides give a consistent cutting performance on both curved and straight cuts. This band saw is a solid construction of steel and cast iron, and it has a 300W motor.
The throat depth of 195mm is a little smaller than others in this review and means that it may limit the thickness and width of materials it can cut, so bear that in mind as you review this product.
Pros:
Cast iron table tiltable to 45° angle
Cutting depth of 100mm and throat width of 195mm
One hand setting control
Top and bottom triple roller precision guides
Runs quietly
Easy to assemble
Cons:
Manual may be difficult to read and interpret
The newer version may have an aluminium table rather than cast iron
Record Power products have a long and proud history, being established over 100 years ago in Sheffield, the heart of the steel industry. This bandsaw is the smallest machine in the range and is suitable for bench mounting, making it the perfect band saw for those with limited space but who still want a larger machine's capacity and performance. However, it isn't a band saw just for hobby or craft makers because of its size; it shares the same build qualities as its larger counterparts with dynamically balanced band wheels, cast iron tilting (0-45°) table and an induction motor.
The Record Power BS250 has a good 120mm cutting depth, 240mm throat depth and can be floor or stand-mounted or fitted to the optional stand and wheel kit for greater manoeuvrability. It weighs 30kg, so it is in the middle of the scale in terms of the weight of all saws in this review and measures 86cm high, 55cm in depth and 48cm in width.
Pros:
120mm cutting depth and 240mm throat depth
Middle range machine with high-end performance
Tilting table 0-45 degrees
Useful PDF guide
Suitable for bench mounting
Cons:
Real cutting depth may be closer to three inches rather than four
Issues with damage to band saws in the past
The Einhell TC-SB 200/1 Band Saw is stylish looking and our best budget band saw. It is has a smooth tilting table that ranges from -4 degrees to 46 degrees. It features a parallel stop bar and jig for dust extraction devices. It is height adjustable for precise cuts and has a rip fence for a straight and accurate cutting. The cutting depth is 80mm when flat and 45mm when at full tilt.
The table is 305mm by 305mm, providing large working space, and the saw blade has six teeth as standard. It weighs 17.4kg and measures 68cm high, 42cm in depth and 28cm in width. It has a multi-positional adjustable saw blade stabiliser which helps to reduce blade vibration and to provide reliable performance and a finer cut at the same time. In addition, the saw blade guard is height-adjustable and can be adjusted to the correct thickness for the wood being cut.
It is suitable for sawing wood and plastics with its 250W motor and when used with its different blade options. Can perform all of the following cuts: straight or curved, mitre and across the grain.
Overall, it is a good budget bandsaw that contains all the features you should require.
Pros:
Large table with -4 to 45-degree tilt

Stylish design with a relatively low-price tag
80mm cutting depth when flat, 45mm when full tilt
250W suitable for cutting a range of materials
Blade stabiliser reduces vibrations
Cons:
Instructions may be vague
European plug fitting could be restrictive
The blade can become loose or wobble
The Silverline 441563 350w Benchtop Bandsaw is a great value if you are in the market for the best tabletop band saw. It comes with a five-speed belt drive which gives manoeuvrability and great torque. Another key feature of this benchtop bandsaw is that it comes with a powerful 350W induction motor! More powerful than several of our reviewed top products.
It has a 300 by 300mm table which also tilts, like many in this review, up to 45° for bevel cuts. It has a maximum cutting depth of 80mm and a cutting width of 190mm, so it is worth considering if this is sufficient for your needs.
The blade supplied is 6tpi, and it also comes with a converter plug for different plug sockets.
The Silverline 441563 bandsaw weighs 17.6kg and measures 80cm high by 30cm width and 40cm depth.
Pros:
Cutting depth of 80mm and throat width of 190mm
Tabletop design
Large table with 45-degree tilt
350W induction motor
Quiet
Cons:
Some reviews note that the table may not be level
The guide is technical and assumes knowledge
The supplied blade can break easily
This is another opportunity in our top ten list to buy British, as Draper is a family company that has been operating in the UK for more than 90 years and all of their products come with a Draper Tool guarantee. The Draper 13773 200m 250W 230V is a corded electric, two-wheel bandsaw.
The bandsaw is equipped with a 5mm thick 6tpi blade, a rip fence, push stick, mitre gauge and a dust extraction outlet so that your work area is kept clean and free of dust and cuttings. It has a cutting speed of 15m per second, a maximum cutting height of 80mm and a throat depth of 200mm.
The table is made from cast and ground aluminium. It has a tilt facility ranging from 0 to 45 degrees, perfect for many different projects, including angled cutting, rippling, mitre and bevel cutting.
Unlike some of the other band saws in this review, this product comes with a three-pin UK plug rather than the European version, so it is ready to use right away and without an adaptor!
It weighs a total of 15.5kg and measures 72cm high, 35cm width and 28cm in depth.
Reviews have said that this saw is not for heavy work and better for small projects and hobby work, so read the reviews and consider what kind of work you are hoping to do with the band saw.
Pros:
Tilting table from 0-45 degrees for multiple uses
Superior cast and ground aluminium table for quality
5mm thick 6tpi blade
Cutting depth of 80mm and throat width of 200mm
Cutting speed of 15m per second
Cons:
It may take some time to set-up 
Extraction pipe can come loose or off altogether
The guide can be difficult to follow
This is our recommended product from our floor standing models. This bandsaw from Lumberjack has the floor stand included and is a compact unit, ideal for a small workshop or area. But small does not necessarily mean a hobbyist machine, as this one has a first-rate cutting capacity of 150mm, which makes it significantly more equipped to deal with larger cuts than some other saws in this review.
This Lumberjack band saw has a 375W quiet induction motor with a belt drive to the bandsaw wheel.
Additionally, it also has an LED work light which is so useful for darker days or detailed work, and an integral dust collection drawer. It doesn't come with a dust extractor system but has three dust extraction outlet rings that support hose sizes of 50mm, 75mm, and 100mm for your own if you have one. If not, the dust will collect in the drawer and can be emptied from there.
The B254 Lumberjack bandsaw has three sealed bearings on the blade guard to keep your cut straight and true. Two are fitted side on to the blade to prevent it from twisting, and the third is at the rear to help keep the thrust of the blade running smoothly.
The table is ground iron cast and has a tilt function between 90 and 45 degrees and a positive lock on both positions. Usefully, you can also select any angle from the scale and then lock it there too. This product has a very handy safety feature of the two doors being fitted with safety locks so that power is cut to the motor when you are cleaning or changing blades and have the doors open.
A couple of points to note from reviews are that the LED light is mounted at the back and is not as useful as if it were at the front, but you can move it, and that the machine comes set up on the lower speed setting and has to be changed if you want to use the higher one.
It's a heavy piece of machinery at 43kg with a height of 1m, a width of 47cm and a depth of 35cm sp; it will require a designated spot in your workshop.
Pros:
Cutting depth of 150mm and throat width of 254mm
375W induction motor
Tilting cast iron table up to 45 degrees
Integral dust collection drawer
Large table size of 360mm by 320mm
Two different speed modes
Cons:
It does not come with a dust extraction system
Positioning of LED may not be optimum
This is a lightweight, compact, and our best small band saw from Fox. At only 7.89kg, it is light enough to be able to move it around your workspace, giving you total flexibility. It is also the cheapest band saw in our review, making it a great option for hobbyists or those new to woodcraft.
Although the Fox F28-182 is compact, it still comes with a cutting height of 80mm and a depth capacity of 200mm, which means it is able to compete with other saws in this review.
Additionally, it has a safety switch on the doors to ensure that the machine is off and safe when you are blade changing. The workbench is a standard size at 300mm by 300mm, so you have plenty of space for your projects, while it can also be angled from zero to 45 degrees.
This is the smallest band saw in our review at just 7.89kg and dimensions of; height 71cm, a width of 39cm and a depth of 44cm.
Pros:
Light and portable
Cutting depth of 80mm and throat width of 200mm
Table 300mm by 300mm
Workbench can be angled up to 45 degrees
Compact design
Cons:
The guide isn't very informative
You may want to replace the blade
This bandsaw from SwitZer has a lot to offer! It comes supplied with a mitre gauge, pushes stick, a dust extraction outlet, and a rip fence that locks at the front and the rear to give you robust support. The table size is standard at 300mm by 300mm and will tilt from 0-45 degrees, allowing you to do ripping, angled cutting, mitre and bevel cutting.
It has a bright LED work light to allow you to do detailed work in even the dimmest light. There are screw door safety locks on the doors, and the SwitZer 230 V 8″ band saw comes with a feature that is unique in our review so far, which is that it has a benchtop drill so you can add holes into your wood without removing it from the bench and using a separate tool.
The SwitZer bandsaw worktop bench measures 64cm in height, 25cm in width, 33.5cm in depth and weighs 17kg. You also get an 8-inch bandsaw, blade, spanner, instruction manual, and a push stick when you purchase this bandsaw.
This is a great, compact, affordable bandsaw with a lot of features for your money.
Pros:
Cutting capacity of depth 80mm and throat width of 200mm
Workbench can be angled up to 45 degrees
Dust extraction outlet
Very bright LED light
Easy to assemble and use
Cons:
The lever on the fence is made of plastic and may be fragile
It may not be great for cutting tight bends
The Makita 2107FK is our best portable band saw and is great for site work or for work that's not workshop based, such as cutting pipes in situ. It has a powerful 710W motor, 2.5m cord, variable speeds and can produce 105m of blade per second. The speeds can be changed easily via a pre-set dial, so you can select the appropriate one for the material you are cutting.
There is a fluorescent light for better visibility whilst working, which has a separate switch to the main one and easily adjustable blade tensioning. In addition, the adjustable stopper plate on this portable band saw is retractable, giving it great manoeuvrability.
This is not just a woodworking bandsaw; it is suitable for various materials, especially for cutting metal. It has a significant 120mm cutting depth and 120mm cutting width. The saw comes with a blade, wrench and a carrying case, so it is perfect if you want to move it around or take it with you on different jobs.
Be warned, it's not light for a portable bandsaw, weighing 9.8kg and measuring 53cm in width, 23cm in depth and height. But it is easy to set up and get using straight away, so if you don't want the extra weight, this makes a great bandsaw for jobs on the go.
Pros:
Cutting capacity of depth 120mm and width of 120mm
Variable speed setting for precision
Easily adjustable blade tensioning
Great for cutting metal
Powerful 710W motor
Cons:
At 9.8kg, this is not light to carry
The supplied blade might not be adequate
This is a robust and durable power tool, as it is made from high-quality solid steel. The engine is high-powered and efficient but quiet, so you can still hear what is happening around you when working on your projects.
A feature that sets this band saw apart is that it has a protection switch, so with one flick, the machine will power off, therefore making it a safe machine to use, especially if one of the kids wanders into the workshop.
The table is large in its standard set-up at 300mm by 360mm, which is large enough on its own, but it also has an extension, taking it to an impressive 300mm by 520mm! It will also tilt to 45 degrees allowing you to do angled cutting, ripping, bevel cutting and mitre cuts.
There is a dust collection outlet at the bottom of the benchtop unit, allowing you to attach your dust extraction system and ensure that you are working dust free.
Pros:
Cutting width of 200mm and height of 80mm
Tilting table which is larger at 300mm by 360mm or 520mm with extension
Easy to set up
Solid steel construction
Protection switch
Cons:
Instructions may not be clear
What to Look For in a Bandsaw
There are many opportunities for the use of a bandsaw; they are great for cutting circles and curves, notches and angled cuts compared to other tools, such as a jigsaw. This is because a band saw cuts downwards and pulls the dust down with the blade, whereas a jigsaw does the opposite and cuts upwards. Therefore it is easier to keep your work environment clean, and you can have greater control and flexibility in your work. They are therefore great for complex shapes in woodcraft and carpentry.
Selecting a saw with a bigger blade length range will give you greater scope for using different types of depths of materials. The height and width cutting range in the products in our review is considerable and shows the options available in the marketplace. They vary from a fairly standard 80mm height and 200mm width in many of the products reviewed to a depth of 150mm and throat width of 254mm in the Lumberjack bandsaw.
You also want to ensure that the bandsaw you select is suitable for you in terms of height, weight, manoeuvrability and noise levels. Also, the machine's power and performance levels for cutting the types of materials and thicknesses are key points to consider before buying.
We have listed out below a few of the key things you want to consider before finding the best bandsaw UK has to offer.
Type of Bandsaw
There are more types of band saw than you might first think. They can come as horizontal, attached to a floor padding, are very good for straight cuts and are most commonly used to reduce or trim long pieces of wood.
For more precise or curved cutting, the vertical band saw is more appropriate. In this machine, you have the blade positioned vertically for cutting wood, and you can move the material around the blade to achieve angled cuts or curves, but they are also as good as their horizontal counterparts for straight-line cuts.
Portable or handheld bandsaws are a great power tool for use on a worksite, whether it be for wood or metalwork. If you are a professional who travels from job to job, rather than being based in a workshop, then this is the tool for you. The portable bandsaw has an advantage over table saws in that it can be used on materials that cannot be relocated to a workshop because of their size, and final precision cuts can be made in situ, such as on pipework.
A benchtop bandsaw is attached to a tabletop or unit in a workshop. These are a great option if floor space and space, in general, is at a premium or if you often move the location of your work.
Cost
The cost of a bandsaw can vary significantly between one bandsaw and the next, which can be for many reasons. It is probably a good place to start by considering your use for it and your budget, and hopefully, our top ten will have given you a good range of options across the broad spectrum of the price you can pay.
So, are you someone who needs a tool for one-off activities and therefore, the cost needs to be low to warrant purchasing a specific tool for the job? Or have you recently gotten into woodwork and craft and are looking for a starter tool but are not sure whether this will be a long-term commitment, and therefore you do not want to spend a significant amount yet? Or at the other end of the scale, are you an established professional or hobbyist who has specific criteria for your purchase and you are ready to invest in the right product? There are bandsaws available that fit any of the requirements, and we hope that the ones we have reviewed are affordable and good value for money.
Materials of the product also impact cost, as does the brand name. Those made of solid steel or with cast iron tables will cost more than those made with cheaper materials. The brand name may also carry a certain cost but will also come with a reputation and often a guarantee of quality too.
Features
This is where it gets interesting, as there are so many features available in many of the products on the market. Key things to be looking out for to be included as standard would be:
Then there are other features that may be important to your search, such as the inclusion of a safety switch so that in the event of an emergency or accident, the machine is easy and quick to turn off. Safety devices on doors are also a key component to look out for, as you will be able to clean, switchblades and perform any other maintenance in confidence that the machine cannot start.
The height and width of the cut that the machine can deliver are also key to the type of work you wish to do and vary considerably between products. In addition to this, the blade the saw comes with can also make a huge difference and, if you get the right one with your purchase, stops you from having to purchase additional items. Most of the saws in this review come with a blade of 6 TPI as standard, which is acceptable for general use, but 8 TPI and above is better for fine and accurate work. Look for a blade of 3-4 TPI for ripping.
Another thing to keep an eye out for is the table size and range of tilt available. Most of the tables in this review are a standard 300 mm by 300 mm, but larger ones give you more space. The tilt range is typically 0-45°, but there are some with a greater range than that.
Reason for Purchase
As mentioned at the top of this article, it really is worth giving thought to your main reason for purchase, what frequency of use it will have, what kind of work, and what budget you can afford to allocate. Once you have those things clear in your mind, then you can narrow them down to the right product for you.
Key considerations:
Does it need to be portable?
Is it for metalwork as well as wood?
How much space do you have available?
Will it be for heavy use or just occasional?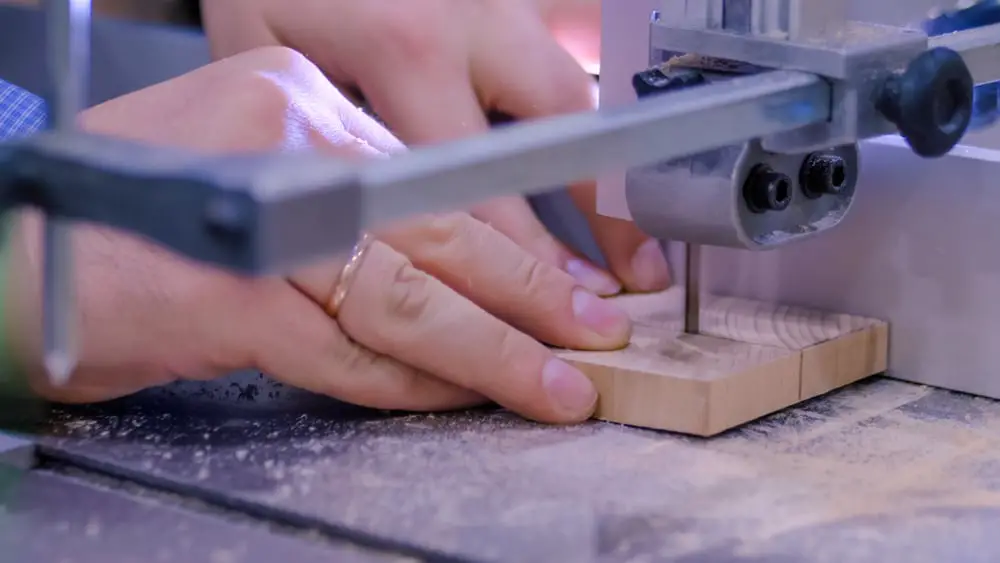 Conclusion
Deciding to purchase a band saw is not an insignificant cost outlay. The product you end up buying will affect the quality and outcome of your work and make the difference between having a pleasurable experience whilst performing your craft or an extremely frustrating one!
There are many things that can go wrong with a band saw if it is not meant for the job intended or is of low quality, but don't worry, as we are confident that once you have read this review and asked yourself a few important questions, then you will be in a position to find the product that is right for you!
Our aim is that having gone through all of the questions above and read through our best band saw reviews, and you'll have been able to select the perfect product for your wood or metalworking needs. However, if you're still undecided about the best bandsaw UK, then we recommend that you give our Editor's Choice a go – Scheppach Basa 1 Hobby Bandsaw. It is ideal if you have a small workshop and do not have the space for a larger machine but still require the functionality you would get in a bigger band saw.
It is marketed as being perfect for toy craft and model making, as well as smaller DIY and joinery projects. It also comes at a great price! It has a fast and efficient motor at 240 V, 300 W, and is quiet when cutting and has a smooth performance.
This band saw is a solid construction of steel and has a solid iron table that tilts to a 45° angle which you can control using the one hand setting, meaning you have the other free to continue to hold the material you are working with.
It also has a rigid fence system with a magnifying glass for precision setting. The triple-blade guides give a consistent cutting performance on both curved and straight cuts and are less common in lighter machines such as this one and so are a great opportunity to buy in this model!
We hope that we have helped you navigate through the types of band saws available on the market and that you find and buy one which fits perfectly into your workspace – enjoy your new best bandsaw the marketplace has to offer!
Additional Resources
Nicole has a passion for everything about the home – especially decor. She loves to add new touches and style to every part of the house. Join her as she documents her ideas at Home & Style.