Last Updated on February 17, 2022
Our editors independently research the best products online to produce this list. We may receive commission on purchases made from the links below but this will never affect our product choices.
---
Top 7 Best Scroll Saws
If you are looking for the best scroll saw UK companies have to offer, then you have come to the right place.
In the course of the next few minutes, we will not only take you through the best scroll saws on the market but also offer you useful tips and advice on how to find the best saw for your needs. We will make this entire process so much easier than you ever thought possible, and you may even learn more about what is available in the way of scroll saws.
Scroll saws come with a wide range of features, and buying one is about a lot more than simply checking out the saw blade. Instead, you have the power, variable speed option feature, a foot pedal switch; the list is endless.
Also, these saws do come in a variety of sizes and styles. Some have lights included, while others leave that out. Other versions have a dust blower included, while others perhaps leave a space for it and allow you to get your own.
As you can see, there's a lot to contemplate with these saws, but don't be put off. Instead, whether you are looking for an electric fret saw that can fit into a scroll saw or something that has several blades for different purposes, we have you covered.
So, let's go through the different reviews, and then we can move on to those handy tips and advice that could prove invaluable to you when it comes to making your final decision.
How We Compared Scroll Saws
To find the right scroll saws we considered multiple factors including:
What You Will be Cutting
Do You Need a Tilting Table
Speed Control
Blade Type
Speed
Our team independently examined and compared hundreds of products to help satisfy different needs. We spent our time researching scroll saws and consulting customer reviews to ultimately bring you what, in our opinion, are the best options on the market right now.
To find out more about our editorial process, take a look here.
Scroll Saw Reviews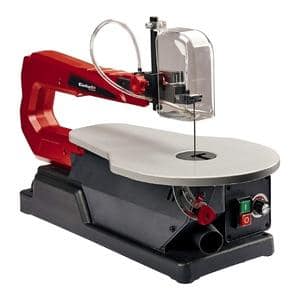 First, we have this model by Einhell, and we do see this as being one of the best scroll saws available on the market right now. It may not look the best saw on the market, but its functionality is where it's going to really succeed.
The first thing to mention is the strong, solid base that comes with this scroll saw. That means it's going to be very stable, which is key from a safety perspective. Also, a cast iron base is the best around because it doesn't vibrate as much. But that's not all.
We also love how you can adjust the metal table at up to 45 degrees, and that may make it easier for producing certain cuts where your surface is not as flat as you would have liked. At least with this, you don't have to worry so much about the saw itself being dangerous.
You are looking at 1600 rpm for speed, which is pretty powerful without it going overboard. When you need to replace the saw blades, you won't need an additional tool as this scroll saw comes with a quick-release clamp. It feels as if there's less messing around when adding in the blades, and that's a good thing.
But back to the safety aspect: this model not only comes with a connection specifically for a dust extractor, but it also has a hold-down clamp for the workpiece. That means it's going to hold things in place, leading to safer cuts.
With the cutting, then with the blade at 90 degrees, the maximum cutting depth is 52 mm, while it drops to 20 mm when the cutting blade is at 45 degrees. However, we feel that this offers enough variability, so we don't see the 20 mm depth as a real problem.
Overall, we love this scroll saw because it is easy to use, small in size, and still performs better than you would expect. It packs so much into its small size, and you will be amazed at the types of cuts you will be able to produce with this model.
Pros:
It is compact and yet very powerful
The saw blades are very easy to change
The ability to tilt the saw blade is a nice addition
It is very stable when in use
It is portable
Cons:
For larger projects, the table may be slightly on the small side
Make sure you use the dust extractor. Otherwise, it could make a bit of a mess.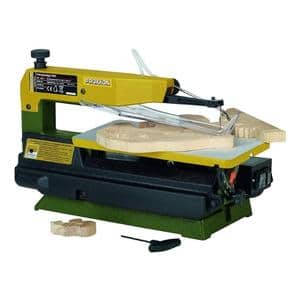 When it comes to scroll saws capable of packing a real punch, this two speed saw by Proxxon is certainly worth checking out. Powerful enough to cut both sheet metal along with wood, the only real concern you have with this model is knowing in advance as to whether or not you have the correct saw blades.
At 16 kg, this is a solid tool. It does also take pinless blades, and with it having two different speeds, it does give you a sense of having more control over things than you do with other models. However, there is a bit less in the way of variation with speed, so keep that in mind.
Even though this machine is powerful, it doesn't create too much in the way of vibrations. That is a real positive, and it's also not as loud as you may have anticipated either.
However, changing the saw blade does require you to use the tool that comes with the saw. While this can be annoying, it is still very easy to do once you get used to it.
Overall, what we love about this scroll saw is that it is strong, powerful, and can be used to cut through various materials, not just wood. If you want some flexibility regarding materials, then this is the right saw for you.
Pros:
It can be used to cut a variety of materials and does so with ease
It comes with two-speed settings on the scroll saw
It doesn't create too many vibrations
It takes pinless blades
It offers a stable platform for cutting
Cons:
It does require a special tool to change the saw blades
It may be a bit less portable as it is quite heavy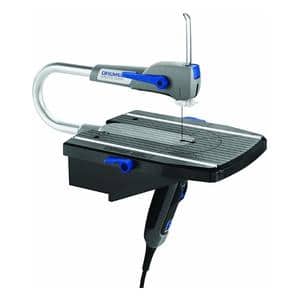 When it comes to scroll saws representing real value for money, you would be hard-pressed to find one better than this model by Dremel. Suitable for cutting different materials, this saw comes with a detachable fretsaw, which is quite cool.
With this model, changing the saw blades will be very easy. It comes with an auto tensioning mechanism, which means you change the blade, and everything will be good to go in an instant.
This model also provides you with a total of 5 different saw blades, so you can chop and change, allowing you to cut different materials to different depths. In this instance, the maximum cutting depth is 18 mm, which should be suitable for many projects.
It also has variable speed control, and it will range from 1500 to 2250 RPM. But no matter the speed, this saw does not create as many vibrations as you would perhaps expect.
Overall, from blade tensioning to easy blade changing, this offers more than most scroll saws, and the fact it doesn't cost the earth either is just a real bonus. The Dremel Moto saw ms20 is an excellent example of a scroll saw at the lower end of the market.
Pros:
The variable speed settings is a real bonus
Blade changes are very easy with this model
Blade tension is done for you, so no need to worry
The removable fret saw is a great addition
Being given five scroll saw blades is helpful
Cons:
The cutting depth is less than other options in our scroll saw reviews
The saw is on the small side, so it could not be ideal for larger projects
This VonHaus model is one of the best scroll saws around, and this opinion is for several very good reasons.
First, it has variable speeds, and this offers significant control over those cuts. It also comes with an impressive cutting depth at 50 mm, and the cutting width is 405 mm, so it can handle larger projects than other options in our scroll saw reviews.
One other nice feature is the LED light that comes with this model. It makes it easier to check what is going on with the scroll saw blades as you work on your project.
When it comes to blades, this version works with both pinned blades and pinless blades. The base of this model is crafted from cast aluminium, and it can be tilted through 45 degrees. This, accompanied by the variable speeds, allows you to work on additional projects where getting the perfect cutting angle is everything. Also, it makes bevel cuts so much easier as well.
This model does also come with its dust blowing system built into the scroll saw. And that's a big deal. Several saws don't come with that option, but this model will reduce the mess.
Overall, while it does work with a number of different blades, and blade changing is easy, it's how you can adjust this model that is key. We love how it works in both cutting angles along with variable speeds; that dust blowing system is also excellent.
Pros:
The variable speed is fantastic
The ease with which you can change the cutting angle is excellent
It has a deeper cutting depth than many other scroll saws
The dust system does make life easier
You can make a number of cuts with various saw blades
Cons:
This version can vibrate a lot
Setting the blade could be difficult at first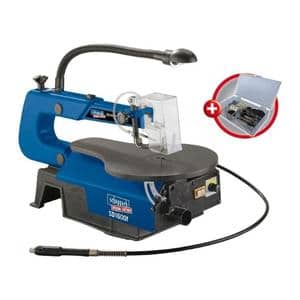 Even though this model is referred to as a hobby scroll saw, that is not something that you should hold against this model. Instead, this saw packs an impressive punch, and not just because it's made from steel and cast iron.
The saw blade length is set at 133 mm, and while that is pretty standard, it does mean this blade is suitable for a number of projects. This saw is aimed at both home and light industrial projects, and that does tend to mean it's easy to use when it comes to blade changing.
When it comes to using the tool, then it has a halogen light to help you see what is going on. This is especially important when it comes to line cutting, as this Scheppach model makes quick work of cutting.
It has a variable speed motor included, and that does mean controlling the saw is easy. Add in that it uses both pin and coping blades, and this model comes with a reasonable amount of versatility.
Overall, this model is easy to use, and it can outperform a number of other scroll saws that don't even proclaim to be a hobby saw.
Pros:
The variable speed helps
The light helps with seeing what is going on
It works with a number of different saw blades
It has a standard blade length, allowing you to use it in a number of projects
It has limited vibration
Cons:
It won't cut wood thicker than 25mm
It won't cut metal
This model has a solid and stable cast rounded table, making it easier to make those precise and intricate cuts. This saw also comes with a quick-release clamp for changing the saw blades. It also has a sturdy parallel-arm design, so you are looking at something that is stable and easy to operate.
It has the usual variable speed ranging, which means you can make more accurate cuts as everything is under control. You will also be able to use different speeds for various materials, and it has more than enough power to cope with a range of projects.
The SM1302 has its own adjustable safety guard, and then it has a dust blower that will help you with keeping the mess down to an absolute minimum. It does also come with a pinned blade, and as a powerful tool goes, it may not have as many handy features as other models, but it will do a fantastic job of basic projects.
Pros:
It has a variable speed option included
It can be used to cut a range of materials
It has a dust blower included
It offers real stability when cutting
It has a quick-release clamp included
Cons:
It doesn't have a quick change option with the saw blades
Vibrations could shake some bolts loose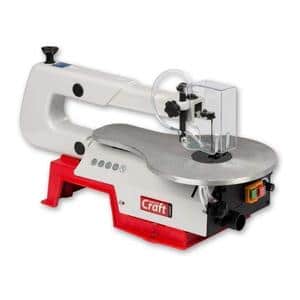 This 405 mm scroll saw offers you variable speeds ranging from 550 to 1600 RPM. That means you can have accurate cutting with a range of materials, and this saw is capable of dealing with most things you could throw at it.
Cutting depths of up to 50 mm are possible, and that is more than a number of the other DIY power tools on the market right now.
The table angle adjustment option is another great inclusion. You can also move the adjustable safety guard, so this scroll saw is completely safe even when you are cutting at a 45-degree angle.
This saw is also going to accept both pinned and plain end blades, and when you have the blade attached, it feels stable and capable of cutting through anything. Changing the blades is also easy. It has a quick-release lever, so changing that blade is done in minutes. However, you do need to then work on the tension to get the best out of the blade.
Overall, this scroll saw is a basic model, but it covers all of the key aspects you would want from a scroll saw. You will also find it easy to get plain blades for this model, so you can change them whenever it is required.
Pros:
The variable speed offers you ample control
It comes with blades for a variety of materials
It can cut up to 50mm
The safety guard is easy to adjust
It accepts both pinned and plain end blades
Cons:
It doesn't have a flexible work light
It doesn't have a blade tensioner, so you need to do it on your own
Choosing the Right Scroll Saw
When choosing an electric scroll saw, you have several key points to consider to get the perfect saw for your needs. Now, we do have a number of important steps to go through, but by the end, you will have a better idea of which scroll saw is ideal for your needs.
What Will You Be Cutting?
The first thing is to think about what you will be cutting. Is metal cutting important to you? Will you focus entirely on wood or soft materials?
Knowing what you will be cutting determines the blades and the need for buying a saw that features variable speed as one of the key components. Being capable of operating at slower cutting speeds can prove to be important in some situations.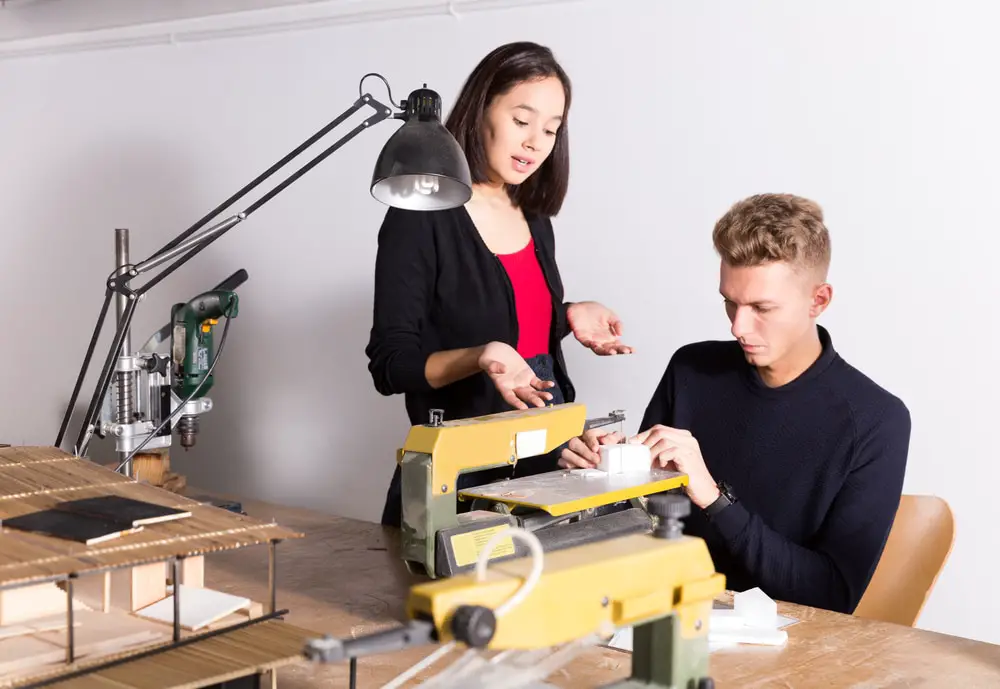 Do You Need a Tilting Table?
A tilting table offers you precise cutting along with bevel cuts from the same tool. However, not everyone requires that tilting option since it all depends on what you want from those precise cuts.
Not every table comes with this option either. But it's another example of how you must be aware of what you will be cutting in advance to determine the features you will need with your scroll saw.
Being Aware of Variable Speed Control
A number of the best scroll saws will also come with variable speed control, and you need to understand what that will do for you and how you use the saw. This electronic speed control makes it easier to cut those intricate designs and to hold the cutting line. It also changes the materials you can work on and still get those precise cuts you are aiming for.
The speed range can vary a great deal, and this option does come even on entry models.
How to Change Blades
We also recommend paying attention to changing blades. Some models are known to be easier than others whenever you want to change blades, and it's always best to go with a model where less work is required.
But there's more than just the blades on scrolls saws. You should also pay attention to the tension in the blade. Once again, some models will have auto tensioning, and that does mean you no longer have to worry about how to do all of this.
It depends on your own previous experiences of using scroll saws as to which option is best for you.
Choosing the Correct Blades
Staying with the idea of the blade for a second, you should also be aware of which blades you are going to need and also the blades your desired model can operate with.
Throughout our different scroll saw reviews, you will have noticed us mentioning a pinless blade, pinned, and even plain blades. It does get confusing as to which one is best for which option, and you should also understand when you need to do those blade changes as well.
In short, if you are going for the most intricate cuts, then a pinless blade will work best. With pinless blades, you need to thread them through the machine and tighten them. That will hold them in place, and it does mean there's less movement when in use.
That lack of movement means you can do those intricate cuts, especially when you are looking at using a model with slight vibration, thanks to the cast iron base.
But pinned is slightly different. This is often linked to scroll saws that are older in style, and the main difference is they use a pin to hold them into place. This can often be seen as the easier method to use, so if you don't like the idea of fiddling around, then pinned blades could be the way to go.
Finally, the plain end blade is held into place via a clamp that appears on the scroll saw. It is quite a generic blade, and it is still easy to operate. However, some people feel it is less precise than you would get with the other options.
Dealing with the Base
A quick word about the base of the scroll saw as that is also something that matters from a safety point of view as well.
You should be looking for cast-iron housing as that offers strength and real stability in the base. It adds some weight to the overall saw, and a cast iron housing also can reduce the vibrations.
The vibration will make it harder to control the saw, and that is where mistakes and errors can occur. We recommend only going with a cast iron base if you plan on using your saw regularly.
Dealing with Dust
The final point to consider when buying your new saw is how it deals with dust. Not every model is going to come with an air blower or a dust extractor, and some saws can create a lot of mess, and you need to then deal with it.
Also, some may come with the space for an air blower to be attached, but you must buy that separately. Do keep an eye out for this to avoid any surprises.
We would always recommend having this option included in your saw. It makes it easier to see the cutting line, leading to more accurate finished results.
What to Avoid with Your Saw
Finally, a few short points about what to avoid when buying your new saw.
Perhaps the main thing is not buying one that only comes at a set speed or with limited options. This lack of speed will only result in you narrowing down the cutting options, and unless you are very specific in what you will be doing, then this doesn't make sense.
Also, as we said earlier, not having a dust blower attached also doesn't make sense. You need those clean lines with the saw to see what you are doing, and you don't want to keep on stopping and starting just to have eyes on your lines. A dust blower will save you a lot of time in the long run.
The last thing is the size. Know the space you have available, and also where it will be located. A number of these saws are portable, at least to a certain extent, but you want to be able to set up your saw and leave it there. It means you can focus on balancing and making it as stable as possible, leading to a better end result.
Overall Conclusion
Finding the best scroll saw in the UK is easy to do, and any of the scroll saws we have included here in our reviews will be suitable for most people.
However, we do love the Einhell model as our editor's choice, and it's all to do with its ability to offer you everything you want from an entry-level scroll saw. It deals with blade speed, angled cuts, it has a quick-release function, and precision cutting will not be a problem with that model.
But so many saws in the UK are capable of packing a punch. The overall key is knowing what you want from your saw in advance, as that is the only way to find the right one. So, go through the points we discussed earlier and apply them to your situation and needs. By the end of doing that, you will then be in a better position for choosing a scroll saw, no matter if it's all about those intricate designs or detailed cuts.
What do you think about our options? Let us know and leave a comment below!
Additional Resources