Last Updated on February 16, 2022
Our editors independently research the best products online to produce this list. We may receive commission on purchases made from the links below but this will never affect our product choices.
---
Top 10 Best Log Splitters
The best log splitter UK customers can buy is often a valuable investment. If you work in a garden frequently, chopping through large amounts of wood, splitting logs can be exhausting. The right log splitter takes a lot of the work off your shoulders, so you can get more done each day.
When used correctly, your new investment can transform hours of yard work into a matter of minutes. Of course, to get the right results, you need to know what to look for.
There are plenty of different log splitter options out there, from products designed to speed up your strategy with electricity to manual log splitters. Today, we will be looking at some of the most effective log splitting products available for buyers and why they're so appealing.
How we Compared Log Splitters
To find the right log splitters we considered multiple factors, including:
Blade
Durability
Cutting capacity
Safety
Ease of use
Material
Our team independently examined and compared hundreds of products to help satisfy different needs. We spent our time researching log splitters and consulting customer reviews to ultimately bring you what, in our opinion, are the best options on the market right now.
To find out more about our editorial process, take a look here.
Log Splitter Reviews
A hydraulic log splitter in the UK is probably one of the best tools you can have for heavy-duty work. Stronger than manual log splitting tools, hydraulic systems can significantly reduce the time and energy you devote to splitting firewood. This Forest Master Lightweight 2200 log splitter will transform the way you split wood in a matter of seconds.
The 2200-watt induction motor delivers phenomenal performance, too, capable of splitting logs up to 300m long every 9 seconds. You can even use the built-in stroke limiter inducer to reduce the cycle times with shorter logs, so you can split wood in a fraction of the usual time. The CE-approved log splitting device also comes with a workbench and guard.
Pre-filled with oil and ready to use upon arrival, the Forest Master product shows what petrol log splitters can really do. With a 5-inch steel blade, you can make short work of any log splitting task without putting excess pressure on your back or shoulders. This is easily one of the best hydraulic log splitter UK products companies can offer today.
Pros:
Powerful hydraulic fluid performance
Splits logs up to 300m long every 9 seconds
CE approved for peace of mind
Workbench and guard included
Stroke limiter inducer speeds up results
Cons:
It may be a little complicated to use for beginners
Quite large and cumbersome if you don't have a lot of space
Powered by electricity to help you cut through logs at speed, the Forest Master FM10 is a convenient and powerful log splitter, perfect for splitting wood for your wood burner. If you're looking for a machine that splits logs for wood-burning stoves in seconds, this could be the product for you. It even comes with the hydraulic fluid pre-filled, unlike most log splitters.
This heavy-duty log splitter can cut through almost any log length in no time with a phenomenal ten tons of cutting power. You can adjust the performance and splitting force to save energy when necessary. There's also a powerful Duocut heavy duty blade to help split the log at both ends, allowing for faster results. You'll never want to return to manual splitting after trying an electric hydraulic splitter like this.
Equipped with a safety guard and workbench to get you started, the Forest Master FM10 combines sensational hydraulic log splitting power to cut as many as 100 logs per hour. The stand's length adjusts up to 84cm with a working height of 73cm, and there's a set of wheels attached to the device so that you can move your splitter around. You can even rest assured your device will continue to work in the rain, thanks to an IP54 weather safety rating.
Pros:
Tested for durable any-weather performance
Powerful Duocut blade to slice longer logs faster
Can cut through 100 logs per hour
CE approved and equipped with safety features
Included safety guard and workbench
Cons:
May be a little short for some taller people
Not ideal for knotty wood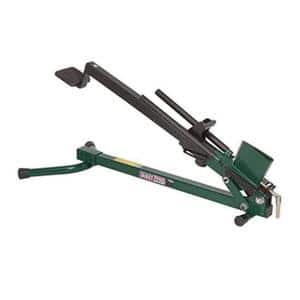 If you've struggled using manual log splitter products in the past but don't want to invest in an expensive hydraulic pump or electric system, this Sealey product could be the best choice. Ideal for smaller logs, the Sealey replaces a two-handed operation with a foot pedal, so you simply press down with your foot to easily split firewood.
With your own muscles as the primary power source, there's no need to worry about expensive energy bills. You can use the foot pedals to easily push the splitting wedge forward, delivering a force of up to 1.2 tons. The foot pedal even adjusts to suit the user, so you can ensure you feel comfortable when using your log splitting technology. If you're tired of worrying about electric vertical log splitters or hydraulic horizontal log splitters and the fuel you'll need to pay for, manual can be the best bet.
As a convenient manual log splitter, this device doesn't require any fuel, and it creates no fumes or noise to worry about either. Despite its simplicity, the Sealey definitely gets the job done when you want to chop logs fast. The device requires very little assembly and is constructed from heavy-duty steel for reliable long-term performance. There's also the option to fold your device away for easy storage.
Pros:
Compact design for easy portability and storage
Heavy-duty steel for durability
Easy to use compared to other log splitters
The foot pedal adjusts to suit the user
Excellent for small amounts of wood splitting
Cons:
It may not be suitable for heavy-duty needs
It may struggle with knotty wood
Convenient, reliable and easy to use, the Kabin Kindle quick log splitter will help you to split larger logs in no time for your wood-burning stove or fireplace back home. This patented log splitting tool competes with some of the other top log splitters in the market for efficiency and safety. It's not an electric log splitter, so there's no energy to worry about, and you don't have to worry about dangerous blades like you might with other multi-ton log splitter products.
A unique way to split logs in no time without relying on electric log splitters, the Kabin Kindle makes it quick and easy to cut through wider logs than you might manage with other tools. This manual splitter is made from reliable and durable cast steel, with an all-weather coating to resist rust. There's even a set of handles so you can carry your log splitter wherever you go.
The convenient manual log splitters from Kabin Kindle should take the work out of cutting through all kinds of wood in no time, with extra stability offered by the unique design. However, you may find this device isn't suitable for you if you need to deal with excessive log length or wider green logs.
Pros:
Excellent, durable design with high-quality materials
Suitable for cutting through thick logs
The base is designed for attaching to a stump or anchor
Handles for easy portability
No dangerous blades
Cons:
It may not be suitable for larger logs
It may require more effort than the best electric log splitter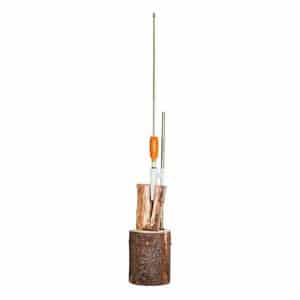 One of the top choices on our comparison table for manual log splitters, the AGMA Swedish log splitter, is an efficient, effective, and safe solution for splitting logs. Easy to set up and use, you can easily transform large logs into smaller kindling without having to pay the cost of larger electric hydraulic machines.
The AGMA Swedish log splitter is designed for ease of use and reliable functionality, and it easily competes with some of the other best log splitters for simplicity. The product guides you through how to make the most of its functionality with an included set of instructions designed to help you to avoid the backache and risks of cutting logs on your own.
Although manually powered, the AMA Swedish log splitter can provide the same results as some hydraulic oil splitters, achieving up to 10 tons of force with each split. The convenient ergonomic handle makes it easy to gripe your splitter as you work. However, you will need to be willing to exert a little more effort with this splitter than you would with a hydraulic system.
Pros:
Designed for safe and effective performance
One of the best electric log splitters for greenwood
Strong and stable with high-quality metal structure
One button design for ease of use
Easy to transport
Cons:
It may not be ideal if you prefer vertical log splitters
Can require regular maintenance to perform at its best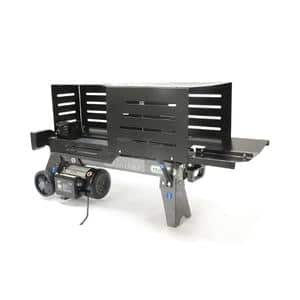 A unique approach to electric log splitter functionality, the Handy THLS-6G is a fantastic tool for all kinds of log splitting tasks. You can quickly and easily make firewood out of this device without an axe. Like other horizontal log splitters, this 6-ton electric log splitter works at the push of a button, just put your wood in the device and press the switch to get started.
If you're looking for a more convenient way to split logs quickly, the Handy electric log splitter is an excellent choice. Compared to other electric log splitters, this device can be a lot more versatile. It has no problem with green wood or seasoned wood, and you can evenly split logs up to 52 cm in length.
The Handy log splitter is a fantastic pick for quick log splitting and ease of use. There's a rugged metal construction for long-term durability and reliability. There's also a phenomenal two-handed safety control system, so if a hand slips, your machine will stop immediately. There's even a set of wheels for your log splitter, so you can transport it to the garage or shed whenever you need it.
Pros:
Designed for safe and effective performance
One of the best electric log splitters for greenwood
Strong and stable with high-quality metal structure
One button design for ease of use
Easy to transport
Cons:
It may not be ideal if you prefer vertical log splitters
Can require regular maintenance to perform at its best
The Forest Master Heavy Duty hydraulic log splitter is one of the best electric log splitters on the market, thanks to its intelligent Duocut blade. This convenient device comes with hydraulic oil already installed, so you can start cutting through logs in no time. Thanks to an intelligent dual-cut system, you also get more strength than you would with one blade.
The heavy-duty hydraulic log splitters from Forest Master earn some of the best log splitter reviews on the market, making them a crucial part of our comparison table. This easy-to-use device comes with hydraulic valve technology to help cut through 100 logs per hour, with 7 tons of splitting force. The unique blade design is engineered for quick log splitting. Unlike the average vertical splitter, your device will cut both sides of the wood at the same time.
Including a workbench and safety guard for extra protection, the Forest Master heavy-duty product is CE approved and comes with a 2-year warranty. There's even support from a dedicated UK call centre, and a RAM stops feature to help give you peace of mind. This product includes all of the log splitter features you need to get through complex log-splitting tasks in no time.
Pros:
Great hydraulic log splitter for faster results
Dual cutting blade slices logs at both ends
7 tons of splitting force with ram stop included
UK contact centre and dedicated support team available
Safety guard and workbench included
Cons:
Can be a little unstable at times
May use too much energy for people used to manual splitters
Sometimes, the best log splitters are the ones that can accomplish the most work in the shortest amount of time. If you're looking for a powerful ten 10 log splitter, the Forest Master electric log splitter could be ideal for you. Like most of the log splitters from Forest Master, this product can also split logs faster than competitors thanks to a dual "Duocut" twin-blade design, which works to split wood from both sides at the same time.
The 10-ton log splitter from Forest Master produces exceptional force for those who need a professional quality electric splitter. If you're looking for the best log splitters for quick and easy use, the Forest Master Duo10T is an excellent pick. The device uses a dual blade system, unlike other electric splitters, to slice through all kinds of wood quickly and conveniently.
There's an adjustable blade position, so you can start splitting your log straight away. You'll also have a twin lever rapid lift jack, so you can have more control over where you're exerting the power of your 10-ton electric log splitter. Even better, you'll be able to use this hydraulic log splitter from Forest Master as either a vertical or horizontal splitter, depending on your needs.
Pros:
Comes with a workbench and safety guard
Suitable for all kinds of wood, including greenwood
Available to use with vertical or horizontal log lengths
Dual cutting to help you slice through logs easier
Hydraulic oil already included
Cons:
It may be a little complex compared to other electric hydraulic splitters
The foot operation option may not be comfortable for everyone
What Is the Best Hand Log Splitter? Are Manual Splitters Good?
When it comes to choosing the best log splitter, UK customers have a range of options to choose from, including high-velocity electric log splitter products and manual devices. While a manual product won't split logs as quickly as the best electric log splitter, it can still take a lot of the work out of your firewood cutting.
If you're looking for something with more force than a standard axe, a manual log splitter can give you more control and power when you're cutting through wood.
What's the Best Electric Log Splitter?
If you decide to stick with an electric log splitter, you'll be able to cut through a lot of wood much faster. Electric hydraulic log splitters combine the force and strength of the user (you) with the power of electricity. The great thing about electric splitters is they're so easy to use. Unlike a manual log splitter, you won't have to exert nearly as much effort to use these tools.
Electric log splitters can be a little more expensive than their manual counterparts, but this is a small price to pay if you cut through a lot of wood on a regular basis.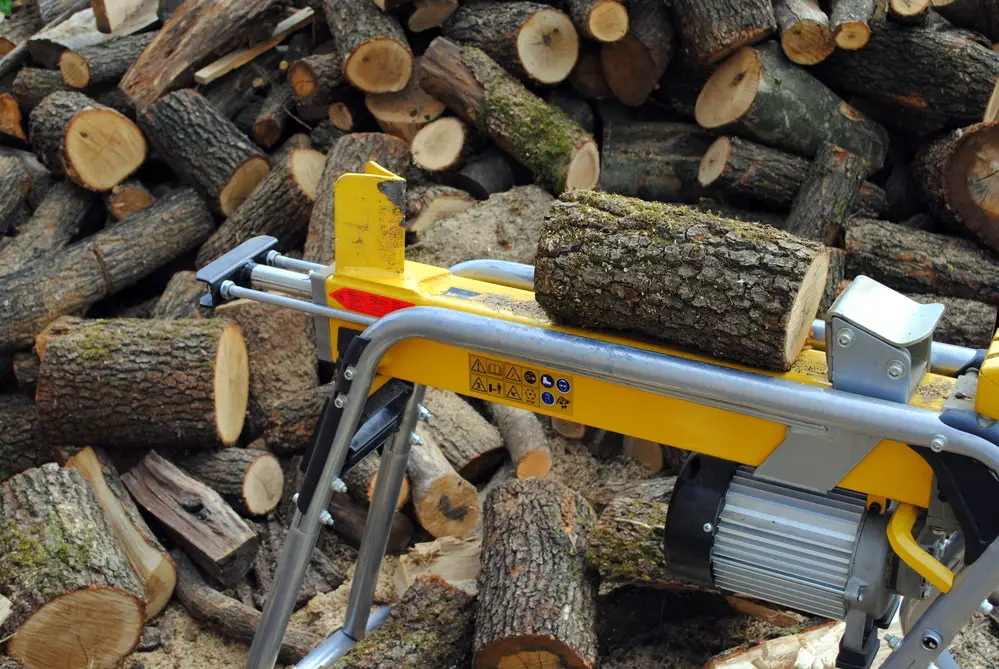 How Many Tons is a Good Log Splitter?
One of the toughest decisions you'll have to make when choosing a log splitter is how much force you need. You can usually find the tons of force offered by a log splitter on the product listing. The average electric hydraulic splitter will usually exert at least a few tons of pressure. For instance, 4 tons of pressure can easily cut through branches around 6 inches thick.
If your max log diameter is much longer, or you're cutting through extremely thick logs, you may need to upgrade. A 25-ton log splitter is more likely to be suitable for things like 24-inch tree trunks.
How Many Tons is a Good Log Splitter?
The tons of force required to get the job done with your log splitter will depend on a number of things. Usually, you can cut through significantly sized tree trunks with around 25 tons of driving force. However, there are also products on the market that go above 30 tons.
When choosing your ideal log splitter, think about the kind of wood you're going to be cutting through. It's also worth remembering that electric hydraulic log splitters will be able to exert much more force than a manual alternative.
Choosing the Best Log splitter
The best log splitter UK consumers can get will make light work of chopping firewood and other logs. Thanks to its ease of use and amazing performance, the Forest Master Lightweight 2200 is our top pick from these reviews. The induction motor ensures you can split up to 300m of logs every nine seconds, so you can get through your outdoor tasks more quickly.
A workbench and safety guard come included with your purchase, so you get everything you need to jump into action straight away too. Good luck finding the log splitter right for you!
Additional Resources
Nicole has a passion for everything about the home – especially decor. She loves to add new touches and style to every part of the house. Join her as she documents her ideas at Home & Style.