Last Updated on February 20, 2022
Our editors independently research the best products online to produce this list. We may receive commission on purchases made from the links below but this will never affect our product choices.
---
Top 10 Best Plasma Cutters
If you spend time doing metalwork, you'll understand how important it is to have the best plasma cutter to enable smooth, clean cuts on metal.
The plasma cutting system utilises compressed air or gases that ionise to create plasma as they contact the electrode. The torch holds the consumable electrodes housed inside the retention cup, where plasma is formed. This super-heated plasma with a high-velocity arc can directly cut through all types of conductive metals easily, making your metalwork a breeze.
The popularity of the plasma cutter has made it one of today's most useful industrial cutting tools. If you are looking to buy a plasma cutter and slice through different types of metal easily, read on to see our favourite models below.
How we Compared Plasma Cutters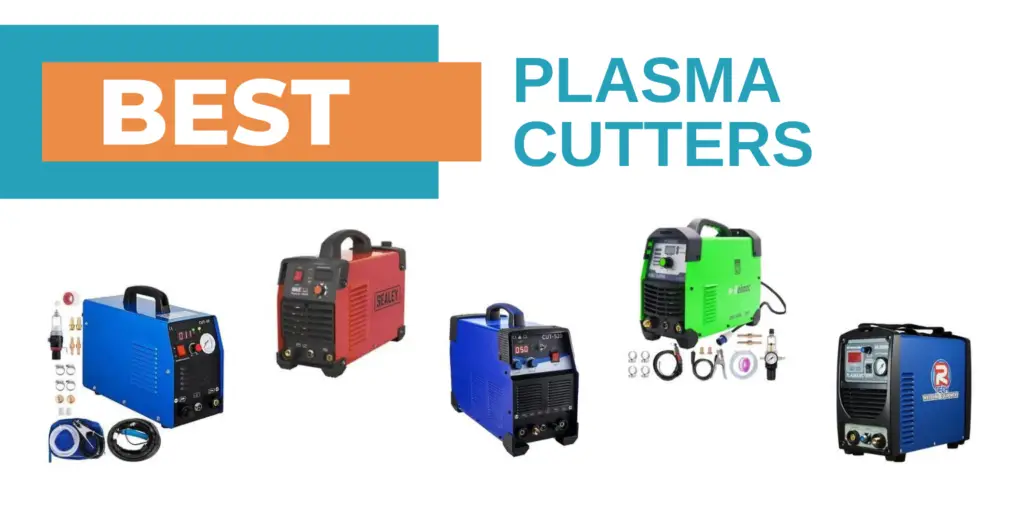 To find the right plasma cutters we considered multiple factors, including:
Cutting power
Cutting thickness
Air supply
Duty cycle
High frequency or contact start
Cooling fan
Our team independently examined and compared hundreds of products to help satisfy different needs. We spent our time researching plasma cutters and consulting customer reviews to ultimately bring you what, in our opinion, are the best options on the market right now.
To find out more about our editorial process, take a look here.
Plasma Cutter Reviews
Our editor's choice is the highly popular Reboot Cut50, possibly the best plasma cutter in the UK available at a highly affordable price point. Suitable for cutting stainless steel, carbon steel, copper, iron and aluminium, this plasma cutter can be used on a wide range of jobs and makes a great addition to any home workshop. 
The RBC5000L has a 20-50A output, giving you a generous maximum cutting thickness of 15mm. You should use it with an air compressor rated over 60psi to ensure that you get the very best performance out of this powerful plasma cutter. A cooling fan located at the rear for strong heat dissipation helps it to manage large workloads with a duty cycle of 60% at 50A.
This plasma cutter features a pilot ignition and a four-metre-long PT31 cutting torch with various accessories, giving you pretty much everything you will need to get started. The torch is of good quality for a high cutting speed, smooth surface cuts and durability. A set of wear parts is also included, and you can easily purchase extra sets as needed. 
Unfortunately, the included instructions aren't much help for beginners, although you'll find plenty of online advice. Other areas with room for improvement include the power cord, which is a little on the short side, and the build quality of the air valve regulator, which could be better. 
Pros:
Power output: 20-50A
Maximum cutting thickness: 15mm
Pilot ignition
Rear-mounted cooling fan
Includes 4-metre PT31 cutting torch & accessories
Cons:
The power cable could be longer
Air valve regulator could be more robust
If you use a gas or grinder cutting system to cut metal, then you'll surely enjoy using this plasma cutter by R-tech.
The P30C cuts through any metal, even with painted surfaces, just like a hot knife cuts butter smoothly. It offers a clean 8mm cut on mild steel, 2mm on aluminium and stainless steel, 3mm on steel, and a 12mm severance cut. The plasma cutter is portable, lightweight, and is powered by a 13 amp supply. Moreover, any residual dross is removed easily, as the unit features high-frequency starting for easy arc striking. It can even cut through chequer plates and irregular shapes.
This model comes as a complete kit; all you require is a clean compressed air supply and a 240V supply. The R-tech plasma cutter is built with top of the range Siemens IBGT and features an easy to use front panel pressure gauge and amperage LED.
With an impressive 35% duty cycle at 30 amps, the machine cuts straight away with no-fuss finishing. It also comes with a 4.5 m torch, consumables, and earth lead so that you can get started right away. For additional safety, it has built-in thermostat protection and a cooling fan.
To sum up, the R-tech P30C is a powerful, easy-to-use, durable, and feature-packed plasma cutter that is ideal for maintenance shops or fabrication, but it does have some potential drawbacks. The most notable is that it's not suitable if you're looking to pierce 6-8mm without cutting from one edge to the other. Sometimes it may also lose the arc on 16 gauge aluminium, resulting in a less clean-cut. However, this is a rare occurrence, and overall, this model is worthy of our luxury choice award.
Pros:
Great power output
Easy to use, highly-effective design
It comes with everything you need to start cutting
Lightweight and portable
Added safety features
Cons:
Occasionally loses arc on certain cuts
Not suitable for piercing at smaller specs
The FlowerW Cut50 is excellent value for money, so if you've ever wanted to try your hand at plasma cutting without committing yourself to spend several thousand pounds, this is a great basic model to go for at a low price point.
Featuring a high-frequency start, ideal for use with rusted or painted metals, use this plasma cutter to cut through copper, stainless steel, mild steel, alloy steel, and aluminium on all of your DIY and general repair works around the home or job site. With a sturdy handle weighing just nine kilograms, it's easy to transport to wherever you need a plasma cutter.
With its high 50A power output and 10mm maximum cutting thickness, this value plasma cutter will see you through most jobs with a high cutting speed. It comes complete with an air filter and internal pressure gauge, plus a plasma cutting torch and accessory kit. Overheating protection, side ventilation, and a rear-mounted cooling fan allow you to tackle longer cutting projects with high-performance cooling and a duty cycle of 60% at 50A or 100% at 30A.
Note that if you are likely to be using this plasma cutter at its maximum, you will need a 32A socket. Otherwise, bear in mind that it may come with a European-style plug that you may wish to change, plus the power lead can be a little on the short side at 1.4 metres, depending upon your project.
Pros:
50A Power output
Maximum cutting thickness: 10mm
Air filter and internal pressure gauge
Easy-to-use front panel
Includes plasma cutting torch & accessory kit
Cons:
It may need a 32A socket
It might not come with a UK 3-pin plug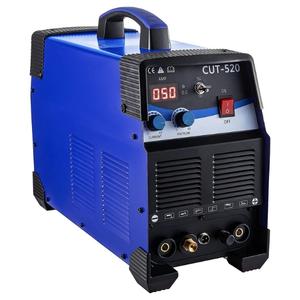 The Vevor Cut-520 is a versatile 3-in-1 pilot arc plasma cutter with TIG and MMA welding capabilities, an ideal multipurpose metal processing tool for all your DIY work and general repair jobs. As it features a dual voltage design with automatic voltage compensation and IP21S protection, you can use it both at home and on the work site for professional use.
With a 50A output in cutter mode or 200A in either welding mode, this plasma cutter has an excellent 19mm severance cut thickness and a standard cutting thickness of 12.7mm with a high cutting speed. Simply switch between cutting and welding modes with the onboard switch and view your current via the front panel LCD monitor. 
Thanks to its non-touch pilot arc, this argon gas plasma cutter is ideal for cutting through rusty or painted metals with minimal slag. Use it as a welder on normal thin steel or iron for a secure and sturdy weld. With a duty cycle of 60% and 85% efficiency, this is a good plasma cutting machine for all of your household metal stainless steel cutting and welding needs. Plus, being relatively lightweight and easy to transport, it's a great all-around choice.
If you're tempted by this versatile 3-in-1 plasma cutter and welder and are new to using this type of machine, you may want to do a little research before using it as the included instructions may not be helpful enough. Your unit may come supplied with an EU plug that you could change, plus you may also find that the earth lead could be a little on the short side. 
Pros:
3-in-1: Plasma cutter, TIG & MMA welding machine
Power output: 50A (200A for welding)
Severance cut thickness: 19mm
Non-touch pilot arc torch
Dual voltage for home and professional use
Cons:
It may be supplied with an EU plug
The instruction manual could be better written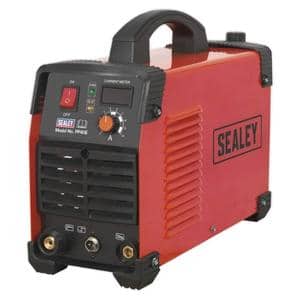 The Sealey PP40E is a popular inverter power supply plasma cutter that is ideal for cutting steel, copper, brass and aluminium. IP21S rated for protection against water ingress and safer usage, this handy little plasma cutting machine makes an excellent addition to any home workshop.
With a cutting power output between 8-40A, this inverter power supply plasma cutter can get through metals up to 11mm thick. It requires a 250 litre-per-minute compressed air supply and comes with a good two-metre-long gas hose and regulator. The included two-metre ground cable is longer than most other budget plasma cutters, while the 4.6-metre plasma torch is of good quality.
The Sealey PP40E features a digital Amp display, plus two front panel LEDs to indicate mains power and overload. It features a wide working voltage range and a high-performance cooling fan, with a high duty cycle of 60% at 40A and 100% at 30A. This makes it a good choice for use over extended periods for smooth cutting through thin sheets of metal, stainless steel, carbon steel and electrically conductive materials. Compact, robust and portable, this precision cutting plasma cutter machine is a well designed, sturdy model manufactured for years of trouble-free performance and smooth cutting.
While the PP40E is undoubtedly a great buy, it comes with fewer accessories and replacement consumables than most of the other plasma cutting machines in our handheld plasma cutter reviews. Replacing these may also end up costing you a little more than with generic versions. Bear in mind that you may need a 32A power supply for use on full power.
Pros:
Power output: 8-40A
Maximum cutting thickness: 11mm
Front panel digital amp display
Includes a 4.6m plasma torch
IP21S rated
Cons:
You may need to order additional accessories
May need a 32A power supply for full power
Designed for cutting steel and other conductive metals quickly and easily, the Professional 50 Amp Portable Plasma Cutter by Dirty Pro Tools comes with a full accessory kit, including a PT31 plasma torch with a three-metre cable, air hose and ground clamp. 
This high-powered plasma cutter has a 10-50A output for a maximum cutting thickness of 12mm and comes with a large cooling fan for extra durability. Use it to smoothly cut through mild steel, stainless steel, carbon steel, copper, cast iron, aluminium and other conductive metals to give your project a professional finish.
CE marked and ROHS compliant, this plasma cutter has over-current and over-voltage protection. It provides a stable cutting current to ensure a steady plasma arc for the very best cutting quality. A 60% duty cycle can take on all small and medium cutting tasks with ease. Compact and easily transportable, this is a top model to consider if you are looking for a cheap plasma cutter.
Depending on your experience levels, you may find this model to be a little difficult to set up given the very vague accompanying instructions. Also, you may need to change the plug if using a domestic electricity power grid. This model's customer service responsiveness could be improved. 
Pros:
10-50A cutting power
Maximum cutting thickness: 12mm
Large cooling fan
Stable cutting current with a steady arc
A large range of accessories included
Cons:
May need to change the plug
Customer service could be better
Xiaoniubenben's Cut50 Plasma Cutter is an excellent model at a great price. It is compact, easy to use, and inexpensive; it also comes with a full accessory kit and a good supply of consumables – ideal if you're new to plasma cutting.
This unit has a front panel LCD to display the current, with a range of 20-50A output. Unlike most of the other plasma cutters in our reviews, this model has a high severance cutting thickness of 20mm, with an optimal cutting thickness of 10mm for a smooth finish and higher cutting quality. Use it to cut metal, including mild steel, alloy steel, stainless steel, carbon steel, cast iron and copper, for all of your home projects and hobbies. 
This Cut50 plasma cutter is easily transported, weighing just nine kilograms with a sturdy carry handle. It can adapt to 220V automatically for use in a professional environment thanks to its automatic voltage compensation and over-voltage protection. With efficiency rated at 80% and a duty cycle of 85%, this is one of the best plasma cutters, whatever your metal cutting demands.
Both the power switch and the air regulator gauge are located to the rear of the unit, so you may experience visibility or accessibility issues depending on your setup and the task. While you can run this model off a 13A standard plug, you may need to upgrade to a 16 Amp circuit to use it on full power consumption. 
Pros:
Output power: 20-50A
Cutting severance: 20mm
LCD digital display
Lightweight with a sturdy carry handle
Includes a 4m plasma torch, ground clamp & air hose
Cons:
The power switch may be less accessible at the rear
Air gauge could be more prominent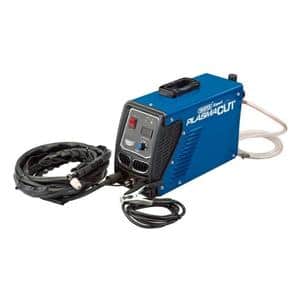 The Drapper plasma cutter is ideal for the precision cutting of metals. Compared to acetylene torches, it cuts much more accurately and efficiently without any damage to the workpiece. It's also a safe option as it produces no gas while in use.
Overall, the Drapper plasma cutter is a perfect cutting tool for detail rippers or fabrication in any electrically conductive material. This professional cutter is a great addition to any commercial or DIY workshop when used with a separate air compressor. It's easy to set up and use and produces a fast, smooth and clean cut through stainless steel and aluminium. It easily works on thin 24 gauge sheets to those 10mm thick, but this model can also make severance cuts through mild steel up to 12mm.
This Draper plasma comprehensive kit includes a plasma torch, regulator, earth lead, chipping hammer, and air hose. Moreover, the latest inverter technology allows the machine to output a stable current to produce more cutting power and reduce the overall weight to improve portability. Compared to manual struggles of cutting with a grinder, the Draper plasma cutter makes detailed metal cutting much faster, more accurate, and more convenient.
Bear in mind that this model doesn't have a pilot arc, so you will need to use a strike ignition function to get started. Furthermore, while this model is worth a position on our list, it may not be as reliable as other models.
Pros:
Combines both electrical power and an air compressor
Easy to set up
Capable of cutting through metals up to 12mm
Portable design
Cons:
No pilot arc
May not have the longevity of other models
How Do Plasma Cutters Work?
Plasma cutters excel at metal cutting, whether it's through thick stainless steel or galvanised steel. Have you ever wondered how does a plasma cutter work? Here's the low down.
Whereas laser cutting uses an intense beam of light, plasma cutting involves transforming a pressurised gas into a stream of plasma. Plasma is the fourth state of matter, after solids, liquids and gases. Basically, it is very similar to a super-heated gas, with charged atomic particles rather than neutral ones. This makes it an electrical conductor – your plasma cutter is capable of cutting all electrically conductive materials.
So how does your machine create a plasma arc capable of cutting through stainless steel? The process starts by sending pressurised air through a narrow channel over a negatively charged electrode. When a circuit is created with power supplied to this electrode and contact with the metal, a spark is generated, which heats the gas to reach the state of plasma.
As the gas becomes plasma, it dramatically expands in pressure and volume. Constricted by the narrow torch tip, it accelerates towards your workpiece at high speeds, simultaneously melting and forcing through a very localised area, cutting through galvanised steel or any metal that conducts electricity regardless of its thermal conductivity.
Choosing the Best Plasma Cutter
With so many models available, if you're in the market for a new plasma cutting machine, you may struggle to find the best plasma cutter for your needs. To make your decision easier, we've compiled a handy checklist of all of the essential plasma cutter features that you should keep an eye out for when making your purchase.
Cutting Power
Portable plasma cutters tend to have an output of 40-50 Amps maximum. This means they have less power consumption compared to larger, more expensive models and are more suitable for DIY use and general home repairs.
Cutting Thickness
Whether you're mostly going to be cutting carbon steel, mild steel or stainless steel, consider how thick a cut you are going to need to make on average, as well as your desired cut quality. Plasma cutter manufacturers will usually give two figures, an optimal cutting thickness and a severance or maximum cutting thickness.
If you are looking for a smooth cutting surface, ensure that your plasma cutter can easily cut thicker metal than your average piece. When cutting at severance, you will often be pushing your plasma cutter to its maximum, and speeds will slow, giving you a rough finish. For a smooth cutting surface, your cut metal will need to be within your plasma cutter machine's upper limit.
Air Supply
Portable plasma cutters will require a separate air compressor. Your machine should come with an external air pressure hose, an air regulator, filter and compressed air pressure protection. Before you purchase, make sure that your external air pressure source is able to operate at the recommended air pressure for your plasma cutting machine. For most plasma cutters, a small air compressor should suffice, but if you don't already own one or need to upgrade your current air compressor, don't forget to factor the extra cost into your budget.
Operating your plasma cutter with a lower than recommended air pressure will reduce performance levels or even interrupt cutting. While most cheap plasma cutters use shop air, more expensive, professional plasma cutting machines may use different gases, such as argon, popular for cutting thick stainless steel.
However, dry compressed air remains the most popular and most economical choice for cutting carbon steel, mild steel, aluminium and stainless steel. Lower amperage cutting will require a lower air pressure, whereas cutting thick conductive metals will require higher air pressure.
Duty Cycle
The duty cycle is another piece of important information to bear in mind when choosing your plasma cutter. Your cutter's duty cycle measures how long it can run during a 10-minute cycle. For example, an 80% duty cycle would mean that your plasma cutter is designed to run for eight out of 10 minutes.
Some plasma cutter manufacturers will just give you one figure, whereas others will give you two or more at different outputs. Bear in mind that your machine's duty cycle figures are guidelines. In reality, it will depend upon various factors, including temperature, your power output and the thickness of the material that you are cutting.
High Frequency or Contact Start
Your plasma cutter will either use high frequency or contact start in order to initiate the pilot arc. When choosing your plasma cutter, you should be aware that high-frequency start models can cause interference with electronics. If you were using your plasma cutter near any electronic devices such as computers, CNC plasma cutters, or other sensitive electronically controlled devices, you would be best advised to opt for a contact start model.
Cooling Fan
For a longer plasma cutter lifespan and an improved duty cycle, you'll want to make sure that your plasma cutting machine has a large cooling fan with adequate ventilation.
How to Use a Plasma Cutter
It can be a little intimidating using a plasma cutter for the very first time. Even if you've had some experience in the past, it is always useful to brush up on some general usage and safety tips. Here's how to safely use a plasma cutter.
Getting Ready
Before you get started, make sure that you have read through the accompanying product documentation and owner's manual. This is essential for safe usage. Once you are familiar with the listed safety procedures, you will also need to check the area where you will be using your plasma cutter and make sure that you have sufficient protective gear.
Wear protective clothing – insulated gloves, non-slip footwear and a welding shield to protect your skin and eyes.
Inspect your plasma cutter for any signs of wear or damage, especially to the torch tip and electrode. Replace any worn consumables as necessary.
Double-check that your work area is safe. Remove all flammable materials, including waste rags. Do not use your plasma cutter in wet or damp locations or in an area with condensation.
Inspect and prepare your workpiece:
Do not cut containers or pipes that were used for flammable materials.
Do not cut materials that have been cleaned with chlorinated cleaning agents – vapours from the arc could produce toxic gases.
Remove any rust or paint from where you will install the ground clip.
Setting up Your Plasma Cutter
Once you've confirmed that everything is safe and you're ready to get started, it's time to set up your machine for cutting. Ensure that your unit is disconnected from the power supply before changing or adding any accessories.
Make sure that your plasma cutter is switched off and plug it in.
Attach your air supply line, then turn your air compressor on.
Attach the ground clamp near to where you will be cutting.
Turn on your machine.
Set your amperage depending on how thick your workpiece is.
Cutting With Your Plasma Cutter
With your machine connected and switched on, it's time to get started plasma cutting. Here's how:
Press and release the torch button to commence the airflow. This will remove any condensation from the torch.
Bring the torch nozzle to the edge of your work, holding it straight just above your cutting line. If you are starting cutting at the centre, start with your torch at an angle, slowly straightening up as you start cutting.
With your torch nozzle correctly positioned, press and hold down the torch button. Provided your nozzle is at the correct distance, the arc will commence, and cutting will start.
Move your torch slowly and smoothly, adapting your speed to the material's thickness and your amperage.
Release the torch button to stop cutting. Air will continue to flow, cooling the nozzle.
Do not touch your workpiece close to where you have cut as it will be very hot.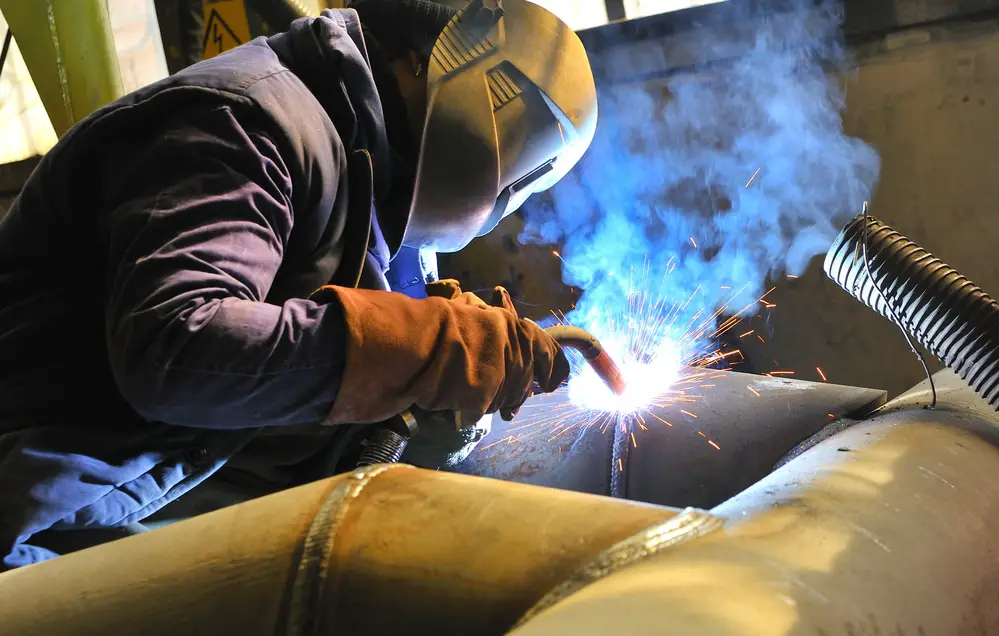 Troubleshooting
If your arc stops before you release the torch button, it could be for one of the following reasons:
Your nozzle is too far away from your workpiece – release the button, move your nozzle closer, pressing the button down again.
You have moved too far away from the edge of your work. After completing your cut, you may have moved your nozzle away from your workpiece. This will break the circuit, and the arc will therefore cease.
You may also experience your arc ending prematurely as cutting waste falls. After cutting through a chunk of metal, if your workpiece then weakens and a part of it falls, your circuit may break, causing your arc to fail.
Plasma cutters are surprisingly easy to use for such a powerful cutting tool. However, this doesn't mean that you won't have the occasional issue. If you are having problems with your machine, check out this really useful Plasma Cutter Troubleshooting Guide.
Conclusion
The best plasma cutters are easy to use and highly effective at cutting through all types of electrically conductive metals. If you are looking for the best plasma cutter in the UK, we recommend choosing the Reboot Cut50 RBC5000L, the editor's choice in our plasma cutter reviews. This is an excellent model for cutting carbon steel, stainless steel, copper, iron and aluminium.
With its excellent 20A to 50A output, large cooling fan, pilot ignition, and four-metre cable with a torch, this plasma cutter has all the features you need to successfully cut through metals up to 15mm thick. Numerous accessories and a set of wear parts are included, making this plasma cutter one of the very best deals on the market.
Additional Resources